"We are surrounded by data, but starved for insights." ~ Jay Baer, Marketing and Customer Experience Expert
It doesn't matter how much data is available unless we can derive meaning from it. As per a study, businesses are missing out on $5.2 million in revenue due to untapped data.
Certainly, every business is collecting plenty of data on a regular basis but not every business is using it properly. The difference lies in the fact that not every business is using a CRM that can become a game changer for them.
Also, every customer expects a lot from the chosen brand. So, it requires all businesses, whether growing or established, leverage the power of a CRM and serve their customers better.
CRM may mean different things for different businesses but the ultimate goal is to satisfy their customers through great customer experiences. The many features and functions of a CRM can play a crucial role in this and that's why 91% of businesses with over 10 employees use a CRM.
However, CRM implementation can be a big task for growing businesses. From finding out what they need from their CRM to making a CRM choice, there's a lot that needs to be done. But you are not alone if this seems like a monumental task for you.
---
7 Best CRM Case Studies
To give you the confidence and ideas to get your CRM implementation done right without any hassle, we have put together useful CRM case studies based on our own customers. Every CRM case study here highlights important CRM use cases and vital learnings that can help you in a number of ways.
Take a look at each CRM case study and learn how you can make the most of a CRM and get the implementation done right as per your business needs.
1. Omega Financial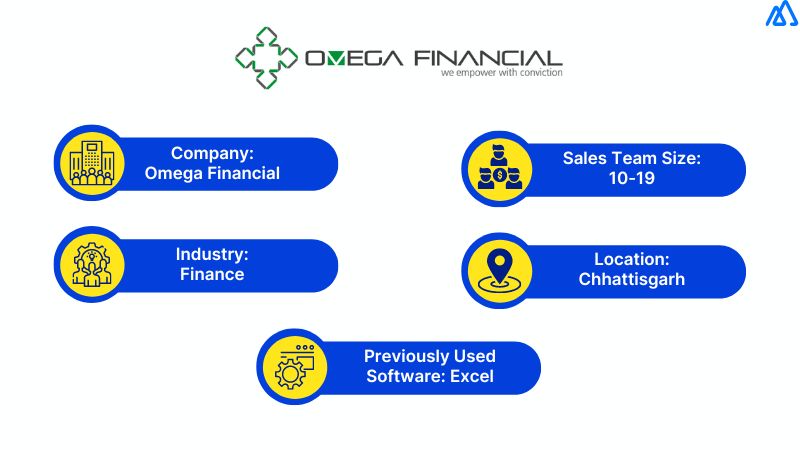 About the Company
.
Omega Financial is a renowned name in financial distribution that focuses on investment, particularly in mutual funds, and has been operating since 2010. They combine science, data, and technology with human expertise to deliver top-notch wealth management services.
.
🚩Challenges They Were Facing
Being a part of the Fiserv sector, Omega Financial deals daily in bulk transactions and processes. Every transaction follows its distinct path and involves various customer touchpoints. Moreover, these transactions take place on a global scale, spanning both online and offline channels.
The main difficulty lay in overseeing the progress of these numerous operations, ensuring no task was overlooked, and assessing the overall business's well-being. To address this issue, they required a centralized platform that could centralize all operational aspects and foster improved team collaboration.
How Kylas Helped?
Kylas has proven to be a game-changer for Omega Financial, leading to a remarkable enhancement in its operational efficiency. By implementing this CRM, the company has successfully streamlined its processes, enabling teams to work more efficiently and collaborate seamlessly. As a result, productivity has seen a significant boost across the entire organization.
One tangible outcome of this improvement is a remarkable 45% growth in sales. To effectively track and quantify sales performance, the company has adopted a system of assigning weightage points to each deal closed by salespersons.
Prior to implementing Kylas, sales executives were struggling to reach the target of 1500 points, typically achieving only 500-600 points. However, with Kylas in place, the average executive now consistently surpasses the target, scoring higher than 1500 points.
Customer Testimonial ⭐
"We have seen a 45% increase in our sales in the past year- all thanks to Kylas. My team's overall performance and productivity have improved because of the automation in the system. Even though Kylas is a Sales CRM all my departments use it on a daily basis. Kylas has helped us transition from hard work to smart work and I would like to rate it 5/5." – Yogendra. S, Director of Sales, Omega Financial
2. VK Ventures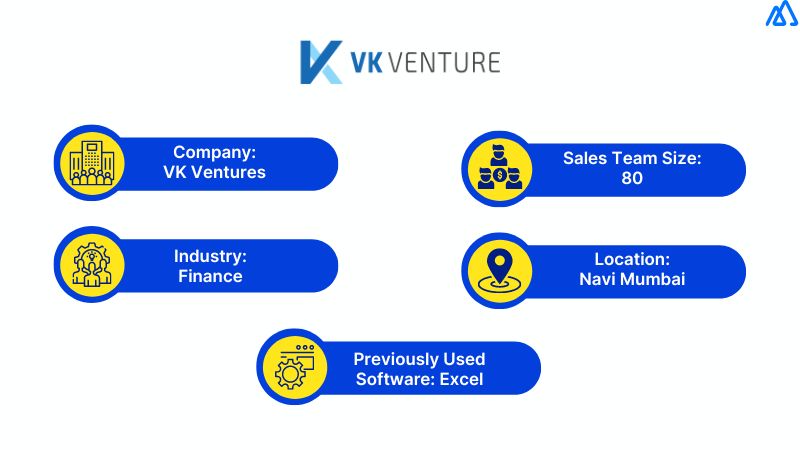 About the Company
VK Ventures holds a significant position in the e-commerce and fintech sectors. The company has created a portal that facilitates merchants all over India to offer a wide range of financial and utility services. These services include account opening, cash deposits, withdrawals, recharge, bill payments, money transfers, micro-FDs, insurance, and more.
Through this portal, merchants can efficiently cater to their customer's needs while earning a commission on every transaction they facilitate.
🚩Challenges They Were Facing
VK Ventures is an active player in the e-commerce and fintech sectors. The company has consistently emphasized providing exceptional services to its customers while prioritizing their needs. To support its operations, VK Ventures had an 80-member sales team utilizing a custom-developed CRM.
However, this CRM, developed in Ahmedabad, proved to be outdated and lacked essential features. As a consequence, the company encountered numerous challenges, particularly in effectively managing the large sales team and tracking leads generated from various marketing campaigns.
How Kylas Helped?
Thanks to Kylas, VK Ventures achieved a comprehensive customer view consolidated in a single database. This encompassed essential details like customer names, addresses, financial information, and more, readily accessible to the management.
The implementation of Kylas significantly enhanced operational agility for the company. VK Ventures successfully integrated with various external applications and ensured meticulous recording of every process in the CRM, thereby improving transparency.
The positive outcomes of this transformation manifested in increased sales and overall business growth for the company. VK Ventures now enjoys improved client management and better control over ad campaigns while making judicious expenditures across different sources.
Customer Testimonial ⭐
"With Kylas, we have been able to track a plethora of fintech-related customer data with ease. Our sales reps can now instantly respond to customer inquiries, which has led to better conversion rates. The industry will witness growth in the times to come, and we are sure that with Kylas by our side, we will meet customer expectations and scale our business positively." – Vinay Kedia, Director, VK Ventures
3. Fitness Bell India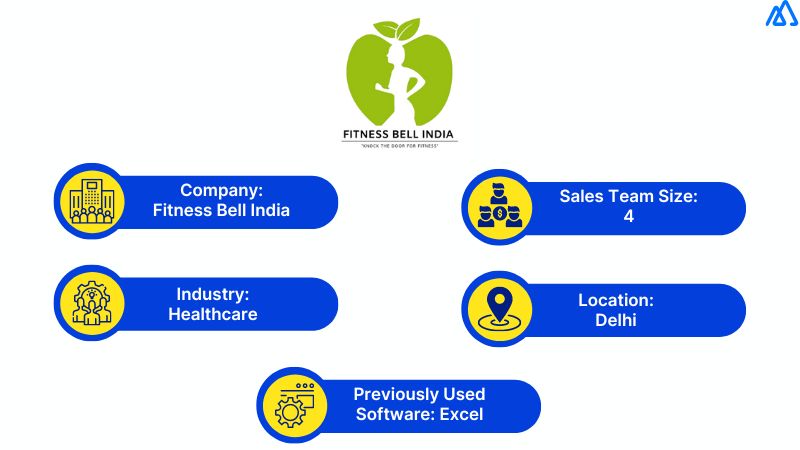 About the Company
Fitness Bell India is a leading Fitness & Nutrition Consultation firm dedicated to helping clients achieve a healthier lifestyle. The company offers expert health advice, personalized diet plans, and tailored workout routines, all delivered through the collaborative efforts of a team of professionals, including dieticians, trainers, and healthcare experts.
With their guidance, Fitness Bell India can help you start your transformative journey towards improved health and a better physique.
🚩Challenges They Were Facing
Prior to adopting Kylas, Fitness Bell depended on Excel sheets to store customer records. Unfortunately, this manual data entry method was prone to human errors and consumed a significant amount of time.
As a consequence, data often became fragmented across multiple sheets, making it cumbersome to access historical information and past communications with prospects or clients. This disjointed flow of communication resulted in decreased customer experience and satisfaction.
Furthermore, the inflexibility of Excel sheets meant they couldn't be customized to suit the company's specific business needs, further hindering their operations. The absence of customized reporting capabilities also made it challenging to make data-driven decisions, adding to their business challenges.
How Kylas Helped?
Fitness Bell found the perfect fit for their needs with Kylas CRM, designed specifically for fitness professionals to efficiently engage, follow up with, and sell to clients. This user-friendly CRM empowered Fitness Bell to manage its sales process seamlessly, including contract renewals.
With Kylas, the sales team streamlined day-to-day operations related to data management, securely organizing all customer data for efficient nurturing and personalized touchpoints. Sales representatives tracked interactions with customers, while Kylas's adaptability accommodated various membership options.
The sales manager easily assigned leads and tasks to specific staff members, ensuring timely follow-ups. The customizable dashboard provided comprehensive oversight for management, and Data Export functionality simplified data transfer.
Fitness Bell gained valuable insights for decision-making through crucial sales metrics and customized reports. Kylas's multiple integrations fostered better relationships and faster conversions while linking WhatsApp business accounts strengthened customer connections.
Kylas played a vital role in promoting CRM adoption within the sales team, contributing to improved efficiency and success.
Customer Testimonial ⭐
"With Kylas, we could scale up sales and improve customer engagement in the past 3 months. Features like Smart Filters helped us to filter data, identify hot and warm leads, and prioritize our leads. We are very happy to say that Kylas not just helped in team collaboration, but improved customer engagement as well.
Kylas does a great job of listening to its customers and keeping up with their feature-related demands. It's a trustworthy platform that has helped in our path to success." – Himanshu Kumar, Co-Founder, Fitness Bell India
4. MoneyNotSleep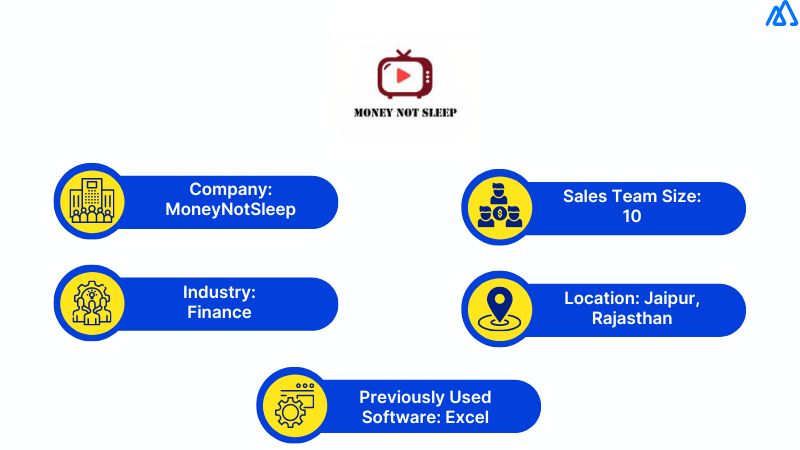 About the Company
MoneyNotSleep stands out as India's pioneering Financial Media House tailored exclusively for Part-Time Traders. Established on December 8th, 2020, MoneyNotSleep is dedicated to delivering essential financial news updates, highlighting investment and trading opportunities, and providing market predictions for the best-performing stocks, equities, bonds, and companies.
🚩Challenges They Were Facing
Amidst the Covid challenges, MoneyNotSleep ventured into creating a platform for potential investors to build wealth through trading channels. However, as the business grew, it faced several hurdles. One major challenge was handling fragmented data stored in Excel, making it difficult to track leads and deals, impacting sales performance and growth.
The lack of team collaboration in closing deals was apparent, with internal communications suffering, leading to missed information by sales reps. Transitioning to a remote workforce during the pandemic added complexity in monitoring the sales team's activities.
Recognizing the need for a comprehensive solution, MoneyNotSleep sought to reevaluate its technology strategy. They needed a scalable, integrated, and efficient platform to cater to bespoke needs while enhancing customer experience. Flexibility and adaptability were vital factors in their search for the right solution.
How Kylas Helped?
When the pandemic forced MoneyNotSleep to transition to remote work, coordinating with their dispersed sales teams became a challenge. However, Kylas proved to be a savior, facilitating collaboration among remote sales reps and significantly improving team performance.
Kylas brought about a revolutionary change by providing a comprehensive view of customers through centralized data management. The sales team could now track every interaction with leads, customers, and deals, gaining insights into customer behavior to cater to their needs effectively. This transformation from fragmented processes to a fully-integrated system empowered managers with complete control and visibility.
The multi-metric & multi-dimensional Reporting feature in Kylas enabled the sales team to generate performance and sales forecasting reports efficiently, surpassing the previous manual methods of progress tracking. Even while working from home, the sales manager could closely monitor the team's activities and productivity.
Kylas streamlined data importing, particularly from external sources like their Leads databases, saving time and reducing manual tasks. With routine tasks automated, the sales team's productivity surged, resulting in a faster sales process pipeline.
Inter-team communications improved significantly with Kylas, enabling a clear visualization of the entire customer journey and facilitating necessary corrections. The Kylas mobile app made curating client information more convenient, leading to better customer support on the go and enhanced satisfaction.
Reflecting on their journey with Kylas, Nishant appreciated the improved flow of information within the organization, directly impacting the end user's customer experience positively. Kylas played a crucial role in helping MoneyNotSleep navigate the challenges of remote work during the pandemic and elevating their sales operations to new heights.
Customer Testimonial ⭐
"After implementing Kylas, the sales team started leveraging the full potential of Kylas's automation capabilities to take over a number of activities currently executed manually. Kylas has made our sales team more efficient and effective by automating their daily activities, reducing manual efforts, and saving time. Now our sales team can focus more on selling.
I am excited to say that with Kylas, the sales activity has increased by a whopping 150% in the last 3 months. Not just that, the revenue also went up by 20%. Kylas has allowed us to support clients better in the selling process, in turn, leading to greater customer satisfaction." – Nishant Mishra, Co-founder, MoneyNotSleep
5. Ajay Modi Travels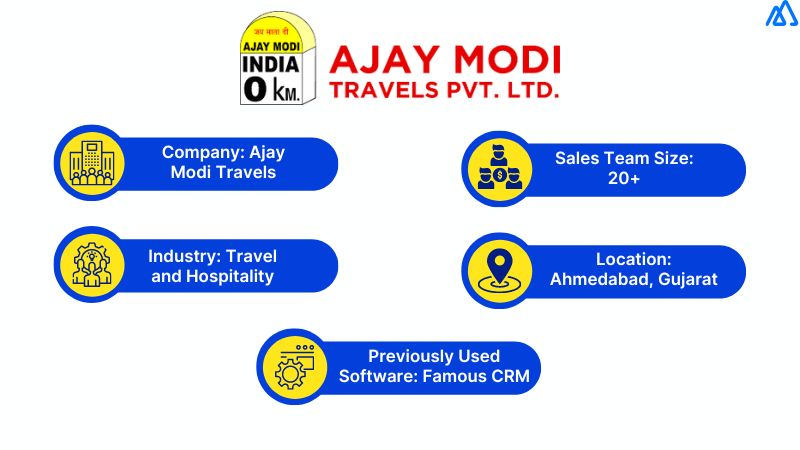 About the Company
Ajay Modi Travels, based in Ahmedabad, is a well-established travel service company renowned for its diverse range of travel-related offerings across India. With over two decades of experience, the company remains dedicated to delivering top-notch services and tailor-made holiday packages to its valued customers.
🚩Challenges They Were Facing
The Indian travel and tourism industry took a hit during the pandemic, causing a significant decline in both domestic and international travelers. Ajay Modi Travels also experienced the adverse effects of this situation, leading to an unexpected slowdown in their business.
As the pandemic situation gradually improved, the travel industry began to witness signs of recovery, and Ajay Modi Travels saw a surge in inquiries. Recognizing the opportunity to capitalize on this increased interest and fortify their position in the market, the team decided to take action.
The influx of inquiries brought a diverse range of requests for customization, highlighting the need for a robust system to manage customer data and streamline all processes. Additionally, handling bulk data through manual entry became inefficient, prompting the search for an automated solution that could efficiently manage appointments and booking deadlines, ensuring no opportunities were missed.
How Kylas Helped?
Thanks to Kylas CRM, Ajay Modi Travels achieved a comprehensive 360-degree view of their customer database, including crucial details like names, addresses, booking history, and more. This enabled travel agents to efficiently manage customer accounts and handle bookings, saving valuable time.
The streamlined tracking of miscellaneous travel-related data made responding to inquiries easier, improving conversion rates.
Mr. Alaap Modi expressed satisfaction with Kylas's support and customizable features. The platform seamlessly integrated lead capture forms, prioritized inquiries, and assigned them to the right agents. Workflow automation empowered in-house tour managers to create custom rules based on customer preferences.
With Kylas's automation, concerns about missed appointments or inquiries vanished, as custom rules ensured prompt communication through emails and reminders. Mr. Alaap Modi also praised Kylas's receptiveness to new ideas, making the partnership even more valuable for Ajay Modi Travels.
Customer Testimonial ⭐
"Currently, we have 20+ users using Kylas, and let us tell you that they have not missed a single lead or call from any prospective traveler. Kylas didn't just help us boost our sales; it also helped us build strong relationships with our clients. In fact, in the last 6 months, our sales increased to 30% and our customer satisfaction improved by 20%. This CRM is beneficial for businesses looking forward to scaling new heights. I would recommend Kylas CRM to everyone in the travel & tourism industry." – Aalap Modi, Co-Founder, AjayModi Travels
6. Learn Digital Academy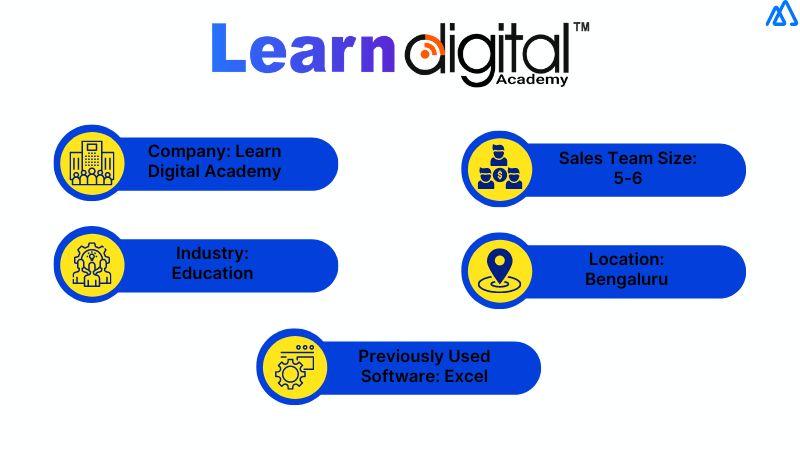 About the Company
Learn Digital Academy is a specialized training institute committed to empowering students with university certifications and on-campus placements. Distinguished as India's sole awarded agency-based digital education institute, they offer a comprehensive learning journey encompassing training, certification, internships, and placement opportunities.
With a dynamic team of professionals, their mission revolves around upskilling aspiring individuals in cutting-edge disciplines like digital marketing, data science, artificial intelligence, and graphic design. As they continue to grow, Learn Digital Academy remains dedicated to providing a transformative learning experience for all.
🚩Challenges They Were Facing
As Learn Digital Academy expanded as an Ed-Tech business, its counselors found themselves handling a substantial amount of information daily. Initially, they utilized LeadSquared as their CRM for the sales team. However, when the management made the decision to downsize the sales team, they had to transition to using Excel and Google Sheets for data management.
The counselors at Learn Digital Academy regularly reached out to prospective students to identify suitable candidates and boost enrolments. Managing call logs for each call on Excel became a challenging task, leading to difficulties in following up on inquiries promptly, which ultimately resulted in a decline in the enrolment rate.
Recognizing that Excel sheets were no longer sufficient to meet their needs, Nishant realized it was time to explore alternative solutions for their data and customer management requirements.
How Kylas Helped?
Kylas CRM proved to be a game-changer for LearnDigital Academy, streamlining student enrolments and admissions with its comprehensive view of every contact and inquiry. The team seamlessly synchronized inquiries from various sources, efficiently tracked incoming students and stored all their details in one centralized location.
The Bulk Update and Bulk Delete features offered by Kylas CRM significantly reduced manual efforts, enabling the team to manage a large volume of student inquiries effortlessly and save valuable time.
Nishant highlighted the transformative impact of Kylas CRM on their counselors, who can now make one-click calls to candidates through IVR directly from the platform, greatly enhancing their outbound efforts.
Moreover, Nishant commended the seamless onboarding and adoption process for this new platform. The availability and responsiveness of Kylas's Customer Success team through various communication channels, including Telephony, Chat, WhatsApp, and Email, impressed Nishant.
He further praised the team's promptness in responding to queries within an hour and resolving issues within 24 hours, always handling their requests with utmost priority.
Customer Testimonial ⭐
"Kylas' notes, task reminders, and meeting updates have helped our counselors organize their daily tasks better. Our productivity has improved with this CRM system and most importantly- now we do not miss out on a single lead.
The productivity dashboard, multi-dimensional reports, and Smart Lists in Kylas helped us track inquiries that needed follow-up by our counselors.
I am delighted to say that due to timely follow-ups through Kylas's automated messages and emails, our overall enrolment rate has improved significantly by 30%." ­– Nishant Jhunjhunwala, Co-Founder, Learn Digital Academy
7. Upanal CNC Solutions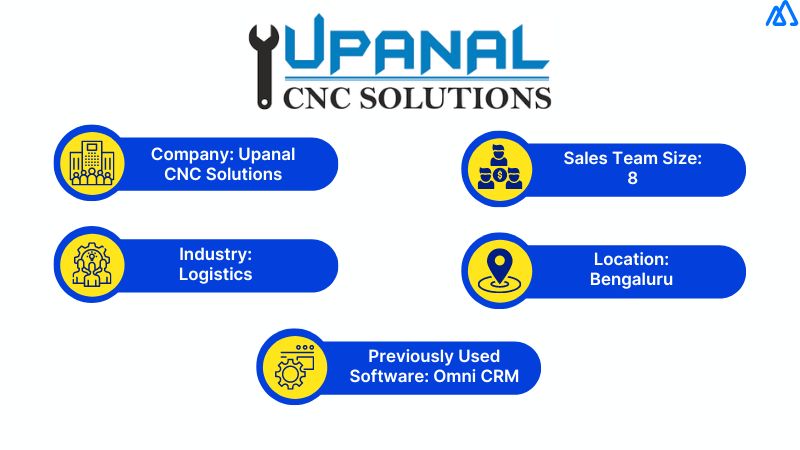 About the Company
Established in 2011, Upanal CNC Solutions specializes in offering service and maintenance programs for all CNC machine services. As a prominent wholesaler and dealer, Upanal provides a wide range of products, including Milling Machines, Turning Machines, CNC Machine Spare Parts, and more.
Headquartered in Bengaluru, Upanal is known for its tailor-made service and maintenance programs, catering to various needs, from simple care maintenance of technically challenging CNC machines to handling exceptional masterpieces in the industry.
🚩Challenges They Were Facing
Upanal CNC Solutions, a thriving business, upholds the belief of delivering top-notch service at competitive rates, all while understanding and catering to the unique requirements of its clients. As its clientele base expanded rapidly, Upanal recognized the importance of having a cohesive system that could provide a clear overview of its sales pipeline.
To meet their evolving needs, Upanal sought a CRM solution that would efficiently organize their sales team's workflow and minimize errors in data collection. They required software that would enable their sales team to consistently follow up with clients, thereby enhancing the likelihood of lead conversions.
How Kylas Helped?
Thanks to Kylas, Upanal gained invaluable transparency, allowing them to access a comprehensive view of each customer's activity log in a single place. The need for centralized information concerning clients, leads, and deals, including contacts, calls, past meetings, and opportunities, was fulfilled, significantly enhancing the visibility of their sales pipeline.
When asked about the top three features appreciated by Poonam, she highlighted Kylas's ability to create custom reports and provide insights into sales performance. The automated workflows were also a standout feature as they allowed for streamlined sales processes. Additionally, the in-app notifications kept the sales representatives updated, ensuring no important updates or tasks were missed.
Customer Testimonial ⭐
"Not only that, Kylas' robust customer service helped us with quick training that helped our team get adapted to new business processes easily. Transitioning from one software to another was effortless.
It has been going great with Kylas and I am glad we made the switch. As a sales CRM, I would rate it 4/5." – Poonam Anvedkar, Internal Sales Team Leader, Upanal CNC Solutions
---
Want to Write Your Own Story?
With the right CRM in place, you can serve your customers in the best manner possible. If the CRM implementation is done correctly, it doesn't matter how much your customer expectations evolve. You will always be on top of your sales.
If you want to understand how Kylas can help your business grow, Schedule your Demo with us and we will tell you how.
Start 15-day Free Trial