The Customer Relationship Management (CRM) system is widely regarded as a vital part of any business. Today, CRM software is the world's largest software market and the trend is expected to stay on its path, especially in an environment where working from home is the norm. Still, there are many CRM Adoption challenges that are yet to be overcome.
In fact, the global CRM market size weighed in at US $40.2 billion last year and the numbers are expected to escalate at a CAGR of 14.2% from 2020 to 2027.
These numbers steer us towards the view that CRMs do help businesses, small and large, to reach their goals often. However, these numbers may have a little more to tell us than just painting a pretty picture.
As Scott Edinger puts it in this Harvard Business Review article, "… when I ask executives if the CRM system is helping their business to grow, the failure rate is closer to 90%."
CRMs have been embraced by the global business community. In practice, however, CRM success is a rarity of sorts as unperceived adoption challenges cause problems across the entire value chain.
Large enterprise organizations are, still, in a better position to handle such failures as they enjoy deep pockets and unlimited resources.
But what does this mean for a Growing Business?
Growing Businesses are often discontent with their investments because they soon realize that their CRM is non-intuitive, difficult to use, and doesn't foster true collaboration. As a result, product adoption suffers, and only a small percentage of the entire feature suite is utilized, leaving significant value on the table.
Growing businesses, often, lack the time and resources to allow for such waste as they don't have the deep pockets that large enterprises do.
In this article, we will look at key CRM adoption challenges and offer solutions that can help Growing Businesses work toward CRM success.
Why CRM Adoption is the Biggest Challenge for Growing Businesses
---
Total Cost of Ownership (TCO)
The Total Cost of Ownership is one of the most important considerations for growing businesses. While there is no 'one-size-fits-all' answer to this, we will try and help you navigate your way with a sectioned approach to innovative CRM pricing structures.
CRM pricing structures by type-
1. Tier-Based CRM Pricing
This is where you pay per band, i.e., a limited number of users can develop profiles. Common pricing bands that most CRMs offer can be Free, Basic, SME, and Enterprise (or custom).
Regrettably, SaaS (Software as a Service) players don't conform to a specific pricing standard which makes decision-making a complex process.
Also, a key drawback is that prices increase dramatically between tiers, which can be a deal-breaker as your business scales.
Consequently, each band comes with a specific set of features, incremental per tier. If you need to scale the number of users and plan on upgrading to a higher tier, think about how it could affect productivity in the long term.
2. Subscription-Based CRM Pricing
This is where SaaS players offer CRM pricing plans based on monthly and annual-based pricing. Ordinarily, such plans are layered with tier-based plans that place limitations on the features and user access.
While there are a few that offer unlimited user access, such plans work best for enterprises as pricing tends to lean on the expensive side.
3. Free CRM Trials
As CRM investments are long-term, most CRM providers offer free trials for a limited time and users. Common free trial plans can range from 7 days up to 1 month and offer access to less than 10 users.
Such a brief trial period and user limitations are not helpful in letting growing businesses examine the CRM ecosystem to understand the fit.
Honorary Mention
'Always Free Plans': Many CRM vendors offer 'always free' plans that offer limited functionality and tools, allow limited user access (usually less than 10), and limited customer support. Such free tools are best suited to micro-enterprises, which are currently using spreadsheets and are willing to move to basic CRM software.
---
Kylas Growth Engine Pricing Plans
At Kylas, we believe that the right pricing (CRM cost per month), along with the blend of Product, Support & Expertise, can assist growing businesses, like yours, improve decision making and help you make the most of your investment.
This a belief that holds true, especially in our current market environment where new challenges are cropping up daily, prompting businesses to (re)analyze the value generated by their current technology stack.
This is why the Kylas Growth Engine offers…

After the free trial, you can upgrade to the Elevate plan for just 9,999 INR per month.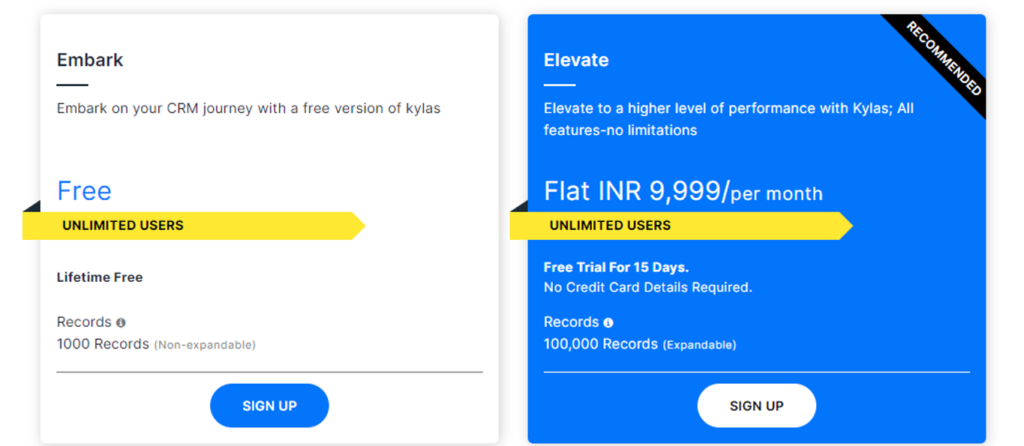 Or you could stick with the free plan.
Either way, you can experience business growth without any interruptions.
CRM problems brought on by 'cost' are followed by 'people' challenges. This is a major factor in deciding the success or failure of CRM adoption.
---
Customer Relationship Management and 'People' Challenges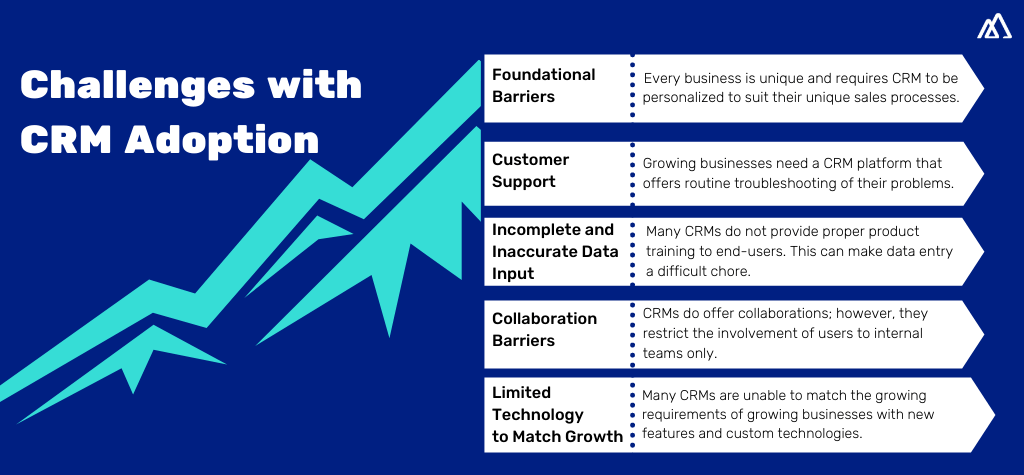 According to a 2009 survey by Forrester, 22% of CRM failures are related to 'people issues'. And within this category,
Slow user adoption accounts for 49%.
Inadequate attention paid to training and change management accounts for 36%.
Difficulties in aligning the organizational culture with new ways of working account for 15%.
So much so that CRM adoption, or the lack of it, can determine how successful your effort is.
1. Foundational Barriers
Every business is unique and may offer multiple products and services. This requires CRMs to be personalized to suit businesses' unique sales processes.
While most CRMs do provide product walkthroughs, they do not provide product sessions that are personalized to their business process and industry, which can cause gaps in the sales team's understanding of the ecosystem.
Moreover, a lot of CRMs lack intuitiveness and ease of use which can discourage sales teams from using the product properly. Its effect can be observed in low sales engagement and data quality.
2. Customer Support
One of the most common CRM challenges faced by growing businesses after they invest in CRM tools is the lack of proper support. To understand customer support better, we break it down into strategic and technical support.
a. Strategic Support
Business expertise is not a commonly promoted offering as this requires significant resources from the CRM provider. However, strategic support is necessary to use the platform in the best possible way to improve product usage and sales productivity.
b. Technical Support
A mixed bag for most, technical problem-solving and ticket resolution can be a burden for growing businesses in multiple ways because CRM platform help desks, especially enterprise CRMs, are not always responsive because of high traffic.
As a consequence, growing businesses, often, have to wait for a long time to solve their technical issues which can prove very expensive time-guzzlers. Growing Businesses, sometimes, hire talent internally to solve these problems which can turn out to be an expensive investment.
Moreover, not all technical issues warrant the need for hiring talent or event ticket creation. You will find that comprehensive CRM platforms offer routine troubleshooting problems and solutions on their websites or apps as FAQs which can save costs and effort.
3. Incomplete and Inaccurate Data Input
Maintaining data integrity and sanity is critical to a sales process. However, many CRMs do not provide proper product training to end-users/salespersons. A lack of product understanding and complex interfaces makes data entry a difficult chore.
Data being fed by sales teams then tends to be incomplete & error-prone, leading to poor insights.
Various reports validate products to use as an important parameter that affects data quality. However, when harnessed effectively and with proper training, CRMs can become a powerhouse of information and insights for your sales team and aid in better decision-making.
4. Collaboration Barriers
All in all, a CRM must encourage collaboration by facilitating idea-sharing and problem-solving within your sales team and with other cross-functional verticals. A few CRMs do offer collaboration; however, they restrict the involvement of users to internal teams only.
True collaboration happens when you can pool the knowledge and insights of your internal and external stakeholders like consultants, partners, and vendors.
As growing businesses scale, the need to collaborate with external subject matter experts like consultants and business partners increases. And businesses need this kind of true collaboration with internal and external stakeholders to help boost sales productivity.
5. Limited Technology to Match Growth
Many growing businesses approach CRM adoption with enthusiasm. For a time, they grow and the CRM does its job in helping boost and maintain sales productivity. With continuing growth, one would expect the CRM to match growing requirements with new features and custom technology.
For instance, a growing business produces a lot of sales and customer data. In time, the CRM will not be able to process all the data being produced at scale. As a result, the insights provided will not be accurate and may lead to bad decision-making.
---
Solving 'People' Challenges with Kylas Growth Engine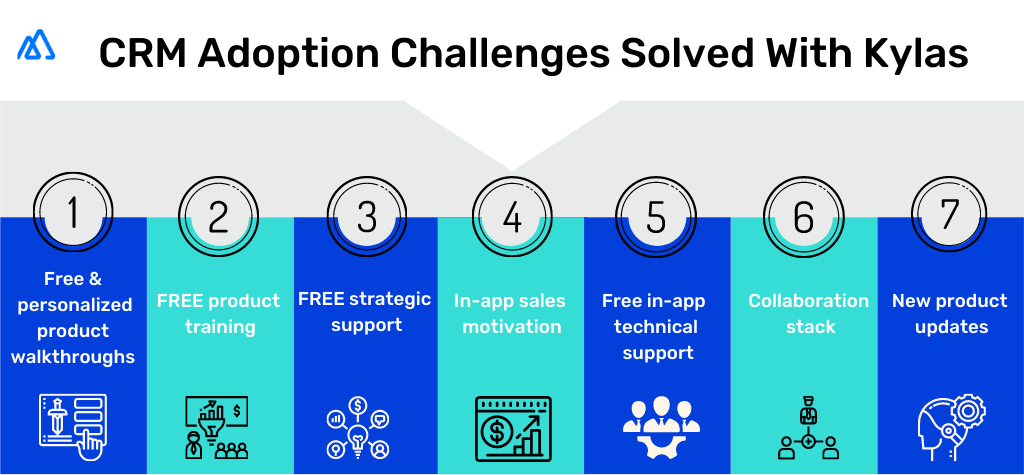 At Kylas, we believe that a growing business can scale new heights with the right blend of Support & Business Expertise, Product, and Pricing to help you make the most of your investment.
The Kylas difference-
FREE and personalized product walkthroughs for an effective understanding of the ecosystem.
Product training for effective product usage such as clean and robust data feed by your sales team.
FREE strategic support for continued guidance can help your sales team adopt industry best practices. This can derive maximum benefit from your CRM investment.
In-app sales motivation to help your sales team keep sales engagement high and inculcate healthy product usage habits.
FREE in-app technical support for quick ticket creation and problem-solving.
A collaboration stack with unlimited user access to leverage the collective knowledge that resides within your organization and all your external stakeholders like consultants, vendors, and partners.
New product updates like Artificial Intelligence to help your business scale with appropriate technology to match business requirements. The AI Engine will provide your sales team with intelligence around your data. Hence, you will get timely insights to help make the right decisions.
---
Takeaways
In essence, successful CRM adoption and long-term returns on such investments will continue to be a challenge for most organizations. Growing Businesses must recognize that, unlike enterprises, they require a comprehensive support system to enable successful CRM adoption and drive adoption success.
Choosing an easy-to-use CRM software can make or break your growth journey!
With Kylas Growth Engine, your Growing Business gets the right blend of product, support, and expertise to propel your overall growth strategy and solve all your CRM adoption challenges.
We would love to hear what you think of our views on CRM adoption. Please comment below or subscribe to our newsletter if you would like to get such articles more often!
Start 15-day Free Trial