You may have the best product inventory or a set of service offerings according to you. But if you don't have enough people who believe the same and buy what you sell, your business is just a dream. Running a business is all about directing your strategies, activities, and technologies in the direction of your customers.
The ultimate goal should be to build and manage strong customer relationships and create customer loyalty and retention. And since you need both of these to generate revenue, customer relationship management (CRM) is what you need for increasing your revenue and profits.
CRM systems are consumer-centric platforms specifically designed to help businesses in managing every aspect of sales.
CRM is the biggest software market in the world and it's not going to stop. A report says that the market is expected to expand at a significant compound annual growth rate CAGR of 13.9% from 2023 to 2030. The stats clearly show that the role of CRM has become crucial in businesses' overall potential.
Kylas is an enterprise-grade CRM that is specifically designed for growing businesses and can help your business market your solutions.
---
What is Customer Relationship Management (CRM)?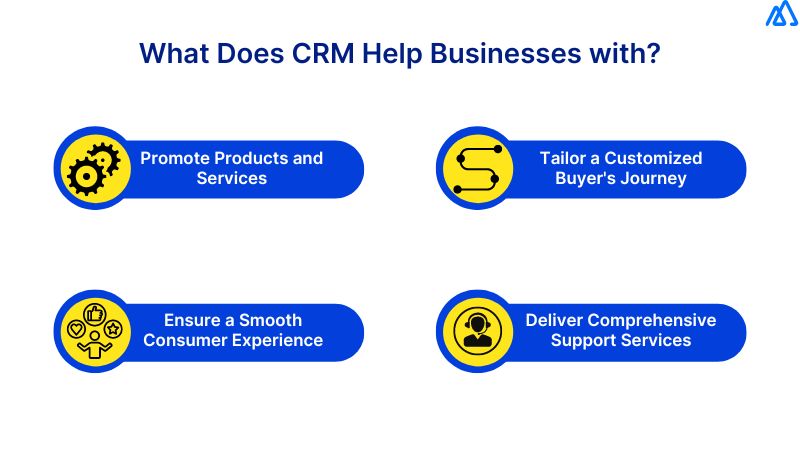 In simple terms, CRM is the technology that helps businesses maintain strong relationships with their customers. Businesses use CRM systems customized as per their requirements to reach their business goals.
74% of businesses say CRM software gave them improved access to customer data. Apart from making data easily accessible for businesses, the role of CRM is to:
Promote products and services
Ensure a smooth consumer experience
Deliver comprehensive support services
With CRM software, businesses can track and manage leads, automate sales processes, nurture customer relationships, and improve customer service.
---
What is the Importance of Gaining Business Intelligence?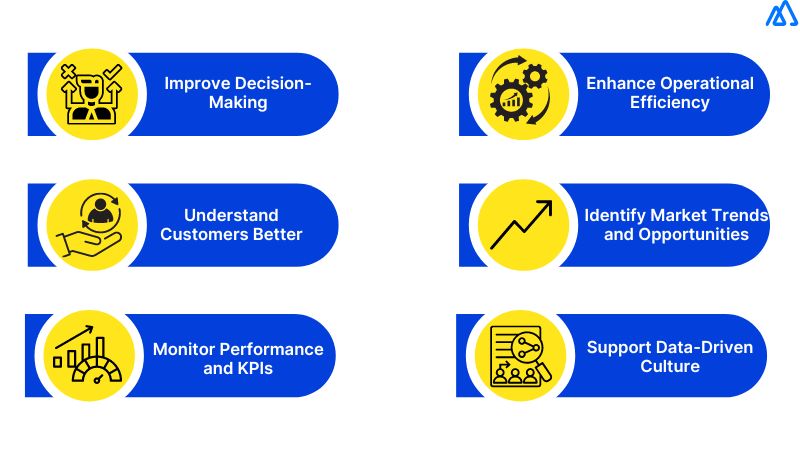 Gaining business intelligence refers to the process of collecting, analyzing, and interpreting data and information about various aspects of a business to make informed decisions and gain a competitive advantage. It involves gathering data from multiple sources, organizing and transforming it into meaningful insights, and using those insights to drive strategic actions and improvements within the organization.
By gaining business intelligence, businesses can:
1. Improve Decision-Making
With data-driven insights, comes better decision-making. For example, analyzing sales data can reveal which products or services are performing well and which ones need improvement. Based on this information, businesses can identify opportunities, assess risks, and make informed choices.
2. Enhance Operational Efficiency
Business insights help businesses to identify bottlenecks, inefficiencies, and areas for improvement within their operations. Data analytics on processes, resource allocation, and performance help organizations optimize their operations and increase efficiency. For instance, analyzing production data can help identify steps that are causing delays or quality issues, allowing for targeted improvements.
3. Understand Customers Better
Businesses can easily gain a deeper understanding of their customers by analyzing data on customer behaviour, preferences, and demographics based on their purchase history, browsing patterns, and feedback. This understanding can further help tailor marketing strategies, improve customer service, and build stronger relationships.
4. Identify Market Trends and Opportunities
By analyzing market data and trends, organizations can identify emerging opportunities, predict market shifts, and adjust their strategies accordingly. For example, by monitoring industry reports, social media discussions, and customer feedback, businesses can spot emerging trends or customer demands. This helps businesses stay ahead of the competition and make proactive decisions.
5. Monitor Performance and KPIs
Business intelligence allows organizations to track and measure key performance indicators (KPIs) across various departments and functions. This can give them an overview of sales, revenue, customer satisfaction, and employee productivity in real-time. It provides real-time or near-real-time insights into performance, enabling timely interventions and course corrections.
6. Support Data-Driven Culture
Business intelligence promotes a data-driven culture within an organization. It encourages the use of data and evidence in decision-making processes, fostering a more objective and fact-based approach to business operations.
---
What Is the Role of CRM in Gaining Business Intelligence?
CRM helps businesses with various business insights that help them make informed decisions and drive growth. Let's take a look at what they are and a CRM helps with that.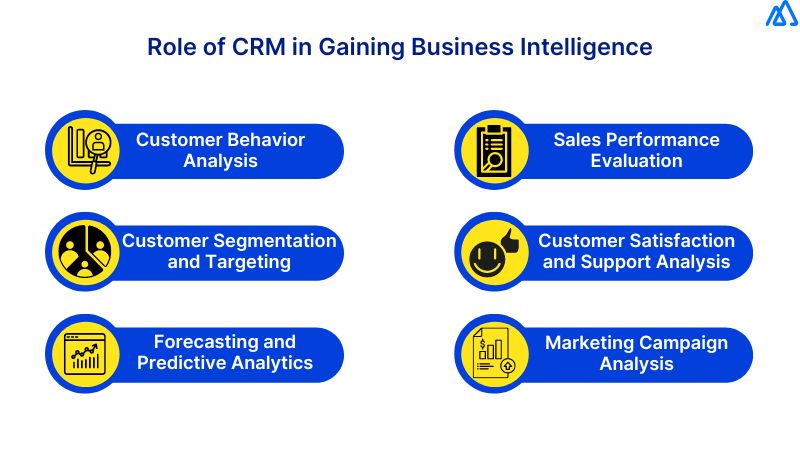 1. Customer Behavior Analysis
The future of businesses depends a lot on their current and past customers. As CRMs store customer interactions and purchase history, tracking and analyzing them can help businesses understand which products or services are popular among customers. This can also help them identify trends in their purchasing patterns and discover cross-selling or upselling opportunities.
For instance, a CRM can reveal that a certain customer segment tends to make repeat purchases. This helps the business to develop loyalty programs or targeted marketing campaigns to retain and further engage those customers.
2. Sales Performance Evaluation
Most businesses use CRMs to track sales activities, pipeline progress, and revenue generation. This data helps them gain insights into their sales performance and identify top-performing salespeople, assess the effectiveness of different sales strategies or campaigns, and determine which products or services are driving the most revenue. Using this information, businesses can refine their sales processes, allocate resources more effectively, and identify areas for improvement.
For instance, you can determine the conversion rates at each stage of the sales process, identify bottlenecks or inefficiencies, and assess the performance of individual sales team members.
3. Customer Segmentation and Targeting
CRMs help businesses segment customers based on demographics, purchase history, interests, or other criteria. Based on the segmentation, businesses can understand their customer base more deeply and tailor their marketing and sales efforts accordingly.
For example, a CRM may reveal that a specific customer segment has a higher lifetime value. The information is crucial for businesses to develop personalized offers to enhance customer satisfaction and drive revenue from that particular segment.
4. Customer Satisfaction and Support Analysis
Just like other information about a customer, CRMs also hold customer feedback, support tickets, and service interactions. By generating reports based on this data, businesses can understand customer satisfaction levels, identify common issues or pain points, and measure the effectiveness of their customer support efforts.
For instance, a CRM may reveal those customers who received prompt and personalized support. You can also determine their satisfaction scores and who is more likely to become loyal customers.
5. Forecasting and Predictive Analytics
The historical data and trends stored in a CRM can become a base for predictive analytics to forecast future sales, customer demand, or market trends. These data and trends can be used to make informed decisions regarding inventory management, resource allocation, and strategic planning.
For example, a CRM's predictive analytics may indicate an upcoming increase in demand for a specific product. With this, businesses can adjust production and marketing efforts accordingly to meet customer needs and maximize revenue.
6. Marketing Campaign Analysis
Running marketing campaigns has a lot to do with customer responses, conversion rates, and lead generation. Based on these insights, businesses can identify successful campaign strategies, evaluate the return on investment (ROI) of their marketing initiatives, and make data-driven decisions to optimize future campaigns.
For example, a CRM can help identify which marketing channels or messaging resonates best with different customer segments. With the help of this, businesses can focus their resources on the most effective channels for reaching their target audience.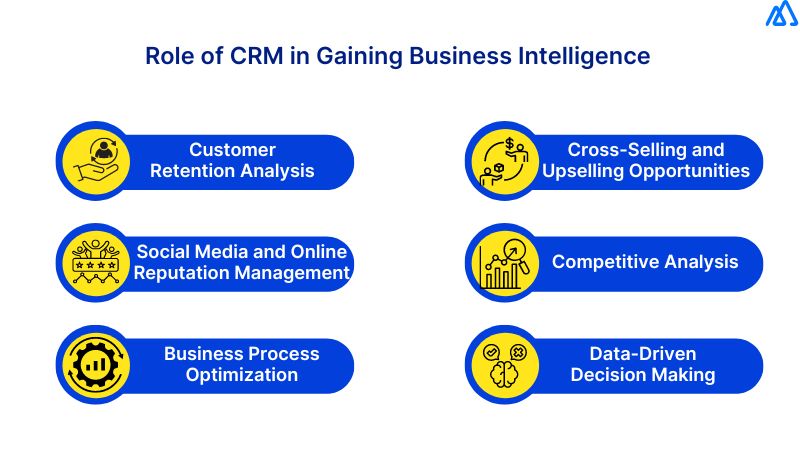 7. Customer Retention Analysis
CRM systems help businesses analyze customer retention rates and identify factors that contribute to customer churn. On the basis of the customer data and interactions stored in the CRM, businesses can identify patterns or behaviours that indicate a higher risk of churn.
This insight allows organizations to take proactive measures to retain customers, such as implementing loyalty programs, targeted retention campaigns, or personalized offers based on customer preferences.
8. Cross-Selling and Upselling Opportunities
CRMs can also help businesses identify cross-selling and upselling opportunities. As per the information, businesses can recommend complementary products or services to customers, increasing the average order value and customer lifetime value. Businesses can also track and analyze customer buying patterns, enabling them to offer personalized recommendations and enhance the customer experience.
9. Social Media and Online Reputation Management
CRMs integrate well with social media platforms and help monitor online conversations about the brand. By tracking social media mentions, comments, and sentiments, businesses can gain insights into brand perception, customer sentiment, and emerging trends. This information helps organizations manage their online reputation, identify areas for improvement, and engage with customers in real time.
10. Competitive Analysis
CRMs store and track competitor data, allowing businesses to gain insights into the competitive landscape. As per the pricing, product features, or customer feedback related to competitors, organizations can make informed decisions regarding their own product development, pricing strategies, or customer retention efforts. This helps businesses understand their competitive advantages, identify areas for differentiation, and stay ahead in the market.
11. Business Process Optimization
Apart from what is happening in the market, CRMs also help businesses gain insights into what is happening in their organization. They can easily analyze and optimize their internal processes. They can get data related to sales cycles, customer service response times, or lead conversion rates. This can help organizations identify process bottlenecks, inefficiencies, and areas for automation or improvement. The insights can further help streamline operations, enhance productivity, and deliver better customer experiences.
12. Data-Driven Decision Making
Overall, a CRM system facilitates data-driven decision-making by providing businesses with a comprehensive view of customer data and insights. By leveraging the data stored in the CRM, organizations can make informed decisions across various aspects of their business. this includes sales strategies, marketing campaigns, customer service initiatives, and resource allocation.
---
Conclusion
In a world where your buyers already know what they want, you must make sure that you deliver them with exactly that. Your CRM can make all the difference in how you cater to your customer requirements by helping you understand the market.
In a nutshell, CRM systems help bridge the gap between data and actionable insights, enabling businesses to drive growth, improve customer satisfaction, and achieve their strategic objectives.
You can schedule your demo with Kylas and see how it can help your business in making better deals and satisfying more customers.
Start 15-day Free Trial