More sales activity means more revenue for a company. Are you someone who is looking for new avenues in sales? Do you feel like you could use some help understanding what sales activities you need to be adept at to succeed in your career? If yes, you've come to the right place.
Research shows that the sales industry has a turnover that is almost three times higher than other industries. According to Forbes, almost 79% of salespersons who quit felt very disengaged from their job. The one thing that did keep sales representatives to their jobs was if they could spend an average of four or more hours every day on selling activities.
But the major issue lay in the fact that most salespeople spent only one-third of their time on sales activities. And on top of that, many felt disengaged because they didn't receive sufficient learning and training to discharge these sales activities correctly.
In this article, we will discuss the top ten sales activities every sales representative needs to master. These sales activities can help them experience immense job satisfaction and successful closes on the job.
---
Ten Sales Activities That You Need To Be Great At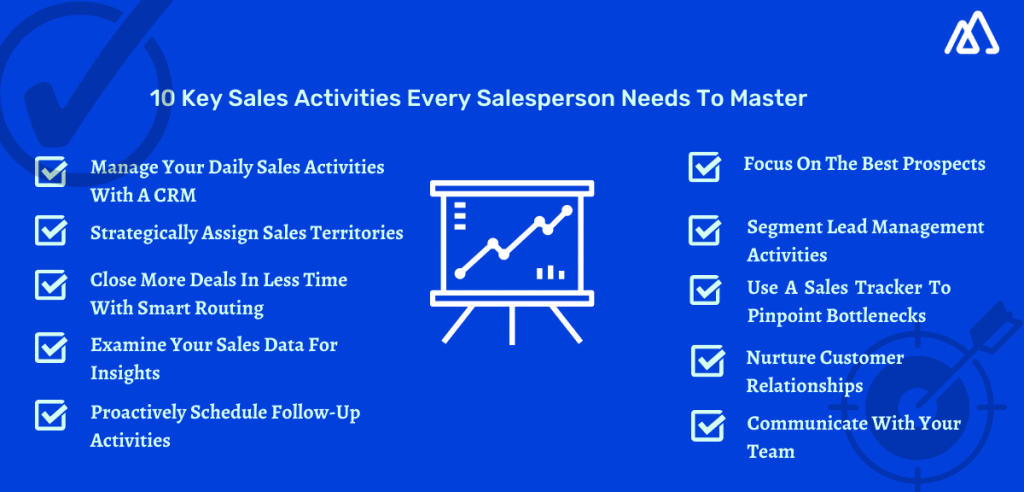 1. Manage Your Daily Sales Activities With A Sales CRM
A CRM system is like the backbone of a salesperson's job. Without a robust sales CRM system, sales representatives will find it challenging to manage their busy days. More importantly, they will find it incredibly hard to make sense of and take timely action on the large quantities of sales data they receive.
Using sales CRM software can help you to seamlessly manage the start-to-finish sales lifecycle.
CRM is today more advanced than being just a tool to manage just customer relationships and customer experience.
Rather, a sales CRM software can offer tremendous support to a variety of sales activities from the start to the finish of the sales lifecycle.
There is no point for you to have data about your prospect without having the means to take action on it. This is where knowing how to use CRM software helps. The CRM software can help you develop lead capture forms that you can embed in your website, other social channels and third-party sites. The CRM also has the ability to capture and group different types of information from prospects who fill in your lead form.
Information like demographic features (age, education, gender etc.), economic features (occupation, income, budget, etc.) and psychographic features (spending habits, frequency, affiliations etc.) can easily be tracked. So can any previous interactions with your company, thanks to the centralized database of information every CRM software has.
You'll be able to check to see whether a lead can make a qualified client. Plus, you'll be able to re-target old leads who may be ready to purchase from you now.
CRM software allows you to see your sales pipeline progress, completed tasks and pending tasks with every deal you're working on. It can help track your targets and also delegate responsibilities to your colleagues.
If there are any specific actions you need to take, you can set the relevant reminders for them on your CRM software dashboard.
Not just that, you'll be able to update information about your client interactions on the CRM. CRM will help you monitor your overall performance – in terms of leads generated, prospects pursued, the status of engagements, the number of successful closes, rate of failure to close and so on.
The CRM software can give you easy to understand reports for yourself (and your team, should you need it), allowing you to course-correct to improve your performance. Plus, you'll be able to easily forecast how many sales you'll be able to make in the next quarter/year and take the necessary steps to reduce your risks and improve your chances of conversion.
You will also be able to generate customized sales reports using different filters and multiple metrics. You can easily share these with your manager, the finance department, your CEO and even external stakeholders if you need to.
Learning how to use CRM software well also ensures you don't need to spend too much time manually doing all of your sales activities. Workflow automation in a CRM speeds up your tasks while also improving accuracy and responsiveness.
---
2. Strategically Assign Sales Territories
Once you've learnt the ropes of using CRM software, it's time to start strategizing. This is why one of the key sale activities you need to learn and home is territory management.
Your sales territories refer to the geographic areas and the communities/groups that you plan to target for your sales. These territories can be both offline and online. Creating a smart sales territory plan for yourself can help ensure you target the right people on the right platform and at the right time.
A few things you can do when assigning yourself your sales territories are –
1. Determine what your primary/end goal is for this time period. Is it to earn $XXX dollars or capture a percentage of the market?
2. Study the entire territory/market that's been allocated to you by your company. Divide them into groups based on their geographic, demographic, psychographic and behavioural traits. Your CRM software will be able to help you here.
3. Analyze the type and quality of the prospects present in each group you have created. Who among them stands the best chance of helping you achieve your sales goals?
4. Do a SWOT analysis of your current knowledge, capabilities and resources to figure out which of these groups you can do the most result-generating work.
Once you have identified a group within your territory, start to prospect for leads.
---
3. Close More Deals In Less Time With Smart Routing
One of the biggest hurdles to closing a sale is that timely assistance is not provided to the prospect. Sometimes, especially when a company is small and doesn't have a dedicated call/email routing system, the call or email of a prospect may be sent to the wrong department.
Forcing prospects to spend more time than necessary and making them struggle to find you – the salesperson – can make prospects abandon the company. They may perceive you and your company as difficult to work with.
But, by implementing a smart routing feature, you'll be able to ensure that any sales calls or emails made by prospects are quickly and accurately directed to you. In particular, smart routing is very helpful in nurturing your leads. This technology ensures that your lead directly reaches you when they initiate communication. Smart routing can help you close more deals by making communication an effortless experience.
---
4. Examine Your Sales Data For Insights
It is very easy for a salesperson to miss out on certain information about their prospect or their previous deals. But keeping track of your sales data and previous performance is one of the most important sales activities that you can do.
The CRM software you implement is capable of generating sales reports for you.
Through these reports, you will be able to monitor and track metrics such as –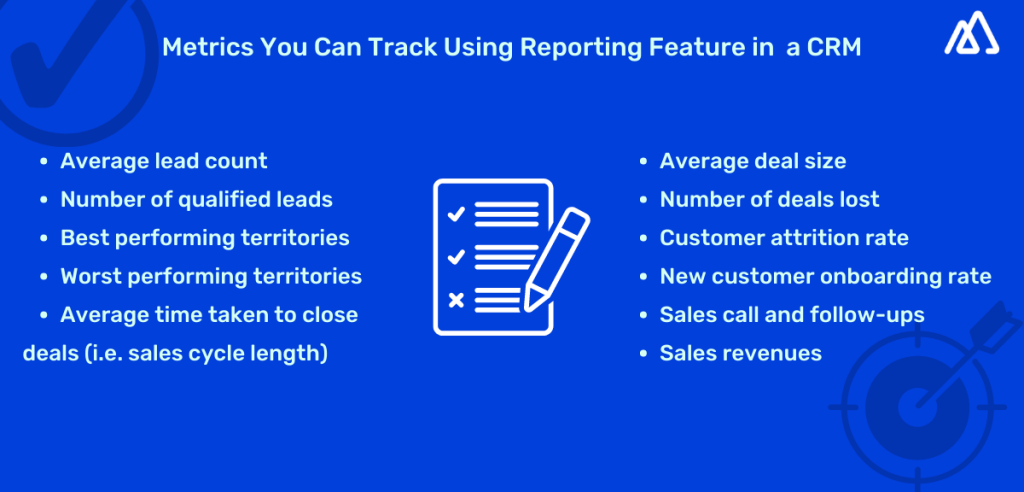 Besides, reading these reports will help you identify if you need to course-correct, retarget a different territory, adopt a new pitch strategy or do anything different to increase sales and revenue.
---
5. Proactively Schedule Follow-Up Activities
Did you know that 44% of salespersons follow up with their prospects just once before they give up? The sales representatives who do follow-up more than once often give up after the fourth attempt. This is a cause for worry.
Research indicates that, on average, 80% of all sales activities require at least five follow-ups with customers before prospects say yes.
In some cases, a salesperson may need to make at least 6 to 8 phone calls to each prospect to increase the chances of successful closure.
One of the main reasons that many salespeople struggle with follow-up is poor scheduling. Having a smart follow-up schedule to follow can limit the effort that salespeople need to put in to get in last-minute follow-up appointments with their clients.
Using a tool like Google/Apple Calendar can be the easiest way to schedule your meeting. The trick is to space the meetings out – say once a week or once every 15 days. That way, you won't annoy your prospects by relentlessly reaching out to them.
Your CRM software too can help you schedule your follow-ups. In fact, you can use your sales reports to identify if your current follow-up strategy is effective or not. Accordingly, you can make the required changes to your follow-up schedule.
---
6. Focus On The Best Prospects
In the point about sales territory, we discussed the "quality of the prospects" you need to work with. So, what makes someone the "best" prospect, and how can you find them?
The best prospect is one who ideally –
1. Openly shares their reason for making the purchase.
2. Gives you some information about themselves.
3. Shares a timeframe by when they will make a decision about their purchase.
4. Has a specific budget in mind.
5. Does not insist on trying your product/service for free after withholding the above information.
6. Whose requirements and future scalability are something your company can support.
The best way to find such a prospect is to create a customer avatar/profile of your ideal customer. Then, match the traits of your prospect with this avatar and check how many points actually match up. It is almost impossible for all the points to be in-sync between your avatar and your prospect. But, the more the synchronicity, the better your chances of closing the sale.
---
7. Segment Lead Management Activities
One of the key sales activities you will need to master is lead management. But, lead management isn't just a single activity. Rather, it is a series of different activities that ultimately leads up to the gathering and managing your lead through the sales pipeline.
Your CRM tool can be particularly helpful here. The tool will allow you to track at what stage your lead is in the lead management process. Additionally, the CRM will be able to capture essential information like name and email ID, which you can use to initiate follow-ups.
Plus, it's super easy to create a customer avatar and then segment your leads based on diverse traits and specifications.
Some of the cutting-edge CRM tools also have smart lead scoring tools that can help you quickly qualify, which leads to pursue. You'll also be able to track what type of engagement you've had with the prospect and monitor the effectiveness of each technique. You'll be able to try different tactics to nurture the lead and convert them.
---
8. Use A Sales Tracker To Pinpoint Bottlenecks
Unaddressed bottlenecks are conversion killers. They can make the entire sales process so inefficient and challenging, angering customers and forcing them away. Usually, these bottlenecks are in the form of –
Sharing the wrong information with the prospect.
Contacting them one too many times for follow-up.
Delays in getting approvals for negotiated pricing/terms.
Problems with fulfilment post-purchase.
Insufficient or delayed customer service follow-up.
In fact, all of these bottlenecks can be detrimental to getting conversions. One thing that can help you manage these sales activities better is sales tracking CRM software.
A sales tracker gives you the freedom to input information about your journey with each lead/prospect. You'll be able to know at what stage of the pipeline they are at currently and if you have completed whatever steps were necessary at this stage.
Additionally, you'll be able to coordinate a lot better with other teams such as marketing, customer service, fulfilment etc. and ensure that even post-close experiences are going well.
A sales tracker is also a great way to track your budget per customer. You'll be able to know if you're spending too much on a prospect and getting very little returns.
---
9. Nurture Customer Relationships
The job of a salesperson is not just to boost sales for the business, but also to nurture relationships with the customers. Customers don't just buy your products/ services. They buy into the image of you – the sales representative. Often, repeat customers return to your company, not just because they liked the product, but because of the regard they have for you.
It helps to nurture these relationships carefully. Sending a thank you card with a discount code after a purchase can be an excellent way to make customers feel happy. Even at the lead management stage, sending a birthday email and sharing birthday offers with your prospects can inspire them to purchase from you.
Additionally, it helps to keep track of your customers' preferences on your CRM database for future use. Should they return days/ months/ years later, you can use the information in the database to customize any email/ SMS templates that you send them.
---
10. Communicate With Your Team
The final of our sales activities that we believe every salesperson needs to master – is communication. To successfully close a sale, you'll need the communication and collaboration of your entire team.
For example, if the marketing team doesn't prepare the brochures in time, you won't have any material to share with the customer during the sales pitch. If your finance department doesn't give the green signal for your sales budget, you won't be able to implement any of the techniques you had planned.
Besides, if your manager is not informed about any changes/negotiations made to the contract, you may not be able to fulfil your promises to your customer. Worse still, it could put your job on the line. Let's say you have multiple prospects who are very likely to buy from you, then proper communication can help you share your leads with a colleague and ensure all leads are given the attention they need.
In this way, having a robust communication system for intra-team collaboration really helps.
The good news is that Kylas Sales CRM has a state-of-the-art, easy-to-use and responsive communication feature. Plus, our CRM technology supports multiple integrations that make it very easy to implement an internal communication mechanism within your sales team.
If you too are on the lookout for a sales CRM software for your sales team you can sign up here for a free CRM trial.
Start 15-day Free Trial