The greatest joy for businesses is having a healthy influx of leads. A large number of incoming leads signifies that you are reaching your target audience and that your marketing efforts are hitting the right spot. And besides, more leads mean a guaranteed higher number of sales too, right?
Unfortunately, this is not always the case. In fact, there are chances that up to 79% of your leads will not close a sale with you. However, there's a way to prevent this and ensure that a maximum of your leads become paying customers of your business. You can do so by stepping up your lead conversion game. As simple as this sounds, it is a nuanced process with multiple aspects. Managing all these is difficult, but not so if you have CRM in place.
CRM can help you make the most of your incoming leads and increase your sales. We aim to explore the role it plays in boosting lead conversion rates and the benefits this will bring to businesses.
Kylas is an enterprise-grade sales CRM that can streamline your lead management efforts, from inquiry to closure. If you too are looking for a solution to scale your conversions, talk to our experts today by clicking here: https://kylas.io/?ref=demo.
What Is Lead Conversion?
Before we proceed to understand how CRM helps in lead conversion, it is essential to understand what it stands for. As the name suggests, it is the process of converting leads into customers by nurturing them through their buyer's journey. A lead goes through several stages before turning into a paying customer. They enter your sales funnel as incoming leads, then convert to marketing-qualified leads, and eventually become sales-qualified leads. It is essential to nurture leads at every touchpoint and generate opportunities that encourage the lead to take the required action to become a customer.
Calculating & Tracking Lead Conversion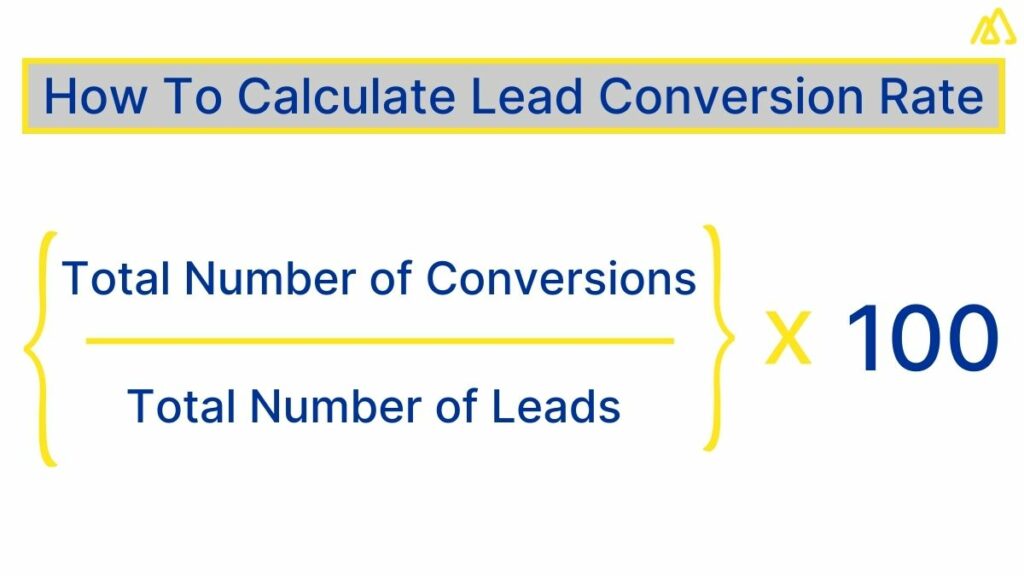 Conversion Rate is a quantifiable metric through which you can track the success of your lead conversion efforts. It is calculated as:
(Total number of conversions / Total number of leads) x 100
The ideal conversion rate varies from industry to industry. While it is as high as 4.6% for professional services, B2B E-commerce has an average rate of only 1.8%. Hence, calculating the rate will help you understand how you are faring compared to your industry standard, and it can help you make informed decisions for improvement. Here are some of the other advantages associated with tracking lead conversions:
It provides insights into the customer journey and helps you understand their preferences
Highlights the bottlenecks in your sales process
Helps you plan the allocation of your budget and resources
CRM is not only helpful in improving your lead conversions, but it also helps in the tracking process. It easily stores all your sales data, which is required while calculating your conversion rate. Now that the fundamental concepts have been clarified, let us dive deeper into how your lead conversion can be improved.
---
Setting up a Lead Conversion Process With CRM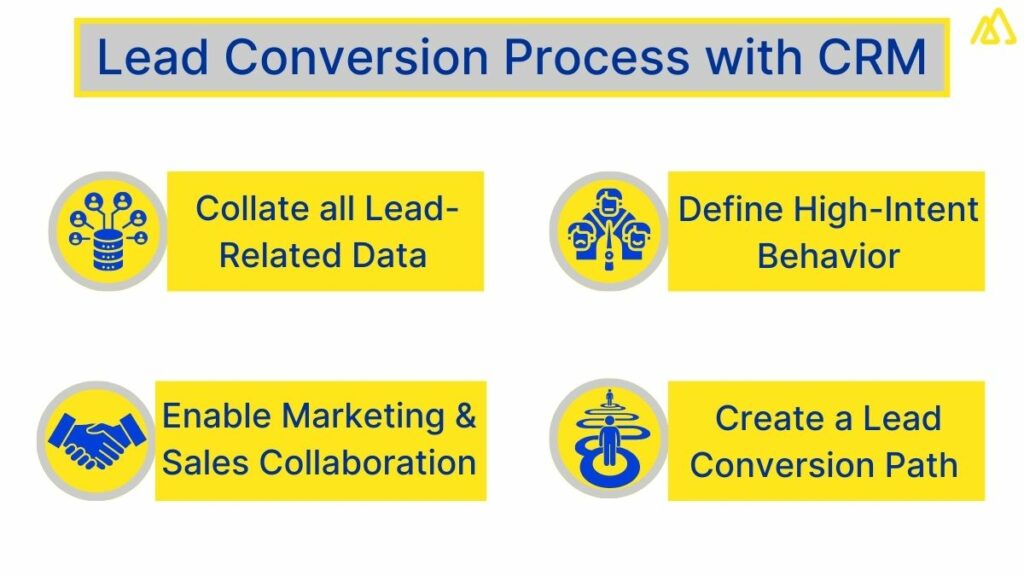 Every operation in a business must be well-planned. Thus, it goes without saying that something as important as lead conversion needs a strategic approach to it. We have outlined a framework for a lead conversion process that can be implemented through your CRM:
1. Collate All Lead-Related Data
Data should be the starting point of your conversion strategy. With all lead-related data at your fingertips, you can personalize your nurturing approach. Such personalization can increase your chances of conversion by up to 30%.
CRM captures all relevant information of leads, such as their source, industry, requirement, pain points, etc. Sales-centric CRMs like Kylas also allow you to use smart lists to segregate your leads basis their personal data and create a customized conversion plan for them.
2. Define High-Intent Behavior
It is tricky to determine the leads that your sales teams should maximally focus on. If an unqualified lead with low intent to purchase is sent their way, it is unlikely that they will be able to secure a conversion even with numerous efforts. Hence, you must define certain traits for high-intent behavior.
Your marketing teams can be on the lookout for such behavior and delegate qualified leads to the sales teams. Consequently, if leads are not displaying high-intent behavior, you can take measures to bring them a step closer towards closing the deal.
3. Enable Collaboration Between Marketing and Sales
Collaboration between marketing and sales is the key to a successful lead conversion mechanism. The work of these teams is closely linked with one another, and they must remain in sync.
Your teams can seamlessly coordinate with one another using CRM. Kylas is a fine example of a CRM that focuses on team collaboration. Your teams can share lead insights, communicate easily, and work together to close more sales.
4. Create a Lead Conversion Path
Lead conversion path refers to the steps that your leads take toward a purchase. A sure-shot way to secure conversions is ensuring that you make it simple for your leads to close a sale with you. Besides, you must also ensure that you are providing value to your customers, for only then will they reach the end of the conversion path. Your aim here is to give them opportunities to convert by including offers and CTAs.
By incorporating these steps, you can set up a winning lead conversion process. It will allow you to target the right leads and adopt the right measures to convert them. CRM will help you implement this framework and secure the best results from it. However, its benefits extend beyond this and there are a number of other CRM functionalities that help optimize your lead conversion.
---
How Does CRM Boost Lead Conversion Rates?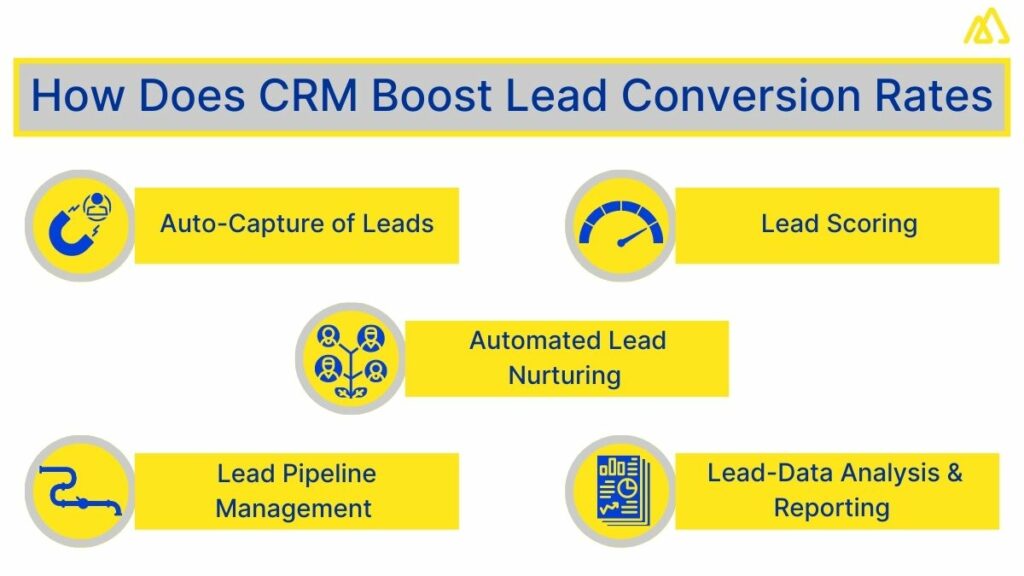 As elaborated above, the lead conversion process has a lot of moving parts involved in it. Leads can easily fall through the cracks if you're not organized in your approach. The most significant benefit of CRM is that it brings all these moving parts onto a unified platform so you can maintain the utmost control over your lead conversions.
Let us explore some more benefits of CRM for lead conversion:
1. Auto-Capture of Leads
Every lead is a potential sales opportunity that cannot be missed. One of the first things you can do to increase your conversions is to tap into every such opportunity that comes your way. CRM automatically captures leads from numerous sources, thereby ensuring that you pursue every incoming lead and maximizing your chances of securing a conversion.
Manually capturing leads from various sources will most likely result in a few being missed. Instead, with robust software in place, all scope of manual errors can be eliminated.
2. Lead Scoring
You can leverage your CRM to assign scores to each lead based on their requirement, budget, timeline for closure, and other relevant metrics. Hence, instead of chasing every lead, you can smartly allocate your resources towards those leads that have a high score and higher chances of making a purchase from you. Lead scoring will also help you delegate work better, since the high-intent leads can be reserved for your best salespersons who can most likely secure a conversion.
3. Automated Lead Nurturing
Timely communication is an absolute must while you're attempting to convert leads. You must reach out to them at the right touchpoints to retain their interest in your brand and product. CRM is a game-changer in your nurturing strategy, as it can automate all your communications.
You can automatically send follow-ups, reminders, etc. to leads from within the software. Besides, you can also use segmentation features of CRMs like Kylas to send personalized communication to numerous categories of leads.
4. Lead Pipeline Management
Pipeline management features in CRM allow you to visualize the progress of your leads till they make a sale. Enterprise-grade CRMs such as Kylas also offer customization of stages. Thus, your unique operations can be reflected in your pipeline.
You can track the progress of your leads and identify the strengths and weaknesses in your processes. Besides, you can also use your CRM to assign specific tasks to your teams at every pipeline stage to ensure that your leads reach the closure line.
5. Lead-Data Analysis and Reporting
A prerequisite to optimizing lead conversions is knowing how well you are currently doing. Comprehensive reports generated by CRM systems can help to achieve this. The software analyzes all lead-related data and produces usable insights from it.
These reports help you stay informed of every aspect of your lead management and nurturing process. You can hence make informed and data-driven decisions on how to enhance these and improve your conversion rates.
---
Ending Note
A high lead conversion rate takes you a step closer towards business growth. And a CRM solution takes you a step closer towards a high conversion rate.
CRM is an effective way to manage interactions with potential and existing clients. It helps in strengthening your business relations and enhancing the customer experience you offer. The software comes with a number of features and functionalities that can help you achieve conversions and drive up your sales. It is hence a highly powerful tool to win over your leads.
Kylas, an enterprise-grade CRM designed for growing businesses comes with a rich feature set that can streamline your lead management, nurturing, and conversion to help you scale with expertise.
The Importance of CRM Software for Improved Lead does Sales CRM Software Help in Effective Lead
Start 15-day Free Trial