Lead generation is the prime focus for businesses to keep pipelines flowing with new prospects. However, lead generation is getting incredibly challenging. According to the reports, around 61% of marketers say that lead generation is one of their biggest challenges, and converting a lead into a buyer is an even bigger challenge that businesses face daily.
Consumer expectations have never been higher. As a growing business, you need to nurture your leads to convert them into potential buyers. In that case, CRM lead management not only helps you qualify leads but also nurtures them into becoming potential buyers.
---
What do you mean by Lead Management?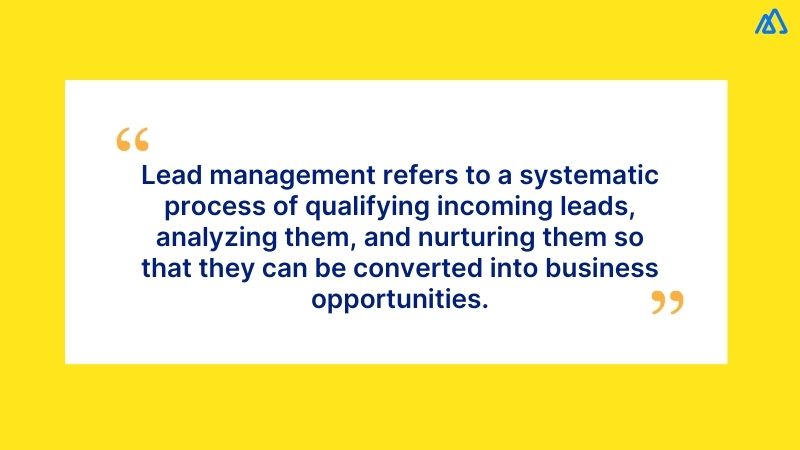 Lead management refers to a systematic process of qualifying incoming leads, analyzing them, and nurturing them so that they can be converted into business opportunities. In a typical sales process, leads are generated through multiple channels. It is estimated that 84% of marketers use forms to generate leads, 50% of marketers use phone calls and about 33% of marketers use live chats for lead generation.
The leads created through multiple channels are captured into the lead management system for your sales team to convert them into deals. CRM systems offer the necessary tools for capturing leads and guiding them through your conversion funnel. It does not end there.
Your CRM system also helps you maintain a strong relationship with your leads after they become customers. Lead management is an integral part of customer relationship management, precisely why most CRM systems also offer lead management features.
---
Process of Lead Management in CRM Explained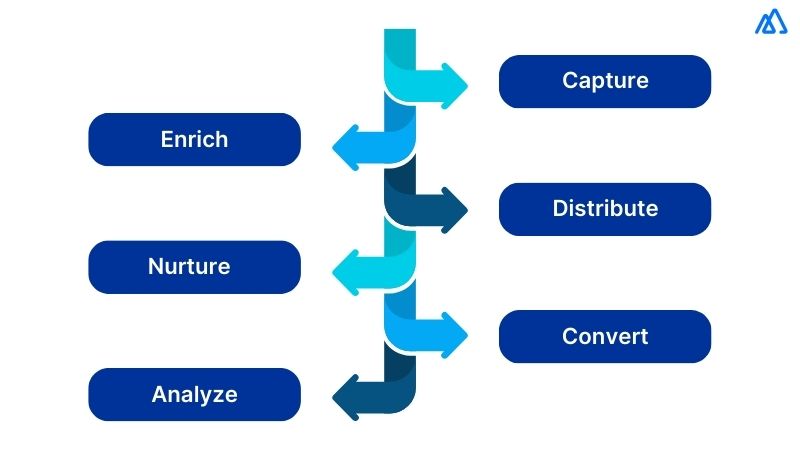 Lead management could be a valuable asset for your business. It helps you develop a strong action plan wherein you focus on leads that offer attainable value. In short, it helps you invest your time, money, and efforts in leads that are more likely to convert.
Here are the major steps involved in the lead management process:
1. Capture
Lead management is not possible without bringing prospects into the funnel. You need to capture leads efficiently generated through various techniques and tactics. Businesses use numerous marketing tactics to generate leads, such as emails, social media, websites, webinars, and more.
Demand generation is another popular method to keep your pipeline flowing. Digital ads, trade shows, and other similar in-person activities ensure that you always have sufficient leads in your pipeline.
What happens to all these leads? Your lead management system ensures that all leads are captured are fed into your CRM software so that no prospect falls through the cracks.
2. Enrich
Does your business still depend on manual data entry? If you still use spreadsheets or data entry to find information on your leads, your sales and marketing teams may be wasting valuable hours.
A good lead management software will automatically fill in a prospect's details, such as location, job title, company name, etc., from information that is publicly available. You can also track your prospects' activities on your websites, such as the pages they have visited the e-books they have downloaded, and more.
By analyzing a prospect's activities, your sales team can better understand their intent and deliver more personalized efforts. Your marketing team would also have valuable insight helping them create more personalized campaigns.
Personalization is the key to a good customer experience. 80% of consumers would prefer to buy from a brand that offers personalized experiences.
3. Distribute
According to a 2019 study, you are nine times more likely to convert a lead if you follow up within 5 minutes. Can your sales team contact your prospects in such a short window? If you still manually assign leads to your sales reps, you may be losing valuable response time.
A good lead management system automatically assigns leads, and transfers call to your sales team. Most systems assign leads through the round-robin system, but you may be able to customize the way you assign leads. Assigning leads automatically to your sales team ensures a shorter response time and it also eliminates the need for your sales team to manually look for leads.
4. Nurture
50% of the leads you generate are qualified but not ready to buy. These leads may still be contemplating if your product or service could solve their problems or meet their requirements. You will need to nurture these leads to convert them into buyers.
Lead nurturing happens when you develop and reinforce your relationship with buyers at each stage of the sales funnel. It also involves educating your leads about the value of your product or service.
Lead management software can help create nurture campaigns for leads who may not be ready to make a purchase yet. You can use content marketing and promotional offers to expedite your decision-making process.
5. Convert
Lead conversion is the process of converting leads into paying customers. Before becoming a buyer, a lead goes through four stages, namely awareness, interest, decision, and action. A lead management system can help you track your prospects to figure out when they are ready to buy so that you can convert them into deals.
Since your system automatically populates customer information, your lead information is retained and associated with a contact's information.
6. Analyze
Businesses run numerous sales and marketing campaigns to convert leads into buyers. Which are your most successful campaigns? Which of your campaigns generated the most revenue?
Good lead management software comes with analytical capabilities that help you figure out your lead conversion statistics. You can find out the conversion rate of your lead sources, your best-performing sales rep, and more.
---
Benefits of using a CRM for Lead Management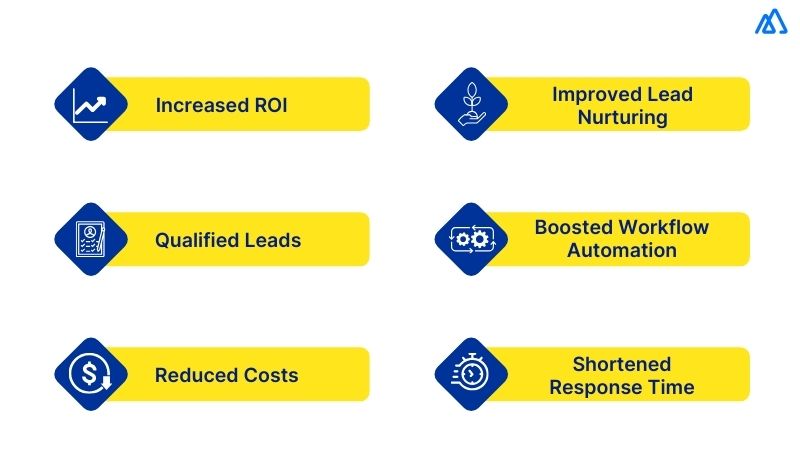 Using CRM software helps in delivering outstanding customer service. However, it is also very useful for lead management.
Some of the key benefits of using a CRM for lead management include:
1. Increased ROI
Businesses, in general, generate huge volumes of data. However, not all data is useful. Until and unless you can extract useful insight from your data, the data is practically useless. You need to have a robust strategy to make informed and data-driven decisions. You may use multiple ways to collect customer information, such as social media, web forms, and mailing lists. How much of that data is actually useful?
When you use CRM for lead management, you can use this data to increase profits and conversion margins. You can figure out which leads are worth your time and effort based on how likely they are to pay.
CRM lead management software helps you track leads to enhance your marketing efforts. You can also figure out where prospects are entering your sales funnel. By identifying the sources, you can figure out which content performs better and which channels are worth your time and money.
2. Improved Lead Nurturing
You will find very few customers who hear your first pitch and make a purchase. Such customers are an exception and not the norm. Lead nurturing is important because it helps you take a strategic approach to nurture a lead and convert it into a buyer.
CRM lead management software helps you keep track of prospects and their entire customer journey so that you know when they need more engagement. You would also be able to segregate your leads into the ones who are ready to buy and those who may need more time and nurturing.
It may also be possible to filter your leads using different criteria so that you can see the entire history of your relationship. In this way, you can nurture your leads and customer relationships better.
3. Qualified Leads
Qualifying leads is extremely important because it saves your time, energy, and bottom line. It is also important to move your leads through the funnel. 25% of the leads you generate will never buy. There is no point in spending time on such leads.
CRM lead management software offers features such as lead scoring so that you prioritize each lead. It gives you a clear idea of which leads are worth pursuing and which are not.
4. Boosted Workflow Automation
Another important benefit of CRM lead management is workflow automation and time-saving. You can set triggers and actions to eliminate mundane, time-consuming tasks. For instance, every time a lead moves in a pipeline, the sales team could be alerted to follow up with the lead.
CRMs also help in workflow automation, marketing automation, and automating the lead nurturing process. By automating workflows, you can eliminate the manual labor that goes into generating leads and building customer relationships.
5. Reduced Costs
CRM lead management software helps you use data to your advantage, which leads to cost-saving. A strong lead management strategy can help you save a lot of money. You can focus more on customers who "will definitely buy" instead of the ones who "might buy."
When you concentrate on the former, you can reduce costs spent on unqualified leads and ultimately increase sales and revenue.
6. Shortened Response Time
In a fast-moving world, consumers want quick responses. Businesses that fail to follow up timely end up losing customers. CRM lead management can help you avoid such situations. You will be able to respond to your leads quickly, which will help improve your bottom line.
Early vendors get 35% to 50% of the sale. With CRM lead management, you can become the "early vendor," leading to some serious ROI.
---
Best Practices for Lead Management in CRM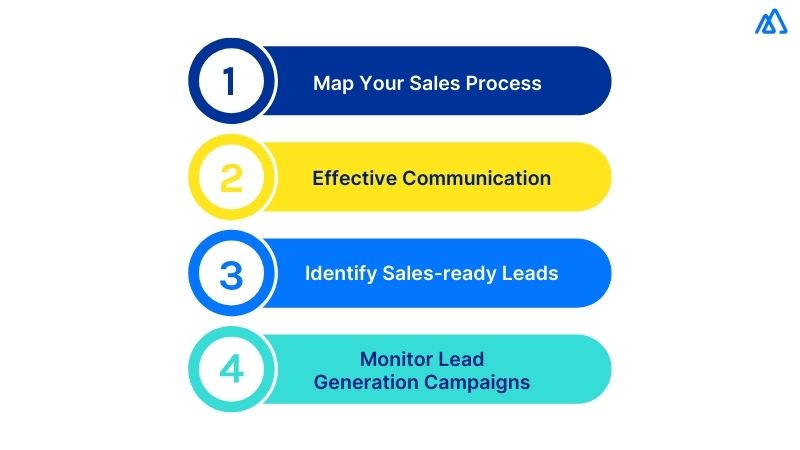 Here are some lead management best practices that you should consider following:
1. Map Your Sales Process
A key step in lead management is mapping your sales process. You should have a proper sales process and sales pipeline in place. The sales process involves various stages, such as lead generation, lead capturing, lead assignment, and nurturing, right up to closing deals.
Having a clear sales process ensures that your sales team is clear about the channels and the procedure they need to follow at each stage.
2. Effective Communication
You need to have clear and effective communication between your teams to ensure successful lead management. The teams include your marketing team, inside sales team, field sales representatives, and more.
There should be swift communication between teams so that they can follow up with leads in a timely manner. CRM lead management can help different teams gain visibility into your pipeline for better and more effective communication.
3. Identify Sales-ready Leads
Lead qualification helps you identify whether a lead is ready to buy your product or service. Businesses have used several manual ways to qualify leads, such as the BANT method. BANT stands for budget, authority, needs, and timeline, and it helps to identify leads worth pursuing.
However, manual methods are no longer reliable. Lead management software comes with lead-scoring abilities that help you identify leads that have a strong intention of buying.
4. Monitor Lead Generation Campaigns
You may be running multiple lead generation campaigns, such as digital ads and a social media campaign at the same time. How do you track the number of leads and the revenue you get from these campaigns?
CRM lead management has analytical abilities that offer in-depth reports that track sales and marketing KPIs. You can also track the ROI of every campaign that you run.
---
What Challenges Your Business May Face Without An Effective Lead Management Tool?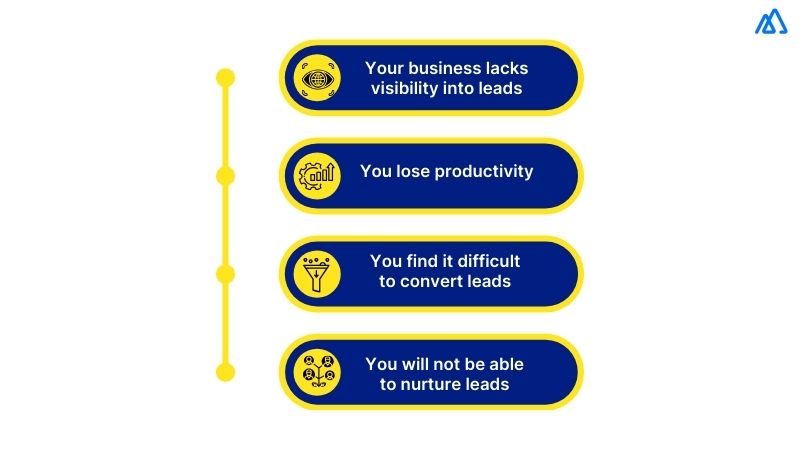 If your sales teams are still manually looking for leads and updating databases, they are wasting valuable hours that could have been used in active sales.
Without an effective lead management tool:
1. Your Business Lacks Visibility into Leads.
Your customers receive mixed messages from your marketing and sales teams because none of them have a comprehensive view of the customer's information. This leads to poor customer experience, and eventually, reduced sales.
2. You Lose Productivity.
If your team is manually qualifying leads, it may be difficult to figure out qualified and unqualified leads. Your team ends up wasting time, which leads to lost productivity.
3. You Find it Difficult to Convert Leads.
Without a lead management tool, you need to assign leads manually, which is time-consuming. Your teams will be unable to follow up on time or respond to queries quickly, which translates to lost opportunities.
4. You Won't be Able to Nurture Leads.
When you don't use a lead management tool, you do not understand your prospects' requirements. This lack of understanding means that you are unable to nurture leads and build lasting relationships.
---
How can Kylas Lead Management System help you drive more engagement?
An effective CRM such as Kylas is a lead management system and helps you drive more engagement by:
– Helping you become more organized
– Saving time by eliminating duplicate records and creating smart lists
– Tracking your productivity
– Creating multiple custom sales pipeline
– Managing access to data
With the implementation of a CRM tool, you can store leads, make calls, send emails, set up meetings, create reports, and find out what your leads are looking for on your website and inside your product. If you are on the lookout for a lead management tool for your sales team you can sign up here for a free CRM trial.
Know other lead generation tools we can all learn about? Tell us in the comments!
Start 15-day Free Trial