It's almost the festive season – are you ready for the sales? Amazon Prime Day, The End of Reason Sale, and Black Friday; are all terms we're familiar with because we log on in a heartbeat to make our purchases (either something we've been eyeing for a while or something we choose impulsively). They are also all forms of 'sales promotions'.
Businesses selling any kind of product – even B2B businesses – use the same kind of sales strategy to increase demand temporarily.
What is Sales Promotion?
Sales promotion, as you can probably tell by now, is a marketing tactic used by companies to temporarily boost demand for products (although it can certainly also be used for some types of services).
The idea is to drive an accelerated upswing in sales numbers and revenue in order to meet a target or achieve other objectives, which we will cover below.
As a standard rule, however, a sales promotion is always a short-term tactic used to achieve a short-term goal.
---
What Are The Objectives of Sales Promotion?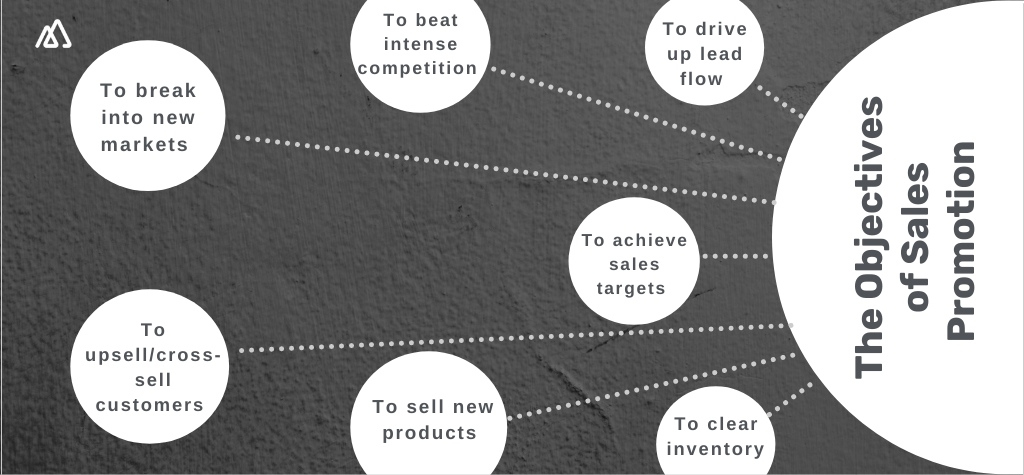 Sales promotions can be run for a number of reasons, including:
1. To Drive Up Lead Flow
When you find your sales pipeline drying up and needing a fast and effective solution, the answer can be a sales promotion. Putting an offer on your products or offering other incentives will help your marketing team increase their conversions and push more leads to your sales team.
Caveat: As with any marketing tactic, the lead qualification ratio must be kept track of when using sales promotions to increase flow. Many a user gets drawn in by sales promotions but doesn't actually fit the lead criteria.
2. To Achieve Sales Targets
Sales targets can sometimes prove elusive for reasons outside our control. Market conditions, upcoming economic reforms, natural or man-made disasters, or even just consumer trends, can make it seem impossible to meet the quarter's sales targets.
A sales promotion or "offer", in such cases, is a sales strategy that incentivizes buyers to make a purchase decision despite these external factors, so you can meet your sales targets.
3. To Clear Inventory
Sales promotions (aptly and directly called "clearance sales" in B2C categories) make it easy for manufacturers to clear out earlier stock and maximize sales revenue from it, before launching new products.
While you're used to seeing such sales on products like clothing and technology, it's a sales promotion tactic that applies to every industry.
For example, diesel vehicles in India recently made the switch from the previous emission benchmark of BSIV to the updated benchmark of BSVI.
Vehicle manufacturers needed to update their engines and clear out BSIV inventory – naturally, sales promotions made sense to temporarily boost demand. Plus it was also necessary to sell as many BSIV vehicles as possible before the manufacturing line completely switched over to the updated engines and they were left with an outdated inventory.
4. To Beat Intense Competition
In today's world, where technology has guaranteed competition not only for the B2C brands but also for B2B brands that once held a monopoly in their markets. Today, most brands are fighting to win business from their competitors.
Sales promotion is an age-old sales strategy that helps brands beat out the competition by the sheer direct benefit of offering more value.
When consumers have so many choices in front of them, sometimes all it takes to close a deal is receiving more value from the company than its competitor. This is especially true in most B2B industries.
5. To Sell New Products
Sales promotions are often used as a way to introduce new products and new product lines. To understand this better let's look at the products that are promoted on mall floors – new cosmetic lines, new cars, new technology, etc., all with some sort of sales promotion or display to help attract as many potential customers as possible.
Because consumers can be wary of trying new products – and especially new product lines – from even brands they've bought from before, a sales promotion helps break that initial barrier to purchase and create a buzz around the new launch.
6. To Upsell/Cross-Sell Customers
As we mentioned earlier, customers can be wary of trying new products, even from a brand they've bought from before. Consider, for example, forklifts being launched by a brand that previously only made stacking equipment.
They already have the customer base – a customer base that most definitely needs and uses forklifts. Those customers, however, would need to be introduced to the new product and swayed from their current supplier of forklifts…no easy feat.
A sales promotion will help launch the product, create buzz, and win over prospects.
7. To Break Into New Markets
Many a company launches their product and service targeted to one consumer base and grows to learn that they can tap into many more consumer segments than they previously realized.
Perhaps the brand finds out its market is larger than expected, or perhaps they realize that a different consumer cohort finds different benefits from the same product.
A sales promotion helps in this case, where the brand can utilize promotion strategies to help break into the new market with a bang.
---
Types of Sales Promotions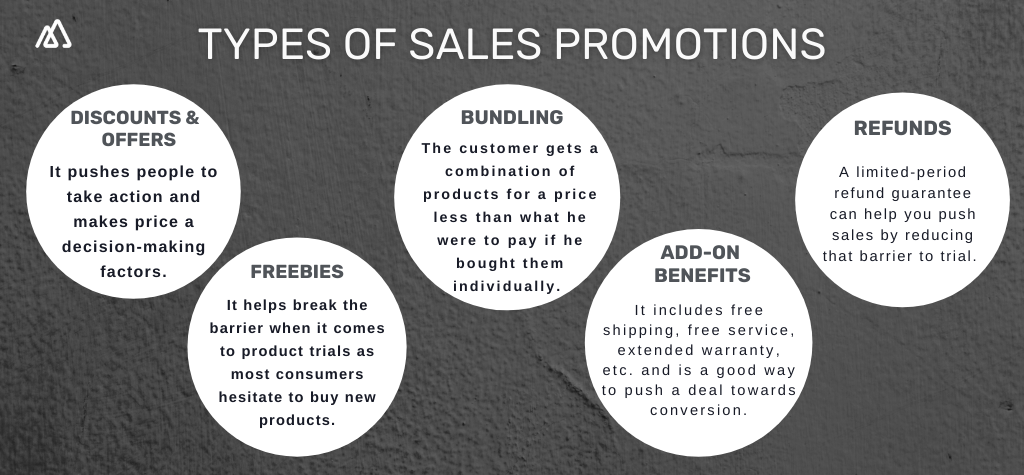 Contrary to what you may immediately think, a sales promotion is not necessarily just an offer or a discount – even though that is the most common. Promotions come in many types, and different types of sales promotions suit different purposes. Let's have a look:
1. Discounts and Offers
There is no denying that Product Pricing is one of the biggest factors that come into play while making a purchase. Every single person feels great when they get a good deal on a product – and even more so when it's a limited-period offer that they've managed to catch in time.
For a successful sales promotion targeted to boost your sales and revenue, a 'flash sale' or 'limited period offer' is a great idea because it pushes people to take action and makes price the only – if not one of the only – decision-making factors.
Use this sales promotion type when you want to:
Push prospects to make decisions faster
You want to increase the velocity of your sales
Price has been a point of contention in closing deals
Have a lot of leads that are 'on the fence'
Want to clear out inventory
Have another brand pushing competitive pricing
2. Freebies
Freebies or free samples are ideal for B2C brands, where products are easily handled and distributed, but don't let that limit your imagination. Software companies, for example, can offer freebies such as additional features or trial periods as well.
Freebies help you break the barrier when it comes to product trials – as we mentioned earlier, most consumers hesitate to buy new products, even from brands they've bought from before. They also help you create a buzz during a new product launch!
Use freebies when you want to:
Cross-sell your products to existing customers
Create buzz for a new product launch
Break the trial barrier – or do you think a product trial is what will help convert more leads
Increase your brand's goodwill among existing customers
3. Bundling
Bundling is the term used for when you club a couple or more products, or products & services, together and sell them as a unit or a 'combo'.
You see this all the time in FMCG brands or fast-food chains, and the same principle absolutely applies when trying to close a B2B deal as well. A B2B company, for example, may bundle a year of free service along with a product, or a couple of add-on features that are otherwise chargeable.
The idea is that the customer gets the combination of products for a total value less than if he were to buy them individually. It's a form of creating value to try and win the deal. It is not likely to work to draw in more leads or break a competition barrier, but it will work to push a prospect over the fence if they're procrastinating closing the deal.
Use this sales promotion strategy when:
A prospective deal isn't converting because of a value hurdle
You're trying to push inventory or service that isn't getting bought independently
You're trying to add value to create goodwill
4. Add-on benefits
A survey by RetailMeNot found that 80% of customers would rather get free shipping than receive their package faster.
This reluctance to buy add-ons is universal and can help you close deals. A good way to push a deal towards conversion is to pack on the added benefits: free shipping, free service, extended warranty, etc., that customers usually have to pay for with the product.
Use this sales promotion strategy when you:
Have a deal that's 'on the fence'
Want to get customers to try a new product
Want to push prospects to make decisions faster
Value or price is a point of contention, and offering these add-ons makes economic sense to your firm
5. Refunds
You've probably seen the "money-back guarantee" with a number of consumer products. This is a sales promotion strategy where you offer to return or refund the value of the purchase if the consumer is not happy.
Like with freebies, it's often used to break the barrier to trial for new customers or new products.
This works especially well when the value of your product is realized more profoundly after using it – "if only we could get more people to just try the product" are words very commonly heard in many meeting rooms.
A limited-period refund guarantee can help you push sales by reducing that barrier to trial.
Use this sales promotion strategy when you want to:
Get customers to try a new product
Break the trial barrier – or you think a product trial is what will help convert more deals
Push prospects to make decisions faster
Have another brand pushing competitive pricing
---
The Pros & Cons of Using Sales Promotions
So, you need to push your sales and have a number of sales promotion strategies that might be appropriate – should you be using them? As a sales strategy, promotions come with their own pros and cons.
| Pros | Cons |
| --- | --- |
| Promotions are a great means to an end | Promotions are only a short-term sales strategy |
| They help stimulate demand | They can divert attention from long-term selling activities |
| Promotions make things easier on the sales team | Some sales promotions can dilute the brand for new audiences |
| They help keep sales numbers high round the year | Once effective they can easily become an overused strategy |
| Promotions can increase customer goodwill & loyalty | They can make it a challenge to sell at regular price points again |
Sales Promotion Pros and Cons
Behind every sale, promotion is a consumer behavior trait that's driving the strategy. Understanding these traits not only helps you better understand the different promotion types, but when to use which, and how to make the most out of them.
After all, running a sales promotion isn't as easy as a marketing campaign – it can fail when not strategized well.
---
Customer Behaviour Traits That Can Help You With Sales Promotions
Let's look at some of the consumer behavior traits that will help you run successful sales promotions:
1. Risk aversion
Risk aversion is a cognitive bias often found in consumer psychology, where the pain of losing or missing out on something is more compelling than the happiness of gain. It is what has people adding products to a cart during a flash sale faster than they would at another time.
The same risk aversion applies when closing a B2B deal – if the prospect feels like he stands more to lose from missing out on what you're offering at the moment, he is more likely to grab your sales promotion and you can close your deal.
Risk aversion usually comes into play with limited-period offers and discounts that offer much higher value to the buyer than at other times during the year.
2. Social proof
While it's a very old psychological concept, social proof is a relatively recent phenomenon in consumer purchase behaviour.
Most consumers today trust the word of their peers, colleagues, or even other unknown consumers, over that of brands. Rather than trust just the advertisement or brand material, they will look for reviews and the experience of other customers before they make a purchase.
This is why case studies, customer testimonials, customer videos, have become almost a standard part of every brand's marketing strategy – once leveraged, it will make your sales promotion that much more powerful too.
Once you talk about how many people have benefited from your bundle offer, for example, you can help push the sale promotion even further.
3. Need for Esteem
Esteem needs are one of the upper-level needs in Maslow's Hierarchy of Needs, and very much apply at a corporate B2B level too.
Status, reputation, and recognition are part of the need for esteem that most companies and executives at companies are prone to fall prey to, and are ideal to keep in mind when dealing with a high-flying client.
Hence, when creating a sales promotion that you're hoping appeals to upscale clients as well, you'd do well to keep in mind their need for esteem and ensure that the promotion offers value without undercutting their focus on esteem: they don't need the promotion, but everyone loves a good promotion without compromising on reputation and esteem.
4. Need for security
Safety needs are one of the lower-level needs in Maslow's Hierarchy of Needs and are prioritized by growing businesses.
This is a good cue to take when pitching a sales promotion to close a business deal: if it offers value or security in some way, they are more likely to use the promotion and close the deal.
Caveat: The need for security doesn't apply necessarily only to growing businesses – it's is just a higher-order priority for them. For enterprises, safety in decisions is more of corporate hygiene.
5. Scarcity Aversion
Scarcity aversion is very close to risk aversion, in that the pain of loss is more powerful than the draw of the gain. This is why you see a lot of brands creating a temporary scarcity of products, to help drive up demand – the same principle, in fact, is applied in economics too.
This is a powerful component in delivering sales promotion strategies that drive prospects to make faster decisions, which makes it ideal for flash sales, clearance sales, bundles, and add-ons intended to clear out inventory or push sales revenue temporarily.
---
Preparing to Run a Sales Promotion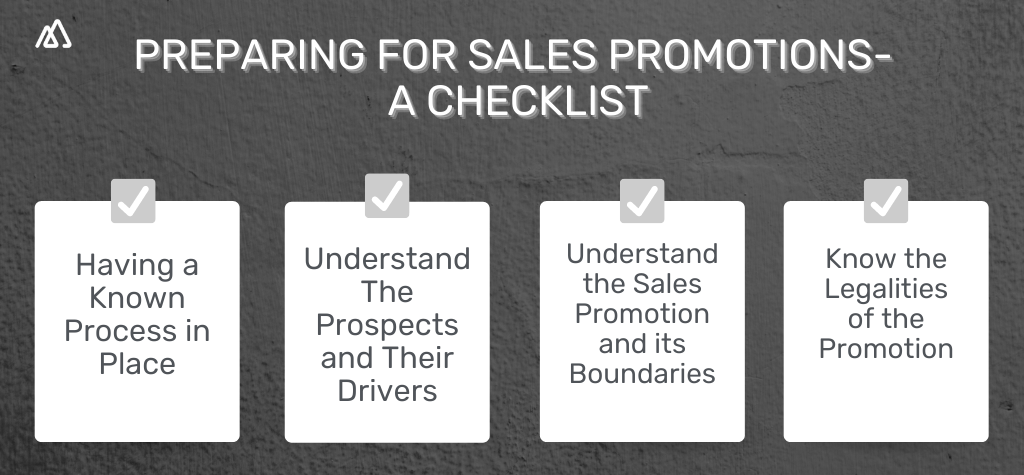 Running a sales promotion isn't as easy as a decision made in the boardroom. Your marketing and sales team needs to be ready to push that promotion and get the results you expect from it – after all, it's only a short-term strategy to achieve your objective.
Here are a few ways in which they need to prepare:
1. Having a Known Process in Place
Every sales promotion has a certain process by which it's applied or made use. When planning the sales promotion, it's important to formalize these parameters and have a written process in place that can be shared with everyone – the marketing team, sales team, etc. to ensure everyone is on the same page.
This could apply to details of the promotion, steps by which the promotion is applied, the eligibility criteria of prospects/customers for which the promotion applies, and so on.
2. Understand The Prospects and Their Drivers
It's important that your sales team understands the prospects and the psychological drivers behind them having been attracted to the sales promotion in the first place.
When running a sales promotion, prospective customers are first exposed to the promotion during the marketing phase of your selling – that means, more often than not, your sales team will be receiving leads who have already gotten drawn in by the sales strategy.
They then need to be able to understand each prospect and their driver, so as to successfully convert that reeled-in potential buyer into a deal.
3. Understand Sales Promotion Techniques and their Boundaries
Just like it's important that each member of your team understand the process of the sales promotion, it's important that they understand the intricacies of the promotion itself.
Why is it being offered, why now? What do you hope to gain as the outcome, and is there a particular target to be achieved? Why is this the promotion being offered, as opposed to anything else?
They need to be able to match this understanding of the sales promotion with their understanding of the consumer, to better convert deals.
When we spoke about the need for esteem and the need for security, for example – your sales team would need to understand when each comes into play to be able to pitch the sales promotion accordingly.
4. Know the Legalities of the Promotion
Each sales promotion comes with a host of legal terms & conditions. Your sales team needs to know these, in order to have better authority over pushing the promotion.
Of course, your usual approval workflow also comes into play here – when a sales representative is uncertain about any legal implications, they know to immediately defer to their superior.
---
And with that, we conclude our comprehensive guide to acing sales promotions and closing deals like a rockstar! Sales promotions are one of the most effective sales strategies to meet short-term goals, and we hope you are now equipped to use them to your benefit.
As always if you have any questions, we'd be happy to answer them – simply drop them in the comments section below!
Start 15-day Free Trial