Are you looking for ways to boost revenue? Do you want to generate more leads? Have you considered including sales promotion techniques in your strategy? If you are a small business or you are introducing a new product in the market, promotions are an excellent way to improve your revenues.
Sales promotions are also a great way to increase brand awareness, improve customer satisfaction, and increase sales.
It is not a new concept and has been used for decades. Regardless of the size of your business, there are several sales promotion techniques that could work well for your small business.
What Are Sales Promotions?
A sales promotion is a marketing tactic in which businesses use offers or a temporary campaign to increase interest in their products or services. Businesses use sales promotions for several reasons. However, they are mainly used to motivate buying behaviour and increase short-term purchases. Although businesses use sales promotions to boost sales, there are several other benefits that these techniques bring with them.
---
Why Are Sales Promotions Important?
Besides increasing the demand for a particular product, sales promotions offer several other benefits.
Generate New Leads
Sales promotions are a great way to generate more leads. Say you are a software company and want people to use your app or platform. Giving a week-long or a month-long free trial could encourage more people to try out your app.
There would be several potential customers who would feel encouraged to download your app to see if it is the solution they were looking for. These are all qualified leads that you could convert into paying customers with a little nurturing.
Grab Attention
If you are launching a new product and there isn't sufficient social proof, sales promotions can help you garner attention. For instance, you have launched a new product in the market.
A popular sales promotion technique is to offer an 'introductory price', available for a limited period. You can boost sales as people try to take advantage of the discounted price. Plus, you will also be increasing awareness about the new product and social proof.
Create Repeat Customers
Sales promotions techniques also help increase repeat customers. An existing customer is 60% to 70% more likely to buy your products. By offering your existing customers discounts or incentives, you can increase repeat purchases, increase customer loyalty, and also get high-quality referrals.
Repeat customers are also good for your sales pipeline as they move quickly through the sales funnel because they are already happy with your brand.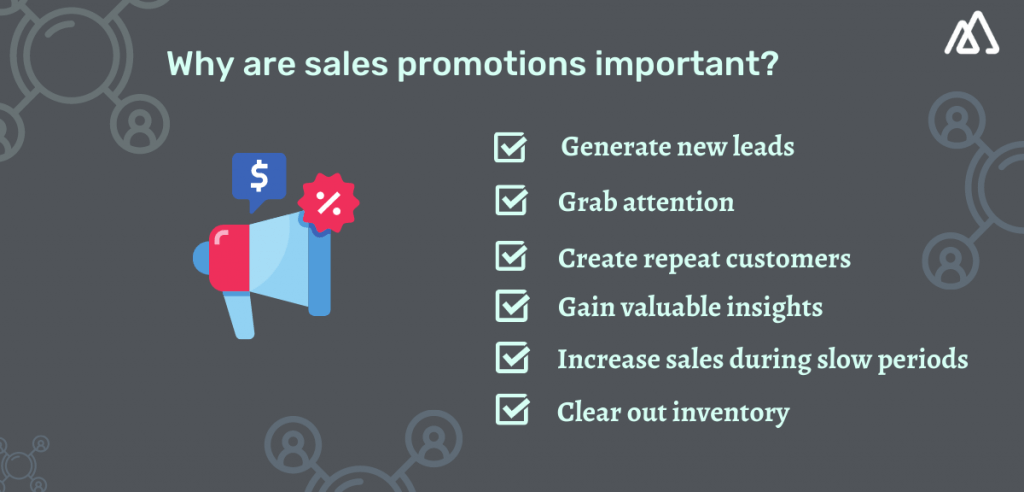 Gain Valuable Insights
Sales promotions help you understand what your customers need and what influences their buying decisions. Understanding customer interest is important for designing sales promotion campaigns that perform well. You will also need to look into what your competitors are offering.
You can't run a sales promotion offering a 10% discount when your competitor is offering 15%. Taking time to research these things can help you create campaigns that resonate with your target audience. By spending some time in research, you will eventually create campaigns that not only attract new customers but also improve customer service.
Increase Sales During Slow Periods
Is your business seasonal? Or, are you experiencing a slow period? If you are, consider implementing a sales promotion campaign during slow periods or off-seasons to increase customer interest and sales.
Clear Out Inventory
If you are left with extra inventory at the end of a sales period, you can use sales promotions to clear them out. Many retail businesses use sales promotions to sell off products that are becoming redundant or going off production. 
---
10 Sales Promotion Techniques to Help You Close More Deals
Regardless of the industry, you operate in or the size of your business, there are several sales promotion techniques that could work wonders for your business.
Here are ten such sales promotion techniques: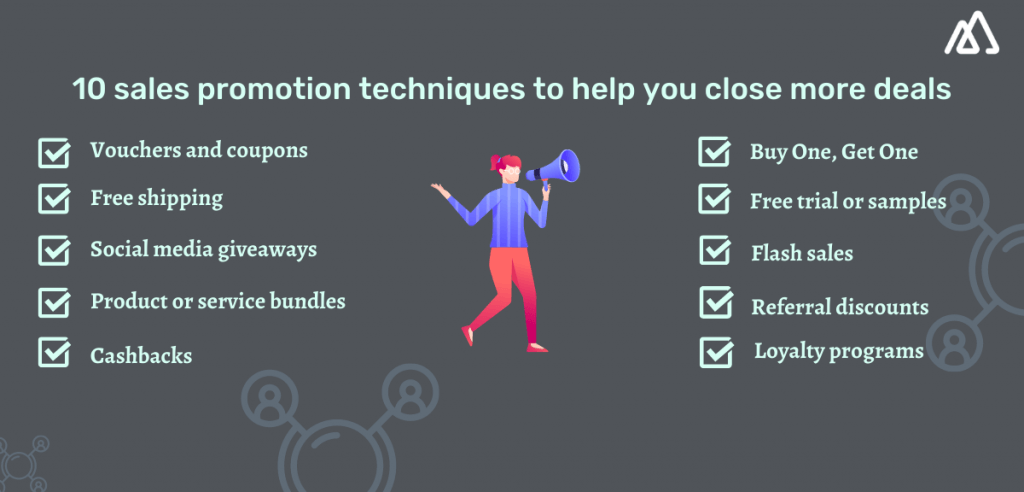 1. Buy One, Get One Free
Buy one, get one, or BOGO is perhaps one of the most popular sales promotion techniques. Pizza Hut, Subway, and several other businesses use this technique to drive sales. Offering two products for the price of one increases sales because customers are attracted by the perception of freebies.
It is also an excellent way to clear stock, which is why you will see a lot of retail businesses using this technique. A lesser-known benefit of BOGO promotions is that it increases brand awareness because many a time, customers share the free product with their loved ones.
BOGO deals are not limited to only product-based businesses. They work equally well for service-based businesses as well. For instance, if you run a spa or a gym, you could offer BOGO deals on your classes and training to acquire new clients.
Service-based industries are based on time and not product value. If you have the time to spare, this is one sales promotion technique you must try.
For product-based businesses, it is important to choose the right set of products for BOGO promotions. You do not want to end up making a loss, do you? You should also pay attention to the timing of the offer if you want to boost sales. For instance, offering BOGO during festivals or the holiday season could help your business attract more customers.
2. Free Trial or Samples
If you have opened a new store or introduced a new product, sales could be slow in the initial days. Sales promotion techniques are a great solution to boost sales and succeed right from the start.
Offering free samples is a popular technique used in many industries, especially the beauty and retail industries. Many beauty brands offer free samples to their customers. For instance, Sephora allows you to add any two samples to your order.
If you have shopped with Big Basket, you may have received free samples of new cereals or snacks. Free sample promotions help customers "sample" the quality of your products, making it easier for you to convert them into buyers.
If you have a physical store, consider setting up a sampling station in your store. You could also offer some free samples at your checkout counter. For online businesses, you could give your customers free samples on the purchase of certain products.
Service businesses could offer free trials on their products to boost sales. According to a report, 62% of companies get 10% of their business from free trials. 16% of businesses get more than half of their business from free trials.
3. Flash Sales
A flash sale is a sale that lasts for a very short time but offers huge discounts. Usually, the quantity is limited, which is why you get higher discounts than standard promotions. You will often come across flash sales on e-commerce websites. If you want to create a sense of urgency among your customers, this technique is worth trying. Online businesses must really leverage flash sales to increase sales.
How often you should run a flash sale is entirely up to you. Some businesses run a flash sale only once or twice a year. Some do it more often, such as once a month. If you want to conduct a monthly flash sale, consider scheduling it at the same time each month.
Doing so will help people anticipate the event and be prepared to make purchases on short notice. Whatever schedule you choose, remember to always announce the flash sale through social media and email marketing campaigns.
4. Referral Discounts
92% of people trust a brand if someone they know recommends it. Also, 70% of people are likely to recommend a brand if it has a good loyalty program. If referral marketing is still not in your sales strategy, you are missing out.
Referral discounts offer dual benefits. One, you get more sales, and two, there is word-of-mouth about your brand. If you still don't have a referral program, consider implementing one now because it can significantly increase sales. Word-of-mouth is an ongoing process, and a well-crafted referral program will ensure that leads keep pouring in.
The best thing about referral discounts is that they bring in warm leads. When deciding upon the referral discount to offer, ensure to pick a number that is affordable for your business but desirable for the customer.
5. Loyalty Programs
Do you have a loyal customer base? If you do, then implementing a loyalty program could be an excellent sales promotion technique. A loyalty program is primarily aimed at rewarding existing customers for sticking around with the brand.
Not only do they retain existing customers by thanking them for being committed to the brand, but these programs also encourage new customers to turn into loyal customers.
Your loyalty program should make your customers feel special. Lancome, the cosmetic brand, is the perfect example of a good loyalty program. It offers three levels of loyalty rewards. After you have made a specific number of purchases, you can qualify for a different tier.
Different tiers offer different benefits, which not only work to boost customer loyalty but also create a positive user experience.
6. Vouchers and Coupons
Getting a new customer is five times more expensive than retaining an existing one. If you want to boost sales, you should also look at ways to increase repeat business. Vouchers and coupons are a great way to encourage your customers to make repeat purchases. You can offer them through emails, product packaging, catalogues, and more.
However, vouchers and coupons can also be used to acquire new customers. You could offer a discount on the first purchase, encouraging visitors to turn into paying customers. You may also use your email marketing campaign to make your prospects aware of the first purchase discounts.
7. Free Shipping
What is the arch-enemy of e-commerce stores? Cart abandonment. It can be incredibly frustrating to move a buyer through the sales funnel, only to have them abandon the cart at checkout. Did you know that over 60% of carts are abandoned over shipping-related issues? Offering free shipping could be an easy way to tackle this.
If you are a small business, it may not be feasible to offer free shipping on every purchase, especially if the product price is low. In that case, you could offer free shipping over a certain amount. Your customers will be encouraged to shop for more to avoid shipping charges.
8. Social Media Giveaways
Social media is powerful, which is why most brands are working hard to build a strong online presence. If you want to boost sales, then using social media giveaways and contests can be a good sales promotion technique. It can also be a great way to get people interested in your brand and acquire new followers.
Most contests and giveaways on Facebook, YouTube, Instagram, or other social media platforms have one common condition. You need to tag a certain number of people on the post to be eligible.
When people tag their family and friends, they introduce more people to the brand, helping it gain new followers. You not only increase brand awareness but also boost meaningful engagement on your social network, which eventually leads to more sales in the future.
9. Product or Service Bundles
People can get pretty excited about getting more value for less. So, why not leverage it as one of your sales promotion techniques? Consider bundling your related products or services for a reduced price. You will not only be able to sell more products but also get people talking about your business.
Product bundles can be especially beneficial for people who are confused between several of your products or services. With product bundles, they can try two or more of these products at a reduced price.
10. Cashbacks
If you do not want to use discount promotions, then you could opt for cashback promotions. You may not give your customers a discount upfront, but getting some of their money back could encourage them to spend it on other products sold by your brand.
Cashback promotions are a win-win for both you and your customers. Your customers get extra money, and you get more loyalty and business from your customers.
---
Conclusion
Sales promotion techniques are a proven way of attracting your customer's attention and boosting sales. Combine your techniques with sales strategies, such as urgency, exclusivity, and proper timing, and you have a winner in your hands.
Using the best sales promotion techniques along with a sales CRM is key to closing deals and filling your sales pipeline. Use these effective sales promotions list to enhance your outreach efforts, build meaningful relationships and have a much more powerful impact on your sales.
Start 15-day Free Trial