Journey to a deal closure is filled with constant hustle: the endless follow-ups, the late nights, and the race against targets. That's exactly why businesses today need a Sales CRM – to streamline the entire process for them, ensuring they have fewer things to worry about on those challenging days.
Businesses across various industries have adopted this solution and seen a surge in conversions by 300%. Between now and 2028, the number of businesses adopting a CRM system is expected to increase steadily by 12%, and for every dollar spent, businesses will generate $30.
But this is also true that 22% of businesses switch their CRMs because the system is difficult to use. The key here is to finding the right tool that is easy to use and caters to your unique needs. Don't know where to start? Let us help you there!
---
What is Sales CRM?
A Sales CRM (Customer Relationship Management) is a tool that helps helps your sales team build lasting relationship with your client.
With the help of this system, you can track and manage clients at every step of their buying journey, centralize sales operations and win maximum opportunities.
From lead management to workflow automation and data analytics, a robust Sales CRM offers many different functionalities to help business owners closely monitor where the business is heading.
---
Unlocking Growth: Key Benefits of Sales CRM for Business Owners
Sales CRM today is at the heart of every business. Recent stats suggest that 91% of companies with more than 11 employees use a CRM. This means there has to be a concrete reason why CRM is widespread.
Looking at its most basic benefits, you'll see that sales CRM for small businesses saves time and can exponentially increase sales and return on marketing investment.
Here are the many outcomes and benefits you can derive from a Sales CRM tool if you are looking to scale your business:
Reduces the burden of manual admin work.
Minimize errors in data collection.
Reduces bad decision-making.
Improves the chances of lead conversion.
Improves the chances of customer retention
It doesn't matter whether you want to expand your portfolio by adding new products or services, or you want to expand your business to new geographies or streamline your sales process for better productivity – a Sales CRM software can help you scale with ease.
Interested in taking your growing business to the next level with Kylas? Sign up for a free CRM trial to learn how our small business CRM can help you be more productive. You can even Schedule a Demo to talk to our CRM experts today!
---
Why Do You Need a Sales CRM for Your Small Business?
1. Full Stack Feature Set Out-of-the-Box
Small business owners often convince themselves, "I have access to prime enterprise technology like spreadsheets, email, and such. I don't need to change my technology ecosystem when my current stack works fine."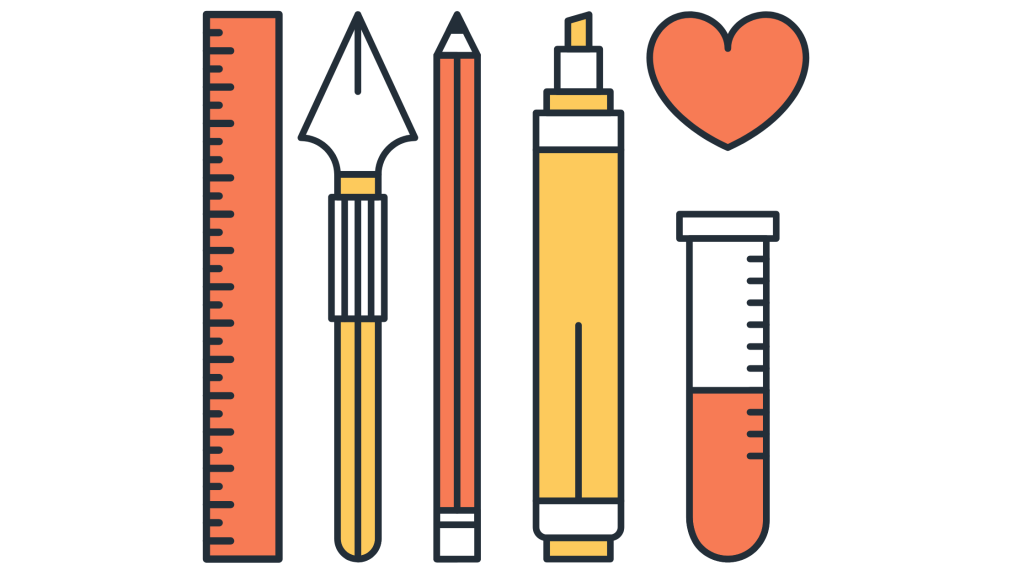 Using this technology stack, your business might achieve all defined goals, and adopting a sales CRM will only murk the water.
.
We often miss that such a varied technology stack consumes much time, binding salespersons to admin tasks more than tasks that affect the bottom line, i.e., sales.
On the other hand, a full-stack feature set brings all data into one unified system, freeing time for the sales team to focus on sales.
Key Sales CRM best features include-
Lead Management System
Deals, Contacts & Companies Management
Data Analytics
Sales Pipeline Management
Collaborative Tools
Customer Reports and Insights
Data Management & Security
Cross-platform & Device Usability
Features unique to Kylas –
In-App Sales Motivational Ecosystem
Collaboration Module
---
2. Customization & Technical Assistance
Organizations often rely on the CRM vendor for customizations or hire consultants to implement the same.
Both options cost extra and take significant time to implement and process audits. Small & Growing Businesses cannot afford to invest as much time and resources to implement a bulky 'customized' CRM that may not fit their needs best.
Customizability can be broken down into three aspects.
1. Data Fields & User Control
User control is where the account owner or system administrator can control access based on user role, allowing access to critical information like customer data and sales data analytics only to a limited few.
Data fields and entities are where the sales pipeline is managed based on existing workflows and terminologies used to suit the business and the industry.
2. Software Integration
Software Integration is where the sales CRM is integrated with technology from a third party.
These are software tools that you might already be using and that need to be integrated with your sales CRM software for seamless functioning-
Email Integration ( Gmail, Outlook, Mailchimp, Netcore)
Communication ( Calling & SMS: Exotel, Knowlarity, Servetel; Chat- WhatsApp, Slack; Video- Google Meet, Microsoft teams, Zoom)
Accounting (Intuit, Razorpay, Quickbooks, Xero)
Lead Generation ( Facebook, Google, JustDial, TradeIndia)
3. Workflow & Automation
Workflow Automation of specific processes reduces time spent on admin tasks. It improves data collation like auto-lead capture, auto-segregation by source, and one-click conversion of leads to contacts, deals, and companies.
So, look for a sales CRM with a full-stack feature set that offers customization in all the aforementioned verticals. Other than that, saving on additional cost and time and customizability along with a full-stack feature set helps:
Provide a more effective solution to your sales team, suited to your business's process
Improve data accuracy and sales productivity
Use software that your sales team is used to. Ex: Google Maps
Prevent sunk costs w.r.t third-party investments
Get information and data analysis from third-party systems in one place
Small business owners face unique business challenges. These challenges limit their ability to make the same choices that any enterprise can. Various CRM options in the market today cater to the need of both enterprise and growing businesses.
Before investing in Sales CRM Software, carefully examine all the factors. Choose a solution that is designed for Small Businesses like yours and is best suited to your requirements.
The case with Kylas – Unlike other CRMs, Kylas Sales CRM software does not need consultants to customize data fields and user control, making the platform easy to use and sustainable. Here's a testimonial from Shibani Thakur, Owner waterapp.in.
The platform ensures that all businesses get software integration and workflow automation support.
In the coming months, we will release workflow automation and integration options, like Gmail integration, WhatsApp Business integration, and much more.
Our in-house technical team is here to help provide you with a full-stack feature set to help you scale easily.
---
3. Affordability & User Limitations
Most sales CRM software offers confusing pricing plans with multiple variations and support options for each.
Investing in a CRM is not a minor decision, as it will be a recurring cost for any business.
Most Sales CRM tools come with a per-user cost; growing businesses must shell out increasing amounts toward the license cost as the team size increases.
As a result, small business owners decide to restrict the number of users/licenses, and only a few organization members can then access the tool.
This results in a lack of collaboration as most team members don't have access to the data and conversations on the tool.
The case with Kylas – Kylas Sales CRM packages for small businesses cost INR 12,999/month.
Unlike other CRMs, Kylas doesn't restrict user limits, so you pay the same no matter how many users you bring to the platform.
Moreover, from a cost perspective, the more users you bring to Kylas, the more the CRM price per user becomes much more affordable.
---
Red Flags to Spot When Purchasing a Sales CRM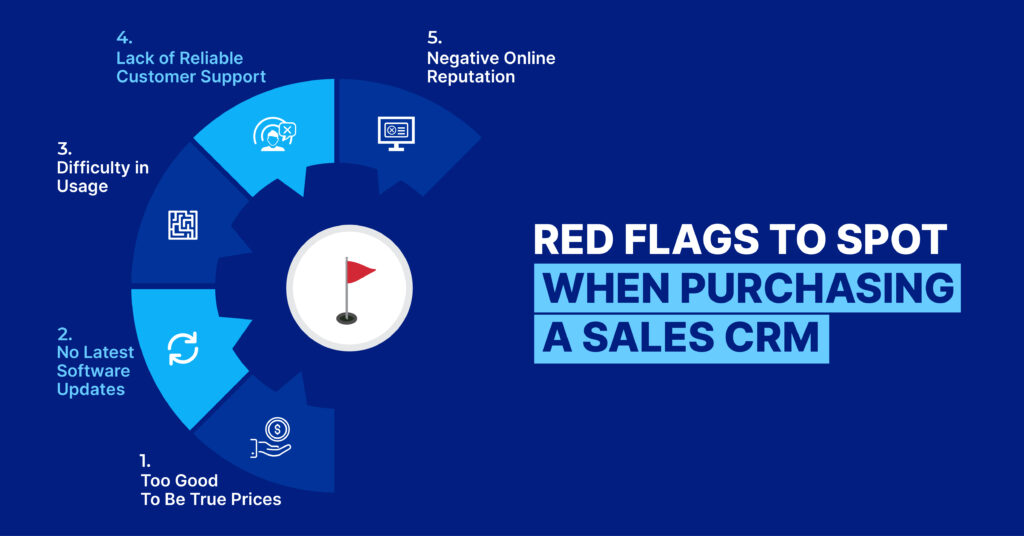 Most businesses are unaware of what to look for before finalizing a CRM tool. But trust us when we say this, you need to be equally aware of what you do not need in a Sales CRM.
Here are a few red flags you should look out for when purchasing a sales CRM tool.
🚩Too Good To Be True Prices
Watch out for too-good-to-be-true pricing. Lower prices do not always mean more value!
Imagine this; after months of research, you finally shortlist a CRM. It's perfect for your use case, solves all your sales-related problems, and fits your budget nicely. However, you quickly discover that you may have to pay extra for setup, implementation, and features you didn't initially think you needed.
Small business owners often get misled when evaluating CRM features and comparing vendors. They look out for systems with more features for lesser prices without understanding the context of the business value they can offer.
While many growing businesses relate to value for money to TOC (total cost of ownership), it is rather ROI that they should focus on.
Evaluating the Return on investment of a CRM tool
Consider the amount you will pay to buy and maintain the CRM software. You can calculate this by adding the monthly cost of the software with its implementation, setup costs, and add-on costs (if any).
You must also examine how the CRM software helps you increase your revenue and profits. This could be higher sales productivity, efficiency, customer retention, etc. The reason why it is essential is that a lot of CRMs in the market are feature heavy and difficult to adopt.
Also, look for the following indicators to check the transparency of the CRM pricing:
Ask the brand to breakdown the pricing structure for you
Ask your sales POC the right questions:
"Is the offer price inclusive of GST?"
"How much is the set-up cost?"
"Do I have to pay extra for implementation?"
"Is CRM training a part of my subscription plan?"
"Will I have to pay extra for X,Y,Z integrations?"
With an understanding of these aspects, the odds of falling prey to the wrong CRM vendors are slim.
Reliable CRM vendors routinely update their products to eliminate bugs and add improved features. They roll out these updates to make their systems more intuitive and useful for end users. Latest updates mean that the vendor invests in innovation and is willing to go that extra mile to make its solution more user focused.
Growing Businesses should look for a Sales CRM with regular feature updates to ensure they never get out of sync with the latest version of the system. Here's what you can do to check if a CRM vendor updates the product frequently:
Check for roadmaps on the company website. Roadmaps will give you a clear idea about where the product is headed, and you will also get detailed insights into the past releases. Here is a link to ours to help you understand how road maps look like.
Look for Monthly Feature Updates blogs or posts. Many CRMs offer these write-ups to give users a round-up of the latest features.
Browse through the company's social media handle to find feature update announcements.
Editor's note: Regular feature updates do not usually mean significant changes. In fact, for a SaaS tool like a CRM, regular updates are mostly small or rather digestible changes that do not require much of a learning curve.
🚩 Difficulty in Usage
60% of businesses say their productivity improved by using a CRM platform. Then, why do 40% of salespersons still rely on traditional methods like Excel?
The answer is simple. Some CRM systems are challenging to use, period. Most teams give up on CRMs within a few months of usage. This creates more problems for businesses as now they have to pay for a tool their teams no longer use, and their data is still scattered in different places.
You can do the following to avoid getting into such situations:
Sign up for a free trial to understand if the product fits your business. While on trial, ensure that you use the product regularly to find where your team might face difficulties.
Explore the product's tooltips, knowledge base, and videos to ensure that your team has the right resources available to resolve CRM-related queries.
Go for a detailed demo. We would suggest you have a list of features and customizations ready before you get into a product demo.
🚩Lack of Reliable Customer Support
Growing businesses need more support than enterprises when it comes to adopting tech. A reliable Sales CRM provider will support you at every step of the way with:
Quick Responses to Support Tickets
A dedicated Account Manager for your business
If a CRM vendor falters at providing efficient technical and business assistance, it is a major red flag. Do the following to check the level of support a vendor offers:
Check for customer reviews
Analyze their TAT by raising a support ticket through emails or the marketplace
Read reviews to gauge how reliably the vendor resolves customer concerns
Editor's note: Also, look out for CRM vendors who claim to be available for their customers all day, every day. In reality, only a few CRM providers offer this. If 24/7 support is a dealbreaker for you, have a word with your sales representative on this.
🚩Negative Online Reputation
The narrative around a brand and the general perception of the product is a reliable indicator of the value it creates. If a brand has a negative reputation online, it is a big red flag!
Why does it matter? Have you ever purchased a product online without seeing its reviews and ratings? Exactly!
While a compelling backstory or a great website can offer you a great head start when selecting a CRM vendor, there are other factors that you must consider. From security breaches to privacy policies and software bugs, you should look out for the consensus about a product before even considering it for your final selection list.
To help you get started, look for these factors:
Negative customer reviews on tech review platforms like G2, Capterra, or Software Suggest. Also, see if the brand responds to negative comments and how they do it.
Negative threads about the product on Quora, Reddit, and Twitter
Social mentions, engagement, and reach.
No case studies or customer testimonials
Look for both positive and negative indicators, weigh them against one another and make the right choice!
---
Small Businesses Need More Than Just a Sales CRM
While all these features, customizability, and affordability are great, small business sales applications need more support to compete with the biggest and the best.
Small businesses need more than sales CRM software to scale and thrive in a highly competitive market.
1. The Typical Case of Priority
Small business owners find their businesses at the back of the queue as CRM vendors prioritize large-ticket accounts when needing support.
While this might make business sense for the CRM vendor, it does not augur well for small businesses.
Small businesses need to be given higher priority regarding technical and business assistance. 'Time is money for small businesses, and they don't have either to waste.
What small businesses need is a level playing field in terms of-
Quick deployment time
On-demand technical expertise
Desired product training
Required resolution of technical issues (if any)
On-demand business expertise
This is the result of growing businesses getting the support they need!
Better customer engagement, better sales productivity, and faster business growth.
The case with Kylas – As Kylas offers only one premium plan. This means that there are zero chances of choosing one customer over another.
What this means is no matter the company size or industry, a level-playing field is provided to all small and growing businesses.
---
2. Business Expertise
Small business challenges come in many shapes and sizes. And the lack of access, or affordability, to business consultants is one of the most significant factors in helping small businesses plan better.
Experienced business consultants can help with strategic and tactical planning to help reach business goals coherently based on your unique requirements, your industry, and your product/service.
Access to business expertise helps with-
Bringing in industry knowledge
Defining and strategizing viable approaches to reach business goals
Building a culture of growth mindset
Setting up proper feedback workflows to discover, order, and analyze information from customers, the sales team, and external stakeholders.
The case with Kylas – Small businesses cannot afford to hire business consultants. Kylas growth engine offers business expertise from our in-house experts.
They also provide industry best practices, help you understand Kylas Growth Engine, and provide a customized walkthrough and product training, leading to higher adoption and usage rates.
---
3. Product Implementation & Adoption
When switching from Excel to CRM, many businesses struggle to get their sales team to use the software.
As Scott Edinger sets the context in this Harvard Business Review article, "…when I ask executives if the CRM system is helping their business to grow, the failure rate is closer to 90%."
So you need to know if your business is ready for sales CRM software.
Take a look at the list of questions below.
Am I using too many software tools to run my business? Is it creating confusion for my sales team?
Does my sales team have the right mix of technology, support, and expertise to deliver at scale?
Do my sales team, and I have complete visibility into my sales operations?
Is my current sales CRM investment(s) proving its worth?
Using my current CRM investment(s), can my sales team track sales metrics in real-time to know where they excel and where they need to increase efforts?
Does my sales team have a complete and integrated view of all my customers? Do they know who the most valuable customers are?
Does my sales CRM software allow me to segment my contacts efficiently? Segments like Leads, Opportunities, Customers, Referrals, and Companies?
If you answer 'yes' to 3 or more questions, your business needs a CRM.
But how to ensure that your CRM implementation is successful? Well, a lesser-known fact is that training and onboardings are equally crucial for successful CRM adoption. Find a solution that provides robust training and support, so your team gets onboarded and starts scaling.
---
Best Sales CRMs for Small Businesses [2023]
1. Kylas Sales CRM – #1 in Ease of Use and Support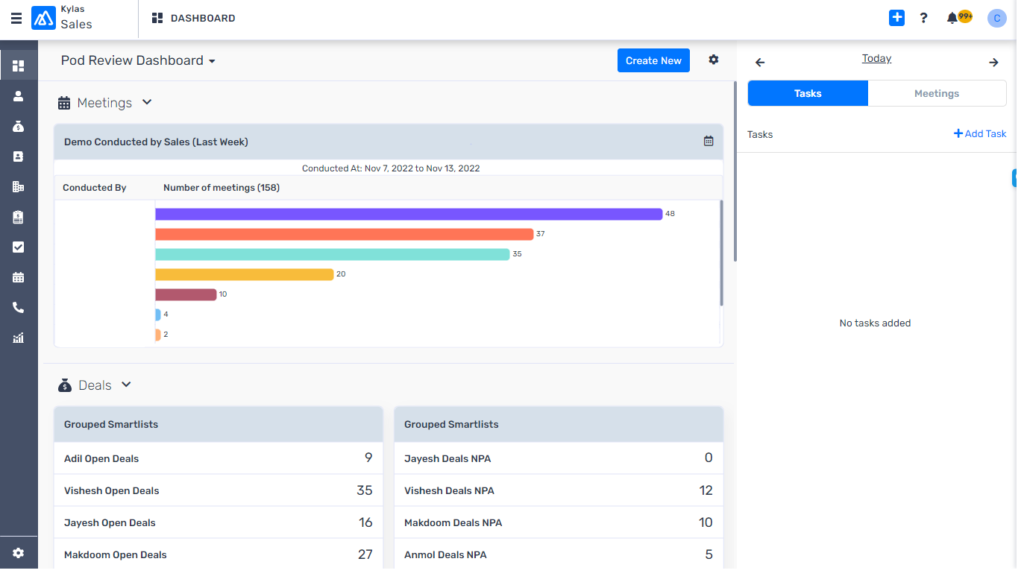 Kylas Sales CRM is the undisputed #1 choice for businesses that want a powerful, user-friendly CRM that's backed by exceptional customer support.
With Kylas, you get a simple yet sophisticated enterprise-grade product that offers a full suite of features at a cost that small and medium-sized business can afford. From efficient lead management to sales tracking, customer communication, and performance analysis, Kylas has got you covered.
The best part? Kylas has a clear, intuitive interface that's easy to use and understand. You won't find any unnecessary features or bloated functionalities that slow you down. Instead, Kylas helps your team get their work done quickly and efficiently, making it the go-to CRM for businesses that actually want their sales teams to use the CRM.
What sets Kylas Sales CRM apart is its commitment to collaboration. With unlimited users and features at a flat cost, all your departments can use CRM to their full potential. The product streamlines workflows, enhances team collaborations, and ensures that all your data is stored in one centralized location. And if you need to integrate Kylas Sales CRM with popular business apps, no problem – it's seamless and easy.
Rated highly by critics and users alike, Kylas Sales CRM is the scalable yet affordable solution for small and medium-sized businesses that demand top-notch performance from their sales teams. Rated highly by critics and users alike, Kylas works wonderfully for small and medium-sized businesses that want a scalable yet affordable solution for their sales teams.
| | |
| --- | --- |
| Pros | Cons |
| It comes with limited marketing functionalities | Limited features in the free version |
| Easy to use | Offers onboarding and training by in-house CRM experts |
| Offers onboarding and training by inhouse CRM experts | |
| Robust Customer Support | |
| No Limits on Customization | |
| Give a free trial for 15 days | |
Pricing: Flat ₹12,999/ month – billed yearly
Onboarding, training, and setup prices: ₹25,000
---
2. Bigin by Zoho- #1 Cost-Effective Solution for 1-5 users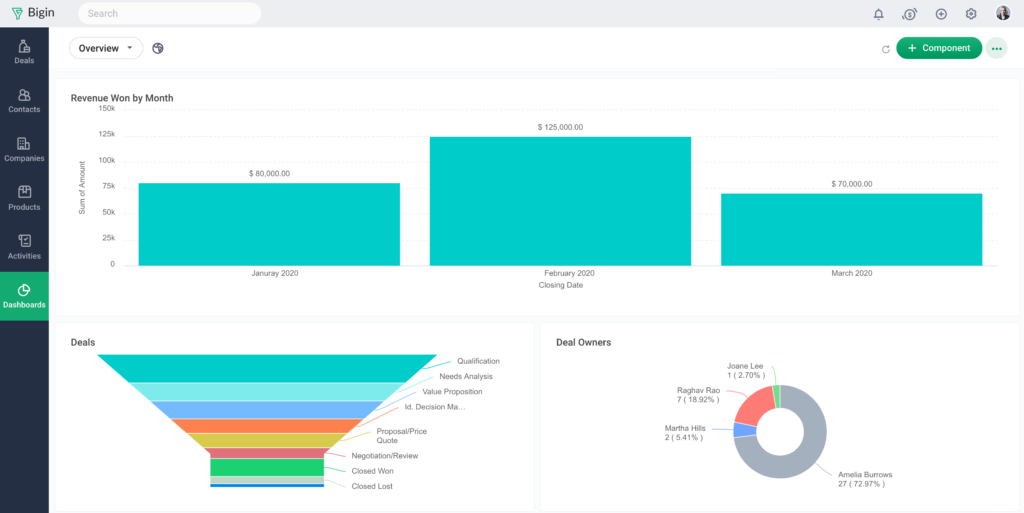 Bigin is an all-new sales CRM by Zoho that is geared toward small and mid-sized businesses. You can think of it as the "Little Brother" to Zoho CRM, with simplicity and functionality as its biggest pro. The product focuses on mobile phones and broadly offers features that small organizations need.
If you want to move away from traditional spreadsheets and do not want a complex CRM for your team, you should go for Bigin. It is perfect for businesses that have simple sales processes and limited budgets. However, if you have more complex needs or plans for growth, Bigin might not be the best option for you in the market. That's because it does lack some of the most crucial features like automated lead routing and report customization.
In addition, Bigin may work just fine for businesses with 1-5 users; for anything more than this, your costs will keep rising. So, if you have plans to scale, you may either have to buy more licenses or migrate to a more advanced CRM solution down the line.
| | |
| --- | --- |
| Pros | Cons |
| Beginner-level CRM for small businesses moving towards tech adoption | Limited features & functionalities |
| Affordable pricing for small teams | Per user charges which limits your team's growth |
| Ease of use | No CRM training offered |
| Includes basic CRM features like workflow automation and pipeline management | Eliminates vital CRM features like sales forecasting and lead qualification |
Pricing: ₹400/user/month/billed yearly for Express Plan OR ₹720/user/month/billed yearly for Premier Plan
Onboarding prices: Approx. ₹41,000/-
No in-house CRM training
---
3. Pipedrive CRM – Best deal-driven CRM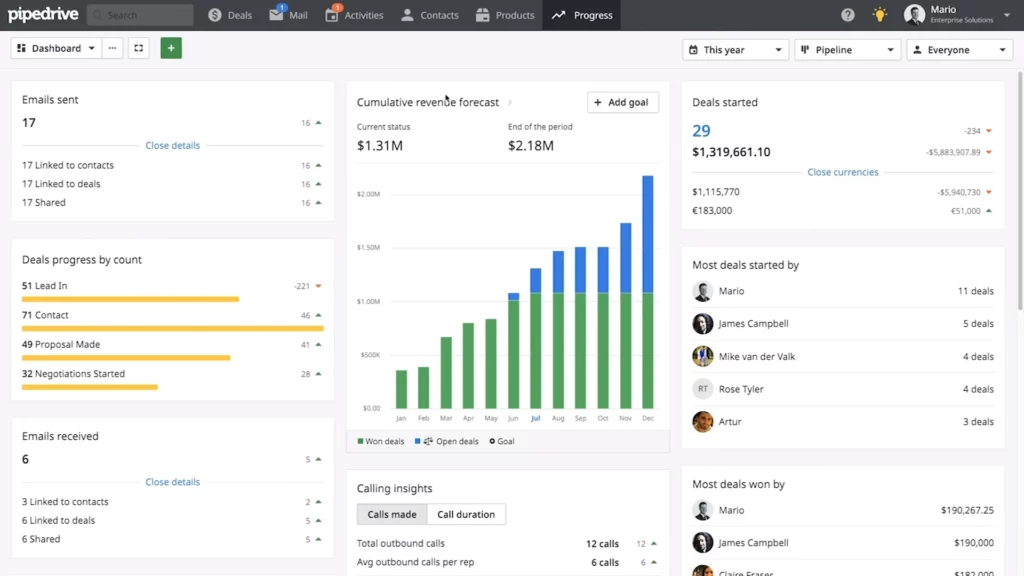 Pipedrive is a sales-focused CRM that caters to both enterprises and small businesses. It stands out because of its simple UI, robust tools, and easy integration. The product helps sales teams and business owners to visualize the sales process from start to finish.
Pipedrive assists both the sales and marketing teams, and this deal-driven CRM platform has 4 different pricing tiers to accommodate businesses of all sizes. Of these plans, the essential and advanced are the ones that growing business owners mostly use.
Pipedrive's system is relatively straightforward, and you can get it up and running quickly without expert help.
As far as the pricing is concerned, Pipedrive charges businesses on the number of users' licenses. For every user you add, you must pay an additional fee every month. Not only this, but you get lesser features and capabilities if you go for their lower-tier plans.
While Pipedrive's rich feature set is a plus for departments across the value chain, it is also responsible for making the interface a little too complicated for first-time CRM users. Plus, it won't be wrong to say that the software comes with a learning curve that can throw CRM novices off track with their usage. Your time will require time and training to familiarize them with the system. If not implemented correctly, productivity will take a hit, eventually affecting your sales.
| | |
| --- | --- |
| Pros | Cons |
| Marketing & sales automation in one platform. | Too many features make the software complicated for growing businesses |
| Varied pricing plans to cater to growing businesses and enterprises | Per-user charges for all plans |
| Lower pricing plans are affordable for small businesses and teams | Several features are eliminated in lower prices plans |
| Includes CRM features like lead and deal management for its average-priced plan | Reserves features like custom reports, custom fields etc. for high-priced plans |
Pricing: Ranges from ₹815/user/month/billed yearly to ₹4,932/user/month/billed yearly
Onboarding prices: Ranges from ₹1.77 Lac to ₹11.73 Lac (depending on the plan)
No in-house CRM training
---
4. Leadsquared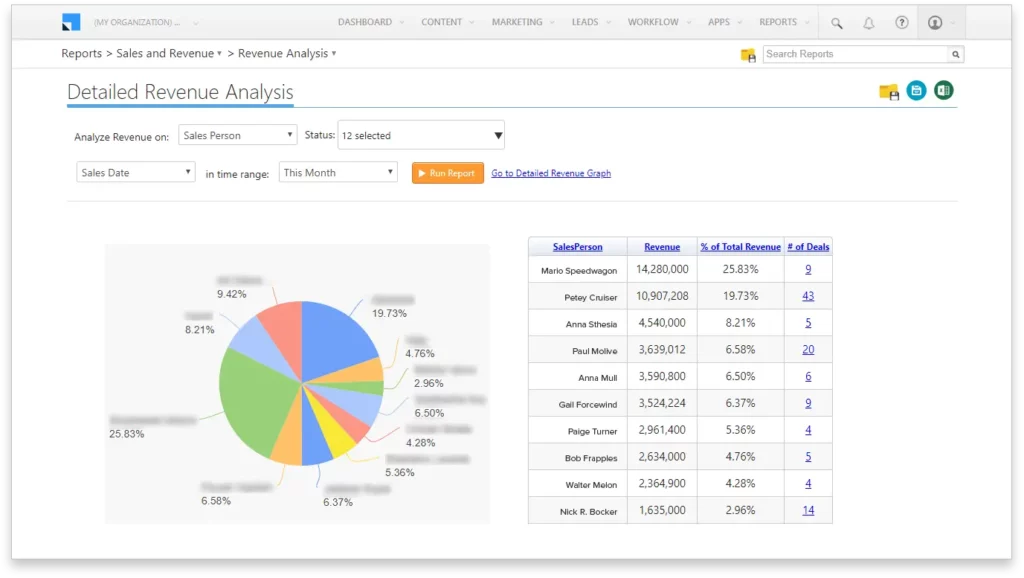 Leadsquared is an advanced productivity suite that offers various functionalities. Growing businesses can significantly benefit from their integrated marketing, sales, and service capabilities.
LeadSquared offers a range of features that can help small businesses attract, engage, and convert more leads into customers, including lead management, email marketing, landing pages, and analytics. The software also allows businesses to automate many of their sales and marketing processes, which can be particularly beneficial for small businesses with limited resources and who want to streamline their operations as much as possible.
While LeadSquared is a fantastic tool that works excellently across industries, it has its downsides, especially in cost, customization options, and learning curve.
It can be relatively expensive compared to other CRM solutions on the market, particularly for small businesses that require customizations, advanced features or a large number of users. For small businesses with limited budgets, this can be a significant obstacle.
Additionally, despite its user-friendliness, with Leadsquared you will require some training and time to get fully up to speed. For small businesses with limited IT or tech support staff, this can be a significant challenge.
| | |
| --- | --- |
| Pros | Cons |
| Varied pricing plans to cater to growing businesses and enterprises | Per-user charges for all plans |
| Lower prices plans are affordable for small teams | Several features are eliminated in lower prices plans |
| Includes basic features like lead and deal management for its average-priced plan | Reserves crucial features like pipeline customization, workflow automation etc. for high-priced plans |
| Many of the features and functionalities are quite easy to use. | Training and Onboarding is not done by the in-house team. |
Pricing (for Sales CRM): Ranges from ₹1250/user/month/billed yearly to ₹5000/user/month/billed yearly
Onboarding prices: This varies and is usually 50k and above.
No in-house CRM training
---
5. Hubspot – Most Affordable for Small Teams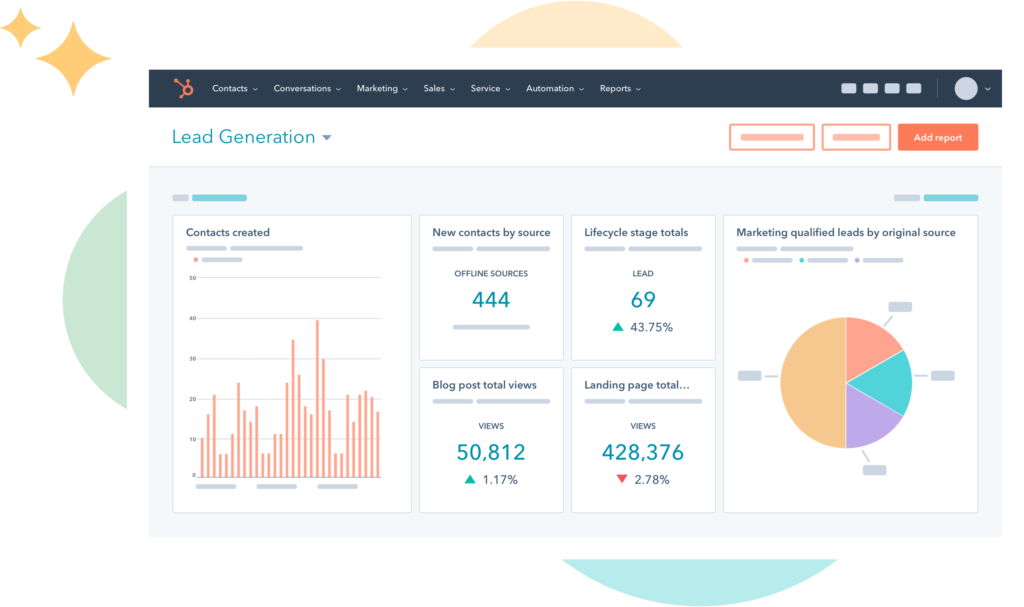 Hubspot has something for all your customer-facing departments- right from sales to customer support. Through this single platform, businesses can optimize multiple facets of their daily operations.
This expansive feature set is made available at premium pricing, which makes Hubspot an expensive investment. Its lower-priced plan also costs more than the average CRM tool. The per-user pricing makes these costly plans even more demanding in terms of budget. The software caters to small and large businesses by offering different pricing plans. However, a lot of Hubspot's robust features are reserved only for its higher-priced plans.
Hubspot's biggest advantage- that it is a unified platform for multiple solutions, is a disadvantage in terms of interface simplicity. Small businesses often lack the resources to arrange specialized CRM training for their teams. They need a solution that is easy to understand and use, and Hubspot will fall short in this respect.
| | |
| --- | --- |
| Pros | Cons |
| Robust feature set for marketing & sales automation | Excessive features make the software complicated for growing businesses |
| Varied pricing plans to cater to growing businesses and enterprises | Per-user charges for all plans |
| Lower prices plans are affordable for small teams | Several features are eliminated in lower prices plans |
| Includes basic features like lead and contact management for its average-priced plan | Reserves crucial features like lead qualification, CRM customization etc. for high-priced plans |
Pricing (for Sales CRM): ₹37,000/month/billed yearly for 5 users OR ₹98,000/month/billed yearly for 10 users
Onboarding prices: Ranges from ₹82,000 to ₹2.47 Lac (depending on the plan)
No in-house CRM training
---
FAQs
1. What are the different types of CRM software?
A CRM tool manages and tracks every customer interaction with your brand. It optimizes every part of your business, such as lead management, workflows, integrations with 3rd party tools, etc., to make your operations more efficient and productive.
Here are the different types of CRMs that are available:
Operational CRM: Streamlines your business operations and automates marketing and sales efforts.
Analytical CRM: Leverages the gathered data and information and helps businesses make informed decisions.
Collaborative CRM: Drive up the productivity of your teams by enabling them to coordinate, give updates to each other, and share information in real-time.
Campaign Management CRMs: Help you run, track and optimize your marketing and sales campaigns. It collates data and offers insights that can help optimize your campaigns.
Strategic CRM: Helps you strategize and plan long-term customer interactions based on data insights.
Read about the different kinds of CRMs in detail here.
---
2. Who Uses a Sales CRM?
Any business with a sales team can use a sales CRM. However, little do people know that different business departments can use this tool to solve their use cases.
Here how:
A Sales CRM helps business owners get clarity on their business health. They can get a complete download of their revenues, see how clients are progressing through the pipeline, monitor the performance of each team, and track where their business is heading.
Data-backed decisions like expansion, hiring, performance reviews, etc., also become easier for businesses with a Sales CRM.
Sales managers or leaders can use CRM to stay updated on the sales target achieved. They can easily monitor the work done by their team members and track their performance.
Sales teams can manage their day-to-day operations effectively with the help of a Sales CRM. They can identify and add new leads easily and quickly and categorize them accurately with this tool. It helps them have more clarity on their pipeline, track every client interaction, and stay on top of their follow-ups and tasks. In addition, a sales CRM helps automate various processes that reduce or even cut down on time-consuming tasks and actions.
Your Field Sales team can use sales CRM to access essential data and documents, update their task and track every meeting on the go.
A Sales CRM also helps the marketing team to get deeper insights into the campaign-generated leads. This not only helps them get complete of their target audience but also enables them to optimize the campaigns to target likely conversions.
Marketing teams can also use CRM data to create and nurture audience segments with personalized and targeted communications.
CRM helps finance teams by giving them visibility into revenue. With a CRM, they can manage budget variances, generate more precise business forecasts, and manage budgets easily and more effectively.
---
3. Why Shouldn't I Use Spreadsheets to Manage My Sales Process?
Excel sheets are all good until you have a few hundred entries and a small team working on them. But the trouble starts as your business grows, customer data increases, and more people are added to your team. Chaos and confusion follow.
Here is how CRMs are better than Spreadsheet when it comes to sales process management:
Unlike in Excel, you do not have to enter data manually into a CRM. Manual data entry is time-consuming and can be prone to inaccuracies and errors.
Spreadsheets are not tamper-proof and can be misplaced.
Analytics and reports are not created automatically in Excel. Hence it wastes a lot of your team's time and bandwidth.
Multiple users can't access one Excel sheet simultaneously unless it's uploaded on google drive, making it hard to collaborate.
Every task, e.g., sending emails and following up with customers and prospects, must be done manually.
Finding the correct information at the right time in Excel isn't easy. Data is usually fragmented, and it takes time to dig up the history and previous communication with a prospect/client, leading to an unsteady flow of communication with them.
Read this blog to understand why you need to switch to CRM!
---
4. What is CRM in sales?
While to many, CRM is a strategy that helps manage and maintain customer relationships, in sales, it refers to a system or software that helps businesses manage and nurture their relationships with customers and prospects. It enables companies to store, organize, and analyze customer data, interactions, and behaviors throughout the sales process.
In simpler terms, "CRM" encompasses the broader concept of managing customer relationships across various functions and departments within a business. On the other hand, "CRM in sales" refers specifically to the use of CRM systems and practices within the sales department. You can say that CRM in sales or CRM tool is a subset of CRM, focusing specifically on managing customer relationships and sales-related activities to optimize sales processes and drive revenue growth.
---
Bottom Line
Sales CRM is essential for growing businesses. It streamlines sales processes, enhances customer engagement, and drives revenue growth.
With centralized data, informed decision-making, and improved collaboration, growing businesses gain a competitive edge, optimize sales, and cultivate long-term success.
To know more, check out our blog on 'How to Select the Right CRM for Your Business.'
Start 15-day Free Trial