Many businesses in the small and medium-scale enterprise (SME) segment struggle to reach high levels of sales productivity and growth. It is often loosely tagged as a 'people' problem, i.e., the problem lies with the sales team.
However, this is far from the truth.
Small Businesses, often, lack deep pockets for advertising expenses, working capital, trained resources. They can't afford to take too many risks or make erroneous judgements which can further strain their resources.
Sales Teams, in small businesses, have to deal with these limitations and more in trying to reach the sales and growth numbers set for them.
Leveraging a Sales CRM software, in such situations, can help free up time from repetitive tasks and help the Sales Team focus on other productive tasks.
Often, Small Businesses use Sales CRM tools but aren't able to get the maximum mileage out of it.
Any of these reasons could be at play for the same-
Using CRMs for the micromanagement of employees
Improper technology implementation and adoption
Incomplete and inaccurate data input
Collaboration barriers among teams
If you want to ensure that your Sales CRM tool is giving you the maximum bang per buck, you need to integrate good CRM habits into the sales process from Day 1.
To help you get started, here are 5 CRM productivity hacks that can help improve your sales team's performance.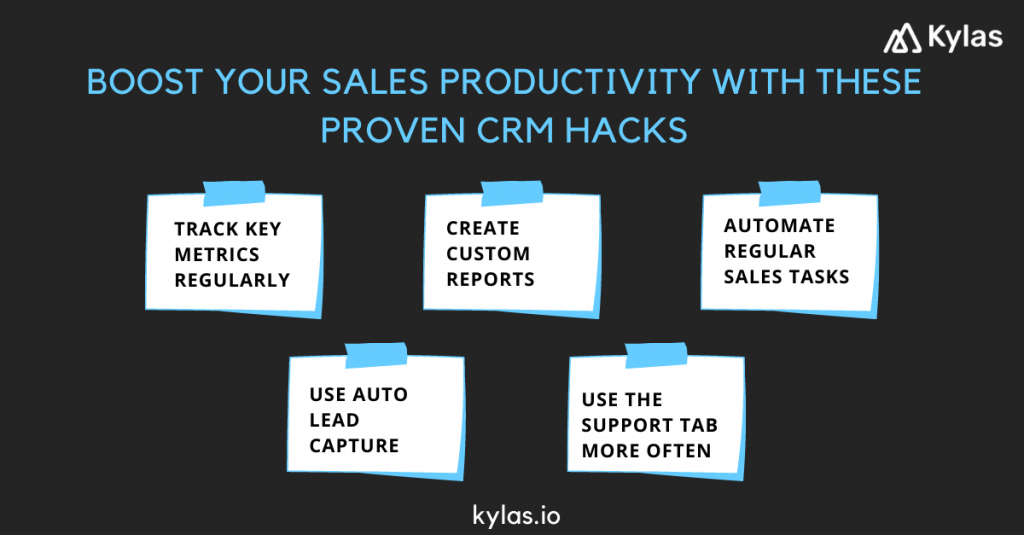 Track Key Metrics Regularly
Business data such as sales can be overwhelming especially when data is computed manually. With a sales CRM, you can keep track of key performance indicators (KPI) without too much effort and in real-time.
Kylas features default and custom reports generation for quick insights into your business.
---
Create Custom Reports
Apart from the sales manager, even the sales reps need to monitor the progress the sales team is making. Your team can also draw significant motivation from seeing the revenue generated from their hard work. A CRM can save you time by collecting, analyzing the necessary data, and compiling it into user-friendly, easy-to-understand reports that can drive continued success.
---
Automate Regular Sales Tasks
Routine tasks consume a lot of time. Common tasks include updating databases, sending emails, sales calculations, and more.
Because every business has operations unique to their industry, product, and workflow, routine tasks differ from one business to another.
A sales CRM software that enabled automation of regular tasks can save time, effort, and costs for the business. Most used automated solutions include a one-click pipeline update, auto sales performance calculations like sales per week, month, etc.
---
Use Auto Lead Capture to Reduce the Workload
As a business owner, the high number of customer inquiries, usually through emails and the business website, may bog you down. As such, a CRM tool with auto lead capture will be key to improving sales productivity.
All your customer inquiries and relevant details like sales pipeline data can be found in one place, bringing convenience, reducing time-consuming activities in a user-friendly manner.
---
Use the Support Tab More Often
Everyone appreciates user-friendly tools and fast clarification on complex issues. Why not do the same with your sales CRM software?
Notably, self-service is increasingly becoming popular amongst employees for small clarifications and changes, rather than seeking help from customer support.
Therefore, ensure to use the support tab, if available, in your CRM tool. Such a section would give your salespersons a better understanding of the platform and how to navigate it better.
Therefore, a free CRM like Kylas can be a gamechanger for small businesses.
Integrating the 5 CRM productivity hacks could prove to be innovative for most businesses, especially for those that believe in the power of excellent customer relations in driving productivity.
Start 15-day Free Trial