IndiaMART is an e-commerce company that provides B2C, B2B, and customer-to-customer sales services via its web portal. If you are a manufacturer or supplier registered with IndiaMART for generating leads/business inquiries for your business, then this is the right App for you.
With the Indiamart Lead Generation app, Kylas users can capture Indiamart leads and populate them inside Kylas automatically. The lead source is automatically updated to "Indiamart" so that the user can categorize all other leads and leads generated from Indiamart.
Advantages of Kylas CRM – Indiamart Integration
Indiamart integration will generate an automatic lead whenever you receive a trade inquiry on Indiamart.
2. Your lead will receive an automatic email response /SMS that includes the details of your products and the services you offer. Naturally, it will contain your contact details as well.
3. Your sales team will get the details of the lead to enable them to initiate the follow-up process.
4. As your data is stored in the CRM system, the process of following up through email or SMS with the lead will be easy.
5. There is no risk of losing the lead information as all the details are added to the CRM.
6. It is less time-consuming and no manual efforts are required.
---
Integrating With Kylas
Connecting the Kylas CRM to Indiamart is quite simple. All you need is to install the Kylas Marketplace App which gives you direct access to the website.
Let's look at the steps to get the leads into Kylas CRM that are generated in the Indiamart app.
Step 1:
To get started, go to Kylas Marketplace and click on 'All Apps' to see the available apps.
To install the 'Indiamart Lead Integration' app, click on the 'Install app' button. This will redirect you to the sign-in page where you need to sign up on the app with your credentials. Next, you will be asked to give access/ permissions such as Access to basic information, Smart List, User, Lead, and Pipeline.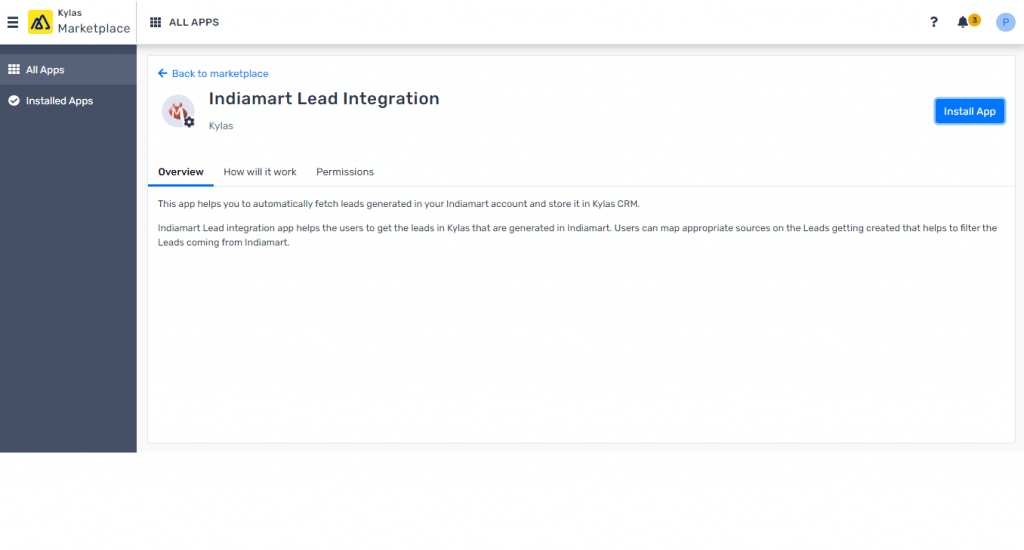 Step 2:
Once you verify your login details, it will redirect you to the Indiamart Settings page.
In the Indiamart Settings section, you need to enter details such as your mobile number (This needs to be the same number that you have used to login to the seller portal of Indiamart, which is seller.indiamart.com), your Indiamart API key.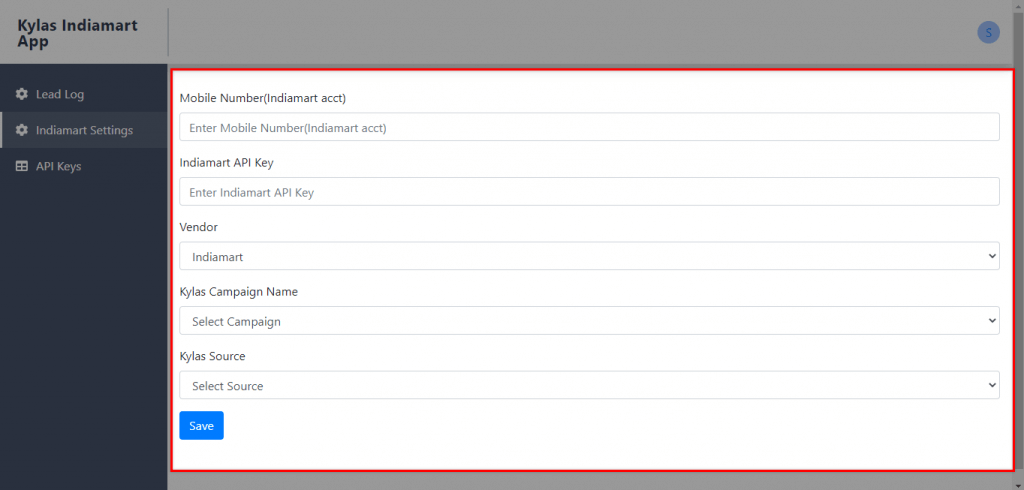 To Generate API Key, you need to visit seller.indiamart.com and login to your account. Go to Settings > Account Settings available on the left navigation. Follow the required steps to Generate API Key. A unique API key will be sent to your registered email-id.
Step 3:
On the landing page, paste the Kylas CRM account API key.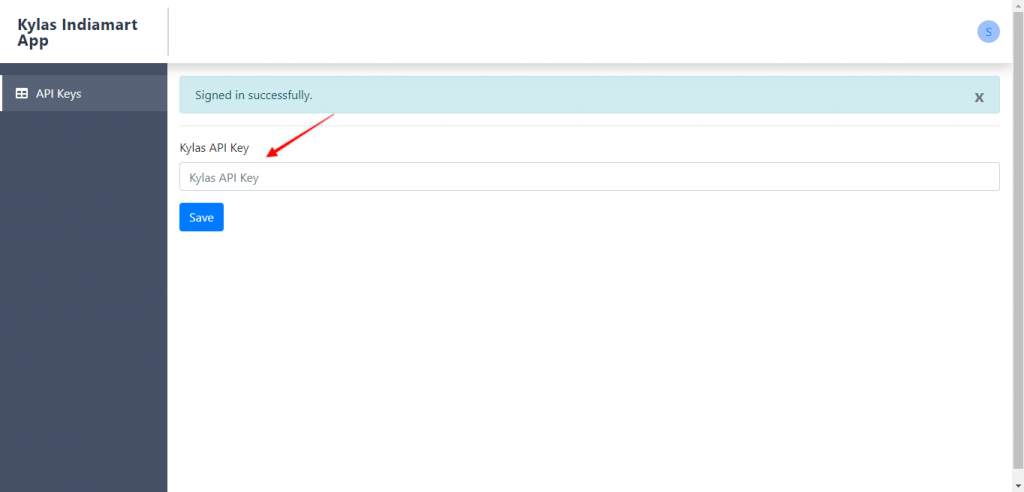 Step 4:
Navigate to the Indiamart Integration settings section and enter the details required for your integration. The mobile number and API key associated with your Indiamart account are mandatory for this integration.
Select vendor as Indiamart, select the Campaign and Source that you would like to map with the Leads getting generated from Indiamart and click on the 'Save' button.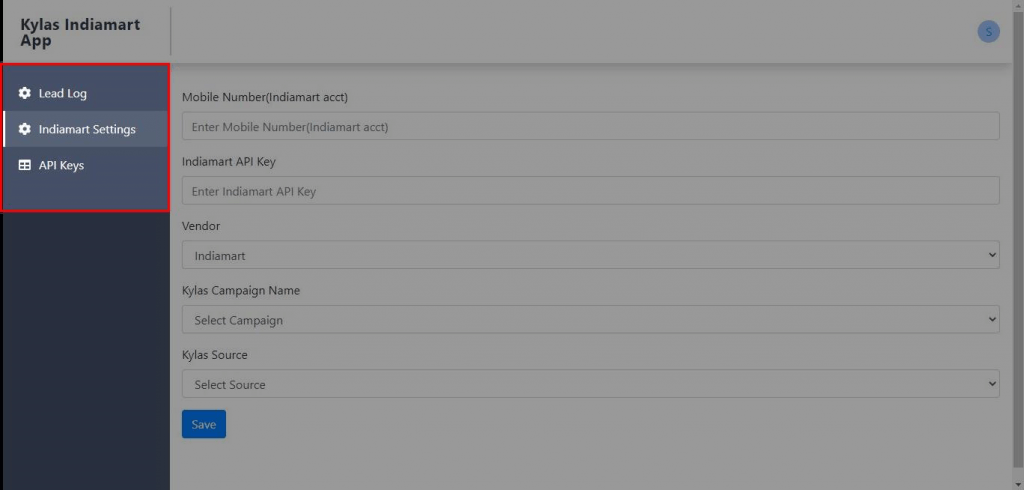 Step 5:
Once your account is connected, you will start getting leads from Indiamart within 15 minutes.
You can find those Leads on the Lead logs section of Indiamart Lead integration application and also on your Lead listing page of Kylas.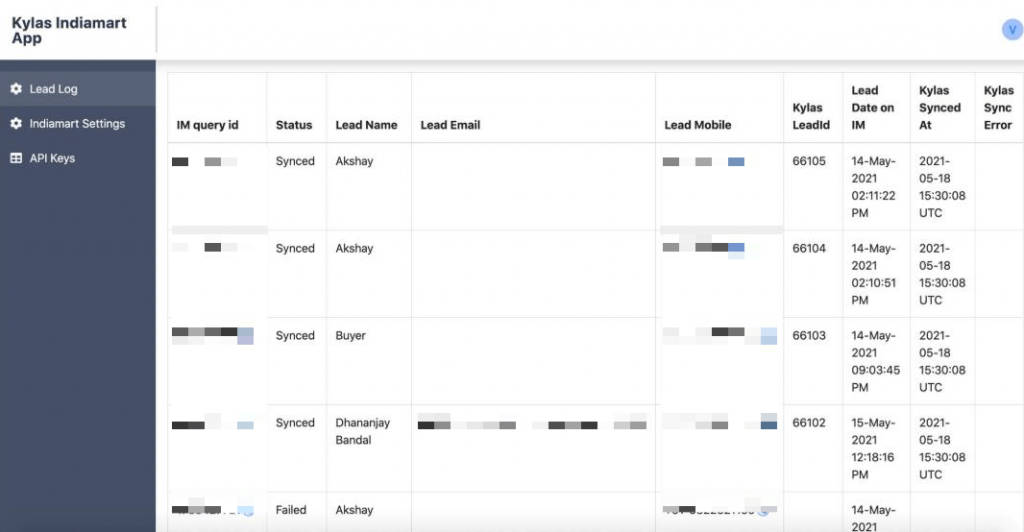 To uninstall the app, you need to click on the menu (three vertical dots) on the right side.
Watch this video to better understand how Kylas integrates with Indiamart to capture leads automatically from Indiamart enquiries.
If you don't want to miss any leads from Indiamart, sign up with Kylas CRM. You can enjoy a 14-day free trial of how Kylas CRM works. You can start with the trial by clicking here.
Start 15-day Free Trial