The Education Technology (EdTech) industry is getting busier every day. With more and more students opting for online learning, the customer base is expanding but so is the competition.
As new EdTech start-ups crop up everywhere, attracting students to your platform and staying ahead of the game has become imperative but equally challenging.
You can't let leads slip away because of a lack of communication or insufficient follow-up. This is where CRM software for education industry start-ups becomes indispensable.
Ed-Tech CRMs can help you consolidate all the information from various lead sources, engage with valuable prospects and follow up at the right time with automated admission workflows on various channels. Implementing CRM software can significantly speed up your response time to prospects' queries and help you accelerate the enrolment process.
The biggest perk of using CRM software, however, is the improved customer experience your brand can offer with better engagement across multiple channels, which in turn builds brand reputation.
Here are the top 5 CRMs for EdTech companies that you should look out for.

Top 5 CRMS for Ed-Tech
1. Kylas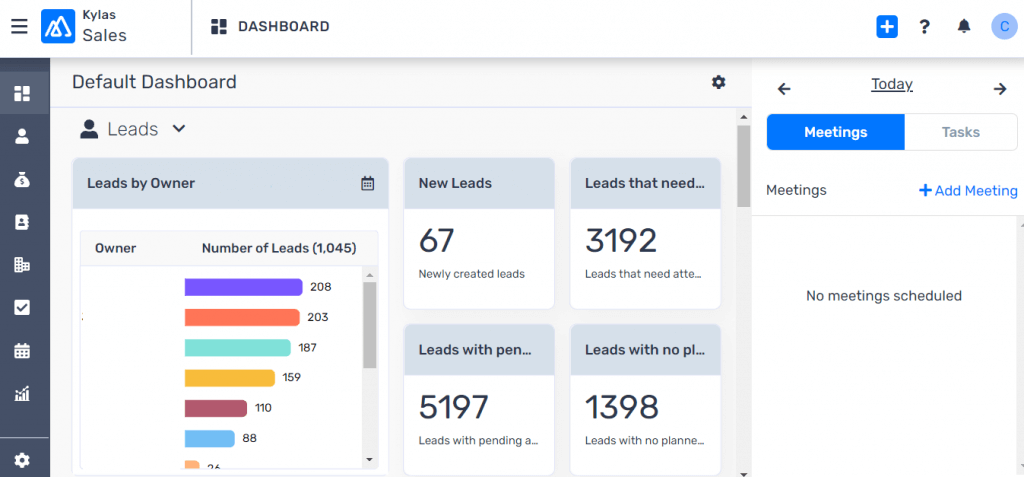 Kylas is a sales CRM software that can help EdTech companies identify valuable prospects and support their sales efforts to increase their chances of success.
It is a comprehensive CRM software for the education industry that helps EdTech companies' sales and marketing processes from start to finish.
Starting with market segmentation to creating customizable reports on sales performance, Kylas covers the entire spectrum of tasks involved in the EdTech sales process.
Key Features:
Free end-to-end support, onboarding, and training.
Lead capture, segmentation, and organization.
Sales pipeline management with fully customizable lead and deal pipelines
Customer engagement with email integration, meetings, call logging, SMS, and mobile call tracker
Customizable sales reports and insights
Integrations with third-party platforms and tools like Facebook, Gmail, Mailchimp, and more
Pricing:
Kylas has a free plan that allows unlimited users and 1000 records.
The next higher plan at INR 3,499 allows unlimited users and 30, 000 records.
The premium plan priced at INR 7,499 offers 100,000 records, which is also expandable.
Kylas is by far one of the most affordable CRM software for education industry start-ups, given the extent of features and benefits that it offers.
2. Salesforce Sales Cloud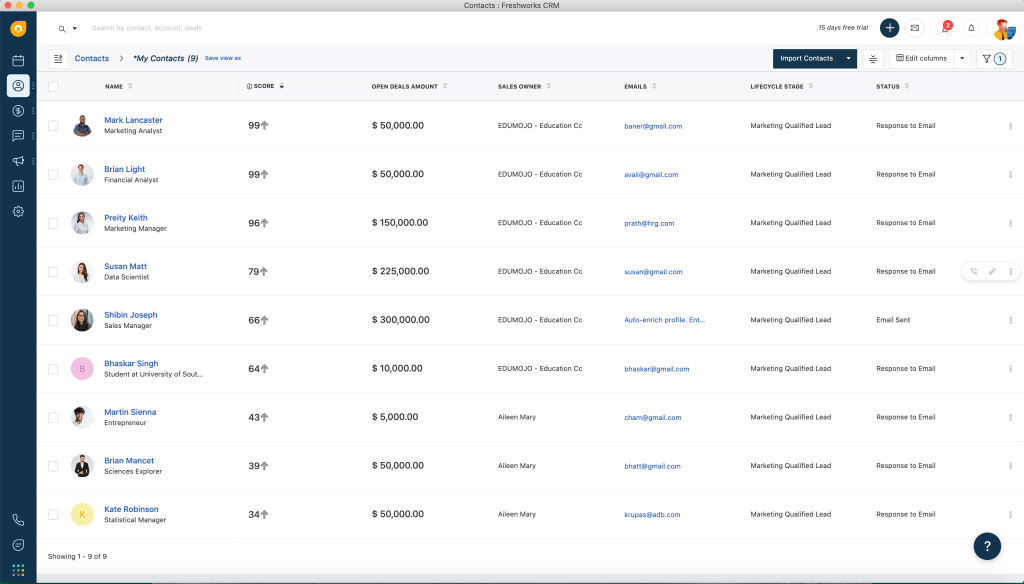 Salesforce is a CRM platform for small and mid-sized organizations, including start-ups. The platform focuses on sales and customer relationships and can be a good aide for Education Technology companies.
The CRM capabilities on Salesforce include lead management, contact management, marketing automation, customer engagement, and more.
Key Features:
Active customer information tracking and management
Status tracking of campaigns
Sales pipeline management
Pricing:
Pricing for the Salesforce CRM can be obtained on request, based on your requirements.
---
3. Zoho CRM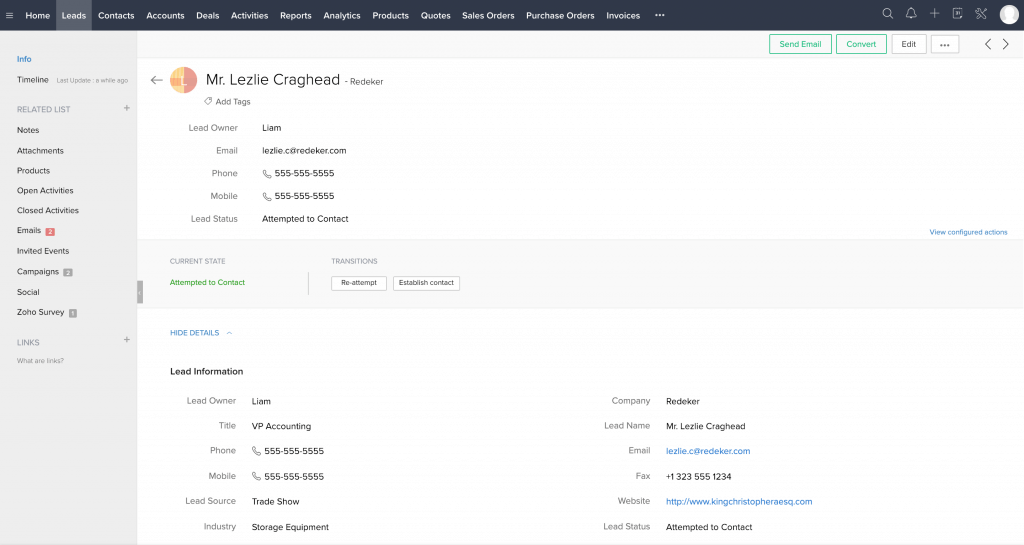 Zoho CRM is a CRM platform for small businesses and start-ups, that helps them manage customer information and organize contacts, leads, and deals. It also helps with the automation of recurring and time-consuming processes like data entry tasks.
Key Features:
Salesforce automation including lead management, deal management, contact management, etc.
Omnichannel CRM including email, telephony, live chat, social media, and more
Pricing:
Zoho has four pricing plans with the Standard plan starting at INR 800 per user per month. The highest plan, named Ultimate, is priced at INR 2,600 per user per month.
---
4. Hubspot CRM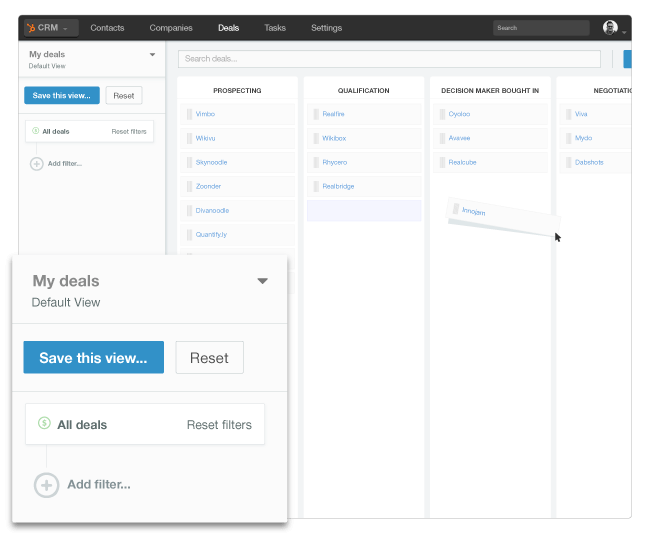 Hubspot CRM is a cloud-based client management software designed to help companies of all sizes in all industries, including EdTech startups, track and nurture leads.
The Hubspot CRM caters to both B2B and B2C enterprises in several areas of business including sales, marketing, accounting, and more.
Key Features:
Deal stage, task, and lead rotation automation
Pricing:
Hubspot offers a few basic free tools. The paid plans with advanced features start at $45 per month for 2 paid users.
The highest plan is the Enterprise plan, priced at $1,200 per month for 10 paid users
---
5. Freshsales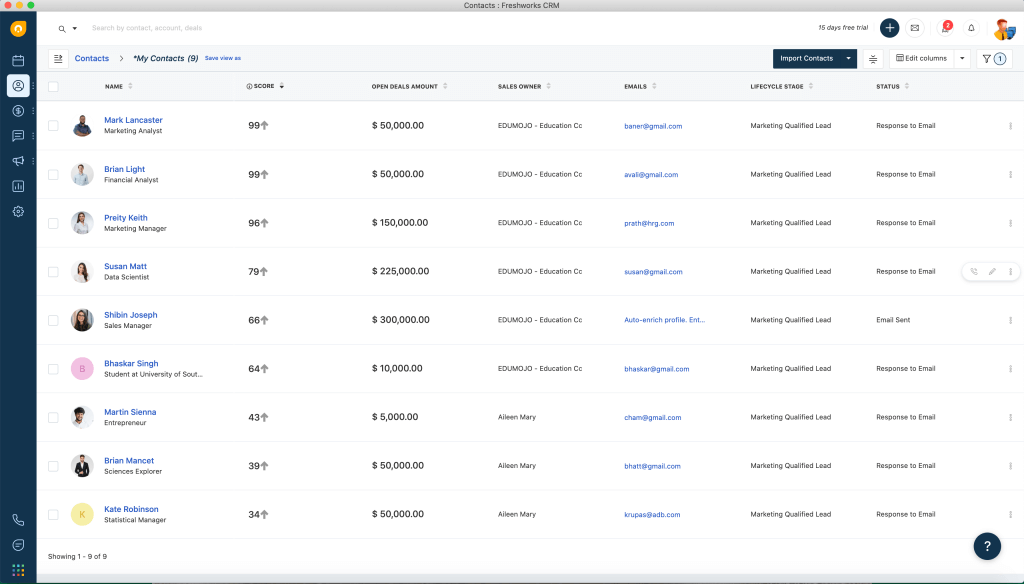 Freshsales is another salesforce automation platform targeted at businesses of all sizes. This CRM software for education industry start-ups can help streamline lead management, customer relationships, client interactions, and more. With this CRM tool, you can design custom workflows and automate repetitive tasks as well.

Key features:
AI-powered assistant for predictive contact scoring, offering deal insights, etc
Automated email campaigns
Multiple sales pipeline management
Pricing:
Freshsales has a free plan with limited features. Paid plans start at INR 999 per user per month.
The Enterprise plan is the highest in the stack, priced at INR 4,999 per user per month.

---
Do Ed-Tech Start-Ups Need CRM?
The short answer here is – Yes. Let's get to the long winding version of why start-ups need CRM software.
Many small businesses in their initial days tend to think that the small number of customers and contacts they are handling is easily manageable. But what you need here is foresight.
The aim of a start-up is not to remain a small business forever. Your business will grow and so will your customer base.
As you start generating more leads, getting more deals, and converting more customers, managing all of this manually will become a nightmare in a short span of time.
Even during your initial days, having CRM software to support you will help keep things organized. It will not only be good for your business but will also improve the customer experience as your sales team has customer information at their fingertips.
CRM software makes it easier to find contacts, engage customers and reach out to prospects at the right time.

It can also help start-ups automate many of their repetitive tasks to free up time for more strategic work.
---

CRM for Education Industry
Customer relationship management is as important in the education industry as it is in any other business. Education technology startups need to cater to a wide range of clients, from students looking for different courses to institutions looking to team up.
Managing all of these different client bases requires efficient CRM software. Your sales team needs to understand what each customer may be looking for and adopt a different approach to nurture each of these relationships.

If you are using multiple tools to manage the contact information, sales information, leads, and deals, etc. the entire process could be in shambles. Gathering information from spreadsheets, emails, SMSs, and more can cause promising leads to slip out of your hands.
A CRM platform can help you manage all of this in a single place keeping things much more streamlined. It can improve your enrolment rate, enhance student engagement, and collaborate across your different teams with ease.

What are the criteria and features to look for in choosing a CRM for EdTech companies?
When purchasing CRM software for education industry startups, here are a few things to focus on.

1. Unified and Deeply Integrated Experience
The user experience is what matters most in any kind of software platform. Check if the CRM platform offers a uniform and consistent experience.
Different tools in a CRM platform are usually developed separately and if not well-integrated, the overall experience may be sloppy and patchy.
Make sure that the CRM software you choose gives a seamless experience.
2. Converged Features and Functionalities
The next point to note is that the software should have all the features and functionalities you would need to manage your client records better.
Check if the platform integrates with your existing tools like spreadsheets, email, record management system, etc. so any existing or new data can be imported with ease.
The platform should also integrate with social media platforms, messenger apps, etc. so all your customer interactions can be managed from one place.
3. Scalability
The CRM platform you choose should also be a scalable solution. As your EdTech company grows and your customer base expands, you will need to add more records and assign more users to the platform.
A scalable solution ensures that you can do this without having to switch to new software.
4. Cost-effectiveness
Like all other things in business, the CRM solution you choose should also be affordable and cost-effective. Cost-effective does not simply a lower upfront price but also the prices involved if you wish to move to a higher plan or access more features in the future.
Taking all these factors into account, choose a CRM software for EdTech companies that gives you a high ROI and a competitive advantage in the market.