In the initial days, CRM systems were mainly thought to be efficient tools for sales management. They contained nearly every piece of information related to sales and customers. They were more often seen as sales registers that helped the organization get a clear view of the company's health in terms of the products/services it was selling and the revenue it was generating.
There is no denying the fact that sales are the most important goal of any business. But we better don't forget that there are several other departments too that play a crucial role in making sales successful. This clearly means that the CRM uses need to be seen beyond sales and the tool or the crucial investment you have made, must be utilized to its full potential for the growth of your business.
CRM systems are truly the businesses' daily assistants that give them insights into their operations. This further helps businesses take the required measures to enhance their performance across every department of their organization. So, just keep in mind that where a CRM can help increase revenue by 29%, it can also boost customer retention by 16% and increase in lead conversions by 17%.
More or less, CRMs have become the building blocks for organizations that help different departments align and work towards common business goals- boost revenue and improve customer satisfaction. The CRM tool should be a centralized platform that equips each department to maximize its efficiency. Plus, you don't want important data to fall through the cracks just because all your departments use different tools.
If you want to see what all you can do with your Kylas CRM, schedule your demo with our experts and learn ways to enhance your business outcomes.
---
Using CRM for Sales Management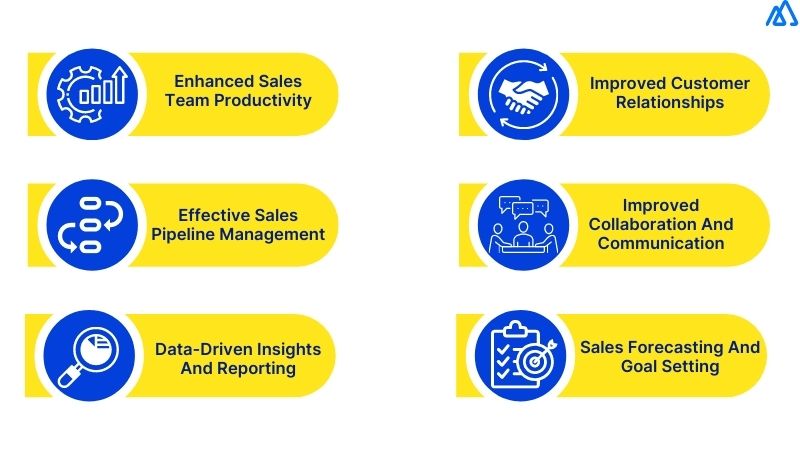 It may sound quite obvious but when we are discussing CRM uses, sales management has to be on top of the list. Without a doubt, sales managers take the most advantage of the adoption of a CRM. From keeping track of how your team is performing to automating workflows to adding consistency and speeding up sales activities, CRM uses and benefits are far-reaching.
Sales managers can also set and track goals and see where their team is in terms of achieving those goals on a regular basis. They can easily see the progress of assignees and keep them motivated and rewarded at the same time.
With Kylas's Goal VS Achievement feature, you can track your team's activity progress which can further help boost your team's productivity. All you have to do is set a target for your team to achieve in a particular timeframe and monitor their performance.
This can help you:
Identify the weak and top performers in your team.
Determine specific performance issues and reasons for them.
Learn about the failing strategies across your sales cycle.
You can use all this information to update your strategies and even build new ones that will help your team stay on track with its goals and makes more sales.
However, your business is much more than just making sales. While generating revenue is undoubtedly a fundamental aspect of any organization, there are several reasons why a business encompasses more than just sales.
---
Why Is Your Business More Than Just Making Sales?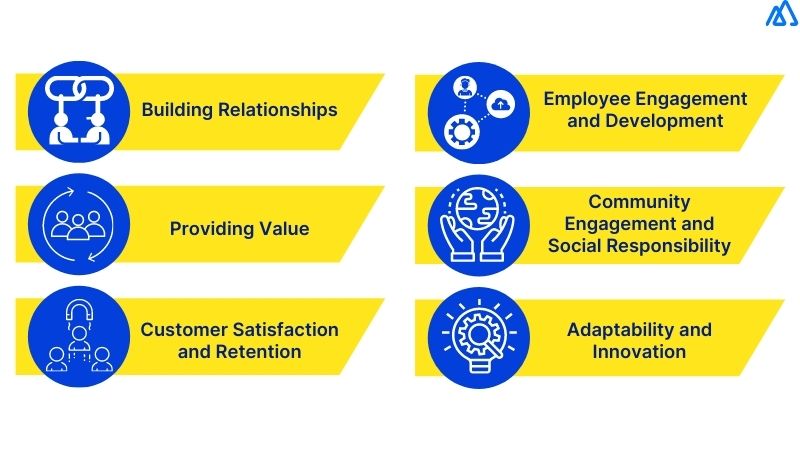 With sales being at the core of your business, it's also important to determine how long you stay in the run. By recognizing other aspects, you can cultivate long-term success and make a positive impact on your customers and society as a whole.
Let's now find out why your business is more than just making sales.
1. Building Relationships
For a business to be successful, its relationships with its customers, employees, suppliers, and other stakeholders are paramount. For loyalty, trust, and long-term partnerships, businesses need to foster positive relationships that extend beyond a single transaction. These relationships are important for the overall reputation and sustainability of the business.
2. Providing Value
A business exists because it is capable of solving a problem or fulfilling a need in the market. So, beyond sales, businesses need to provide value to their customers through innovative solutions, high-quality products, and exceptional services.
3. Customer Satisfaction and Retention
Undoubtedly, repeat customers are much more valuable than acquiring new ones for a business. Businesses need a loyal customer base. For that, they need to understand customer needs, deliver great experiences, and continuously provide support and value after the sale. For ongoing success, prioritizing customer retention and satisfaction is crucial.
4. Employee Engagement and Development
Beyond sales and your customers, businesses need to focus on employee engagement, development, and well-being. For productivity, innovation, and long-term success, nurturing a positive work environment is crucial. By investing in employee training, fostering a supportive culture, and providing growth opportunities, businesses can create a motivated and loyal workforce that contributes to overall organizational success.
5. Community Engagement and Social Responsibility
Businesses have a responsibility to contribute positively to the communities in which they operate. Engaging in corporate social responsibility initiatives, supporting local causes, and being environmentally conscious are all important aspects of running a socially responsible business.
6. Adaptability and Innovation
The business landscape is constantly evolving, driven by technological advancements, changing customer preferences, and market dynamics. Successful businesses understand the importance of adaptation and innovation. Beyond sales, businesses must continuously improve their processes, products, and services to stay competitive, seize new opportunities, and address emerging challenges.
---
What Can You Do With Your Sales CRM Beyond Sales?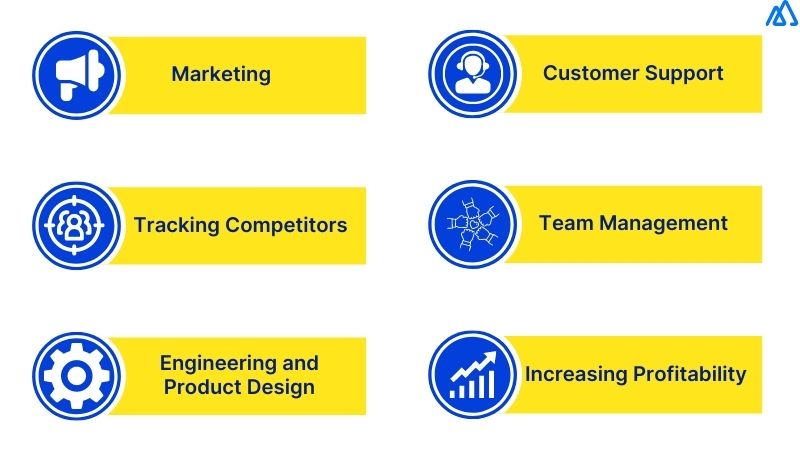 By now, you would have understood that there is much more that you should do as a business beyond sales. Thankfully, there are many areas in which you can use CRM and make the most of every opportunity.
1. Using CRM as a Marketing Tool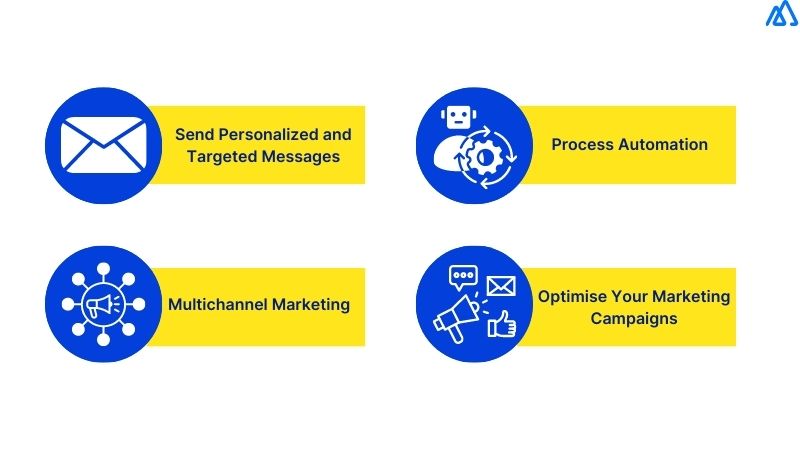 Keep the business owner in you aside for a while and think about the promotional messages you receive from brands on a daily basis. Also, how many of them do you actually read?
Now, let's get back to who you are, a marketer! It's understandable that it is no longer easy to market your business to your target customers. If you are not sending them what they want to read, you will easily get ignored. In a world where 72% of consumers engage with promotional messages tailored to their interests, you must be capable of generating content that your customers want to read.
Different things work for different customers. That's where CRM makes an entry in your marketing campaigns. From automating customer interactions to helping you engage with your customers through personalized content, there are a lot of uses of CRM as a marketing tool.
Send Personalized and Targeted Messages
By centralizing all your business data in a single platform, a CRM tool breaks down silos and improves communications. You can easily keep track of all customer interactions, their email addresses, social accounts, call logs, purchase history, preferences, etc. By integrating your CRM with email marketing tools, you can plan and run engaging marketing campaigns.
With Kylas's email tracking feature, you can keep a record of your prospect's engagement with your emails with real-time notifications when a recipient opens or interacts with your email.
You can also automate your follow-ups and keep in touch with your new and existing customers. This can help you educate them about how your product or service can solve their issues.
Process Automation
With the help of marketing automation, you can guide your prospects through their buying journeys. From lead generation to nurturing prospects to eventually converting them into buying buyers, CRM uses are parred excellence. When you interact with a customer, the information gets stored in the CRM. Anyone in the company can access this information and understand the needs and concerns of the prospects and customers. This will help you gain new customers while retaining the existing ones.
Multichannel Marketing
Before making a purchase, 87% of consumers search online. 67% start their search with Google or Amazon, while 28% start in marketplaces. Some customers even use their devices to research products, compare prices, and read reviews before making a purchase. This means that you need to have online information about your products/services on the internet. Also, you must sell your products/services on the channel where your customers are the most active.
CRM software helps you see determine the prospects who researched your products/services and on which platform. You can use this information to tailor your marketing messages and approach across your website, social media accounts, marketplaces, and blogs.
Optimise Your Marketing Campaigns
One of the best CRM uses is that it takes the guesswork out of your decision-making. You get accurate insights into what worked and what didn't. It also shows the data on forecasts, trends, and opportunities. You will get to know about the market, product, and services that are getting you most of the profit. You can analyze your campaigns and determine their success. Also, track their inefficiencies and optimize them for better results.
2. Using CRM for Better Customer Support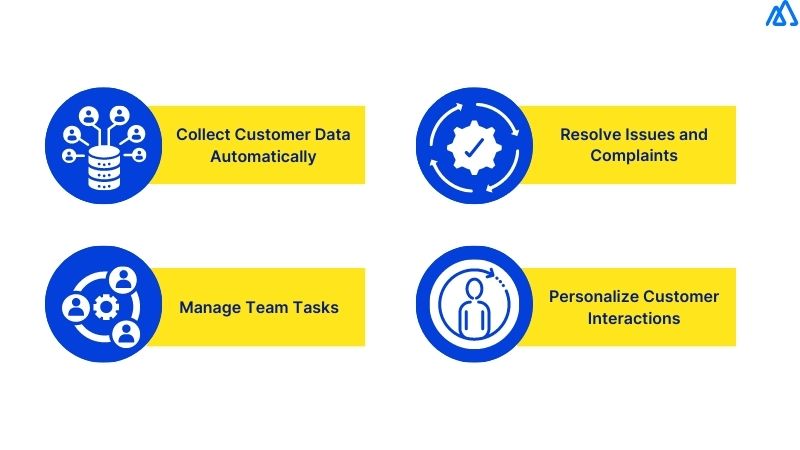 Did you know that only 19% of customers say that businesses' customer service exceeds their expectations? So, if you think that what you are doing with your customer services is the best you should, you probably need to reconsider your ways. There is a constant need to improve and here is how you can use CRM to improve your customer services.
Collect Customer Data Automatically
Errors while making manual entries are a big reason why businesses lose important customer data. It's best to use CRMs that offer integrations with the help of which you can source information from emails, social media, websites, and other marketplaces automatically.
Manage Team Tasks
Where having a big customer support team means that you are doing great as a business, it also means that if there is no centralized platform, there are chances of confusion as well. With a CRM, you can make use of automated workflows, roles, and tasks to simplify your customer support.
Resolve Issues and Complaints
CRMs help desk ticketing system helps you prioritize customers, assign accounts, and resolve their issues promptly. By helping your team learn from past encounters, they can stay prepared for similar future issues and complaints. Digging into what when wrong, how long resolving the issue took, and what got discussed makes things easier. Moreover, as a CRM automatically logs emails, records, and phone calls, you will always have information to refer to and make a decision accordingly.
Personalize Customer Interactions
Modern CRMs are capable of capturing in-depth client information. Unfortunately, not many companies spend enough time and resources on training customer service agents to use the information correctly. By taking time to understand the business of their clients, and review their past orders, and previous communication, the customer support team can get a real insight into how to best communicate with each customer.
3. Using CRM for Tracking Competitors
You can never be sure about how long a customer is going to stay with you. You may have a higher chance of losing a customer when a competitor runs an aggressive marketing campaign. Your competitors will use the same resources and channels as you do. But it's the strength of your customer relationships that keeps you in your customer's good books. 80% of customers said they have switched brands because of poor customer experience.
With a CRM system, you can personalize the customer experiences. Knowing your customer well will help you exclude irrelevant communication from your campaigns and provide customer-oriented data that helps your customers feel valued and help them stay engaged.
If your staff shows care towards your customers, you won't have to create an illusion of a personal touch. This will also help your customers stay with you and overlook all that your competitors are offering.
4. Using CRM for Engineering and Product Design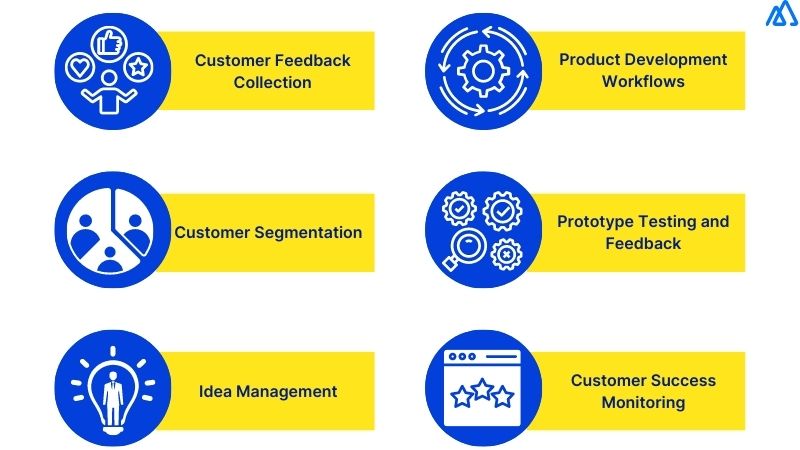 When up-to-date information is available in a single platform, anyone can make use of it. The engineering and product design team is no different. A CRM can play a valuable role in product design in a number of ways.
Customer Feedback Collection
Your CRM can help you collect and organize customer feedback regarding your existing products and desired features through surveys, support tickets, or direct interactions. Analyze this feedback to identify common pain points, improvement suggestions, and emerging trends.
Customer Segmentation
You can use CRM data to segment customers based on their preferences, behaviour, and demographics. This segmentation helps in understanding different customer groups and their specific needs. It enables you to design products that cater to targeted segments, ensuring a more personalized and relevant user experience.
Idea Management
CRM can also be used to manage and track product ideas. You can ask employees from various departments to contribute ideas, collaborate, and provide feedback within the CRM system. This centralizes the ideation process and facilitates efficient communication between teams.
Product Development Workflows
You can integrate your CRM system with project management tools or utilize built-in project management features within the system. This enables seamless coordination between product development teams, streamlining tasks, deadlines, and milestones throughout the product design process.
Prototype Testing and Feedback
How good your product is can only be told by the people who use it. So, during the prototype testing phase, you can keep track of customer interactions within your CRM system. Capture user feedback, bug reports, and improvement suggestions directly within the CRM system. This feedback loop helps iterate and refine product designs based on real-world user experiences.
Customer Success Monitoring
A CRM helps you monitor customer success and adoption metrics. Analyze usage patterns, customer satisfaction scores, and support interactions to identify areas where product design enhancements can improve customer experience and drive product success.
5. Using CRM for Improving Team Management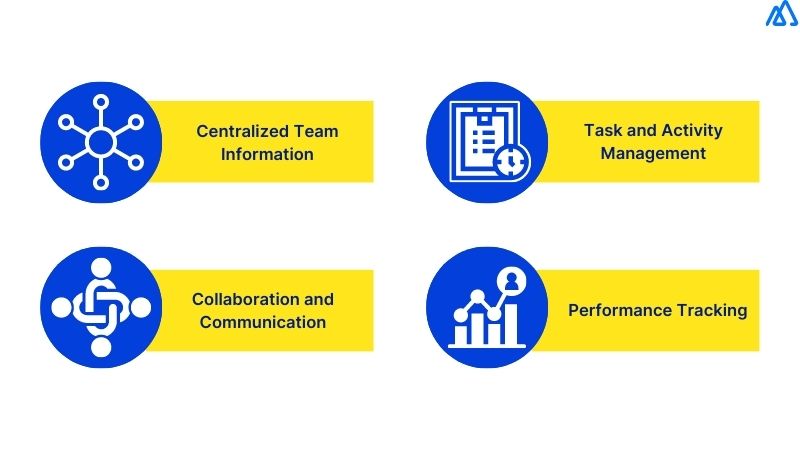 A CRM can prove to be an effective tool when it comes to team management. Let's take a look at a few ways in which you can use CRM to improve your team management.
Centralized Team Information
CRM systems provide you with a platform to store and manage team-related information, including employee profiles, roles, responsibilities, skills, and performance data. This central repository enables easy access to essential details and promotes a unified understanding of team dynamics.
Task and Activity Management
CRMs like Kylas offer you features like Goals Vs Achievement for assigning tasks, setting deadlines, and tracking progress. This helps teams stay organized and know how everyone is performing. By getting visibility into ongoing projects and individual responsibilities, you can ensure that everything is on track with your goals.
Collaboration and Communication
CRMs don't just make communication with your customers easy. But they also help your teams collaborate better towards a common business goal by facilitating communication and knowledge sharing among team members. Features like shared notes, comments, or chat functionalities within the CRM platform reduce the need for separate communication tools.
Performance Tracking
Getting details about how your team is performing is a great feature your CRM offers. You can set sales targets, give customer satisfaction scores, or set project milestones to track how your team is performing. Based on the insights available in your system, you can also generate reports and dashboards to determine the areas that need to be improved and give feedback to your team members.
6. Using CRM for Increasing Profitability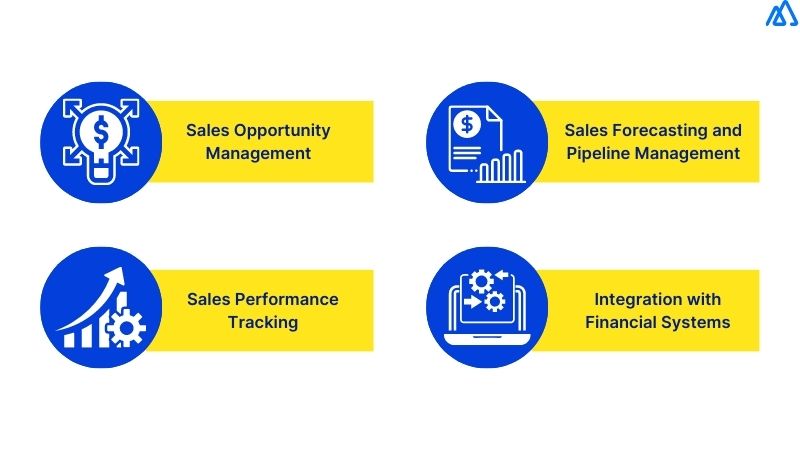 This is another important use of CRM that you better don't overlook. So, let's take a look at some ways to utilize CRM to increase profitability:
Sales Opportunity Management
CRMs come equipped with features that can help you track and manage sales opportunities throughout the pipeline. From identifying potential upsell or cross-sell opportunities to prioritizing leads to ensuring timely follow-ups, you can do a lot with your CRM. And who doesn't know effective opportunity management helps increase conversion rates and revenue generation?
Sales Performance Tracking
Businesses can use CRM analytics to monitor and analyze sales performance metrics such as conversion rates, deal sizes, win/loss ratios, and sales cycle length. Such a data-driven approach enables sales teams to focus on high-yield activities and optimize their performance.
Sales Forecasting and Pipeline Management
No one can deny how important sales forecasting is for any business. By using CRM's forecasting capabilities, businesses can predict future sales revenue based on historical data, pipeline visibility, and sales trends. Accurate sales forecasting helps in effective resource allocation, inventory management, and strategic decision-making to optimize profitability.
Integration with Financial Systems
To track revenue, costs, and profitability associated with each customer, deal, or product, you can easily interact with CRM with several financial systems and accounting software. With a holistic view of financial performance, you can make data-driven decisions.
---
Conclusion
A CRM is a versatile and powerful tool capable of handling multiple tasks. It offers various possibilities beyond what has been described in this article. The best CRM systems can be complex, and it may be challenging for your staff to understand them on their own. Schedule additional training sessions as you discover new productive CRM uses. It is important for all employees to have a unified understanding of the system's benefits and possibilities. Ultimately, the CRM should optimize your workflow and increase your revenue.
Start 15-day Free Trial