Businesses run on data and metrics. You can only improve various business areas if you know how to measure their success – and sales is no different.
Identifying the right KPIs for sales is all the more essential for growing businesses. It helps you make important decisions and build a robust sales process for the long run.
When it comes to choosing sales metrics, it's not the number of KPIs that matters. You rather need to focus on the relevance of these metrics and what they reveal about your sales process.
In fact, choosing too many KPIs and monitoring them to measure sales performance will only make your analysis more complex, not yielding any useful insights.
This article aims to help you to understand what KPIs in sales mean and which KPIs matter the most to your business.
---
What Do KPIs for Sales Mean?
Key Performance Indicators or KPIs for sales are metrics that tell you about your sales team's performance. They also tell you how the sales process can be improved to generate more revenue.
A successful sales process does not just depend on the convincing skills of your sales team but also on data. Data that gives you valuable insights into your existing process will help you predict future trends and make improvements where needed.
Looking for a CRM to supercharge your sales engine and streamline sales efforts? Try Kylas, an easy-to-use CRM, uniquely designed for growing businesses. Schedule a demo today!
---
Why Is Choosing the Right KPIs for Sales Important?
First, you need to understand what we mean by the right KPIs. Ideally, every bit of data that you can collect should be valuable for your sales team because it gives them valuable insights into the sales process.
Yet, some metrics are considered more relevant than others. By focusing on the not-so-relevant data, you will only be wasting your time. Why is that?
That is because your KPIs should be aligned with your growing businesses' objectives and goals. The metrics you measure have to tell you whether you are nearing your goals.
If yes, at what pace. This will help you decide whether your sales strategy is working perfectly or if it needs to be modified to improve your outcomes.
The more data you collect without filtering for relevance and usefulness, the more work your sales team has to do in monitoring these metrics. So you are spending too much time and energy tracking things that don't make much difference to your conversions or revenue.
There is a method to selecting the right metrics for your sales process too.
---
How to Choose the Right Sales KPIs?
When trying to figure out which KPIs would be useful to your sales team, you can follow the sequence of steps we've listed below.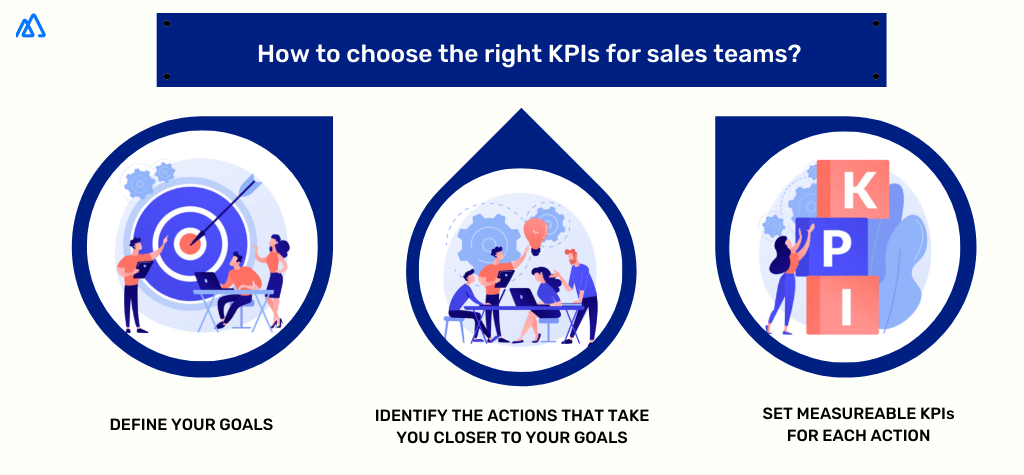 1. Define Your Goals
If you want to identify metrics that help you measure the sales team's performance, the KPIs have to be relevant to your sales goals.
But before that, you will need to set your sales goals right in the first place. Define your specific objectives and goals. Your objectives for sales could be to increase revenue by a certain percentage or to acquire a certain number of new clients in the next year.
It could also be to close X number of deals in a year, and so on.
You can have one primary goal and a number of secondary goals that support the primary objective.
For example, say, your primary goal is to increase the number of customers by 100 in the coming year. To support this goal, you can also set secondary goals such as converting at least 3 customers every week.
When you know your goals, it is easier to determine if you are achieving your short-term objectives.
2. Identify the Actions That Take You Closer to the Goals
Once the goals are set, you will need to determine what are the team and individual actions required to achieve these goals.
For instance, if your goal is to acquire X new customers, determine which activities will help you in doing so. In this case, the necessary activity could be increasing outreach – calling more leads, sending out more cold emails, and organizing events.
You can then select KPIs that best measure these actions and how your sales team is performing in these areas.
3. Set Measurable KPIs for Each Action
The next step is to decide which KPIs will show the progress of these actions. The KPIs should be measurable.
For instance, if the desired action is to increase outreach, you may need to measure the number of calls made by each salesperson in a week. So the KPI would be the number of calls made per person per week.
If the KPI shows that the target numbers are not met, you and your sales team can seek better solutions.
---
Top 10 KPIs for Sales
The KPIs for sales vary for each business depending on what you are trying to achieve and what are your individual business goals.
But there are some common sales metrics that almost every business- big or small, must measure. Let's discuss them in detail: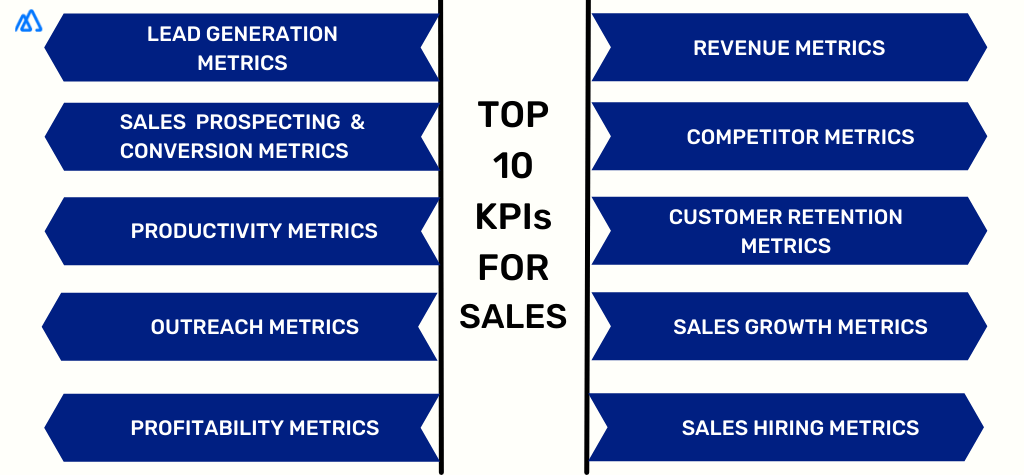 1. Lead Generation Metrics
According to statistics, most businesses lose 15 to 20% of their customer base every year. This means you need to continuously generate leads and convert them to replace these lost customers. So the number of new leads acquired should be one of the first KPIs to measure for any business.
You could set a weekly or monthly quota for each of your salespersons and monitor if they are able to reach their quota. You can measure how many new leads they have generated, how many leads they have converted into deals and so on.
There can be a number of different KPIs under lead generation itself. For example, Visitor to Lead conversion rate, Marketing Qualified Lead conversion rate, Sales Qualified Lead conversion rate, and so on.
Customer acquisition cost (CAC) is another important KPI that tells you about the costs involved in acquiring a new customer.
It is calculated based on the time, cost of tools, salaries, overhead, etc., spent on acquiring a single customer. It shows you whether the profits you have earned from the deal are more than what it had cost you.
2. Sales Prospecting and Conversion Metrics
The next most important metric is related to all the prospecting and conversion activities undertaken by the sales team. Both sales prospecting and conversion take some time. The faster these processes are, the sooner you can generate revenue.
You need to monitor the amount of time, effort, and resources invested in prospecting activities. Monitoring the rate of conversions is also important.
Opportunity to

Customer conversion rate

is an important KPI for all sales teams. It is measured in terms of the percentage of qualified leads converted into revenue-generating customers.
2. The sales cycle length is another important KPI that tells you how long it takes to close a deal- starting from the very first interaction with a prospect to converting it. The shorter the cycle length, the sooner you can start generating revenue.
The sales cycle length is calculated as the total number of days required to close all your deals divided by the total number of deals closed. So, say you closed 5 deals in 180 days (6 months). Then your average sales cycle length is 36 days.
3. Productivity Metrics
Another way to measure the performance of your sales team is by picking certain productivity metrics.
If your sales reps meet the required values in these KPIs, you are likely to get optimum performance. However, if they are not meeting the targets, you need to think of ways to make them more productive.
Some of the important productivity KPIs can be the percentage of time spent on selling activities every week, the percentage of time spent on data entry, etc. The more time your sales reps spend on result-oriented work, the more productive they are.
You can also measure the cross-sell rate and upsell rate of your sales reps.
Cross-selling is when the customer comes in to buy something, but the salesperson convinces them to buy another product with it, which they had no intention of purchasing initially.
Upselling is when the salesperson convinces the customer to buy a more expensive variant of the product they intended to buy.
Salespeople with better upsell and cross-sell rates will help you sell more products and generate more revenue. If their upsell and cross-sell attempts are not working, you can brainstorm to find new strategies that will work.
4. Outreach Metrics
Depending on your company's sales process, methods, and sales strategy, you can pick your own outreach metrics.
These metrics show you the effectiveness of your outreach efforts. For instance, if the primary channel you use for outreach is email, you can use KPIs like email open rates or response rates to measure your success.
If your primary communication channel is calling, then your ideal outreach KPIs could be the number of calls made or the average time spent on a call. You can have similar KPIs for social media outreach or in-person events too.
5. Profitability Metrics
The primary purpose of any business activity is the same – to earn profits. So profitability metrics are without a doubt important in sales as well.
The Gross Profit Margin, for example, is an important KPI for sales that tells you which products bring more revenue to your business. The Gross Profit Margin is calculated as the total revenue generated minus the costs incurred, divided by the revenue.
So, if a product has generated $100,000 in revenue and all the processes, people and resources involved in selling the product add up to, say, $50,000. The Gross Profit Margin on the product will be 50%.
Another important KPI for sales is the Customer Lifetime Value (CLV). This is an indicator of the amount of profit you can earn from a customer's total lifetime with your business. The CLV of a customer is calculated as –
The total profits earned from the customer per year x Average number of years they remain a customer – Initial cost of customer acquisition.
So, the higher the CLV, more important it is to pursue the deal.
6. Revenue Metrics
You can also use KPIs related to the amount of revenue your sales methods are generating to gauge performance.
Depending on the different revenue-generating activities and channels that you use or products you sell, you can have KPIs like revenue by product or revenue by channel.
Revenue by-product is the percentage of total revenue generated by a particular product. This works if you are selling multiple products and want to know which ones are bringing in the best results.
Similarly, revenue by channel will tell you the percentage of revenue you have earned from individual sales channels.
7. Competitor Metrics
Competitor metrics can tell you how you are performing in comparison to your competitors.
For example, one of the KPIs in this category can be competitor pricing. This KPI will show you how your products are priced compared to those of your competitors. It can help you reconsider your pricing strategy and gain a competitive advantage.
Another KPI here can be the number of deals to competitors. Knowing how much business you are losing to competition can help you rethink your sales strategies.
8. Customer Retention Metrics
A large part of the revenue generated by a business comes from returning customers. To be precise, almost 65% of a business's revenue can be attributed to existing customers.
For growing businesses, in particular, knowing how their customer retention efforts are working is very important.
Useful KPIs to determine customer retention can be a customer churn rate, which gives you the number of customers who have dropped off during a given period.
Repeat customer rate is a similar KPI, which gives you the percentage of customers who have done business with you more than once.
9. Sales Growth Metrics
Your monthly sales have to grow for your business to keep growing. Without sales growth, your growing business will not be able to sustain itself for long.
Pick KPIs to measure your month-over-month growth in revenue. This should be a positive value to indicate growth in sales. This is much more effective than calculating annual sales revenue. It gives you an opportunity to act and improve right away.
10. Sales Hiring Metrics
For a successful sales process, having a strong hiring strategy is also important. It is the people in sales who will be driving the results ultimately.
Use KPIs like employee retention rate, the average time to hire, cost of hiring, percentage of hires from various sources and so on, to engage in an effective hiring strategy.
---
Track Your KPIs for Sales with Kylas
Choosing the right KPIs is just the beginning. To create actionable insights from these KPIs, you will need analytics and reporting capabilities. A CRM platform like Kylas can help you track your KPIs for sales and generate customized reports on leads, deals, and revenue.
Kylas makes analytics easy to understand, giving you one-click access to actionable data. You can also share data with your team to collaborate on improving your sales strategies.
That said, with the right CRM, tracking KPIs and sales metrics can be much less time-consuming and a lot more efficient.
If you are looking for a CRM to improve sales, then Kylas is your best bet. Kylas is an enterprise-grade CRM designed uniquely for growing businesses.
It is easy to use and offers UNLIMITED USERS and FEATURES. If that's something you are looking for then, why wait!? Schedule a Demo Today!
Start 15-day Free Trial