You've gone through a successful sales hiring cycle and have assembled a strong team. You're now waiting for exponential revenue to start rolling in. However, statistics show that your team is likely spending only 39% of their time selling. Most of their day goes by devising new strategies for every client, creating email templates & call scripts, or digging into your website for the company's mission and vision statement.  
That's why you need a sales playbook! It gives your teams every bit of information they need to close deals. They are hence empowered to quickly adapt and overcome every curveball that comes their way. It is truly a game-changer for the efficiency of your sales machinery.
Despite the major benefits of sales playbooks, 40% of teams still do not use them. The reason is that it feels like a task too difficult to take on. You don't know whether to focus more on your product, or your processes. You don't want too many people involved in the drafting, but neither want a single person in charge of it. We're here to help with all these challenging decisions! Read on to learn all the tips and tricks to create a winning sales playbook for your growing team.  
Having a good sales CRM in place is equally important as a playbook. Kylas boosts your team's productivity and collaboration and offers complete visibility into your pipelines. To know more about how Kylas can optimize your business operations, Schedule a Demo now!
What Is a Sales Playbook & Why Is It Important?
It is the go-to guide for your sales teams that contains details of your organization and operations. You can think of it as a centralized repository where all your best practices, knowledge, and assets are stored. It does away with guesswork and ensures that your teams have all the necessary information available at their fingertips. In simple terms, it is a document that tells your teams how to sell.  
Sales playbooks help in improving and strengthening the most important of all business operations- sales. Teams that have adopted them are 33% more likely to have win rates exceeding 50%. This boost in sales is the primary advantage, but not the only one. Here are the other aspects that make sales playbooks vital for your operations: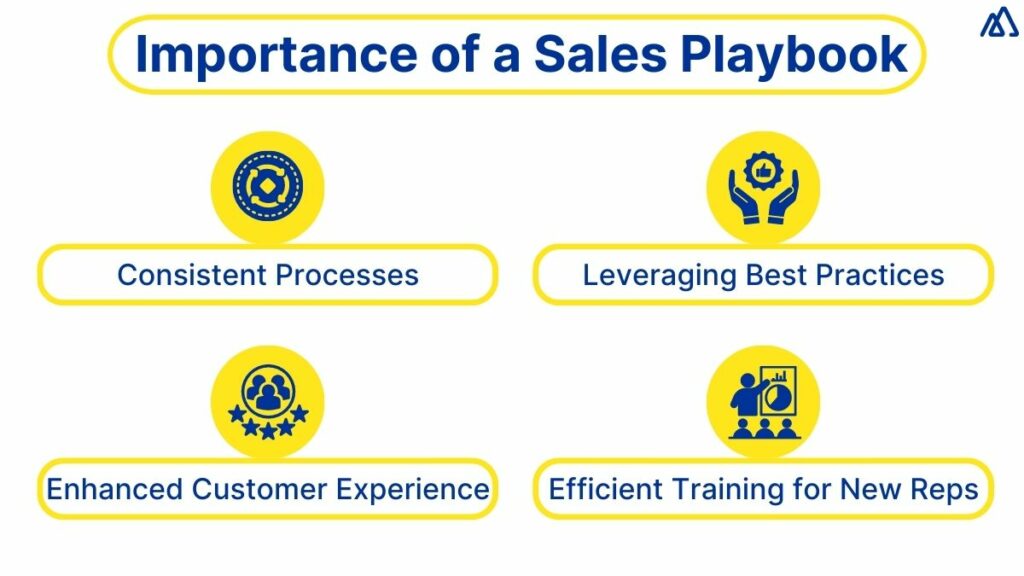 1. Consistent Processes
Let us consider two scenarios, one without and one with the use of a playbook. In scenario 1, every member of your sales team is flying solo. They are picking and choosing which actions to take since there is no uniform process for them to follow. There is inconsistency in how members are positioning the product or pitching to clients, which will disarray your sales setup. 
In scenario 2 though, all processes run like clockwork. There is a comprehensive guide of actions for all team members to follow, which helps them work better. There are dual benefits of such process consistency. The first is that it is easier to monitor and manage the sales cycle for numerous clients. Secondly, it fosters team unity since everyone follows the same processes.
Kylas's automation capabilities also help bring consistency to your processes. You can create various workflows and define actions so your systems can run automatically.
2. Leveraging Best Practices
Your top-performing and experienced salespersons will naturally have something unique to bring to the table. They might know of some highly effective outreach strategies, or negotiation tactics that can work wonders for closing deals. A sales playbook is an easy yet effective way of leveraging these best practices.
You can document all tried and tested practices in your playbook and incorporate them into your operations. Instead of a select few members using them, your entire team can adopt these winning strategies. This helps them ace their targets and drives up your revenue.  
3. Enhanced Customer Experience
Playbooks not only help you and your team but also the most important stakeholders of your business, i.e., your customers. They help to make the buyer's journey smooth and seamless since salespersons are equipped to navigate every stage.  
Besides, they also ensure that your customers gain an enhanced experience and personalized services. Your salespersons do not need to spend endless time looking for resources and can instead spend it on building stronger client relations.
4. Efficient Training for New Reps
Your new reps need a little handholding in the initial days. It takes time to acquaint them with your operations, and it cannot be fully done during the training period. They need guidance every step of the way to be able to fully mould themselves into the job. 
A playbook not only helps them learn your processes faster but also acts as a trusted source that they can refer to in case of any difficulties. Having to learn everything in a short timeframe will compromise their quality of learning. Instead, they can rely on the teachings of the sales playbook and learn while working.  
We're sure these benefits have convinced you of the pressing need to have a sales playbook. Now, let's delve into what you need to include in it. 
---
What to Include in a Sales Playbook?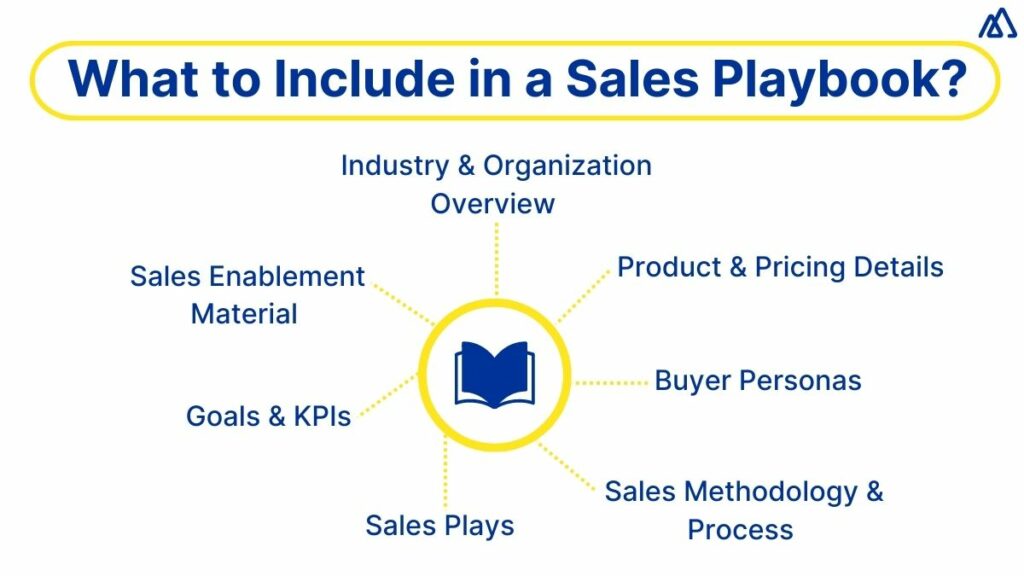 Your playbook should be thorough, but not overwhelming for the team. A common mistake is to add unnecessary details to it and bombard them with information. But an equally major error would be to keep it very brief, to the extent that it cannot fully help your team.  
You must walk a tightrope and include just the right things. These can vary slightly for every organization, depending on the market, team size, etc. However, by and large, there are a few necessary inclusions for all sales playbooks. We've identified those and created an easy checklist for you to follow:
1. Industry & Organization Overview
It's a good idea to start your playbook with this section. Every industry is unique, and your teams must be given thorough knowledge of the industry that you operate in. To successfully navigate it, they need information such as:
✅Overview of the industry 
✅Pain points & challenges 
✅Latest trends 
You should also showcase the values and work culture of your organization. Sharing your vision and goals with your sales reps also helps them to embrace the same. Additionally, talk about the position of the sales team within your organizational framework and give clear inputs on:
✅Various roles and positions within the team 
✅Task delegation 
✅Reporting hierarchy 
✅Performance measuring metrics 
---
2. Product & Pricing Details
The next most important section of your playbook focuses on your product and pricing. After all, your teams cannot sell something that they don't know about. Explain the product and pricing in detail, which will help your teams field any questions raised by prospects. Go a step further and include the USPs of your product, which will ultimately convince buyers. Here are a few other aspects that should also be covered: 
✅Use cases of the product 
✅Comparison with competitor products 
✅Additional services that you offer with the product, such as onboarding, installation, maintenance, etc.
✅Pricing Breakdown 
---
3. Buyer Personas
Once your teams know what they are selling, you need to tell them who they are selling to. Crafting a buyer persona entails a lot of research and data analysis. You need to understand the ideal audience for your product and dive deep into the sales process that applies to the product and market. You can use this information to create a persona so that your teams target the right prospects. Be sure to include these details in your buyer persona: 
✅Business background & internal challenges 
✅Solution requirements 
✅Position and role in the decision-making process 
✅Purchasing behavior 
---
4. Sales Methodology & Process
A methodology lays down the foundation for your sales. It is a framework that defines the engagement, nurturing, and conversion approach that your teams should take. Your teams should be made aware of your chosen methodology, and of how it aligns with your organization's goals and values.
There are dozens of sales methodologies to choose from. Here are two of the most powerful ones that are especially suited to the evolving market and consumer mindset- SNAP Selling & Agile.
Your sales process is then determined by this methodology. It is the set of actions that your team takes towards completing a sales cycle. It outlines every touchpoint and guides your teams on the tasks they must undertake. Break down your process into distinct phases like:
✅Lead Generation 
✅Making Contact 
✅Lead Qualification  
✅Objection Handling, etc. 
Methodology & process are highly essential inclusions to your playbook because they help your teams get on board with the crux of your sales operations.  
---
5. Sales Plays
These are the further bifurcations in every stage of the sales process. They are the link that connects your strategies with practical execution. They are a set of repeatable and actionable steps that apply to different scenarios. Going by the name, it is imperative for your sales playbook to include numerous sales plays. These empower your teams to smoothly take deals ahead without having to come up with new approaches for every situation. Here are the common sales plays that should be highlighted:
✅Demo Play 
✅Prospecting play 
✅Closing play 
✅Follow-up play 
---
6. Goals & KPIs
There's an endless list of things that can measure the success of a sales rep. Some organizations might prioritize the number of deals closed, whereas others might consider the ticket size of the deal as more important. Your team can achieve the targets your desired targets only with a clear understanding of them.
Set a clear end goal for your team and work backward to identify the steps they must take to achieve it and the metrics that must be tracked. List down the priorities for them and give them precise details of what you expect. Some crucial KPIs to track are: 
✅Sales per rep 
✅Average conversion time 
✅Sales growth rate 
✅Profit margin 
Kylas allows you to set and track goals for every member of your team within the CRM. You can also send automated notifications or reminders against each task and get auto-generated reports.
---
7. Sales Enablement Material
Sales enablement is a broad concept, but a part of it entails providing sales teams with the necessary content to help them close deals. Since your playbook is also centered around helping reps make sales, such material is a necessary inclusion in it.
✅Pitch decks 
✅Competitor analysis 
✅Informative articles  
are examples of material that can support your sales teams' performance. You can additionally have resources directed towards customers, such as white papers, case studies, or sales sheets. Your reps are in a better position to convert if they can easily access and provide prospects with such content.
---
Things to Keep In Mind for a SaaS Sales Playbook
The above-cited sections are a good starting point for a sales playbook for any industry. However, when it comes to SaaS, there are a few other factors to consider. The industry is focused on subscription-based models, so it is not enough to have strategies for winning over new customers. Your playbook should also have strategies for customer retention. Secondly, there are associated products, add-ons, upgrades, etc. for SaaS products. Your reps must know how to gauge the capacity of the buyer and identify the right upsell and cross-sell opportunities. 
Lastly, the cycle length for SaaS sales is variable. The playbook must help your reps tackle this and jump into the sales cycle at any point with the correct approach.
---
Best Additions to Your Sales Playbook
In theory, you are now aware of what your sales playbook needs to contain. If you're worried about how to implement it practically, you're in the right place!
1. Discovery Call Checklist & Sample Questions
Discovery calls are the primary interaction your reps have with customers. You can use this template to prep your sales team to ask the right questions, and for the necessary aspects they need to consider before, during, and after the call.
2. Calling Scripts
Calls are vital to the sales process. You don't want your team fumbling while speaking with clients or saying the wrong things. Here are some carefully prepared calling scripts your teams can use for various touchpoints:
A
A
✅ Outbound Sales Calling Script
3. Sales Activities & Strategies
The crux of a playbook is to offer strategies and suggest activities that a sales rep can use while closing deals. You can include such templates to help them perform better:
a
4. Sales KPIs
We have already established the necessity of having KPIs outlined in the sales playbook. Here's a ready template with some of the best metrics for you to consider.
---
Tips to Make Your Sales Playbook a Success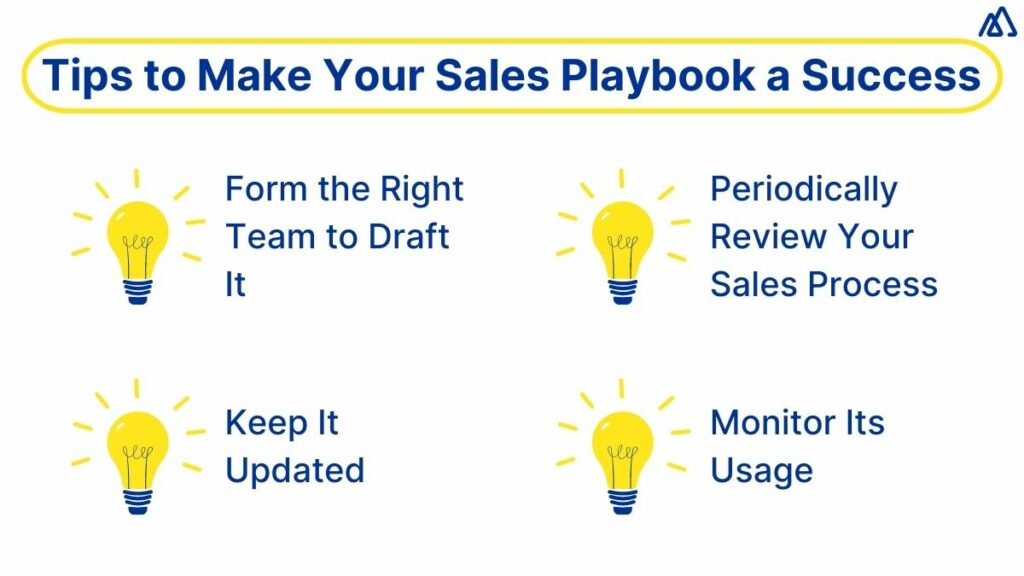 We have walked you through the detailed process of drafting a sales playbook. However, there is still more to be done! You must also ensure that you're getting the expected results from it and that it is being successfully used. Let us explore how you can do so: 
1. Form the Right Team to Draft It
This step is important in the initial stages of your playbook creation. You need to assemble the right team for it, so that everyone's interests are represented, and it becomes a holistic document with inputs from every sales-oriented and customer-facing team.
Typically, the ideal team includes sales reps and management, marketing, and subject experts such as product designers, customer support, etc. All your different departments must be aligned during the drafting process.
2. Periodically Review Your Sales Process
Your playbook reflects your sales process. Conduct a sales analysis periodically to see what is working for your organization and try to incorporate more of that in your cycle. However, be on be lookout for bottlenecks too and accordingly modify your sales process.
A stagnant sales process will limit your growth, as you need to keep up with the dynamic market and ever-evolving customer mindset.
3. Keep It Updated
Building on the point mentioned above, your playbook should also be modified with the changes brought to your sales process. You cannot have an older process included in the playbook and expect your reps to follow the new process that you've set.
Hence, updation is very crucial for the success of the playbook. Besides the sales process, also update it with new content, new metrics, new pitches, etc. that you think your sales reps should know about.
4. Monitor Its Usage
Even if you create an exceptional sales playbook, it will amount to nothing if it is not being used. Monitor how much your teams are relying on the playbook, and how many of the things mentioned there are being followed. You can also ask your reps for their feedback and try to make it more suitable for their use.
---
In Closing
You are now an expert in the subject of sales playbooks. Right from its importance to its contents, you know it all! It's now time to use this knowledge and make one for your teams, to see their performance excel and your revenue soar!
Start 15-day Free Trial