Here's an astonishing fact for all business owners- 80% of the total sales are made by an average 20% of the sales force. Imagine if you could hire this elite 20%… It would mean exponential growth and a boost to your revenue and profitability.
You can make this dream scenario a reality by hiring the right talent. In the wise words of strategist Jill Konrath, "Sales is an outcome, not a goal." This outcome can be achieved if you hire salesman who are the best in their field and will empower your business for success.
However, the question arises that among so many potential candidates, how can you find the right sales hire? All you need is a clear strategy and a systematic approach. We're here to help in that, with a complete rundown on everything you need to know about hiring salesmen for your growing business.
A good salesman plus a robust CRM in an unstoppable duo for success! Kylas is an enterprise-grade CRM that boosts the efficiency, productivity and collaboration of all your sales staff. To witness how it can enable your teams to perform better, schedule a demo now!
Breaking Down the Timelines for Sales Hiring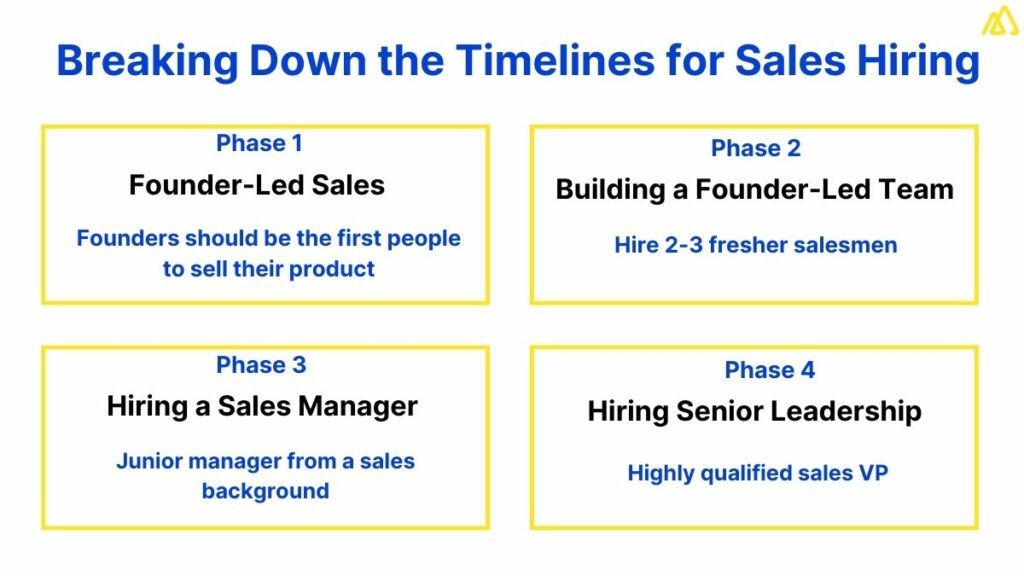 Before getting into the nuances of the hiring process, there's a crucial question to ask yourself-
"Is it the right time to hire a salesman for my business?" The answer to this question dictates a lot of your decisions. Let us explore this further by breaking down the sales hiring timeline and understanding the requirements of every phase:
Phase 1: Founder-Led Sales
Founders need to be the very first people who sell the product. You need to be as close to your prospects as possible and kickstart the sales operations. Earning revenue is surely the best-case scenario in this phase, but it is not the main objective.
You must focus more on sales exploration in this early stage. Understand the requirements and pain points of your customers, gain market insights, and play around with strategies. The first-hand experience gained here will eventually help you evaluate your candidates more accurately.
To know more about the importance and benefits of founder-led sales, hear the valuable insights of our expert speaker at the Kylas SMB Leadership Roundtable.
Phase 2: Building a Founder-Led Team
After concluding the initial sales, you need to think about expanding your business and further improving your product. You need to pass the torch to someone else now and bring some salesmen onboard to keep up the sales velocity you have achieved.
Ideally, consider hiring 2-3 salesman and look for freshers who are keen to prove themselves. While this will ease your work, you still need to be closely involved. Your small team will look to you for leadership and motivation, and it is up to you to help them work well.
Phase 3: Hiring a Sales Manager
If all goes according to plan, your business will have attained some revenue consistency by now. Your processes are almost set up, but they just need some fine-tuning. Now's the time to look for a sales manager equipped to manage a growing team and build on the things you have established.
A sales manager's skills can help to streamline your hiring process going ahead. They can also train your team and track the ongoing work. The most suitable candidate for this phase is one who has previously managed a team of similar size as yours, and who has evolved into a management position from a sales background.
Phase 4: Hiring Senior Leadership
This is the giant leap in your sales hiring process. You need to create a hierarchy wherein your reps are under the managers, and all your managers are under senior-level leadership. You must begin your search for a sales VP.
A competent VP with the right experience and expertise can scale your business to new heights. They can help you expand to new sales channels, close deals with large stakes, and eliminate the bottlenecks in your processes. However, you must take your time with this hire since it will be an expensive human-resource investment.
Your best chance of success is in abiding by these timelines. Relying only on founder-led sales for long periods of time is not advisable. However, it is also not advisable to rush into creating a multi-tiered team. With a clear understanding of which phase applies to your present condition, you can make the right sales hires.
---
Stages of Sales Hiring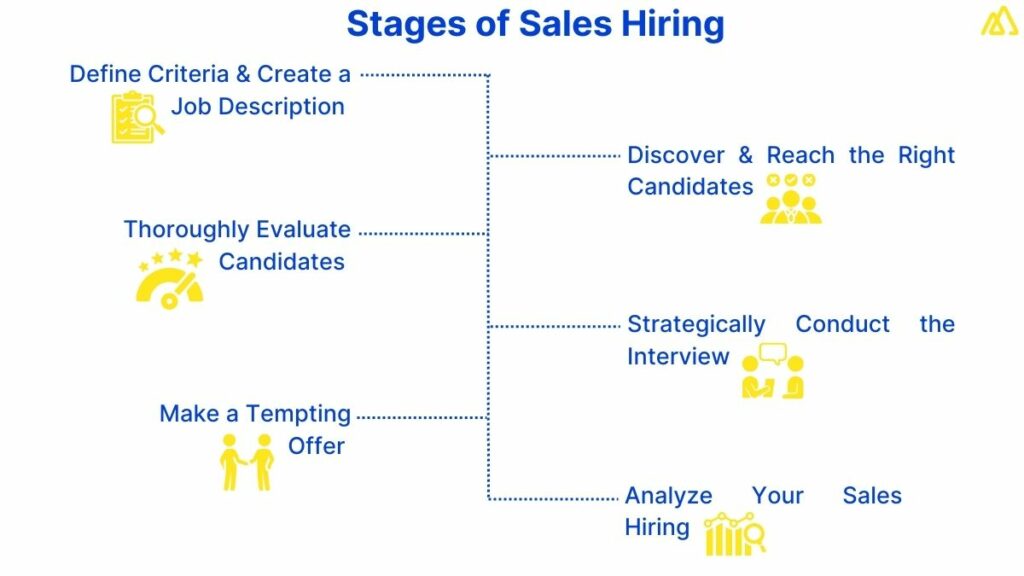 You know now 'when' you need to onboard the various members of your sales team. But 'how' do you do this? Hiring is not as simple as the right candidate just walking up to your doorstep. It is a detailed process that goes through various stages:
1. Define Criteria & Create a Job Description
Without defined criteria, you might be looking at the ideal candidate for your business, but you will not know it. You can set criteria in terms of educational qualifications, work experience, or even personality traits. While doing so, the requirements and goals of your business should be kept at the forefront and ensure that your hiring will create a well-structured sales team. Setting criteria will also allow you to filter out and engage with the viable candidates only.
You must now ensure that these requirements come forth in the job description that you put out. It should clearly outline all your expectations and provide a realistic picture of what the job entails. You can optimize the job title to include the key phrases that your candidates might be searching for and include a brief description of your company's values.
2. Discover & Reach the Right Candidates
After doing your groundwork, you must now begin the search for the right candidate. You need to broadcast the job vacancy in your company and make it discoverable for the maximum people. Here are a few approaches to do so:
61 million people search for jobs on LinkedIn weekly. So, if you're not already doing so, you need to start leveraging this powerful platform. You can also enable candidates to directly apply for the job through LinkedIn itself.
Post on your website, social media, and other popular job listing platforms like Monster, Naukri, Indeed, Glassdoor, etc.
Hire recruiters to do the groundwork on your behalf
Spread the word for referral hiring among industry connections and employees. Such referred candidates have a 5x chance of being hired.
3. Thoroughly Evaluate Candidates
Your efforts in the 2nd stage should ideally get you numerous applications, which you must pre-screen. The first step towards this is setting up a call with the candidate. You can ask basic personal and professional questions at this stage to gauge how the candidate speaks and interacts, which is essential in a sales hire. Subsequently, you can set assessments that test the candidate's knowledge and skills, as well as their adherence to given deadlines.
A solid addition to your evaluation could be the conduction of a mock sales demo. You can ask your candidate to plan and execute the demo from scratch to see how comfortable they are with this major aspect of the job.
4. Strategically Conduct the Interview
Those who clear the pre-screening are finally brought face-to-face with you for the interview. Along with your candidates, you also need to put your best foot forward here. It must be strategically conducted to ensure valuable outputs from it. Here are some questions that you must include in the interview:
"What are your personal growth goals in this position?"
"How do you deal with rejection from a prospect?"
"Are you open to modifications in your set processes?"
"Which of your skills still need improvement?"
"What is the value you can add to the company?"
These questions will help you understand important traits of the candidate like adaptability, persistence, trainability, etc. You can hence make an informed decision about whether he is a suitable addition to your company.
5. Make a Tempting Offer
Before going into any more details, it is essential to emphasize the importance of this stage. If the interview has gone well and you are keen to hire the candidate, do not wait too long in making the offer. Additionally, ensure that you keep open lines of communication in the interim period to let him know you are interested.
You must be prepared that since you are hiring a good salesman, they will negotiate and try to secure the best deal for themselves. It is also likely that your first offer will be rejected. During the whole negotiation process, it is essential to give your candidate time to consider the offer, but also set reasonable deadlines.
6. Analyze Your Sales Hiring
At the very end of your hiring cycle, it is essential to analyze all your past actions and optimize them for the next cycle. Think of this on the similar lines as you do for a sales analysis. The candidates become leads, hiring criteria become the lead qualification metrics, the interview becomes the demo, and giving the offer becomes the closing of a deal. As in the case of sales analysis, you need to track all the important metrics and processes here.
Another practice you can adopt is asking for feedback from new recruits. Continue with the parts that are working in your favor and try to eliminate or optimize the weak links in your hiring process.
---
Mistakes to Avoid During Sales Hiring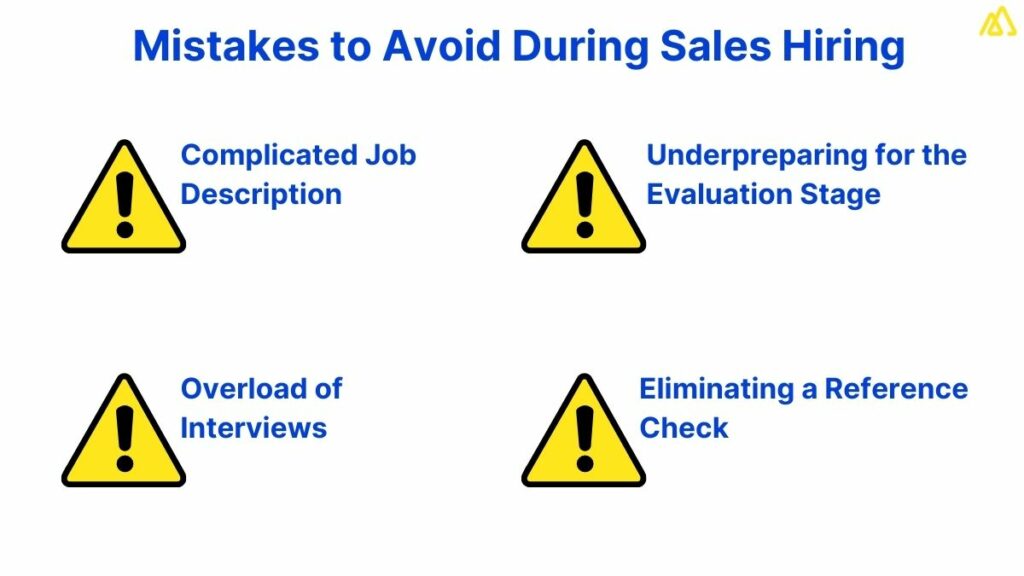 If you systematically follow the above stages, it is fairly certain that your sales hiring will be smooth. However, you cannot bank on this and let the process slip out of your grip. There are a few common mistakes that you may end up making. And if you don't know them, you cannot take measures to avoid them, So, let's get right to it!
1. Complicated Job Description
While drafting the job description, it is very easy to get swept up and try to make it elaborate and complex. However, all this ends up doing is confusing your candidates about what you're looking for. The downside for you are scores of irrelevant applications that you will receive because your requirement is not coming forth.
You might be tempted to oversell the position by highlighting the more glamorous aspects of the job and your company but avoid doing so. Keep it as simple and concise as possible, and make sure to only keep all the relevant inputs.
2. Underpreparing for the Evaluation Stage
No doubt your candidates must thoroughly prepare for the evaluation stage. However, the biggest problem of most companies is that they themselves are not prepared for it. This leads to poorly drafted assessment tests and missing out on pertinent questions during candidate interactions.
Chalk out a list of skills you want to test your candidate on, and the things that you wish to know about him. And repeat this process for every different position that you're hiring for instead of simply creating one fixed template. This ensures that your assessments and interviews give valuable insights into the candidate.
3. Overload of Interviews
Aligning interviews is a tricky part of sales hiring. Most companies end up arranging dozens of interviews every day for several consecutive days, and their productivity takes a hit. Another mistake is having the interviews run for too long.
The key here is to smartly plan how many interviews should be conducted, space them out, and decide on a time limit for each. This also ensures that the person taking the interview is in the right mindset to find good talent for your company.
4. Eliminating a Reference Check
"I have assessed the candidate myself, why do I also need to check references?"
This is the justification that most people involved in hiring give themselves while eliminating the reference check. However, it is highly advisable not to do so.
Your candidate is bound to present all the good parts only while interacting with you. However, references from past employers and colleagues tell you the true side of it. The candidate's temperament, work ethic, loyalty, etc. can only be understood by hearing it from someone who has actually worked with him.
---
Your Job Does Not End With Sales hiring…there's Something Else That You Now Must Do!
Imagine if you carefully planned your timelines, abided by all the hiring stages, made no mistakes during the process to onboard the ideal candidate, and he leaves your company within a few months. Attrition can be a major hurdle in your path. You need to focus equally on retaining your employees as you do on hiring.
Create a positive and empowering environment for them to work and grow in. Compensate them well for the efforts they put in and help them upskill. If your employees are gaining so much from you, you can surely expect to be rewarded with their loyalty.
Along with having competitive salary structures, incentives are a great source of motivation. Here's all the information you need on the various sales incentive programs and how to choose the best one for your team.
Start 15-day Free Trial