Sales are vital for the success of an organization. Sales teams are vital for the closing of sales. Add two and two together, and you get an idea of the importance of sales teams for every business.
Sales teams are the dedicated resources who manage the end-to-end sales cycle of your company. They interact with potential customers and convert them to paying customers, which scales revenue and profits. Thus, a strong sales team can be the biggest asset for any organization.
Let us now imagine a business that has several people focused on merely closing sales, but nobody in charge of post-sale customer service. Alternatively, let us imagine a sales team with multiple hiring managers who acquire new talent, but with nobody in charge of training them. Neither of these teams will succeed in achieving their targets, simply because they lack proper organization. This is where having a good sales team structure comes into play. It will help you combine various areas of sales expertise and form a highly productive team!
The productivity of your business can also be enhanced with the use of a sales CRM like Kylas. Its robust feature set can streamline your end-to-end operations and allow your teams to work efficiently and effectively.
---
The Importance of Sales Team Structure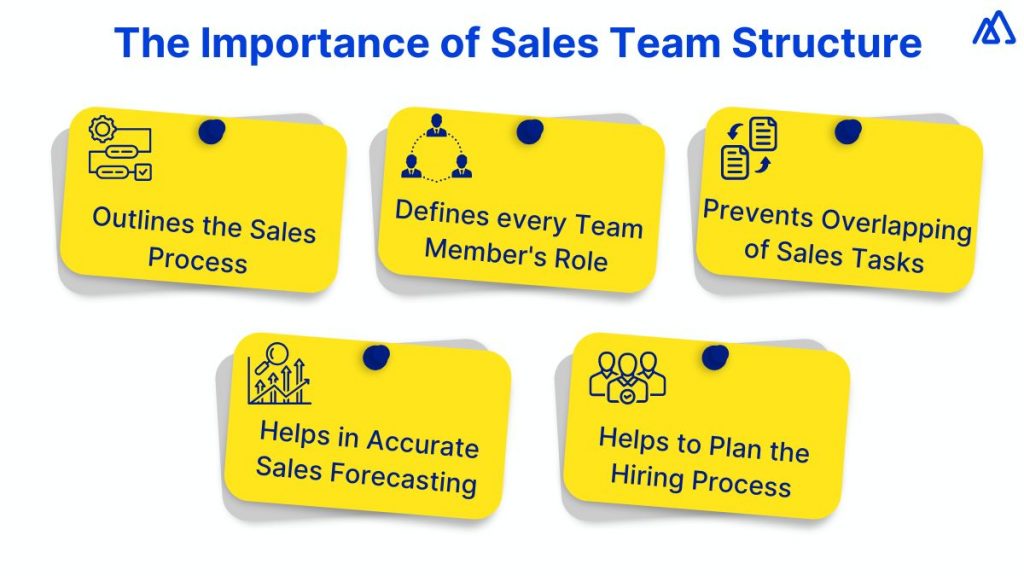 In simple terms, sales team structure refers to how you segregate your teams into various roles, responsibilities, and departments. It lays the foundation for your entire sales process and outlines the approach that your team will adopt. The composition and structure of your team also dictate the areas of focus in your process.
For example, let us consider a business operating in the previous decade, where hybrid sales were still an alien concept. Its sales team structure, which would naturally not have any people equipped in remote sales efforts, will succeed. However, what if a team with such a structure had to succeed in today's times? We are heading towards a future dominated by hybrid sales, and your team must accordingly consist of resources who specialize in it. Hence, maintaining a balanced sales team structure optimizes your process.
Here are some of the other reasons for its importance:
It defines the role that every member of your sales team must take up to prevent overlapping of tasks and wastage of

team bandwidth

.
It helps you plan your hiring process in accordance.
It offers insights into the resources at your disposal to attain your

sales objectives

.
It can help in accurate sales forecasting since you can estimate the results that every team member will attain.
There is no straitjacket formula to apply when it comes to choosing the right sales team structure. It is linked to a variety of factors like the size of the business, or the target audience for the business's products, and hence will vary for different companies. However, there are certain commonalities between high-performing sales teams across diverse businesses. These can be leveraged to create an outline for the ideal sales team structure.
---
The Factors That Influence Your Sales Team Structure
Choosing the right sales team structure is no easy task. The decision directly impacts your sales and thereby impacts the growth of your organization. While determining it, you need to first and foremost evaluate its suitability for your business needs. Just like a product & market fit is vital, you also need to create a sales team structure & business fit. Here are a few of the factors that will help you understand the type of team structure that your business requires:
1. Your Target Markets
You require a sales team structure that can thrive in your target market. If the market that you intend to sell in is expansive, you will accordingly need a larger team with more market experts. Similarly, if it's a small and limited market that you are targeting, you can make do with a smaller sales team and use the budget to hire more people in other teams instead.
2. Your Sales Goals
The most effective sales team structure is one that can meet the sales goals you set for your business. Your established goals will be the best guide for the organization of your sales team. For example, if your sales goals comprise securing more e-commerce sales, hiring more field sales specialists will be a misfit for your business. You must align the skillset of your sales teams with the expectations you have from them.
3. Your Budget Allocation
There is no standard budget allocation in businesses. You may choose to spend more on your sales teams and cut costs in other areas, whereas another business may choose to divert lesser costs to sales teams and spend in other areas. This decision of budget allocation will help you build your sales team structure.
These factors will lend a certain clarity to businesses regarding the structure of the team that they must build. However, it will not suffice to fully guide your sales structure organization. You might still end up neglecting an important role or hiring lesser people for tasks that take up a lot of bandwidth. Luckily, we are here to help you every step of the way!
We have built an ideal sales team structure that will help you, irrespective of your business. It includes all the crucial roles required within a sales team, and adopting this will ensure that you have a well-balanced and high-performing sales department.
---
An Ideal Sales Team Structure for 100% Target Achievement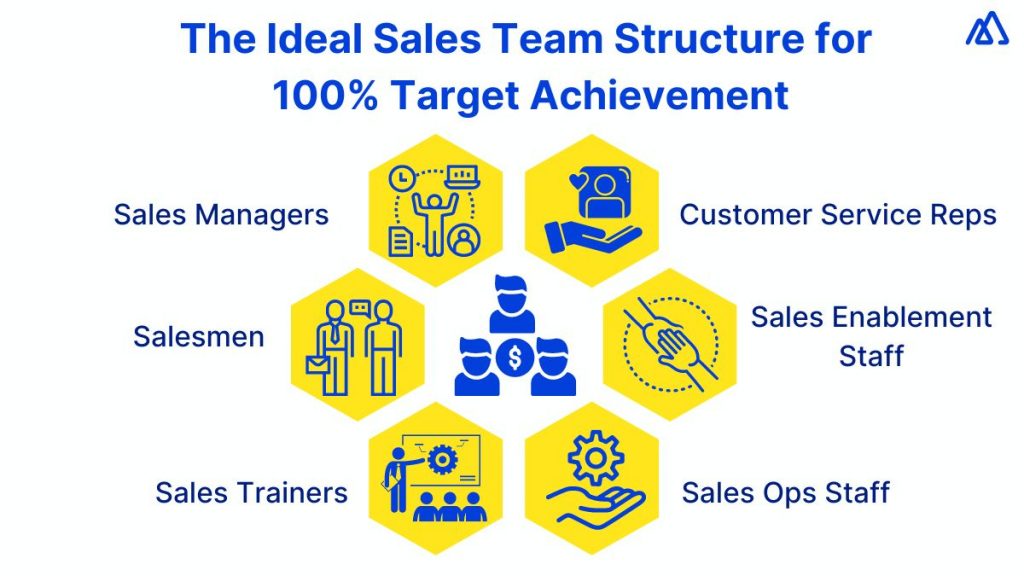 The core function of sales teams is to close sales. Closing sales is a complex activity that involves multiple aspects. For all these aspects to operate smoothly, multiple people must collaborate. Sales is a team activity, and hence having proper organization among your team is crucial.
Let us explore the various profiles that must be included in an ideal sales team structure, that will help you realize 100% of your business targets.
1. Sales Management
Sales management staff are essential to oversee the work of your sales team. It is essential for your sales team structure to include staff for management. Sales management comprises the management of the overall functioning of the team, setting targets and deliverables for them, thereby streamlining their work.
2. Sales Representatives
These are the front-runners of the sales of your business. Sales reps are the points of contact for your customers during their entire buying journey. Their key function within the sales team structure is to close as many deals as possible. They also serve as brand representatives to build a good reputation for your business and nurture lasting relations with your clients.
3. Sales Trainer
The work of your sales reps is directly influenced by how well they understand the sales cycle of your business. This is where sales training can benefit you. Having dedicated training personnel on your sales team will ensure that all your reps have the knowledge and practice that they need to excel in their work.
4. Sales Operations
The daily operations of your sales teams can be optimized with the right sales operations personnel. They are responsible for numerous processes such as:
Strategizing the budget and revenue for sales
They also align the various tasks that are simultaneously carried out among the team and ensure a seamless workflow.
5. Sales Enablement
Sales enablement staff play a vital role in your sales team structure. They support your salespersons in the closing of deals by providing them with marketing content, sales intelligence, data-driven insights, etc.
6. Customer Service
The most crucial part of making sales is delivering a value-rich product and experience to your customers. That's the role played by customer success staff in your sales team structure. They take over all tasks relating to onboarding, providing support, and resolving customer concerns.
As has been elaborated above, your sales team structure is directly linked to the requirements of your business. The structure provided above can serve as a blueprint of how your sales team should be organized, but the ultimate decision should be made considering your unique business needs.
---
Tips to Achieve a Productive Sales Team Structure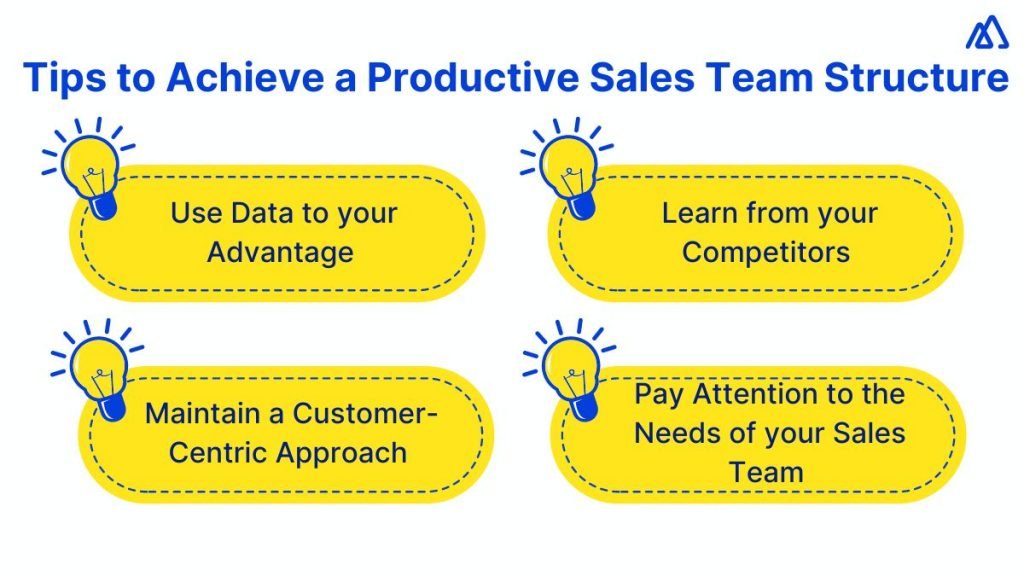 You are now aware of certain factors that influence your sales team structure. Besides these, there are a few other aspects that you must consider. These factors will help you build a sales team structure that is high on productivity and efficiency.
Here are a few tips to consider while deciding on the organization of your sales team:
1. Use Data to Your Advantage
Data can be the most valuable asset for your business. If leveraged well, it holds numerous insights that can be used to your benefit. In your daily operations, you will generate big data for various fields such as:
Consumer demands and preferences
This data can be collated and analyzed to serve as guidelines for how you need to structure your sales team.
2. Learn From Your Competitors
This tip focuses on assessing the performance of your competitors and identifying the reasons why they might be performing better than you. Your competition can be your biggest help in identifying the right sales team structure.
Your competitors will naturally be operating in similar markets as you are and working with the same target audience. You can observe their sales process to see the various profiles present in their team. This will enable you to scale your sales process.
3. Maintain a Customer-Centric Approach
Customers are the backbone of your business, and your sales team is the one that interacts most closely with them. Your customers will tell you what they require from your sales team, all you need to do is listen. You can implement customer centricity through simple measures like taking surveys, feedback, etc. These will show you how your team works with customers and accordingly help to determine your sales team structure.
4. Pay Attention to the Needs of Your Sales Team
To maintain a productive sales team structure, you must ensure that your team is happy and content. Hiring new people often will disrupt the smooth functioning of sales, and hence retention must remain your top focus. You must listen to the problems of your sales team, and their expectations of you. This has a dual benefit:
You will have direct insights into the sales team structure that you must build
You will attain a higher retention rate
By leveraging these tips, you can make informed decisions regarding your sales organization. A well-planned and coherent sales team structure will take you a step closer to boosting your sales and scaling your business. There are a few sales team structures that will achieve these results for you efficiently, and you can consider adopting these for your business. Let us have a look at these structures.
---
The Top-Performing Sales Teams Structures
There are primarily 3 types of sales team structures that are adopted by a majority of businesses. Each of these has its own advantages and disadvantages. By assessing each method, you can determine its applicability to the success of your business.
1. The Island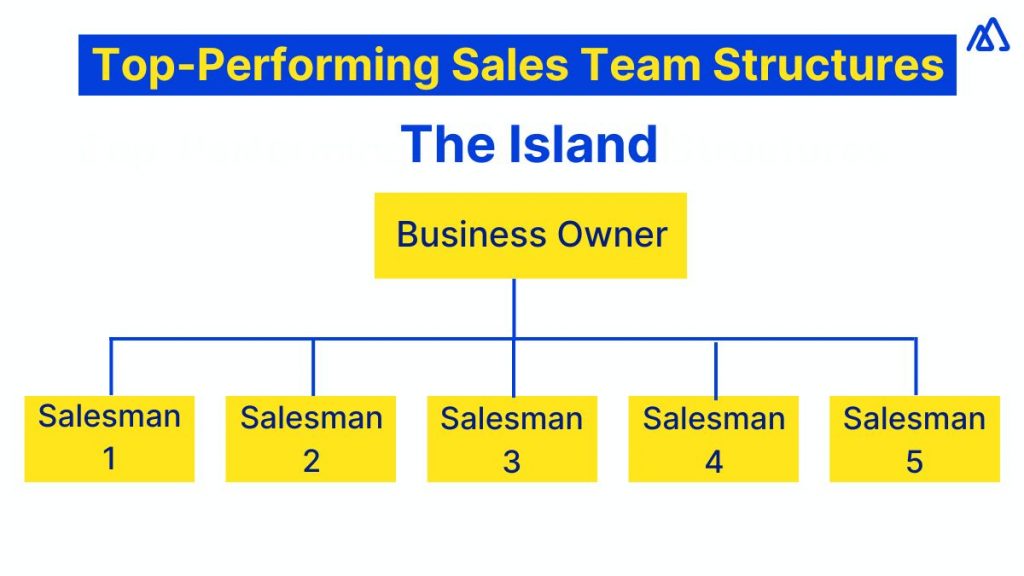 The name of this sales structure represents the way in which the team is organized under it. Each sales rep is singularly responsible for all tasks associated with the sales process such as lead generation, lead qualification, closing sales, identifying cross-selling opportunities, etc.
There is very little management required in this structure. However, the downside is that there is little control over the way in which sales are conducted and your brand is represented since every salesperson works on their own.
It is ideal for businesses that operate in well-established markets with high competition levels.
2. The Assembly Line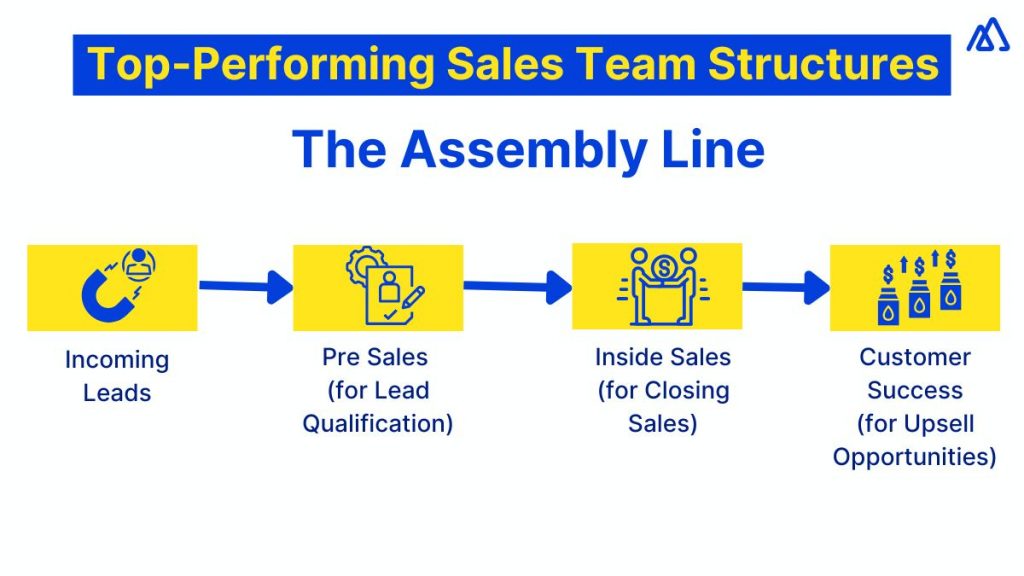 The method of organization is named such due to its linear structure. Every task in the sales process is broken down and handed over to personnel specialized in it. Through this structure, your sales team can specialize in different roles and functions.
The pros of such task segmentation are that overlaps are avoided to make way for high efficiency, and each task can be handled by experts. However, the cons are that hand-offs between each stage of the assembly line can become difficult and time-consuming.
This sales team structure is most beneficial for startups as it simplifies their process.
3. The Pod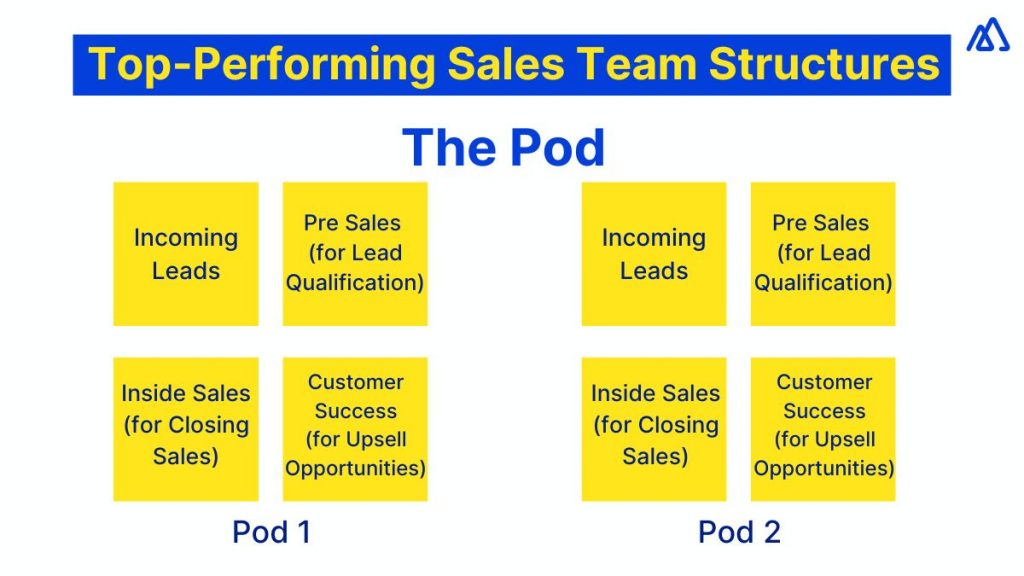 This structure is closely linked to the assembly line. The difference is that this method creates small groups or 'pods' of team members that focus on specific tasks. Each pod manages the tasks needed at specific touchpoints of the buyer's journey.
This sales team structure is highly customer-centric and flexible in this work. On the other hand, it reduces the opportunity to upskill your staff since they remain limited in the work of their pod.
It is ideal for growing businesses that wish to venture into new markets and diverse verticals.
After assessing each of these structures, you can determine their applicability and feasibility for your business requirements. Each sales team structure works in a different manner, and you must make an informed decision regarding the way you wish your sales team to operate.  
Kylas offers Hierarchy Management with the 'Reporting To' feature that allows leaders and managers in higher hierarchy roles to view the data of their direct and indirect reports within the organizations. With this feature, sales managers can easily access the data of their sales executives without requiring the executives to manually share their data.
Try out our Hierarchy Management today and see how it can help your team work more efficiently and collaboratively.
---
In Closing
Building the correct sales team structure is the foundation of having a successful sales cycle. Simply having a large sales team is not enough, but rather you need a smartly built sales team. Every aspect of your sales process should be managed by dedicated resources, to ensure that no lead or deal slips through the cracks. However, you also need to ensure that you do not have too many people managing a single task, as it amounts to resource wastage.
A good sales team structure avoids all these problems and gives your business the right head-start to scale your sales.
A CRM tool like Kylas can also help boost your sales and revenue. It helps your sales team to work productively and close maximum sales for your business. It also offers insights into their work and identifies lags in the sales process, which can help you build the right sales team structure.
Start 15-day Free Trial