86% of employees and executives believe that the lack of effective collaboration and communication is the main cause of workplace failures. This clearly shows how important effective communication is for better productivity.
So, when you onboard a new seller in your team, what does the ramp-up process look like? And, when your organization launches a new product or service, how do you communicate the information to your sales team?
Most probably, you would be communicating with your team through emails, conference calls, and messages in the team channels. But do you think this will clear the whole concept and make them understand what exactly you want them to do and more importantly, how to do that?
No, because this is not the best way of enabling your sales team. It's not just about telling your new and existing sellers about an update, product, or service. You must provide them with an array of resources to use and refer to. This will ensure that your team knows what they are supposed to do. Take it for sure that they will also be able to complete it more efficiently and effectively than someone without those resources.
But what will tell you that your team has the right resources to face every challenge? The answer is sales enablement.
Keep reading to learn the details about sales enablement.
Use Kylas to manage marketing materials, client/prospect details, sales funnel, training documents, and more to make the most of your sales enablement strategy.
---
What Is Sales Enablement?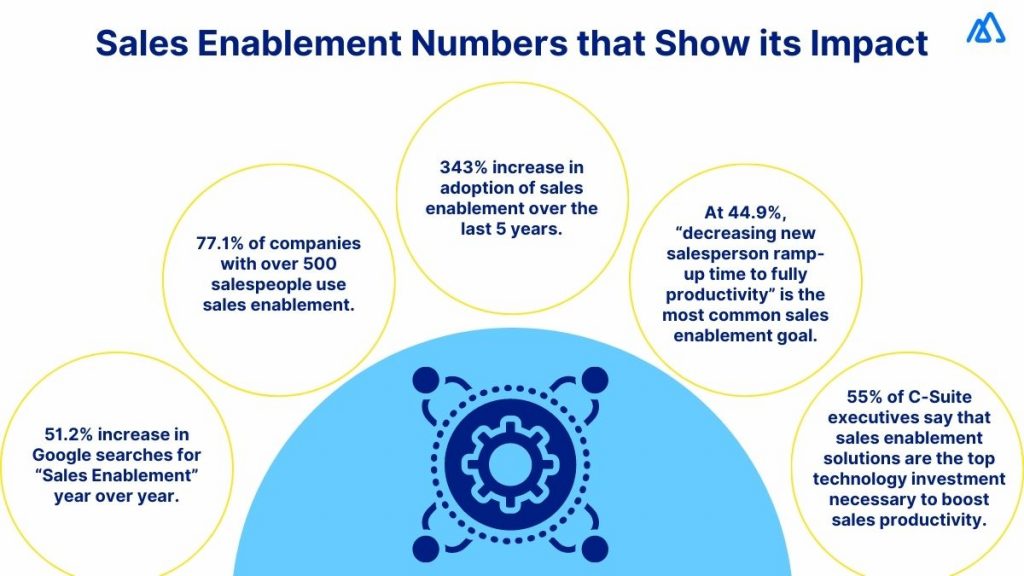 Sales enablement is the process of providing your sales reps with the necessary training, tools, and content they need to close more deals. The process needs different departments to work together to help the sales team boost their productivity.
In simple terms, sales enablement means teaching your sales reps how to sell better.
As per Aberdeen, successful sales enablement programs help in 32% higher team sales quota attainment and 24% better individual quota achievement.
It is the sales manager's responsibility to create enablement that revolves around revenue goals and prove that it's working. For this, you can make use of the content pieces created by your marketing team to define your program. It should encompass all that is related to lead generation, lead management, and everything else before the lead is handed over to the sale department.
As per the Pareto principle or 80/20 rule, 20 percent of your sales reps are responsible for generating 80 percent of your sales revenue. This is why you need to empower them with the best practices, testimonials, and effective strategies that get results.
The one who is responsible for sales enablement to build the sales process, enforce the use of the CRM, consolidate the content in one place, and train sales reps to use it at every stage of the prospect's journey with a common aim of creating and improving the sales process.
The Objective of Sales Enablement
In every organization, the reason why sales enablement is given so much importance is that it is meant to help salespeople do their jobs effectively and get good results. From prospecting & hosting customer meetings to gathering information and closing deals, sales enablement makes them well-versed in their role in the organization and tells them how it is done.
It helps reps weed out unqualified leads and prioritize the ones that have more chances of converting. This is how sales reps get to show and explain the benefits and results of the products and services they are selling to their prospects. If their managers can make the resources readily available to them, they will be able to convert leads with flying colors.
---
Why Is Sales Enablement Important?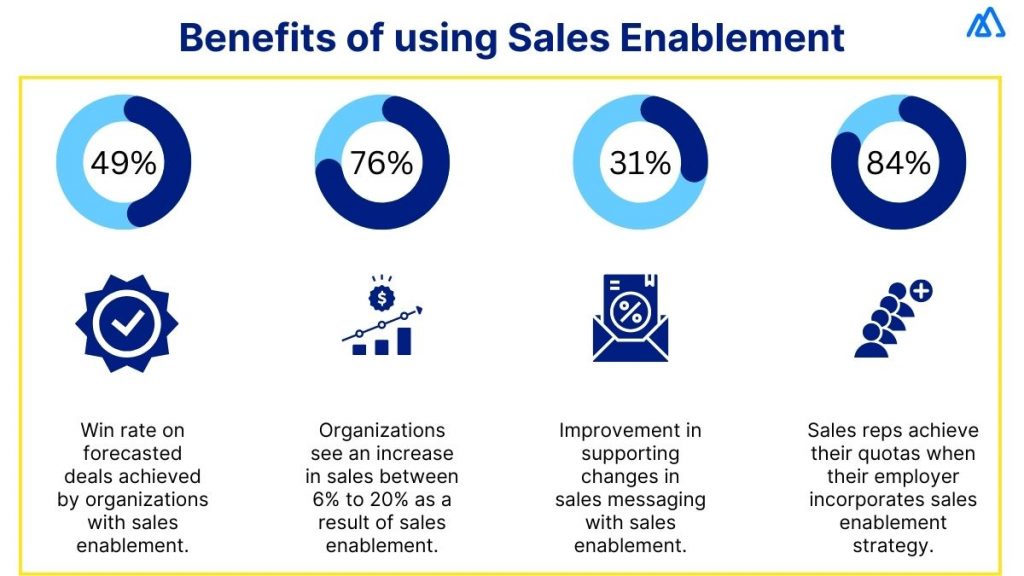 Sales enablement scales the sales team rather than focusing on a handful of overachievers. It provides all salespeople with the best practices, tools, knowledge, and training to sell successfully. The enablement program is based on the idea that everyone in your sales team is on the same page and is constantly updated with what is new in the market and their business.
By promoting a culture of strong customer service among your sales team, sales enablement helps your team tailor their outreach in accordance with the prospects. It's no surprise that 74% of buyers choose to move forward with the sales rep that's the first to share value and insight. When your salespeople will be better at achieving their targets, they will be satisfied and work for more success.
One of the main reasons why sales enablement is a need in your business is because your sales team and marketing team work in silos rather than focusing on the overall company goal. With an enablement program, you can break down the silos and increase collaboration in both teams.
If sales enablement sounds like a lot of work to you, move ahead to read how you can streamline the process of creating a sales enablement strategy without any hassle.
---
What Are the Elements of a Sales Enablement Strategy?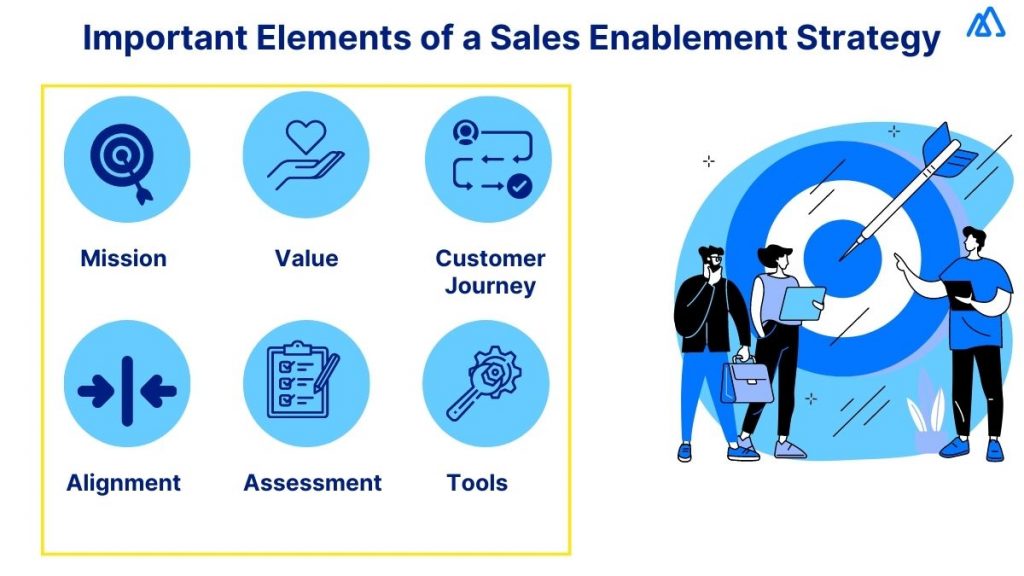 The competition these days is more aggressive than it was some years ago. This requires companies to be ready for every challenge that can come up at any time. If we talk about the sales teams, they will likely run into trouble if they don't have access to accurate client information and resources.
No matter what, they need fast access to the internal resources and data about the product or service they are selling to provide their customers with the insights they need to make the purchase.
Sales leaders need to build a sales enablement strategy that helps sellers use the right information and resources to drive sales. According to CSO Insights, almost half of the companies with sales enablement teams are led by their Head of Sales.
So, let's take a look at the most important elements of a sales enablement strategy and how to build one so that your team can improve the win rate in the minimum time possible.
1. Clarify Your Mission
Before you build a sales enablement strategy, you must have a clear mission. When you know what you are trying to achieve with your strategy, you can build it in that direction. Start by building a rough framework that clearly mentions your idea behind the strategy. It won't be effective if the only thing you have in mind is letting your sales team know that they need to sell more. Not even increasing revenue would be sufficient to make them understand.
The objective has to be much more precise so that your team knows what they exactly need to do, ensure adoption, and measure success. Structure the mission over tangible, actionable, measurable, and objectives so that everyone in the process has a clear understanding of it.
2. Explain the Importance of Sales Enablement to Your Reps
Your sales enablement strategy would come up as a winner only if your reps know what it is and why it is important. Talking to them about the enablement program will reveal where they need to work harder and what is getting them results. Just because you have come up with a strategy doesn't mean that your reps will find it important, pay attention to it, and implement it.
When the sellers know why the strategy was created and how it will help them achieve their goals better, they will obviously be interested in it. This will also ensure that they are engaging completely with every sales enablement activity to make it a success.
3. Consider the Customer Journey
This should go without saying but still, we are mentioning it. All that you and your reps are doing has to be through the lens of the customer journey. You cannot make decisions from where you stand but from what your customers see about your business. And we are not just talking about the basic pain points and challenges. You have to move beyond that.
Build a strategy that arms your reps with the information they need to have impactful conversations with customers where they are. It will help reps uncover potential gaps and curate their messaging specifically for where prospects are within their customer journey.
4. Align Your Sales Process With the Customer's Journey
The knowledge of the customer's journey is essential. Too often, sales leaders only consider their team while planning a new strategy in spite of the fact that all that they are doing is for their customers. So, it's important to take a look at your previous customer journeys and find out the touchpoints with your company.
Once you have all this information, find out how to design your sales funnel in a way that is in accordance with your buyers. This is how you will be able to provide your raps with the right resources, content, and information to help customers as they need them.
5. Assess Not Guess
It's your mistake if you are assuming that reps are ready for game time, only to fail in front of the buyers. This is why you need to assess them ahead of time so that they are prepared for what they will present in front of your prospects. With video coaching activities, you can judge and test your reps' readiness and help them accordingly.
If needed, you can record videos for certain common incidents like introducing your product or service, negotiating with the client, closing a deal, etc. so that they have a go-to place when they are stuck.
6. Give Salespeople the Tools They Need to Succeed
When the salespeople know that the content that they have been provided with helps them with the customer conversations, they will want to use it. But there is always a risk of your sales reps using outdated content that doesn't get changed when the business evolves. The best sales enablement strategy would ensure that the reps are being provided with data that is up to date and make the sales process easier.
Furthermore, if your sales enablement technology can connect with other training tools, reps can learn on the go and make the most of the strategy.
---
How to Create a Sales Enablement Strategy?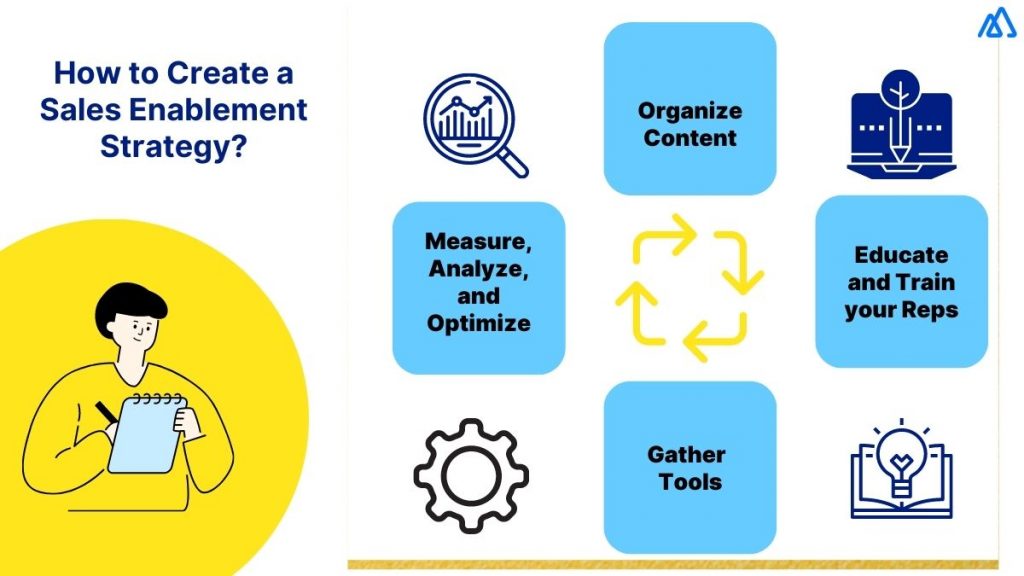 After you have a clear plan of what you will do and how you will do that, now it's time to create and implement your sales enablement strategy. Here is how it can be done.
1. Organize All the Content You Would Need
Sales reps need a way to leverage the content being created by the marketing team. But as all the content that is being created is not worth paying attention to, there has to be a way of organization. Your reps won't know what content is important, where they can find the important content, and how to use it during the conversations.
With your sales enablement strategy, you can make this content readily available and make it useful for your sales team. Gather all the templates, contracts, case studies, and surveys, and organize content distribution channels to let your team has productive conversations.
2. Educate and Train Your Reps
It would be useless to have the best sales enablement and CRM tools if your sales team doesn't know or doesn't want to use them. It's important to demonstrate the value of each tool and each piece of content to them so that they understand their value and can use them in the best way possible.
It is necessary to onboard your new sellers with training that helps them understand the team's stack. Along with that, make your veteran sellers well-versed with the evolved strategies, changed processes, and new information that they may not have an idea about.
3. Gather the Required Tools
Tools and technology help in implementing any strategy easily and successfully. Gather technology that helps your sales reps better track and communicate with their customers. More importantly, equip them with the tools that help them understand the value your product or service offers to maximize customer understanding.
But without the right knowledge, even the tools and technology won't work. As they say, technology is only as good as the people using it. So, make the most of the knowledge and tools for the best outreach.
4. Measure, Analyze, and Optimize
You must know one thing your starting sales enablement strategy will change with time and it should, of course. New tools, content, processes, technologies, and strategies will always be there and become a part of the program. So, be ready for constant evaluation to identify how your strategy is performing and what needs to be changed about it.
When you measure your progress, it's important to make all the necessary adjustments to the strategy. As a result, your reps can give their best in everything they do.
Let's now take a look at the best sales enablement tools that you can consider for your team in 2023.
---
What Are the Sales Enablement Tools You Can Consider for Your Team in 2023?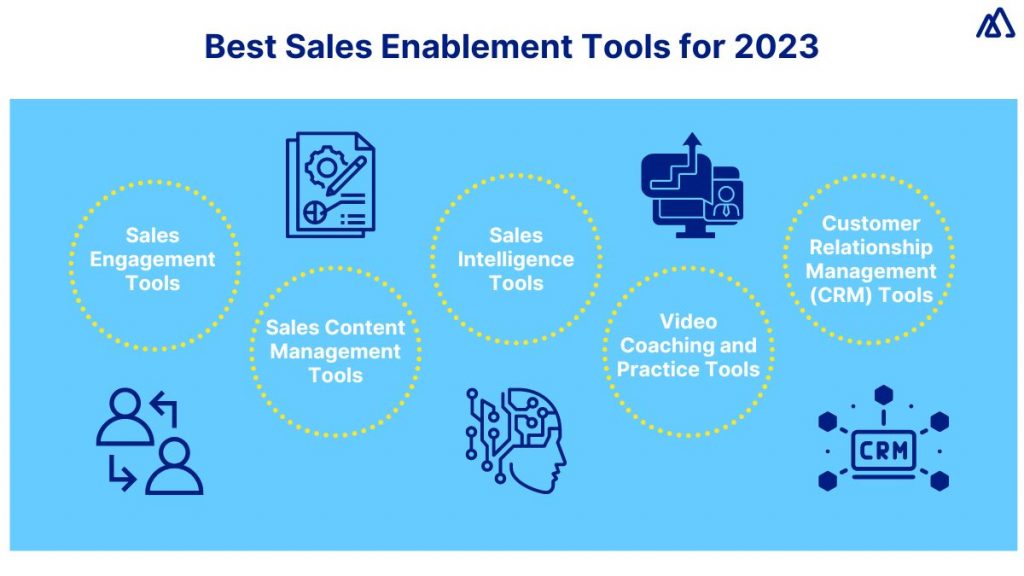 After you have worked on putting together a solid sales enablement strategy, the next thing to do is to roll it out. But it would need a certain set of tools to execute the plan easily and make the most out of it. These tools include technology and apps that connect your content, marketing, and sales cycle. They can help your reps follow the sales process from start to finish.
Because of the rising competition and heightened buyer power, it's crucial that your reps are prepared at all times when they are on a call with their prospects. With the right tools on hand, reps can deliver timely, relevant, and on-brand information to prospects.
The best tools are always the ones that can solve your organization's problems. Let's take a look at different types of sales enablement tools that you can consider for 2023.
1. Sales Engagement Tools
As the name suggests, these tools help the sales team engage with prospects and easily build communications. These include email, phone, and social media outreach.
Every sales team works for conversions and so, they want their reps to use the most effective outreach tactics. They keep looking for ways to scale high-quality buyer engagements, reduce rep's time wastage, and improve productivity.
When it's true, it's the manager's duty to provide the team with sales engagement platforms. This can help them manage, measure, and optimize their interaction with potential customers. They can do this by simply scaling and streamlining all the ways reps use for communication (social channels, phone, and emails). This will save their time and help them reach their targets more quickly.
2. Sales Content Management Tools
Such tools help sales reps organize all the marketing content like blogs, whitepapers, PDFs, case studies, videos, etc. that they can use however and whenever.
Modern buyers are interested in obtaining all the information about the product or service before buying to get the necessary insights. This requires sales reps to have all the content handy so that they share the details with their prospects. But if they are not able to find the right content at the right time, it will result in time wastage and of course, lead wastage.
Sales content management tools help sales teams keep their content organized in categories like product information, customer success stories, messaging guidelines, etc. The tools also help them make the content easily discoverable so that reps can use it without any hassle. With a certain set of permissions, team leaders can allow reps to use the most accurate and updated content in the system.
3. Sales Intelligence Tools
These tools work great by giving the reps insights about the prospect's business. This helps in customizing their outreach in accordance with their business and specific needs.
Most buyers want businesses to provide them with solutions that are solely in accordance with their business challenges. In fact, most B2B researchers would only consider a brand if the sales reps personalize the outreach. But when there are 6-7 people involved in the buying process, it becomes a little tough for the reps to customize their outreach.
This is exactly what sales intelligence tools can help reps with. These tools help in finding and tracking contextual insights into a prospect's business. With the help of the insights, reps can identify their ideal customers and engage with them as per their requirements. This also helps reps get accurate contact information for new leads and cater to them accordingly.
4. Video Coaching and Practice Tools
Buyers expect the sales reps to be knowledgeable enough to help them with their buying process. And you can't afford any delays and hindrances during the process.
Nearly every buyer looks for an advisor in the rep they get in touch with for the very first time. They believe that sellers who can't simplify their buying process won't be of any use to their business. Everyone knows the importance of coaching and practicing for reps to be presentable when they are talking to a prospect. But still, not many managers have the time to help them gain the required skills.
With video coaching tools, reps can enhance what they learned during their training. The practice tools can validate if the sellers are well-equipped to apply their knowledge while talking to their prospects before they actually engage with them. Some tools also come with AI-based machine scoring. It judges reps on the basis of their performance and lets managers know which reps need to be trained more.
5. Customer Relationship Management (CRM) Tools
It's an issue for both the seller and the buyer if the information is scattered across different platforms and not readily available at the time of need.
As a company generates tons of data per day, it will be a constant struggle for sales teams to harness that data whenever required. Without a proper structure and organization, the reps will only waste their and the buyer's time. Moreover, without the exact information of the leads and past conversations, they won't be able to cater to their needs properly. This will obviously lead to lead wastage.
A CRM tool helps sales teams find all the data related to every sales process in one single place. With organized client relationships and interaction history in one place, sales reps can cater to their needs. This can take the conversations further without any hassle.
---
Conclusion
A successful sales enablement strategy can help you improve the way your sellers represent your business. Additionally, it can enhance alignment and unlock insights for better decision-making. Hence, with the choice of the right tools for your sales team, you can implement them successfully.
Sales CRM, Kylas can be your choice if you are looking for an easy-to-use tool to establish a successful sales enablement strategy.
Start 15-day Free Trial