Sales are the very lifeline of a business, and the task of sustaining it is given to sales teams. Though sales teams are aware of their responsibility, it is a challenging task, especially in today's dynamic market. Traditional selling techniques may not appeal to today's consumers, making proper, regular training necessary. Verbal pitches may not be sufficient since consumers need engaging content to be genuinely convinced about business. Their work now is not limited to a single activity, but instead, it spills over to numerous aspects such as managing customer experiences, creating marketing content, updating & reporting data, data analytics, and a lot more.
In their limited bandwidth, how can sales reps acquire all these additional skills/materials that have become necessary for their job? It is an impossible feat. However, even if sales reps cannot manage all this alone, businesses can come to their aid. There is a way in which the work of sales teams can be made more efficient and simpler- through sales enablement! Sales Enablement can be done in a variety of ways and using a variety of tools such as CRMs.
Kylas is a robust CRM software specifically designed for small and growing businesses. Its expansive feature set can optimize your end-to-end operations and help to scale your sales.
---
What Is Sales Enablement?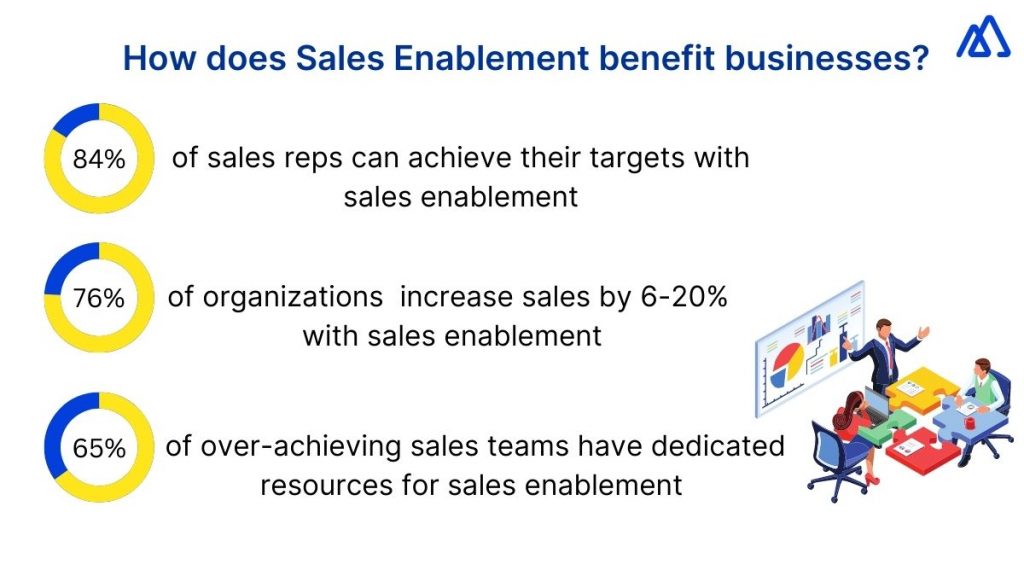 In simple terms, a business enables its sales teams to perform better. To do this, the business provides its sales teams with certain resources, such as:
Skill upgradation programs
The benefits of sales enablement are evident through statistics which show that it helps organizations achieve a 49%-win rate on forecasted deals. As opposed to this, organizations without sales enablement practices can achieve a win rate of only 42.5%. Furthermore, the global sales enablement market is projected to reach $11 billion by 2023.
The process of sales enablement is practically carried out with the help of a sales enablement tool. It means any tech platform or system that performs tasks directed towards sales enablement. Be it a tool that offers unique learning experiences for salespersons or a tool that generates creative content for your product/service, both these will be categorized as sales enablement tools. It is essential for you to choose the right type of sales enablement tool for your business since it will directly influence your sales cycle.
---
Types of Sales Enablement Tools
As mentioned in the preceding section, sales enablement tools are divided into certain categories based on their functions. In a nutshell, here are the various types:
1. CRM tool
This stands for Customer Relationship Management, which is crucial for businesses growth. Sales CRM software allows a business to track and visualize its customers' journey until the point of closing of a sale. It can identify the strengths and weaknesses in its selling process and use these inputs to improve it.
Kylas is one such CRM system that you can use to enhance the productivity of your sales teams. Its expansive feature set will help your teams work smarter and faster and boost your sales.
2. Sales Content Management
95% of sales reps wish to have more sales content. Besides, approximately 65% of sales reps say that they cannot find the appropriate content to send to prospects. This is where sales content management comes into play, since you can efficiently identify and leverage the right content to boost your sales. This type of tool can also help you segregate your sales content so that the relevant material will be shown to the relevant consumers.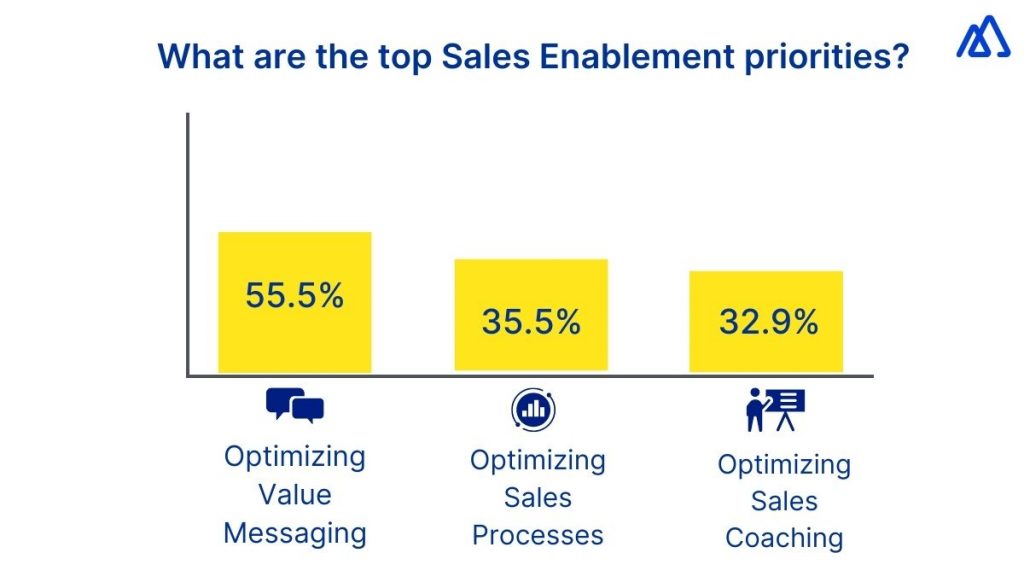 3. Sales Engagement
This process refers to nurturing and developing relations with your customers so that they can remain engaged throughout their buying cycle. It is highly crucial for businesses, and hence an average sales rep will perform around 94.4 sales engagement activities daily. A sales enablement tool that takes over this task of engagement can greatly benefit your business.
4. Sales Intelligence
Such tools collate and analyze all data pertaining to your customers and create usable insights. You can hence understand the preferences and pain points of your consumers. Adopting such tools can increase your chances by 52% of having a sales process that is aligned with your buyers' journey.
5. Sales Intent
It is not merely enough for your sales teams to connect with leads, they must connect with the right leads too. Sales intent tools are primarily designed to help you identify the correct leads for your business through data-driven insights so that your sales teams can target their efforts toward the right sources.
There are several brands available in the market today that have software tools falling under one or more of the above-stated categories. These choices make the selection of a sales enablement tool a difficult process. However, we are here to help you make this choice!
---
10 Must-Have Sales Enablement Tools for 2023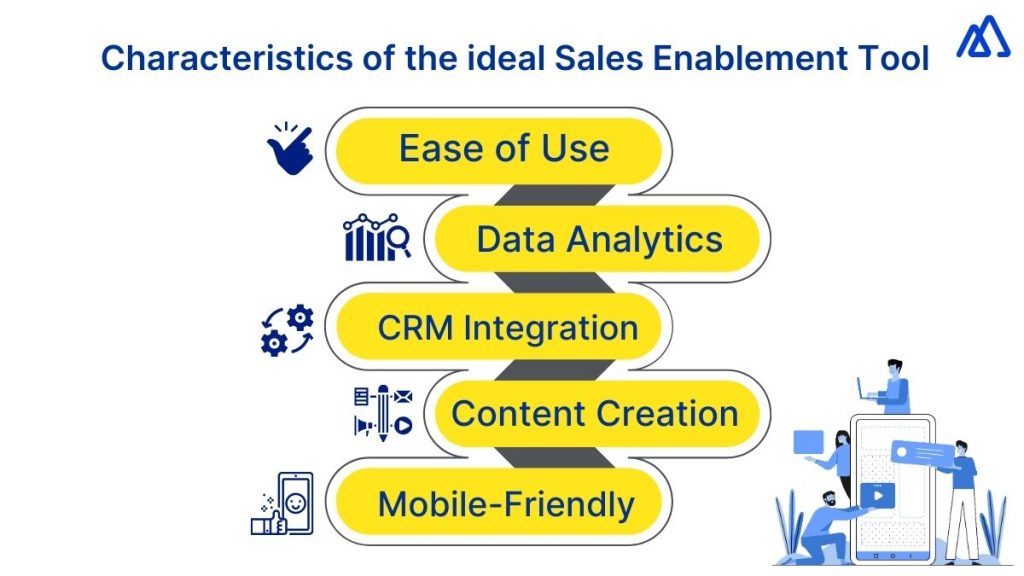 The online search for sales enablement tools has been steadily increasing by 51.2% year on year. If you too try to search for a sales enablement tool online, you will be lost among the hundreds of options available in the market.
However, we have done this groundwork for you and compiled a list of some of the best tools for your business:
1. Kylas
Kylas is a sales CRM, that can help you scale with expertise! It has a robust feature set, through which you can optimize your sales process:
Workflow Automation, which will allow your teams to focus solely on closing sales.
It generates

sales reports

, which can help you track and monitor your operations. These reports will also help you in the process of

sales analysis.
Effective lead management, due to which no leads for your business will get wasted.
2. Highspot
Highspot is a powerful tool for sales content management. It allows sales reps to easily create and share their own content. Besides, it also allows you to search for the most relevant content with respect to your product/service. The most beneficial feature that it offers is the tracking of results of the various content pieces so that they can be modified to get the best results.
3. Attach by Cirrus Insights
While creating and circulating sales content is an essential task for a business, it is equally essential to track how the content is being received by your consumers. This is what Attach does, by measuring customer interactions with your various content pieces. By identifying the best and worst-performing types of content, sales reps can curate their strategies to produce good results.
4. Gong
This sales enablement tool focuses on offering performance enhancement to your reps. Gong has a very unique model, through which all your teams can replicate the work of your top-performing members. The platform allows your star salesmen to share their tried and tested methods of success, which can be used by the rest of your teams.
5. Corporate Visions
Corporate Visions is a dedicated sales training platform. The training given to salespersons is based on the psychology of consumers. Once your teams are made aware of this, they can accordingly revise their consumer interaction tactics. Such training is backed by real-time data, so it provides highly accurate consumer insights.
6. Seismic
Seismic has branded itself as a storytelling platform. This sales enablement tool curates content such as competitive intel, relevant news updates, etc. which can enhance the work of your sales teams. Furthermore, it has a feature of predictive content recommendations, that help you utilize the right content during the right points of your sales cycle.
7. Chorus
Being a sales intelligence platform, Chorus offers insights into customer interactions and conversions. Artificial Intelligence (AI), captures details of every customer call and then analyzes the data to identify trends. It helps in understanding the kind of language, pitch, and salesperson behavior that leads to more conversions. Besides giving a holistic view of this data, the platform even allows you to bifurcate it based on the stage of sales, or win/loss rate.
8. Showpad
This is a sales enablement tool that primarily focuses on content management. Showpad is a very advanced tech tool that uses machine learning and leverages metadata metrics such as file permissions, content divisions, and user settings. These metrics allow the system to filter through large volumes of content and give the user exactly the type of content that they are looking for.
9. Ambition
Ambition is a tool closely linked to your business's CRM system. It uses the data logged by sales reps into the CRM to compare the performances of various reps. It even allows managers to set targets for each salesperson, hence ensuring that each position and level of the salesperson has targets suitable for their work.
10. Storylane
Storylane is a unique sales enablement tool because it serves as an interactive demo creation platform. Your sales reps can easily create and share demos of your product/service, and it allows for the demos to be personalized as per the preferences of each of your prospects. It even offers real-time data analytics regarding the performance of your demos.
---
Bottom Line
The above-stated options are some of the best sales enablement tools your business needs. Such tools can be used singularly or in combination with one another to enhance their effectiveness. By choosing the right sales enablement tool, you can transform the productivity of your sales teams and boost your business!
Kylas CRM is a sales enablement tool, specifically designed for small businesses. It automates the manual and time-consuming tasks in your sales cycle and allows you to track and manage your sales pipeline. It helps to scale your business productivity.
Start 15-day Free Trial