"I think I totally messed up this time."
"I could have done better."
"I should have said that when he asked that."
How often do your salespeople say this after wrapping up a call? Quite a number of times, we guess!
Well, you are not alone in this. Where nearly 92% of all customer interactions happen over the phone, it's essential to recognize the significance of these interactions to obtain valuable insight into the customer's world.
"This call/session may be monitored and recorded for record-keeping, training, and quality assurance purposes."
You might have heard this message while trying to connect with a business. It's the safest bet for businesses to let their customers know that their calls are being recorded so that they can decide what they want to say and what not.
65% of businesses consider phone calls their most valuable, highest quality source of leads. If you are not one of those businesses that do this, keep reading because we are talking about sales call recording and it's the need of the hour for any business, small or large.
---
How Sales Call Recording Can Improve Your Team Performance?
It's a no-brainer that sales calls offer more personalized interactions than any other medium. They are a goldmine of information that can help your business meet your prospects' requirements. Additionally, tracking customer conversations can guide your sales team in closing deals faster, even if the last interaction was months ago.
From optimizing your call scripts to taking notes of the information the prospect naturally shares, there's so much to learn from sales calls.
There are several reasons why sales call recording is essential for your business and can help your sales team improve its win rate. Let's take a closer look at them.
For Sales Managers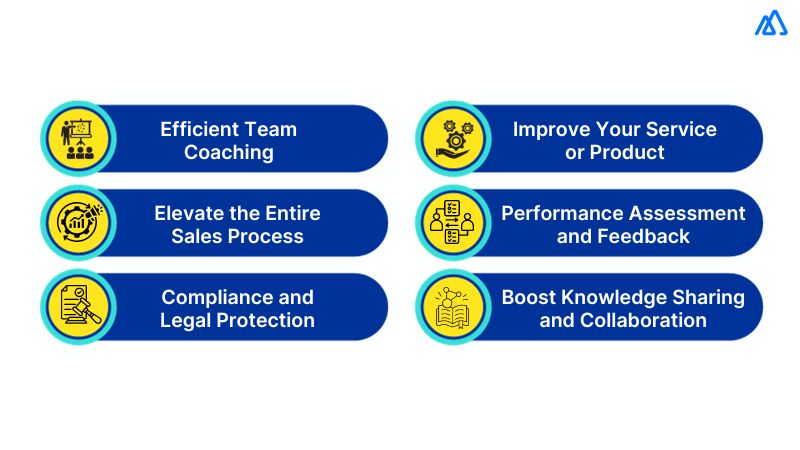 It's your responsibility to keep your team on track to achieve their individual and collective sales goals. With sales call recordings, you can have all the important information at your fingertips and make decisions as and when necessary.
1. Efficient Team Coaching
Having a large sales team is every business owner's dream. However, if they are not managed properly, things can quickly spiral out of control. The same applies to tracking prospect interactions. Without sales recordings, you may find it challenging to manage and monitor your sales team's progress.
But with sales recording software or a CRM like Kylas that records calls, you can review calls individually and hold meetings with your reps to enhance their future calls. When you listen to these calls with your team members, you can provide feedback and communicate your expectations. This also provides an opportunity to guide them toward a more effective sales approach that yields results. Even your reps won't be able to deny their mistakes.
You'll be able to determine whether your sales team is adhering to established guidelines and engaging in meaningful conversations with prospects to address their concerns effectively. Additionally, the recorded calls can help you create a comprehensive communication training plan to enhance your team's skills and equip them to navigate tricky situations and handle difficult sales calls.
2. Improve Your Service or Product
As salespeople, our responsibility isn't just to acquire new clients but also to retain existing ones and boost sales. As per Zippia, a 5% increase in customer retention results in a profit increase of 25 to 95 percent, with 65 percent of a company's sales coming from returning customers.
Additionally, a satisfied client can open doors to new opportunities if your product or service adds value to them. This enables you to establish a loyal customer base.
By gathering insights into various aspects such as identifying areas for improvement, understanding what needs to be changed about your product or service, and recognizing what your clients appreciate, you can enhance your offering. Collecting such information is instrumental in improving your service or product, attracting more clients, and ultimately boosting your sales.
3. Elevate the Entire Sales Process
The sales process doesn't solely encompass what transpires during the call but also extends to preparations before the call occurs. This involves filling out forms that request information about the lead.
Many businesses feature multiple Calls to Action (CTAs) on their websites, such as 'book a call' or 'schedule an appointment.' These forms grant salespeople additional context prior to the call. Having background information on prospects enables salespeople to deliver better service.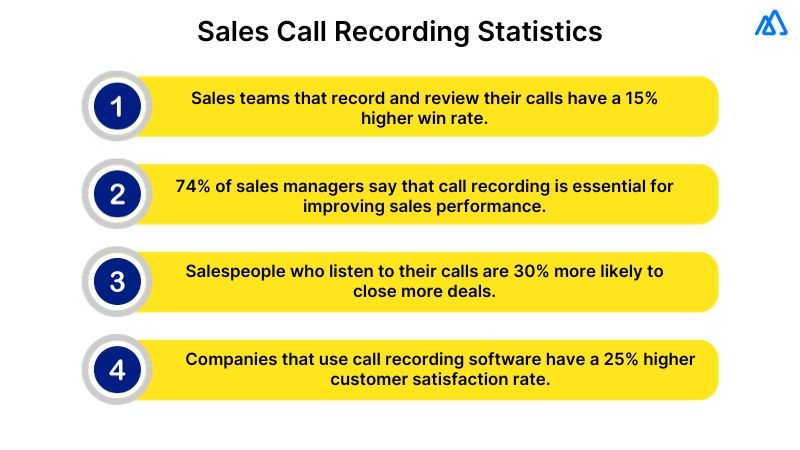 4. Performance Assessment and Feedback
Performance evaluation is crucial for your sales team. Call recordings help you assess the performance of your individual team members according to key performance indicators (KPIs). They provide insights into how effectively your sales team members handle objections, adhere to their sales scripts, build rapport with clients, and more.
Additionally, recorded calls facilitate timely feedback. By eliminating the reliance on memory or incomplete notes, you can offer prompt feedback to your team based on their conversations. Targeted feedback can significantly enhance your team's performance.
5. Compliance and Legal Protection
Regardless of the industry you're in, it's crucial to adhere to your legal guidelines and regulations. At the beginning of every call, you can play a message stating that the call is being recorded. This practice ensures that you're not recording customer calls without their permission.
Moreover, call recordings help ensure compliance by providing a record of every interaction between your team and customers. This can be invaluable in the event of an audit or legal dispute.
Additionally, call recordings can protect your business from potential legal liabilities. Whether verifying customer consent or resolving issues, a clear record of the conversation can save you in numerous ways.
6. Boost Knowledge Sharing and Collaboration
Sales teams often operate in silos, with each team member working independently. However, not all customers are the same, and not every team member can handle every type of call.
With sales call recording, you can break down these barriers and encourage knowledge sharing and collaboration among your team members. Team members can share successful call strategies with each other and provide assistance in objection handling and closing deals. Working together can enhance your team's overall performance and help them achieve better results.
For Sales Reps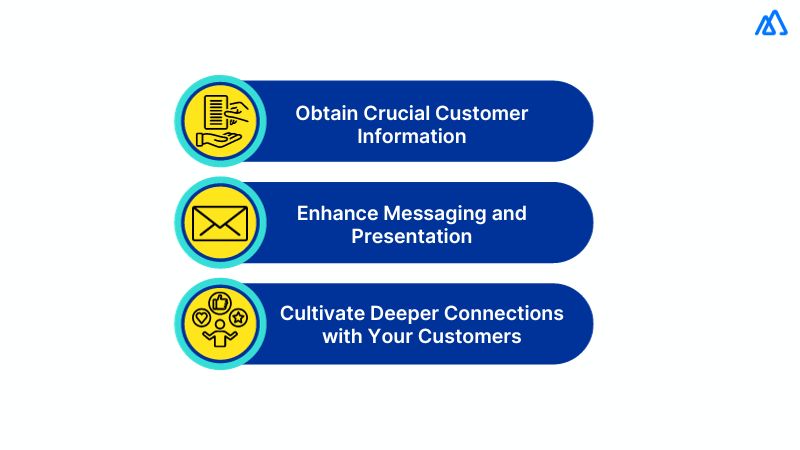 Your sales reps are the individuals who will benefit the most from recording their calls. They can regularly listen to their previous call recordings and extract valuable lessons to enhance their future calls.
7. Obtain Crucial Customer Information
Your salespeople's role extends beyond simply marking prospects called in a day. They need to understand their prospects because that's how they can identify their needs and sell more effectively. You may even provide your reps with a list of questions to ask the prospects.
While on calls, you expect your reps to take important notes and share insights. However, do you really believe this is easy? Regardless of their efforts, they might miss crucial details that could have otherwise sealed the deal for you.
In the end, it's challenging to keep track of the narrative when there's so much data to collect. Don't you think it would be more beneficial to record customer interactions and use them to gather every bit of information about your prospects and meet their needs accordingly?
With recorded calls, you can replay them as often as needed and extract important information without requiring additional calls or follow-ups.
8. Enhance Messaging and Presentation
Another essential benefit of sales call recording is how it facilitates the flow of information, which can further assist your reps in optimizing their messaging and presentation. Call recordings provide insight into what resonated well with the prospect and what did not.
Listening to these conversations later can aid in crafting effective sales pitches and messaging. You can incorporate the same words or phrases that proved successful in closing previous deals.
We acknowledge that not all conversations result in success. However, by reviewing even unsuccessful sales calls, you can identify the mistakes your team is making. You can detect issues by observing the prospect's reactions and behavior during the call.
If you notice that a prospect's attention wanes after a particular script line or if there's a specific phrase that doesn't resonate well, you will know what to avoid. This insight can help your team rectify mistakes and enhance the sales process for improved conversions.
9. Cultivate Deeper Connections with Your Customers
You'll agree that sales calls are not easy. When sales reps engage with leads, it's common for them to feel overwhelmed due to the various unknown aspects of the conversation.
Furthermore, as they need to ask relevant questions, address customer concerns, and present their products and services in a compelling way, it's possible for information to slip through the cracks.
Recording sales calls helps your salespeople capture crucial customer details that they might have missed without asking customers to repeat themselves. This also portrays your sales reps as attentive, engaged listeners who are dedicated to resolving customer issues.
Additionally, if a salesperson needs to follow up with the lead after some time to provide more information, they can refer to the sales call recording and follow through.
These simple efforts build trust with customers, demonstrating that the salesperson is reliable and genuinely cares about addressing their pain points.
---
How to Record Sales Calls?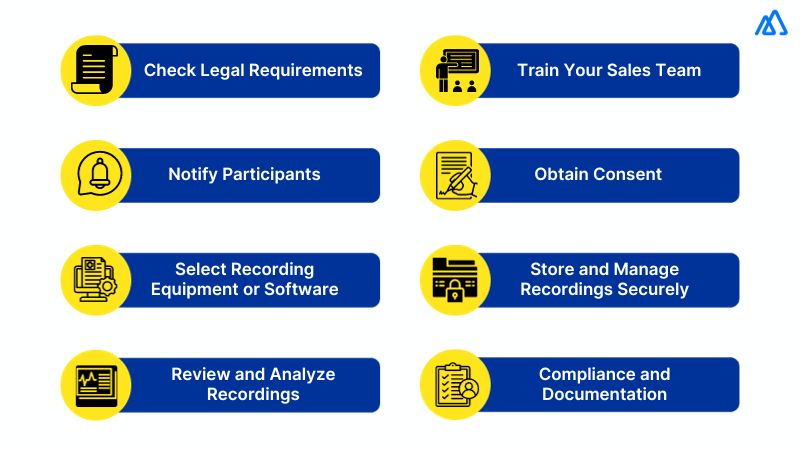 By now, you should have grasped the wealth of information that each sales call recording can provide. If you are ready to begin recording calls, ensure that you are aware of the legal regulations and requirements in your region or industry.
So, here are a few general steps that you can follow while recording your sales calls.
1. Check Legal Requirements
Before recording any calls, familiarize yourself with the legal requirements concerning call recording in your area. Laws regarding call recording can vary significantly from one place to another, and violating these laws can lead to severe consequences.
2. Notify Participants
In many jurisdictions, you are required to inform all parties on the call that it is being recorded. Typically, this involves making a brief announcement at the beginning of the call. The message should clearly state that the call is being recorded for specific purposes.
For instance, you can play this message at the beginning of your calls, "Please be advised that this call is being recorded for quality and training purposes."
3. Select Recording Equipment or Software
Choose the right tools for recording your sales calls. You can either use dedicated call recording software or hardware, or you can utilize built-in features on your phone or third-party apps. Many businesses use Customer Relationship Management (CRM) systems that offer call recording as a feature.
Kylas allows you to save call recordings that you can use to evaluate your sales team's performance, gather insights about your client's needs and challenges, enhance your sales pitch, and take timely measures to improve your team's selling skills.
4. Train Your Sales Team
Ensure your sales team understands the purpose and procedures for call recording. Train them on how to use the recording equipment or software effectively and legally. Emphasize the importance of obtaining consent and maintaining customer privacy.
5. Obtain Consent
If your jurisdiction requires explicit consent for call recording, make sure your sales representatives obtain consent from customers at the start of the call. This consent can be verbal or written, depending on local laws.
6. Store and Manage Recordings Securely
Safeguard the recorded calls to protect sensitive customer information. Ensure that access to recordings is limited to authorized personnel only. You must establish a secure storage and backup system to prevent data loss.
7. Review and Analyze Recordings
Regularly review recorded sales calls to assess performance, provide feedback, and identify areas for improvement. This can help in training and coaching your sales team to be more effective.
8. Compliance and Documentation
Keep records of all call recordings, consent forms, and any relevant documentation to demonstrate compliance with legal requirements. This documentation may be essential in case of disputes or audits.
Remember that call recording should be used responsibly and ethically, with a focus on improving customer interactions and sales performance while respecting privacy and legal regulations. If in doubt about the legal aspects of recording sales calls, consult with legal counsel or regulatory experts in your jurisdiction.
---
Record with the Right Tool
As mentioned earlier, CRM software is one of the best tools for sales professionals to record their calls. Kylas Sales CRM allows you to systematically streamline all your customer and sales-related data in one place.
You can effortlessly connect with your leads and deals directly from the Kylas app. Just click on the phone icon to initiate meaningful conversations with your clients.
Kylas enables you to easily track all the calls your sales team makes and maintain call logs without any hassle. You can also store call recordings in your system and review them at your convenience.
---
Wrapping Up
Recording your sales calls is vital for boosting sales and enhancing your business. It allows you to analyze successful strategies and pinpoint areas needing improvement, serving as valuable evidence when addressing challenging situations. However, merely recording conversations is not enough; you must leverage this resource effectively. Uncover fresh opportunities and proactively manage risks by incorporating call recording into your strategy.
Start 15-day Free Trial