Artificial Intelligence is everywhere today. Right from the navigation systems that guide you, to the facial recognition that protects your phone's privacy; everything is driven by AI. Its functionality, however, extends far beyond everyday life. It has become a game-changer for the way businesses are run all over the world. In particular, it has revolutionized sales!
AI in sales can increase the lead volume by 50% and cut costs by 40-60%. But despite these benefits, AI adoption is met with hesitancy. The phrase, 'We fear that which we don't understand' applies squarely here. There is a lack of knowledge about the nuances of AI, giving way to wild misconceptions.
We're here to shatter these myths and help you embrace this exceptional technology. And once you've decided to adopt it, we have a handy guide of the best tools you can use!
Common Myths About AI in Sales
A mere 28% of people trust AI. The remaining section probably still think of it as a fad which is not reliable enough to base one's whole sales cycle upon. Some of them are also scared of exploring it because they think it is too complex to navigate.
However, here's a fact to consider. The AI adoption rate is projected to reach 60% by 2025. If so many people are moving towards it, perhaps there's more to the misunderstood story of AI. Let us delve deeper into the most common myths surrounding it and understand the reality of this cutting-edge technology.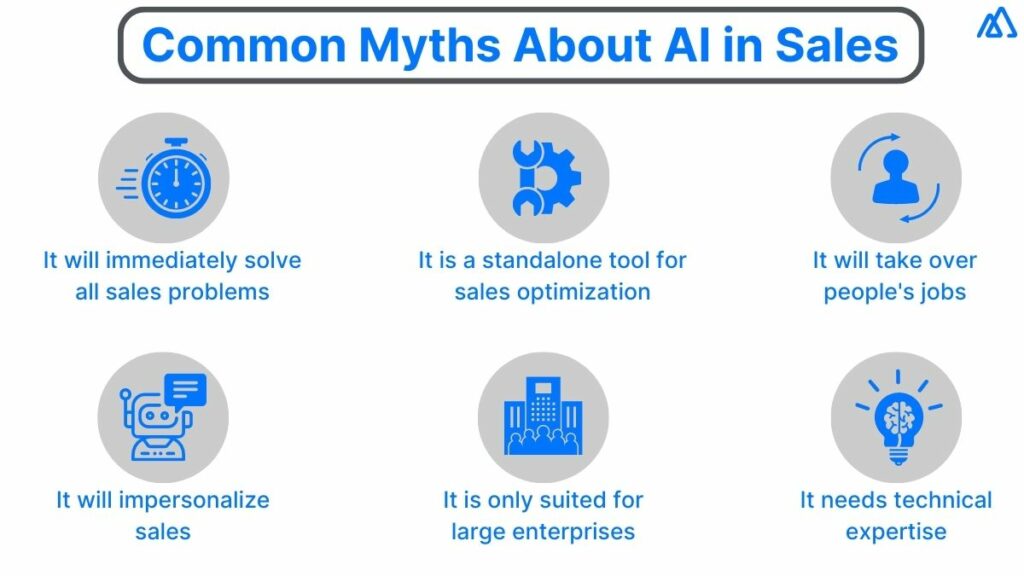 Myth #1: AI Is a Magic Wand That Immediately Solves All Problems
Businesses work with ill-planned sales activities for long periods. But they expect AI tools to fix this in a manner of minutes. And they quickly dismiss the whole system when this impossible result is not achieved.
The truth is that AI needs time to work its wonders and produce valuable results. The artificial intelligence that these systems gain is only as good as the data inputs they receive. Hence, they need to comb through the information, analyze it to identify problem areas, and then devise solutions to rectify the problem.
Even though it's a machine that can work faster than the human mind, it cannot complete this complex process overnight. Hence, you must stop expecting quick fixes from AI and start looking at it as a slow but steady and effective path towards business growth.
---
Myth #2: AI Is a Stand-Alone Tool for Sales Optimization
Let's imagine a scenario. You use Chat GPT to personalize communications, but your customer data is in disarray. You adopt Motion for task management, but don't have a platform through which your teams can collaborate to work on these tasks. The outcome? AI will not work for your business.
It cannot be used as a stand-alone tool to optimize your sales. It can only ride on the technology layers that you have already built. Simply stacking an arsenal of AI tools while neglecting to digitize your basic processes will undermine your strategy.
Revisiting the scenario above, Chat GPT and Motion can generate better output if you have CRM. Your customer data can be stored and segregated so that your personalized content is sent to the right person at the time team. Your teams can work well with each other, stay informed of the progress of each task, and managers can track their progress too.
Kylas CRM can be a valuable addition for your business. It optimizes your end-to-end operations, right from lead management to quotations.
---
Myth #3: AI in Sales Will Take Over People's Jobs
AI can reply to texts/emails, create impressive pitches, and do complex quotation calculations. For a lot of people, this makes it the enemy- one that is looking to take over all jobs and eliminate the need for human resources. But if this is the case, how is it also poised to create 97 million new jobs in the next two years?
Instead of a threat, we need to think of it as a superpower for workforces. It's not going to replace salespersons but will ease out their work and boost their performance. Instead, it will take over all repetitive and time-consuming tasks like manual lead segregation, sending follow-up communication etc. Your teams' bandwidth can be directed towards more crucial tasks like building customer relations and closing deals.
---
Myth #4: AI Will Impersonalize Sales
If businesses think that AI is out to replace their salespersons, they consequently think that it makes the sales process impersonal. Strong customer relations are the foundation of any business's success. But most businesses fail to see that AI in sales does not jeopardize their customer nurturing & engagement, but in fact enhances it.
AI algorithms use customer data to identify trends, patterns, and preferences; thereby helping you understand customers on a deeper level. You can also interact better with them, offer customized solutions and delight them with a top-notch experience. Due to these immense benefits, 95% of customer interactions will be AI-powered by 2025.
---
Myth #5: AI Can Only Be Used by Large Enterprises
This common misbelief has kept around 79% of SMBs from adopting AI. However, our expert speaker at the MSME Growth Masterclass on Generative AI believes that this technology will impact MSMEs the most.
One of the main roadblocks of tech adoption for small businesses was the complexity of tools and the lack of resources to navigate these. However, AI simplifies this. Leveraging AI in sales levels the playing field and empowers SMBs to also use those highly sophisticated tools which were previously limited to large enterprises.
An important thing to keep in mind here is choosing the right tools which align with your requirements and budget and rely a lot on AI. Furthermore, it is also essential that you have a foundation of digitization in place before adopting these tools.
Click here to know all about how MSMEs can benefit from and adopt AI into their existing workflows
---
Myth #6: You Need Technical Expertise to Use AI
The term 'artificial intelligence' is often wrongly linked to overcomplicated systems and complex functionalities. People believe they will need intense technical training to use this technology. Up to 37% of businesses have refrained from adopting AI because they believe they lack the expertise.
Let's circle back to the myth about AI being suitable only for enterprises. We have established that AI exists to simplify and remove complexities of tools. The tools are user-friendly, and you don't need any special knowledge to use them. Though we don't often think of it that way, a GPS system is an example of AI. We have easily embraced it in our daily lives and almost every person today uses it. Tools needed to implement AI in sales are also designed in a way that even tech novices can easily use them.
These are the primary misconceptions linked to AI in sales, which has deterred many businesses from exploring these solutions. However, once these have been debunked and you've been given a reality check, we're sure you too are seeing AI as a means to exponentially grow your sales.
---
Best AI Tools to Optimize Sales
The next step now is finding the right tools to implement AI in sales. There are a dozen options in front you, each with their own use cases and specifications. While having choices is a good thing, too many choices make it confusing!
We've done some of the groundwork and shortlisted some of the best AI tools of 2023 to optimize your sales:
1. Luna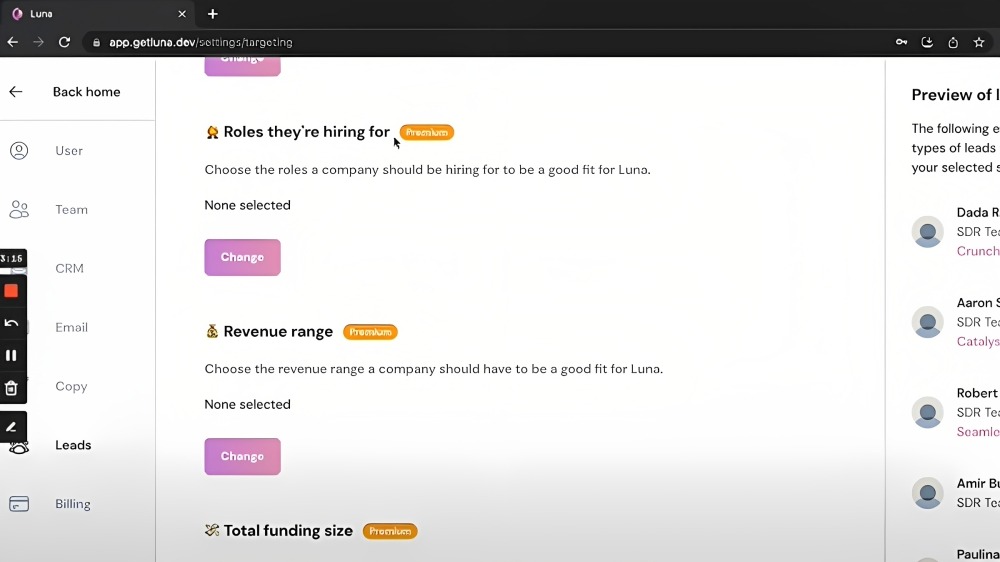 This is a one-of-its kind AI tool that works on the starting stage of your sales process- finding and engaging leads. Luna can be taught all about your company and target audience, based on which you get new lead suggestions. These leads can then be engaged with a highly personalized email which is created by the system. You can continue to give inputs and improve the outputs from the software.
| | |
| --- | --- |
| Pros | Cons |
| Leads aligned with your buyer profile | The database can be made more comprehensive |
| 100% verified profiles | Complete lead details are sometimes missing |
| Integrates with CRM and some other tools | Integrations are not too strong, and the options are limited |
Pricing:
Plans range from $100-$1500 per month
Flat pricing for unlimited users
Offers a free version too
---
2. Second Nature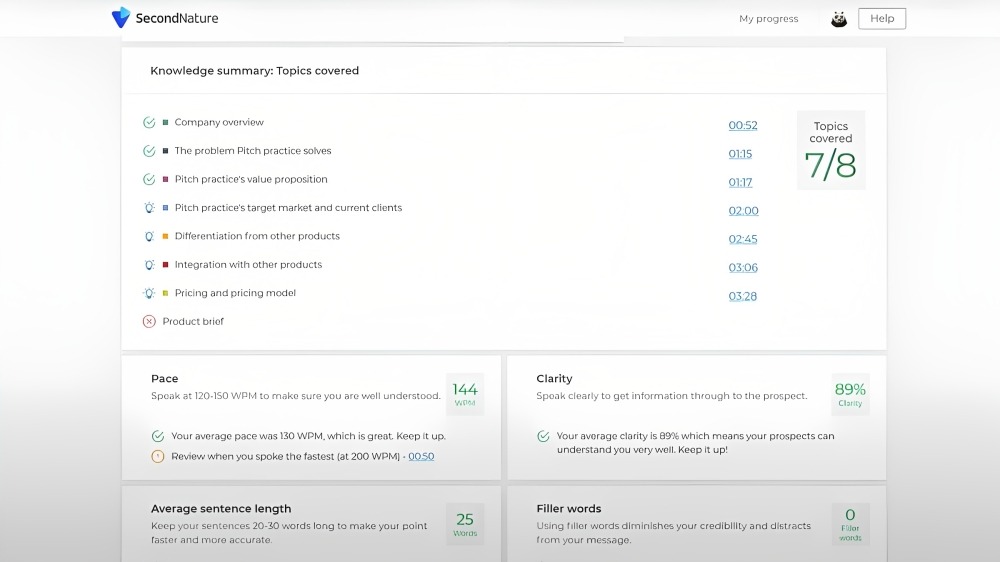 Your sales training and coaching can be leveled up through the 'virtual pitch partner' offered by Second Nature. It uses conversational AI to train reps through actual discussions that hone their pitching skills and prepare them for real customer interactions. It provides feedback, and creates a private and safe environment for your salespersons to learn in.
| | |
| --- | --- |
| Pros | Cons |
| Comprehensive & continuous learning experience | Lacks the dynamic training approach of an actual sales expert |
| Gamified challenges with interactive training | Pre-defined training scenarios that get repetitive |
| Suitable for varied industries | Lack of other language options limits its usage to salespersons fluent in English |
Pricing:
Based on negotiations with the vendor
---
3. Exceed.ai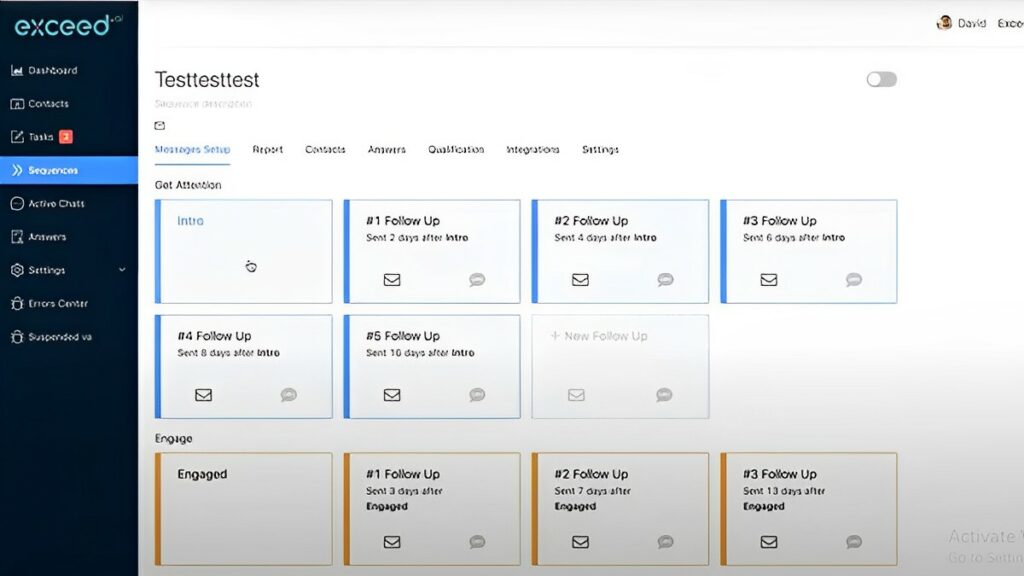 This AI driven tool supercharges your lead conversion journey. Exceed helps you close more deals by streamlining your end-to-end engagement and nurturing process. Its AI sales assistant helps you answer queries, intelligently follow up, qualify the right leads based on your playbook, and eventually direct them to your sales team.
| | |
| --- | --- |
| Pros | Cons |
| Smart sales assistant for holistic growth | Lengthy set up and implementation period |
| Robust automation lets teams close deals faster | Limited resources for product education and enablement |
| Automatic updates to your CRM | Integration process is not seamless |
Pricing:
Based on negotiations with the vendor
---
4. Humantic AI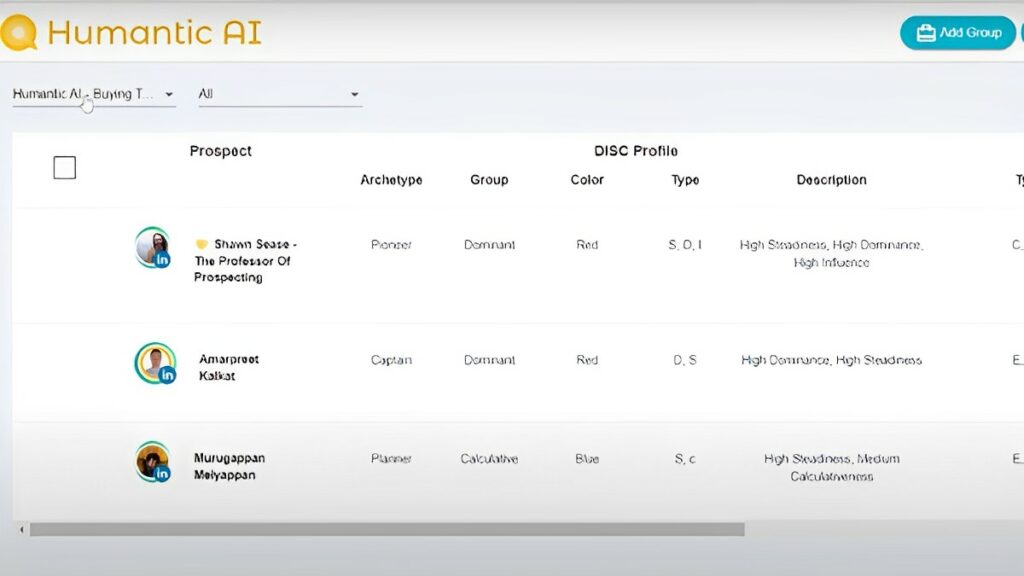 As opposed to other AI tools that focus solely on salespersons, Humantic focuses on buyers. It adds buyer intelligence to your stack of sales intelligence to evolve and optimize your operations. You can build lasting connections and engage your buyers authentically with actionable insights that help you communicate effectively with prospects at every touchpoint.
| | |
| --- | --- |
| Pros | Cons |
| Identifies ideal buyer profiles based on data analysis | AI prompts for personalization need improvement |
| Easy & intuitive interface | Limited and non-interactive product training resources |
| Inputs on the points to cover during every communication | Tailored email recommendations lack a human feel |
Pricing:
For Organizations, based on negotiations with the vendor
For Individuals, ranges from $16-$40 per month
7-day Free Trial
---
5. Good Meetings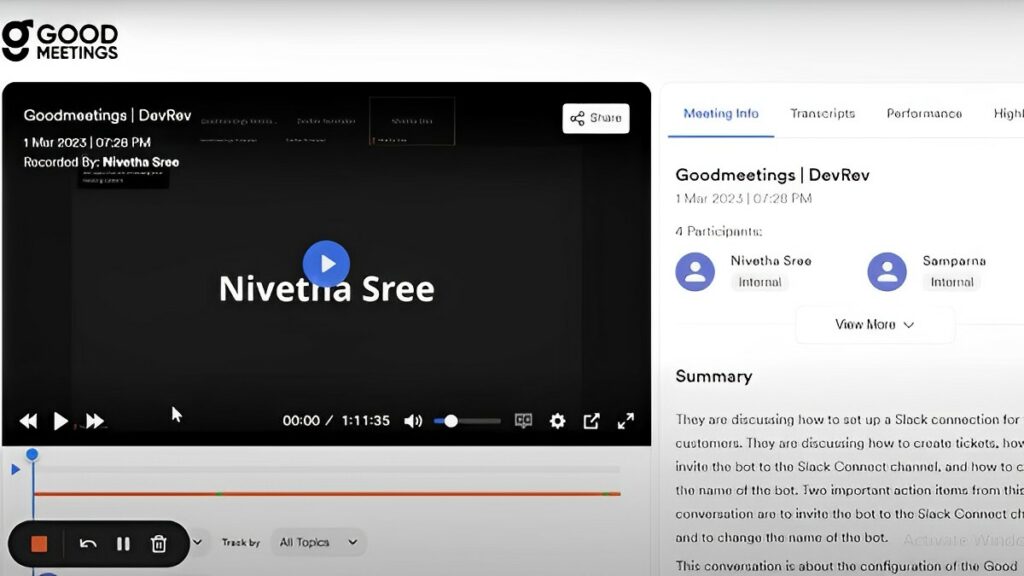 You can optimize your sales and customer success with Good Meetings. It is a uniquely designed meeting insights and automation platform. It guides your efforts with AI-generated summaries and action items and helps team members with AI-based nudges regarding the ideal meeting behavior and tasks. The AI also identifies the highly relevant portions of meeting recordings to ease your work.
| | |
| --- | --- |
| Pros | Cons |
| Efficient in meeting transcriptions & CRM updating | Some CRM integrations & data transfer are not seamless |
| Managers can track and evaluate their teams' sales calls | Scope to improve the onboarding process |
| Real-time capturing of customer interaction and sales reps data | Lack of language options for call transcriptions |
Pricing:
Professional Plan for $50/user/month
Business Plan for $75/user/month
15-day Free Trial
These tools cover diverse aspects of sales, ranging from lead generation to training. Before rushing to adopt a tool, you need to identify the desired outcome from it. Speak with your teams too, since they will be the ones to use it. And lastly, evaluate your budget and set aside specific funds for the same.
---
In Closing
Adopting AI in sales can set your business on a path of exponential success. While misconceptions may keep floating around, it is essential to distinguish the truth from the myth. Like all other technology, this too is intended to benefit businesses and human personnel.
Now, you can get started on your AI-adoption journey! Be sure to align your tools with your unique requirements and watch as it powers up your sales engine.
Start 15-day Free Trial