We're sure you've heard the phrase "the art of selling".
But have you ever wondered why there's no straightforward formula to closing a deal or converting a lead into a customer?
Any field that has to do with persuasion requires a deep understanding of people and their psychology…that is why you'll see that the best salespersons are the best listeners and communicators, easily building rapport, and winning the confidence of their prospects.
To understand customer psychology is to understand selling – and therein lies the psychology behind sales.
Sales Psychology for Rookies & How to Improve Your Sales Skills
What Does Sales Psychology Involve?
Broadly speaking, mastering sales psychology involves truly understanding your customer-
1. Understanding Your Customers' Psyche
What are their aspirations, what are their habits & lifestyle, how do they like to do business, and also, at times, what are they interested in outside business?
2. Understanding Your Customers' Needs
What are the problems they're facing (that you can address with your product/solution), what have they used and liked – or not liked – in the past, etc?
3. Understanding How Your Customers Make Sales Decisions
This needs to be relevant to your product or service. The manufacturing vertical, for example, is very process-driven and unique.
But if you work in, say, consumer goods, consider whether your customer is the kind of person to rationalize and use logic for each purchase…or does he/she make impulse purchases and then rationalize later?
Based on this, you can-
Improve your performance in the right ways & places
Communicate better and sell smarter
Identify new areas of growth
And basically, smash those sales goals!
Let's rewind a second and answer the question you might be facing right now – how do you understand your customers' psyche, needs, and how do they make sales decisions?
---
5 Tips to Improve Your Understanding of Prospective Customers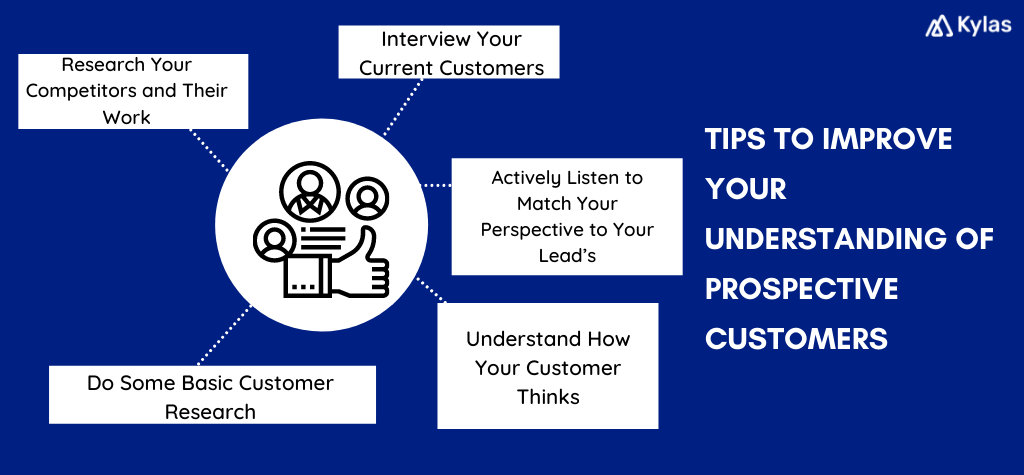 1. Interview Your Current Customers!
If you have any customers that have already been using your product or service, design a quick survey that will help you understand their purchase decision and consequent feedback.
Get their unbiased opinion about your offerings, get insights into how – and how much – they have been using it, ask them what made them decide to go through with the purchase…
This will really help you create a full sales psychology map of all the different needs and know how they make sales decisions, which you can then apply to potential customers too.
This will really help you create a full sales psychology map of all the different needs and know how they make sales decisions, which you can then apply to potential customers too.
2. Actively Listen to Match Your Perspective to Your Lead's
Everyone views the world in different ways, influenced by past experiences, habits, and personal preferences.
As a salesperson, your aim should be to understand your lead's viewpoints – are they conservative in their thinking, what is their value system like, and what's important to them in life? You can then use language and perspective that will appeal to them when talking about your product/service.
The only way to get on the same wavelength as your lead is to actively listen when they're speaking – have a positive, approachable attitude and listen rather than interrupt to share your own viewpoint.
It always helps to start with leading questions such as "I'd love to know more about your requirement for our product/service", or "Have you ever used a product/service like ours before, and what was your experience like?"
3. Understand How Your Customer Thinks
According to the folks at the Neuro Linguistic Programming Academy, "Buying is a decision, a behavior, an action, and a state."
Understand how your prospect thinks – Is he/she more influenced by visuals? Does a unique sales experience – the environment, the service – make a bigger difference? Or does the verbal communication you have with them have the most impact?
The idea is that with this insight, you can better plan your sales tactics to drive them toward a positive decision, by understanding the sales psychology behind their behavior, action, and state of mind.
4. Do Some Basic Customer Research
Just doing some research on a hot lead can give you a lot of insights. Social profiles, corporate profiles, any published articles or content, etc. will tell you so much about your lead's professional, and to some extent personal, outlook.
5. Research Your Competitors and Their Work
This will not be useful for warm or hot leads, but it will help improve your understanding of the audience in general with regard to your product/service.
Your competitors – especially those with a larger reach or engagement than you – can be a powerhouse of consumer information if their products/service match yours and cater to the same type of audience – you just need to analyze what your target audience is consuming in general.
We won't encourage mimicking or copying strategies and always remember to take your findings with a pinch of salt – you need to carve a niche for yourself.
---
Understanding how your customer makes purchase decisions means understanding how you should be selling to them.
For example, if they are more influenced by visual media, show them videos of other satisfied customers talking about their positive experiences with your brand. If they are big on family values, keep your tone warm and talk about how your brand delivers on its product/service promise in line with those values.
So, get ready and sharpen those sales skills! Without being an expert on different sales techniques and sales psychology, customer understanding will only take you so far.
---
5 Sales Techniques to Make the Most of Your Customer Insights
1. Being Genuinely Kind and Helpful – AKA Solution Selling
Remember that the prospective customer you're talking to is in the pipeline because they have some sort of problem they're looking to fix or want they're looking to fulfill. Take time to understand it and be helpful in providing a solution.
The aim of your conversation should not come across as needing to sell, but as wanting to help.
Keep in mind, however, that different customers need different levels of help and guidance – some simply want questions answered efficiently, and others may need more hand-holding. Here's where it's important to actively listen & understand how he/she thinks!
2. Brush up on Your Market Knowledge
Coming across as knowledgeable or a subject matter expert instantly instills trust in your customers – and trust is an extremely important ingredient for a sale.
Set a Google alert for your domain, stay updated with current events in your industry, and keep talking to people in the industry to keep a finger on the inside beat.
3. Ask Insightful Questions
By the time your prospective customer is assigned to you, he's probably already seen the different videos and pieces of content put out during marketing.
So rather than introducing the product to them, what you need to be able to do is ask just the right questions to truly understand their problem and need, so that you can pitch the product benefits to them accordingly. The more insightful your questions are, the more insightful their answers will be.
4. Keep One Eye on the Bigger Picture
Picture this- The more you get to know your prospect, the more you realize that the particular product you're handling at the moment will not fulfill his need. But you remember your manager talking about a new product that's launching in a month that will be a more suitable solution and you know that your company is going to be shifting sales focus onto that product.
So instead of letting your current lead go, you talk to him about how you understand his need and have a product launching soon that will be just right for him. You quickly consult your manager and gather some collaterals to keep your lead engaged until the product launches.
By keeping one eye on the bigger picture of the company's goals, and one eye on the customer's needs, you get into a win-win situation, by focusing on building trust and making a great first impression!
5. Manage Your and Your Prospect's Emotions
Being emotionally intelligent involves regulating your emotions, socializing, and empathizing. When you hone your emotional intelligence, you can easily build a rapport and an authentic relationship with your prospect, which helps you create the right emotional triggers to close the sale.
Remember, more often than not, relationships and emotions play a much larger role in sales psychology than anything else – understanding how to navigate them will put you in the top 20% of sales professionals.
---
Conclusion
Improving your understanding of prospective customers and improving your application of sales techniques is the closest you'll get to a formula for successful sales.
Neither is easy to achieve or a quick fix to success – you'll have to practice, gain more experience and work hard.
You might even end up failing a couple of times at first. But remember, resilience is one of the key skills in the sales game so, keep working at it!
Also, remember to keep your sales ethical – when you understand your customer, don't use your insights to exploit them or oversell, focus on building better relationships so they come away with a positive brand experience.
If you'd like to share your experience in leveraging customer insights or have any questions at all, feel free to write to us in the comments section below!
Start 15-day Free Trial