For any small business, there is nothing more important than customer relationship management. However, it is quite prone to human errors, which further results in prospects bouncing back from your business. As you cannot afford to make a bad impression on your customers, it's essential that you invest in the right CRM software that can carry a lot of that workload.
As per the stats, 57% of businesses perceive CRM platforms as the most valuable software. So, it comes as no surprise that $146 billion is the expected CRM market value by the year 2028.
While it's great for the CRM industry, how are B2B buyers going to benefit from this? With several CRM tools available in the market, it's not an easy job to find the right CRM for your requirements. This is why 2 out of 3 businesses become dissatisfied with their CRM and plan to replace it within just 2 years.
Like many choices in business, knowledge is the best friend when it comes to making the right CRM choice. When you know which CRM software features you need to improve your business, making a decision becomes a little easier.
Kylas is an Enterprise-grade CRM that can help can streamline your operations, boost customer satisfaction, and drive revenue growth.
---
CRM Software Features You Need for Your Business
From lead management and sales tracking to email marketing and customer support, CRM tools provide automation capabilities that save time, reduce human errors, and ensure consistency in customer interactions.
So, let's dive in and discover the most important CRM software features that small businesses can leverage to enhance their operations and achieve sustainable growth in today's dynamic market.
FOR SALES MANAGERS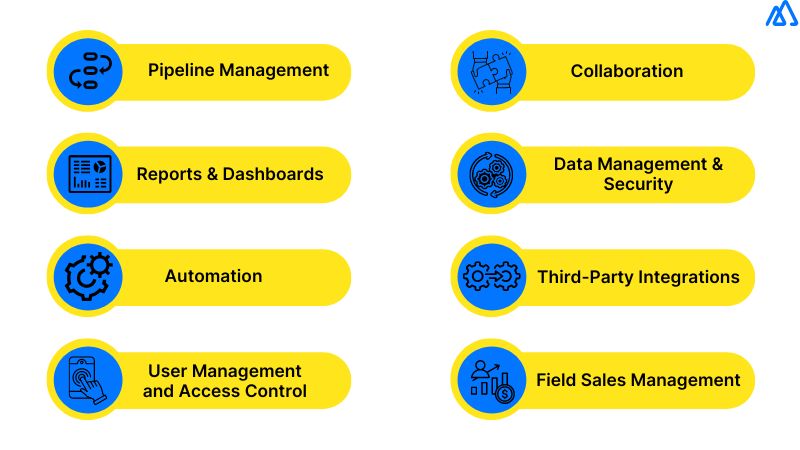 1. Pipeline Management
Effective pipeline management is crucial for sales managers to visualize and track the progress of deals. A CRM system should provide a comprehensive view of the sales pipeline, allowing managers to monitor each stage, identify bottlenecks, and forecast revenue accurately. With a CRM's pipeline management feature, sales managers can prioritize opportunities, assign tasks, and make data-driven decisions to drive sales success.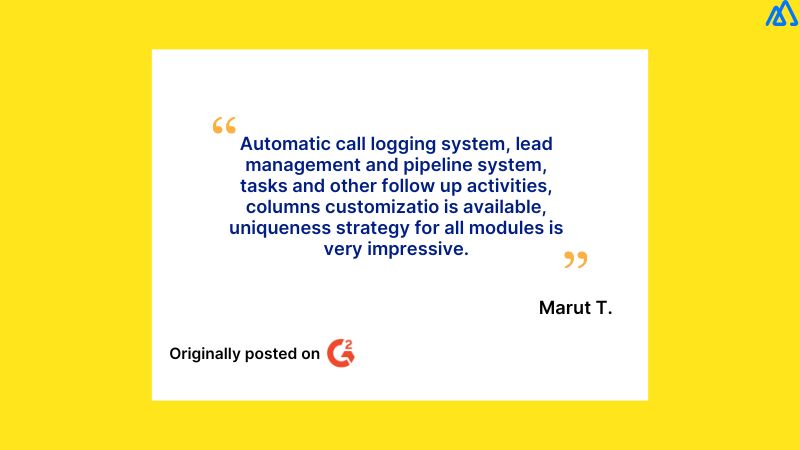 With Kylas, you can:
Easily view and manage all your active leads and deals across different pipeline stages.
Customize unique fields tailored to your small business needs.
Efficiently take action on promising deals according to their respective stages.
Monitor the progress of your leads and deals effectively.
Access relevant CRM data using filters and Smart Lists.
Adapt pipeline stages to match your specific business requirements.
Utilize multiple pipelines for managing deals related to different products and services.
2. Reports & Dashboards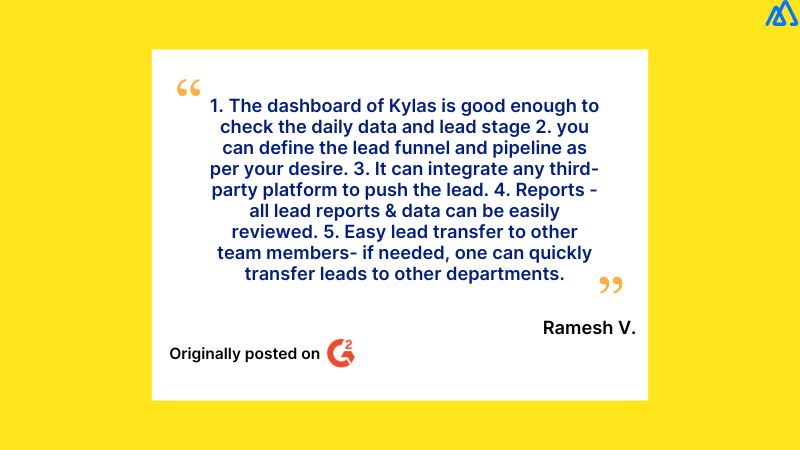 Reports and dashboards enable sales managers to gain valuable insights into team performance, revenue trends, and sales forecasts. CRM software should provide customizable reports and real-time dashboards that consolidate data from various sources, allowing managers to monitor key performance indicators, track individual and team progress, and identify areas for improvement.
With Kylas, you can:
Use a comprehensive dashboard with multi-dimensional reports.
Monitor and analyze important sales metrics.
Instantly access Lead or Deal data with a single click.
Easily filter reports based on specific dates.
Utilize Dashboard Reports for tracking meetings.
Use convenient filters for effortless access to reports.
Visualize data through interactive graphs and charts.
Generate Reports for different roles and teams.
Generate company-wide reports on the Dashboard.
Effortlessly export and share reports with your team and stakeholders.
3. Automation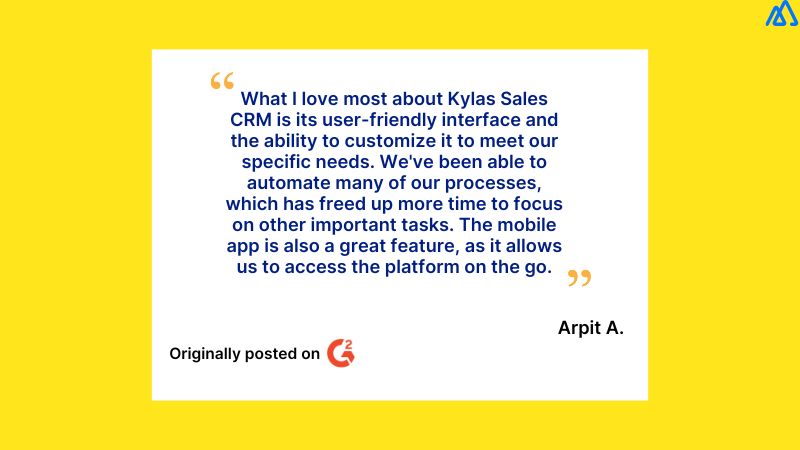 Automation is a game-changer for sales managers, as it eliminates repetitive manual tasks and frees up valuable time. An advanced CRM system should offer automation features such as lead assignments, email notifications, task scheduling, and follow-up reminders. These features streamline sales processes, ensure consistency, and enable sales managers to focus on strategic initiatives and nurturing customer relationships.
With Kylas, you can:
Easily create workflows in a few simple steps.
Automate lead and deal assignments to your team effortlessly.
Set up automated actions triggered by events or specific time intervals.
Automatically nurture leads and deal with personalized communication via Email, WhatsApp, and SMS.
Receive automatic email and mobile reminders for upcoming activities.
4. User Management and Access Control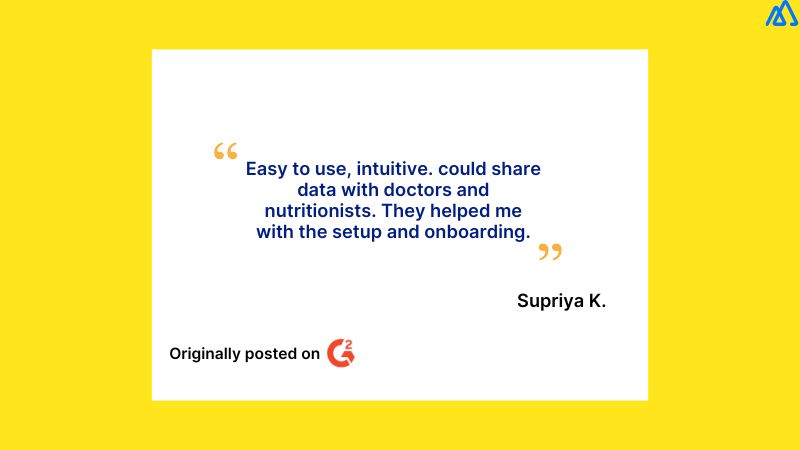 Sales managers need the ability to define user roles, assign permissions, and manage access to sensitive customer data within the CRM system. Robust user management and access control features enable managers to ensure data security, maintain confidentiality, and tailor the CRM experience to individual team members' needs.
With Kylas, you can:
Easily create new user accounts for your team.
Create and assign profiles to users based on their roles and responsibilities.
Grant access to existing users according to their needs.
Efficiently manage other users as an administrator.
Access team or peer data for collaboration and information sharing.
Customize profiles and teams to align with your specific business requirements.
5. Collaboration
Smooth collaboration among team members is essential for effective sales management. CRM software with collaboration features, such as shared calendars, document sharing, and internal messaging, fosters teamwork, improves communication, and enhances productivity. Sales managers can easily coordinate efforts, share knowledge, and provide real-time support to their team members.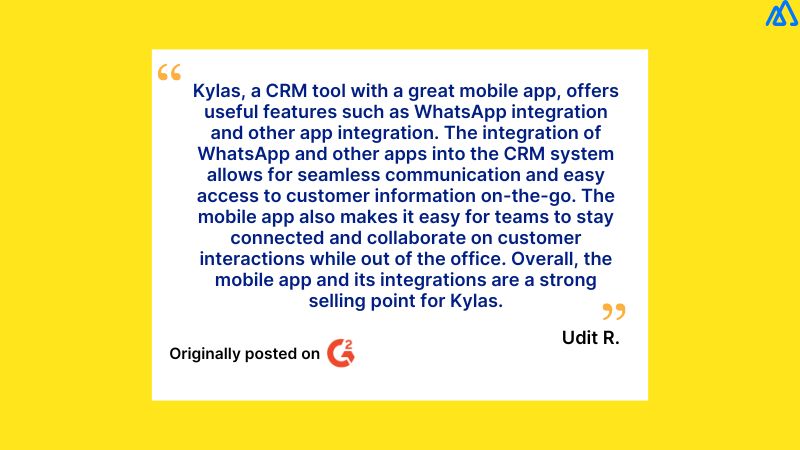 With Kylas, you can:
Foster smooth collaboration across different teams.
Utilize @mentions in notes to tag relevant team members for effective communication.
Monitor and track the progress of work on each lead, deal, or contact through History feeds.
Enhance collaboration by attaching documents to provide additional context to teammates.
Configure Notifications & Reminders to ensure no task, deadline, appointment, or meeting is missed.
Conveniently access all your tasks from the Task dashboard for easy management.
Delegate leads and tasks efficiently to distribute workload and responsibilities.
6. Data Management & Security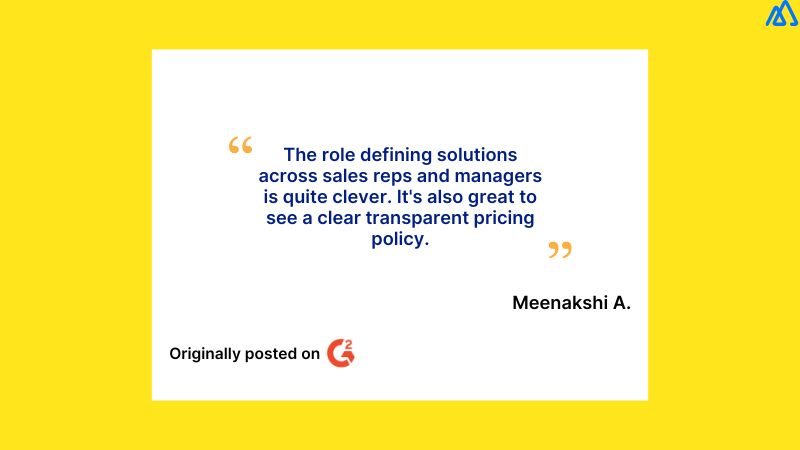 Data is a valuable asset, and ensuring its security is crucial for sales managers. A reliable CRM system should provide robust data management and security features, including data backup, encryption, role-based access controls, and compliance with data protection regulations. This ensures that customer information remains secure and protected from unauthorized access or loss.
With Kylas, you can:
Seamlessly import or migrate data from other CRMs or Excel.
Define and assign Roles and Profiles to users.
Flexibly create unlimited custom fields on Leads, Deals, Contacts, Products, and Companies.
Streamline data integrity by eliminating duplicate records.
Create Smart Lists to efficiently retrieve relevant information.
Ensure data security at the product level through visibility and login protection.
7. Third-Party Integrations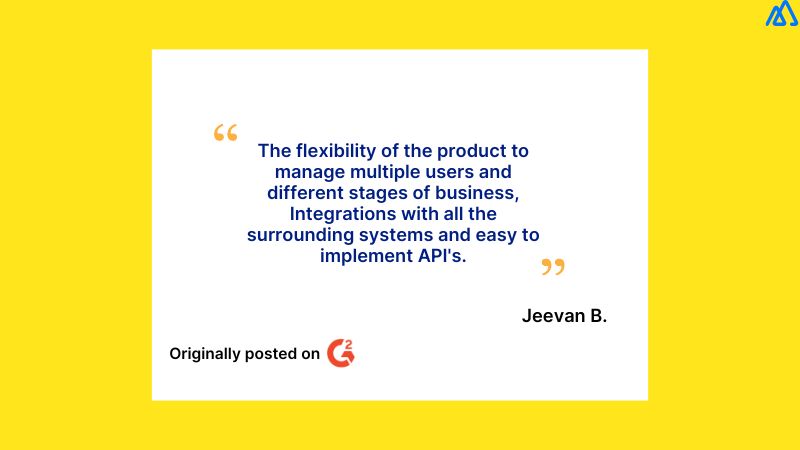 CRM software should seamlessly integrate with other business tools and applications to enhance its capabilities. Integrations with marketing automation platforms, email marketing tools, customer support systems, and accounting software can streamline workflows, improve data accuracy, and enable sales managers to leverage a unified ecosystem of business solutions.
With Kylas, you can:
Create multiple webhooks to sync your customer data automatically with other applications.
Utilize Open APIs to seamlessly integrate Kylas with a wide range of popular business applications.
Integrate easily with third-party apps like Zoho Books, Google Ads, Facebook, Just Dial, etc.
8. Field Sales Management
For sales teams that operate in the field, a CRM system with field sales management features is vital. It should provide mobile access, enabling sales managers to assign tasks, track activities, and capture real-time updates from their remote sales representatives. This feature improves visibility into field sales activities, enhances coordination, and empowers managers to optimize sales strategies.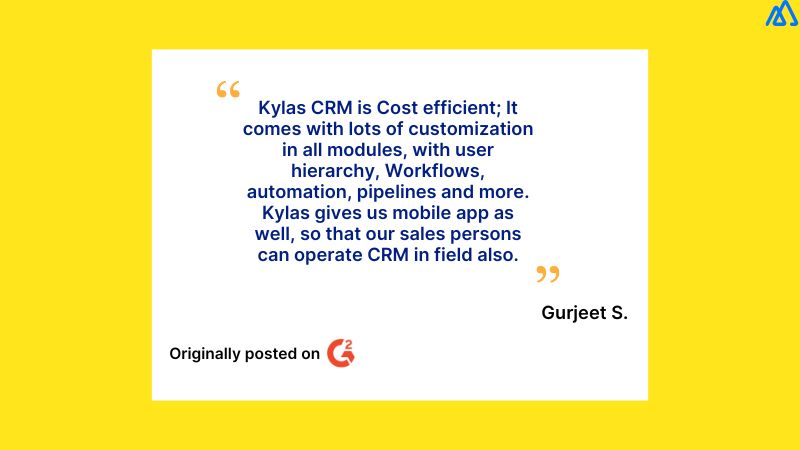 With Kylas, you can:
Monitor and manage your field forces effectively.
Gain valuable insights into the performance of your sales reps for informed decision-making.
Empower your sales team to stay organized and productive during their on-the-go meetings and tasks using geo check-in and check-out functionality.
Provide sales reps with convenient access to customer details and sales materials while in the field.
FOR SALES REPS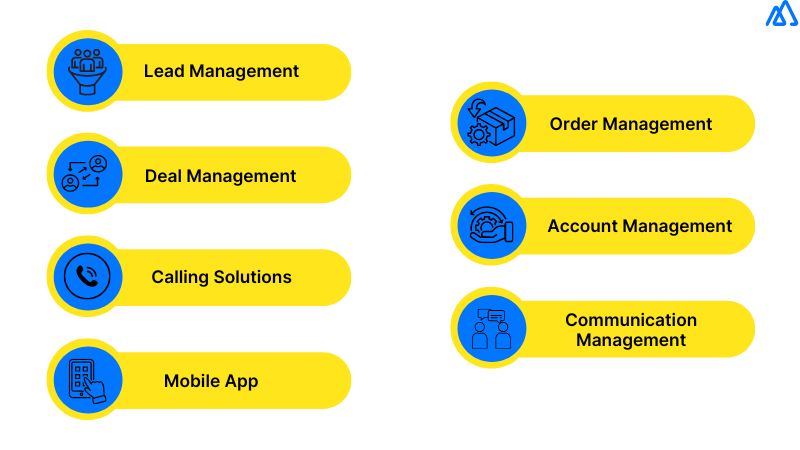 1. Lead Management
Effective lead management is essential for sales representatives to efficiently convert prospects into customers. A CRM system should provide features like lead capture, lead scoring, and lead nurturing workflows. These features help sales reps prioritize leads, track interactions, and ensure timely follow-ups, resulting in improved conversion rates.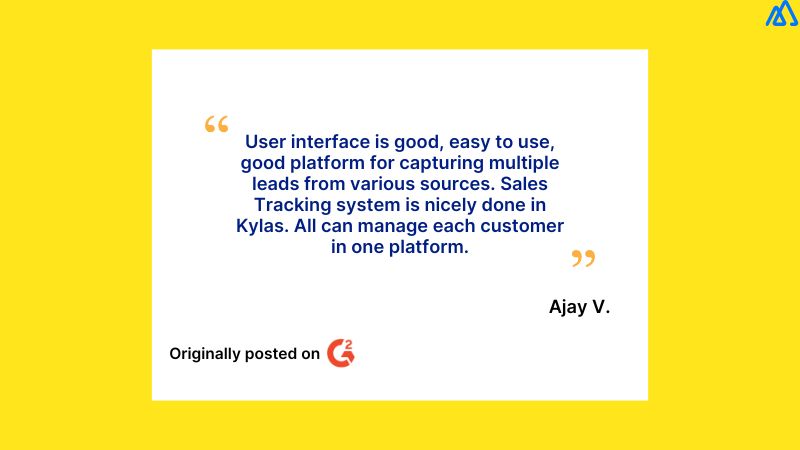 With Kylas, you can:
Automate lead assignments to the team for efficient distribution.
Seamlessly convert leads into deals and contacts.
Receive notifications when a lead requires attention.
Import leads in bulk from spreadsheets for easy data transfer.
Nurture high-intent leads with timely follow-ups for increased conversion rates.
Track leads across various stages of their

buying journey

using a pipeline.
Access the History Feed to monitor activities and progress on each lead.
Capture leads from web forms and 3rd party apps like Google, Facebook, IndiaMart, TradeIndia, Justdial, etc.
Engage with leads through multiple channels, including telephony, email, WhatsApp, and SMS.
Analyze and track key information about leads for data-driven decision-making.
Upload and download relevant documents associated with each lead.
Identify and manage duplicate lead records effectively.
2. Deal Management
Managing deals throughout the sales cycle is crucial for sales representatives. A CRM system should offer deal tracking and management features, allowing reps to view deal stages, update deal information, and collaborate with team members. This enables reps to have a holistic view of their deals and make informed decisions to progress them towards closure.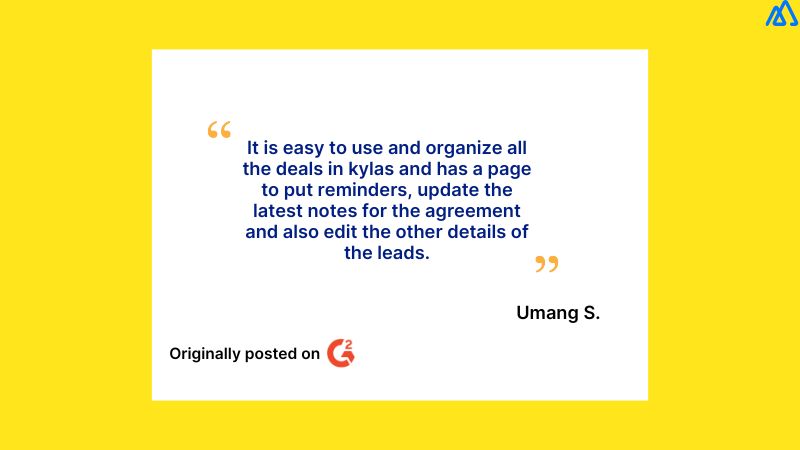 With Kylas, you can:
Effectively manage deals, including their value and forecasted closure dates.
Stay informed about crucial deal information anytime and from anywhere.
Utilize smart filters to gain sharper insights into your team's performance.
Monitor and evaluate the performance of your sales team.
Prioritize deals with higher chances of closure for focused attention.
Leverage account-based marketing, including multiple contacts associated with a deal.
Analyze your deals based on pipeline stages to assess progress against targets.
Access the History Feed to track activities and progress on each deal.
3. Calling Solutions
CRM software with integrated calling solutions eliminates the need for separate communication tools. Sales representatives can make and receive calls directly from the CRM interface, log call details, and access call recordings. This streamlines communication reduces manual data entry, and enhances productivity for sales reps.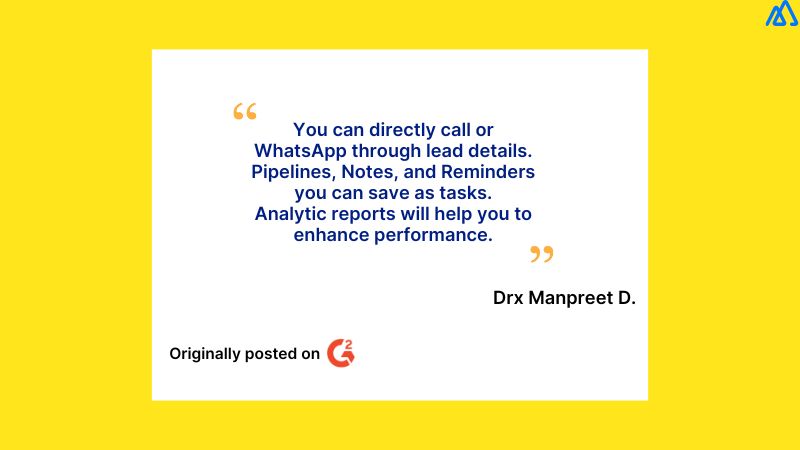 With Kylas, you can:
Save Notes for each call.
Get in-app notifications for scheduled calls.
Schedule a follow-up task or set up an appointment right after every sales call.
4. Mobile App
A mobile CRM app empowers sales representatives to stay connected and productive while on the go. With a mobile app, reps can access customer information, update lead and deal statuses, schedule appointments, and receive real-time notifications. This feature ensures that reps have the necessary information at their fingertips, enabling them to deliver personalized and timely customer interactions.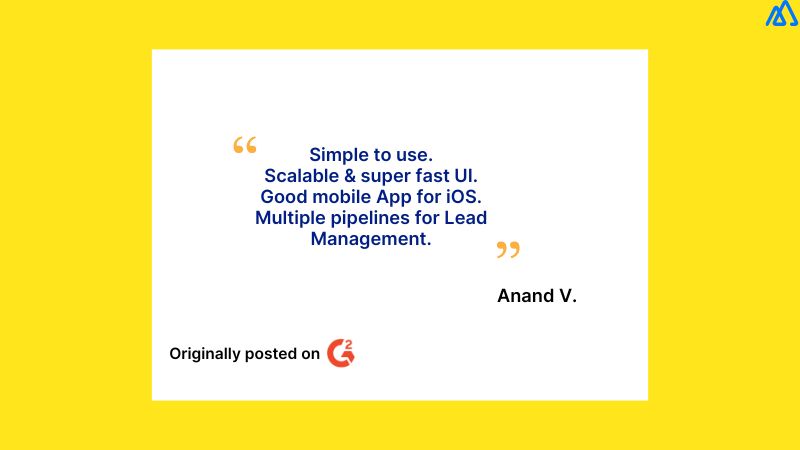 With Kylas, you can:
Instantly track upcoming meetings and tasks.
Add meetings and call notes conveniently from any location.
Receive notifications for overdue meetings and tasks.
Access lead, deal, and contact details on the go.
Easily access WhatsApp, emails, and calls with a single click.
Access your sales dashboard anytime, anywhere.
Seamlessly manage all your leads and deals on your mobile device.
5. Order Management
For sales representatives involved in selling products, order management features are essential. A CRM system should facilitate order creation, tracking, and fulfilment. This streamlines the order management process, improves accuracy, and ensures a seamless experience for customers.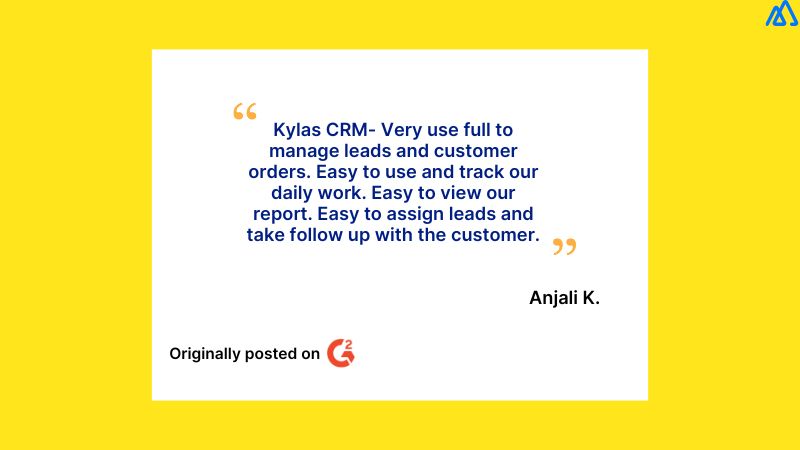 With Kylas, you can:
Map all business transactions using custom quotations in your CRM.
Generate personalized quotations within the CRM, incorporating CRM data and product images.
Send instant quotes to clients within minutes directly from the CRM platform.
Create and send quotes seamlessly from the same location where you manage deals.
6. Account Management
Effective account management is crucial for sales representatives to nurture and retain existing customers. A CRM system should offer robust account management features, including customer profiles, contact management, and activity tracking. This allows reps to have a comprehensive view of each account, track interactions, and identify opportunities for upselling or cross-selling. With account management capabilities, sales reps can deliver personalized experiences, anticipate customer needs, and build long-term relationships.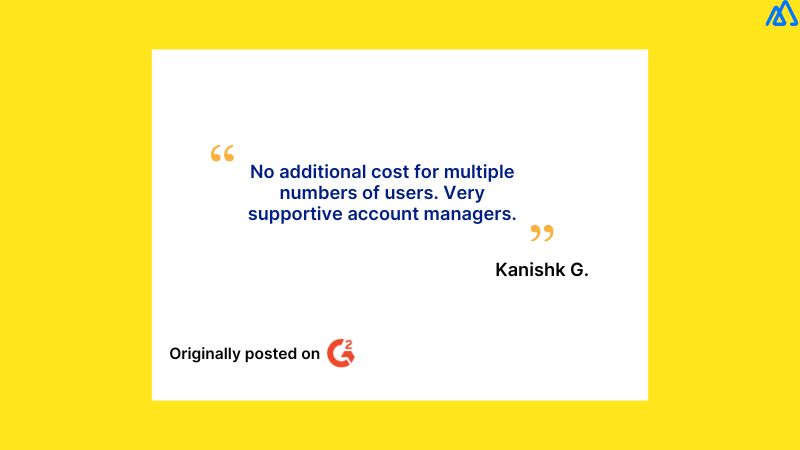 With Kylas, you can:
Engage with important accounts or contacts through various communication channels.
Effectively manage accounts to enhance deal closure rates.
Identify new sales opportunities effortlessly.
Centralize customer communications for easy access and reference.
Organize accounts by segregating contacts and companies.
Access the History Feed to track activities and progress related to a contact.
7. Communication Management
Effective communication is crucial for sales representatives to build strong customer relationships. CRM software should offer email integration, allowing reps to send and receive emails directly within the CRM interface. Additionally, features like email templates, email tracking, and automated email workflows enable reps to streamline their communication efforts and deliver personalized messages.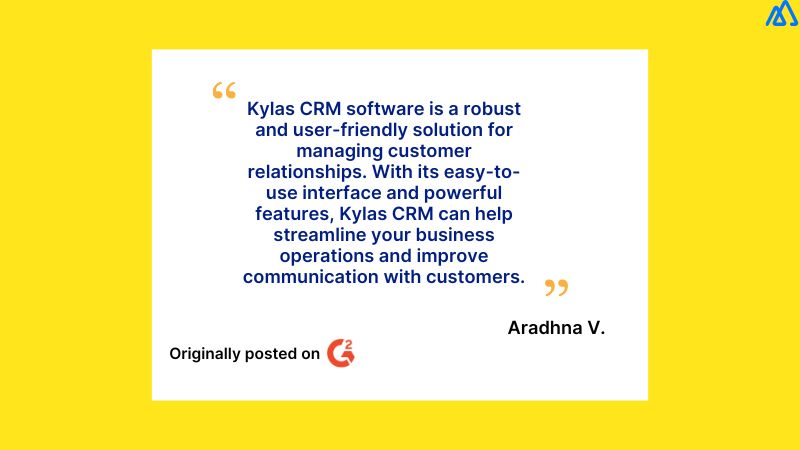 With Kylas, you can:
Effectively engage with prospective clients through various channels, including email, WhatsApp, and SMS.
Seamlessly send emails directly from the app and conveniently track all communication in one place.
Create templates and automate email workflows for efficient communication.
Send bulk emails using popular email clients such as Gmail and Outlook.
Send personalized text messages to contacts with just a click.
Reach out to prospects via WhatsApp using the Kylas WhatsApp Business app.
Schedule online and offline meetings with clients directly within the Kylas app.
Connect Kylas with your Google and Microsoft Teams calendars to schedule meetings, send invitations, and set reminders.
Conclusion
It's not the most complex features that bring results. But the simplest features that break down information silos across multiple teams. So, don't be fooled by advanced features that your business may not need. Just choose the CRM software features that your business will actually need and that your team will use. Remember, CRM software is only as good as it can be used.
Kylas is specifically designed for small businesses to help identify the right sales opportunities & support their sales efforts. Schedule your demo with us!
Start 15-day Free Trial