If you are in the real estate business, you are probably looking for a scalable, versatile, and capable CRM solution.
The real estate sector is scaling new heights of growth, thanks to rapid urbanization, rising household income, and renewed buyer confidence. By 2030, the real estate market- including commercial, retail and residential -is expected to reach US$1 trillion, contributing significantly to the economy.
The best CRM is one that helps you capitalize on the growth opportunities, minimize risks and stay competitive.
What is a Real Estate CRM?
Real estate CRM is a software tool that helps professionals in the real estate industry manage leads, customer contacts, client inquiries, after-sales, and marketing campaigns. The best CRM for real estate gives a complete picture of your sales pipeline, leads, sales activities, and customers on a centralized platform.
Real estate CRM is the must-have tool for managing customer relationships and growing your business.
Features to Look for in a CRM for real Estate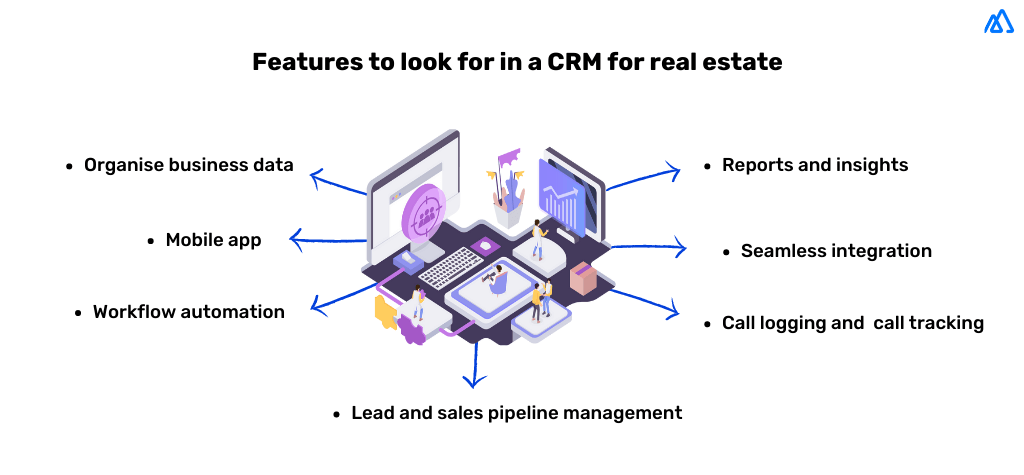 Organize Business Data
The ideal CRM for real estate stores and organizes all the information you need in a centralized repository. It helps streamline huge volumes of data that are otherwise time-consuming and labor-intensive to manage for realtor businesses.
While the business data you need to handle may be minimal when you are starting out, as your business thrives, the data can no longer be managed on Excel. Check if the CRM for real estate has data management features that help you keep all your data at a central place for easy management.
The right CRM also allows you to:
Import or migrate from other CRMs or Excel with the bulk import feature
Customize data access by defining who gets access to specific data and fields in your company
Easily share data on leads or deals with teammates for smooth collaboration
Mobile App
Your real estate sales teams need quick on-the-go access to key information to optimize sales opportunities and close deals. Look for a CRM with an easy-to-use mobile app that gives quick and easy access to relevant data. Your teams can stay updated on tasks with timely notifications and reminders, ensuring every task is completed on time. With one-click access to calls, the CRM lets you stay in touch with sellers and buyers. Most mobile apps have QR scanners that you can use to scan business cards and add them as contacts or leads to the CRM.
Seamless Integration
A versatile CRM for real estate allows you to seamlessly integrate third-party apps, tools, and business functions such as social media, calendar scheduling, email marketing, and customer service.
Instead of accessing multiple platforms to gather data, you can integrate them with your CRM for better lead management. For instance, Kylas CRM offers quick integration with multiple tools such as Gmail, Facebook, Instamart, Mailchimp, Outlook and Zapier.
Other integrations that the best CRM for real estate supports include: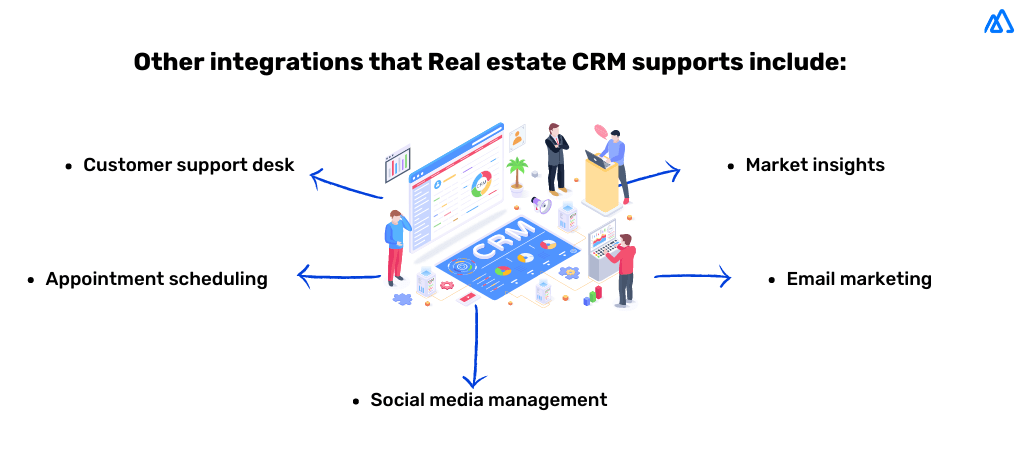 Customer support desk: By facilitating timely communication between the customer support team, sales team, and customers, the CRM helps you offer intuitive customer support.
Appointment scheduling: CRMs with calendar integration make it easy to schedule appointments with clients.
Market insights: The perfect CRM for real estate enable you to get important insights on your leads and customer interactions from your website, apps and email.
Email marketing: With smart email integration, the ideal CRM for real estate allows you to send emails directly and keep track of all your communication in one place. It makes it easy to create email templates and automate your marketing emails to boost efficiency. With the right CRM, you can send newsletters to your customers containing useful information on properties, happenings in your company or run promotional campaigns.
Social media management: Advanced CRM for real estate enables you to share information on new properties on your business's social media channels. With important insights on audience interactions, you can tweak your social media marketing strategy.
Lead and Sales Pipeline Management
When your goal is to grow your business, capturing high-quality leads is the first step. The best CRM for real estate, such as Kylas, helps you capture your leads from different sources, including:
website lead capture forms
third party portals
Import from Excel sheets or older CRM
With an organized lead management system, it is easy to analyze your leads, segment them and nurture them with the right marketing messages. The CRM allows you to capture property inquiries and leads from marketing campaigns across channels, including social media, digital ads, Facebook and other social media, website, and real estate marketplaces.
Sales pipeline management is an important feature to look for when investing in a CRM for real estate. You need a CRM that allows you to create custom, multiple lead pipelines across multiple stages of the buyer's journey to ensure you optimize your lead conversion opportunities.
For realtors, one of the key challenges is to respond to customer inquiries quickly. The speed of your response can directly influence customer satisfaction and sales. The best real estate CRMs have configurable auto-responders to help you respond quickly to customers when you are not physically available. These autoresponders can be customized based on the customer's actions and past interactions.
Workflow Automation
Your sales team is likely to be always busy scheduling site visits, calling up clients or following up on property inquiries. With so much on their hands, they have no time to spare to analyze which deals to focus on, make manual data entries or prepare reports. The right CRM for real estate has a workflow automation feature that takes care of all repetitive tasks, so your sales teams can focus on strategic tasks.
Kylas CRM offers workflow automation and data-driven insights, making it easy to:
Convert leads to deals
Use smart filters for sharper analysis
Engage with every decision-maker and influencer to ensure you optimize your sales opportunities
Reports and Insights
Real estate CRM stores data centrally, allowing you to generate custom reports on deals, leads, and revenue. Sell.Do CRM, for instance, has a filter feature that allows you to gain deeper insights into your sales reports based on multiple criteria. The CRM makes it easy for you to access all your lead and deals data and to share the reports with relevant stakeholders. These insightful reports help you track your performance, discover the areas where you are doing well and the ones that need attention.
The reports are accurate, clear, and engaging as they can populate graphs and charts. From the property, leads, sales, revenue to customer reports, the right CRM for real estate allows you to generate multiple actionable reports.
Call Logging and Call Tracking
To ensure your customers have a seamless experience when they interact with your business, you need to know the conversation history with them. The best CRM tools have a call logging and call tracking feature allowing you to –
Keep track of all your sales calls and details that are updated automatically into the CRM from your mobile
Record offline calls
Send SMS with relevant updates to clients
Track all your communication in one place
Remember what your conversations with clients were about
Organize messages based on property and client
Know the last time you called a client
Save time, effort, and money
The best CRM for real estate allows you to cultivate and nurture client relationships and make smart, data-driven decisions. For top-performing realtors and startup real estate companies, the right CRM is a cost-effective tool in managing their sales pipeline, internal processes, and customer relationships.
Start 15-day Free Trial