If you are a growing business with a sales team in India, there is a high likelihood of you having JustDial as one of the frequently used sources for lead generation. Many systems offer JustDial Integration to sort the lead generation process for you.
So, what is JustDial? JustDial is an Indian internet technology company. It provides local search for different services in India over the phone, website, and mobile apps. It is also one of India's best local search engines engaged and connects buyers with their suppliers. With a huge database of services, JustDial displays results based on the search query on the portal by the user.  
What Happens When You Search For a Product or Service On the JustDial Page?
Once you sign in and search for a particular service or product, your information is saved as the lead in JustDial. The designated team passes on this information to the company searched in the query. In other words, someone enquiring about a particular service or product on the Just Dial search listing page is a 'potential lead' to that particular service or product. 
To expand their pool of lead databases and usurp the competition in their industry, growing businesses capture leads from JustDial. They often achieve this by integrating Justdial with their automated CRM software!
In this article, let's talk about ways in which Justdial integration can be beneficial for your business and how you can easily integrate JustDial in Kylas CRM.
Let's begin by understanding how Justdial Lead Integration works to your benefit.
1. Automates Lead Capturing Process
JustDial helps to automate the lead-capturing process and ensures zero lead leakage. So, for everyone who is searching for your product or services on Justdial, their details are automatically captured in the CRM software.
Your sales team can use the details of the lead to start following up process through email or SMS. You see, there is no way your business can lose the lead details. This is because the CRM ensures adding the data to the centralized database.
2. No Redundant Tasks by the Sales Rep
Since everything is automated, the sales reps no longer have to manually enter leads. This way, your sales reps do not waste time on doing repeated redundant tasks. Rather, they can focus on other productive activities such as following up with the leads and scheduling meetings with them.
3. Nurture the Right Way
According to Forrester Research, companies that are successful at nurturing leads generate 50% more sales-ready leads at a 33% lower cost.
You can create a pipeline of automated and personalized emails to be sent to the lead at different intervals, just enough to convince them your product or service is worth it. What's more, right from emails to drip campaigns, you can personalize the entire process to make it more engaging.
4. Track & Analyze Your Leads
One of the key functions of a Justdial integration is to be able to track your leads. With the right CRM, you can attach a pipeline to the lead and follow up on leads that go cold at any point in time.
You can also create customized reports, analyze the performance of your leads, lead conversion rates, and quality of leads. Furthermore, you can get more insightful decisions on the leads generated from JustDial.
JustDial Integration With Kylas
Let's look at how you can easily generate leads in Kylas CRM by integrating it with JustDial.
Connecting the Kylas CRM to Justdial is quite simple.
Let's look at the steps to use JustDial leads integration app:
To begin with, you will need to install the 'JustDial Leads Integration' app on Kylas Marketplace. After that, you need to sign-up on the Kylas app and verify your credentials. This will redirect you to the sign-up page of the JustDial account.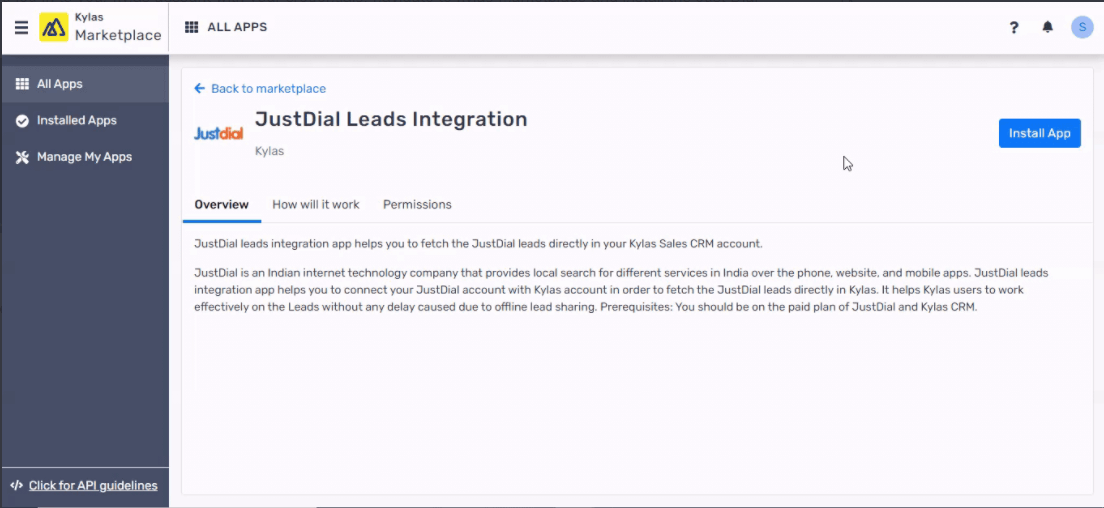 You will receive a verification email from JustDial. After verification, you will be able to login to JustDial App on Kylas Marketplace.
For first time users, you need to enter the Kylas API key and click 'Save'. Next, you need to add accounts by navigating to the 'JustDial Settings' section and clicking on 'Add connected Accounts'.
Secondly, select the Vendor as JustDial, enter the Account name, select the 'Campaign', 'Source', 'Product or Services', and Owner that you want to map to the Leads that are created from the JustDial app.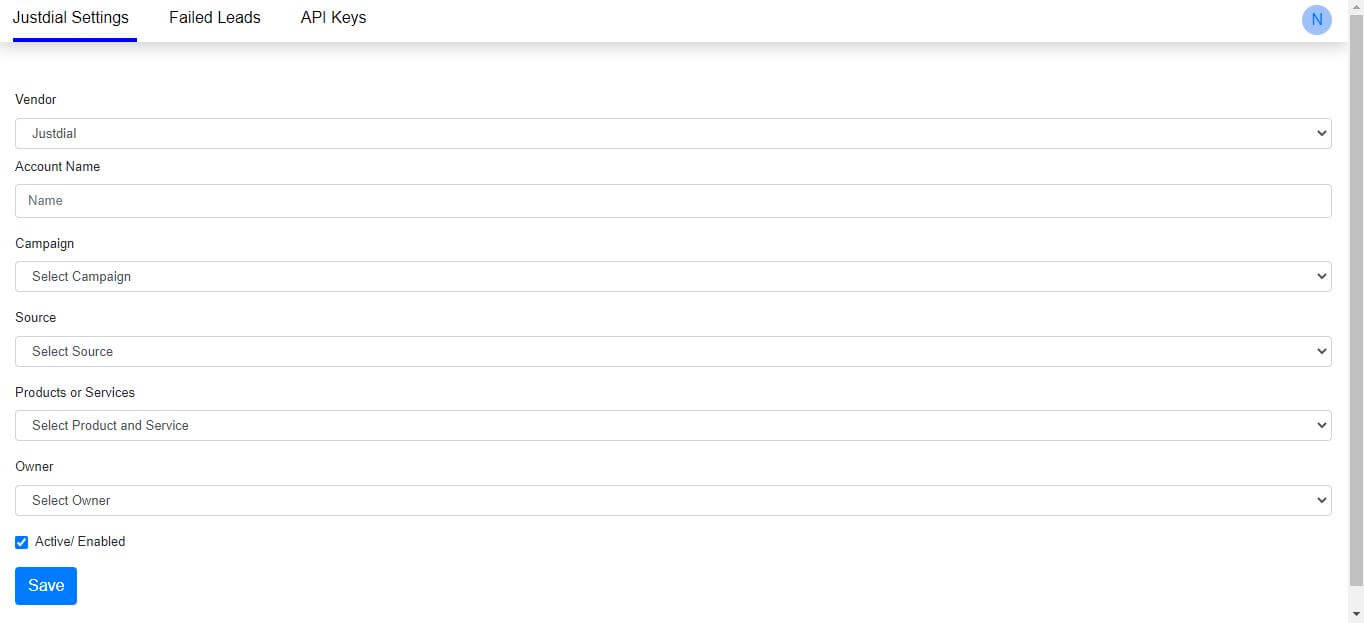 You can also find sources and campaigns on Kylas account- on CRM settings –> customizations –> lead form page. This will give you a list of all the sources and campaigns.
You will need to add Just Dial as a new source so that when you are viewing the leads on the lead listing page, you will be able to identify which leads have been created from JustDial. Tick on the checkbox 'Active/ Enabled' to enable the status of this account as active, and click Save.
You will be then re-directed to a page showing the Webhook URL associated with the particular account on the JustDial Settings page. Copy the Webhook URL shown on the Connected accounts listing page. Then, send the URL to the JustDial backend team to configure it on their system.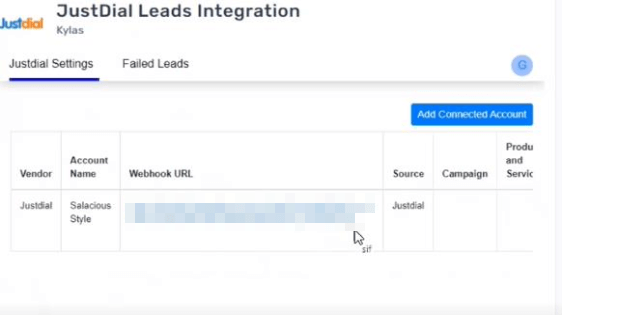 JustDial portal doesn't have the provision to add the webhook URL on the user interface of their application. Hence, you need to send this Webhook URL to your JustDial point of contact or the backend team.
Lastly, once the JustDial team confirms the configuration at their end, you can now view the leads on the Leads Listing page on your Kylas account.
Watch this video to better understand how Kylas integrates with JustDial to capture leads automatically from JustDial enquiries.
If you don't want to miss any leads from Indiamart, sign up with Kylas CRM. You can enjoy a 14-day free trial of how Kylas CRM works. You can start with the trial by clicking here.
Start 15-day Free Trial