CRM, more commonly known as Customer Relationship Management, has taken the business world by storm. This software is designed to streamline all daily operations of businesses and help them grow.
An average CRM tool has various features like lead management, pipeline management, or workflow automation that target specific aspects and help in the overall optimization of a business.
Each of these is crucial towards scaling the success of businesses. However, there is one feature that not only has its individual benefits but also serves as a reliable indicator of the effectiveness of all other features. That feature is CRM Reporting. 
Every important metric, such as total sales, lead conversion rate, revenue forecast, etc. can be tracked through reports. It is hence no surprise that sales reporting is among the primary reasons for CRM adoption for 82% of businesses.
The ability to track such diverse aspects is surely a plus point of CRM reports. However, the downside is that it can get overwhelming to identify which reports should be created and used for your business. Every report focuses on a different aspect. Choosing the right reports ensures that all essential data is at your fingertips. We are here to make this choice easier for you, with our comprehensive list of CRM reports that are a must for small businesses.
Kylas , an enterprise-grade sales CRM is designed to help small businesses scale with expertise. It is a reliable, easy-to-use, and cost-effective solution.
To know more about how your business can grow with Kylas, get in touch with our experts!
---
What Is the Importance of CRM Reporting?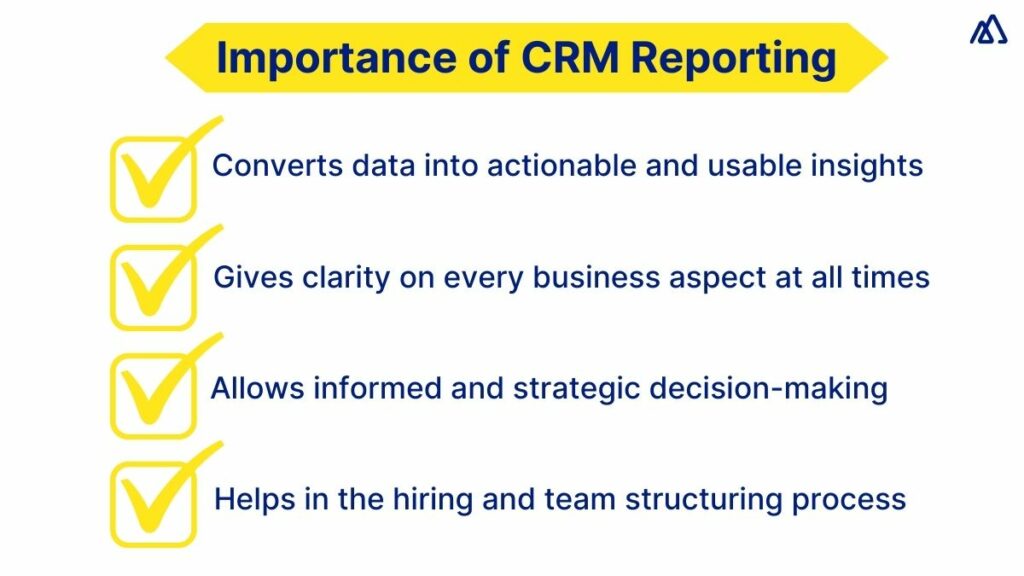 Before we begin understanding the nature and types of reports that you should prepare, it is essential to address the above question.
CRM is a unified platform that stores every bit of data generated from your business. Be it details of your customers or quotations sent to them; your CRM knows all. Having this huge and centralized database is great, but what is its use if you don't report on it? Reports convert data into actionable and usable insights.
Let us imagine you have scores of data related to your sales. Numbers are crammed into various columns and rows that contain details of your total sales, the value of each sale, sales lost, etc. It is difficult to make sense of this, and even more difficult to draw conclusions from it. Your valuable data is hence practically wasted. Reports help to prevent this, since they clean up your data, analyze it, and present it in an understandable way. They hence help you make the most of your data. Besides this, there are certain other advantages associated with CRM reporting:
You have complete clarity on every aspect of your business at all times
You can make informed and strategic business decisions instead of shooting darts in the dark
Now that you are aware of why you need CRM reports, let us delve deeper into the specific reports that you need.
---
Which CRM Reports Should You Be Using for Your Small Business?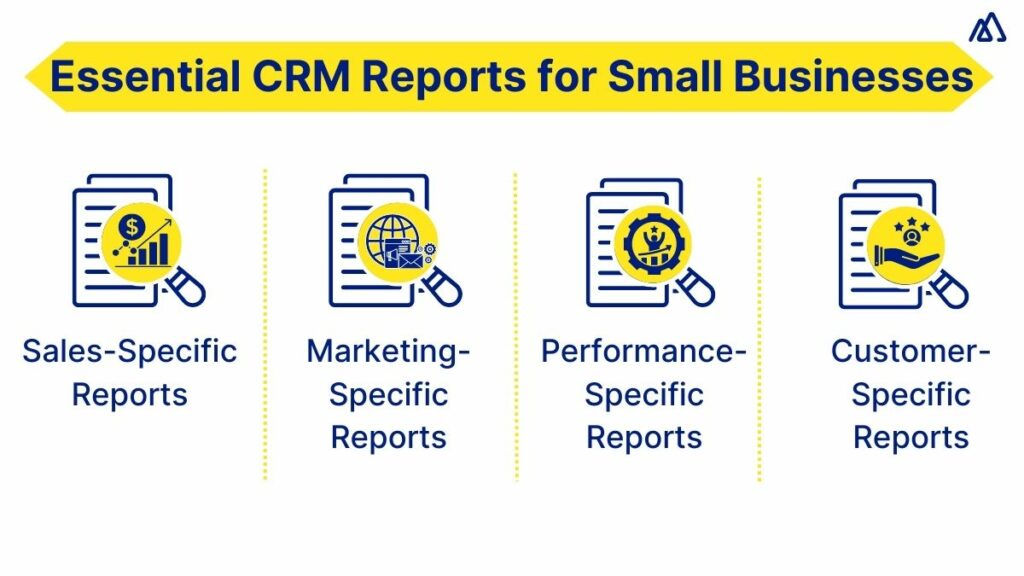 "How many sales have I made this month?"
"At which funnel stage am I losing maximum leads?"
"Who is my top-performing agent?"
"Which marketing channel should I focus more on?"
Every business owner or manager has been faced with these questions at some point. The answers to these can have a large impact on the overall growth of a company. If guesswork is used to derive these answers, you will end up making inaccurate decisions and your sales are bound to take a hit. However, through CRM reports, you will have a crystal-clear picture of not only these aspects but of every other important business operation. Data-driven reports are hence the key for you to gain a complete view of your business health and make targeted efforts towards improving it.
Here are the top CRM reports that you should be using to gain comprehensive insights into the workings of your small business:
Sales-Specific Reports
Sales are the lifeblood of all businesses. They are the end goal for which every other activity is undertaken, and are primarily responsible for revenue and profit generation. Using data to get to the depths of your sales process is the best way to determine its efficiency. You can accordingly take measures to strengthen it and obtain the best results from it.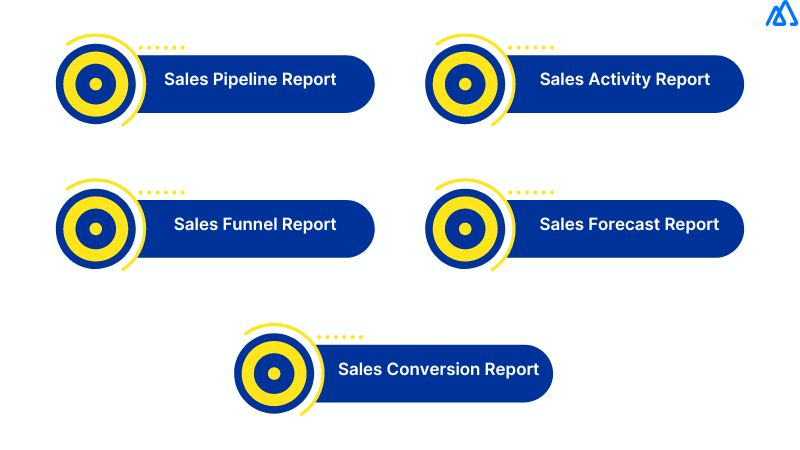 Sales Pipeline Report
Your pipeline represents the end-to-end journey of your customers. It covers their entire interaction with your brand, right from the time they raise an inquiry till the closure of the sale. A pipeline report will help shed light on the health of your sales processes.
If you wish to have detailed insights into your pipelines, you can create CRM reports that show details of all open opportunities such as the customer, expected date of closing, deal size, number of deals in every pipeline stage, etc. This report will also help you better estimate future cash flow, based on when leads are converted into deals.
Sales Activity Report
Sales processes typically consist of a number of different tasks. These include making calls, sending emails, pitching to customers, conducting meetings and demos, etc. It is not enough to simply include all these activities in your sales process; they must also be regularly monitored.
An activity report can help you track all these metrics, as well as metrics of all other tasks that contribute to your overall sales process. This report focuses on the actions of your teams and their effectiveness in securing more sales for you. An accurate report can be created by integrating your CRM into your email, calendar, and call logs to track the interactions of your teams against every record in the system.
Sales Funnel Report
Every business gets a much larger number of incoming leads as compared to the final sales that they make. This transition of leads is measured in the form of a sales funnel. Improving funnel efficiency is a top priority for 48% of marketers. One of the best ways to achieve this is through a sales funnel CRM report.
This report highlights the bottlenecks in your sales process. For example, you have 50 qualified leads in the middle of your funnel moving to face-to-face meetings with your teams. After this, only 15 leads make it to the bottom. You are now made aware that your teams need more training in their customer interactions. You can hence reduce the funnel dropout rate and push more customers towards sales.
Sales Forecast Report
Most CRMs come with visual pipeline tools that allow salespeople to track their current opportunities through various pipeline stages. These stages can be assigned probabilities to indicate the chances of their conversion. Funnel metrics can also help you make an educated guess about your expected sales. All this data can be collated and analyzed to generate sales forecast CRM reports.
Accurate forecasting helps you plan your resource allocation and hiring process and identify opportunities for expansion. This is a crucial report for the future operations and success of your business.
Sales Conversion Report
Conversion is a measure of the number of deals that have been converted to customers. Imagine a scenario where you are pouring large sums into marketing campaigns and sales process optimization, but only a handful of your deals are getting closed. This will result in resource wastage.
Instead, tracking your sales conversion rate will help determine the efficiency of your marketing and sales efforts and the work of your teams. You can also use this report to gain more detailed insights such as the channel, demographic, or location through which your converted leads are coming in. This will give a precise direction to all your operations.
Marketing-Specific Reports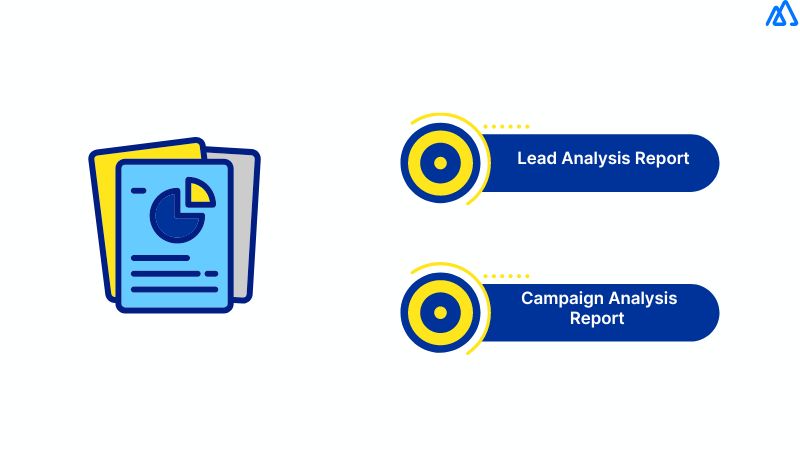 Marketing is the activity through which your brand and product make their way to your target audience. Sales are generated through such efforts, and hence it is essential that your marketing process is strengthened. Marketing is typically carried out through multiple mediums and channels, and CRM reports are a handy way to keep track of these widespread activities.
Lead Analysis Report 
95% of marketers believe that they can identify their top lead-generating channel. With lead generation activities taking place through multiple platforms simultaneously, how can they gain such precise insights? This is possible through lead analysis reports, which tell you everything you need to know about your leads.
You can identify the source of your incoming leads, qualify them as prospects based on preset criteria, find out the number of leads in every pipeline stage, and much more. This data is an indication of how aligned your marketing and sales efforts are, and whether your nurturing process is effective.
Campaign Analysis Report 
CRM reports are your best bet to analyze and track your campaigns' performance. The software collates all data related to the engagement, responses, and outcomes of your campaigns. This data is converted into comprehensive reports.
A campaign analysis report has widespread benefits for your operations. You can plan your marketing budget, fine-tune your content strategy, and deploy every resource in a way that maximizes the success of your campaigns.
Performance-Specific Reports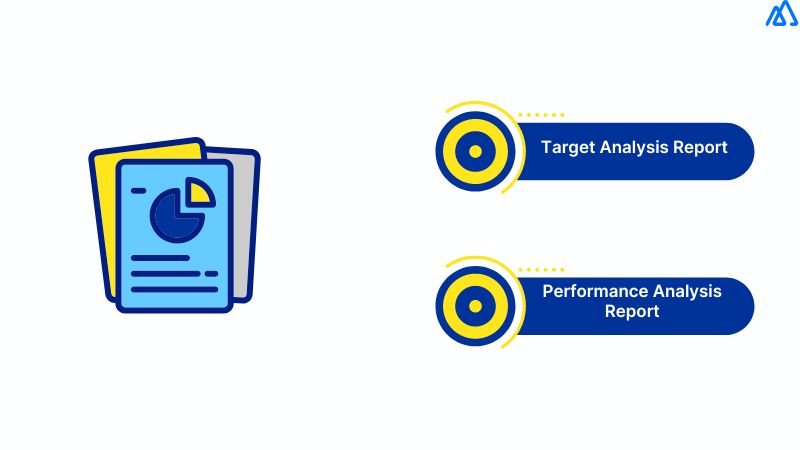 The success of a business is built by the hard work of its teams. Sales can be made only through team efforts. It is hence essential to know how well your teams are collaborating, and whether all operations are seamlessly flowing between different operational units.
Performance Analysis Report
Your teams are your most valuable resource. It is not enough to simply hire good agents and set up efficient processes; you also need to monitor how your people are working. CRM reports can break down every task done by them, like calls made, referrals obtained, deals closed, revenue generated, etc.
Such reports also have another significant advantage. They highlight your top-performing agents and the processes they follow. You can include this process in all your operations to optimize the work of other team members.
Target Analysis Report 
Sales targets are the ideal outcomes that your teams work towards. Targets can be in the form of the number of closed sales, expansion to new territories, earning a set amount of revenue, bringing in new clients, etc. These give a clear direction to the work of your teams.
CRM reports can help you track the targets that you set for every individual/team, as well as the achievement rates of such targets. Knowing this will help you plan and allocate your future sales targets and allow your teams to excel in their work.
Customer-Specific Reports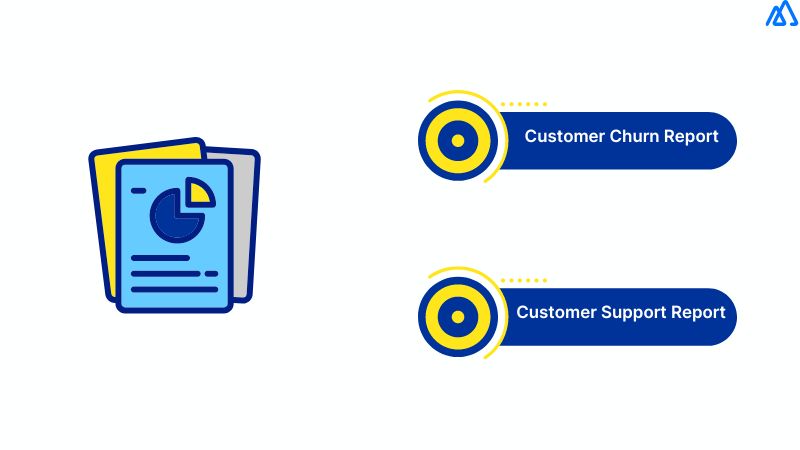 A business is nothing without its customers. Providing them with a good buying experience and nurturing a loyal customer base are the most crucial tasks for businesses. One of the primary benefits of CRM is that it helps manage customer relations better. In fact, the most significant reason for CRM adoption among businesses is that it contributes towards increasing customer-centered decisions.
Customer Support Report
CRM reports can convey the full story of the customer support you provide. You can track the number and nature of queries raised and the TAT of your teams to resolve them. Customer data also offers valuable insights into other concerns faced by them.
You can accordingly take measures to improve the areas in which you are lagging and optimize the work of your support teams.
Customer Churn Report 
Losing customers is a dreaded outcome for all businesses. However, you must get to the core of why customer churn occurs to try to prevent it. Data pertaining to customer churn must be recorded in your system so that accurate CRM reports can be generated.
Such a report informs you of the reasons why your customers moved away from your brand. Evolving customer demands, flaws in your product and service, your pricing policy, etc., maybe some of the reasons. With precise data, you can gain clarity on all aspects of customer churn and implement changes to prevent it.
These reports cover every core aspect of your business, be it marketing, sales, or customer service. Using these CRM reports, you can gain complete knowledge and insights into the performance of not just your business but also of your teams.
---
Ending Note
CRM reports a vital benefit among the many others that this software brings to businesses. Using the above-stated reports can give you a good headstart in your reporting process. However, there is no straitjacket rule when it comes to choosing the right reports for your business. This decision should be based on your business type, goals, the market that you operate in, and the buyers whom you sell to. Irrespective of the type of reports chosen, the end goal is to get a complete download on every aspect that is important for your business.
Start 15-day Free Trial