Imagine a few new leads entering your sales funnel. Your sales staff spend all their time trying to connect with and nurture all these leads, and convert them into sales. However, they have limited bandwidth and can naturally only focus well on a few of these leads. Without a well-planned strategy, they will most likely focus more on some leads who might not even end up making a purchase. In the bargain, the leads who are truly interested in your product might be neglected and will ultimately drop out of our funnel. If only there was a way to avoid this!
The answer is to find the right sales prospects. Sales prospects are those highly qualified leads who have the potential to become customers of your business. By identifying these, your marketing and sales efforts can be more targeted, and thereby yield better results.
Kylas CRM can greatly help in your lead qualification and prospecting efforts. You can leverage smart lists and data analytics to filter out and segregate the right leads to achieve maximum closures!
---
What Are Sales Prospects?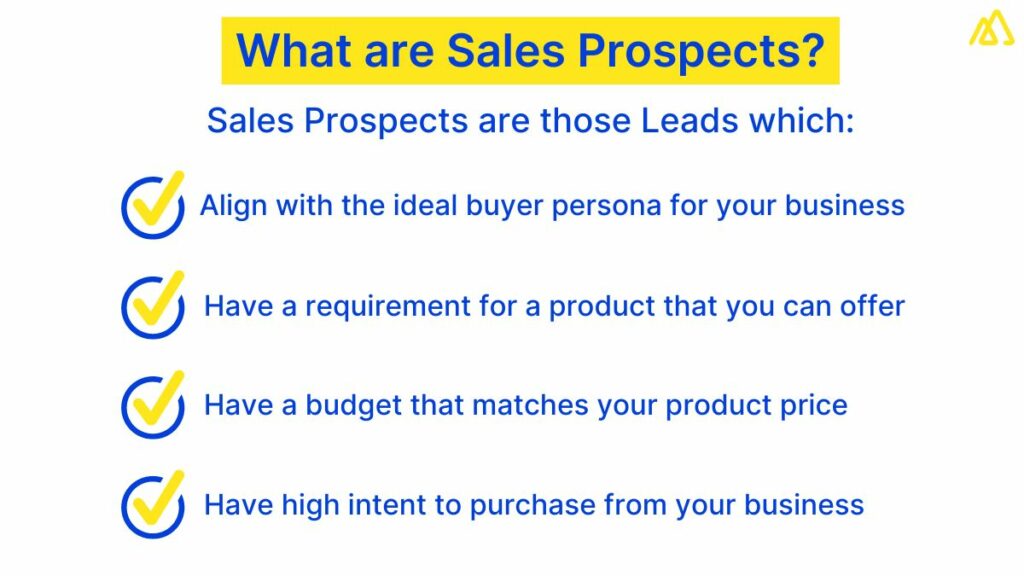 Let us understand the concept of a sales prospect through an example. If there is an incoming lead whose requirements exactly align with your offerings, who is looking to purchase a product similar to yours, and who has a budget that matches the price of your product. In this case, there will be a high chance of conversion since the lead and your business are well-matched in every respect. These types of leads are called sales prospects.
The average ratio of prospect-to-sale is 3:1, which shows that a greater number of prospects convert to paying customers. It hence becomes imperative for businesses to segregate the prospects from among the numerous leads so that adequate resources can be targeted towards the leads that are more likely to convert. However, sales prospects and leads can be mistakenly thought of as being one and the same. It is essential to understand the distinction between the two because only then can prospects be accurately qualified.  
---
How Are Sales Prospects Different From Leads?
Every sales prospect starts their journey with your business as a lead. However, not every lead ends up becoming a sales prospect. Leads show a preliminary interest in your brand, and there is a negligible degree of surety that a lead will close sales with you. Once you have established contact with a lead and ascertained that they meet your target customer profile, it can be shifted to the category of being a sales prospect. If the lead's requirement and budget match your offerings and product price, there is a greater likelihood that they will make a purchase from you. Sales prospects are those qualified leads who have high potential and intent to make purchases from you.
Once you have understood the distinction between prospects and leads, it will guide you in the process of differentiating one from the other. If done correctly, this process can enhance the success of your sales process, increase your conversions, as well as have a lot of other benefits for your business.
---
Why Is It Important to Identify Sales Prospects?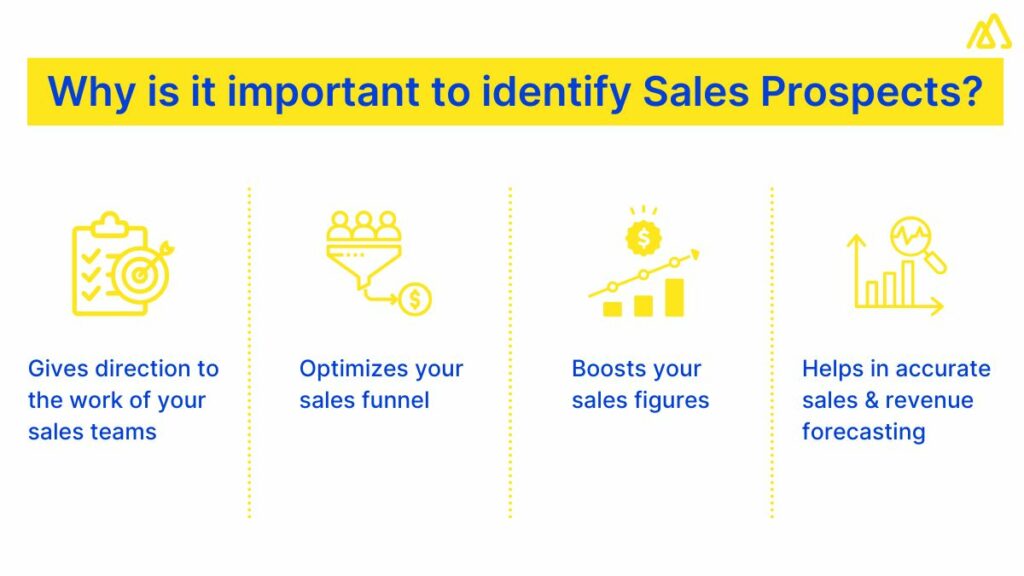 Efficiency and productivity are two of the most important aspects of your sales process. Identifying prospects is crucial for optimizing your sales and revenue, by making every aspect of your sales cycle productive, and enhancing the efficiency of your teams.
Here are a few compelling reasons why it is important to identify sales prospects:
1. Gives direction to the work of your sales teams
Your sales staff can give the best output if their work has a clear direction to it. If prospects are segregated, your teams can plan their work to direct more time and effort toward these. The precious bandwidth of your teams can be spent on nurturing and closing deals with these prospects, instead of chasing every lead that may not even be a potential customer for your business.
2. Optimizes your sales funnel
A sales funnel represents the end-to-end journey of your leads. Once your sales prospects have been identified, your funnel can be optimized to differentiate the leads from the prospects. It will also help you track the movement of prospects and find the bottlenecks in your sales process.
3. Boosts your sales figures
If every lead that you spend time and efforts upon makes a purchase from your brand, your sales will naturally get boosted. Identifying your prospects will help you achieve this. It will also help in making your sales process more cost-effective, since resources are directed towards the right sources only.
4. Helps in accurate sales & revenue forecasting
Another advantage of finding your prospects is that you can predict your sales. Once you have an idea of the number of sales prospects, you can make informed predictions about the amount of revenue and profits you will earn from them.
These benefits target the major pain points of businesses, such as revenue generation, and team productivity. As a result, the segmenting of your sales prospects can greatly scale your business. Despite being aware of the need to identify them, it is not always easy to do so. The wrong categorization of leads as prospects can negatively impact your business, and thus it is crucial to correctly identify them. However, what's the most effective way to do this?
---
What Are the Basic Characteristics of Sales Prospects?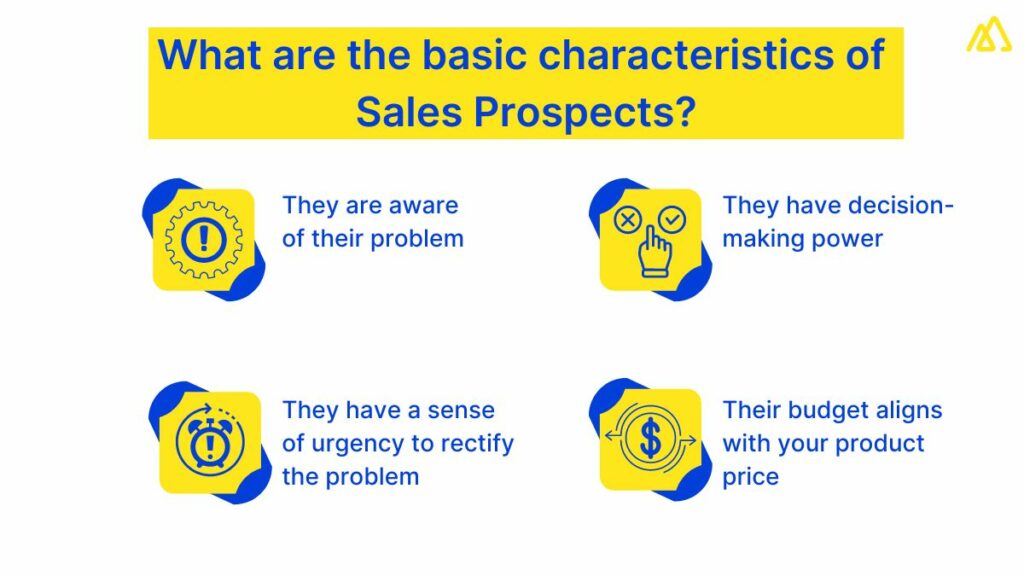 There is no straitjacket formula for finding sales prospects. It will vary for every business, depending upon factors such as product type, product pricing, customer base, etc. Due to this variability, 22% of salespeople say that accurately qualifying leads is the toughest part of sales. We have tried to make this identification easier for you, by listing down some of the basic characteristics that you must look for in your sales prospects:
1. They are aware of their problem
A customer will only buy your solution if they are aware that they have a problem that needs to be fixed. If this is not the case, no amount of effort put in by your sales team will convince the customer to close the sale. Hence, the primary trait needed in a sales prospect is awareness of their problem.
2. They have a sense of urgency to rectify the problem
Along with being aware of the problem, it is equally essential that your prospect has the desire to urgently fix it. If the prospect is not keen to urgently rectify the problem, they will likely go through a very prolonged buying cycle, that may eventually result in the lead becoming cold.
3. Their budget aligns with your product price
Budget is one of the most important factor that influences any purchase. Even if every requirement of your lead aligns with your product, the pricing can make or break your sales. While identifying your sales prospects, ensure that their budget and your product price are in sync, because only then will they be potential consumers for your business.
4. They have decision-making power
Imagine your team spends months nurturing a lead whose requirement and budget matches your product. At the closing stage, you are informed that your lead has no decision-making power to purchase from you. To avoid this, sales prospects must always be determined on the basis of their authority and capacity to make purchasing decisions.
If your sales prospects have these basic characteristics, you are on the right track. Although, simply knowing how to identify sales prospects is not enough. You must also know how to optimize your lead generation, marketing, and sales efforts in a way that will attract sales prospects.
Editor's Note: The above cited characteristics offer an overview of the factors to look out for while qualifying leads. However, there are alternative approaches that you can consider, such as BANT qualification which largely prioritizes the budget and authority of the client, or the ChAMP strategy which focuses first on the challenges of the prospect and then on their authority and priorities.
---
How to Target the Right Prospects for Your Business?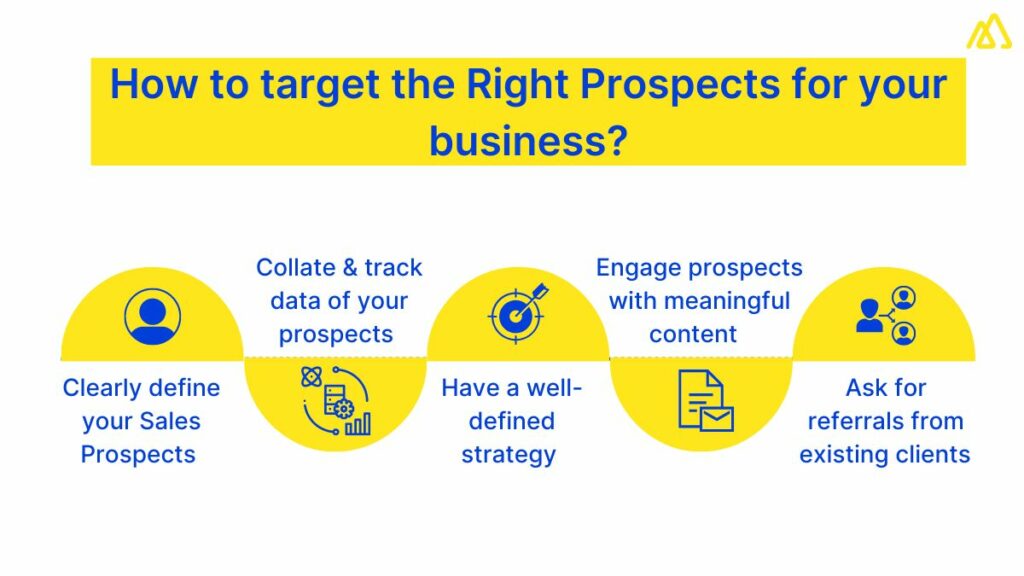 On an average, 50% of a business's prospects are not the right fit for their product. However, a business can get a large number of qualified prospects for itself by adopting the framework given below:
1. Clearly define your sales prospects
It is impossible to target the right prospects for your business if your prospects are not well-defined. You must have a clear idea of what you are looking for in a sales prospect, and then strategize the ways in which you can reach these prospects.
2. Collate & track prospect data
Data can be a powerful tool to identify, target, and convert sales prospects. By collating and analyzing data of your prospects, you can gain valuable insights such as:
The aspects in which they match/differ from your ideal customer profile
Their interactions with your brand
The stages at which most prospects convert, etc.
3. Have a well-defined strategy
Like with every other business operation, targeting the right sales prospects must be a well-planned and strategized process. It cannot be achieved overnight, and hence a coherent strategy for the same must be chalked out. Every branding and marketing activity must be aligned with the strategy to maximize the chances of reaching your sales prospects.
4. Engage prospects with meaningful content
One of the best ways to target the right prospects is by setting up relevant and meaningful interactions with them. This helps in creating a strong brand recall in their minds, and they will be more inclined to make a purchase from you.
5. Ask for referrals from existing clients
Referrals are a foolproof way of reaching qualified leads who can become lucrative sales prospects for you. Your existing clients as the best advocates of your business, and they can refer your product to their friends and acquaintances who are in need of it. The leads coming in through referrals already match most qualification criteria and are thus ready sales prospects.
By adopting this framework, you can make your business efforts more targeted to reach and attract the ideal sales prospects. These measures are easy to understand and implement and can have a very positive impact on your sales.
---
Conclusion
Sales prospects are the leads who have the highest chances of converting into paying customers. A business can thrive if it identifies these prospects at the early stages of their buying journey, and diverts the right resources to nurture them. Through the right marketing and sales efforts, you can attract more and more sales prospects for your business, thereby boosting your revenue and profits!
Kylas can be an efficient and reliable support system for your lead qualification efforts. Witness our rich functionalities in action by scheduling a demo!
Start 15-day Free Trial