Small businesses in the initial stages of growth face the challenge of managing a growing customer base with limited resources and manpower. While reaching the right audience and converting them to customers is a top priority, managing customer interactions and optimizing the sales process becomes crucial to maintaining the quality of services and revenue growth.
CRM tools offer a solution to this problem by helping businesses manage customer interactions and streamline sales processes. With 65% of companies adopting CRM within their first years of operation, it's no wonder that it has become a popular choice for small businesses.
However, choosing the right CRM tool can be tough task, as not all are suitable for small businesses. Investing in the wrong product can take a toll on the budget and profits. But don't worry, we're here to help you find the best CRM tool to support your small business's maximum growth.
Kylas, an enterprise-grade sales CRM is designed to help growing businesses scale with expertise. It is a reliable, easy-to-use, and cost-effective solution. To know more about how your business can grow with Kylas, get in touch with our experts!
How Can CRM Tools Help Small Businesses?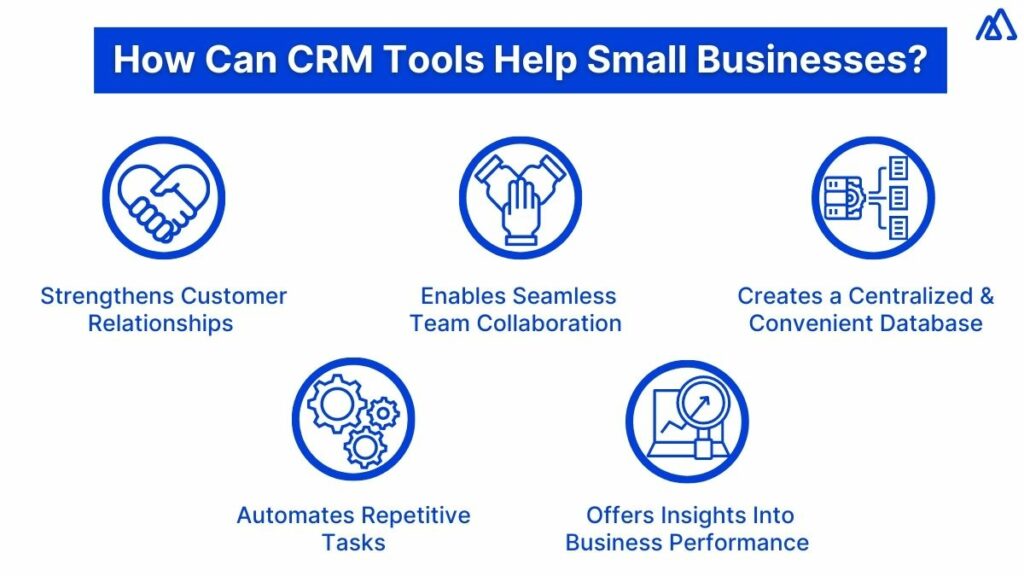 Before you begin your search for a suitable software, it is essential to understand why you need it for your business. It is a highly valuable asset that can give returns of up to $8.71 on every $1 spent. Its core function is to streamline your daily operations and drive up your sales, but it also has other benefits. Let us explore the numerous ways in which CRM can help your small business:
1. Strengthens Your Customer Relationships
83% of businesses that prioritize customer satisfaction see an increase in their revenue. Strong customer relationships can be a game-changer for businesses, and CRM helps to achieve this. It helps you track and monitor your customers' interactions with your brand and gain deeper insights into their requirements. You can hence personalize your services, which will go a long way towards building strong relationships.
2. Enables Seamless Team Collaboration
It is hard to get any work done if your teams are running helter-skelter. CRM tools bring order to your operations by enabling your teams to seamlessly collaborate. Data can be easily shared across teams and work updates can be reflected in real-time. It reduces the scope of errors and slip-ups that often occur due to miscommunication and gives way for a team selling approach to be adopted.
We, at Kylas, appreciate the enormous benefits that well-coordinated teams bring to their companies. Unlimited users at flat pricing, easy sharing and assigning of tasks between teams, and customization for the needs of every team, are just some of the ways in which we try to enable maximum collaboration. Irrespective of the specific way in your CRM does this, make sure that you choose a product that allows your teams to work as a coordinated unit.
3. Creates a Centralized & Convenient Database
One of the most beneficial aspects of CRM is that your data is efficiently organized. The traditional way of collating data involves the use of spreadsheets. It is a struggle to find the relevant data when you need it, and there's always the risk of spreadsheets getting misplaced or tampered with. With CRM however, you can store and segregate your data in a secure platform and conveniently access it.
4. Automates Repetitive Tasks
In an average 8-hour workday, 70% of employees spend almost 3 hours on repetitive tasks. Their time and focus are thus diverted away from the task that matters the most- selling. CRM software automates all such tasks and frees up your teams' bandwidth to secure maximum closures. Another advantage of automation is that all tasks can be done in a timely manner without the risk of manual errors.
5. Offers Insights Into Your Business Performance
CRM tools come with comprehensive analytics functions that offer complete insights into your business performance. You can create reports within the software to learn more about your sales, marketing campaigns, team performance, etc. You can thus make informed decisions, identify and rectify the bottlenecks in your operations, and streamline your processes.
If you weren't sure earlier, these advantages must have surely convinced you of the potential CRM has to scale your business. Now that you are closer to adopting CRM, the next step is making sure that your chosen software is a good fit for growing businesses.
---
Characteristics of Small Business CRM Tools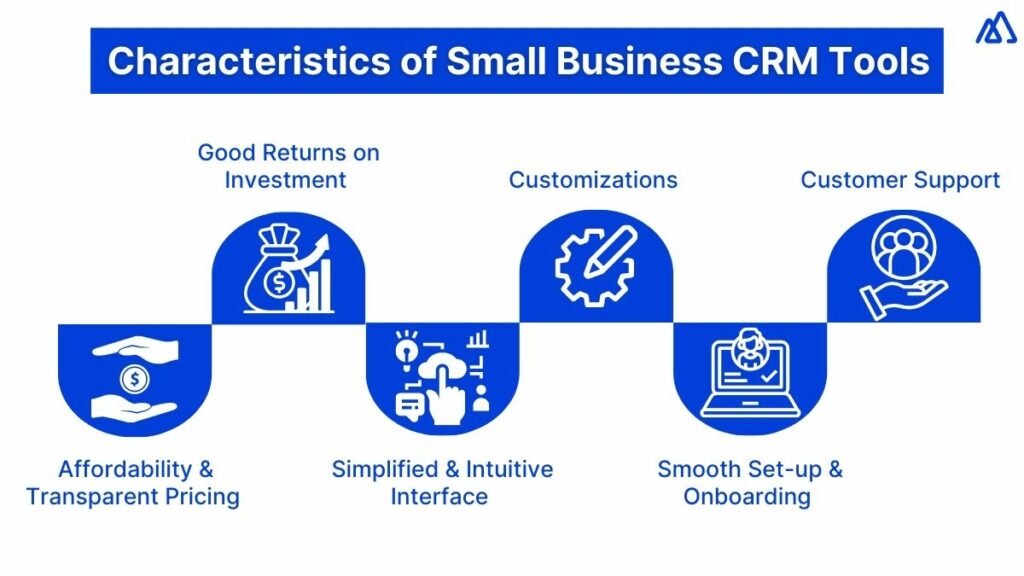 Some CRMs are designed for enterprises and large businesses. Your business will not be able to grow with such a system because it is simply not aligned with your requirements and needs. Hence, you must opt for a specific small business CRM. To identify such software, here are a few characteristics to look for:
1. Affordability and Transparent Pricing
Small businesses typically struggle with limited budgets. Thus, affordability is the #1 requirement in a CRM system. Along with being affordable, the software must also have a transparent pricing policy. Hidden charges, add-on costs for basic functionalities, etc. are red flags that you should steer clear of while choosing your CRM.
2. Good Returns on Investment
Along with affordability, it is important that the software offers good returns on your investment. It must come with a rich feature set that helps in your business operations and improves the productivity of your workforce. To be a valuable investment, your CRM must help you scale your sales and profitability. Determining the ROI of CRM software is a tricky process and growing business owners are likely to be misled while evaluating CRM features and comparing vendors. They are drawn towards systems with more features and lower prices without realizing the context of the business value the software can offer
While many growing businesses relate the value for money they receive to the TOC (total cost of ownership), it is the ROI they need to focus on. At Kylas, we are committed towards providing you multifold benefits as compared to the prices you pay and offering the best returns on investment.
3. Simplified and Intuitive Interface
A majority of small businesses do not have the resources to master a CRM that's complex and complicated. Simplicity and ease of use are hence vital factors to consider in a product. The interface must be such that it requires minimal training, is intuitive, and can be navigated even by CRM novices.
4. Customizations
Every business is different, so it will naturally have different requirements from a CRM. You need a system that can be tailored to match these requirements. Instead of being stuck with default layouts and forms, your CRM should accommodate and reflect your unique business processes.
5. Smooth Set-up and Onboarding
The use of CRM tools begins after the set-up and onboarding are complete. Even if you find a great product but these processes are not smooth, you will not have a good experience with the CRM. You need a system that is easy to set up and one that your teams can comfortably start using.
6. Customer Support
You must opt for a CRM that's with you every step of the way. Customer support is essential for small businesses to be able to fully utilize the product. An easy system to raise concerns, quick TAT for resolution, and dedicated support personnel are some of the aspects to consider. You can be rest assured that Kylas's team considers all these aspects too, and works towards providing you the best support. Be it in the form of self-serve resources, or informative webinars, your CRM needs to support you in more than one ways.
If any software does so and ticks all these boxes, it is a viable option for you to consider. However, don't rush into deciding on any product, since it is a big commitment for a business to make. Choosing a CRM should be a systematic process that goes through certain stages, which ensures that you make an informed choice.
---
How to Choose CRM Tools for Small Businesses?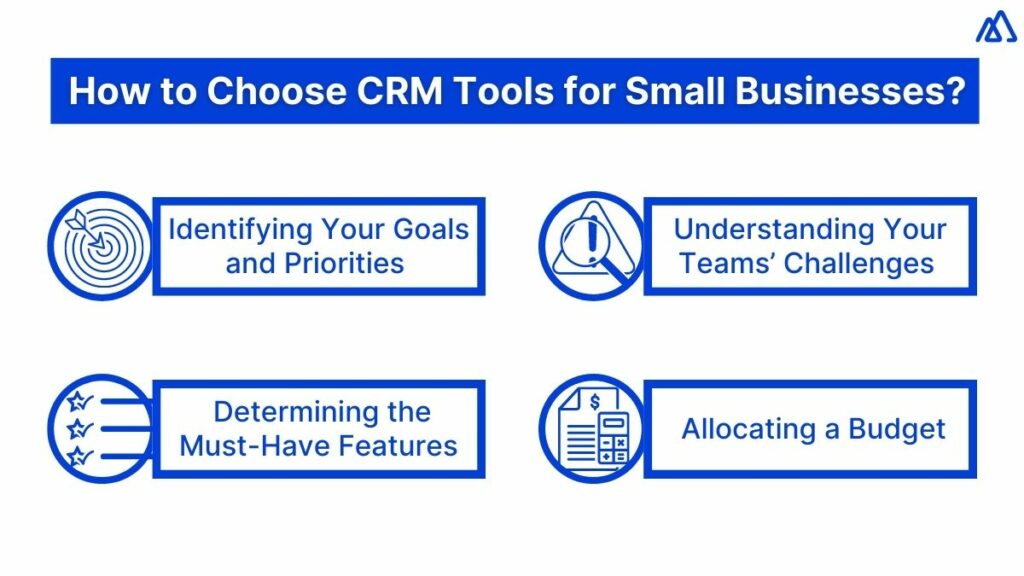 The process of choosing CRM is very complex. There are dozens of players in the market, and each product comes with its unique functionalities and use cases. A haphazard approach to finding a software might lead to you making a hasty choice. Instead, a strategic and planned approach will let you weigh all your options and find the product that's most compatible with your needs. Here's a simple yet effective framework to adopt while choosing CRM tools for your small business:
1. Identifying Your Goals and Priorities
CRM can help you achieve your business goals only once you have identified and outlined them. Goals are the driving force of any business, and similarly, the are the driving force for your CRM too. It is difficult to utilize your CRM in the best manner possible if you're unaware of your expectations from it.
Your goals and priorities could range from expanding your product range, scaling your profits, or improving customer service. It is essential to determine these on the basis of factors like the industry you operate in, the stage of business development that you're in, your target audience, etc. For example, a business operating in the education sector has student retention as its highest priority, whereas for a loan agency, it is securing repeat and new policy purchases. Chalking out these goals will lend a targeted approach to your CRM search.
2. Understanding Your Teams' Challenges
Your teams are the ones who will maximally use the CRM. Hence, you need to understand their specific challenges and concerns and accordingly find a software that can tackle these. This will also increase the utilization of the CRM by your teams since they will be truly benefiting from it.
Let us take an example. Your teams are struggling with lead capture and management, due to which a lot of sales opportunities are falling through the cracks. Unaware of this, you invest in a CRM that specializes in deal management. The aspect that your team needs help in stays ignored, and they are left to use a software that can only benefit them partially. Instead, you can sit down with your teams, hear their concerns, and analyze the operations in which they are lagging. This will ensure that the best interests of your teams stay at the forefront, and you can choose an appropriate software.
3. Determining the Must-Have Features
The features included in your CRM are the crucial deciding factors for the outcome that the software can produce.
"Do I want my CRM to manage and nurture leads?"
"Should it automate workflows?"
"Is it important for my CRM to run and track campaigns?"
Such questions will help you determine the most important CRM features for your business. This stage can be linked to the primary stage of the framework, which is the identification of your business goals. Your goals will determine the various tasks that you need your CRM to perform. This will, in turn, determine the specific features that you need in a software. If yours is a business that has salespersons being out in the field a lot, field sales management and remote access are necessary features for you. Similarly, if majority of your leads are coming in from campaigns, you need efficient campaign management features. A concise list of the must-have features will help you make the best choice of software.
4. Allocating a Budget
Allocating a clear budget at the start of your search will help you narrow your options. You can eliminate the products going beyond your budget and focus only on the options that align with it. Once your CRM budget is fixed, you can accordingly plan budgets for your other requirements.
CRM costs are difficult to fully ascertain right from the get go. Only a handful of CRMs, such as Kylas, let you onboard unlimited users for a flat pricing. Most other CRMs come with per-user pricing, which means your costs will scale with every team member that you add. Hence, though a CRM might seem budget-friendly for 1-2 users, it can burn a hole in your pocket once more team members start using it. Thus, while considering the budget, you must think from the long-term perspective and factor in the growth of your teams.
These steps account for every aspect associated with your CRM adoption and utilization and thus it is a comprehensive strategy for you to follow.
---
Best CRM Tools of 2023 For Small Businesses
Since you're now aware of the benefits, characteristics, and process of finding the right CRM tools, let us jump right into exploring some of the best options available.
1. Kylas Sales CRM – Best for Ease of Use and Support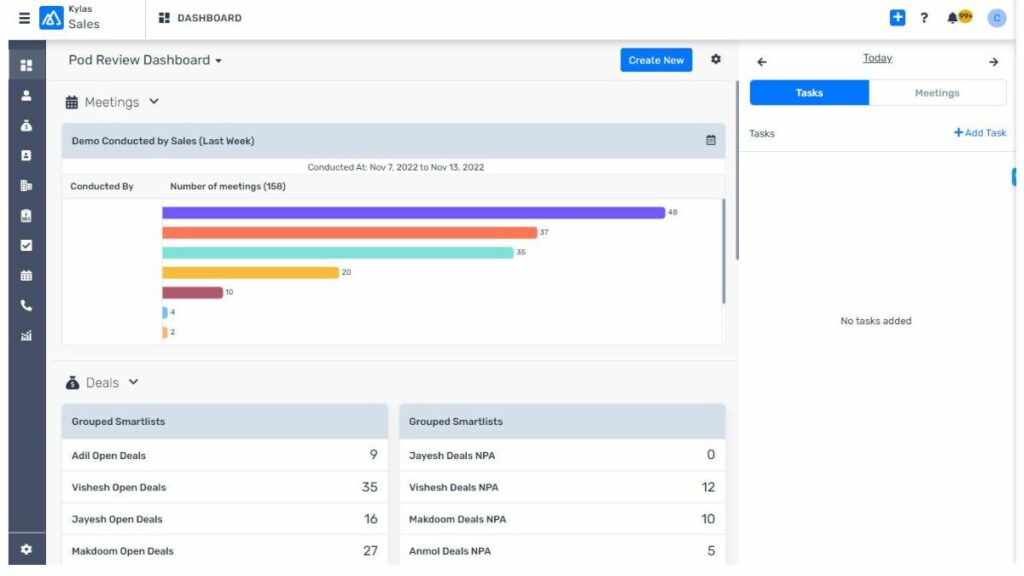 Kylas is the ideal software for businesses looking for a robust, user-friendly CRM that comes with top-notch customer support. With Kylas, you get a simplified but sophisticated enterprise-grade product that's specifically designed for growing businesses. Right from lead management to sales reporting and tracking, Kylas covers all bases.
The USP is the clean and intuitive interface that's easy to understand and navigate. There are no unnecessary features or complicated functionalities to slow you down. Instead, your teams can get their work done quickly and efficiently with Kylas. Kylas offers unlimited users and features at a flat cost, making it an affordable and scalable solution for your growing teams.
| | |
| --- | --- |
| Pros | Cons |
| Extremely affordable for 10+ Users | Limited features in the free version |
| Easy to use | Comes with limited marketing functionalities |
| Offers onboarding and training by inhouse CRM experts | |
| Robust Customer Support | |
| No Limits on Customization | |
| Give a free trial for 15 days | |
Pricing: Flat ₹12,999/ month – billed yearly
Onboarding, training and setup prices: ₹25,000
---
2. Hubspot – All-In-One CRM Solution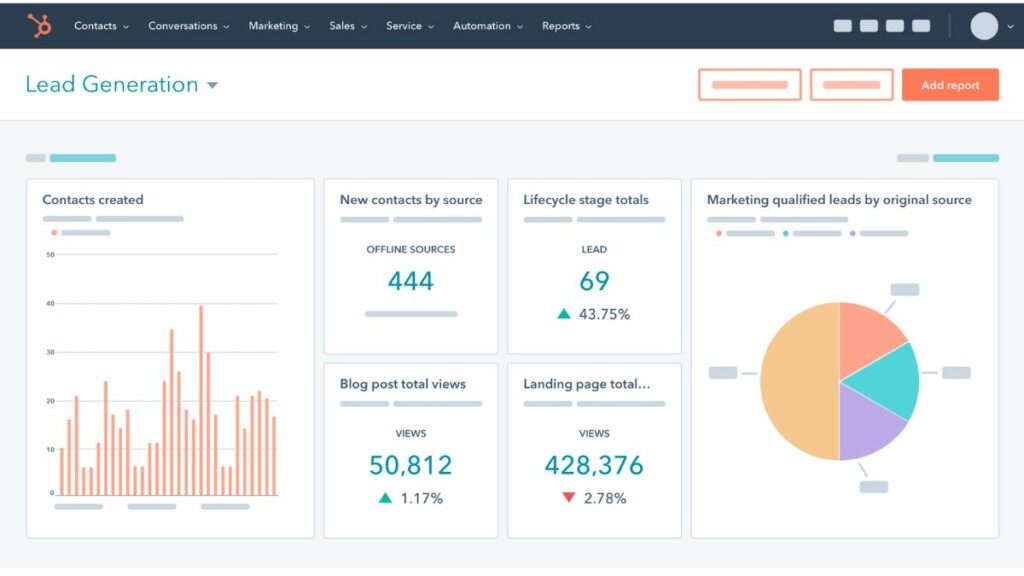 Hubspot has something to offer all your departments- right from sales, to marketing, to customer support. Businesses can streamline almost every aspect of their daily operations through this single platform. This expansive feature set, however, comes at a premium price. The lower-tiered plans are also more expensive than the price of average CRMs. The costs further increase due to the per-user pricing.
While it has catered to both small and large businesses by having varied pricing plans, most of the features are reserved only for the higher-priced plans. Hubspot's biggest USP of being a unified platform for multiple solutions becomes a disadvantage for interface simplicity. Growing businesses specifically need a solution that is easy to understand and use since they do not have the resources for high-level CRM training. Hubspot will hence fall short in this respect.
| | |
| --- | --- |
| Pros | Cons |
| Robust feature set for marketing & sales automation | Excessive features make the software complicated for growing businesses |
| Varied pricing plans to cater to growing businesses and enterprises | Per-user charges for all plans |
| Lower prices plans are affordable for small teams | Several features are eliminated in lower prices plans |
| Includes basic features like lead and contact management for its average-priced plan | Reserves crucial features like lead qualification, CRM customization etc. for high-priced plans |
Pricing (for Sales CRM): ₹37,000/month/billed yearly for 5 users OR ₹98,000/month/billed yearly for 10 users
Onboarding prices: Ranges from ₹82,000 to ₹2.47 Lac (depending on the plan)
---
3. Zoho Bigin- Most Cost-Effective for Small Teams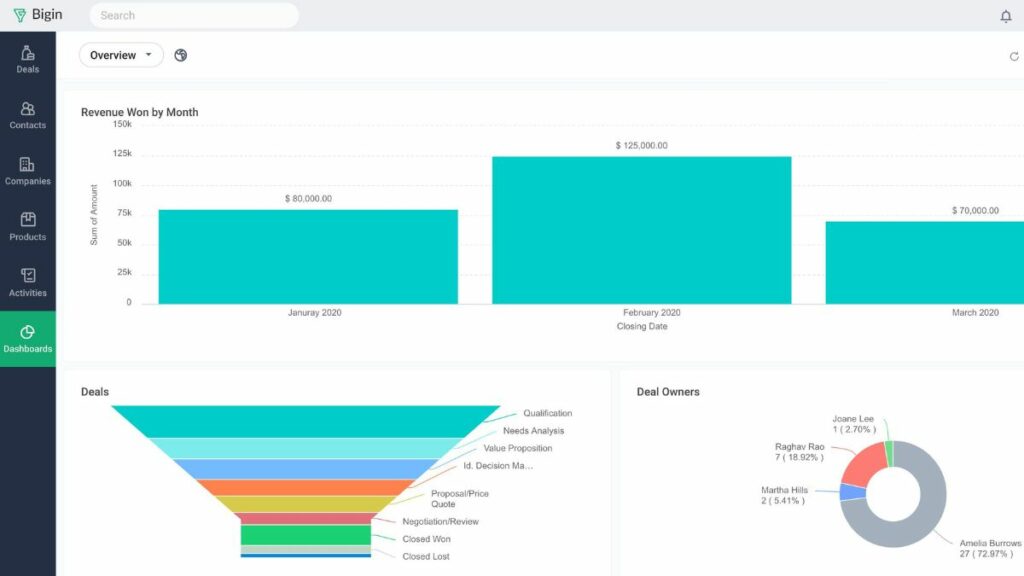 Bigin is a growing business-oriented sales tool offered by Zoho, with simplicity and functionality as its main USPs. It is highly compatible and suitable for mobile access, and it is well-suited for teams that are out in the field. If you wish to transition from spreadsheets but are not looking for an overtly complex CRM, Bigin is a great option for you. It is ideal for businesses with simple sales processes and tight budgets. The software has most features needed by growing businesses, but it lacks some crucial ones like report customization and automated lead routing.
Bigin is highly affordable for businesses with 1-5 users. But as the team grows, the costs keep rising. This limits the scalability of the software.
| | |
| --- | --- |
| Pros | Cons |
| Beginner-level CRM for small businesses moving towards tech adoption | Limited features & functionalities |
| Affordable pricing for small teams | Per user charges which limits your team's growth |
| Ease of use | No CRM training offered |
| Includes basic CRM features like workflow automation and pipeline management | Eliminates vital CRM features like sales forecasting and lead qualification |
Pricing: ₹400/user/month/billed yearly for Express Plan OR ₹720/user/month/billed yearly for Premier Plan
Onboarding prices: Approx. ₹41,000/-
---
4. Leadsquared- Most Compatible With Diverse Industries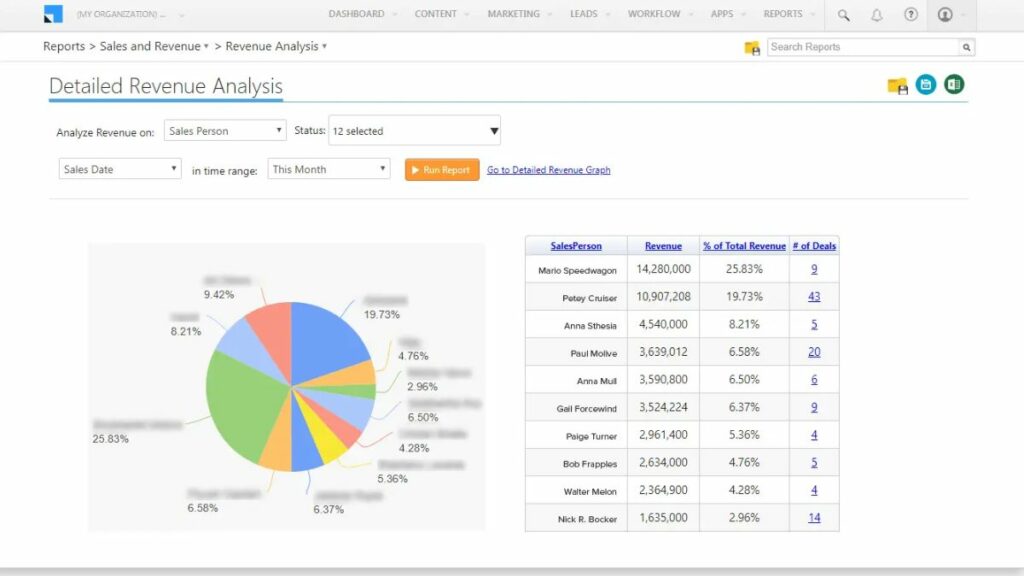 Leadsquared is a robust productivity suite with numerous functionalities for marketing, sales, and service. It can help you target, nurture, and convert more leads through features like lead management, email marketing, and data analytics. Marketing and sales processes can be automated, which is beneficial for growing businesses that want to streamline their operations and have limited resources.
While LeadSquared is a great tool that works well across industries, it has its downsides. It is expensive for small businesses compared to other CRM tools. Furthermore, it takes some time and training to get fully up to speed with the software. For small businesses with limited tech & IT support staff, this can be a major challenge.
| | |
| --- | --- |
| Pros | Cons |
| Varied pricing plans to cater to growing businesses and enterprises | Per-user charges for all plans |
| Lower prices plans are affordable for small teams | Several features are eliminated in lower prices plans |
| Includes basic features like lead and deal management for its average-priced plan | Reserves crucial features like pipeline customization, workflow automation etc. for high-priced plans |
| Many of the features and functionalities are quite easy to use. | Training and Onboarding is not done by the in-house team. |
Pricing (for Sales CRM): Ranges from ₹1250/user/month/billed yearly to ₹5000/user/month/billed yearly
Onboarding prices: This varies and is usually 50k and above
---
5. Pipedrive- Best Deal-Driven CRM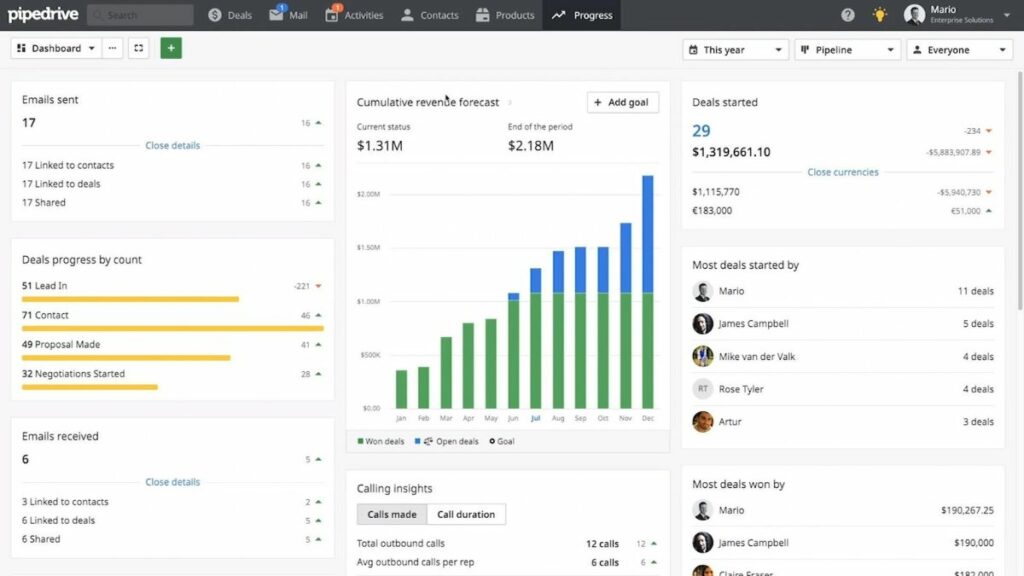 Pipedrive is a sales-centric CRM for growing businesses and enterprises. The simple UI, feature set, and easy integrations set apart this software. It has 4 pricing plans to accommodate businesses of all sizes. However, you will be charged on the number of users licenses. You must pay an additional fee every month for every user added to your team. Besides, the lower-tier plans have limited features and capabilities.  
Pipedrive's rich feature set assists your marketing and sales teams. However, the interface is complicated for novice CRM users. Your teams will hence need considerable time and training to familiarize themselves with the software.
| | |
| --- | --- |
| Pros | Cons |
| Marketing & sales automation in one platform. | Too many features make the software complicated for growing businesses |
| Varied pricing plans to cater to growing businesses and enterprises | Per-user charges for all plans |
| Lower pricing plans are affordable for small businesses and teams | Several features are eliminated in lower prices plans |
| Includes CRM features like lead and deal management for its average-priced plan | Reserves features like custom reports, custom fields etc. for high-priced plans |
Pricing: Ranges from ₹815/user/month/billed yearly to ₹4,932/user/month/billed yearly
Onboarding prices: Ranges from ₹1.77 Lac to ₹11.73 Lac (depending on the plan)
---
6. Less Annoying CRM- Easiest to Use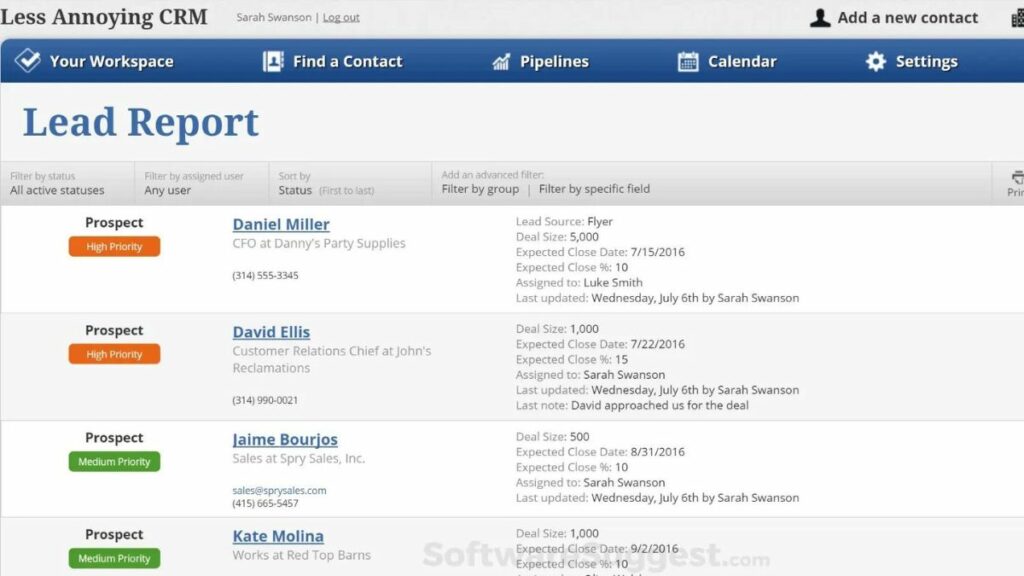 Staying true to its name, this tool is the 'less annoying' option for small businesses starting with tech adoption due to its highly simplified interface and usage. It has all the features needed for daily growing business operations but falls short in providing advanced automation capabilities.
Less Annoying CRM has an all-inclusive, single-price package for all features ranging from customer management to pipeline tracking. However, it charges for every new user in the account. It is cost-effective for 3-5 users, but the costs keep increasing as your team expands. Besides, it does not cater to onboarding and only provides material for you to set up the software yourself. This can be a problem for small businesses that require all the help they can get while onboarding the CRM.
| | |
| --- | --- |
| Pros | Cons |
| Affordable for small teams | Per-user charges |
| Easy to use | Comes with limited automation functionalities |
| Product trial for 30 days | No free version offered |
| Robust Customer Support | |
| No Limits on Customization | |
Pricing: Approx. ₹1,226/user/month/
Onboarding prices: No in-house onboarding is available
---
Ending Note
The CRM tools mentioned here all come with their own strengths and drawbacks. All you need to do is determine the outcome you expect from your CRM and find the software that is most likely to produce that outcome. Once you find the right product, it can do wonders for your business and help you achieve maximum growth in your sales and revenue.
Kylas is a sales-centric CRM that has been designed to help growing businesses scale. Its robust feature set can strengthen your sales process and optimize your overall operations.
Start 15-day Free Trial