According to you, what is the most challenging part of the sales process? Is it finding prospects? Or is it closing deals? Well, for the majority of salespeople, qualifying leads is the most difficult part of the sales process. When you have multiple leads coming in every other minute, this may not seem like a big deal. But this is exactly how wrongly you manage your sales funnel.
At the bottom of your pipeline, you will have too many prospects that don't fit your basic definition of a 'target customer'. 50% of the prospects aren't a good fit for your business. This becomes a reason why 30% of leads marketers send to their salespeople are invalid. Now you can imagine how many of these leads will convert into paying customers.
Should you sell to a particular prospect?
How close do they seem to make a buying decision?
Can your product or service help them with their

pain points

?
Only after you have found answers to these questions, it would be worth investing your time and effort into trying to sell to that particular prospect. With the help of marketing automation software, sellers can increase qualified leads by around 451%
Automate a variety of routine tasks and focus on what matters the most with Kylas! Minimize manual errors, save time and streamline your sales flow.
---
What Do You Mean by Prospect Qualification?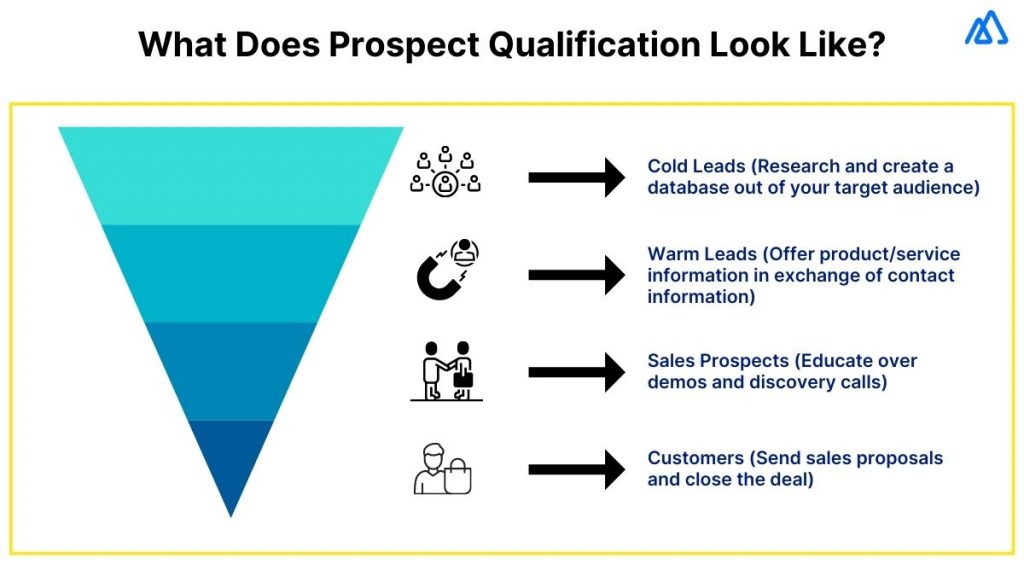 In simple terms, prospect qualification is the process of determining whether a prospect is a right fit for your business or not. It requires marketers to evaluate a lead against their ideal customer profile before sending it to the sales team. By prioritizing selling to qualified leads, your team can save a lot of time and close more deals.
Prospect qualification usually takes place during the first sales call or the discovery call. This is the time when your team must ask the maximum questions from the customer to gather maximum information about their needs, pain points, budget, and the solution they are looking for.
If a team is not following a well-defined sales qualification process, they will end up making thousands of calls in a day by closing just one or two deals by the end of the day. 67% of lost sales are a result of sales reps not using sales qualification methods before taking prospects through the sales funnel.
It's essential for your sales reps to know your target customer so that they don't make unnecessary, time-taking qualifications mistakes. By focusing on the wrong leads, your salespeople will allow great leads to slip through their fingers and end up giving business to your competitors.
---
Why Should You Qualify Sales Prospects?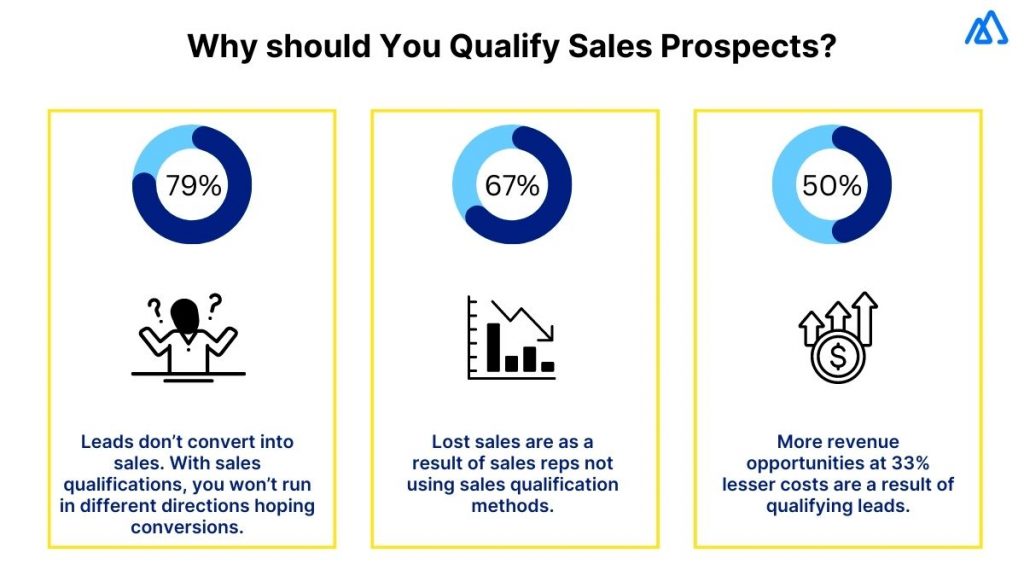 It may look a little tedious but it's crucial to qualify sales prospects correctly for a number of reasons.
1. Save Time
Everyone to shows interest in your product or services doesn't have to be the right customer for your business. Some of them who are just inquiring to get knowledge may end up wasting your time in the long run. By asking relevant questions, you can know the prospect's budget, their role in decision-making, and which of the issues your product or service can solve. It ensures that most of your team's time is utilized in catering to the right fits only.
2. Focus on the Right Segment of Prospects
When a customer leaves, try to understand their reason for doing so. This will reduce your chance of making the same mistake again. Having enough data and prospects passing through the door helps you stitch together why customers are leaving. This will help you improve your process, cut out time-wasting prospects, and tighten up your sales process. When you focus on the right segment of prospects, you end up making better sales.
3. Offer a Personalized Selling Experience
When your team has a smaller segment of prospects to take care of, your team will also be able to spend more time on each one of them. By understanding customer issues and pain points, they will be able to cater to them in a better way. 49% of buyers have made impulse purchases after receiving a more personalized experience.
4. Find the Ideal Customer
When you qualify buyers on the basis of your discovery call, you will onboard only the right kind of prospects that can derive value from your product or service. They will help your team take a step ahead of small wins and pave the way toward long-term profitability. As per Harvard Business Review, 68% of sales professionals agree that "more information generally helps customers make better decisions."
Sales CRMs like Kylas have robust lead management functions help you keep track of all the incoming leads depending on your sales process. This can help your team qualify leads and get them through the sales process smoothly.
This gives rise to an important question, "How to Identify the Right Prospects?". Let's dig a little deeper into how to define and qualify sales prospects, and make the most of incoming leads.
---
How to Qualify Sales Prospects?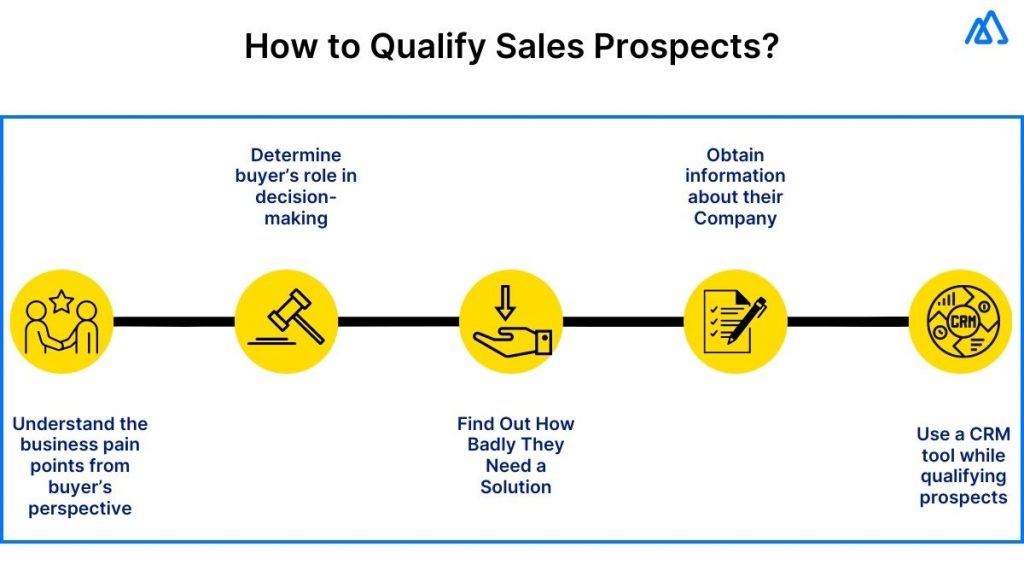 Most sales reps get caught up chasing every lead that comes their way because of the constant pressure of hitting their targets. But not all prospects are created equal, the sales qualification process must act as a filter for your team to move in the right direction.
So, here are 5 sure-shot ways that can help you qualify prospects for your business. If they have these characteristics, there is no way you are losing them.
1. Determine How Aware They Are of Their Pain Points
For a prospect to be qualified, they must have a need that they are aware of. If they have no idea of their problem, how will you be able to convince them that you have a solution for their pain points? Your team doesn't have to travel down such a dead-end road and avoid getting too involved in such leads.
Your ideal prospect may not know what the solution to their problem is but they should at least know the issue their business is facing. During the initial conversations, try to ask questions and educate them a little on the problem. By sparking a fire, you may cause full-blown interest in your business. If they don't seem to be biting after talking about their problem, look for some other prospect. There's no point in wasting your time.
2. Check if They Are Authorized to Make a Decision
It's no less than a frustrating experience to waste time and effort on prospects who don't have the authority to make a decision. After spending days and hours presenting their solution, no one wants to hear "I'll have to run it by my manager". Your reps must quickly determine if they are dealing with a decision-maker or not.
Let your reps ask the prospects about the decision-makers early in the conversation. Questions like "Who else, other than you, of course, will be involved in the buying decision?" and "Could you describe the decision-making process of your organization?" can help you filter out leads with ease. Once your salesperson knows if they are talking to the decision-maker, they will personalize their pitch accordingly.
3. Find Out How Badly They Need a Solution
Just because a prospect knows about the issue his company is facing, it doesn't mean that they will be in a hurry to resolve the issue. Now that your reps have a target to hit, they would want to only deal with prospects who have an urgent need for your solution. Coach your sales team to ask open-ended questions to know if the prospect has an established timeline.
If the prospects have a need but are in no hurry to buy a solution from you, don't overlook them completely. Set up a meeting with them in the future or hand over the meeting back to the marketing team to nurture until the time is right. You can also consider asking them how soon they are looking to get their issue resolved.
4. Learn if They Trust Your Company
Be it the media or the tactics used by salespeople in the past, salespeople don't have a very good market reputation. This is why your salespeople will have to work hard to build trust before they strike the iron. No matter what, the potential customer must trust the organization and the salesperson to be fully qualified. 95% of consumers read online reviews before visiting a business.
You have to woo your customers and listen to them before you sell to them. While talking to the prospect, the entire conversation must revolve around your customer. Your reps must ask questions about their business to show that they are interested and willing to help them with their needs. Develop trust from the beginning of your conversation and they will want to discuss more with you.
5. See How Willing They Are to Listen to You
A prospect who is in need of your advice will give importance to everything you say. This is surely one of the easiest characteristics of a qualified prospect to recognize. Such an interested prospect will also follow up with questions.
Also, make sure that you tell your salespeople that a lot of people may be willing to talk to them and discuss their issues. But it doesn't mean that they are the right prospect you are looking for. So, make sure that the lead ticks the maximum criteria before your reps spend too much time on them.
---
Most Common Prospect Qualification Mistakes to Avoid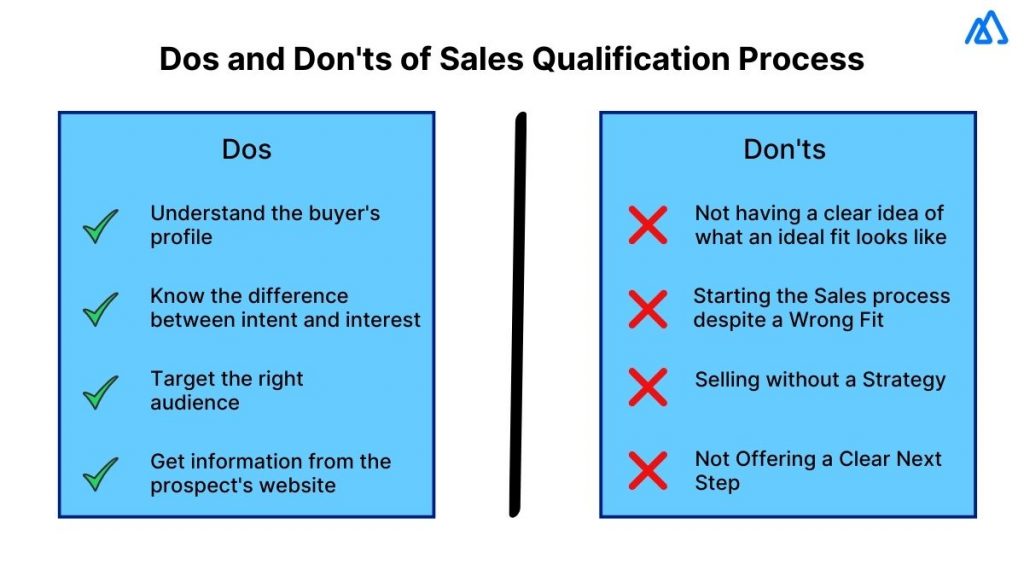 Ideally, your sales reps should follow the process you have created for "how to qualify sales prospects" and close more deals. But it doesn't always go as planned. There can always be some issues and mistakes that can hurt your sales to some extent.
So, let's take a look at the most common prospect qualification mistakes that your sales reps should avoid.
1. Unaware of What an Ideal Fit Looks Like
Nearly every organization has a clear criterion of what industry, size, and type of company they are trying to sell their solution to. But not many of them truly define the characteristics of the ideal customer they are looking for. Without having an idea of which characteristics to look for the likelihood of a successful sale, not many sales close. Make sure that your salespeople are aware of the clear definition of what a qualified sales prospect looks like. Educate your reps well so that they can easily spot the right prospects for your business.
2. Chasing the Wrong Audience
In any sales qualification process, marketing plays a vital role. If the marketing campaigns are missing the right group of people, there will obviously be a lot of useless leads that will waste the sales team's time and effort. No amount of effort will turn them into your customers. While designing marketing campaigns, sales managers must make sure that only the right kind of audience is being contacted.
3. Starting the Sales Process Despite a Wrong Fit
In some organizations, salespeople are rewarded with activity-based incentives and they keep inflating their pipelines. They don't even bother to check if they are describing their product or service to the right audience or not. Oftentimes, they launch into the sales process with a prospect just to show that they are working. Some of such prospects may end up buying from you. But most of them will only waste your team's time and company's funds.
4. Selling Without a Strategy
Most salespeople want close more deals than their peers. This often rushes them into selling without a strategy. Some of them don't take enough time to understand a prospect's business and create a personalized pitch to sell their solution. All they care about is contacting a prospect before someone else runs away with them. They forget that if they are not prepared for a sale, the prospect will know that won't consider them. Encourage your sales reps to have goals, tools, and methods in place before they jump into qualifying sales leads.
5. Not Offering a Clear Next Step
Calls to action (CTAs) are not just for the marketing teams but also for the sales teams. Sales reps must be able to provide the prospects with clear next steps each time they connect with them. After the discovery call, your reps must ask prospects to schedule a demonstration. It's important to keep your reps engaged with your business so that you are the first name that strikes their minds when they need a solution.
---
Top Qualifying Questions to Ask Prospects
A list of validating questions should be an important part of your sales prospect qualifying process. This will enable the right conversations at the right time and collect valuable information from your prospects. By asking the right questions, your sales team would be able to identify the right prospects for your product or service.
Here we have compiled a few questions that will help your reps dig for the maximum information about your prospects for various stages of qualification.
What issues are you facing that triggered your decision to get a new product or service?
What was your experience with the last product or service you used?
How much budget have you kept for the solution you are looking for?
Who else other than you would be a part of the buying decision-making process?
How do you expect our solution to help you solve your problems?
Are you looking for a solution urgently or do you need more time to collect more details about the issue?
What is your bigger priority at the moment?
What Requirements or Deal-Breakers Are There for Working Together?
How soon do you want to see the results?
How do you measure success?
You can add as many questions as you want as per your product or service and the customer you are chasing. You may not be able the exact answers you are looking for in the first few tries. It would need a lot of tweaking to come up with the right questions.
---
Best Sales Qualification Frameworks You May Consider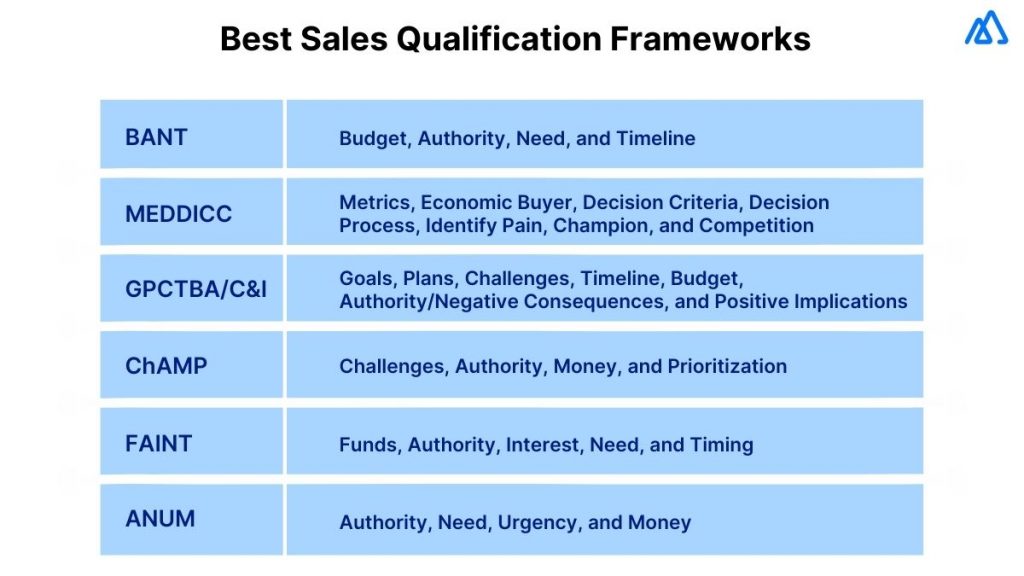 As the most important business conversations are done by salespeople, it's essential for them to know the right way to qualify and disqualify leads. If they happen to do it the right way they will be able to turn more leads into paying customers. And if not, your sales team will only be wasting its time on leads that have no-to-little chance to convert.
The good news is that you have several methodologies that your team can use to convert a lead into a customer. Let's take a look at the most popular lead qualification frameworks to choose from.
1. BANT
BANT stands for Budget, Authority, Need, and Timeline. The framework revolves around the buyer's persona and is all about the buyer's budget. In the Budget section, you are trying to establish if the prospect you are chasing can afford to buy your solution or not or how much money they are ready to spend. In Authority, your questions revolve around finding out who is the ultimate decision-maker by asking a prospect. By Need, you try to determine the problems the prospect wants to solve with your solution. Timeline helps you determine how soon the prospect wants to get the problem solved with your solution.
Check out this blog for a detailed explanation on BANT Qualification and its effectiveness for lead qualification.
2. MEDDICC
MEDDIC stands for Metrics, Economic Buyer, Decision Criteria, Decision Process, Identify Pain, Champion, and Competition. It's about long sales cycles and the value your product can add to a prospect's business. The framework is more about how much information your reps have about the prospect's business. The main purpose of this framework is to gather information about the leads and obtain information about their organization and decision-making structure.
3. GPCTBA/C&I
The framework stands for Goals, Plans, Challenges, Timeline, Budget, Authority/Negative Consequences, and Positive Implications. It is based on the idea that people become quite informed about different services and products in the market. So, they won't be impressed by just a simple intro to your business. This is why GPCTBA/C&I requires your sales reps to add value while sharing the product or service information. It's like putting your reps in an advisory role to gather as much information about the prospect as they can, including their business model, their goals, and how your product or service can help them.
4. ChAMP
ChAMP stands for Challenges, Authority, Money, and Prioritization. The framework is based on the idea that sales reps must talk the right thing to the right people. Many even compare it to BANT as most of its stages are covered in BANT. It's just that in ChAMP, challenges preface the budget. It establishes that sales reps can qualify prospects more accurately and help the prospects by addressing their challenges. The reps need to obtain a lot of information about the prospects to develop a better understanding of a long-term relationship.
New-age buyers expect brands to understand their problems and tailor solutions accordingly. Is ChAMP hence the ideal qualification framework for these evolved buyers? Click here to learn the nuances and benefits of ChAMP for sales growth.
5. FAINT
FAINT stands for Funds, Authority, Interest, Need, and Timing. The sales qualification framework is meant to push leads to understand the product or the service properly while making a decision. It is meant to improve BANT which doesn't include unplanned purchases. This lets sales reps focus on the prospects that can afford your solution even if they haven't set a budget aside for your product or service. It also includes the interest section to focus on making the buyer interested in your product or service to achieve better quality.
6. ANUM
ANUM stands for Authority, Need, Urgency, and Money. It's more of a shuffled version of BANT that puts authority as the main criterion to qualify a prospect than budget. It ensures that your reps are speaking to the right person so that they don't waste their time chasing the dead end. It's best suited for an organization with a complex decision-making hierarchy and hence, can help your team save time and effort. The plus point of this framework is that it ensures that you are moving in the right direction.
---
Conclusion
With the right sales qualification process, any seller would be able to maximize his/her efforts. How capable your team is at qualifying the right prospects for your business can make or break a deal.
If you think you don't have the right tools to achieve better sales success, or you're spending too much time on administration, Kylas is your best bet to simplify your sales process. Schedule a demo now!
Start 15-day Free Trial