Whether you operate in B2B or B2C, reaching your sales targets takes humongous efforts. Sales reps work through various stages of a sales pipeline day in and out to close a deal.
Now, you may want to ask what a sales pipeline is. If you go by the textbook definition, a sales pipeline is a tool that helps you visualize the specific sequence of actions your sales team takes to convert leads. Visual aid like this allows your sales reps to remain organized and focused on selling at every stage.
However, for that to happen, you must be well-versed in all the sales pipeline stages.
---
7 Important Stages of the Sales Pipeline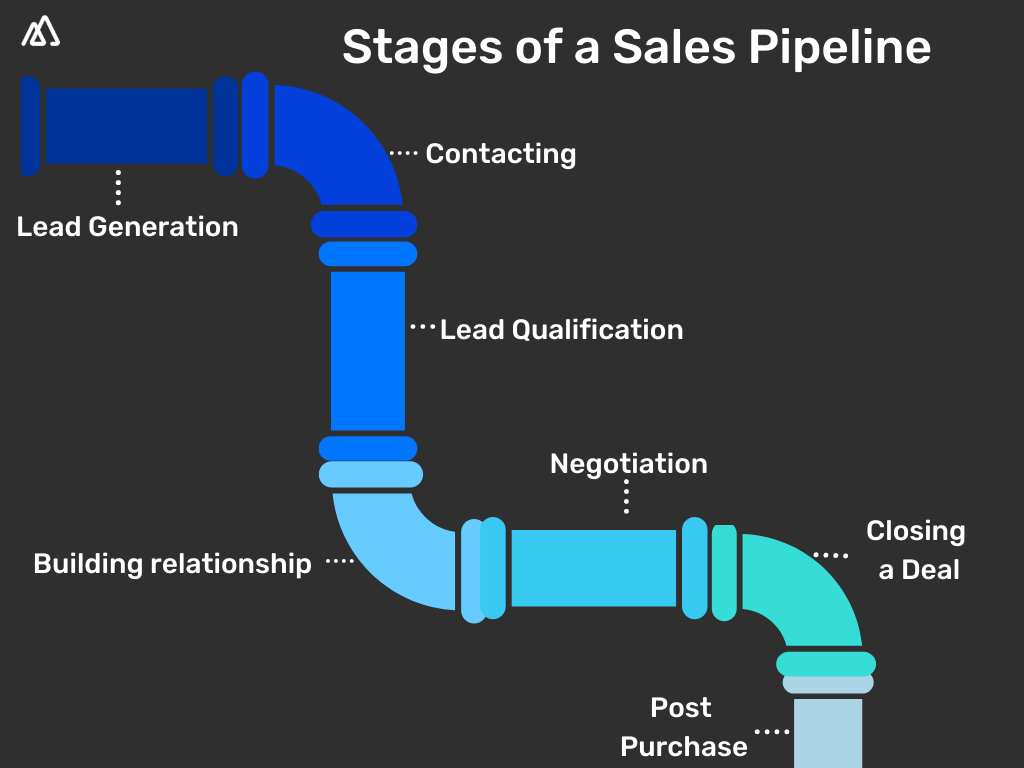 Multiple stages could pop up in sales pipelines if you have a B2B sales process.   
Hence to make a simple representation of the pipeline, you can customize these seven sales steps to meet the needs of your small business. Plus, the sequence of stages you can include will depend on your niche and your strategies for lead generation and deal conversion.   
Remember, no one-size-fits-all sales pipeline structure can be applied uniformly to every industry. You will always have to customize the stages per your business's requirements.   
One of the smartest ways to decide when you should be pushing a deal through your pipeline is by setting the series of activities that need to be completed or requirements that need to be fulfilled, at every stage of your sales cycle.  
1. Lead Generation or Incoming
Most businesses use multiple ways to generate leads – including paid and non-paid campaigns.
Lead generation is the process of attracting prospects to your business and using various strategies to increase their interest through nurturing. The end goal- converting them into a customer.
2. Initiating Contact or Contacting
In this pipeline stage, the salesperson tries to contact or contact the lead to get their business requirements. This stage helps you plan your business services concerning the lead's needs. 
3. Lead Qualification or Qualifying
This is an important step in the sales pipeline stages. Here, the salesperson sees an opportunity or 'potential to convert' with a customer. This is recorded in the pipeline stage and the next steps are taken cautiously in the direction of closing a deal successfully.
4. Schedule Meetings or Demo/ Building relationships
After your initial conversation and requirements gathering, if the lead is convinced of your product features, a demo needs to be scheduled to give the customer a walkthrough of your product.
5. Negotiation
This is the stage when the lead has shown interest in buying your product and you both now arrive at a stage where you can negotiate on price, support services, terms, and other conditions to make a profitable sale. Once this is finalized, you can submit your proposal. 
6. Closing the Deal or Closing
This is almost the final stage in your sales process, where you get the desired outcome of your deal. Once the dealing or the final discussion has been done between you and the prospect, the sales manager can mark the deal as won or lost. In some cases, you may find customers who are not yet ready to buy. In that case, these particular customers can be marked separately for nurturing and can be traced back again.
7. Post-Purchase
Your sales reps should invest time in monitoring the onboarding process, in short, the account's progress. At a convenient time, you can even cross-sell existing clients on new services and upsell them on newly added premium solutions. If you see your contract getting expired, you can explore various renewal options with them. You can also ask for referrals from your most satisfied clients and have a new bucket of leads.
---
To leverage the sales pipeline, businesses need to ace Sales Pipeline Management, which means managing every pipeline stage and tracking every sales opportunity. However, this is not as simple as it looks.
Sales Pipeline Management– What it is? Why Should You Care?
To fully understand pipeline management, let us first see how it helps a salesperson.
Sales Pipeline Management allows sales teams to focus on the predefined set of actions or activities that need to occur to help the prospect complete the purchasing process.
As each sales pipeline stage is completed, the lead or deal moves to the next stage. This allows sales reps to track the status of every ongoing deal, track and eventually evaluate the relevant activities. Those activities may include cold calling/ emailing new leads, setting up tasks or reminders to meet new prospects.  
A well-managed pipeline will not only give you precise insights into your sales team performance but also exactly where show you the exact areas where improvements can be made.
A sales pipeline gives you a visual representation of opportunities that exist at different stages of your sales process, along with the number of deals and their value.
Using a sales pipeline helps your sales team get meaningful insights on their prospects to help them understand which deals to focus on, which activity demands their greater attention, and forecast the profits for the coming months.
The absence of a well-defined sales pipeline can put you at risk of missing important leads and converting them into valuable customers.
Modern pipeline management systems like CRMs can help your sales team visualize the number of open leads & deals, their status, expected sales, and more through a visual sales pipeline. If you too are on the lookout for a pipeline management tool for your sales team you can sign up here for a free CRM trial.
---
Advantages of Sales Pipeline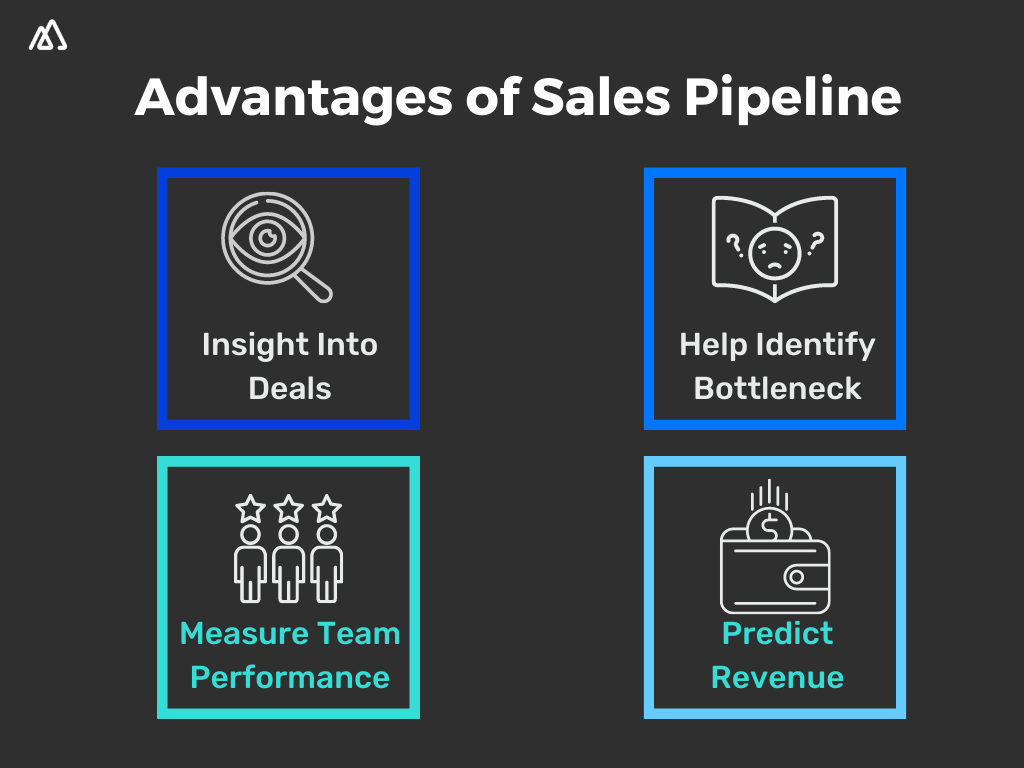 1. Insight Into Deals
With a well-defined sales pipeline, you can get meaningful and strategic insights of every lead or deal generated, time is taken to convert, their requirements etc. In other words, it helps sales reps better understand and evaluate why some sales deals failed while others succeeded.
2. Helps Identifying Bottlenecks
Waiting for a lead to convert into a profitable deal can be very frustrating. Pipelines help sales managers and sales reps identify bottlenecks in their sales cycle, and work on the weak points.
3. Measure Team Performance
A sales pipeline gives you clarity into the overall performance of each sales reps in your team. This indicative figure can help you monitor which salesperson is close to completing his assigned sales target and prepare for any potential sales slumps.
4. Predict Revenue
Through a sales pipeline, you can get an approximate calculation of the revenue that you will be able to generate from a particular customer/ deal. This data and information are used by the sales managers and leaders to predict monthly/ quarterly or annual revenue generations.
---
What Are the 5 Metrics to Include in Your Sales Pipeline?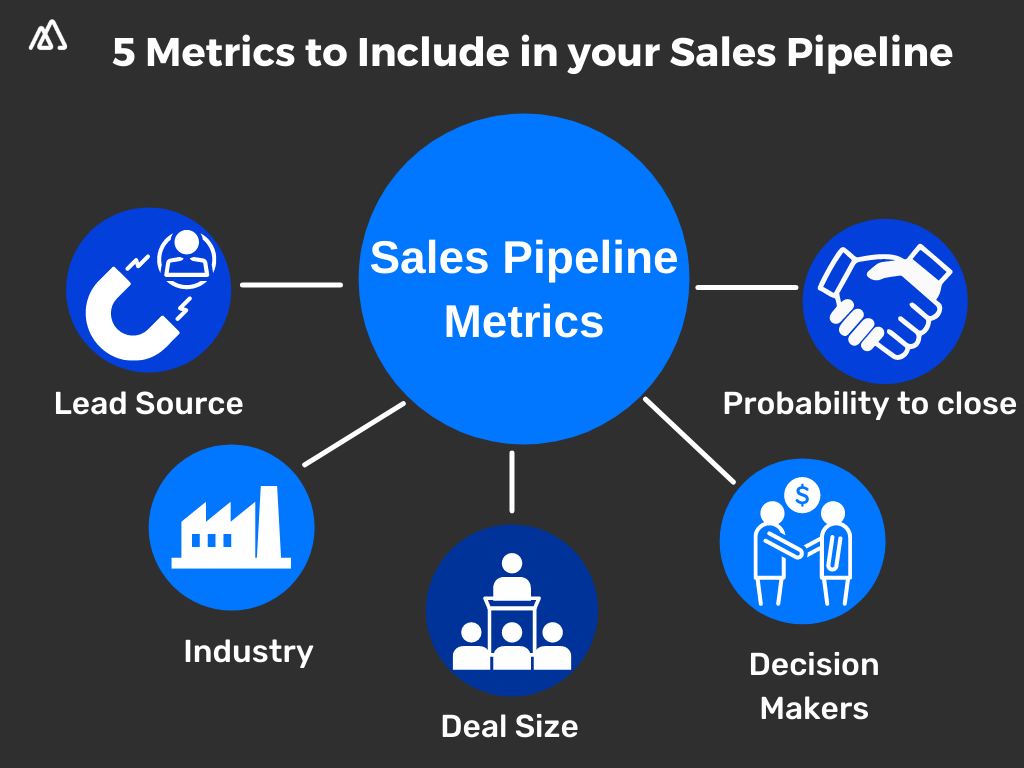 Make sure your sales pipeline is covering all the basics such as separate sales pipeline stages and also important metrics, such as:
1. Source of Leads
Examine and record how your prospects have learnt about your business or services. The sources could include digital ads, databases, social media marketing, email campaigns, customer referrals, or any other marketing and sales methods.
2. Industry
Your product may work better in certain industries as compared to the others. That said, you can use this insight to target a set of particular buyers from those industries.
3. Decision-makers Involved in the Sales
It is a good practice to keep key decision-makers or leaders as contacts from your prospective clients. The more the better! This way you can approach them separately using different strategies.
4. Deal Size
Always segment your buyers and personalize your pitches according to the amount they are willing to spend on your product.
5. Probability to Close
Chances are not all the high-value leads will convert to winning, profitable deals.
Hence, it is even more essential to keep and maintain an estimation of the likelihood of each lead converting into a client, based on communications and interactions with them, their current stage in the pipeline, and other conditions.
What Are the Steps to Creating Your Sales Pipeline?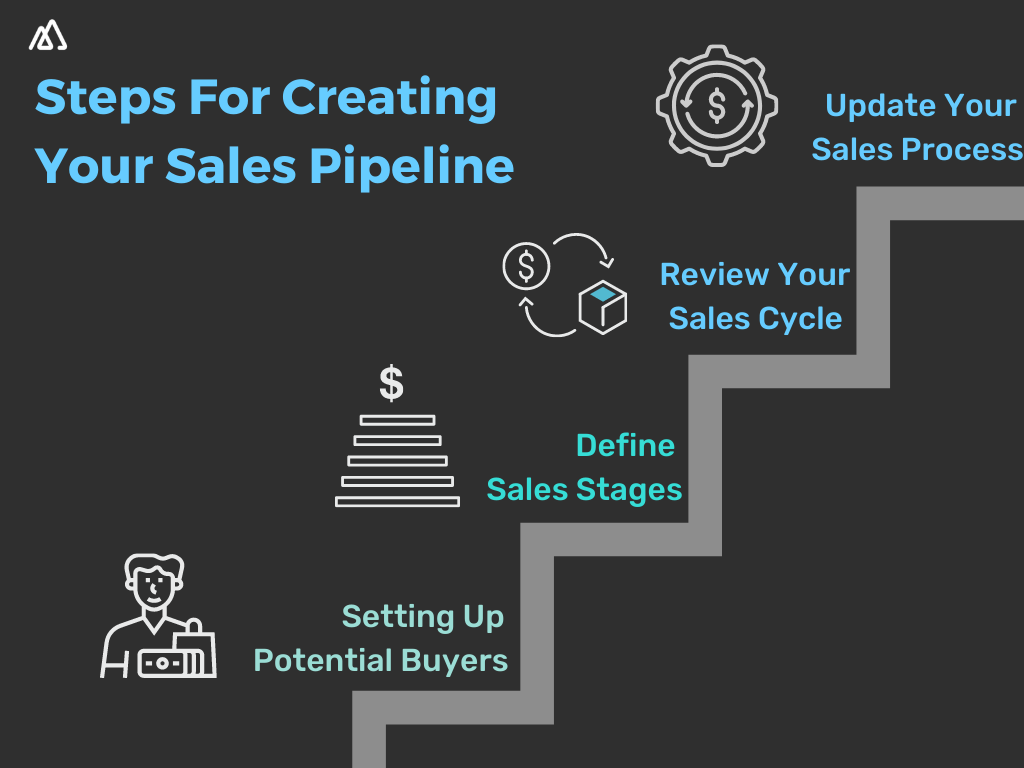 1. Setting Up Potential Buyers
First and foremost, import the data of all your potential customers into your sales pipeline, and assign them different deal stages, depending on where they are currently placed in their buying journey.
Identifying the stages your deals are in will help you in segmenting possibilities and opportunities for each stage. Use dedicated CRM software to set up and categorize your prospects to better manage your interactions with them.
For example, if a prospect has asked for a demo of your product, then the lead would be in the 'schedule demo' or 'contacting' stage.
Similarly, if a lead has shown interest to use or buy your product, has attended the demo by your sales rep, in the process of discussing the terms and conditions of the proposal, then you can put the lead in the 'closing the deal stage' of your sales pipeline.
2. Define Sales Stages
Spread out the activities of your buyer's journey in your sales process as clear and defined stages and allocate each prospect to one of them.
When doing this, understand your customer's perspective. No two buyers are the same and while sales activities may differ from customer to customer, assigning them at the start of every deal brings clarity to your sales team.
Sales activities like sending emails, connecting with the prospect over the call or creating content for any promotional emails are few examples for which you need to designate responsibilities to different teams.
3. Review Your Sales Cycle
Change the stages of your sales to accommodate any activity you find your sales team continuously engaging. Defining your sales cycle time will help you to decide the ideal sales pipeline size.
What are obvious signs that an interested prospect is going to move forward to the next stage in the pipeline?
Are there any common patterns among the buyers that indicate they're interested in purchasing your product, or what action by the sales rep has been most effective for conversion in that stage?
What is the number of leads or deals your pipeline should have for your sales team to reach your target for the month, quarter, or year?  
4. Update Your Sales Process
Review your sales processes regularly and check how the leads and deals move through your pipeline as they unfold. With time, the likelihood of converting and winning the deal reduces, often turning it into a lost deal. therefore, if you find a stagnant deal stuck in the pipeline for a long time, it's time to pay attention and nip it from the pipeline.
---
Final Thoughts
Your sales pipeline not only offers a practical view of the performance of your sales process but also answers questions such as, "How soon are we going to reach our target?" "How many deals are we going to convert this week?" and "Which part of our sales pipeline needs our attention?" Ultimately, it creates the foundation for you to convert prospects, leading to more sales.
While the ideal sales process for your business may change over time, the easiest way to power up your sales pipeline is with the help of a customized CRM system. According to a report, about 70% of salespeople say using the right CRM system is "very important" for closing deals.
Start 15-day Free Trial