Small businesses face various daily challenges, which can adversely affect their growth plans. Challenges such as-
Lack of trained resources
Limited funding opportunities
Cashflow problems
Difficulties in managing business complexity as they grow
Access to consultants (tech and business)
All business entities are not created equal. It is prudent that we identify and segregate businesses that have established themselves from businesses that aim to establish themselves.
Large-scale and established enterprises can weather storms much better than Growing Businesses as they enjoy the advantages of financial backing and access to high-quality resources like talent technology and consultants.
In addition, their brand equity carries a considerable advantage; it can reduce any sales team's efforts.
Unlike their bigger counterparts, Small and Growing Businesses are not presented with the same opportunities and resources. Plus, they often lack the time and resources to allow for any waste, especially in times of economic crisis.
Small B2B businesses that make grave mistakes and disadvantage themselves will invariably drive themselves into obscurity.
Small Business Sales Challenges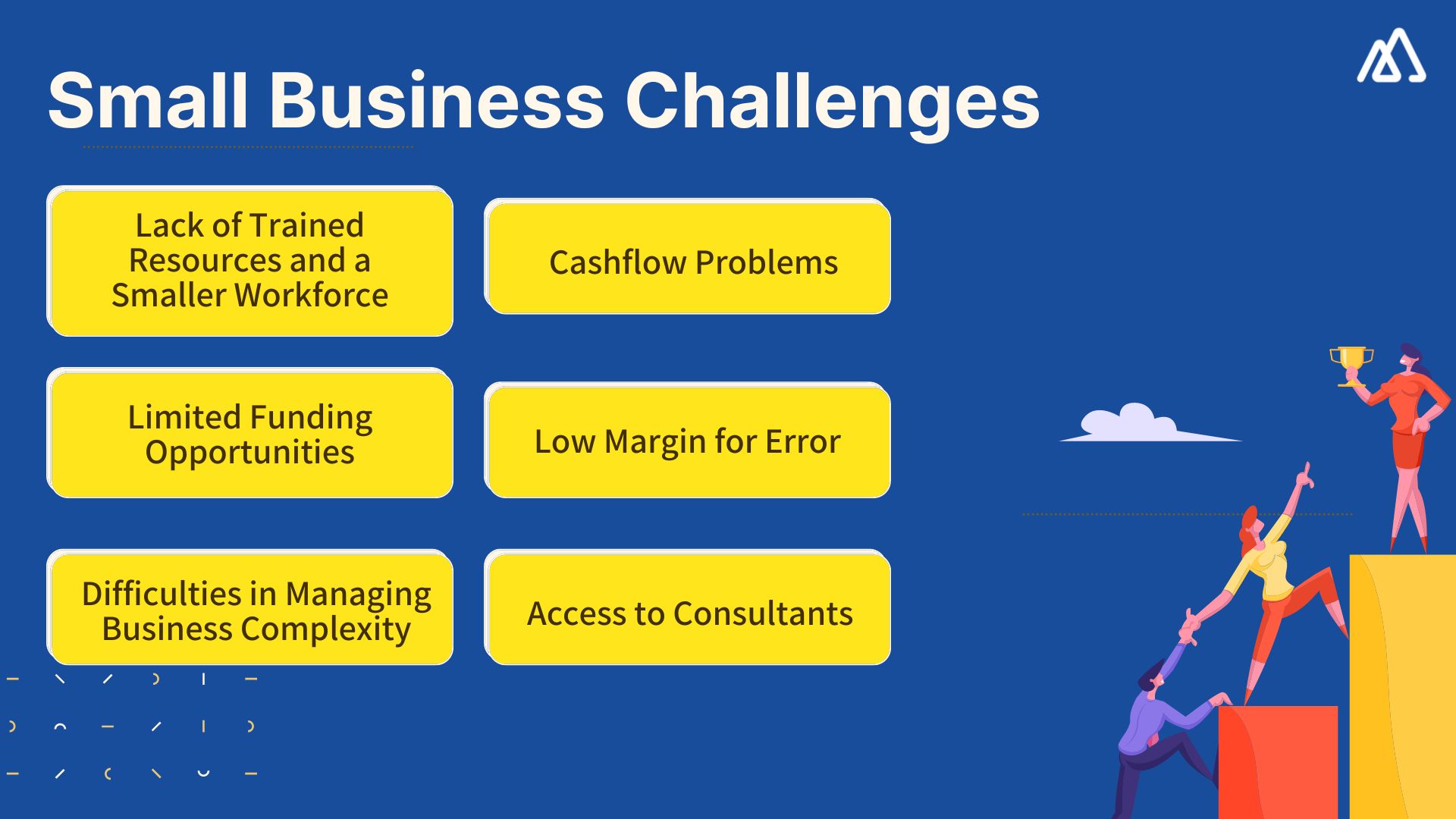 1. Lack of Trained Resources and a Smaller Workforce
Growing Businesses lack the resources to hire highly trained & experienced sales personnel to help set up sales processes efficiently. Moreover, sales managers do not have the time or the bandwidth to handhold each salesperson through these tools.
In such cases, sales managers and management may find themselves second-guessing decisions. The subsequent impact pours onto the sales team, which is self-defeating for a small business with a small workforce.
2. Limited Funding Opportunities
Small businesses possess little leeway in terms of funding. Finances are demarcated per function and need proper follow-through to avoid leaving any initiatives unfunded.
Small Businesses often invest in multiple tools to bring in more process efficiency and make up for the lack of trained resources. However, this doesn't always lead to the expected Return on Investments.
Once they realize that they are getting the results they expected, Growing businesses than invest in more tools to right the wrongs, which may stretch their capacity to the hilt.
In addition, missed deadlines and sales opportunities add to growing uncertainty over what to do in those situations.
3. Low Margin for Error
Considering their limited access to funding, Growing Businesses do not have the time to lay dormant. On the one hand, investing in the wrong technology can waste already limited capital, and on the other, it negatively affects sales teams and their performance.
Consider this- A Growing Business invests in CRM and experiences growth. As the organization gains traction, the CRM loses pace with growing sales requirements.
In such as case, you will undoubtedly face pushback from sales when they cannot meet targets.
An increase in lead acquisition and conversion prices is damaging in a competitive and uncertain market.
4. Cashflow Problems
It takes money to make money. Growing Businesses must keep revenue streams always open to ensure continuity and growth.
A sustained loss in regular revenue generation can force small businesses to acquire debt and, in the worst cases, declare bankruptcy and shut down businesses.
Growing Businesses must consider the ROI benefit of every single expense, including personnel and technology. Many businesses hire too much talent and invest in unnecessary technology, which can push profit reachability timelines even further.
5. Difficulties in Managing Business Complexity
Growing Businesses gather data such as leads, deals, and sales productivity, which becomes challenging to manage over a while. Business management becomes more complex as more decision-makers join in.
With too much data, salespersons also find it difficult to narrow down changing customer challenges and identify the proper messaging.
Such puzzles also increase the length of sales cycles, increasing the time taken to acquire a lead and convert them. Besides, time-consuming processes can cause prolonged delays in connecting with other buyers, leading to lost leads.
5. Access to Consultants
Hiring consultants to help with sales strategy can be difficult when you are disadvantaged by the lack of funds and high brand equity in the market.
Parallelly, the technology front also travels a similar course wherein the lack of technical guidance can lead to unwise investments and sunk costs.
Solution to Small Business Sales Challenges
To get onto and stay the course towards sustained growth, many Growing Businesses implement tools and technologies to help them streamline sales processes. While these tools are meant to help with sales process optimization, they only add more complexity to sales processes.
For all small business challenges they can identify with, they will need to invest in an ecosystem that enables the right blend of technology, expertise, and support.
Make up for the 'lack of trained resources and a smaller workforce' with a

Sales

CRM that offers product training and in-app sales motivation to help keep sales productivity high.
Solve the small business challenge of 'limited finances' with a comprehensive Sales CRM that encourages product adoption supported by an intelligent technology stack designed to scale.
Reduce 'errors' in sales processes with complete control over sales functions, supported by timely sales insights to help keep the cost per lead and conversion low.
Ease 'cashflow problems' by keeping revenue streams open with full control over sales with effective pipeline management. A comprehensive Sales CRM can shorten sales cycles, which can help shorten the time to start turning a profit.
Iron out 'difficulties in managing business complexity' with a full suite of sales functions for lead, contacts, and deals management, supported by features that offer collaboration and data access control so that all the right talent can access the correct information and insights.
Beat challenges relating to 'consultant hiring' for strategic guidance and technical support with access to in-house growth experts and an in-app ticketing system to keep the revenue stream running.
Today, your B2B customers are more cost-conscious, digitally enabled, and vigilant than ever.
Their attention to detail and requirements need Growing Businesses to reevaluate their sales processes and technology investments to ensure meeting customer needs.
As we go through volatile market conditions, Growing Businesses must match customer sophistication and maturity with sales effectiveness to offset small business challenges.
A comprehensive Growth Engine like Kylas can help your business match enterprise-like productivity and advantages by nullifying small business challenges that can limit business growth.
Start 15-day Free Trial