As per a Global Entrepreneurship Monitor report, there are around 582 million entrepreneurs on the earth making use of some kind of business tips and tricks to enhance their businesses. One of the reasons for the growth in the number of business start-ups has been the global pandemic. This population of small businesses adds up to 90% of all global companies as per World Bank.
It means that to survive in the race, you will need a business sense and not just a team of proficient employees. Setting up a business is not just about obtaining the necessary permits or licenses, it's about making your survival in the long run. In addition to this, you need good planning and organizational skills because you are not the only person in your company.
A lot of new business owners think that they are just a setup away from making money. But it is a lot more difficult than they think. To set up a business for long survival amidst neck-throat competition, every business owner needs to plan out all the necessary steps you need to achieve success.
As per stats published in 2019 by the Small Business Administration (SBA), about 20% of startups fail in the first year. There will always be some kind of roadblocks in your way and overlooking them would seem like an easier option. But these often become bigger issues if not taken care of well in time. For managing the daily, weekly, and monthly tasks, you need a system that helps you with the operations and saves you time that you can utilize to expand your business into new markets.
You can use a sales CRM like Kylas to manage the business operations and ensure smooth processes throughout all departments.
---
Best Business Tips and Tricks to Thrive your Small Business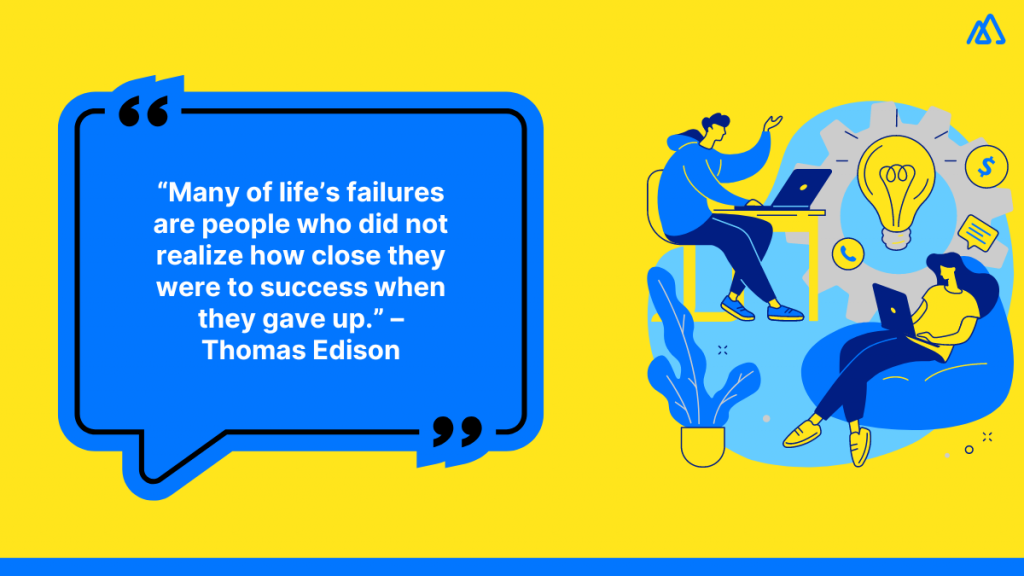 Several factors affect the success of a business. Having knowledge of those factors can help you rise through every situation and reach your goals. So, let's now take a look at a few proven business tips and tricks that will help your small business grow.
1. Get Organized
Staying organized has to be the first step in the direction of a successful business. You will be completing all your tasks and managing time to focus on every other thing that matters to your business. From creating a to-do list to recording every transaction you make, you have to consider doing everything that will help you stay on top of things to be done.
Once one task is completed, check it off to avoid clutter and keep all the things to be done in vision. Kylas CRM can help you with organizing your business stuff like setting deadlines, assigning tasks, and setting up meetings. Also, build plans for your future tasks like taking follow-ups from your prospects. Proper documentation can help you save time and stay organized for hassle-free work.
2. Define Clear KPIs
Carefully detailed market research can make a huge difference in how things go in your workplace. With concrete data about your customers, existing competition, targets to achieve, etc., you will be able to make informed decisions for your business. Concentrate on the four Ps- product, price, promotion, and place to build your plans for future steps.
Start with having information about the customer personas so that you have a good starting point and know where to begin. With business targets and research in hand, also consider what you expect from your business. While taking care of everyone in your organization, consider your mental peace and do only what feels right. Until you feel confident about your business, it's not going to be easy to stay on track with your goals.
3. Adopt Flexibility
Some businesses can change in accordance with the changing market conditions while some struggle to adapt to these changes. Depend on your data but know when the change is required so that you are not lagging in any way. 42% of small businesses fail due to a lack of demand. So, consider your customers' feedback and take them seriously. Don't take steps just because you are of a certain opinion.
For instance, when you conduct an interview with prospective customers and you get to know that your product is not well-received, be ready to change it in accordance with the customer's review. It's useless to cling to a business idea that won't float. If your current approach is not working for you, be ready to change your business model or price strategy. Even if it needs you to change your current website design, move to a more responsive design.
4. Be Creative
What someone did a few years won't get the same results today. This needs you to be constantly looking for ways to improve your business and outshine it. Be open to new ideas and different approaches from various sources so that you don't lag behind the competition. Don't stick to a single idea for too long and know when it's time to change it.
Keep reading influential articles and stay updated with what is happening in your field. The audiences are different across all platforms and you have to use different ways of marketing your brand. What you do on Instagram won't get an audience from TikTok. Cater to your audience and you will automatically become their favorite. Use different ways of telling them about your business and you will know.
5. Hire the Right Employees
This is surely the most obvious business trick that you would have ever come across but still the most important. Know one thing you can't master everything. You will have to hire experts from different fields so that you can overcome your obstacles. Take their input and feedback on different operations and occasions.
A clear onboarding strategy will help you find the right people for the job. When you know that you have the right people working for you, you won't try to do everything on your own and hence will save yourself from the issues that may arise when you try to do something that is beyond your capability. When you don't need a full-time staff or can't afford it, outsource from them and pay on an hourly basis.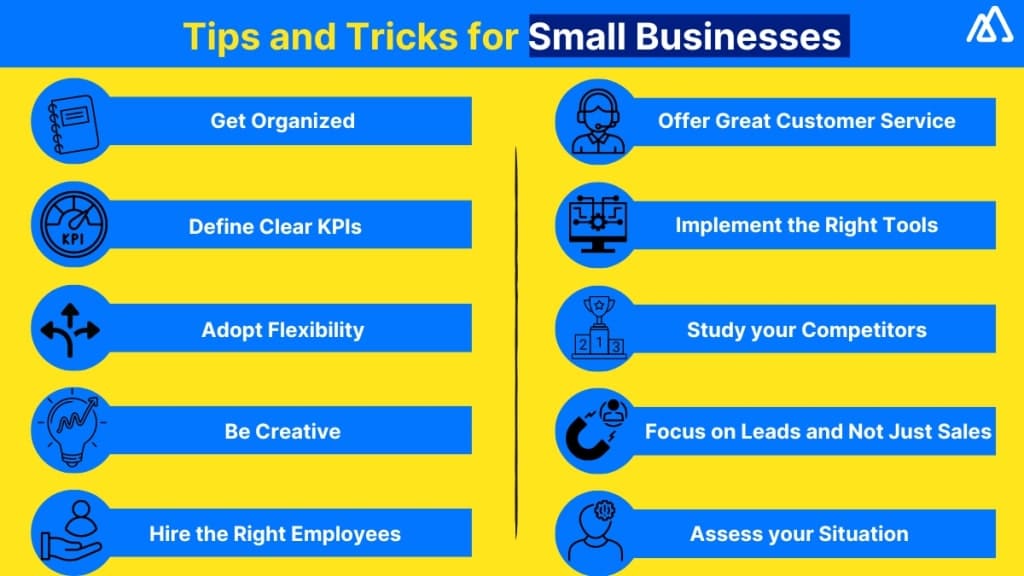 6. Offer Great Customer Service
Your customer knows about your service or product from you only. So, this requires you to be prompt, personalized, and friendly with your customer service. If needed, create a script for common issues so that you can reply with ease and professionalism. The language you use must be as per your overall brand voice.
In spite of knowing how important it is to provide great customer service, not all businesses are able to do that. If you are able to help your clients with their purchases, there are chances that they will come to you when they need your product or services instead of going to your competitors. Know one thing in the modern business world, great customer service is the differentiating factor between a successful and an unsuccessful business.
7. Implement the Right Tools
There is a plethora of tools, apps, and SaaS solutions that your business would ever need. But as a unique business, you will have to work to find the best tools for yourself. Because of the decreasing technology costs, every small business can have any set of tools they need for their functioning. But choosing the right ones is no less than any challenge.
Learn about different tools that are popular in the market and find out how those tools can make your work processes easier. It's better to go for a tool that performs a specific task over the one that does it all. Make sure that the tool you choose is scalable and can grow with your business. Buying a tool has to make your business operations easier at all times and not become useless after some time.
8. Study your Competitors
You may be competing with some other business but still, there will be a few things that they know and you don't. The exact opposite is also possible. By studying your competitors, you will be able to define your competitive edge and determine your weakness as per your rivals. Work on your digital marketing strategy and keep a check on their website and social media accounts.
Obtain information about their target audience and if there is any overlap with your customer base or not. Find out what they are doing that you aren't and how useful their tactics would prove for you. You don't have to do everything they are doing but when you know that you are missing a few things, you will automatically build a plan as per that and excel in your business.
9. Focus on Leads and Not Just Sales
There is no denying the fact that you want to enhance your business and generate more revenue. This calls for a well-built content marketing plan along with an optimized website from where your customers will get to know about your business. This will add value to your business and build customer trust.
Work on email follow-ups to let your customers know that you haven't forgotten them and are working for their benefit. By adding value to your customer's buying experience, you won't just have buyers for your brand but loyal leads that will choose you over others. Don't just list out the features but focus on the solutions that these get for the customers. Explain it to your customer in simple terms and offer genuine help.
10. Assess your Situation
Changes are compulsory, no doubt. But you can't just move ahead without getting a full understanding of the factors related to your business. Assess your current business practices, market trends, team collaboration, etc. to get a clearer picture of what you have been doing and what you need to improve about your business.
There are a few good tools available in the market that can help you in assessing your business in a better manner. SWOT analysis will help you identify your business strengths, weaknesses, opportunities, and threats. Benchmarking will help you measure your business's performance as per other similar businesses. With market research, you will obtain a lot of information about your business's market and identify customer demands.
Business success comes differently to all entrepreneurs depending on the type of business they run. It's necessary for them to set business goals that evolve with their business.
---
Best Tips on How to Grow your Business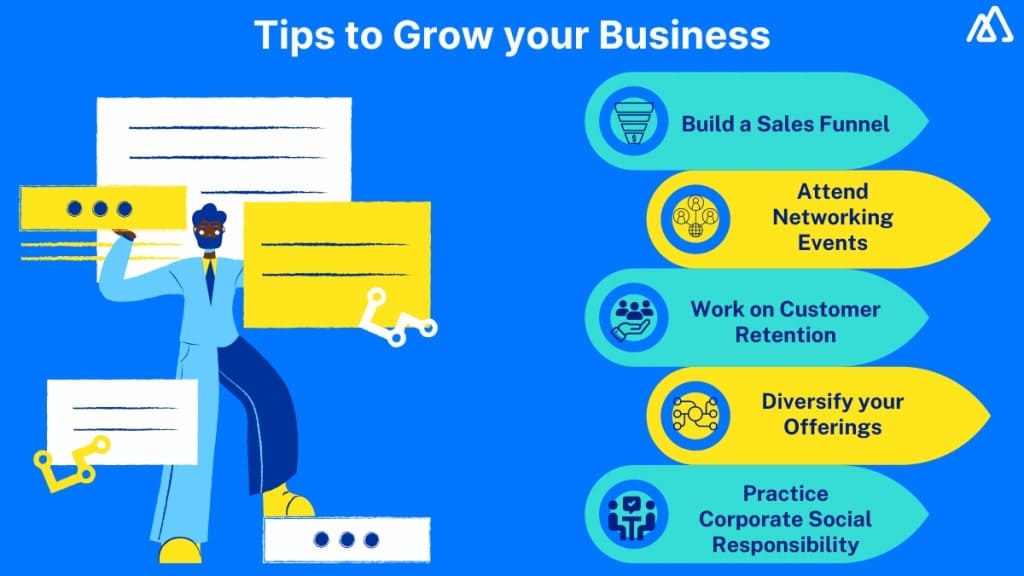 Increasing sales and generating more revenue has to be every business's primary goal regardless of its size and field. It's true that you will have to build your own business growth strategy but there are a few tips that can help with that. Let's take a look at them.
1. Build a Sales Funnel
Think of the sales funnel as your customer journey and you will know better. When they make their first move with your business by visiting your store or website, they are at the top of the funnel. When they buy your product or service, it means that they have successfully gone through the funnel.
As a business owner, it is your responsibility to make the move from the top of the funnel to the bottom easier and smoother for your customers to make a successful sale. This may require you to offer a discount or some other kind of offer.
2. Attend Networking Events
For any business, brand visibility is everything because you need new customers to grow your business. A good way of doing this is by participating in networking events. There will surely be some local organizations in your area that organize such events and can help you become a part of these events where you can spread the word about your business.
Try connecting with other business owners to determine what they have been doing and how successful they are. You may even put up a booth to promote your business. There are events that you can attend as a speaker to let people know about your industry.
3. Work on Customer Retention
Getting new customers for your business doesn't have to be your sole aim. The goal is to keep existing customers coming back. With every customer that comes back to your business, you are building brand loyalty that would automatically increase your sales. To increase customer retention, prioritize customer service.
Treat your customers right if you want them to treat your business right. Use a CRM like Kylas that will help you manage your relationships with both your existing and potential customers. With a customer loyalty program, you can reward your customers for supporting your business.
4. Diversify your Offerings
Once you have become successful at selling your products and services, the next step is to diversify your products and services. This can help you get more new customers. So, consider identifying opportunities for new products or services by performing market research. See what can you offer other than your main business.
You can also make additions to your products or services and may even offer them in different ways. For example, you can offer subscriptions or bundles. When you wish to expand your business, you have to think of doing something that you haven't done ever.
5. Practice Corporate Social Responsibility
We live in a world where people and businesses have their own values and they don't wish to work beyond them. This is why many people prefer working with a business that matches their values. Recognize the impact of your business on your community. Letting people know about the positive impact your business has can help your business grow.
For example, some people want to work with a business that is green as they know that you are serious about the health of the environment. You may also encourage your employees to give back to the communities they live in. Produce environmentally-friendly products and see their demand skyrocket.
Growing a small business is not easy and you have to take calculated risks in everything you do. While building a plan, make sure that you make accurate forecasts and update your procedures well in time.
---
Conclusion
It takes time for any business to grow and make money. But if you are willing to put in the hard work, nothing can stop you from achieving your dreams and goals. Do your research properly, build a business plan, and update along the way. Once you are on your way to success, stay focused and organized to keep growing your business.
If managing daily operations seem tough to you, you can use Kylas sales CRM to streamline all your work processes and show your team the way to success.
Start 15-day Free Trial