Since you are here, we know that you have a great product with your best resources invested in its promotion. You are probably looking for a way that can show you the way to make money on it. Technically, you want to make sales that will bring revenue to your company and sales management that will help your company survive for the longest.
Your sales team is the tip of the spear that breaks through to take your business to the next level. And honestly, it's the sales manager's job to ensure that the team is empowered, motivated, equipped with the right tools, and on the same track to reach the common goal. According to 29% of sales leaders, finding common ground is another way to win over a future client.
Sales management is directly equivalent to a lot of responsibility, management, processes, and techniques that are a part of any company's operations. Keep reading to dig deep into sales management and everything related to it.
---
What Is Sales Management?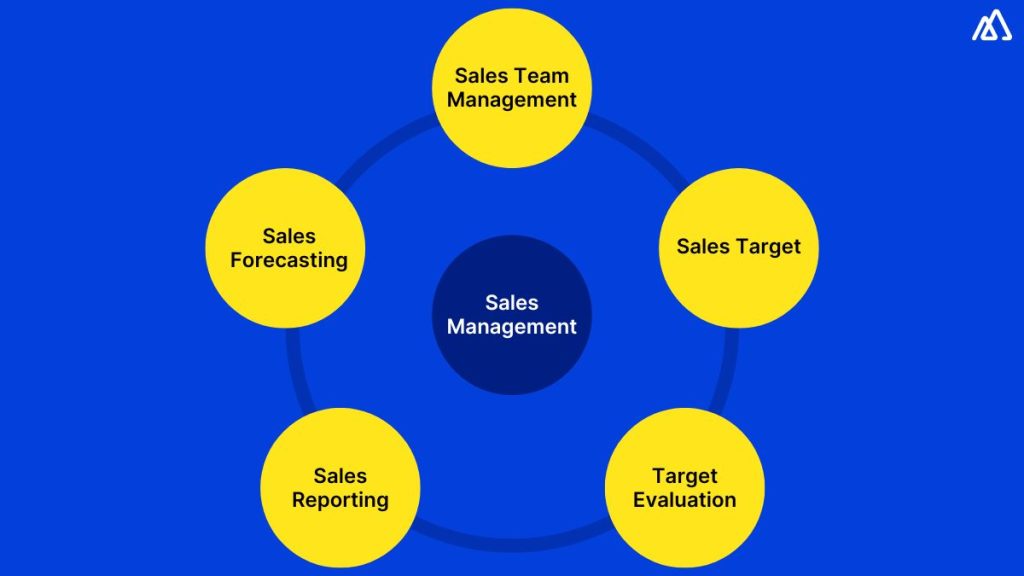 Sales management is the process of developing, planning, monitoring, and controlling strategies that help salespeople hit their targets and grow their revenue. In simple terms, it is the art of monitoring how your sales team works to ensure more sales. Your business will face issues in meeting its overall sales potential if the sales management process is disorganized.
If we talk of modern times, the way sales are done has changed immensely because the sales processes either take place online or over the phone instead of in-person meetings. This has given rise to technologically sophisticated sales management processes that consider everything needed to attract modern customers.
---
Components of a Successful Sales Management Process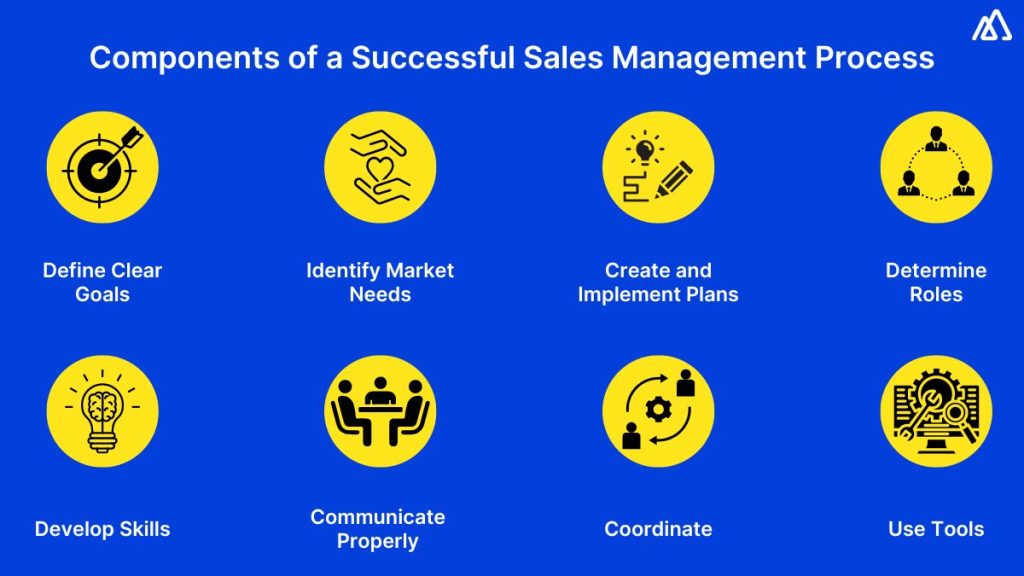 Here are the most critical components of a successful sales management process that every sales manager should know.
Define clear business goals and develop strategies to achieve them.
Identify specific market needs you have solutions for and manage your sales accordingly.
Create and implement plans for salespeople at different levels as per your strategy.
Determine the roles you need people to plan in your strategy and recruit the best people for those roles.
Help your salespeople develop skills so that they are working towards the common business goal.
Communicate properly and use both monetary and non-monetary incentives to drive better performances.
Coordinate with the rest of your business and ensure that your resources are deployed and available where and when needed.
Use a wide range of tools like ERP, CRM, business intelligence, social media, AI, etc. to make use of every bit of information.
The way you implement the elements of sales management is directly proportional to the success of your business.
---
What Are the Sales Management Strategies to Follow?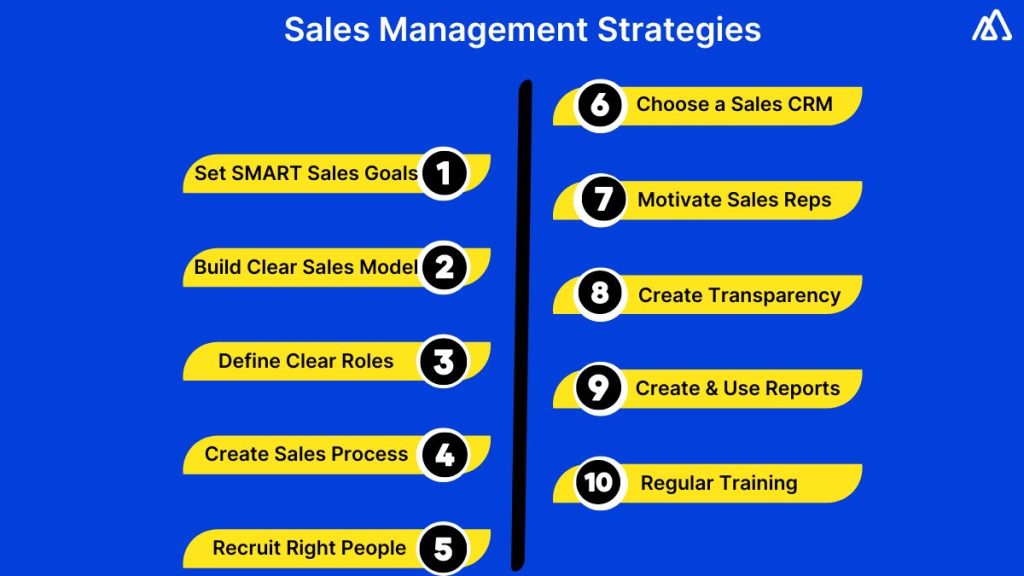 There is nothing like a sales tactic that works equally well for everyone. A strategy is only good as the results it gets you. If it doesn't, there are more that you can try. Let's take a look at the most common sales management strategies that you can follow.
1. Set SMART Sales Goals
Setting sales is more or less an art. They must be ambitious and realistic at the same time to motivate your sales team to give their best. Set SMART goals- Specific, Measurable, Attainable, Relevant, and Timely.
Specific: Setting specific goals helps your team set a tangible target to shoot for.
Measurable: When the goals are easily trackable, you can gauge your team's performance along the way.
Attainable: Your goals must be realistically attainable so that your team doesn't continually miss quotas and get discouraged.
Relevant: Goals should not be randomly chosen. They should be in accordance with your company's overall objectives.
Timely: Set relevant deadlines so that your team knows when they are expected to deliver results.
2. Build a Clear Sales Model
The two most common sales models include:
The Island: This is an old sales approach where every salesperson is responsible for each aspect of the sales process including lead generation, making sales calls, closing deals, etc. Most startups use this type of sales model.
The Assembly Line: This is the modern sales approach where sales duties are split among four groups including the lead generation team,

sales reps

, account executives, and the customer support team. Established businesses prefer this type of sales model.
Based on your business requirements, you can choose a sales model.
3. Define Clear Roles and Responsibilities
Without actual work, there is no room for expectations. And to do the real work, each one in your team must know what they are supposed to do. If they don't know, you can't expect them to achieve their goals. What's best is to correlate the roles of every sales rep with their personal skill set. For this, you can use the assembling line sales model.
For instance, you have a salesperson on your team who is excellent at generating leads but fails miserably when it comes to talking to the leads. You must allocate the tasks of lead generation to this person and allow him to do what he does best. Observe each one in your team closely to ensure that you are able to make the most of their skills.
4. Create an Efficient Sales Process
One of the best ways of managing your sales team is with processes and systems that you can scale. By defining a simple approach, you will be able to let your sales team work more efficiently and exceed their limits.
Develop a process that is customer-centric, clear, predictable, goal-specific, and measurable. It should be easy for your sales reps to follow so that they can do their best to make sales.
5. Find the Right People
You may think that it's the HR department's responsibility to onboard new candidates for your team. But as a sales manager, you will too have to participate equally to ensure that your vision and requirement are properly considered during the recruitment.
Share a clear set of requirements with the HR team so that they can look for people accordingly. If needed, organize your interactions with the new candidates so that you can judge them as per your requirements.
6. Choose a Sales CRM
When it comes to managing sales, you cannot move ahead without choosing a sales CRM that caters to your business needs. Research shows that only 35% of the total rep's time is spent on actively selling. This also means that most of their time is spent on tasks that don't get revenue to your business.
This is exactly what your sales CRM can help you with. With sales automation, your reps won't have to spend their time doing things that waste their time and productivity. When they can focus on sales, you can expect them to exceed their targets.
7. Motivate your Sales Reps
Providing your reps with the right tools may not be enough for them to achieve their targets. They need the right motivation too. If you see from a rep's perspective, their managers are their biggest motivators. It's okay if they couldn't achieve their sales quota or had a rough call. You have to be there for your reps when they are not doing good enough.
At the same time, you must also show appreciation through recognition and rewards to let them know that you are there to celebrate their success. Having interactive conversations with your reps will help you build programs that motivate them to give their best. Organize team meetings, monthly lunches, and other events as a part of your motivation plan.
8. Create Transparency
When your reps talk to your customers, they are expected to be transparent. As a sales manager, you must also be transparent with your team so that they trust you. Create a selling environment that focuses on the key sales metrics and allows your team to work towards your common goal naturally.
What would be best here is to set certain criteria for your team and give them marks on the basis of their performance. Display the marks where everyone sits so that they know what needs to be done to be in the top position.
9. Create and Use Sales and Revenue Reports
You have to compile and analyze data to determine your team's individual and overall success. Sales and revenue reports can help you get an idea of what your reps have been doing and what results they have obtained over time. When you know how they have been performing, you can guide them in the right direction and ensure achieving targets in a better way.
These reports also give an idea to your higher management that you and your team are doing pretty well and achieving the targets they are supposed to. This way they can also convey what they expect from your team and what else you need to add to your daily sales activities.
10. Organize Regular Training Sessions
Knowledge and skills are never enough. The more you learn, the more knowledge doors open for you. Moreover, with the changing times, you have to make sure that you and your reps are updated and doing everything better than your competitors. For this, as a sales manager, you will have to stay active and ensure that you are providing your team with the training that helps them update their skills.
You can either take the charge of training your reps or send them to conferences and courses or even invite sales experts to train them.
---
Sales Management Tools to Use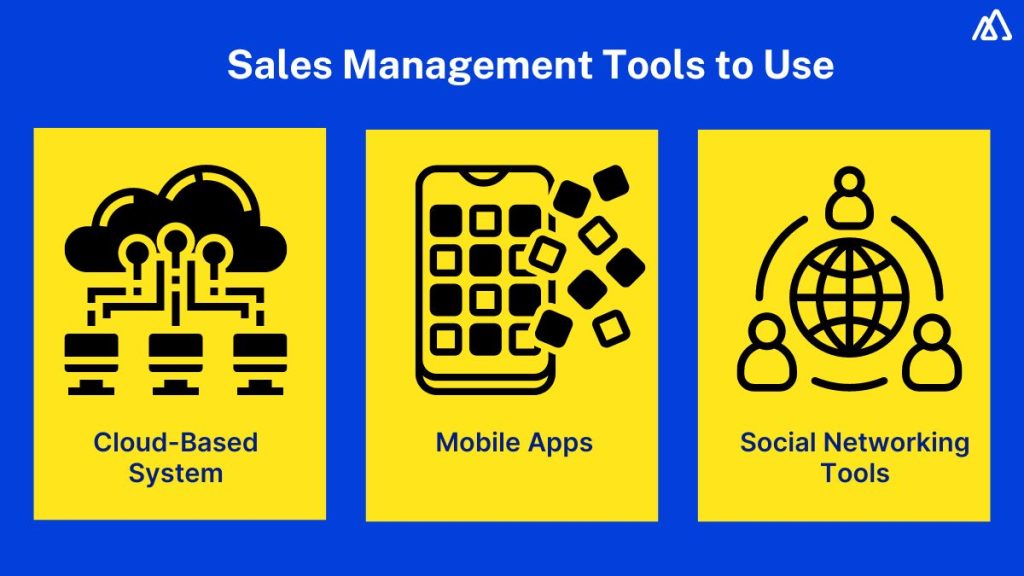 In the modern world where everything is just a tap away, customers expect businesses to provide them with high speed and sophistication. They want businesses to understand their requirements and help them face their challenges. They want easy communication so that they don't have to give a second thought before asking for something.
Not just the customers, but sales reps too want advanced tools that can help them do their job easily and well. Some tools that can help with easy sales management include cloud-based systems, mobile apps, and social networking tools.
1. Cloud-Based System
As cloud-based sales management systems can be accessed from anywhere, your sales team can easily perform their tasks. These systems make collaboration, monitoring the performance, managing programs, and viewing the workflow easy and accessible. Some cloud-based systems also offer applications that make the task much easier.
2. Mobile Apps
Mobile applications work wonders when it comes to managing tasks on the go. With the help of a software's mobile app, sales teams can easily input data about their meetings and conversations and you can also keep an eye on what they have been doing. The geolocation feature can help you visualize your rep's location, map customers, and sync with car GPS for quick navigation.
3. Social Networking Tools
Connecting with your existing customers and prospective leads socially have to be an important way of managing sales. There are plenty of sales tools that can help reps reach customers and nurture their relationships. You can also make use of applications to develop and curate applicable content to post online. There are tools that analyze social media in real time to suggest leads as per your company or industry.
---
Why You Should Invest in a CRM for Sales Management?
With a well-built sales CRM, sales managers can reduce admin tasks and centralize customer information. This way sales managers can assign tasks to the right reps and prioritize tasks. There are many benefits of a sales management system that you must consider.
1. Easy Prioritization
If you are using a CRM, the process becomes even easier. You learn which tasks are important and must be prioritized over others and assigned to the reps. Your team can easily build customer-centric plans based on client analysis. They will also get recommendations and filtered leads that will result in more revenue.
2. Detailed Overview of Customer History
Sales management software can help you in keeping all the client communications in one place. This will further help everyone on your team to completely understand the customer journey. This will save your rep's time and they can focus on bettering their relationships with the clients. Additionally, each of your reps can customize client calls for better interactions.
3. Automated Workflow
By automating redundant tasks, CRMs help your team focus on sales. Such systems keep track of all customer calls, emails, texts, and documents and track responses so that you and your team are always on top of your tasks. Contact management helps with reminders and calendars to remind your staff to follow up with the leads.
4. Better Forecasting
Sales management solutions are capable of analyzing traffic volumes and sales conversion ratios. They can also assess performance and identify areas that need improvement. On the basis of the compiled data, they can forecast future sales and help the future pipeline with the help of analytics and reports.
---
Conclusion
As your sales team's success determines your company's overall performance, you must pay attention to the strategies and techniques that you use. They must align with your business objectives ad help you achieve success in all that you do. Managing a sales team is not an easy task and you must ensure that you invest in a proper sales management platform that can help your company flourish.
Kylas CRM is powerful, affordable, and loved by our many users for easy sales management. Book your demo today and start using Kylas for easy sales management.
Start 15-day Free Trial