Regardless of the size, CRMs have become a staple for all businesses across the globe. As per a recent study, 65% of businesses use CRMs within their first 5 years of operation. But finding the right CRM for your business is easier said than done. Whether you're transitioning into using a CRM for the first time or switching to a new CRM, change can be difficult for you, your team, and the processes.
In general, many companies switch CRMs for one reason or another. Things like obtaining your team's buy-in, transferring customer data, and implementing new workflows need consideration. Now that any change is not that easy to implement, it doesn't remain a surprise that 55% to 75% of CRM implementation projects initially fail, as per Meta Group, Inc.
As per MarTech's survey, almost one in five businesses replaced their CRM platform in 2022. While it might have already started to seem daunting, you have ways to ensure that the CRM switch is an easy ride. Just keep everyone involved during the migration to solve issues at all levels.
Keep reading to dig a little deeper into how to make your CRM switch as seamless as it can be.
Kylas is an enterprise-grade CRM designed for your growing business. It helps you automate workflows so that you are always a step ahead in serving your customers.
---
Reasons Why You Need to Switch Your CRM System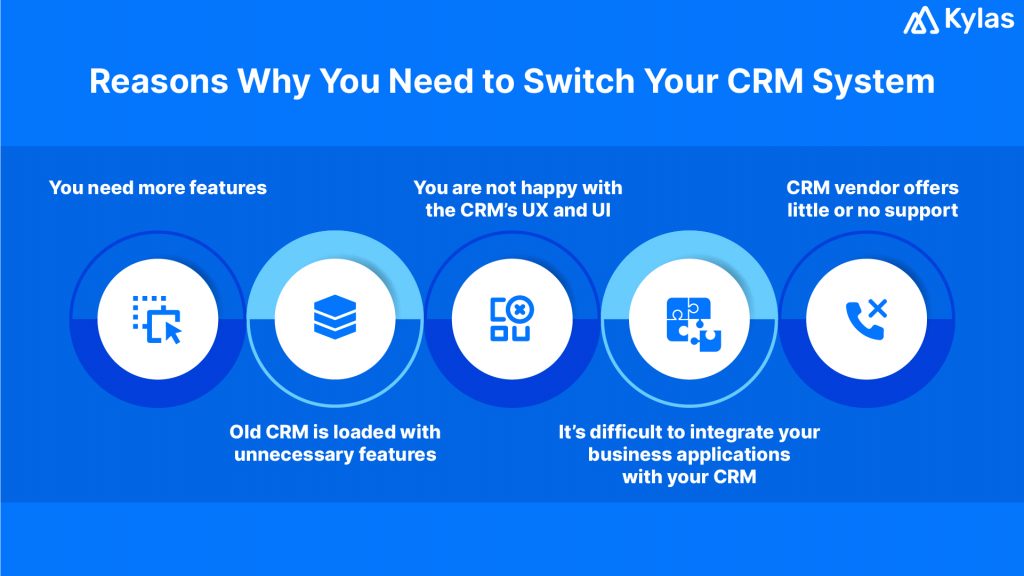 40% of companies replaced marketing software after less than two years of use, while 51% of the companies replaced systems after using them for three-to-ten years.
Some companies often settle for what's familiar to them and some of them keep ignoring the need for the switch thinking that it's a risky option. Surprisingly, it's true that making a CRM switch isn't that easy. But considering their growth, companies need to think deeply about what they are missing out on by staying.
So, here are a few reasons that we believe should be enough for you to switch your CRM system.
1. You need more features.
When you were a startup, you would have kept things small to make working easy for your handful of employees in a small office area. But now that your company has outgrown to become a big organization, you can no more rely on the same old tools to manage your operations successfully. You need a CRM tool that helps you match your company's capacities with your growth.
In most cases, an old CRM can't provide you with the new functionalities that your competitors have been using like IP telephony, live chat, automated workflows, third-party integrations, interactive dashboards, etc. If your old CRM is making you create tedious workarounds and most times, works without the latest technology, you need to make a CRM switch.
2. Old CRM is loaded with unnecessary features.
You would have surely bought the best, feature-rich CRM of that time. But it's of no use if your team doesn't need the features it offers. Most legacy CRMs are overloaded with features that make things complicated for your salespeople. The problem with using old CRMs is that they come with unnecessary features that bloat the CRM and confuse users with unnecessary data, as per a Forrester Study.
On the contrary, your sales team needs a CRM that is simple and easy to use. You must make a switch to provide your team with the right set of features to empower them to sell better and simplify the process.
3. You are not happy with the CRM's UX and UI.
Most B2B buyers these days are equally concerned about a great customer experience as much as they are about the product. The better the CRM looks, the better it is in every way. When someone talks about CRM evolution, somehow they mean improving the user interface (UI) and user experience (UX).
As per SuperOffice, around 86% of people prefer CRMs that are user-friendly followed by 38% of users who prefer seamless integrations with Microsoft Office. If you find out that your team is struggling to understand the system that is supposed to ease your team's operations, you must consider switching your CRM. Slow, complicated, and bulky CRM processes will only worsen your sales productivity and they will have the CRM as the scapegoat for not achieving their targets.
4. It's difficult to integrate your business applications with your CRM.
It's obvious that your sales team would never be fine with the features that CRM comes with. They need to integrate some third-party plus your own business applications with the CRM to maximize its use. Most legacy CRMs are not business-friendly because you will have to spend plenty of time integrating your business applications after onboarding.
For each application you integrate, you will have to separately undertake the integration process which will be time-consuming. But when we are saying that your team needs a CRM, it's to reduce the time they spend on tedious tasks that add no value to their productivity. If your sales team has to waste time before getting organized and importing and exporting contact information, it's best to make a CRM switch.
5. CRM vendor offers little or no support.
Your relationship with the vendor doesn't end after you have made the purchase. In fact, it's the beginning of your relationship. First of all, when adopting a CRM, you and your team need sufficient knowledge and training to be able to use the CRM. And after that also, when there is a problem and you need expert help. After all, you have a job to do and such technical glitches can hinder your normal working.
Moreover, you must receive upgrades from the vendor from time to time to keep your CRM system working at its best. You may also need help with some integrations for further customizations and expansions. If your vendor can't help you at times when only he is the one you can rely on, you must look for some other CRM.
Once you self-inspect your relationship with your current CRM system and find any of the above-mentioned issues, it's time to act. Moving to a new CRM may seem daunting but if it's needed, there is no space for second thoughts.
Let's take a look at the steps that will help in making a smooth transition from your old CRM to the new one.
---
Steps to Make an Easy CRM Switch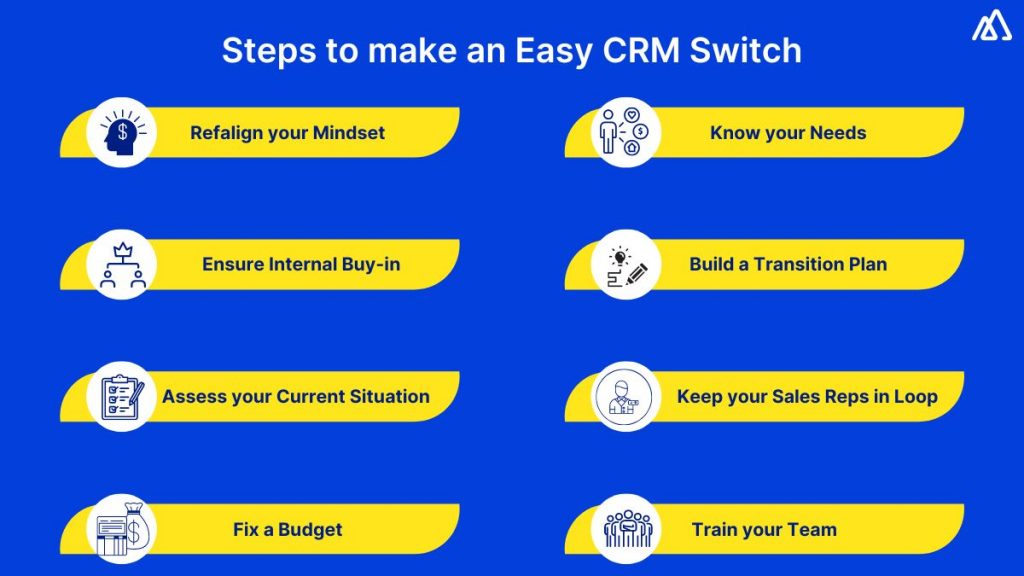 Unlike other software investments, CRM touches every aspect of your business. This also means that there are more things that need to be considered. Though every company situation is different, these are some steps that will work in almost every business setting and help with an easy CRM switch.
1. Realign your Mindset
You won't make a switch just because you felt so. You either have a better customer-centric strategy or new technology in mind. Also, you will always find yourself off track if you make the switch seem more like an IT project. Keep business development as a top reason for the switch and you will be able to make the right switch at the right time. Consider the CRM transition process as a good opportunity when your team can refocus on improving the ways while dealing with the customers.
By onboarding the users of the current CRM, you will be able to get good insights into the requirement. This can also help them become more productive when a new system is adopted.
2. Ensure Top Management Buy-in
You need internal buy-in to successfully conduct the CRM switch. Decide who will be a part of the switch and form a cross-functional team including both the senior and junior members of your organization to know every user's perspective across different business lines. Also, select a manager out of these members who are detail-oriented and understand the bigger picture. Include all these people in the discussions and research, and get the decision validated by everyone before any choice is made.
This is for sure that top management drives the opinions and culture in the organization. So, their early involvement in the process will have a positive impact on everyone else and help in a smooth transition.
3. Assess your Current Situation
A CRM is for everyone involved in your company processes. So, everyone must be involved in the process of making a switch. Obtain feedback from your team to get an idea of the issues they are facing. Be ready for mixed responses if you don't use a data-driven approach. So, it's best to design a questionnaire that covers all the possible issues that may become a reason for the switch.
Address issues like poor client and supplier management, disorganized information, inefficient collaboration with team members, difficulty managing projects, etc. When you analyze the feedback, you will come across the common threads that a CRM switch can help with.
4. Fix a Budget
A CRM comes with a price tag and you will have to keep a budget aside so that it doesn't become an issue in the later stage. Check for every type of cost that would be included with the new CRM. Most cloud-based CRMs come with a monthly or annual subscription fee. You must also check if you have enough bandwidth to make the most of the CRM system with the best connectivity and mobility possible for your team.
Some CRMs have additional costs for data export and import. There can also be some early cancellation penalties, training & onboarding expenses. It's best to do some market research and design a budget after considering everything possible.
5. Know your Needs
You are planning to make a CRM switch because the current one doesn't help you with your needs. Based on the above-mentioned points, your team must have a clear idea of why they need a new CRM and how it will help overcome the issues they have had with the old one. When you have an in-depth knowledge of your needs, you will be able to compare vendors the right way and determine which one works best for your needs.
Go for word-of-mouth referrals and online research to find the best ones for yourself. Narrow down the vendor list and seek comparative reports based on actual client feedback. Set up demos with the vendors that seem to be the best options for your requirements.
6. Build a Transition Plan
With a solid transition plan, you will be able to make a smooth transition from your old CRM to your new CRM. This also means that you will have to scrub your data from the old system to the new one. For this, you will have to decide on a time and date. The transition plan depends on how much data is to be transferred. If there's a lot of data, you must be prepared to dedicate a lot of time to the transition.
Keep in touch with the IT person in your company to ensure that the transition is going as planned and is precise and effective. Keep one thing in mind transition should not affect the normal working of your team.
7. Keep your Sales Reps in the Loop
Your sales reps would be able to adapt to the new CRM when they already know about it. This is why make them a part of the transition process so that they are prepared in every way for the switch. For a successful adoption, you will have to ask your team to clean up their individual records. You may also have to be available for them while they are doing this so that you can guide them the right way.
It's best to help them clean their data and keep only the needed files so that the transition can happen quickly without you or your team having to waste time. Be realistic about the timeline and clear out duplicates.
8. Train your Team
This has to be an important part of your transition process. By holding training programs for your reps, they will be able to learn how to operate the new software. If you don't give proper training to your reps, you may lose important data, contacts, and leads. Make your team comfortable while learning new software and encourage them to ask questions so that they get as much information as they need to make the most of the new CRM.
You may find out that some of your employees need one-on-one training sessions. Do that whenever needed because the transition will be successful only if each one of your team is able to use the new CRM properly.
Just a single thought of going through a long process to make the CRM switch is enough for businesses to keep using the one they already have, even when it doesn't help in any kind of progress. But if you are able to follow these steps, the actual transition would be quite smooth. You can run both your CRMs in parallel until you are sure that each one in your team is able to adapt to the new CRM properly.
---
What to do Just After Switching CRMs?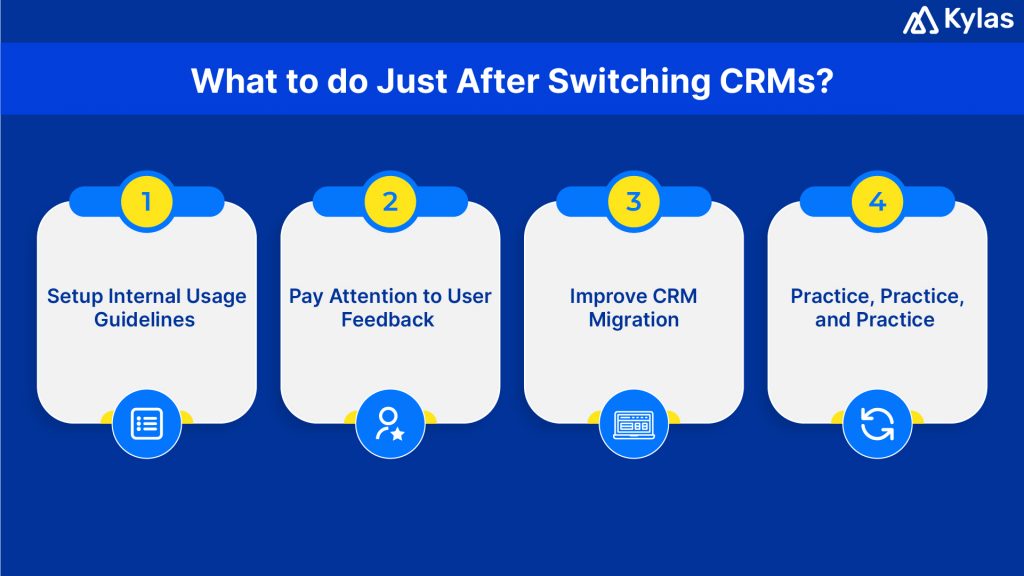 Making a switch is not just about introducing a new CRM to your team. You have to make sure that it solves the purpose and that everyone on your team is happy about it. Companies that use CRM successfully have improved sales by 29%. So, if you want to make the most of your CRM, you must use it properly. Here are a few things that will help in making the CRM transition successful in every manner.
1. Setup Internal Usage Guidelines
Don't forget that a CRM is only as good as the data put into it. Setting common usage guidelines will make it easier for everyone to adapt to them. If people don't know how to put data in the right manner in the CRM, they will have difficulty doing other things. They will have issues with tracking sales, pulling out sales reports, and offering great service to your customers. Make sure that CRM usage guidelines are easily available and clearly state what, when, and how.
2. Pay Attention to User Feedback
The first few days after the new CRM implementation are crucial. What does your team like the most about the new CRM? Are they getting everything they needed for their issues? Collecting such data from your team will help you determine how the new CRM is doing. Track progress over a month and see how well your team has been doing with the new CRM. In case of any issues, get in touch with the vendor to ask for support.
3. Improve CRM Migration
You must know that no CRM is perfect. If it's solving your issues, it's surely the best one for you. As the needs of your business change, your CRM will also evolve over time. Keep taking feedback from people in your team to improve the use with the passing of time. All that matters is that your team should improve their productivity with the new CRM. It would obviously take some time but if it works, it's good.
4. Practice, Practice, and Practice
The best way to improve the CRM adoption rate in your team is by encouraging them to practice using the new tool regularly. It's obvious that they will feel more comfortable using the older one but since you made the switch, it was much needed. This may not sound very technical but it is still quite significant.
---
Conclusion
Saying goodbye to your old CRM is not easy obviously. But when your organization has overgrown it, there is no point in holding on to it. Making a CRM switch is a big project but it's surely worth the effort.
If you are looking for a new CRM that is easy to use and helps you identify the right sales opportunities & supports your sales efforts to increase your chances of success, Kylas is the one you must get for your team.
Start 15-day Free Trial