There's so much pride in being a small business that serves a niche. You're at a stage where you're truly adding value to customers, and your customers choose you for the personalized approach you offer. Not to mention, the entire credit goes to your Sales CRM Software!
As a small business, you're always looking to show you care almost as much as you're always looking for growth opportunities.
Sales CRM software helps you do precisely that. It continues to put customers first and deliver a superior product/service buying experience that's seamless and efficient.
As per the Forbes Article, 85% of CRM users expected an improved customer experience to be one of the best benefits of Sales CRM Software.
Plus, the CRM market is the largest software market in the world, so you're not short of options when choosing one. However, this is both a boon and a bane, as along with these choices comes the dilemma of choosing the right Sales CRM for your small business.
So, keeping in mind that a sales CRM is the right next step for you as a growing business, we have compiled a few pointers on how to choose the Best Sales CRM software.
These points will be along the lines of:
How to define your needs/asks?
What to look for in a sales CRM?
Comparing the best in the business
Getting a feel for the product and team
---
---
How to Define Your Needs/Ask As a Small Business?
No one wants to waste time and money investing in a platform that isn't right for them.
Employees are already resistant to new technology. In addition, if working on a platform creates too much friction in the usual way, your team will simply stop using it.
That's why you need to find a CRM system that is just right for you!
To do that, the first thing that you need is to have your needs identified.
Here are a few questions to ask yourself to find the best sales CRM systems:
Why are you looking for a CRM? What are the top few problems you're looking to solve or areas you want to focus on?
Are you looking for a CRM to store all lead data in one place? Is the security of data an issue you want to solve? Or do you have any expectations regarding integrations because you have leads coming in from that platform?
Make a list of all the requirements and problems within your business that a CRM might solve for you. Only then go looking out for a CRM.
How many employees need to use the platform?
For example, your sales team consists of 3 people – the sales manager, a marketing manager, and one leadership team member.
How flexible and quick-to-learn are your employees when it comes to new tools?
The answer here will tell you whether you need to focus on an easy-to-use CRM, or whether your sales team will be fine even if you choose a complex CRM with add-ons and plugins. The catch is to find CRM software that your sales team can easily adopt.
Do you have a budget in mind?
You may not – especially when you're just starting the CRM hunt. Your CRM price comparisons are what will shed light here.
---
How to choose Sales CRM Software for your Small Business?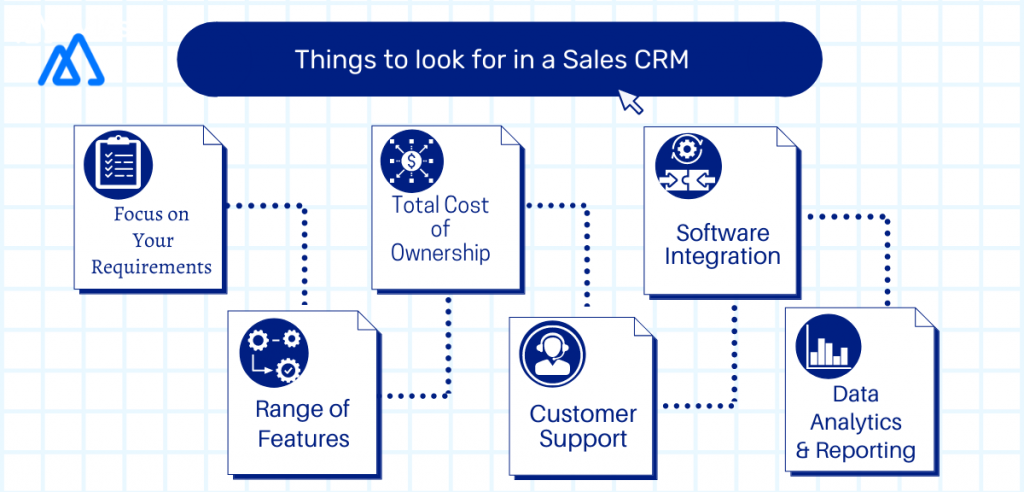 1. Focus on Your Requirements
First and foremost, see how the CRM you're evaluating measures against your specific requirements.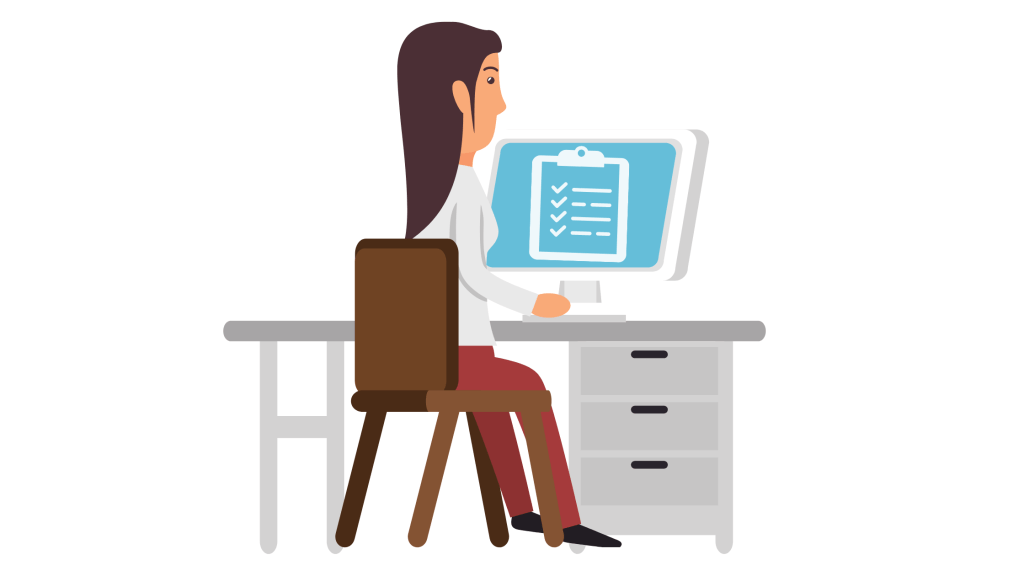 Put brands and ratings aside for a second and focus on your needs so you don't get carried away with different claims and end up investing in tools/features that weren't a focus for you in the first place.
If a CRM doesn't solve your specific problems or needs, the rest of its great features won't make a difference!
---
2. Range of Features
This is an obvious one – ideally, choose a CRM that offers a broader range of features within your budget to accommodate your growing needs.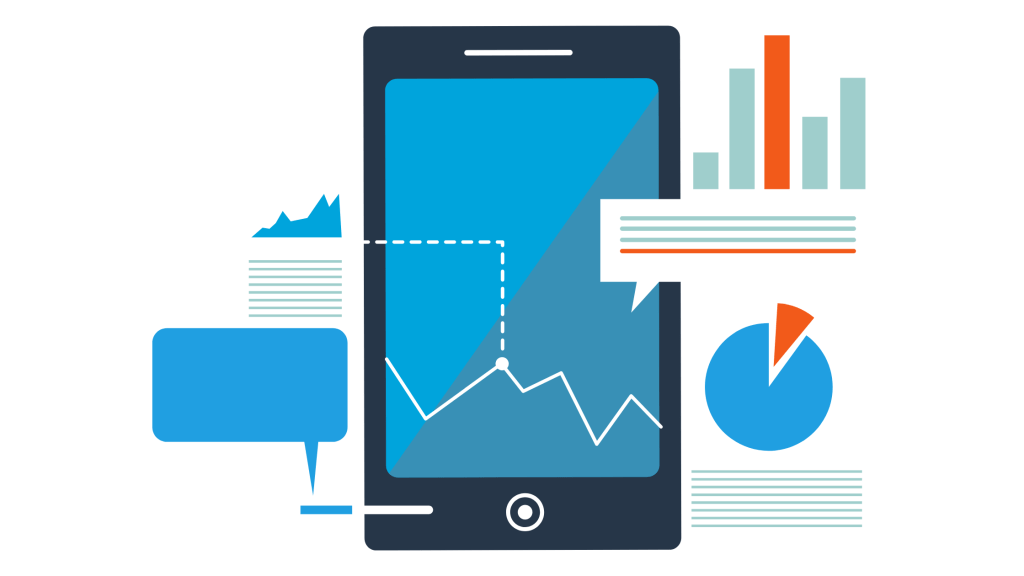 At the outset, all CRMs will offer similar features – the usual mix of lead management, contact management, deal management, bulk emails & SMSs, drip funnels, cloud telephony, customizable reports & dashboards, etc.
What you need to compare and look through is:
Does it accommodate your internal processes and workflows?
The last thing you want to do is adapt your business processes according to the software you choose. It should fit in as organically as possible to maximize adoption
Is it customizable – to some extent?
You might think that a completely customized CRM solution is what you want to go with, but trust us – you'll spend a lot of time building functionalities and capabilities only to make it more difficult and expensive to change in the future.
Is it easy to pick up and use?
And by this, we mean, does it offer an easy way to import all of your current data and add new users? The last thing you want is to be stuck with a CRM that can't work with your previous data.
Is there a mobile app?
Did you know that 50% of teams have improved productivity using a mobile CRM? A mobile app keeps your teams on the go and integrates right into their daily schedules and practices.
---
3. Total Cost of Ownership
A sales CRM software is an investment, so you need to make it a smart one – evaluate the investment and 'returns' not only for the present but also for the future.
Different CRMs charge different amounts to add users, upgrade certain features or add functionalities – and the margin of difference in these incremental additions is vast when you compare CRMs.
Some charge much higher amounts that will render the CRM too expensive for you when calculating the number of users and features you need.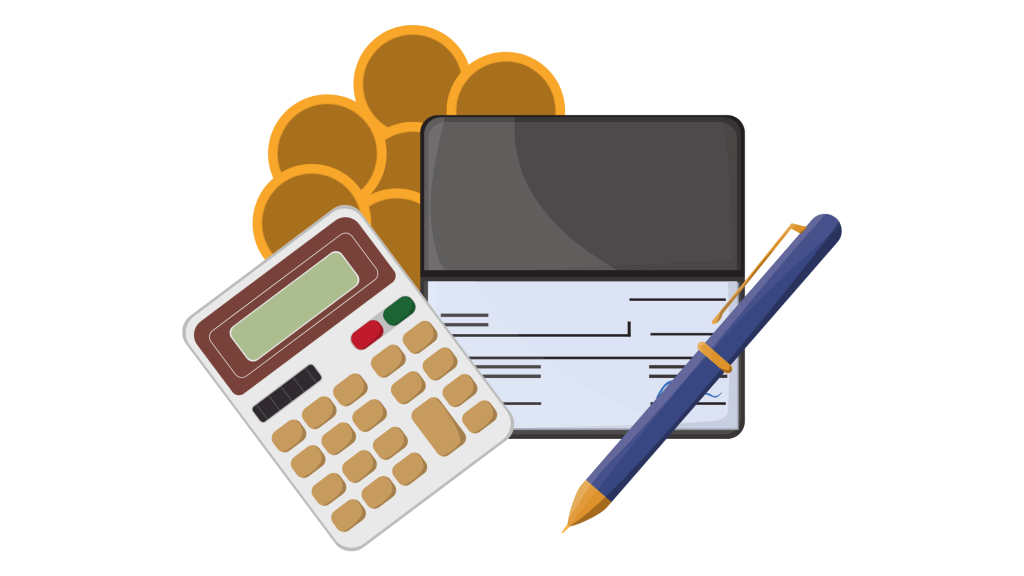 Don't just look at the pricing plans displayed on each CRM's website and find the plan that suits you today – look at what each pricing plan includes and what it will cost you to upgrade when the time comes.
This part is where most companies make a mistake, getting stuck with a sales CRM software that's eventually too expensive for them to get great returns from.
Allow us to create a question checklist for you when researching and comparing sales CRM pricing:
What's the cost of the plan that covers your basic needs?
There are free CRMs with a basic feature set to explore.
How long do you estimate you'll be using this basic plan – when will you need to add more users or use more features?
It's very important that you don't be shy about this estimate.
What is the cost of upgrading to the next plan?
What is the price of adding each new user?
How much do add-ons cost?
For example, a lot of sales CRM software could sell cloud telephony as an add-on and charge expensive prices for it. This is a fairly basic need that you'll end up needing to invest in sooner rather than later.
---
4. Customer Support
As a growing business, you don't just want a CRM that's sold to you with some basic training sessions and a helpline number, and then left to you to adapt into your business and your team's way of working.
This is usually a big point of difference between enterprise sales CRM software and sales CRM software for small businesses.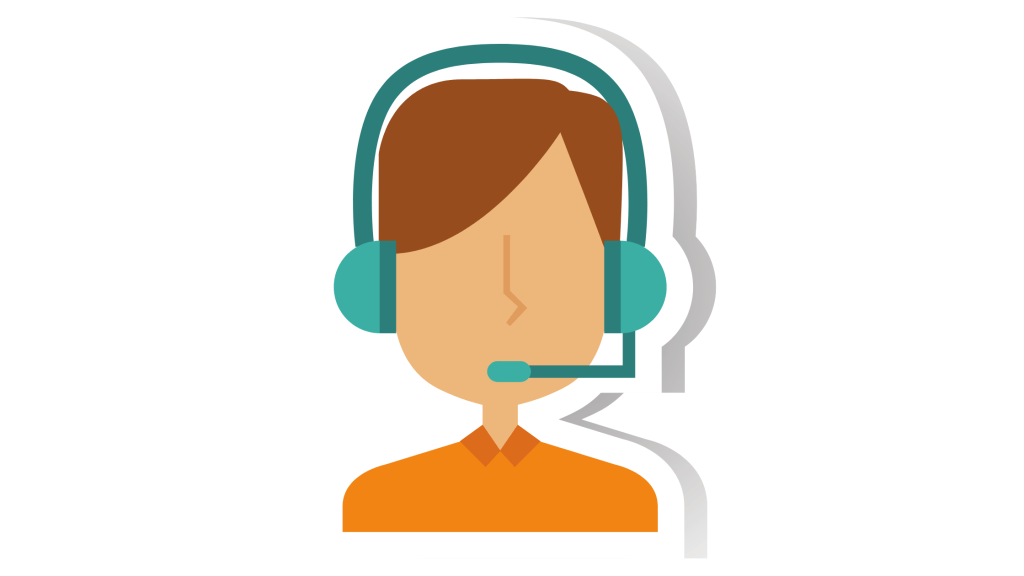 You might think that the big fish understand CRM products better, but it's the smaller boutique CRMs that will offer you easy-to-use, seamless functionalities. They can also provide the support that's needed for you to derive the most value from the CRM software.
Just like your small business, they too, are a smaller outfit that's designed to care.
Support and support channels, you should expect as a small business from your CRM company:
Complete set up for your company and customization within a reasonable turnaround time
Training sessions – both, to begin with and on-demand – for your different teams
Chat support, email and/or a phone number to address user queries
A ticketing system for requests, issues and bug fixes if any
A business guide that is your constant personal point of contact to help you use the CRM to its best for your specific business requirements
---
5. Software Integration
An often overlooked and essential factor to consider when choosing a CRM!
You want the platform you choose to fit seamlessly into your way of working, making it easier for your teams to add in this technology layer.
A CRM only works as well as its adoption and usage – the lesser your teams use it, the lesser the impact you'll see.
In 2020, 23% said branding can't be automated – even portions of it. In 2021, only 1% of marketers said the same, showing a shift in acceptance towards bringing automation to all parts of branding.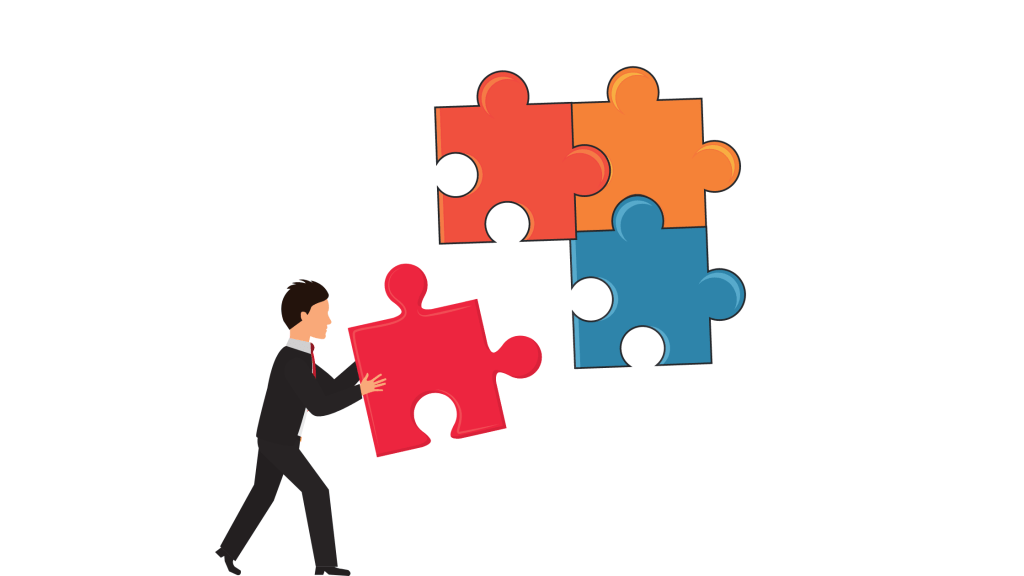 With that in mind, your sales CRM software should integrate directly and easily with your other existing tools and products – not just your mailing vendor but your marketing platforms, analytics platforms, ERPs if any, eCommerce/booking platforms if any, etc.
CRM Integrations to consider:
Marketing & advertising platforms – Google, Facebook, LinkedIn, etc. that will automatically feed lead details and campaign analyses directly into the CRM.
Ecommerce platforms – that will feed in customer data, buying funnel data and sales data
---
6. Data Analytics
Analysis & reporting are critical aspects you need to consider when choosing a sales CRM software. This is why we're dedicating its own separate section to it.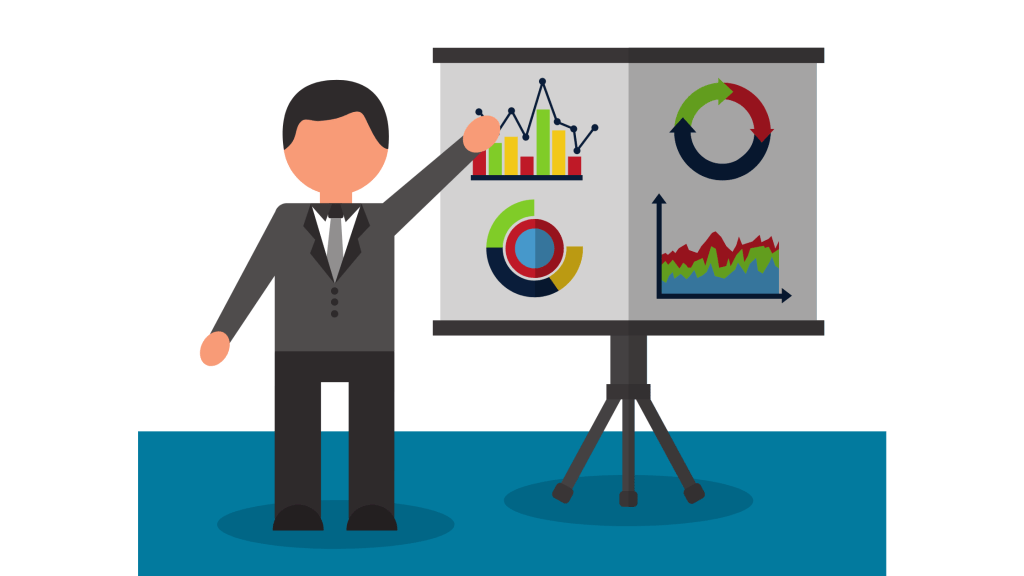 Here's how you can manage CRM data
It is not just another feature – it's what will tell you whether the CRM is being used by your team members, whether the different features are actually working out for you and whether your other sales-led activities (including marketing) are giving you any results.
Custom reporting is a must-have, so you can build reports that you're already used to working with.
.
Here are the basic reports you should be able to count on:
Marketing and campaign reports
---
Mistakes You Should Avoid When Choosing a CRM Software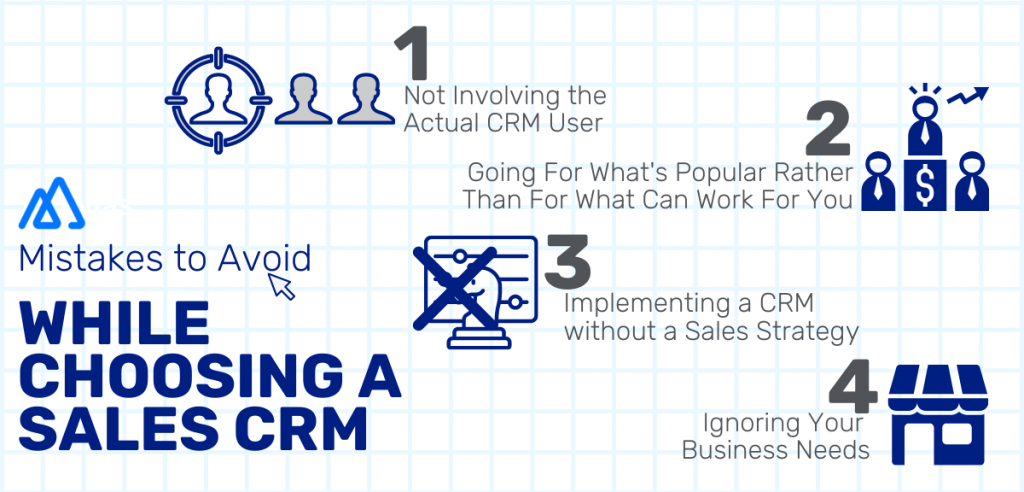 Now that you know what to look for in a CRM, it's time we address the common mistakes businesses make while choosing one.
1. Not Involving the actual CRM User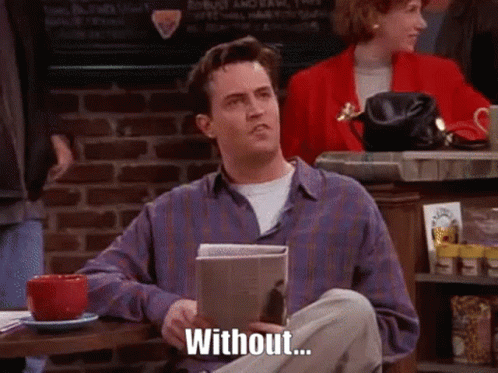 Sometimes, businesses do the mistake of only involving executives in the CRM selection process.
However, it is equally important to include the sales team and anyone who deals with customer data in the process.
Their insights can be valuable during the selection process, and getting them on demos can help you come to a decision quickly.
2. Ignoring your business needs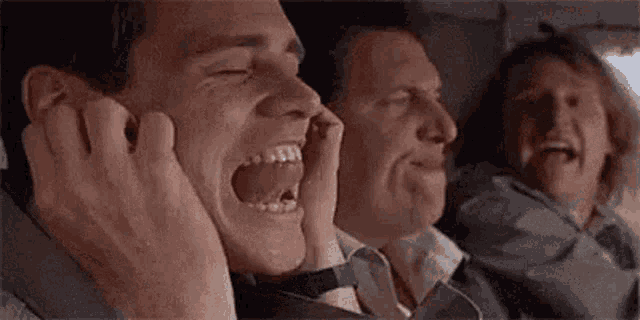 Every business is unique, and so are its requirements. So you must have a holistic view of your business needs long before you actually start shortlisting CRMs.
Remember, it all boils down to what you want from a CRM, not what it can offer.
3. Implementing a CRM without a Sales Strategy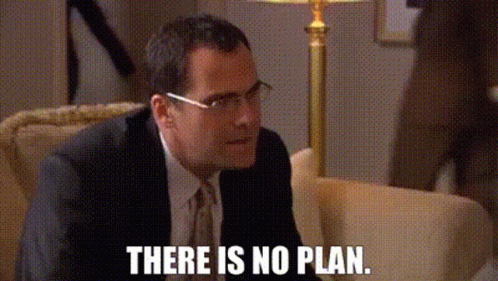 Indeed, CRMs can significantly benefit a small business in terms of sales productivity, revenue, and even customer service cost.
However, businesses need to understand that CRM software is a tool, not a strategy.
So, you must have an existing sales strategy in place if you want the CRM system to help your business scale.
Once you have this sorted, it will be easier to consider what tools and integrations are necessary to implement your strategy.
4. Going For What's Popular Rather Than For What Can Work For You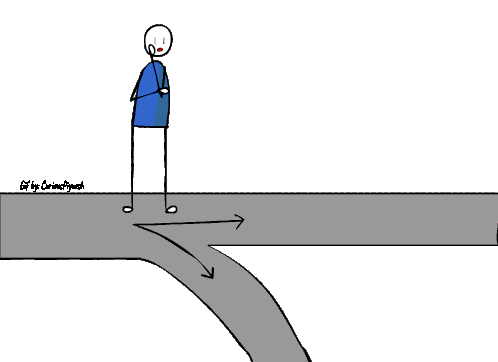 Not everything pricey is premium!
As a small business, you need a CRM solution that gives you hands-on support and priority from the get-go.
So, instead of choosing a popular CRM that may have features that you don't currently need, choose one that caters to your needs as a small business.
---
When we built Kylas Growth Engine, to be, at its core, the best sales management software for small businesses, we ensured that it comes not only with all the possible features but also expert support to help you use it to its advantage.
Ready to take it for a spin?
Start 15-day Free Trial