Whether you are running a multinational company or a budding startup, one thing is for certain. Customer relationship management is always at the center of all your efforts. For startups, in particular, acquiring new customers, building relationships, and retaining them is all the more crucial.
This is where the right CRM for startups can help. It can help them generate leads and improve customer satisfaction, consequently improving sales.
CRM software can help a budding business organize and manage its customer data. This is crucial for better targeting, increased visibility, and improved customer service. A good CRM for startups can help growing businesses scale faster.
Before we dive deeper into the use and benefits of CRM for startups, here are some of our recommendations for the best CRM for startups you should be looking at.
---
5 Best CRMs for Startups
1. Kylas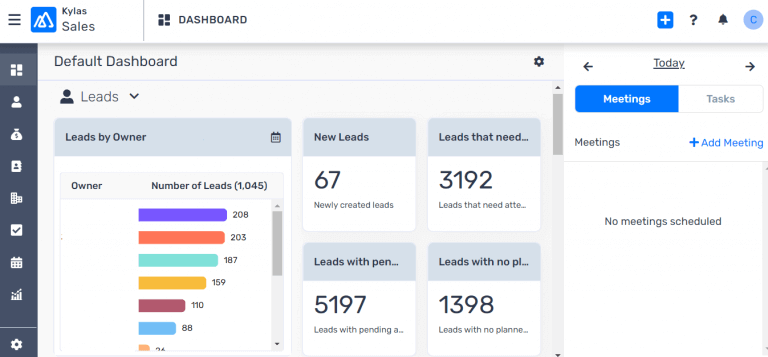 Kylas is an easy-to-use Sales CRM software built especially for growing businesses and startups. For startups, it is extremely important to focus on the right sales opportunities and grab these opportunities at the right time.
This is what Kylas helps you with. Kylas helps startups capture, organize and segment their leads from various sources. It also helps in converting leads to deals by assessing their win probability. The platform offers smart filters and quick visual access to data which makes it easier to analyze.
Kylas also help growing businesses with sales pipeline management ensuring that leads are guided in the right direction through the sales funnel.
You can create multiple pipelines with unlimited stages, for different products or business units. It helps with collaboration between your sales, marketing, and other teams to improve productivity as well.
Of all the CRM platforms at your disposal today, Kylas is one of the most affordable and feature-rich CRM for startups and growing businesses.
---
2. Insightly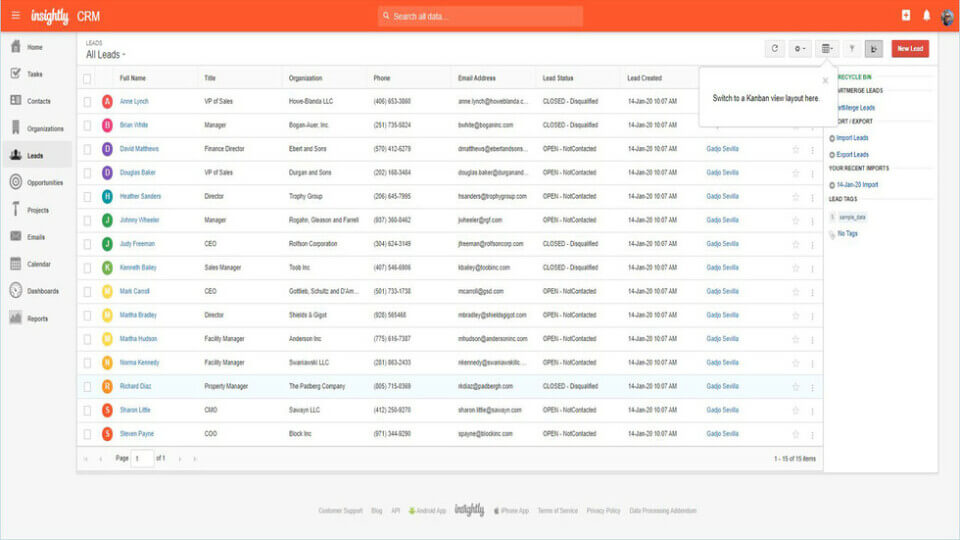 Insightly is a CRM for startups that offers them project management capabilities as well. The platform offers marketing, sales and service features apart from CRM capabilities.
The CRM features on Insightly include lead routing, workflow automation, email automation, and tracking, among others.
3. Agile CRM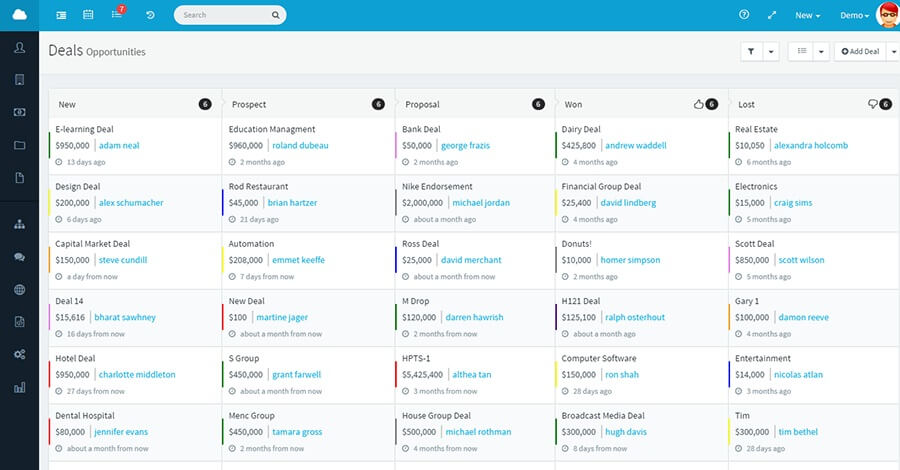 Agile CRM is a platform specifically designed for startups, that allows free usage up to 10 users. The all-in-one CRM platform helps small businesses automate sales, marketing, and service.
It offers contact management, deals management, email marketing, social suite, ticketing for customer queries and complaints, and other features.
---
4. Zoho CRM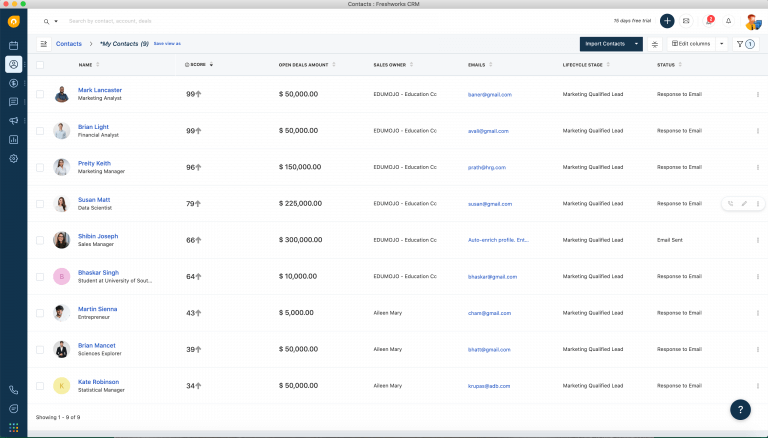 Zoho CRM is a popular software for businesses of all sizes. The platform offers sales and marketing automation features, along with analytics, helpdesk, and customer support.
Zoho offers a host of CRM features including sales force automation, process management, sales enablement, predictive sales, and more.
Omnichannel communication, lead nurturing automation and real-time reports and insights are some of the USPs of Zoho CRM.
---
5. Pipedrive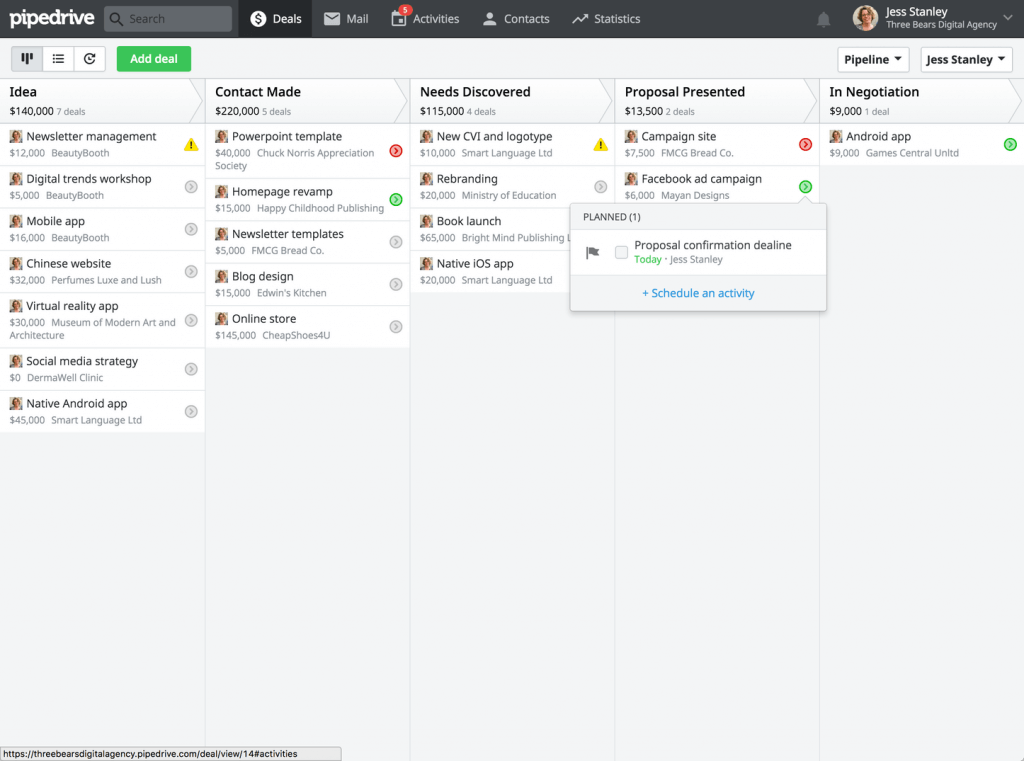 Pipedrive is a useful CRM for startups and small businesses, that helps them create multiple sales pipelines for specific products/ services.
The pipelines are customizable and can be built based on important sales actions relevant to the product/ service. It is easy to use and implement.
The tool also allows you to track the progress of deals through the pipeline and adjust the course to meet targets if needed.
| Company | Capterra Rating | Pricing | Features |
| --- | --- | --- | --- |
| Kylas | 4.8/5 | INR 12,999/month for 100,000 records (expandable | Free Plan for upto 1000 records; 15 days Over 3000 apps using Zapier |
| Insightly | 3.9/5 | Starting at $29 per user per month | Demo on request Over 3000 apps |
| Agile CRM | 4.1/5 | Free for 10 users; paid plans starting at $8.99 | Free for first 10 users 50+ plugins and integrations |
| Zoho CRM | 4.2/5 | Starting at 800 INR per user per month | Flexible 55+ apps |
| Pipedrive | 4.5/5 | Starting at $12.5 per user per month | 14 days 275+ integrations |
CRM Comparison Chart
---
Do startups need CRM?

A common question that most new entrepreneurs tend to ponder over is "do startups need CRMs?". For a new business, it is true that there are numerous other areas you need to invest in, and purchasing CRM software may not be on the top of your list.
But the biggest mistake in business is not having foresight. You need to remember that the investments you make today will determine how your business grows in the future.
For now, as a growing business with very few customers, handling all your contacts and data on leads might seem relatively easy. But over the years your business will grow and your capability to manage your customer information has to scale accordingly.
When you have thousands of contacts and data to handle every day, doing it manually is next to impossible.
You will soon be lost in a chaotic mess of spreadsheets, notepads, diaries, and calendars. This not creates confusion, it also makes the sales, marketing, and customer service processes less efficient.
CRM software can help you avoid this chaos from the very beginning. Implementing a CRM for startups right from the initial days of your business ensures that all your customer data is organized on a single platform and you can have access to it anytime and anywhere.
Most of these CRM solutions are scalable, so as your business grows you can go on adding more to your CRM platform. Also, using a CRM platform from the beginning saves you the hassle of having to import data from spreadsheets or other apps later.
CRM platforms have analytics tools as well which help you improve and optimize your sales process based on insights and reports. All your team members and stakeholders can collaborate on the platform which helps everyone stay on the same page.
---
How Can CRM Benefit Startups?
CRM software offers multiple benefits to all kinds of businesses of all sizes. But for startups, in particular, the benefits are even greater. Startups have a lot on their plate. They need to find new customers, manage contacts, track customer interactions and create targeted marketing campaigns, monitor their sales process and measure success, and so on.
All of these activities that a new business has to focus on can be streamlined by a good CRM for startups.
Some of the key benefits of CRM for startups are listed below.
1. Contact and Data Management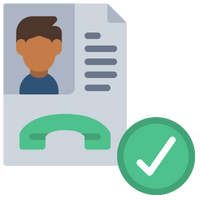 The biggest advantage of using CRM, at any stage of your business, is that you can organize all your contacts, leads, and customer data on a single platform. Without CRM, this data would be scattered, and accessing it when needed can be difficult.
.
CRM gives you access to this data at any time and from anywhere. Everyone on your team having permission can access the data without having to rely on someone to send it over.
.
Organized data makes the entire business much more efficient.
2. Better Customer Relations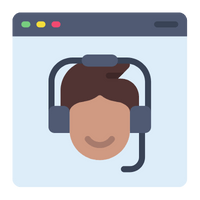 A CRM platform is a crucial tool for building strong customer relations. When you have all your customer data at hand, you are able to serve them better.
.
From making the right product/ service recommendations to resolving customer complaints, everything is faster and more efficient with a good CRM software.
.
CRM software can give you valuable insights into the customer's journey. This includes information like the products or content they interacted with, the last purchase they made, their pain points and queries, and so on. Being able to categorize all your conversations with customers and setting reminders to contact leads at the right time can help you build stronger relationships early on in your business.
3. Effective Customer Segmentation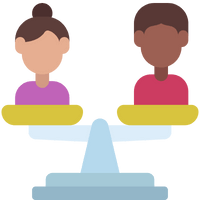 All the customer data available on a single platform also makes it easier to carry out customer segmentation. Most CRM software will be able to segment your customer data according to location, age, gender, deal size, funnel stage, etc. automatically. This helps you create more targeted campaigns and reach out to promising leads at the right time with the most relevant recommendations.
4. Sales Forecasting and Reporting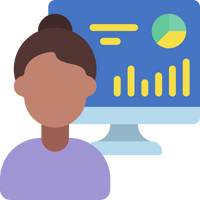 A good CRM for startups will also have sales forecasting and sales reporting features. Forecasting allows you to predict sales based on historical sales data and trends. It makes it easier to estimate your revenue in the near future and find ways to increase it.
.
Similarly, sale reporting will give you insights into the number of deals closed, phone calls made, emails sent, etc. during a given period. You will have a better view of what your sales team is doing, which strategy is working, and what needs to be improved.
Reporting can show you where along the sales funnel are prospects dropping off, which activities are leading to better conversions, and so on. You can detect patterns and work on this information to increase conversions.
5. Easier Collaboration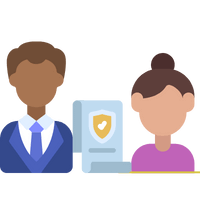 CRM software can also make collaboration among different teams easier in your startup. Customer relationship is not only the onus of your sales team. Everyone, from customer support to marketing to product development, needs to have insight into the customer's journey, preferences and pain points.
.
A CRM platform lets you bring everyone on board. Anyone given access to the CRM platform can access the data they need and collaborating on the data becomes a lot more streamlined.
6. Increased Employee Satisfaction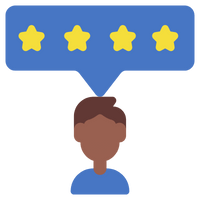 Using CRM software early on in your startup will also minimize the burden on your employees. As your business grows, employees may begin to feel the pressure building with more customer data to manage, more calls to make, more emails to send.
.
With a CRM platform, most of these activities can be automated. It reduces the load of data entry or other repetitive tasks on employees, freeing up their time for more valuable work.
When employees have aides and tools to ease their load and streamline their workflows, they can contribute more to the business. As a result, employees feel valued and job satisfaction is bound to improve.
---
What Are the Criteria and Features to Look For When Choosing a CRM for Startups?
When choosing the best and a free CRM for startups, there are certain criteria you should be focusing on. While most CRM software will have more or less the same basic features for businesses of all sizes, startups need some specific features that make the CRM more useful for them.
Here are some key features that all the best CRMs for startups should have.
1. Scalability
For a startup, the first concern is scalability. Every startup has an ambition of growing big, and they usually do. In a few years, you will have many more customers, many more leads, and a lot more data to deal with. The CRM software you choose has to be able to handle this growth. You cannot afford to keep switching from one CRM software to another every few years.
That is why it is important to choose a CRM platform that is scalable and can adapt to changes as your startup grows.
2. Analytics and Reporting
Another very important feature that we often overlook or don't pay as much attention to is analytics and reporting. A startup can benefit from these capabilities more than an established business. That is because your sales and marketing strategies are still evolving.
The valuable insights that you gain from data analytics on the CRM platform will tell you which of your strategies and processes are delivering results and which ones need to be modified.
Reporting on the CRM platform is also convenient for sales professionals to follow.
Most of the data is presented on the dashboard in visual formats which are easy to read. Even if your team is relatively young and inexperienced, they can benefit from the reporting feature.
3. Notifications and Reminders
This may seem like a trivial feature but for a startup, this can be a very useful one. In the initial stages of your business, you cannot afford to miss any opportunity of capturing and nurture valuable leads. A CRM platform that lets you set reminders and send notifications will be a big help in this regard. You can set in-app or email reminders to follow up with a prospect or contact a customer.
4. Automation
Startups usually run with small teams and you need all hands on board to keep your business moving ahead. A CRM platform with automation capabilities will ensure that your human workforce can be delegated to more strategy- and result-oriented work. The CRM platform should be able to automate activities like sending emails and messages, sales prospecting, call logging, data capture, or any other routine task that doesn't need human intervention.
5. Ease of use
Ease of use is another important criterion you should be looking to fulfil. As a startup, your employees may not have much experience using software tools, and having to invest in training would be an added cost for the business. A CRM software that is easy to use will need no special training and the learning curve will be less steep, so it can be implemented faster.
6. Affordability
Lastly, pricing is a key factor when making your purchase decision. Startups do not have excess funds to invest in expensive tools and software. You need to pick something that provides all of these features at an affordable price. Choose a free CRM software that gives you the scope to add more features or switch to a higher pricing plan if you need to, as the business grows.
---
Summing Up
Investment decisions in a startup are crucial and difficult at the same time. You need to make your choices wisely. Because what you choose to invest in will decide what direction your business takes in a few years.
Investing in a free CRM for startups can give you a competitive advantage while streamlining your sales, marketing, and service processes. You only need to know what to look for in the best CRM for startups. The return on this investment will be worthwhile in the long run.
Start 15-day Free Trial