The buyer's journey has drastically evolved. Purchasing no longer requires scouring multiple stores for the best products & deals. It can instead be done from the comfort of one's home and with just the click of a button. This landscape presents limitless opportunities for E-commerce businesses to scale. After all, 79% of customers now shop online at least once a month.
But tapping into this potential revenue source is no easy feat. One of the leading E-commerce challenges is the cut-throat competition. The slightest error can give competitors the chance to take away your customers, which mandates a higher focus on retention. Additionally, the shorter customer lifecycle leaves you with a brief time window to make a lasting positive impact.
That's where E-commerce CRM emerges as a game-changer! It helps you read your customers like an open book and delight them every step of the way. It can be likened to an information goldmine that can be leveraged to make smart decisions for exponential sales.
---
Understanding E-Commerce CRM Systems
Let's start with a scenario. You're attempting to optimize your marketing efforts, but you don't know the channels which are bringing you the most website visitors. You might end up neglecting the best-performing platforms and pour money into campaigns on those channels that aren't working as well for you. Alternatively, you have many visitors abandoning their carts, but you can't identify or reach out to them. A lack of clear information in such situations equals lost sales.
E-commerce CRM ensures that you have every relevant bit of data at your fingertips. Such systems are specially curated for E-commerce businesses, where providing a good customer experience is of paramount importance. It harnesses your collated data to provide rich insights into customer behavior, purchasing history, and their interactions with your brand. Access to such meaningful customer data can shorten the sales cycle by 8-14%.
Such platforms are also beneficial towards optimizing your customers' experience of purchasing from your brand. You can level up your customer support and tackle all the problems they are facing during the purchase process. It even empowers you to maintain consistent, customized, and contextual communication with customers. You can provide them regular updates on their order status, new releases, sales promotions that you may be running, etc.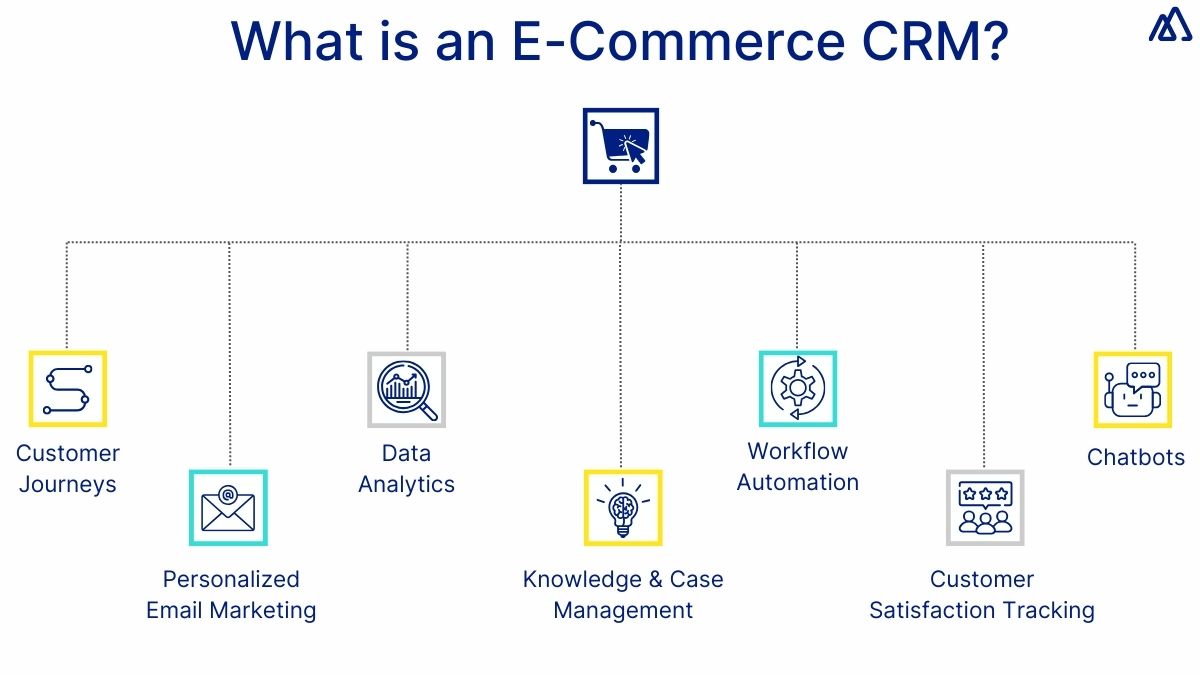 However, these benefits are linked to almost every sales CRM tool. What then is the distinguishing mark of an E-commerce CRM? There are a few crucial elements that can guide you to choose the right system for your growing business:
Seamless Integrations
CRM integration is the ability of the software to sync with the rest of your technology stack. Customer data flows in from numerous sources, including marketing channels, support platforms, subscription forms, website visitor's journey, etc. A good E-commerce CRM should integrate with multiple tools and platforms to gather information from diverse sources and maintain it in a centralized repository.
Kylas Sales CRM has a wide range of Marketplace Apps that can be seamlessly integrated. Every operational aspect, right from lead generation to invoicing can be brought to a unified platform.
Data Reporting & Analytics
A lot of secrets are hidden within your data that can be uncovered with reporting and analytics functionalities. Valuable insights such as order histories, customer behavior, conversion rates, best-selling products etc. can be derived. You can hence make informed decisions, forecast your sales more accurately, and plan resource allocations.
Make the most of your data with Kylas reports and dashboards. You can gain actionable insights into your business health for informed and data-backed decision making.
Remote Accessibility
As previously established, the E-commerce sales cycle is fast. You hence need to access your CRM on the go, and not be restrained to your computer screens. This empowers you to connect with prospects, and document & access data wherever you are. Such mobile solutions have been linked to a 14.6% increase in sales productivity.
The full extent of Kylas's robust functionalities are available in the Mobile CRM app. Access all relevant functions with a single click to scale your business from anywhere and everywhere.
Rich Feature Set
It is essential for your E-commerce CRM to have features that support customer data management, customer segregation, effective deal management, customization & automation of communication, sales tracking, etc. These features are vital to gain the full extent of benefits that the system has to offer.
Kylas's Feature Set includes all these functionalities. It is useful for both salespersons and sales managers, thereby holistically improving your operations.
---
Common Business Challenges That E-Commerce CRM Solves
The E-commerce CRM adoption rate, at 24.7%, is higher than that of other sectors. This is not surprising, considering the immense advantages it has for such businesses.
If you are still on the fence about whether you need to adopt this tool, let us consider some of the common challenges you may be facing and analyze how E-commerce CRM combats these: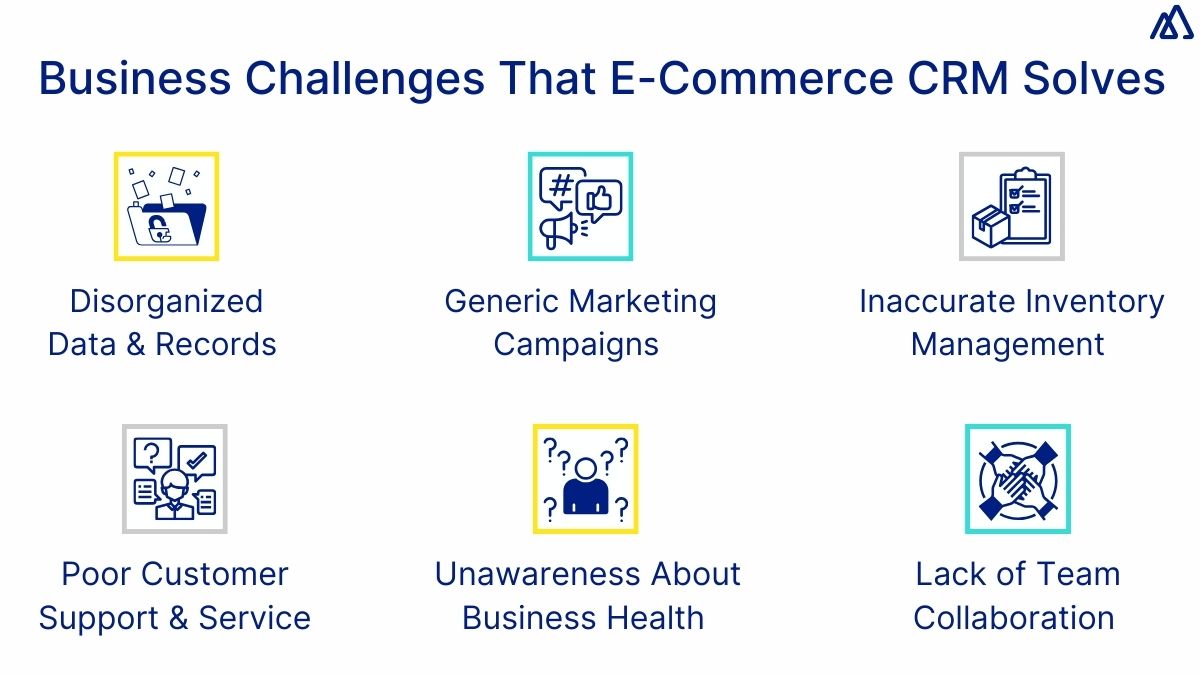 Disorganized Data & Records
E-commerce sales have the interplay of a number of tools and platforms. There are multiple marketing and lead generation channels involved, quotation and invoicing software, ticketing platforms, etc. Each of these platforms collect valuable data, but it is in silos. This impacts your understanding of your business's performance and creates obstacles for your teams to find the right data at the right time.
The ability to store all records in one place is one of the leading advantages of using an E-commerce CRM. Every bit of data from numerous platforms can be synced. This assumes greater importance as your operations expand and the number of aspects to keep track of increases. Additionally, it eliminates the need for manual logging and recording, since information can be automatically captured by the system.
Generic Marketing Campaigns
89% of E-commerce businesses have started investing in personalization because that is what new-age customers are seeking. They don't want to feel like just another number or email on your broadcast list. Your marketing efforts should be specifically curated for specific types of customers. Simply bombarding every prospect with the same marketing material will not produce optimum results.
Thus, you need an E-commerce CRM that tells you the best approach to woo your prospects. It tells you everything you need to know about them, right from their requirements, preferences, budget constraints, and purchasing behavior. CRMs such as Kylas even enable you to segregate customers using smart lists so that every segment receives relevant and meaningful content.
Inaccurate Inventory Management
You can only make sales once you have the ready inventory to sell. It is easy to see which items are being maximally picked off the racks in a physical store, and they can be restocked ahead of time. But it is difficult to do so for online sales, and your inventory management might suffer.
But an E-commerce CRM can help you here. It offers detailed insights into your sales, including the hot-selling products and customer demand trends. You can remain informed about which sales channels are performing well for which type of products, and accordingly plan ahead. It even helps you better allocate the budgets needed for inventory management.
Poor Customer Support & Service
81% of customers will consider making repeat purchases if they get positive customer service. Most businesses put their heart and soul into creating a good product, but support & service gets neglected. This is one of the leading causes of customer churn, which is sure to make your customers turn to your competitors instead.
You can convert every prospect and customer into a staunch brand loyalist using an E-commerce CRM. It helps you understand your customers better, gives easy access to the entire interaction and purchase history to enable prompt and effective resolution of their concerns. Automation functionalities can be leveraged to reach customers without fail at the right touchpoints and foster healthy relations.
Unawareness About Business Health
You may have set up the best marketing, sales, and support process. But your job does not end there. You also need to routinely track these workstreams, monitor your teams' performance, and stay fully aware of your business health. This is essential to identify the bottlenecks in your processes and the reasons for lost opportunities.
E-commerce CRMs can generate in-depth reports of every business facet. You can track your website visitors, customer engagements, sales metrics like deal size or closure rates, and even see how your teams are performing. Effectively, it provides a bird's eye view of everything going on with your business. Armed with this knowledge, you can make strategic decisions to optimize your processes.
Lack of Team Collaboration
Ultimately, the success of your business relies on how well your different teams work together. Every department should have defined aspects to handle, but that can fast give way to organizational silos. This has 3 distinct disadvantages. It will lead to lower productivity, disjointed customer service, and lesser or slower deal closures.
You can drive up team collaboration with an E-commerce CRM. Every member can access a common database so there are no internal barriers, and customers can always receive a seamless experience. You can also assign tasks directly through the system that can help you and your teams track their progress.
Hence, E-commerce CRM is a single tool to combat multiple business challenges. It targets every pain point of growing businesses in this sector. If you're now looking to adopt this tool to scale your operations, we have a list of some of the best options you can consider!
---
Best E-Commerce CRM Tools of 2023
1. Kylas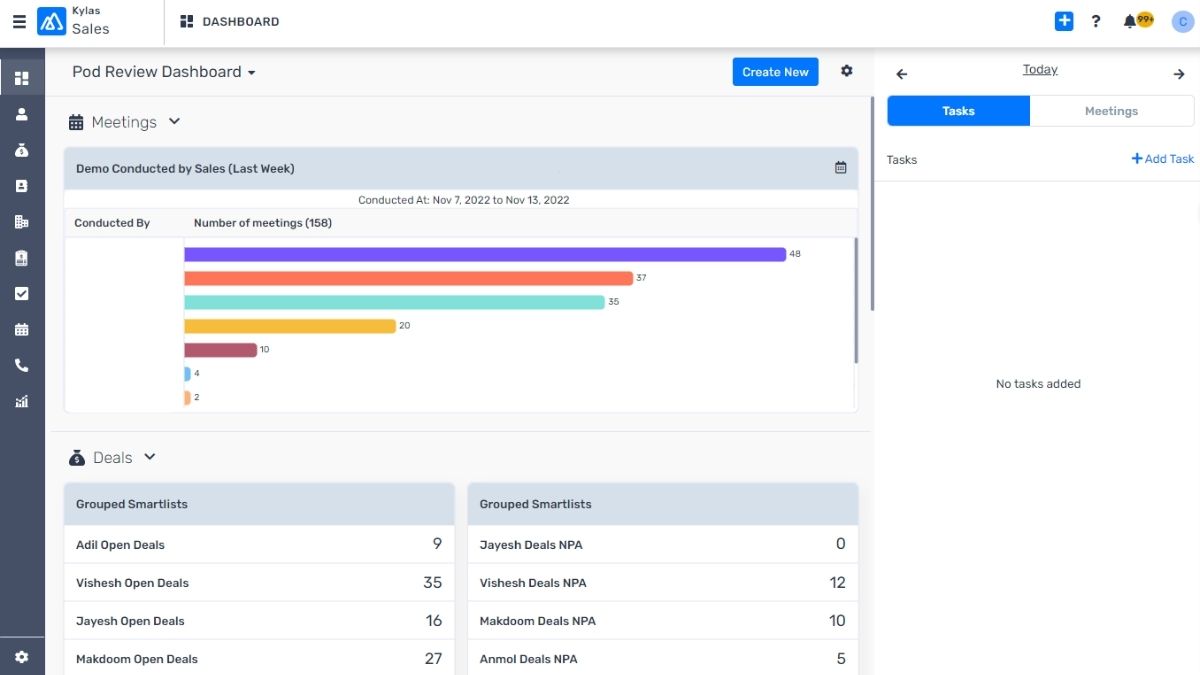 We've already established how Kylas satisfies each of the main requirements of an E-commerce CRM, thereby bringing it to the top of our list! It is a sales-centric tool that can help you manage your pipelines, track ongoing and completed deals, and make sense of your sales data. It integrates with Shopify, one of the leading e-commerce portals, so your entire business can be managed through a unified platform.
Kylas is also highly customizable and can be fully aligned with your unique processes. It comes with a simple and intuitive interface, and unlimited users can be onboarded for a flat price of INR 9,999 (Elevate Plan).
Key Features for E-Commerce
Lead, Deal & Contact Management
Smart Lists for Segregation
Workflow Automation
Data Analytics & Reporting
Omni-channel Customer Engagement
Quotation & Multiple Currency Management
---
2. Pipedrive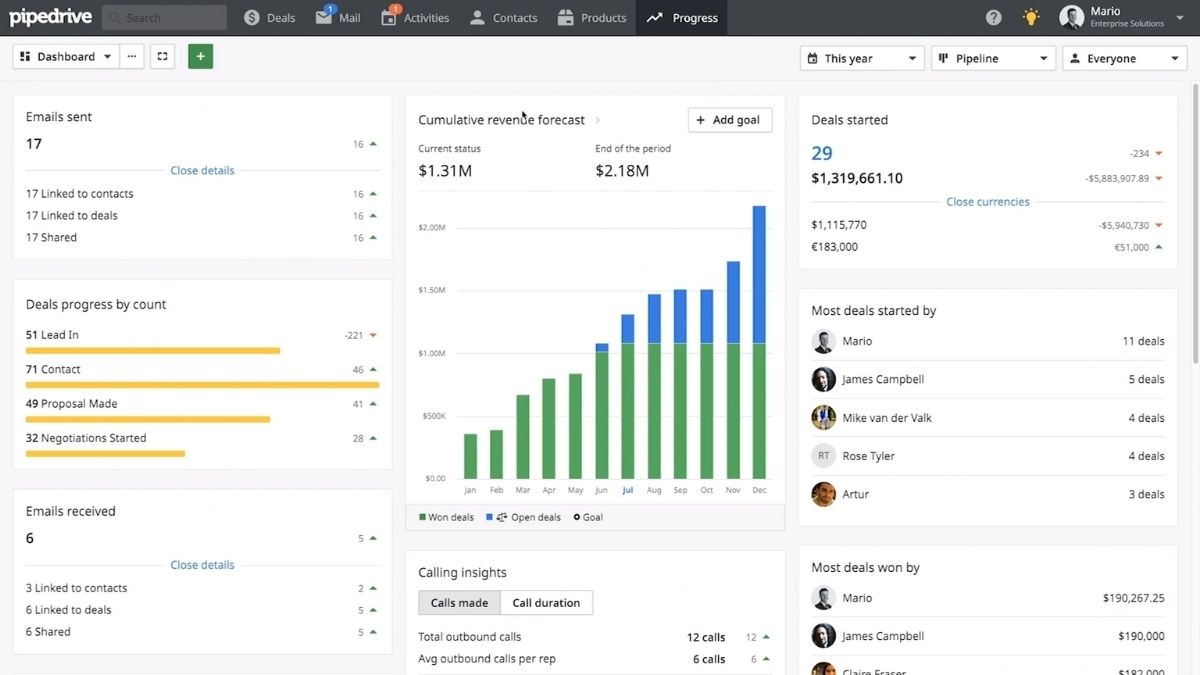 It is a sales and emailing software that can work well as an E-commerce CRM for growing businesses. Pipedrive has a comprehensive feature set and can be integrated with 400+ third party apps. You can easily oversee and manage all sales operations and create a seamless buyer experience.
It is suitable for businesses of all sizes and has pricing plans ranging from INR 830 to INR 3,300 per user per month. It can be tailored for your business requirements and is easy to use.
Key Features for E-Commerce
Lead & Pipeline Management
Email Creation, Segmentation, & Marketing
Product & Pricing Management
Order & Quote Management
Sales Forecasting
---
3. Zoho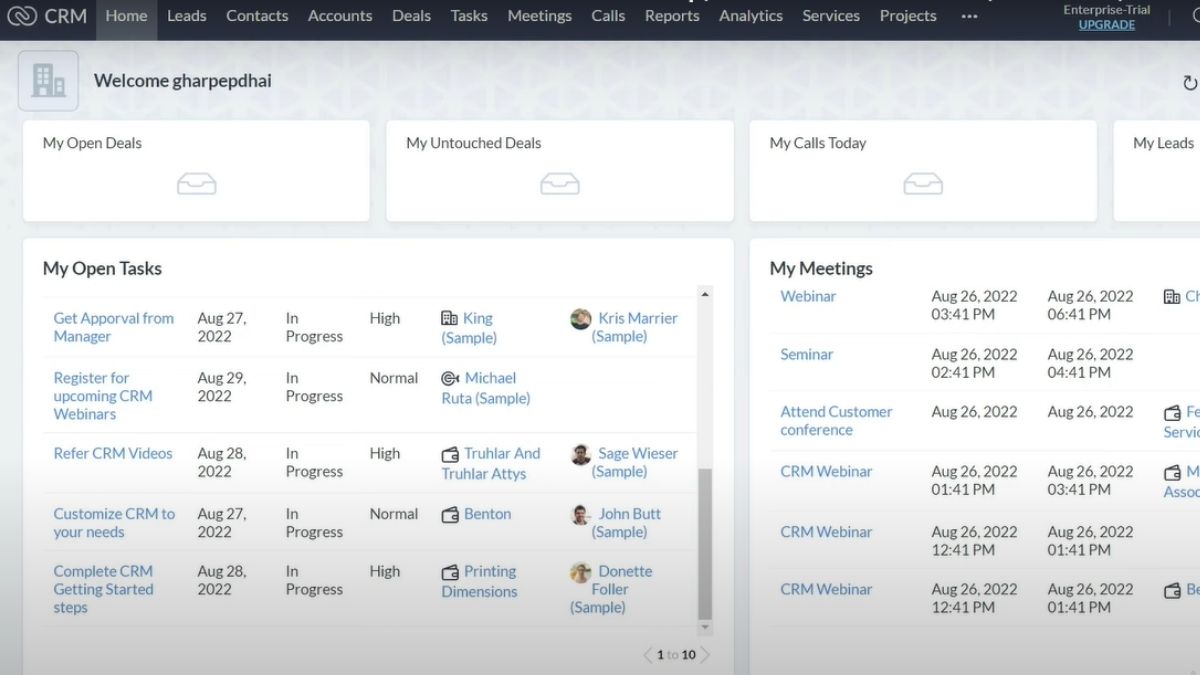 Zoho is an all-in-one productivity suite that can take care of multiple aspects for an E-commerce brand. It has solutions for marketing, service, etc., but it is best known for its sales automation capabilities.
You can create your own, unique version of the platform by leveraging its customization capabilities. Zoho CRMs pricing ranges between INR 800 to INR 2,600 per user per month.
Key Features for E-Commerce
Automated Lead Management & Scoring
Marketing Automation
Sales Enablement
Omni-channel Engagement
Real-time Customer Insights
Inbuilt Inventory, Project, and Customer Support Management Tools
---
4. Hubspot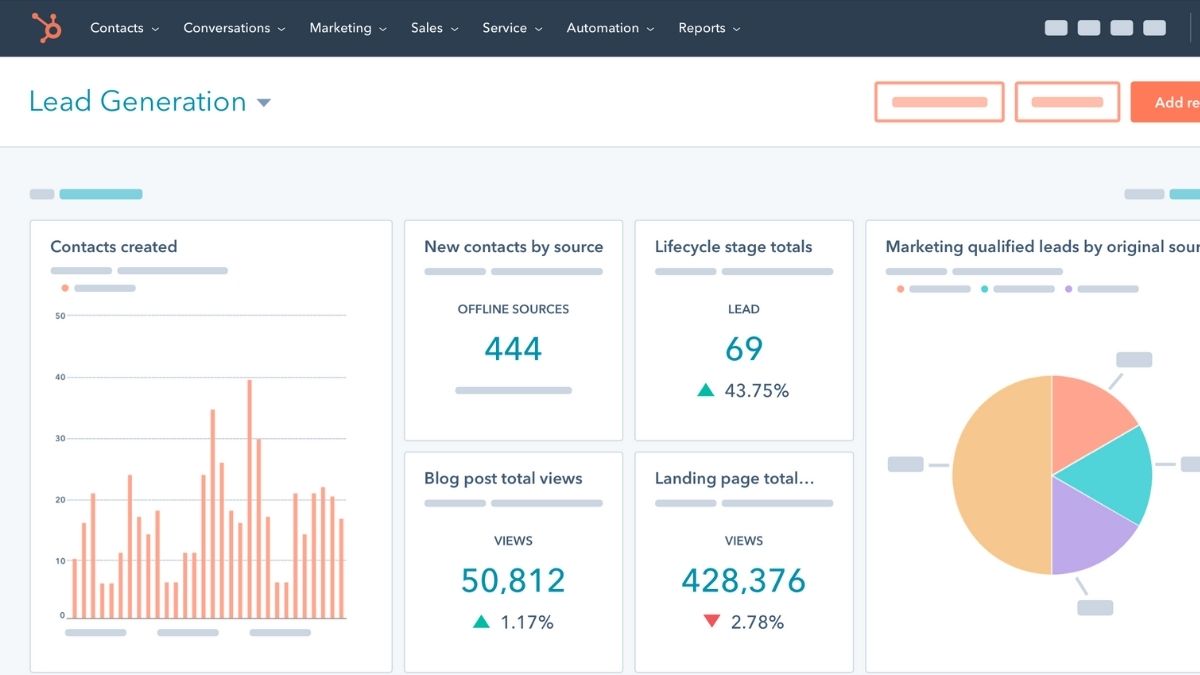 The five most crucial aspects of a business- Marketing, Sales, Service, CMS, & Operations- are brought to a single platform by Hubspot. It has a whole suite of tools and software that includes everything you need to grow your E-commerce business. Each category of the software comes with different pricing plans, for both large enterprises and small businesses.
Hubspot's biggest USP is that it covers every important workstream, but this turns to a disadvantage for interface simplicity. It comes with a steep learning curve.
Key Features for E-Commerce
Customer Segmentation
Email Marketing & Tracking
Contact Management
Detailed Reports & Analytics
Sales Automation
Call Tracking
---
5. Freshworks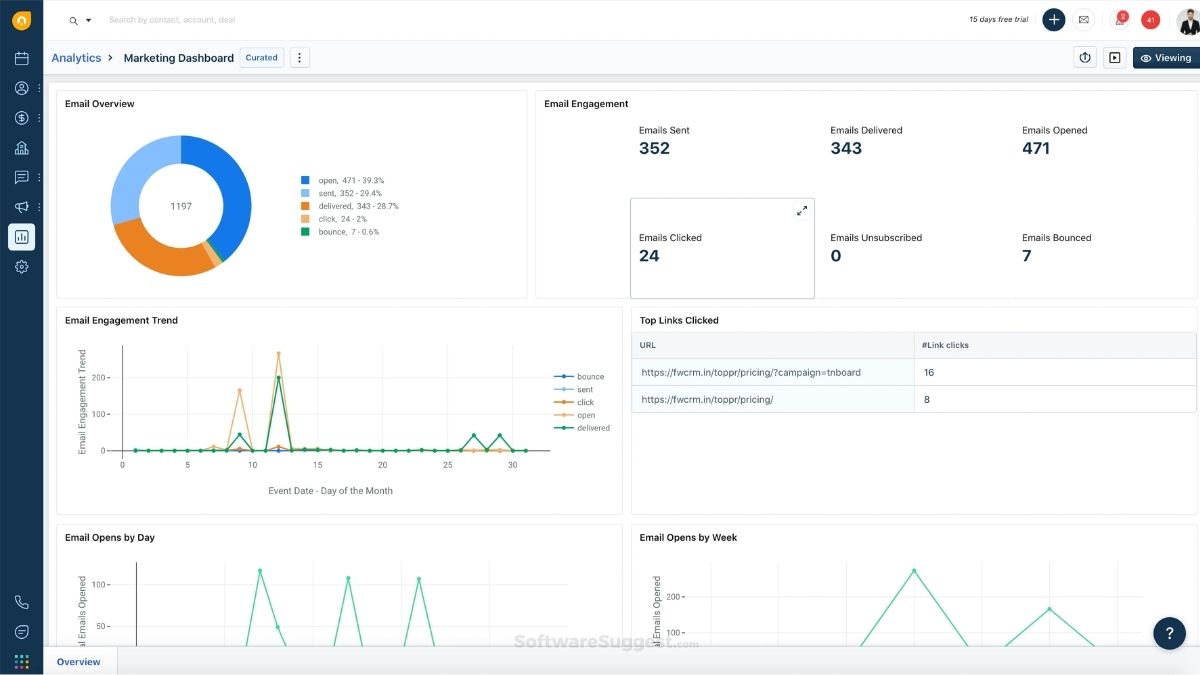 Freshworks can be a one-stop shop to optimize your marketing, sales, customer engagement, etc. efforts. If used as an E-commerce CRM for your growing business, it allows easy access to all crucial information and metrics. The pricing varies as per the specific operational module that you choose.
It has also leveraged the power of AI to study customer trends and predict outcomes with high accuracy. It can be a reliable software to help you provide a top-notch customer experience.
Key Features for E-Commerce
Market Segmentation
Behavioral Analytics
Omni-Channel Marketing Automation
Autoresponders & AI Chatbots
Sales Forecasting
---
Ending Note
Implementing the right E-commerce CRM can work wonders for your business growth. It lends clarity to every business decision so that you can capitalize on your strengths and work on the weaknesses. Your data can be turned into your biggest asset to achieve exponential sales and delight your customers.
Start 15-day Free Trial