Businesses put their heart and soul into fostering strong customer relations. You try to be a friend, a trusted advisor, and their go-to option to resolve problems. But suddenly, you find a client's account closed one day. They've stopped using your product and ended their association with you.
Although this is heartbreaking, it is a real problem faced by almost every business. The official term for it is customer churn. It can cripple your operations if it's not addressed timely. Firstly, you lose out on the revenue that churned customers would have generated. And secondly, you are forced to bear high acquisition costs to keep your sales going.
It should hence be a priority for every growing business to prioritize retention by reducing customer churn. The best way to do this is getting to the depths of why your customers are leaving and tackling these reasons head-on. We're here to help in your efforts to do so!
Editor's Note: Calculating Customer Churn Rate
You know the theoretical concept, but it's equally essential to have a quantifiable value for churn. Customer Churn Rate tells you the percentage of customers you lost over a specific time period. It is a crucial metric for growing businesses to track.
Here's how to calculate it:
(Customers Lost ÷ Total Customers at the Start of the Time Period) × 100
Exploring & Tackling the Causes of Customer Churn
Long story short, churn occurs because your customers are not happy. Some customers might leave because your product is not good enough, or they found no use for it. Alternatively, some might leave because your teams were not prompt in responding to them.
These various causes can be bifurcated into 3 main categories. Let us explore these in detail, as well as some solutions to combat them. Eliminating the reasons for unhappiness of your customers will boost your retention and help you make the most of your existing customer base.
1. Product-Related Factors
Your product is at the core of your business. It is the main basis for brand loyalty as per 77.84% of customers. Ironically however, it is also one of the main causes of customer churn. It is the very reason why customers are associated with you in the first place.
However good your marketing, sales, or support may be, a customer purchases from you because of your product. It is thus the make-or-break element. Product dissatisfaction can stem from numerous reasons: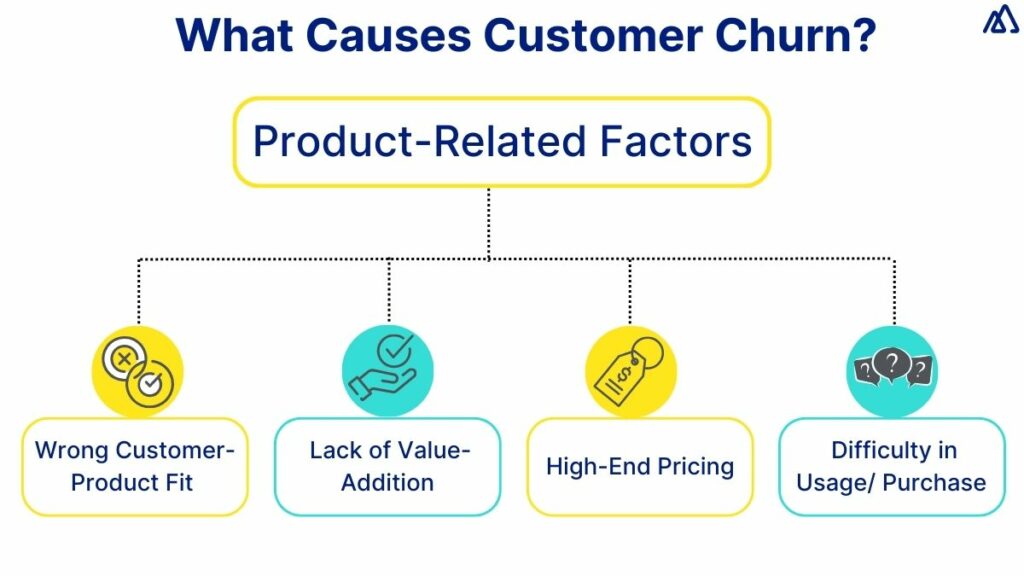 1.1 Wrong Customer-Product Fit 
Selling customers products that they don't want, or need is a sure shot precursor to churn. After all, no customer will continue paying for a product that doesn't resonate with them. Most businesses make this blunder in a bid to simply achieve the sales numbers. They don't focus enough on whether the prospects will truly benefit from the deal. This is evidently bad for your customers, since they're stuck with a product that cannot fully help them.
But the other downside is the wasted time and money needed to close such deals. These resources could be better utilized for prospects that have higher chances of becoming repeat customers. Here are a few simple but effective measures to avoid this:
✅ Create a comprehensive buyer profile to avoid selling to the wrong customers
✅ Set criteria that leads should fulfill before your teams move them ahead in the sales cycle
✅ Train sales reps on the product's use cases and features so that they deliver an accurate pitch
✅ Align your marketing content & campaigns to reach your target audience
---
1.2 Lack of Value-Addition
Imagine this: Your product is a great fit for the buyer. But your onboarding and support process is flawed, and customers cannot explore the full value attached to the product. They won't see the benefits they expected and will eventually stop engaging.
It's one thing for customers to leave if your product can't help them at all. It's another thing all together if they leave because nobody told them exactly how the product can help. You can lower chances of customer churn due to this reason by:
✅ Personalize onboarding as per your customer's unique requirements
✅ Send informative content at every onboarding stage
✅ Create an open resource library for customers to learn about the product
✅ Provide a roadmap for the upcoming features and inform them about new feature releases
---
1.3 High-End Pricing
At the end of the day, it all boils down to price. Every purchase, however small or large, is ultimately dependent on price. This is one of the most basic factors causing customer churn, because a buyer's psychology favors the product that costs lesser.
High pricing is beneficial in a way because it makes people believe that your product is premium and exclusive. However, you need to strike the right balance here. You want this impression to last, but don't want to lose out on customers in the bargain. These tricks can help you out here:
✅ Identify and adopt the right pricing strategy for your business's growth stage
✅ Create a transparent pricing policy that justifies your costs to customers
✅ Train sales reps to address price concerns
---
1.4 Difficulty in Usage/ Purchase
The very reason why customers buy your solution is to resolve their existing concerns. They surely won't stick around with a product that adds to their problems. This is especially true in the case of SaaS products, where ease of use is of paramount importance.
You must make your customers want to keep using your product. Additionally, ensure that you make it simple for them to keep buying from you. Consider the following practices to achieve this:
✅ Modify all the complex aspects of your product's functioning
✅ Publish articles and video tutorials for customers to refer to
✅ Conduct surveys to find out how easily customers can use the product and make changes accordingly
✅ Research your competitor's products to identify areas for improvement
✅ Set up a hassle-free and self-service purchase process
---
2. Service-Related Factors
Besides the product, the other factor that attracts or repels customers is how you serve them. Customers have dozens of options available today and they're not willing to compromise in any way. They want a brand that understands them, wants to truly help them, and sees them as more than a revenue source.
Furthermore, they want a brand that is keen to not just make sales but to make strong relationships. You'll be replaced faster than you can imagine if you fall short in any of these aspects. Let's break down the nuances of the service-related issues that may arise, and how you can prevent the subsequent customer churn: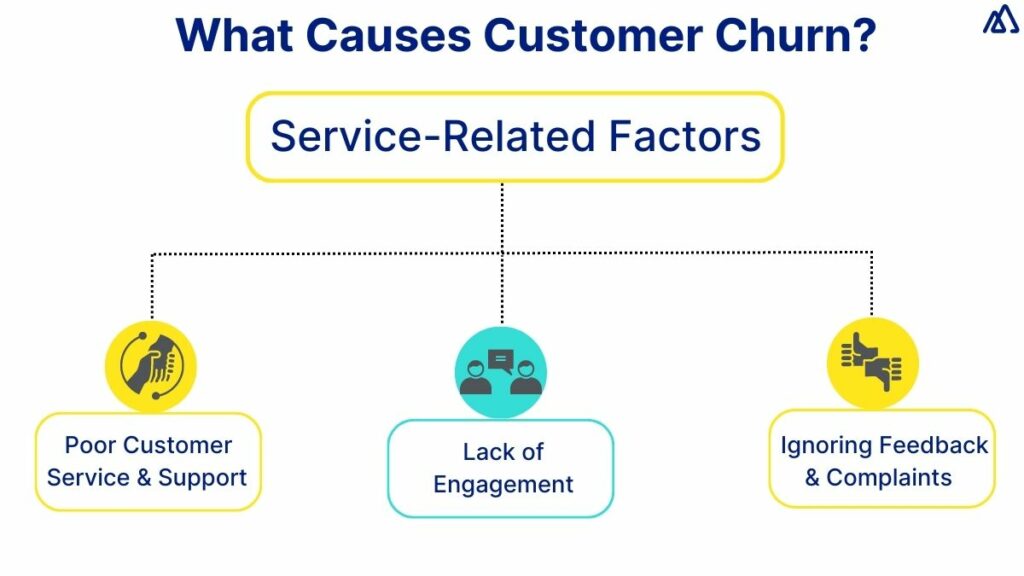 2.1 Poor Customer Service & Support
Businesses lose around $75 billion every year over the customers lost due to poor service. This is a large price to pay over a highly avoidable problem. We're not saying that it's easy to do so. It will take tremendous efforts to delight your customers with your services. Especially as your business grows and your customer base expands.
But the outcome will make these efforts well-worth it. Similar to what your customers expect from you, they too will reciprocate and start seeing you as more than just a brand. They will be personally invested in you too, which drastically reduces the chances of customer churn. Your service and support can be improved by:
✅ Be proactive instead of reactive and check in regularly with your customers
✅ Make it easy for customers to reach out to support
✅ Ensure that every support member has easy access to the customer's history for faster resolution of their concerns
✅ Alternatively, have a dedicated POC for every customer
---
2.2 Lack of Engagement
We're sure that you must be constantly engaging with prospects till they become your paying customers. But many businesses stop actively communicating with customers after this, which is their biggest undoing. You need to continuously engage your customers. This ensures that they remember you and will likely purchase from you again.
However, in the event that some customers do churn, the engagement should still continue. Exit interviews, phone/video calls, or feedback forms to identify the reasons for switching can lower your monthly churn rate by 5.1% compared to those businesses who don't adopt such practices. Here are some other good practices that you can adopt:
✅ Have an omni-channel approach to reach customers on the channels where they are most active
✅ Make the engagement efforts personalized and valuable to customers
✅ Track their responses to see what's working for your business
---
2.3 Ignoring Feedback & Complaints
Many a time, customers give you a chance to prevent them from leaving. This is through the valuable feedback that they give. They may raise concerns about your product, complain about your teams' work, or express dissatisfaction about any other aspect.
This is a ready opportunity for you to tackle customer churn. Here's everything you can do:
✅ Don't wait for customers to come and complain to you; ask them for feedback yourself
✅ Try to resolve their concerns promptly or take some measures towards it
✅ Inquire periodically if their problem has been solved or if they are facing it again
---
3. The Competitor Factor
This third factor is the trickiest one. Sometimes, your product and service are at the 100% mark. But your competitors are inching ahead and reaching the 101% mark.
They're simply doing something different and better. Your customers hence decide to move to your competitors. But there are some practices to tackle this:
✅ Research and observe your competitor's practices on their websites, social media, etc.
✅ Identify where they have the upper hand over you
✅ Try to incorporate these aspects in your product and services
✅ Highlight your USPs over your competitors in your brand communication
---
The Case with Kylas
CRM benefits for business operations are widely known. It helps with marketing, sales, and overall automation of your processes. However, the very name indicates that its primary use is in managing customer relations.
It helps you understand your customers better and create a seamless experience for them. This software is an essential addition to your customer retention strategies and can boost your retention by up to 16%. Let's explore the unique functionalities of Kylas, an enterprise-grade sales CRM, that can help you prevent churn.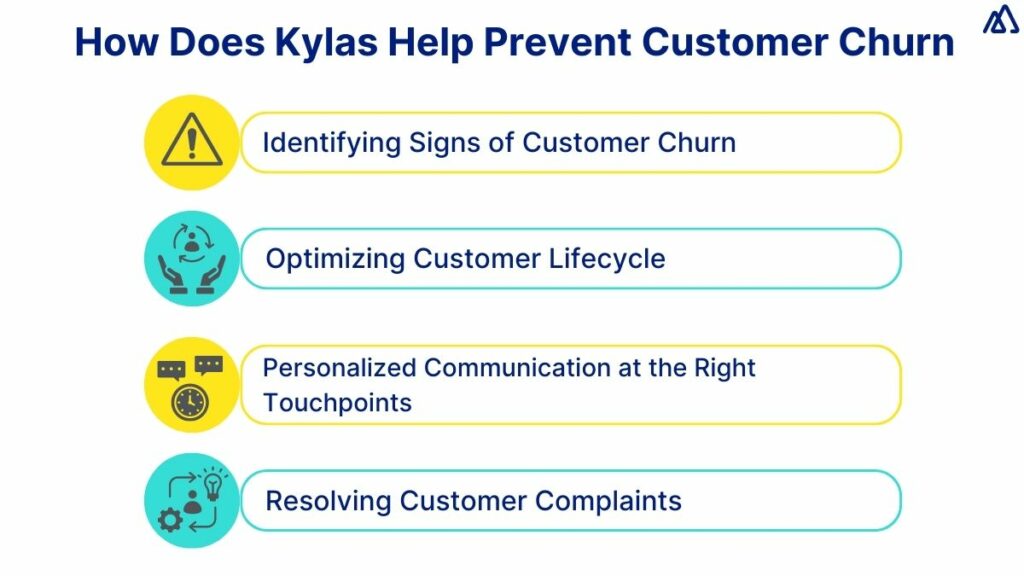 Identifying Signs of Customer Churn
Kylas makes data your biggest asset. It's reporting and analytics features create usable and actionable insights from data that provide warning signs for customer churn.
You can systematically track your sales and repeat sales, and the closed accounts. Furthermore, stay a step ahead by taking preemptive measures to prevent the churn that your data has indicated.
Optimizing Customer Lifecycle
We've established the importance of providing customers with a good experience. Kylas helps you do so by managing the entire customer lifecycle on a unified platform.
You can additionally track the end-to-end interaction of your customers with your brand, right from the stage they come in as a lead to managing their account. You can ensure that every stage is seamless and convenient for them.
Personalized Communication at the Right Touchpoints
An impersonal approach drives 33% of customers away from a brand. But if you're a Kylas user, you need not worry about this! Kylas lets you automate emails, SMSs and WhatsApps so that you can reach your customers at the right touchpoints.
Besides, you can also segment your customers using Smart Lists and send personalized communication that is relevant to every such section.
Resolving Customer Complaints
You can set up an efficient and effective calling system on Kylas to optimize your support operations. One-click calling enables your teams to contact customers promptly. Make calls on the go and set reminders so your customers remain your top priority.
Furthermore, you can record and audit calls to assess the problems faced by customers and how your teams handled them.
Witness firsthand how Kylas features can help you tackle customer churn and scale with expertise. Schedule a demo now!
---
Ending Note
It's important to remember that customer relationships are a give-and-take situation. You must give them a valuable solution for their problems and excellent service. Consequently, they will give you their unwavering loyalty and repeat business!
Start 15-day Free Trial