Today's business horizon can be defined by two main characteristics- competitive and fast-paced. Every company is trying to inch ahead in the race to success and outperform its competitors. However, every company has a trump card to its name that can help it thrive. This trump card is the loyal customer base of a business.
It isn't enough anymore to simply attract new customers and close one-time sales. Instead, the focus has shifted to nurturing solid relations that foster loyalty in customers. Companies stand to increase their profits by 25%-95% with a mere 5% increase in customer retention. Hence, there is a lot riding on the creation of a strong customer-relationship foundation, businesses need all the help they can get in achieving this.
One of the best ways to do this is by keeping a close watch on your customer's experience with your brand and improving the areas that are falling short. This process is called customer lifecycle management, and it is a vital business practice. There are a lot of nuances associated with it, and it is essential to get to the depths of each of these. We are here to help you do just that, so you can manage your customer lifecycles in CRM like a pro!
Kylas, an enterprise-grade sales CRM is designed to help growing businesses scale with expertise. It is a reliable, easy-to-use, and cost-effective solution. To know more about how your business can grow with Kylas, get in touch with our experts! 
Understanding the Customer Lifecycle
Before attempting to manage customer lifecycles, it is essential to know what exactly the term means. It is the end-to-end journey that your customers go through, starting from their first interaction with your brand, right up to the stage where they turn into brand loyalists. It serves as a reliable framework for businesses to communicate with their customers at every touchpoint in a way that engages them and nurtures lasting relations.
The customer lifecycle covers the entire interaction of customers with businesses. Such interactions are not comprised of a single step but rather have a systematic flow through numerous steps. Each of these steps, or stages, focuses on a different aspect of the lifecycle and requires a different approach from businesses. Let us breakdown the customer lifecycle into the 5 stages that it typically follows: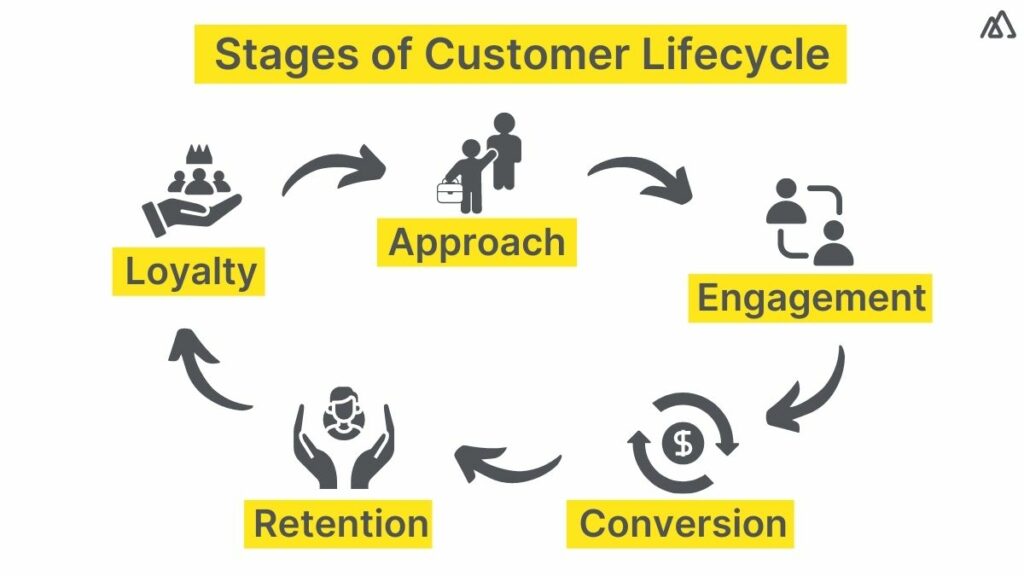 Approach
Every new customer's journey begins at this stage, where they first become aware of your brand. The customers are merely leads at this point. Businesses must approach them with informative and relevant marketing content, and convey the benefits associated with their product. Hence, the chunk of the work here is picked up by your marketing teams, and pre-sales teams who must analyze the numerous incoming leads and qualify the ones that must be pursued. At the approach phase, you can leverage channels like social media, networking events, paid advertisements, email marketing, etc. to enhance the outcome.
Engagement
The start of this stage is marked by your customers either initiating contact with you or visiting your website. Your task here is to engage your customers and build relations with them. Customers will be assessing your product at this stage- the pros and cons, its suitability for their requirements, etc. Hence, they need responsive customer support from your end to resolve the various concerns and queries they have. Besides, your marketing and sales teams must adopt a value-based and personalized strategy to maximize engagement.
Conversion
After providing all the required information and top-notch customer service, you finally secure a purchase from your customer at this stage. They convert from being a mere lead or prospect to a paying customer of your business. At this stage, it is crucial that you focus on selling the relationship that your customer is entering into with you, and not just selling your product. This is the key to further converting them to repeat customers of your business.
Retention
A sale is arguably the most important outcome for businesses. However, your work does not end at the conversion stage. Here onwards, the focus shifts to strengthening the relationship formed with the customer. Doing so will greatly increase the chances of your customers sticking to your brand in the long term. The retention stage can be further bifurcated into smaller stages:
Dedicated customer support
Tracking the adoption & use of your product by the customer
Maintaining healthy interaction through customer outreach initiatives
Identifying opportunities to upsell and cross sell
Loyalty
Loyal customers are your biggest asset, evidenced by the fact that 43% of customers spend more on brands to whom they feel loyalty. The end goal of all the stages of the customer lifecycle is to generate brand loyalty. This comes with two major advantages for your business. Firstly, your loyal customers will make repeat purchases and boost your revenue. Secondly, they will also act as advocates for your brand and drive more sales your way.
These stages together comprise the lifecycle. Often, it is confusing for businesses to know the precise stage that their customers are in because every stage is so closely linked with each other. However, a customer lifecycle map can make this easier for you. It is a graphical and visual guide that tracks where your customers are in their buying journey. Such mapping will lay a strong foundation for you to manage your customer lifecycles since you will have the relevant data at your fingertips.
---
Importance of Customer Lifecycle Management
Basis the in-depth breakdown of a customer lifecycle provided above; it is safe to safe that tracking the lifecycle will tell you the full and complete story of the customer-business interaction. You can also go a step further, and try to manage and optimize each stage in a way that produces the best outcomes for you. This process is termed as customer lifecycle management.
Customer lifecycle management can be broken down into 3 simple steps:
Monitoring the various stages of the lifecycle
Assigning specific metrics to each stage
Analyzing the success of your business and customer support through these metrics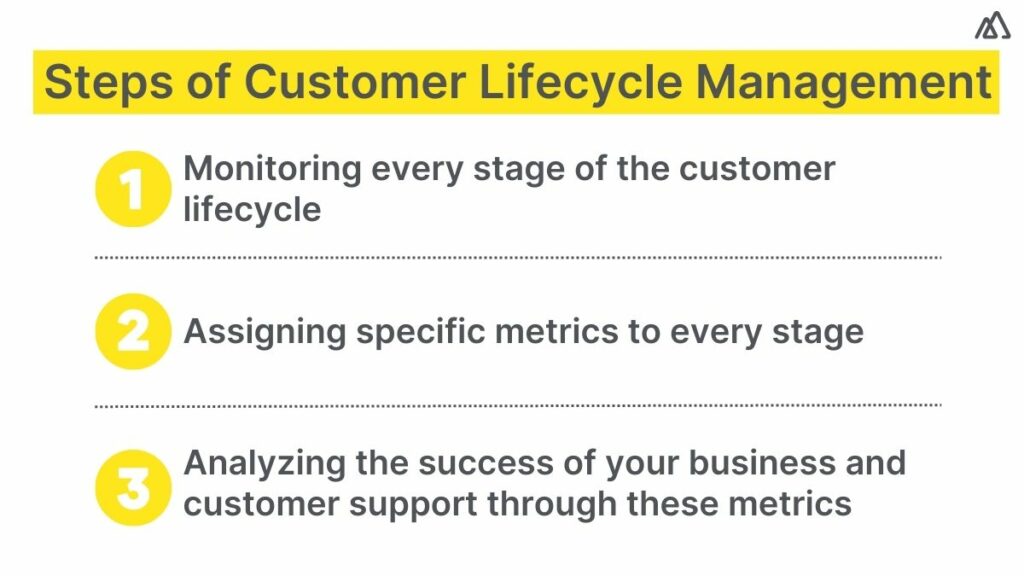 The primary aim behind this process is the optimization of customer lifecycles in a way that produces the best results for your business. You can gain thorough insights into your business health because it is closely linked to how well your business is received by your customers. Besides this, there are several other benefits to managing your customer lifecycle: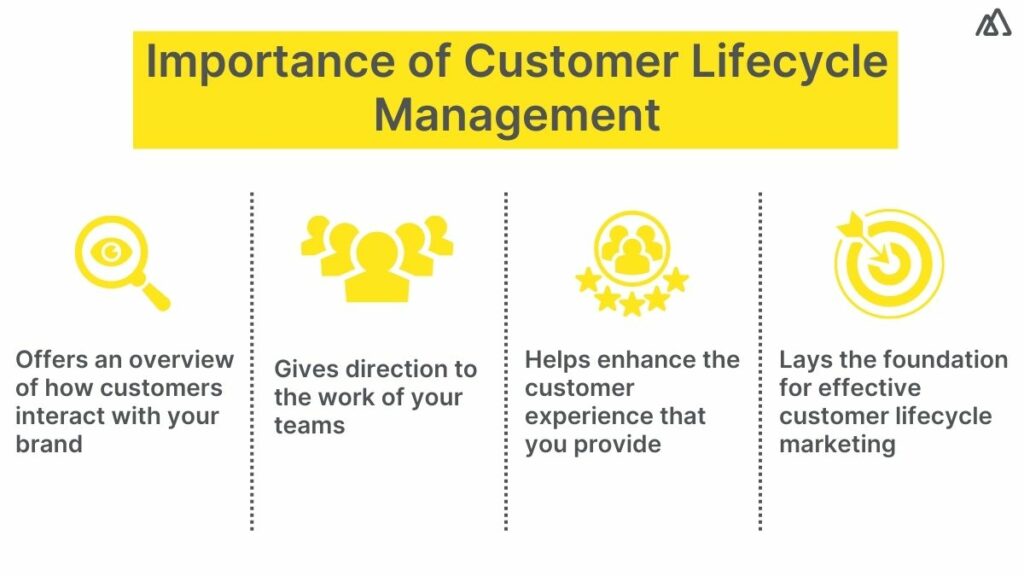 1. Offers an Overview of How Customers Interact With Your Brand
Let us visualize a scenario that many businesses must have faced. They have created a great product and are directing many resources towards marketing and selling it, but still cannot secure steady and repeated sales. There are many possible reasons behind this. Perhaps the marketing approach is not engaging the audience. Or perhaps, the customer service team is not performing well. But the business is uninformed of these reasons, and hence cannot take any measures to fix them.
These situations can be avoided with proper lifecycle management. It gives a complete overview of customer interactions with your brand so that you are not caught unaware of any bottlenecks or weaknesses in your processes.
2. Gives Direction to the Work of Your Teams
Every stage of the lifecycle relies on the work of specific teams. The combined efforts of all teams eventually help in acquiring a loyal customer base. Customer lifecycle management is one of the best ways to structure and streamline the work of your teams so that you can get optimum results from each of them. You can gain insights into the teams that are performing well, and even identify those teams which are lagging. This will help you make informed decisions about how to improve your team performance.
3. Helps Enhance the Customer Experience That You Provide
92% of customers are more likely to make repeat purchases from a brand that offers a good customer experience. Going by this, you can do wonders for your sales by offering a positive experience to your customers. Lifecycle management helps you do just this. It provides valuable data relating to your customer interactions, including any concerns that your customers may be facing. This data can be leveraged to optimize the experience that you offer.
4. Lays the Foundation for Effective Customer Lifecycle Marketing
This is perhaps one of the most significant advantages associated with lifecycle management. Marketing is one of the crucial operations as it spreads the word about your business and helps you reach your target audience. Basing this process on the customer lifecycle will ensure that your marketing efforts hit the target every time.
Let us explore this concept further and evaluate the advantages it has for a business.
---
Decoding Customer Lifecycle Marketing
If you wish to level up your marketing game, you need to adopt customer lifecycle marketing. It is an integrated, high-level approach that touches every stage of your customer's journey with your brand. To understand the importance of this approach, let us revisit the lifecycle stages elaborated above. If you circulate content related to customer referral incentives at the approach stage, it will surely miss the mark. However, this same content will be useful at the retention stage. Similarly, sending personalized and contextual messages is more important during engagement rather than conversion.
This is where customer lifecycle marketing can help you. This process is based on an understanding of the fact that you need varied marketing strategies and content for your customers at every stage of their lifecycle. Your marketing efforts should provide the highest value for your customers at each stage. This is the key to building lasting relationships and achieving optimum levels of retention.
The Crucial Metrics in Customer Lifecycle Marketing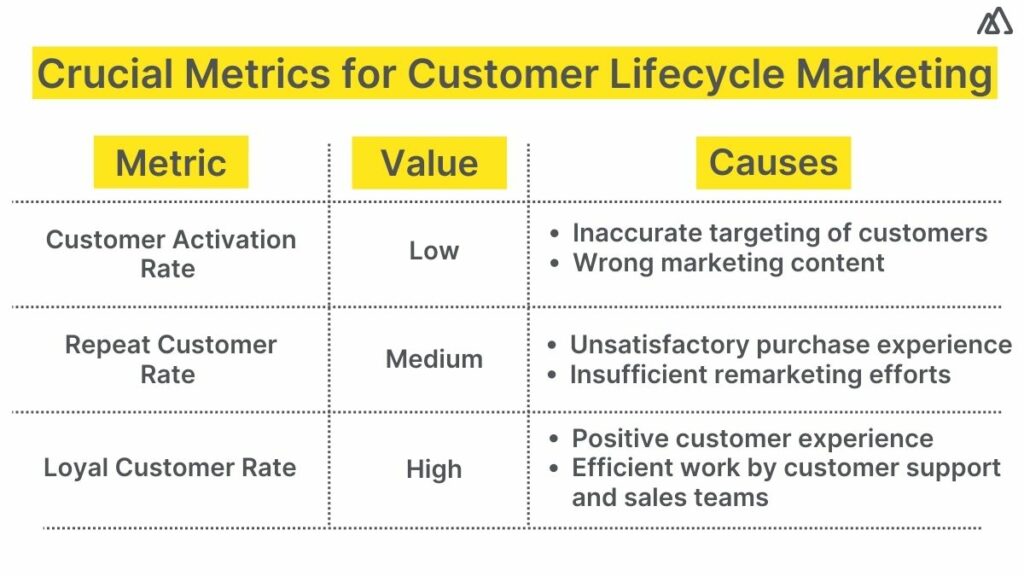 Customer lifecycle marketing requires you to align your marketing with the stage-wise journey that your customers go through. This sounds like a straightforward process but is actually a highly nuanced one. There are numerous factors involved and each of these plays a part in the overall success of your strategy. However, it is no easy feat to keep track of so many factors.
We've made this task simpler for you, by identifying the three most crucial metrics in lifecycle marketing. Tracking these metrics is a good way to determine the effectiveness of your strategy and make informed decisions to improve it:
Customer Activation Rate
This is a reliable metric to determine the rate at which your customers understand your product's value and are ready to take action. Before trying to measure it, it is essential for you to identify an 'activation milestone' for your business.
It is calculated as: (No. of customers who reached activation milestone ÷ total no. of customers) x 100
Repeat Customer Rate
The goal behind lifecycle management and marketing is to grow your repeat customer base. This metric will convey how close you are to achieving that goal.
It is calculated as: (Total repeat customers ÷ Total customers) * 100
Loyal Customer Rate
Loyalty is the final stage of a customer's lifecycle. Every business aims to have more and more customers reaching this stage. Tracking the loyalty rate will not only tell you how many loyal customers you have, but will also help you make informed decisions towards increasing this number.
It is calculated as: (No. of customers who purchased 4+ times in a specific time period ÷ no. of unique customers in the same time period)
By staying on top of these metrics, you can be well-informed about the health of your lifecycle marketing.
---
Conducting a Customer Lifecycle Analysis
So far, we have gone over the stages of a customer lifecycle, the meaning of lifecycle management, and the importance associated with it. Let us now get to the crux of what customer lifecycle management entails, and how it can be systematically done in CRM.
The first and foremost step towards this is to analyze the entire lifecycle. Merely knowing the various stages that your customers go through is not enough. You must get to the depths of each stage and try to leverage it for the best of your business.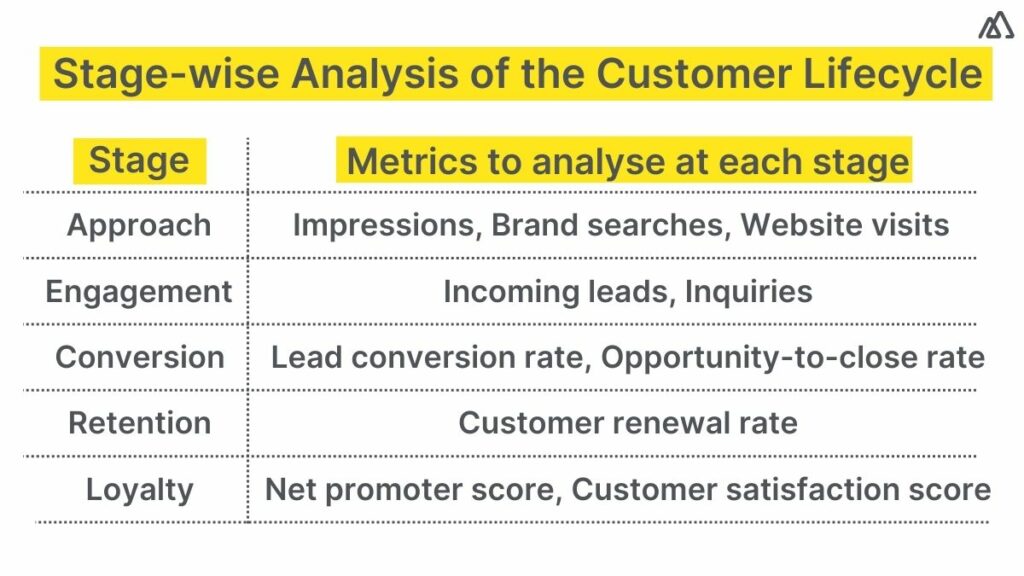 Approach Stage Analysis
Your objective here must be to identify how easily your prospective customers can find your business. With this knowledge in hand, you must tweak your practices so that you can make the most of this stage and maximize your brand visibility.
Here are a few questions that you must answer at this stage of analysis:
How do your prospects first hear about your business?
Are online or offline channels working better for your reach?
What are the impressions that you achieve through these channels?
Are your competitors taking any other measures to increase their reach?
Engagement Stage Analysis
This stage focuses on engaging clients and conveying the value that your solution can bring to them. While evaluating it, you must focus on the information, material, and services that you provide.
Does your website's content make it easy for customers to make a decision in your favor?
Is it easy to navigate your website?
Is your customer support process simple to understand and execute?
Do you have a transparent pricing breakdown available?
are some of the questions that you must consider.
Conversion Stage Analysis
Through this analysis, you can identify the strengths and weaknesses of your purchase process. It can generate valuable insights regarding what is, and what isn't working towards converting prospects into paying customers.
The following factors will help in giving direction to your analysis:
Is your purchasing process simple and seamless?
Do any blockers like buggy sites, outdated domains, etc. prevent sales?
Have you provided your customers with accurate product descriptions while they make a purchase?
Do you have clear-cut refund/replacement/privacy policies for the benefit of your customers?
Retention Stage Analysis
The goal here is to explore where and how you can improve the experience you offer your customers. Simultaneously, you want to ensure that they have no reason to move away from your business by eliminating all the bottlenecks from your processes.
Here are a few points for you to consider:
What impression do you leave your customers with after a purchase?
Is it easy for customers to make repeat purchases from you?
Are you attentive to the concerns and requests of customers after they make a purchase?
Are you tracking the feedback of customers after using your product?
Have you personalized each customer's experience with your brand?
Loyalty Stage Analysis
Customer loyalty is the most-desired outcome for all businesses. Analyzing this stage means analyzing whether your customers will make repeat purchases from you and also advocate your brand to others.
Have you made it easy for customers to recommend your brand through social media pages?
Do you have referral programs to reward your loyal customers?
Do you offer any special perks to existing customers like exclusive offers, discounts, etc.?
Is your business easily accessible via channels like phone, email, SMS, etc.?
are some questions that will help you during the analysis.
Each stage of the lifecycle requires a different approach for its analysis. This is because the focus area and outcome of every stage are vastly different. However, the analysis of every stage has a few aspects in common. For every stage, data needs to be collated from various sources, analyzed, and converted into usable insights. This is where CRM can help you. It creates a unified database for all your metrics and creates informative reports through data analysis. Your efforts can be greatly streamlined and optimized by managing customer lifecycles in CRM. Let us explore some of the best practices that you can adopt for this.
---
Best Practices to Manage Customer Lifecycle in CRM
The process of lifecycle management is majorly dependent on 3 factors:
Seamless cross-functional coordination and collaboration
Precise and well-defined business objectives
Understanding the customer's psyche
These factors are difficult to manually manage and keep track of, no matter how much time and effort you dedicate towards it. Furthermore, the success of your lifecycle management is based on the accuracy of these factors so there's no room for error. This is where CRM comes in handy!
Customer lifecycle management in CRM is one of the best ways to conduct the process. This way, you can ensure that the results are error-free and that you can incorporate changes to your processes in real time. Here are a few of the essential practices of lifecycle management which can be efficiently done using CRM: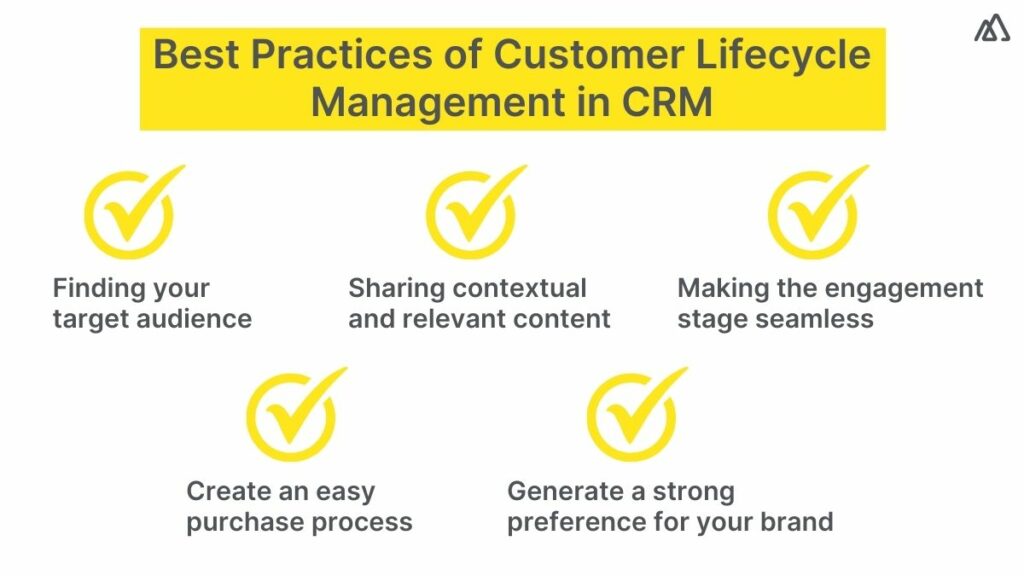 1. Finding Your Target Audience
This is essential to do in the approach stage. You must identify the type of customers who you're trying to approach and then accordingly direct your resources to target this group. This will give a clear direction to your efforts since your audience tool is narrowed and it will produce better results too.
Finding your target audience is easier once you create your ideal customer profile. You can use this to identify the audience who matches your target audience in terms of buying patterns, demographics, etc. CRM features can easily help you create such customer profiles, segment your audience, and qualify prospects.
2. Sharing Contextual and Relevant Content
Another vital practice to maintain during the approach stage is to share relevant content with your customers. This presents your business as an industry expert in the minds of customers, and they will naturally be inclined to trust you more. It also helps increase your brand recall.
Creating such content and circulating it in a timely manner is made easier with CRM. You can make informed decisions about the type of content that works for your business based on performance metrics and reports generated by CRM. Besides, automation ensures that your content and communication is sent on time.
3. Making the Engagement Stage Seamless
A seamless engagement stage translates to stronger relations being built with your customers, the creation of a positive impression of your product in their minds. There are two major ways in which you can optimize and manage your engagement stage:
Self-Service Resources:
Such resources make it very easy for your customers to find out all essential information about your product. The first advantage of such self-service resources is that you come across as a highly transparent brand, which is appreciated by customers and goes a long way towards generating trust. Secondly, you reduce the reliance of your customers on your support teams, and they can make informed decisions by themselves.
Responsive Customer Support:
While self-service resources will help customers through some of their concerns, they will always need responsive customer support from your end. Your team must actively work to address their concerns and provide quick resolution. CRM can increase the productivity of your team and enhance the level of customer support that you offer. It does so through functionalities like automation of messages and emails, smart call centers, auto-routing of tickets to teams, etc.
4. Create an Easy Purchase Process
This lifecycle management tip will work wonders for your conversion stage. You must work towards making the purchasing process as simple as possible. A complicated process might prevent you from getting a sale, even if your customers were convinced about your product. Buyers of today are mostly Gen Z or millennials who expect hassle-free processes. You can increase the likelihood of customers purchasing from you by making it very easy for them to do so. You can leverage the power of CRM and integrations to enable a simple purchase process and bring all operations like payment, invoice generation, etc. to a single platform.
5. Generate a Strong Preference for Your Brand
You must focus on this during the retention and loyalty stages. Customers who are moderately satisfied with your business have lower chances of becoming loyal and repeat customers. However, customers who have a strong preference for your brand are more likely to buy repeatedly from you and recommend you. You must make your customers feel that your business cares the same for them post-purchase as you did pre-purchase.
Through your CRM, you can send personalized and customized communications at the right touchpoints, generate offers that might interest your customers based on their purchase history, and take and track regular feedback from them. This will endear your business to your customers.
These tips cover all the stages of the customer lifecycle, and hence offer a holistic approach for efficiently managing it. If you follow this framework and carry out your customer lifecycle management in CRM, you can optimize it and generate the best results for your business.
---
Ending Note
All customers, irrespective of their specific requirements, follow 5 stages in their interaction with a business. It is a common misconception that the customer lifecycle is a process that follows its own due course and is a result of chance. However, the truth is that you can take control over this process and make it work in your favor. You can use robust software like CRM to keep track of your customer journeys, analyze your teams' performance at every stage, use the right tools to streamline the lifecycle, and make informed and data-driven decisions. Customer lifecycle management in CRM is hence one of the best practices you can adopt to build a loyal customer base for your increase and scale your revenue and profitability.
Kylas Sales CRM can help you effectively track and manage your customer lifecycles. You can create custom pipelines for all your prospects and see where they are in their journeys.
Start 15-day Free Trial