Talking about the modern world, a lot of small businesses have realized how important a CRM is for their business. But with this, arises another question about the most vital feature that they must consider while making a choice. Undoubtedly, it makes a lot of sense to ask this question as the correct answer could mean taking their business to the next level.
Now that every business owner is different and so are their businesses, it's a common saying that businesses should look for a CRM that fits their particular requirements. Some may be interested in a CRM that offers great analytics features, some may want easy customizations, and some may want a number of integrations.
This may be right to some extent but if we consider the broader picture, we believe that the most important feature of a CRM is its ease of use.
Yes, it's a great deal if you get many features in your CRM, but it can be overwhelming if your team can't make the best use of those features just because it requires a lot of effort to use them. This is evident from the fact that 72% of senior executives prefer an easy-to-use CRM over one with more features.
It's obvious that a single feature won't help you achieve all your goals, but practically, this is the feature that lays the foundation for using a CRM to its maximum potential, making work easier, and reducing frustration.
Meanwhile, you can check Kylas CRM which is an easy-to-use, feature-rich CRM that has all the features that you need to grow as a small business.
---
What Do We Mean by an Easy to Use CRM?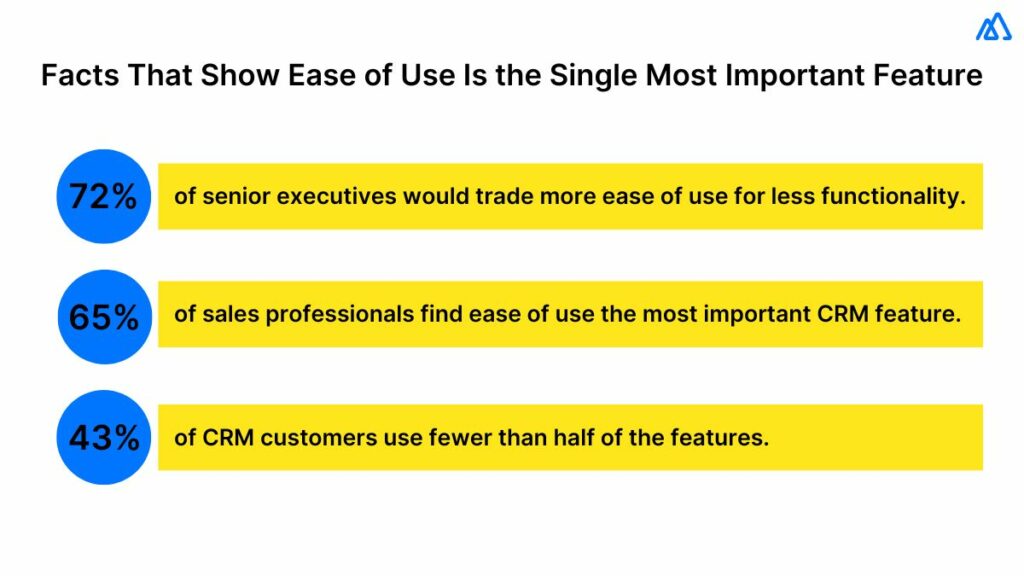 A lot of CRM characteristics could define the ease of use like a simple interface, ease of integration, high speed, lack of interruptions, and errors. A simple interface is about how easy the interface is to use. You should be able to integrate the CRM with as many apps and tools as your business needs and uses without any hassle. The software must be fast enough to save time on redundant operations. No operations should take unnecessary time and there should not be any disruptions that cause trouble in working.
---
Why Does Your Small Business Need an Easy to Use CRM?
If the CRM is not easy to use, not many people would be interested in using it. As per the statistics, 43% of CRM users only use less than half the features of their CRM system. For sure, there are plenty of benefits of a simple CRM. So, let's take a look at the reasons why you must invest in an easy CRM and why usability is an important aspect of any CRM.
1. Spend Less Time Learning How to Use It
When you get a new CRM for your team, it's obvious that they would need some time to learn to use it. If the features are hard and the interface is not user-friendly, it would take a lot of time for your team to start using it.
But when the CRM is easy to use, it will result in a quicker learning curve. This would also mean that you can get down to business quickly.
2. Free Up Your Time
As a business, you and your team perform a lot of activities on a daily basis. But not all tasks are interesting because of the additional manual efforts that take up a lot of your team's bandwidth. Making manual entries is tedious and often takes most of your team's time.
If you give your team a CRM that is difficult to use, they will waste even more time navigating the features and then, put the blame on the tool you got for them. But a simple CRM will help your team spend most of their time with their leads as they will know how to use each CRM feature best to their advantage.
3. Satisfaction
It goes without saying that a CRM should make the life of your team easier. It should not become a task that makes your team reluctant to use it. When you give your team an easy-to-use CRM, they won't feel frustrated but rather be thankful that the tool is helping them by making their job easier.
When they won't spend a lot of time understanding the system, they will be able to finish their tasks on time and focus on other things that keep piling up because of the lack of time.
4. Better Alignment
Your sales and marketing teams might be using plenty of tools to streamline their processes. Unlike those tools, CRM is the only tool that both your marketing team and sales team can use together and focus on your single business strategy. It helps align marketing and sales teams and when marketing and sales teams are aligned, it results in 36% higher customer retention.
From generating email marketing campaigns to nurturing leads, all can be done from a single platform. When the CRM software is easy to use, both teams can take the advantage of marketing automation, lead generation, email marketing, social media monitoring, sales forecasting, and much more.
5. Contact Management
When you are in a business, you can't afford to mess up your records. You want to make sure that all your contact records are easy to find, yet safe. But if some of them are stored in the email system, and the other ones are with the marketing team, no sales rep would be able to reach his/her full productivity. This may even make some contacts fall through the cracks.
To help your sales reps overcome the hassle of shuffling between software to fetch the required contacts, an easy CRM keeps all the contacts in one place with all the details. This helps reps customize their conversations in accordance with different customer profiles.
6. Improved Productivity
It's a common saying that when your employees are happy, they will keep your customers happy. And who doesn't know that happy customers have a positive impact on a business's revenue? A simple CRM improves team productivity with amazing automation tools.
A CRM reduces the amount of effort that exhausts reps mentally and physically. This results in them working more efficiently for longer hours and thereby, increasing their overall productivity. As per the stats, CRM software can boost sales by 29%, productivity by 34%, and forecast accuracy by 42%.
7. Activity Logging
When the leads move through the sales funnel, it's important to keep a log of notes, emails and calls with every potential customer. Sales and marketing teams review this information data and use it while engaging with the leads. It becomes crucial to keep this information safe and know where it can be found.
It happens many times that emails vanish, notes get lost, and you can't find the required information at the time of need.
With a CRM, you can compile and manage all your data conveniently and digitally. Also, as everything gets done automatically, you don't have to worry about manual errors. As there will be more free time, your team can use it to win new customers.
8. User Adoption
An easy CRM does its own marketing. When you decide to empower your team with a tool that makes their tasks easier, it's your point of view and not theirs. They won't trust your words until they are sure about it.
When your team will find out that the CRM is helping them by making their job easier, you won't even have to use tactics to convince them. They would look forward to using it without you having to worry about user adoption.
9. Ease of Scheduling Meetings
As a business, meetings are a daily chore for you. This needs you to schedule meetings with your clients every now and then. This also means that you will have to keep shuffling between apps to determine at what time your client is available to avoid any clashes.
But when you are using a CRM that lets you integrate its own calendar with Google Calendar and Outlook Calendar, you can easily see the slots that are free and schedule your meetings accordingly. You and your customers can keep track of the meetings and can also get reminders so that the meetings happen on time.
---
How to Recognize an Easy-to-Use CRM?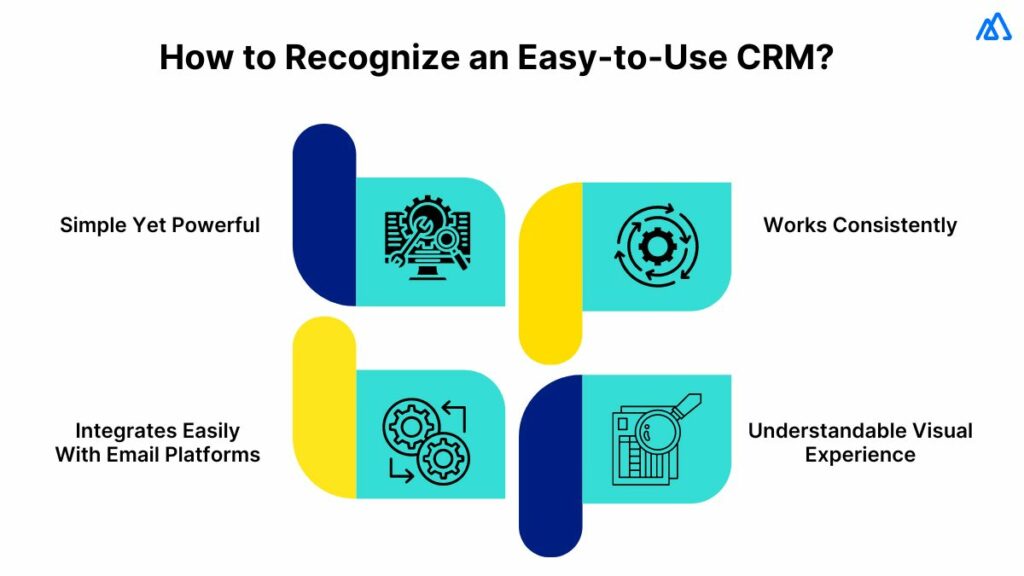 By now, you would have surely understood how important it is to work with an easy CRM. But it's not that easy to find the one for you.
When you search online, you will see that nearly every CRM vendor advertises offering simple software. But in reality, it takes some effort to find the right one for your needs.
Here are a few points that will help you find an easy CRM.
1. Simple Yet Powerful
You need a CRM that offers plenty of tools to help you build your business and take success to another level. An easy CRM comes with all the necessary features that are easy to control and use, unlike other complex CRMs.
2. Understandable Visual Experience
Nearly all CRMs collect and store information for businesses. But what differentiates a simple CRM from the rest is how well the information is represented. If you can see and understand all the needed information easily, you have found a good tool for yourself.
3. Works Consistently
In the modern world, businesses are not limited to their buildings. They are working inside and outside equally to maximize their businesses. A CRM must be simple to use on mobile, desktop, and web apps so you need to learn it once only.
4. Integrates Easily With Email Platforms
Regardless of whether you are using Gmail or Outlook for your emails, the CRM must be able to integrate easily with apps. This will save you time as you won't have to switch tabs and programs while working.
---
In a Nutshell
A CRM in itself is a blessing that can help you improve your business by manifolds. But when the same CRM is difficult to navigate, user adoption becomes a challenge. This is why you must consider buying a solution that is easy to use and has a lot of features. Consider making use of the free trials that will help you filter different CRMs and make the right choice.
Kylas is an easy CRM with features like pipeline management, contact management, and reporting. Schedule your appointment with us to know more.
Start 15-day Free Trial