A decade or so ago, the hottest word in the software industry was "cloud". Before cloud computing, software was sold as an application literally stored on your server, used by a single computer, or shared by multiple computers.
It was just a matter of time before someone figured out how to get the software to people in a simpler, more usable, and shareable manner.
In 1999, Salesforce became the first company to offer software over the internet. Soon after came Amazon Web Services in 2002, offering storage and computational services over the 'cloud'.
By the mid-2000s, every software company wanted a piece of the cloud-based software industry – from that had also evolved Software as a Service (SaaS) platforms.
SaaS platforms that, today, have taken over how programs are run and applications are used and make cloud-based or web-based technology a way of life.
But let's get down to the basics of it and start at the beginning.
---
What Really is Cloud Computing?
AWS or Amazon Web Services (one of the original frontrunners of cloud computing as we've mentioned above) defines cloud computing as "…the on-demand delivery of IT resources over the Internet with pay-as-you-go pricing.
Instead of buying, owning, and maintaining physical data centers and servers, you can access technology services, such as computing power, storage, and databases, on an as-needed basis from a cloud provider."
To truly understand the impact that cloud computing brought perhaps you need to have been a part of the corporate or technology landscape back when everything was run physically.
Suffice it to say, however, that it has shaped the way all businesses are run today – not just those in the technology landscape, but every boutique or individually-run business around the world too.
---
What is a Cloud CRM?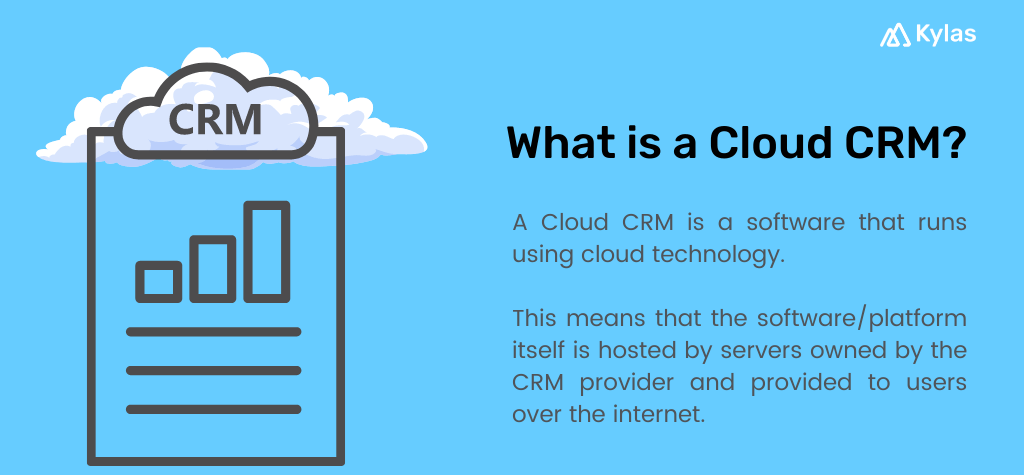 Simply put, Cloud CRM is a software that runs using cloud technology. This means that the software/platform itself is hosted by servers owned by the CRM provider and provided to users over the internet.
It's not an application or program you need to have downloaded onto your organization's servers in order to run on your computers.
Rather, your employees are added as "users" with their own accounts as part of an organizational subscription that allows you to access the platform via a browser month after month, year after year.
You might be wondering: If cloud technology is now so ubiquitous, are all CRMs cloud CRMs?
Surprisingly not – there are a few companies out there that offer their platforms over the cloud and as an on-premise solution or on-premise only.
For the most part, however, businesses that need sales and pipeline solutions rely on cloud CRMs for their ease, convenience, and accessibility.
---
Cloud CRM vs On-Premise CRM
Plenty of companies – enterprises, usually – opt for on-premise CRMs as a solution. While it's not recommended for growing businesses, let's understand the dynamics of it.
A cloud CRM hosts data on servers owned by the platform, which – despite privacy laws – can make owners of certain companies uneasy.
This is especially true for companies dealing with vast amounts of sensitive information (think financial institutions).
In the case of enterprises, customizability might be a driving factor – with an on-premise CRM solution, you can choose to customize as much of the product as you need, to control the processes governing the product, and you save at scale – if you have a large enough number of users, it could work out to be more cost-efficient.
Let's do a point-by-point comparison:
| Cloud CRM | On-premise CRM |
| --- | --- |
| Setting up is comparatively inexpensive | Requires huge upfront investment |
| Data is stored on brand-owned servers off-site | Data is stored on company owned-servers on-site |
| Minimal customization | Higher level of customization |
| Security is dependent on security features offered | Higher level of control and security |
| Technology upgrades, fixes, handled by the provider | Technology upgrades, fixes, must be handled in-house |
| Maintenance is the responsibility of the provider | Maintenance is your responsibility |
| High dependency on the provider's customer service | You can be more autonomous in the usage & needs of the CRM |
| Almost always comes with a ready mobile ap/interface | You will need to build your own mobile app/interface |
| Can get quite expensive at scale | Gets inexpensive at scale |
CRM Cloud vs On Premise CRM
As you can see, for growing business the only realistic and feasible way forward would be to opt for a cloud CRM. By no means should that be considered a pigeon-holed decision. Here's why.
---
Benefits of A Cloud CRM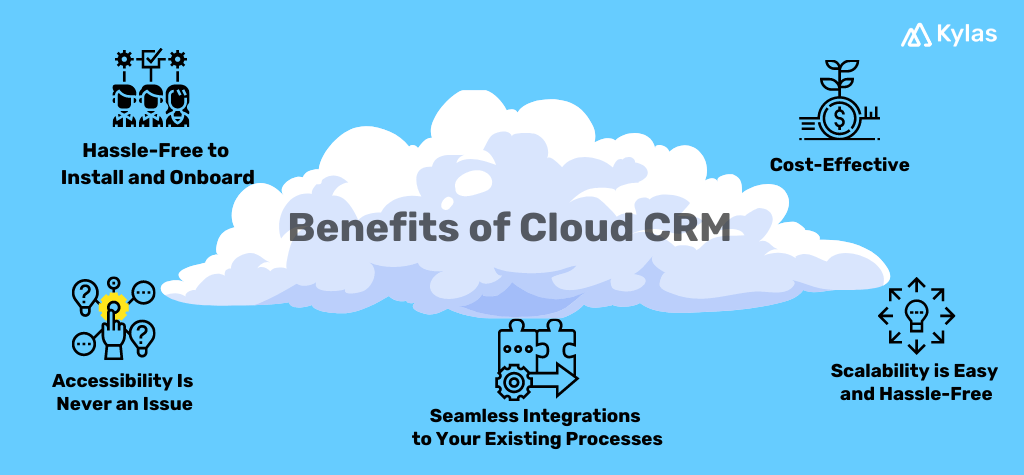 Cloud CRMs have revolutionized the sales industry the way cloud technology has revolutionized software in general. With that in mind, it's no surprise that cloud CRMs bring a whole host of benefits that elevate businesses. Let's look at some such benefits.
1. Benefits of Cloud CRM and Onboard
Because a cloud-CRM is essentially owned by the brand, getting it on board as a technology solution simply involves signing up on the product's website.
.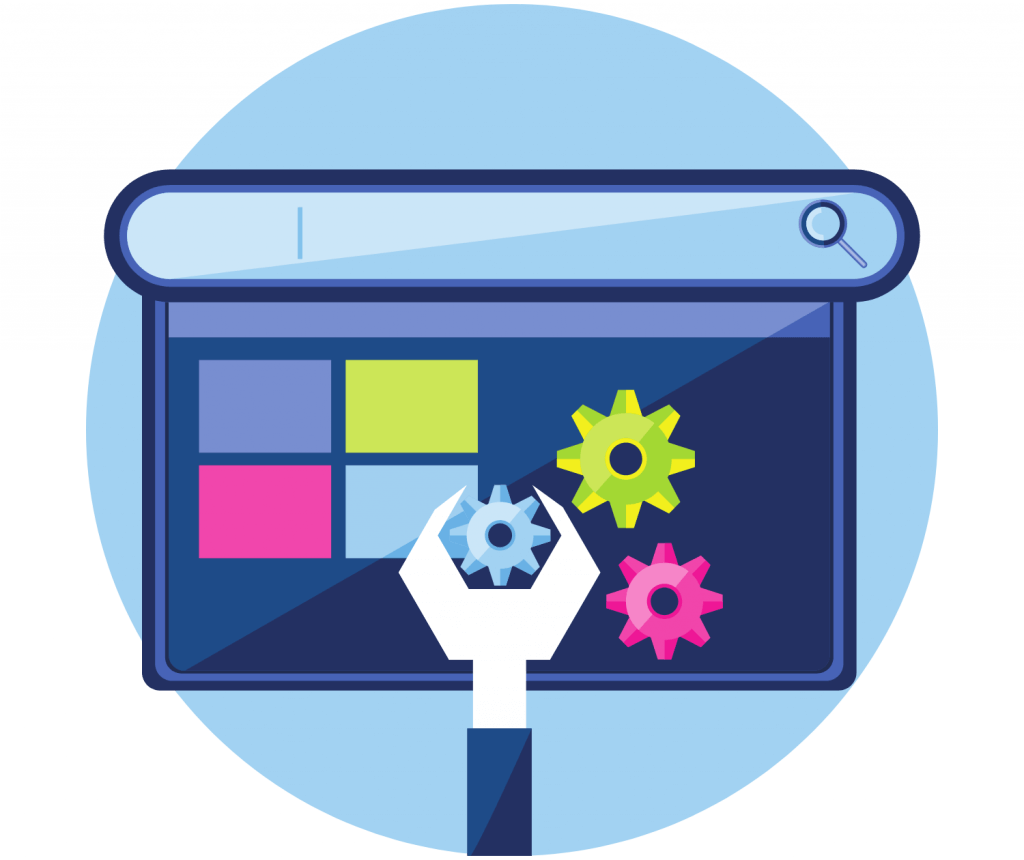 Once you have your user account set up, you're given the option to onboard more users from your company (usually with a subscription model) and you are also given the option to choose from various payment plans that come with different levels of features.
And as simple as that, you'd be ready and set with your cloud CRM solution! Once you're logged in, the CRM company will also offer onboarding assistance in various forms including:
A dedicated onboarding executive to help you set up the software (along with making any agreed-upon customizations) for your company – this includes setting it up for your business processes and workflows
Onboarding sessions and training sessions to help you and the team get your accounts set up
Training sessions that show you and your team how to use each feature of the CRM
An onboarding period that takes care of any questions, concerns, and requests you may have while getting your company set up
2. A Cost-Effective Solution
Because cloud CRMs are offered at scale to users around the world, it becomes easy for the product company to offer their software as a relatively inexpensive solution.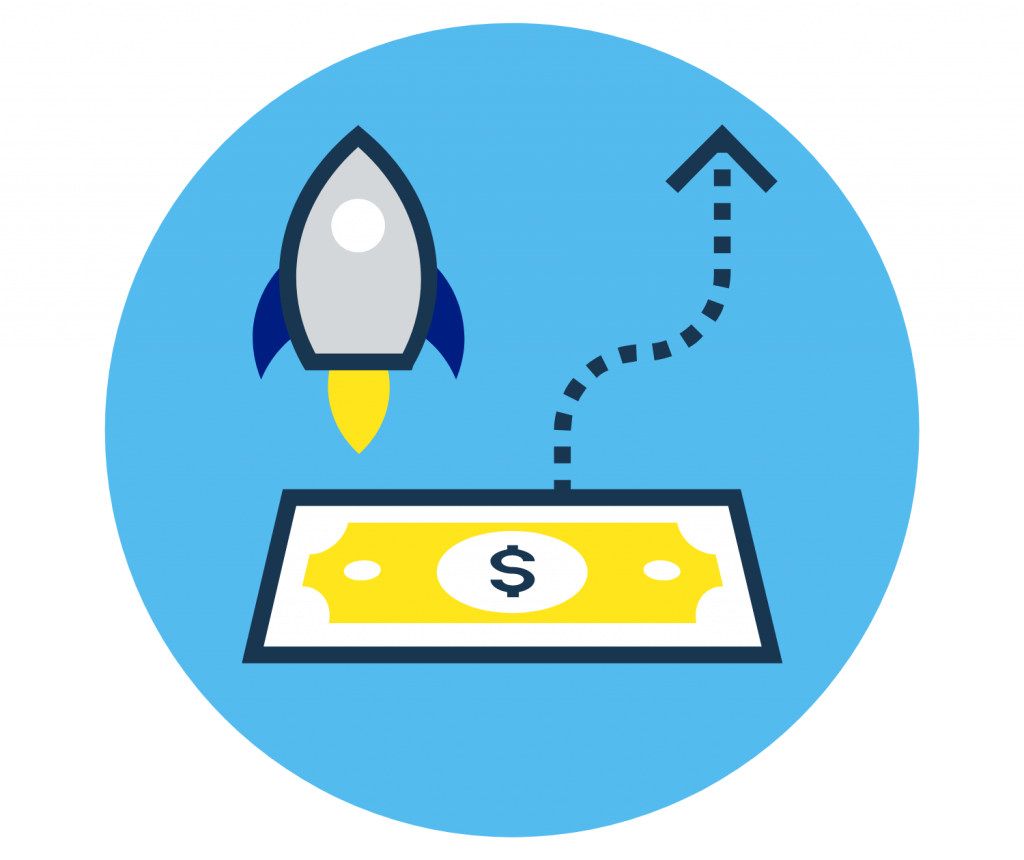 Remember, an on-premise CRM is not only a capital-heavy affair for you to set up but also for the CRM to offer you – on-premise CRMs require them to deploy dedicated resources, manpower, and solutions, whereas a cloud CRM company simply builds the software and offers it up to you remotely.
.
Here's what makes cloud CRMs cost-effective:
Little to No Setup Costs
Plenty of CRMs are simply plug-and-play solutions that you can pick up and use. Some of them might charge separately for customization (and it also depends on the level of customization you need), but most offer it as part of their onboarding services.
Multiple Pricing Plans
CRMs usually offer at least a couple of pricing plans, either based on the number of users you will be onboarding or the number of features you will be requiring. This allows you to choose the pricing most suitable and viable for your growing business.
Subscription Payments
Cloud CRMs are typically offered on a subscription basis, which means that you pay month-by-month or year-by-year to keep using the software. This eliminates not only the need for set up costs but also the cost of maintenance, upgrades and so on that is handled by the CRM provider.
3. Accessibility Is Never an Issue
As opposed to a completely on-premise CRM that can only be run on your office computers, a cloud CRM offers you the biggest advantage of all: anytime, anywhere access to your CRM.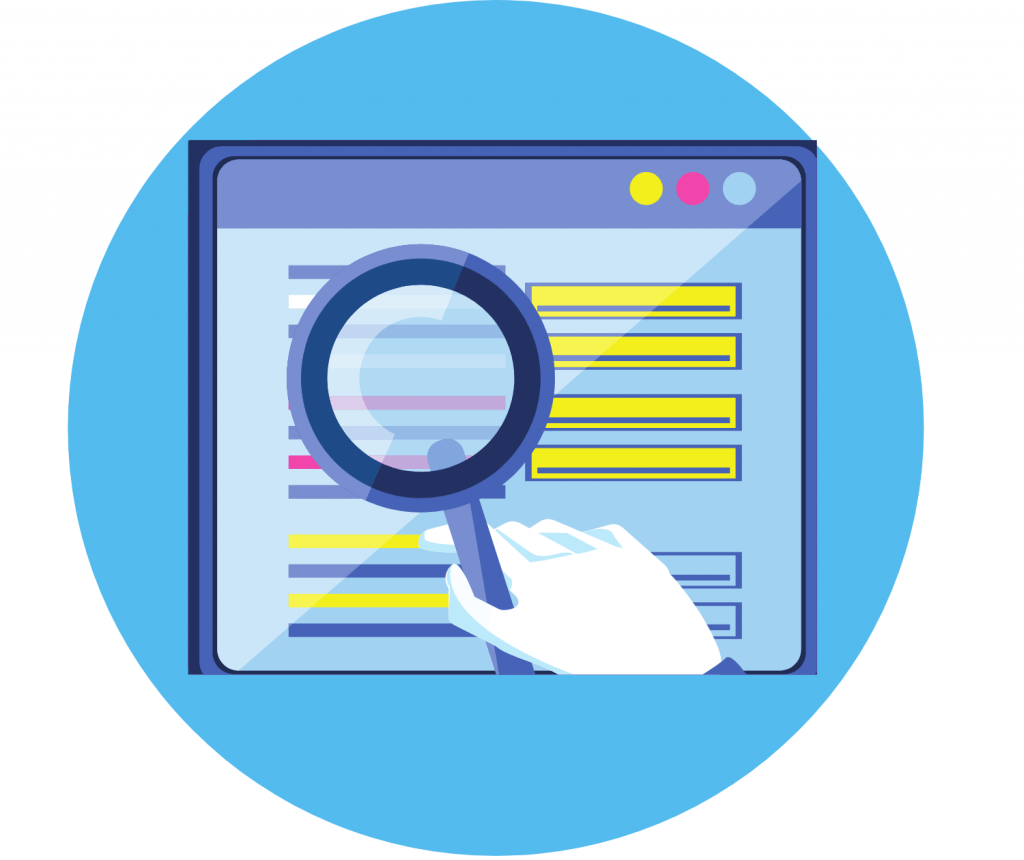 Because you don't have the barrier of on-premise servers and the platform is run completely remotely anyway, your sales team (and marketing team, leadership team, etc.) can access their accounts from any browser/the app interface anywhere.
.
Because of its accessibility, a cloud CRM allows you to:
Run Sales Activities From Anywhere
A remote sales team, sales professionals that travel often or are always in the field, the need for instant communication with customers…these are all realities of most sales operations, especially in growing companies. It's also the reality of the pandemic era we are in today, where most companies are either running a completely remote or hybrid working model.
Run Multi-Device Sales Activities
Quickly shooting off an email to a prospect, updating a deal status after a meeting, downloading in-depth reports…these are all activities that may need to be done on different devices, depending on where the salesperson is. A cloud CRM ensures no activities need to be put on hold simply due to accessibility.
Run Your Sales Function Around the Clock
we don't mean that you should have your sales team working 24/7, but if an important deal needs your executives to be available out of office work hours, it wouldn't be impossible…or it wouldn't require them to be in office, at the very least.
4. Seamless Integrations to Your Existing Processes & Habits
Whether you're talking email provider (Gmail, perhaps), or team collaboration tool (such as Slack), when you bring a CRM on board you want it to play nice with all the other tools you already use.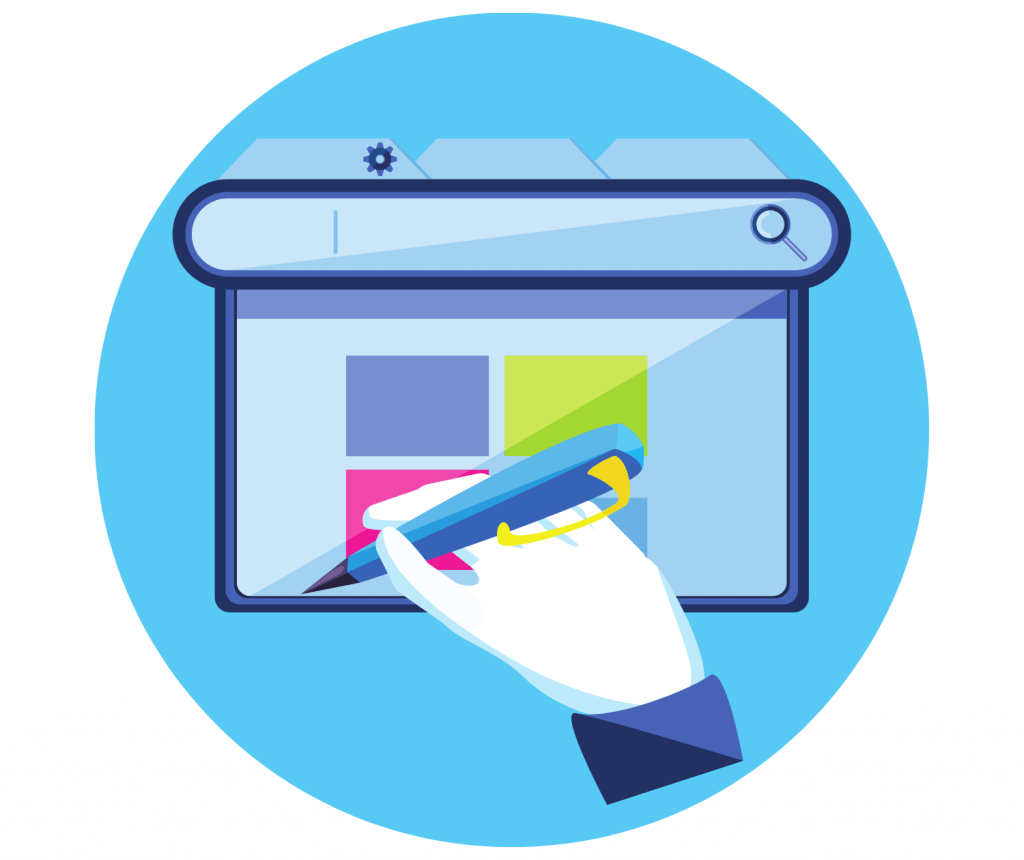 If you onboard a CRM that doesn't allow you to use tools/solutions your team is already used to, the learning curve and adaptability of the CRM reduces – which means the CRM adoption, on the whole, will reduce across the company.
.
You want to choose a CRM that, when onboarded, feels like an extension of your company…simply an added layer on the processes, tools, and habits you've already inculcated. This is something you get as standard practice with cloud CRMs – in fact, a lot of cloud CRM companies will also custom integrate the platforms you need.
Let's look at some common integrations you'll need to look out for in a CRM:
Email integrations – to be able to directly send emails using the provider you already do
Calendar integration – in case you use a calendaring or scheduling software
Helpdesk integration – for seamless customer service, you need to access your helpdesk software straight from the CRM where your sales data is stored
Social integration – in order to pull data from social media channels (and to store links, access communication tools such as Facebook messenger, etc.)
Website integration – to pull data from the web forms, live chat, etc. on your website
Telephony integration – to be able to make phone calls, video calls and send SMSes directly from the system
Collaboration tool integrations – to seamless integrate the CRM into your current business processes
E-commerce integrations – for e-commerce companies, to be able to gather customer data and increase conversions from consumers in the pipeline
5. Scalability is Easy and Hassle-Free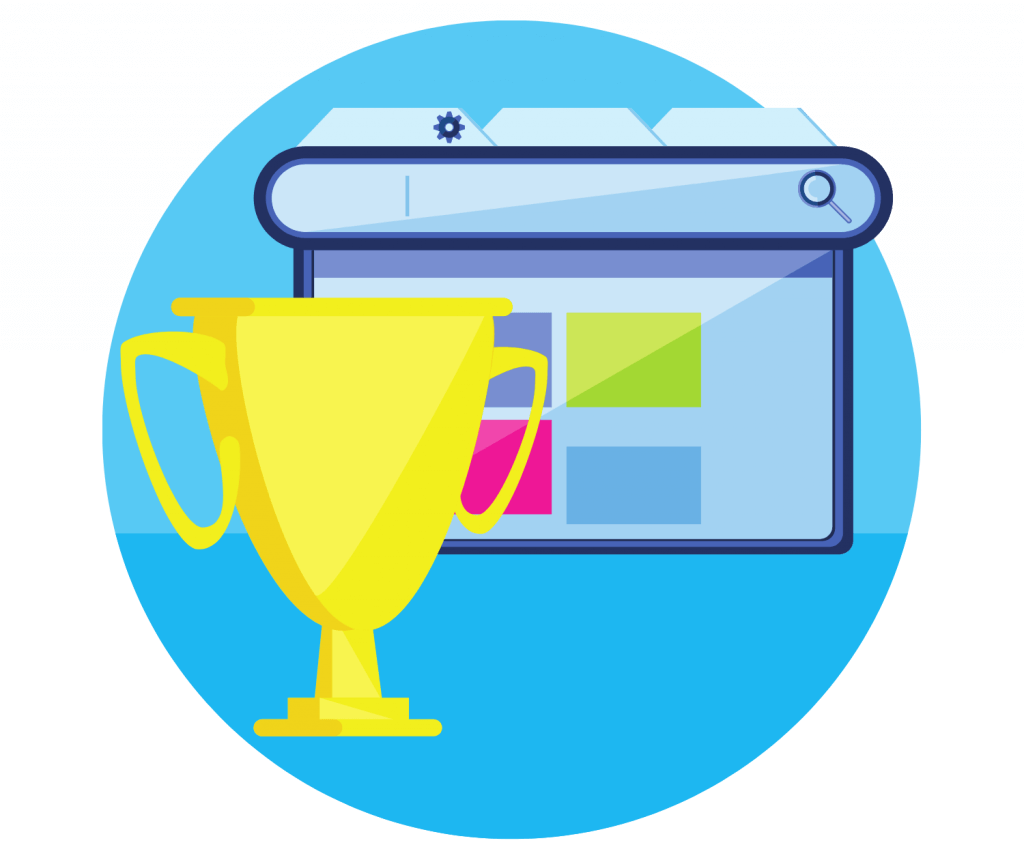 One of the biggest outcomes of growing business is the need to constantly adapt and scale your systems and processes. While an on-premise CRM solution is certainly also advantageous to scale, it doesn't offer the combined benefits of scalability that a cloud CRM provides.
.
A Cloud CRM allows you to scale seamlessly because it:
Keeps costs low, offering more user licenses in bulk with economies of scale
Keeps data centralized – even when you added new users, your sales data is true to the CRM and not the system…making knowledge transfer and onboarding that much easier
Is quick and easy to adopt – not requiring any more manpower or manhours other than the time the new users take to get acquainted with it
Keeps you agile – whether you need new workflows & processes integrated, need to increase & decrease number of licenses, create collaborative work streams, and so on – it's easy and fast to get done
---
Getting Started With a Cloud CRM for Your Growing Business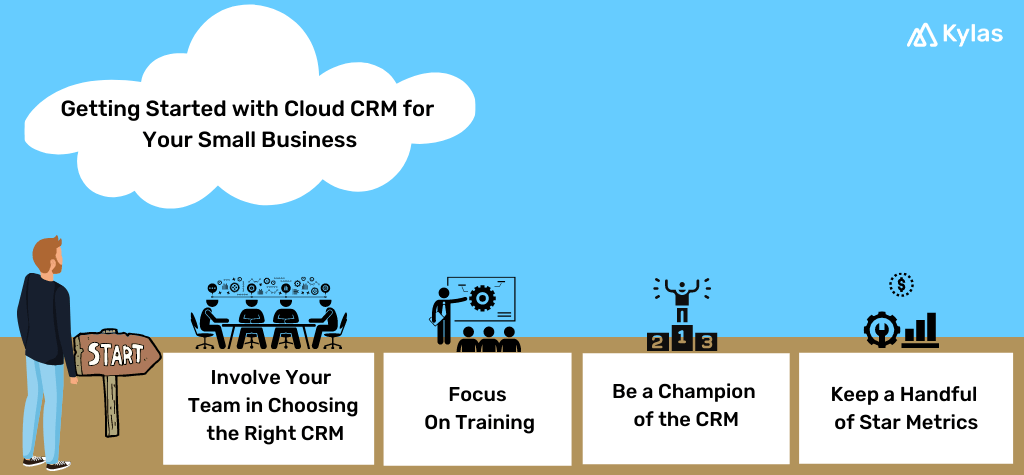 For a cloud CRM to truly aid in a growing business, you need to do more than go to the website, add all your users, and run with it. Before we wrap this blog post up, we'd like to leave you with some quick actionable tips on getting started with a cloud CRM:
1. Involve Your Team in Choosing the Right CRM for You
Choosing a CRM can be a complex, daunting, and long process. All the while, you'll be unsure of whether it will adapt well to your business, address your long-term growing business needs, and whether your team will actually use it. One way to address these factors is by looping your team in and understand their current wants/needs. Also get their opinion on translatable business processes, conveniences, and features they would look for in a CRM.
2. Focus On Training
Even after you choose the right CRM for you, it will only work as well as your team uses it. In order to help them do that, ensure that you get all the training they might need. Sessions, workshops, guided tours, Q&A discussions – ensure your CRM provider is open to truly handholding you and your team during the onboarding phase.
3. Be a Champion of the CRM
You'll need to actively focus on increasing CRM adoption. Be hands-on with the system yourself, reward employees who use the platform well, and keep referring to reports/data/insights that can only be begotten from the CRM. The more your employees use it, the more impact on conversions and return on investment you'll see.
4. Keep a Handful of Star Metrics in Mind
As the head of sales/CEO/leader, you will have a bird' eye view of how the platform is being used, whether it's impacting your sales and revenue metrics, and so on. It's almost impossible to get down to grass root level on a daily basis. Having a handful of star metrics that help you track your sales numbers, team productivity, and platform usage will help you check in on the CRM's effectiveness regularly to ensure your growing business.
We hope, with that thorough guide, that you're ready to find yourself a great cloud CRM and be well on your way to growth! Quick plug: Kylas CRM is actually designed for growing businesses, offering unlimited users & features at a flat cost, and free onboarding & training. You can try it for free for 15 days or get yourself a demo right here!
If you have any questions or need any more guidance on cloud CRMs and the best one for you, feel free to reach out in the comments section below.
Start 15-day Free Trial