CRM is undoubtedly one of the best things for business growth. It can turn any business into a powerhouse of sales and productivity by streamlining its end-to-end operations. This is why 91% of businesses having more than 11 employees have adopted CRM. While such software is extremely crucial, it falls short of managing the multiple facets involved in a business. Social media platforms, payment portals, invoicing systems, ticketing & support software, etc. are also a vital part of operations. Hence, must a business constantly shuffle between these numerous platforms?
CRM system integrations offer an easier and more efficient option instead. In simple terms, it means that your CRM can be synced with other third-party applications. All your business operations can be brought on a unified platform and managed easily. Integration is thus a top-requested CRM functionality by 16% of users.
"Why should I use integrations?"
"How can I do so?"
"Which integrations will help in business growth?"
are some of the questions that we're sure are now racing through your mind. We're here to answer all these and offer you a complete rundown on how you can use CRM system integrations to unlock new levels of sales success!
Kylas, an enterprise-grade sales CRM is designed to help growing businesses scale with expertise. It comes with a rich feature set and can be integrated easily with leading third-party applications. To know more about how your business can grow with Kylas, get in touch with our experts!
What Is CRM System Integration?
Before we proceed further into the nuances of CRM integrations, it is essential to understand the concept on a deeper level. Let us use an example of a business that is operating without any integration. All its customer data is stored in the CRM. Before making any calls to the customer or sending emails, its sales reps must first check the details from the CRM and shuffle to the calling/emailing platform to execute the action. Similarly, if a social media campaign is being run and there's an incoming lead, the sales reps must first check the data from the social media platform and then switch to the CRM to record the lead. This is bound to result in a loss of productivity and high scope for errors.
Integrations enable you to sync your CRM with the rest of your technology stack. It creates an all-in-one platform for your business instead of having your operations scattered across numerous channels. If we revisit the example above, integrations would allow the sales teams to access customer data, make calls and send emails, track the status of campaigns, and capture incoming social media leads from a single platform. Hence, a seamless network is formed between all software and applications used for your business. It expands the functionality of your CRM system too since all operations can be conducted from it.
If you are still on the fence about whether you need integration, we have a lot of convincing facts for you. Besides easing your operations, there is a plethora of other benefits associated with it.
---
Advantages of CRM System Integration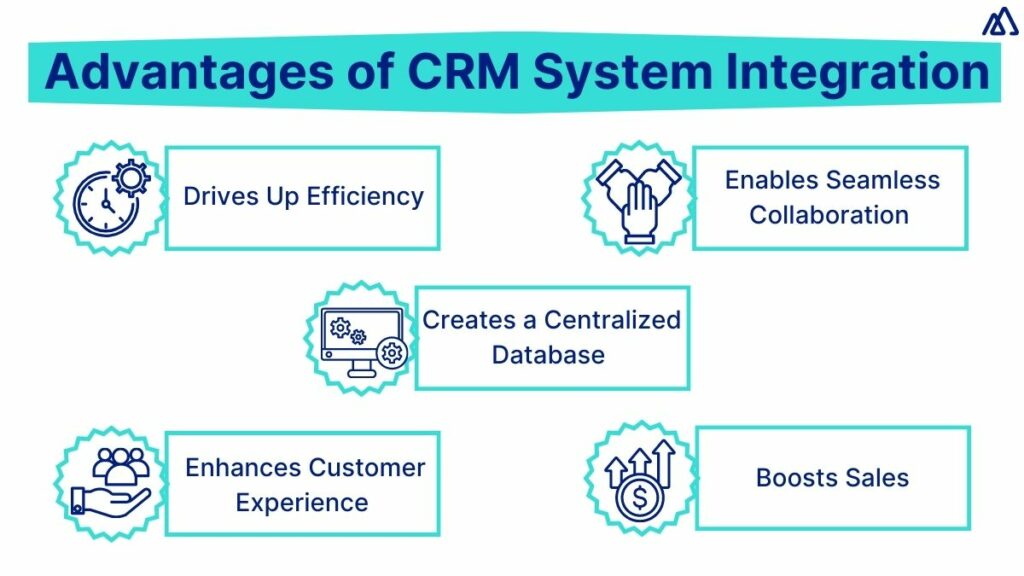 If CRM by itself is a powerful asset for your business, CRM system integrations make it a superpower! Let us explore all the advantages it brings to your business:
1. Drives up Efficiency
Efficient teams are more likely to produce successful outcomes. Managing multiple tasks from various platforms takes up a lot of time and effort and also creates room for errors. This will compromise your teams' efficiency.
Instead, integration allows them to focus fully on the task at hand without having to go back and forth between systems. They can plan, manage and implement their work better since they can operate from a single platform. Additionally, their output quality is also enhanced since there is lesser scope for manual errors and inaccuracies.
2. Enables Seamless Collaboration
Your organization's overall productivity is influenced by how well your teams collaborate. For collaboration, it is essential that your teams are aware of each other's work and progress. Integration allows inter-department transparency to be maintained since every team uses a unified platform.
If your marketing, sales, customer support, accounting, etc. teams all used different platforms, it would be difficult for them to coordinate and share details. This lack of coordination would eventually lead to your sales taking a hit, and integration helps prevent it.
3. Creates a Centralized Database
One of the biggest advantages of CRM system integration is the free flow of data across systems. 30% of marketers say that disparate sources prevent them from gaining useful data insights. Integration creates a centralized database for you by pulling in data from every application and software used by you. This will help you leverage the CRM data to make informed business decisions.
Such data organization will also help your teams to perform better. They will have all the data at their fingertips, which will help them work faster. CRMs like Kylas also offer data filtration using smart lists through which your teams can always access the relevant information and serve your customers better.
4. Enhances Customer Experience
Lasting customer relations are crucial for business success. To achieve this, you must provide them with an enhanced customer experience.
Integration helps in this respect. Right from lead nurturing, to maintaining timely contact with customers post-sales; integrating your CRM system with call management and communication software will help you strengthen your relationships. Kylas's integration with My Operator is a fine example of such an integration. It can help you reach customers at the right touchpoints, offer customized services, and respond to queries in a timely manner.
5. Boosts Sales
If your teams work efficiently and collaborate well, your data management is streamlined, and you are offering top-notch customer experience, your sales will surely boost.
Integration optimizes almost every crucial business operation. It helps you build a strong sales process and empowers your teams to perform their best. It has the potential to increase your sales multifold.
These outcomes brought about by CRM integration are what most business desire. They surely make a very compelling case about why you must consider integration. The next step now is to identify the strategy that will suit your requirements.
---
CRM System Integration Strategies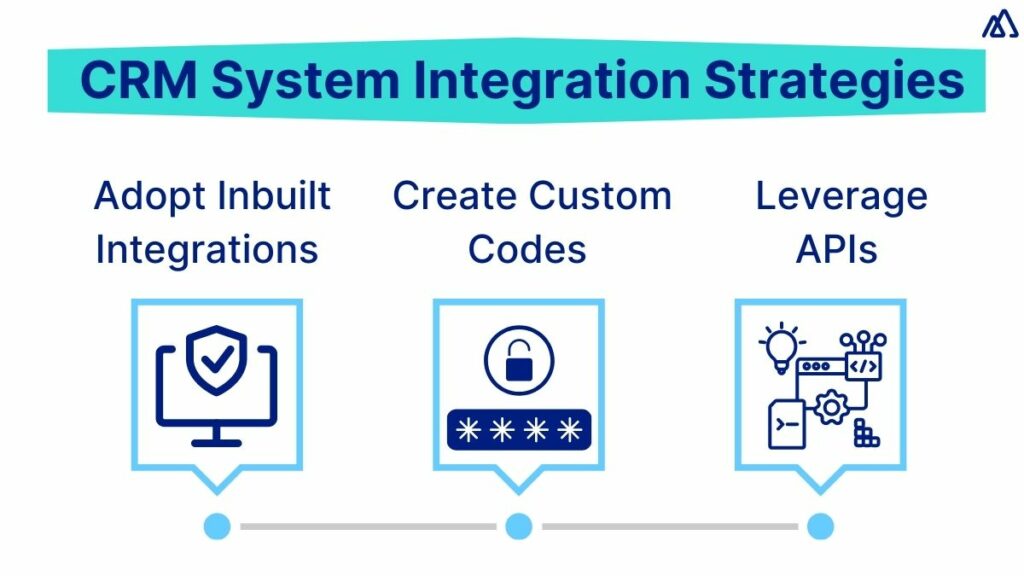 Theoretically, integration is as simple as 'connecting your CRM with third-party applications.' But how can it be implemented practically? How can one actually integrate a software with another?
Turns out, there is more than one way to do this. There are three primary strategies that you can adopt for your CRM system integration:
1. Adopt Inbuilt Integrations
The easiest way to achieve integration is by using products and services from the same vendor. Such systems will have automatic connections and can communicate seamlessly. While this approach is the simplest, it is not the most realistic. It is rare for a single vendor to be able to offer all the application solutions that your business requires. Hence, you can adopt a modified version of this strategy, which suggests using built-in connections.
CRM tools come with certain built-in connections that can be easily integrated. These include the most commonly used applications such as Outlook & Gmail for emailing, LinkedIn & Facebook for social media integration, etc. An example of this is the Kylas Marketplace which offers an ever-expanding selection of applications. You can choose the software you wish to integrate from among these inbuilt options, and easily implement it through the CRM.
2. Create Custom Codes
The first strategy focuses on making the best of the easily available options. In contrast, the second strategy focuses on creating and developing a custom code that will integrate applications as per your requirements.
The plus point here is that you can sync all the applications you need without the limitation of choosing from a fixed set, and you can get your entire tech stack to work exactly the way you want. However, it is not easy or cost-effective to do so. You will need to hire IT experts, and the code will require frequent updates, both of which will take up a lot of time and resources.
3. Leverage APIs
The third strategy recommends using an Application Programming Interface. For a layman explanation of the term API, think of it as a language translator who helps people talk. It works as an intermediary between applications that allows them to communicate. CRM systems like Kylas offer open APIs, through which you can integrate any software or application.
APIs are a cost-effective, easy-to-implement, and readily accessible option. They work well for integration by allowing applications to interact well and share data.
Now that you are aware of the various integration methods, you can find one that aligns well with your needs. You must consider the available resources, the expected outcome from integration, and the types of integration you are using. These will serve as solid grounds for choosing the right strategy.
---
Key CRM Integrations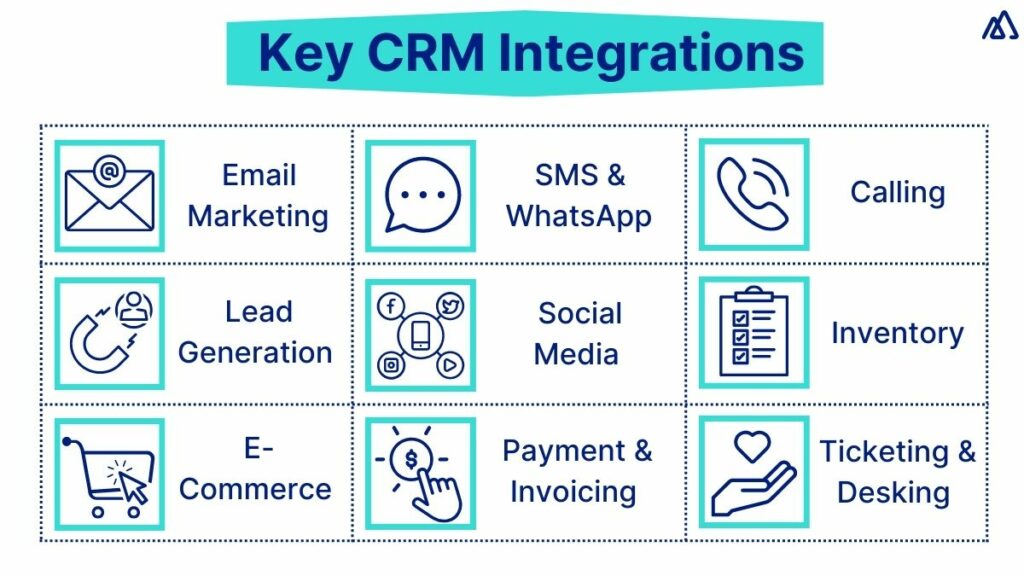 Once you decide on the strategy, the next stage is deciding the types of integration that you need. With the right approach, you can integrate any and all types of applications to your CRM system. The primary deciding factor for this decision is the outcome you desire from the integration, and there is no straitjacket formula to choosing the types of integrations.
That being said, there are some integrations that you must surely adopt as they can be very beneficial for your business. Let us explore these key CRM integrations:
1. Email Marketing
Email is often the primary channel of communication between a business and its customers. Hence, email marketing is a crucial component of your inbound strategy as it helps you reach your target audience in a cost-effective and timely manner.
Integrating CRM with email marketing platforms like Gmail, Outlook, or Mailchimp creates a seamless process for customized and efficient emailing. You can enhance your engagement efforts and leverage emails to increase your revenue.
2. SMS & WhatsApp
This type of integration will provide you with two additional channels through which you can reach and engage with your customers. You can send contextual and informative messages to your customers at the right touchpoints using SMS integrations with leading platforms like Gupshup, and Sakari.
WhatsApp messages have the highest open rate of 98% and hence they are vital for your marketing success. You can send, receive and respond to WhatsApp messages from your customers through the CRM itself through integrations with WATI, Interakt, etc.
3. Call Management
Calling is another powerful medium of marketing, lead nurturing, and sales. Integrating with software like My Operator or Ozonetel will enable you to make calls from within the CRM.
It will drive up the efficiency of your teams and enhance their output since customer data from within the CRM can be leveraged while making calls. Another advantage is that you can record and audit the calls and make informed decisions to strengthen your efforts.
4. Lead Generation
Facebook, Google Ads, or Just Dial are some of the best lead-generation platforms. You can sync these apps with your CRM to manage your lead generation efforts.
You can track the status of your campaigns on these platforms and create reports within the CRM system. These will help you make data-driven decisions on campaign optimization. Besides, all the generated leads are directly captured by the CRM. This saves your teams the effort of having to manually capture and input every lead.
5. Social Media
93% of brands win new customers through social media platforms. Integrating these with CRM allows you to share content, interact with the audience, and track engagement metrics. Instead of navigating between numerous platforms like Instagram, LinkedIn, or Twitter, you can manage everything from a single platform.
CRM analytics can provide useful insights that can be used to optimize your social media strategy. You can also run and manage campaigns using CRM-Social Media integration.
6. Inventory Management
Staying well-informed about inventory is crucial for sales. Integrating CRM with software like Arka will help you stay on top of all aspects of your inventory. You can identify your top-selling products/services and align your inventory with the needs of your customers based on CRM data.
You can also leverage this data and segmentation features of CRM to identify the right inventory fit for your customers. This will increase your chances of closing sales since you can pitch a product that will truly add value to your customers.
7. E-Commerce
This type of integration is a desired feature for 16% of CRM users. E-commerce has transformed the way in which sales are conducted and it can help a business scale exponentially.
CRM integration with platforms like Shopify, or India Mart will help you create a seamless sales process and reach wider audiences. You can manage all your customers, order status and payments of E-commerce sales through a unified platform.
8. Payment & Invoicing
CRM system integration with platforms like Razorpay, or Stripe enables you to store all transactional data in a secure platform. You can monitor all payments and create a simplified purchase process for customers.
You can also create personalized invoices using the CRM data. These can be easily sent from the software itself and you can track the status of every invoice sent.
9. Ticketing & Desking
Customer support is a vital part of a business's operations. When you integrate your CRM with apps such as Zendesk, you can resolve your customers' queries efficiently and provide them with an enhanced experience.
The integration enables you to view and work on support tickets through your CRM system. You can also monitor the status of resolution and set specific reminders or actions against each ticket.
These are the broad categories of integrations that can help in your daily operations. With these in place, almost every vital operation is taken care of and brought to a single platform.
---
Ending Note
Integrations enable you to make the most of CRM. Your CRM system can hence become a one-stop shop for all your business requirements. With this unified approach, the efficiency and productivity of your teams can greatly increase. This will positively impact your sales too.
With the right integration strategy and applications, you can transform your business. It is also essential to choose the right CRM- one that supports integrations and has a wide selection of inbuilt applications.
With Kylas, you can connect to all the leading business applications. The Kylas Marketplace includes applications for varied needs, right from lead generation to call management. Besides, you have the freedom to connect with all your favorite apps by leveraging APIs.
Start 15-day Free Trial