Kylas sales CRM is just getting better! The May 2023 Edition of Kylas sales CRM brings to you the features you need to grow and empower your team to help your customers. In this release, our features will help you in the following:
Boost your team's productivity.
Monitor business performance.
Increase overall efficiency.
---
Features in this Release:
1. Goal VS Achievement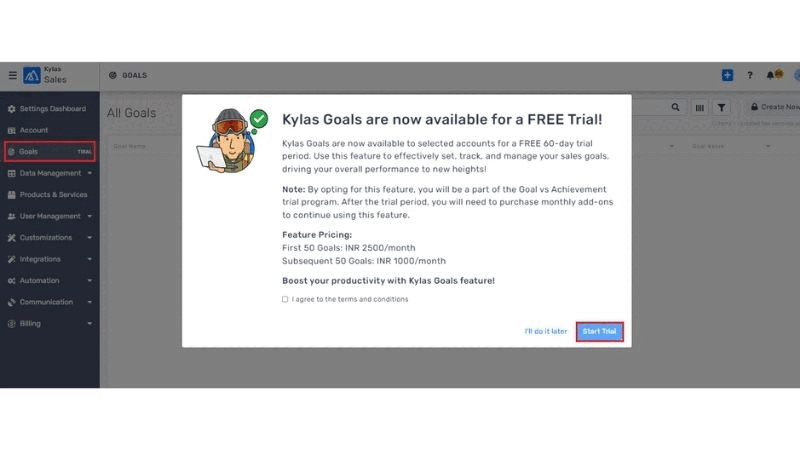 You need to set goals for your team to give them a clear direction, motivate them, and set targets for them to work towards. Goals also provide essential criteria for evaluating the success of your business. This is why Kylas came up with its latest feature- Goal VS Achievement!
With this new feature, you can track your team's activity progress which can further help boost your team's productivity. All you have to do is set a target for your team to achieve in a particular timeframe and monitor their performance.
Here's how it can help if you are a:
Business Owner: Be it growth milestones, revenue targets or something more specific, Goals will help to set a strong foundation for all your operations.
Sales Manager: The success of a sales manager lies in the success of his teams. Challenge your teams and bring out the best in them by setting targets and tracking their performance.
Sales Rep: With your goals clearly outlined, you can monitor your performance against every target set for you.
The new feature lets you easily create individual goals for your team members, generate reports, redirect to a specific goal, obtain prorated data, and send notifications to your team members regarding when a goal is created/updated, or the user is removed from the goal.
For instance, you want your sales team of 3 reps to generate a revenue of Rs.3,00,000 in a month with each rep required to generate Rs.1,00,000 in the month. So, while setting the goal, you will have to fill in the goal details accordingly, select your team members who are supposed to achieve that target and set a timeline for the same. They will be notified as soon as the goal is created. Whenever they close a deal, the goal will automatically get updated. You can also see a prorated view when you create a separate report.
2. Email Tracking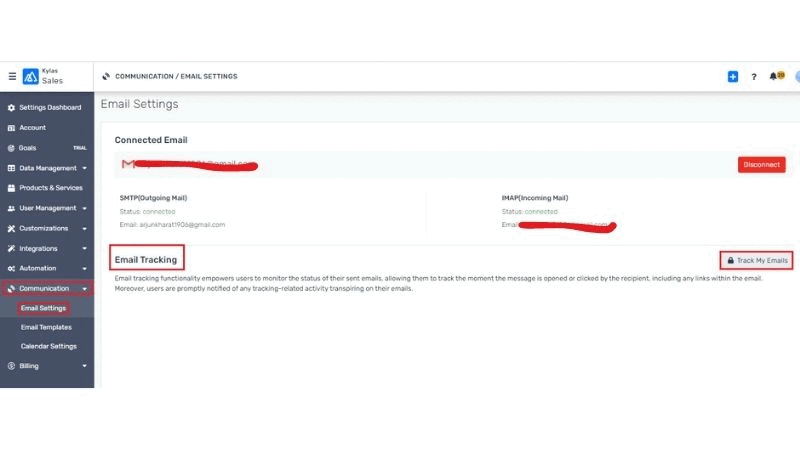 Any business builds most of its customer relationships through email. To ensure that these emails are effective, you need to find out if your recipients are opening them and interacting with them. This is why Kylas came up with its new email tracking feature for both the web and mobile apps.
The feature lets you keep a record of your prospect's engagement with your emails. By enabling the email tracking feature, you can receive real-time notifications when a recipient opens or interacts with your email. The open-and-click notifications in real-time give you an idea about6 how your recipients are engaging with your emails.
For instance, when you send an email to your prospect, you will get a notification whether the email has been delivered, whether it is read/unread and whether any link shared in the email has been accessed on the web and mobile apps.
3. Contact Layout Customization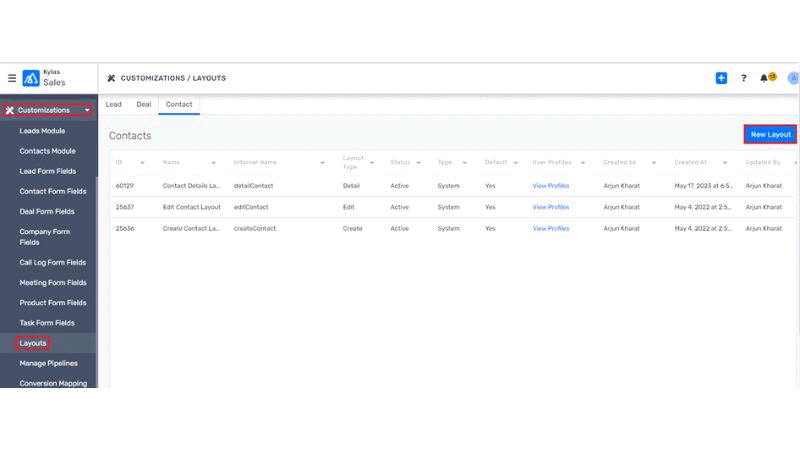 A contact layout is a module that consists of fields and sections with which you can capture all necessary information about a record. The new contact layout feature in Kylas allows you to create a separate layout for different teams and roles. You can customize layout forms for when a user adds or edits a contact and for the contact details page.
If you don't create a custom layout, you will have to use the default system layout for creating, editing, or viewing contact details. The feature is available both for the web and mobile apps.
For instance, you can create separate layout forms for your marketing team, sales team, and customer support on the basis of the information they need to capture about their contacts.
4. Import Deal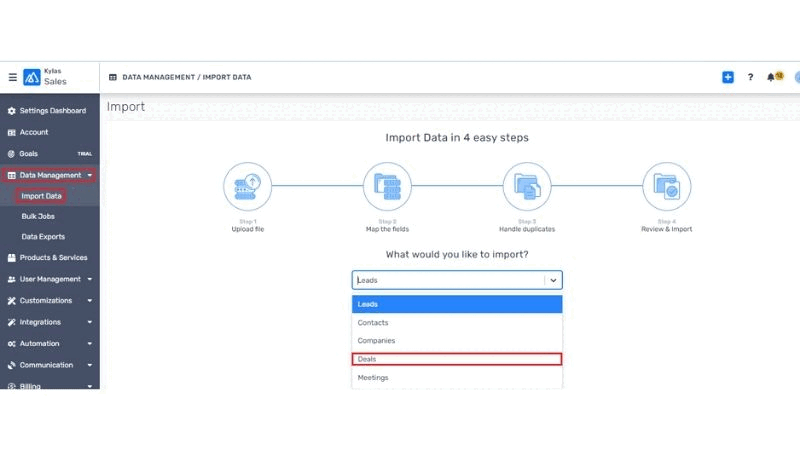 With the new Import Deal feature, you can now import your existing deals into Kylas in some simple steps. You can also download a sample Deal import file to get an idea of the data structure for the import and you can prepare your file accordingly.
When you upload your file, you can map fields as per your requirements. The minimum number of fields that you need to map out depends on the layout that has been assigned to the user. You will have to ensure that you choose the options accurately so that the system picks up the information correctly.
For instance, you run a manufacturing company and you want to import data about all the deals you have cracked in the past. You can download the sample file and create your own file with accurate data. When you upload it into the system, you can easily map fields like the estimated value of the deal, contacts, names, etc.
5. Automation for Call Log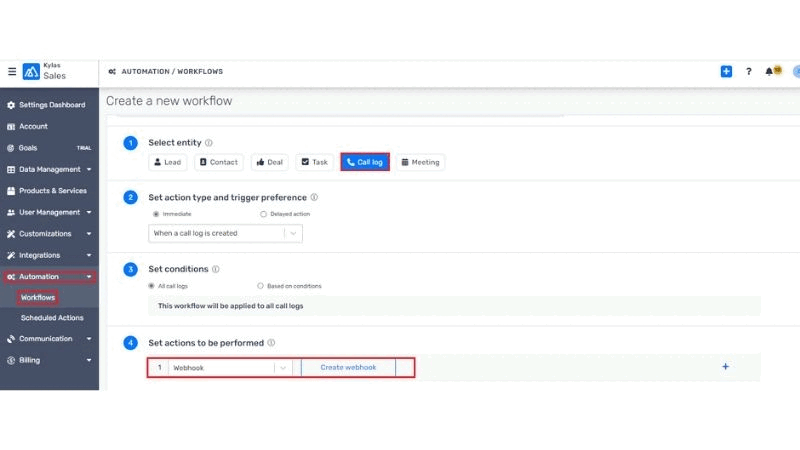 You can now send or push the associated lead data to a target destination via a webhook available on the Call Log workflow.
For instance, you can push information related to call log, logged by, created by, updated by, etc. and choose the parameter value accordingly.
6. Automation for Meeting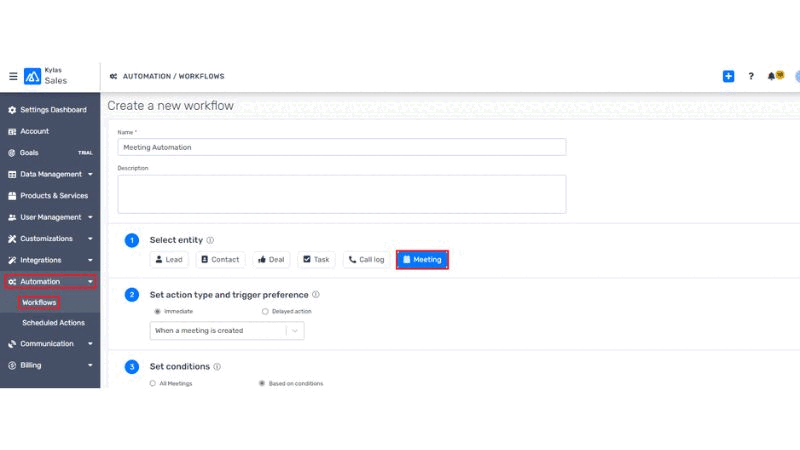 You can now automate your meeting-related activities with the Meeting workflow. For instance, you can send an email, edit the meeting, or push notifications via webhook when a meeting is cancelled or created.
7. Matching Companies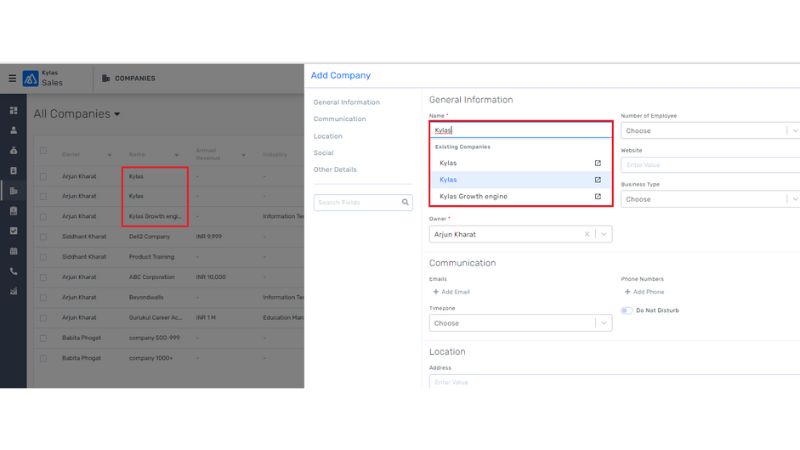 Kylas has now introduced the matching companies feature that lets you know if a company with the same name that you are entering already exists.
For instance, you will see the names of the existing companies while typing the Company name and if matches the one you are adding; you can make the changes to the already existing company on both the web and mobile apps.
8. Reorder Exit Reasons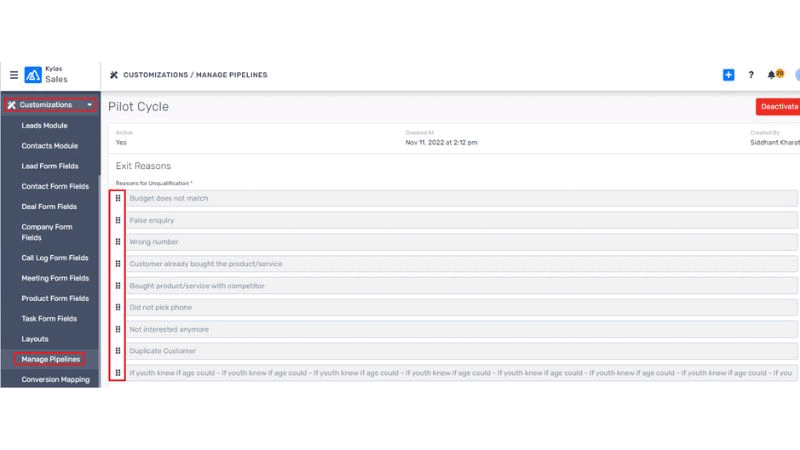 With Kylas, you can now reorder exit reasons on the basis of your past data. You can set the most common exit reasons at the top at any time with a simple drag-and-drop option in the pipeline.
For instance, if the most common reason for unqualified leads is the duplicate customer, you can drag it to the top of the reasons for easy access.
9. Add The Same Products in the Quotation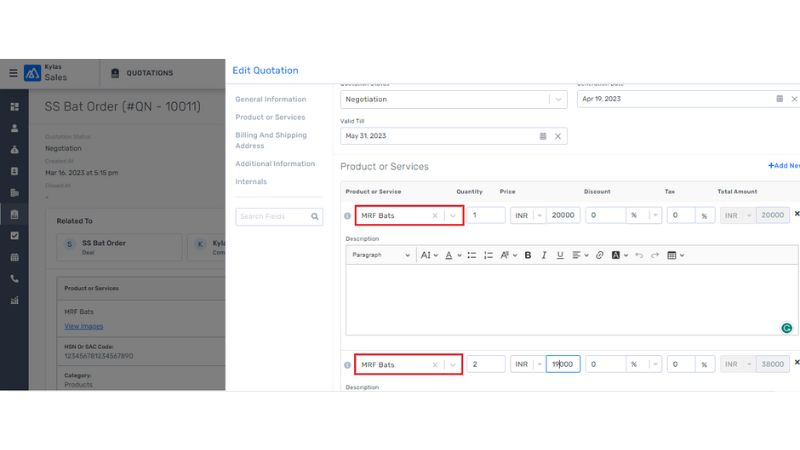 With its latest feature, Kylas is giving you the option to sell more by giving multiple options to customers for the same product by adding it multiple times in a quotation on the web and mobile app as well.
For instance, you want to offer no discount when a customer buys a single bat from you. But you can offer a 5% discount when he buys 10 bats from you. You can customize your quotation in accordance with that.
10. Clone User Profile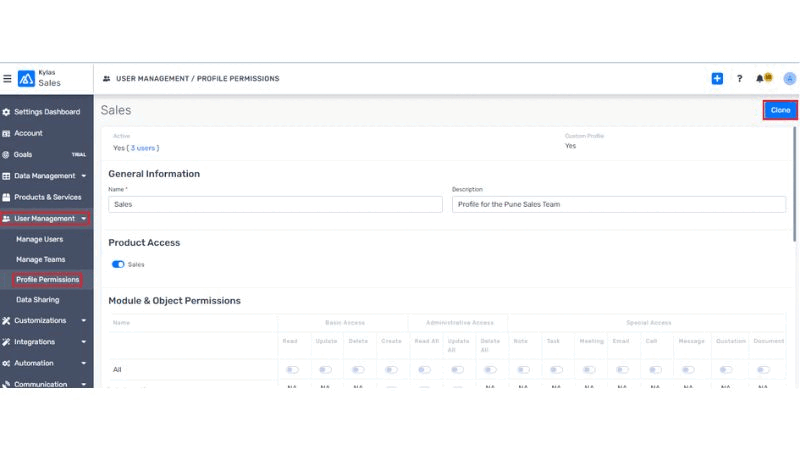 Now you can create a new user profile with the clone option available on the profile. This will save you time if you don't need to make a lot of changes to the new user profile. Note that the users won't get copied to the new profile and only the permissions will get copied.
11. Bulk User Update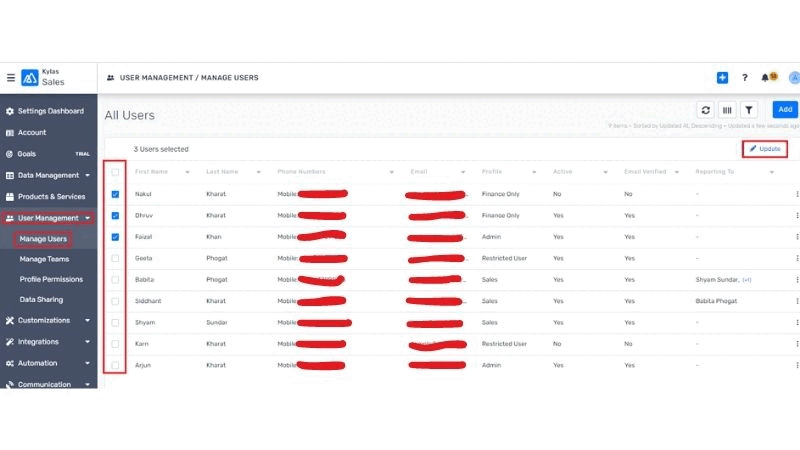 Now you can update users in bulk to save your time and effort. For instance, you want to add the same reporting manager to a number of reps. With the bulk user update feature, you can add the reporting manager by selecting all the reps in one go and adding their manager with the Reporting To feature.
12. Product Event Webhook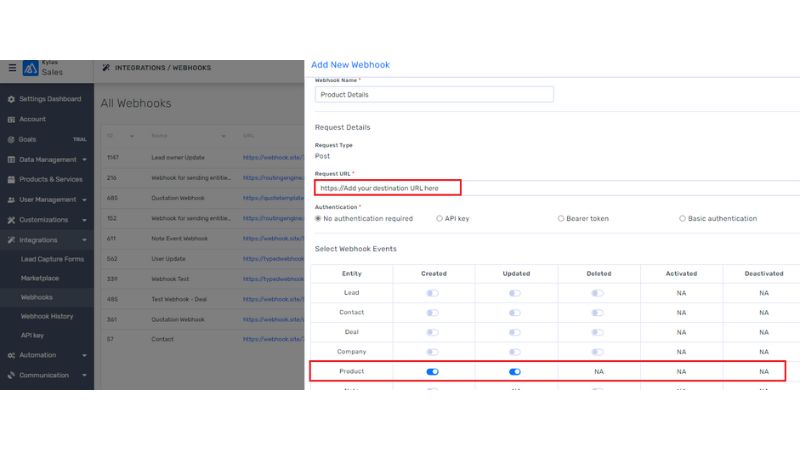 Now you can send your product-related details to a destination whenever a new product is added or an existing one is updated.
13. Document Options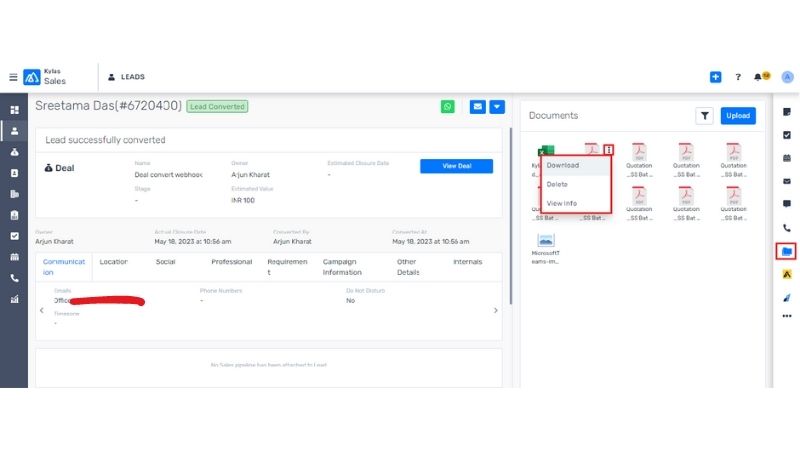 Now you can choose to download, delete, and get more info about the uploaded document from an ellipsis menu available for each document.
14. Date-Time Field on Lead Capture Form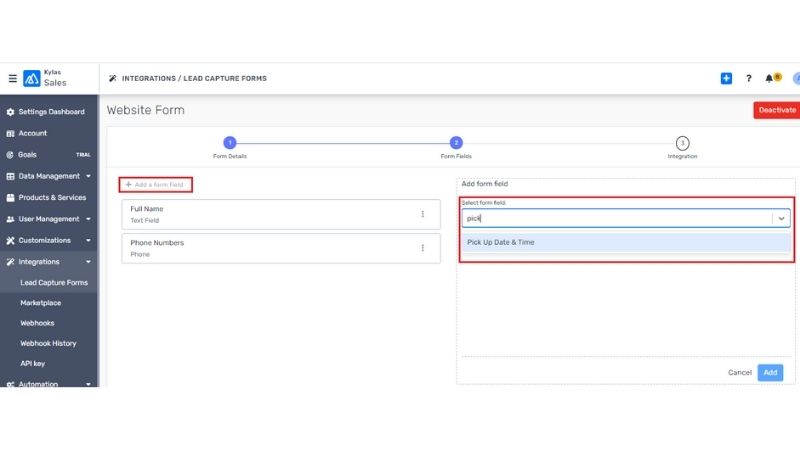 You can now collect more information by creating a Lead Capture Form with a data-time field on the form.
For instance, if you run a travel business, you need to capture information about the date and time at which the customer is planning to travel. So, you can easily add the Date and Time field to your lead capture form.
15. Contact and Company Properties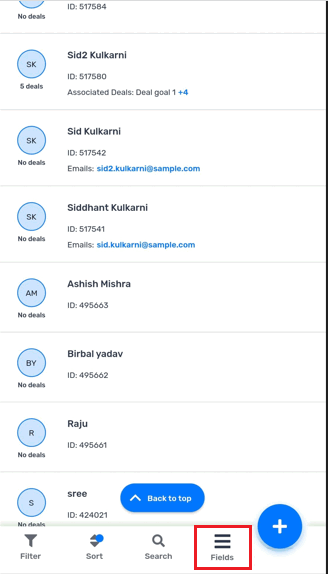 You can easily change the contact and company properties and set them based on your needs to view the information upfront on the respective entity listing page on the mobile application.
Are you ready to use these features on Kylas CRM? Start with the 15-day free trial and book your demo with us to make the right decision!
Start 15-day Free Trial