Booking a flight and selecting a good college- appear to be completely unrelated activities. What could possibly be common between consumers searching for either of these options? The commonality lies in the means through which the consumers would start their search- from a website!
Almost all our activities today are centered around websites. This comes as no surprise since approximately 5 billion users are active on the internet today. A website is the face of any brand, and it largely determines the opinion that people form of the brand, and its products or services. Since a website is so crucial, expert services are required to design it in order to impress consumers. This is where web design agencies come into the picture.
Web design agencies help in the creation and maintenance of good websites. This industry is now heavily in demand, with a global market size of 75 thousand plus companies. With their work expanding at such a rapid pace, can web design agencies succeed only with traditional business methods? The answer is no. They need a handy and efficient system to manage their affairs, and this system is CRM!
Kylas is such a CRM software that is suitable for all businesses, especially those in their growing stages. It offers a robust set of features at affordable pricing and is highly user-friendly.
---
Why Is CRM a Must?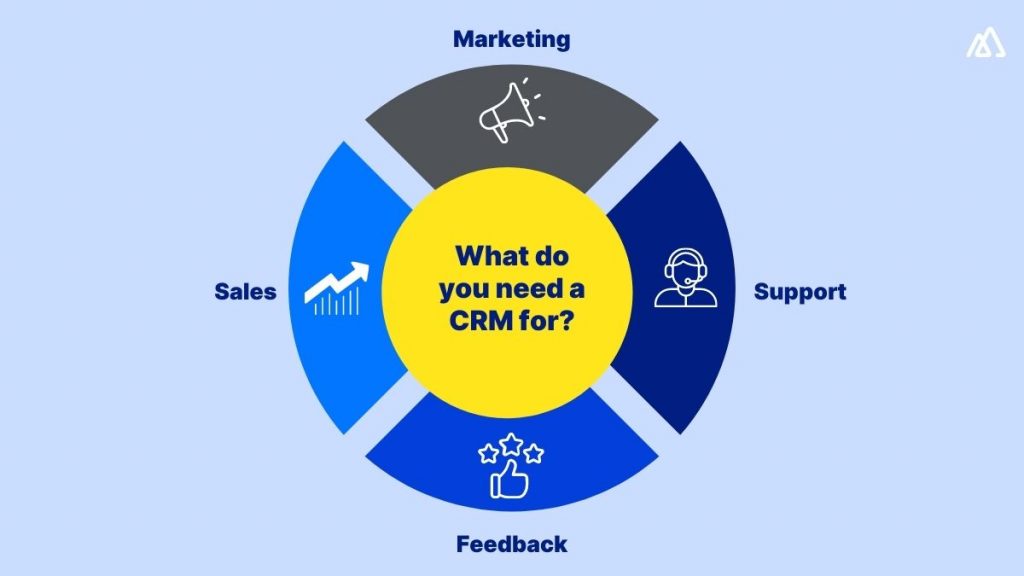 CRM stands for Customer Relationship Management, and it is a system to streamline the end-to-end processes of any business.
Let us imagine a business with 3 consumers only. It is easy to keep track of them, nurture them toward making a sale, and then efficiently manage the sales process. The information pertaining to three clients can also easily be remembered, without needing to collate and store it. But what if data pertaining to 100 consumers has to be remembered? It is an impossible task but made easy with CRM. 60% of businesses have seen an improvement in their productivity after using a CRM.
---
Why Is CRM a Must for Web Design Agencies?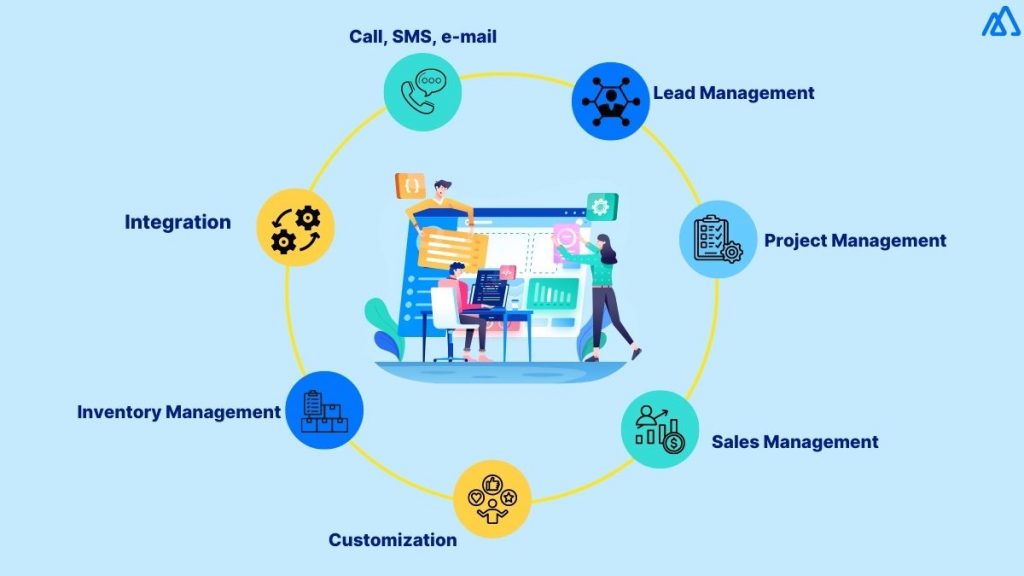 The ultimate end goal for any business is the achievement of sales. Web design agencies are no different, and they need CRM to help them streamline their sales.
If we consider the day-to-day functioning of a web design agency, the basic question that arises is how can the operations be streamlined. There will be multiple inquiries coming from various sources, different stages of work completed for the existing clients, multiple team members simultaneously working on projects, and many more such activities that can disrupt the smooth functioning of the businesses if they are not managed well. These activities can be managed in the best way possible and can yield the best results possible with the help of CRM solutions such as Kylas.
Due to the fast-paced, extensive, and detail-oriented nature of a web design agency's work, the following activities can prove challenging to be manually done:
Gathering and storing large amounts of data
Analyzing it gives good insights
Automating tasks to reduce the risk of errors
Optimizing the sales process
A web design agency can hence benefit immensely from the adoption of CRM because all these tasks can be taken over by the software. For any CRM tool to be ideal for the scaling of a web design agency, it must possess certain features:
Sales pipeline tools etc.
In a nutshell, it can be said that CRM will transform the end-to-end operations of any web design agency. The transformation can be represented in the following manner: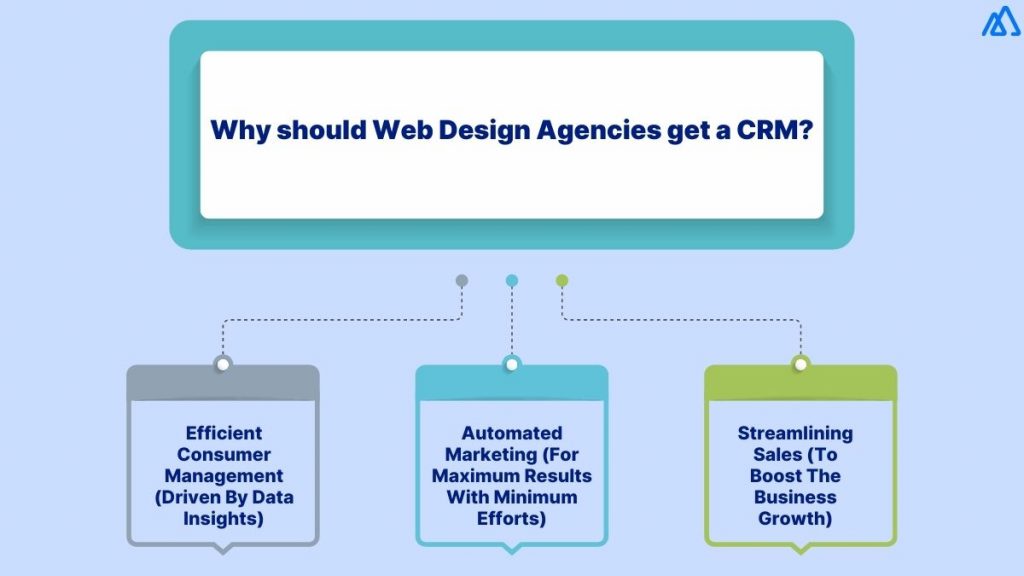 1. Efficient Consumer Management
The phrase 'Customer is King' is apt for every business. CRM software gives you the chance to actually treat your customers like kings, by giving detailed insights into their demands and preferences.
With the help of CRM for your web design agency, you can gain access to important consumer insights and data. Knowing your consumers well is a very important part of maintaining good relationships with them. Consequently, maintaining good relationships is a very important part of scaling your business. It hence all circles back to the pressing need of having consumer insights available at your fingertips.
CRM software such as Kylas creates a centralized and convenient platform to give you a clear picture of various relevant aspects of your consumers:
Information pertaining to their requirements
Specifications of their business, which can allow personalized services to be offered to them
Having this information will allow a web design agency to engage its consumers better and enhance consumer retention.
2. Automated Marketing
Marketing essentially means putting your brand out there for people to know and recognize it. The process also helps connect businesses with their target audience.
Marketing efforts result in generating leads from various channels, and each lead is a potential consumer. These have to be nurtured in a systematic manner to convert them into actual sales. Furthermore, the marketing has to be curated in accordance with each segment of consumers, because a single marketing technique will not work for all. Even if all these tasks are undertaken, there is no guarantee that they will be free from manual errors.
A good CRM for a web design agency will automate all your marketing tasks. Kylas offers features that will take your marketing efforts to the next level:
3. Streamlining Sales
A business without sales is like a journey without a destination. Sales are the ultimate end goal of any business and the very reason why businesses take up all other activities. For web design agencies too, there is nothing more important than selling their services. Can you leave such an important process at the whim of old methods of business?
CRM technology has revolutionized business sales processes by making them highly productive.
1. Sales Pipeline Management
CRMs that specialize in sales, such as Kylas, offer the feature of Sales Pipeline Management. A sales pipeline is a visual representation of the path that your leads follow, as they go from being mere inquiries to conducted sales. This path is often long and filled with various milestones which are very hard to keep track of.
Is Lead 1 closer to being pushed to a sale than Lead 8? What stage of the process is Lead 21 stuck in? These answers are difficult to remember. But with a CRM system in place, you will never have to worry about keeping track of such metrics. You will be able to do it easily and effectively.
2. Workflow Automation
This feature gives businesses the opportunity to reserve the skills of their sales teams for crucial tasks, instead wasting them on time-consuming tasks.
With workflow automation, your sales staff will focus on the most important aspect of their work- which is to close sales. Tasks such as scheduling meetings, scheduling calls, following up regularly, etc. will be taken care of for you by a CRM system.
With so many compelling advantages that it offers, right from lead management to sales management, it is evident that a CRM for a web design agency is a guaranteed way to scale its business.
Kylas is one such CRM that can help a business get the best out of tech adoption, by offering great features for great prices. It is designed keeping in mind the requirements of growing businesses. You do not need expert tech knowledge to use Kylas, due to its highly user-friendly platform. It is a growth engine helpful for any and everyone!
Start 15-day Free Trial