Businesses today are not catering to customers, but rather to Reimagined Customers. This term coined by Accenture fully captures the essence of new-age customers. They have evolved expectations and are unwilling to compromise for brands that do not align with their values. Good pricing and top-notch products will get businesses only so far. Ease & convenience, personalization, and the trust factor have assumed a higher importance in purchasing decisions.
If yours is a growing business in this evolved landscape, you have your work cut out for you. Your potential buyers are a tough crowd and wooing them has become more challenging than ever. You will end up spending considerable resources to convert them to paying customers and gaining revenue. This is a classic example of two steps forward, one step back.
However, what if there was a workaround that lessened the dependence of winning over and acquiring these reimagined customers? Such a workaround indeed exists, in the form of customer retention. It is the capacity of a business to keep its existing customers engaged with the product or brand for the long term and prevent them from switching over to competitors. Focusing on customer retention is the need of the hour for growing businesses and CRM is the best tool to help in their endeavors. It will help them thrive in these challenging times and maintain a steady stream of sales.
Kylas is an enterprise-grade sales CRM that helps in customer retention by enhancing the experience you offer. It takes care of all aspects, right from maintaining consistent communication to quick resolution of their queries. To know more about how you can delight your customers using Kylas, get in touch with our experts.
Why Should Customer Retention Be a Priority for Growing Businesses
Every growing business works towards the singular aim of making sales. Hence, anything that contributes towards sales should be focused upon. Customer retention is perhaps one of the most important factors in increasing sales, thereby making it a top priority. Organizations have attributed 65% to 75% of their revenue to retained customers. But why is it so? Why is it easier to secure closures from your existing customers rather than from new ones?
The answer lies in the changed mindset, demands, and expectations of customers. Let us imagine a customer from a few decades prior. The markets were not as dense as they are now, and there were only a handful of available options. Customer awareness was low, and there were no actual means to verify how good or legitimate a new product was. Hence, there was lesser scrutiny involved while trying to get a customer to convert. For this reason, most businesses traditionally have focused more on acquisition.
However, today's customers have abundant information and resources available, an overload of options, and high levels of awareness about their rights. Any business that fails to match their standards is discarded as a choice, making acquisition difficult. Furthermore, acquiring a new customer is 7X more expensive than selling to a retained one. Hence, customer retention emerges as the easier and more effective strategy.
---
Decoding the Customer Psyche
The process of achieving customer retention is based on give-and-take. You must give your customers an enhanced experience and top-notch services. In return, you take back their loyalty and can convert them to repeat customers for your business.
The definition of an 'enhanced customer experience' in current times has changed drastically. Customers too have changed, which calls for different approaches while interacting with them.
1. The Cost-Conscious Customer
Meeting business challenges for Growing B2B Businesses is much more difficult today than before the pandemic surfaced. And a key parameter some may be forced to address is pricing. As business opportunities dry up in the global markets, there is additional scrutiny when investing in new propositions. Here, your customers may reevaluate their partnership with you in terms of pricing.
One reason for them to do so would be to reduce expenditure. Another reason would be because your competitors are doing so. And lastly, since different pricing and discounts for different customers are commonplace. Only a few of them may want to renegotiate on this basis as well. You should accommodate their expectations, within limits, which may help the relationship be carried along with much-needed optimism.
Your cost-conscious client may consider this thread key to keeping the relationship going in the long run. It is a big plus point for your growing business to keep your revenue engine running.
2. The Digitally Enabled Customer
If your pricing is affordable and you do not have much elbow room to lower your prices, you will have to convince your clients by directing their focus to your unique value propositions. You might have observed how sales communication has gained a new level of importance. It is because existing customers are re-evaluating their investments in more ways than before. Here are some communication tips to get you going. Still, what we see today in B2B markets is not enough to create relationships built on value proposition and trust.
The digitally-enabled customer has access to and extra time on their hands to do their own research. They are unwilling to accept anything less than the best personal experience from you. This means providing optimal value with features, support, and expertise that is quick, transparent, and value-driven, customized to every user's specific requirements.
In addition, the same value must be disseminated across channels to help them answer why they should continue doing business with you.
3. The (Extra) Vigilant Customer
Your clients today are more vigilant because of the pandemic. They have the time to sort through your past relationship and notice if you are addressing their pain points and frustrations appropriately. As they keep learning, their expectations from you will increase. What they need to make up their mind is to know if they can rely on you to ensure that their investments keep generating ROI.
In essence, your sales team must ensure that your vigilant and enlightened customers become co-investors in your business. So, help them realize the impact that your product and services provide.
---
The Role of CRM in Customer Retention
The types of customers described above all have their own unique traits. While you need to slightly tweak your strategy for every category, building and maintaining good relations lies at the heart of it. You can put the focus back on relationships by leveraging your Customer Relationship Management software! CRM is the most reliable tool to optimize the end-to-end journey of a customer with your brand. This journey goes through multiple dynamic phases and touchpoints. However, CRM is adept at managing every aspect of the customer lifecycle.
We are all aware this tool helps in streamlining processes, forecasting, increasing team productivity, etc. These various use cases of CRM arise from two core aspects of the software- Data Management & Automation. Customer retention with CRM is enabled by these aspects, and we will now see how this works.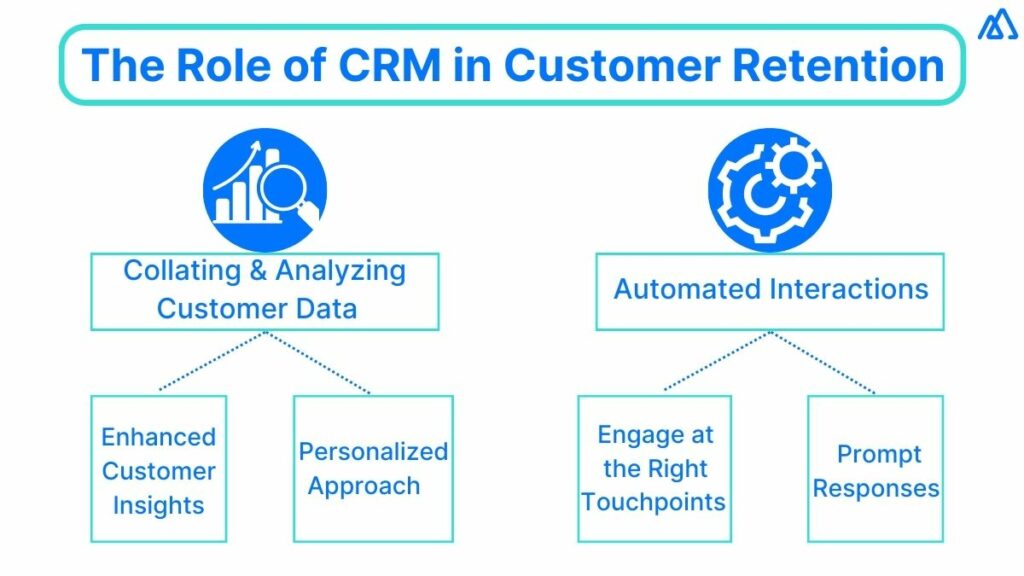 1. Collating & Analyzing Customer Data
One of the biggest advantages of CRM is that it creates a centralized repository of all client data. This includes personal details, interaction history, past purchases, and records of complaints raised by clients. The key to retention lies in showing your customers that they mean more to you than simply being a source of revenue. Data is your best bet in doing so and it can serve as a handy guide for you to keep your customers engaged.
Kylas's data management features help you leverage the full potential of customer data. You can get robust security, user access management, and smart lists for segmentation. Information is presented in a clean and readable manner, with rich insights from analytics. Turn your data into your most valuable asset with Kylas!
1.1 Enhanced Customer Understanding
Every customer has a unique story, and this story is communicated by data. You can get to the depths of their pain points and requirements, and mould your products and brand to align with these. Customers will have no reason to switch from your brand if they feel heard and understood by you.
CRM not only gathers all data, but it helps you make sense of it by identifying trends and patterns. You can even create specialized customer reports to track the metrics of your choice. This is possible through CRM systems like Kylas that offer custom and multi-dimensional reports that help you work your data as per your needs.
1.2 Personalized Approach
Imagine if you keep receiving irrelevant communication from a brand and it tries to pitch you a product for which you have no use. You will not think twice before ending your association with such a brand. If you don't want your customers to do the same, you need to start personalizing your approach. 60% of customers become repeat customers after a personalized experience.
CRM makes it very easy to adopt such an approach. For example, it tells you the type of content that your customers engage the most with. Additionally, it sheds light on the type of support requests made by customers in the past. You can use these inputs to tailor and customize the experience you offer and maximize your chances of retention.
2. Automated Interactions
Automation keeps all your operations running smoothly without the need for manual interference. You can use this CRM feature to create an automated system of customer interactions, one that is free from the errors and delays associated with manual work.
Kylas helps you set up an automated and omni-channel communication network. You can leverage mediums like WhatsApp and emails to reach your customers wherever they are. Additionally, you can personally engage with customers using the highly efficient calling solutions.
2.1 Engage at the Right Touchpoints
The typical buyer's journey goes through numerous stages. Customers have a different mindset and requirements at each of these stages. If you desire to secure repeat purchases from your customers and boost your retention, you need to engage with them at the right touchpoints with valuable and meaningful content.
It is easy for a team member to forget sending an email at the right date, or to miss making a call at the right time. Your CRM, however, never forgets. You can set reminders and schedule all communications. You can also note down the outputs from every such interaction which will guide you for how to improve the subsequent communications.
2.2 Prompt Responses
One of the most prominent reasons for churn is customers feeling neglected. They appreciate quick resolutions of their queries, and responsive teams that are there for them every step of the way.
Systems like Kylas enable your teams to address client concerns on-the-go with a rich mobile app and deliver prompt responses with features like one-click calling. This helps your customers see how invested you are in them and creates a highly positive impression of your brand.
These CRM capabilities ensure that you offer the best possible experience to customers, thereby giving them reasons to continue their association with you. It is thus no surprise that 47% of CRM users have reported an increase in retention because of it.
---
The Case with Kylas
By now, you must surely be convinced of the necessity of using CRM for your customer retention. But why choose Kylas?
It has been specially designed to help growing businesses scale with expertise. As we have established, customer retention is especially important for growing businesses. Kylas hence works in a variety of ways to achieve this. Let us explore some examples to strengthen our case.
For an educational institute like SVERI, customer retention meant reducing the drop-out rates and having students enroll for more and more courses. The customizable pipelines in Kylas gave real-time updates about the status of every student. Its teams could internally delegate tasks, set reminders, and send automated messages to ensure that there were no bottlenecks in the students' journey. Besides, the raw data was transformed into usable and actionable insights through data analytics. SVERI could thus make informed decisions to offer a smooth and seamless customer experience and identify opportunities to upsell and cross-sell.
Fitness Bell previously relied on spreadsheets to store data. There are various reasons why CRM scores over excel for data storage. Fitness Bell too optimized its data management efforts after adopting Kylas. All information was made available on a unified platform. This saved its teams the efforts of having to dig up the history and prior communications with customers. They could offer more efficient and value-adding services to customers. Furthermore, Kylas's smart lists enabled personalization, so that its customers were satisfied in every respect. The rich reporting features helped them track important customer metrics and make strategic decisions to enhance retention.
---
Customer Retention in Different Business Types
Every business has a unique set of customers. There is no straitjacket formula that can be applied to all customers. You must tweak your retention strategies depending on the type of your business and product, the market that you operate in, and your customer base.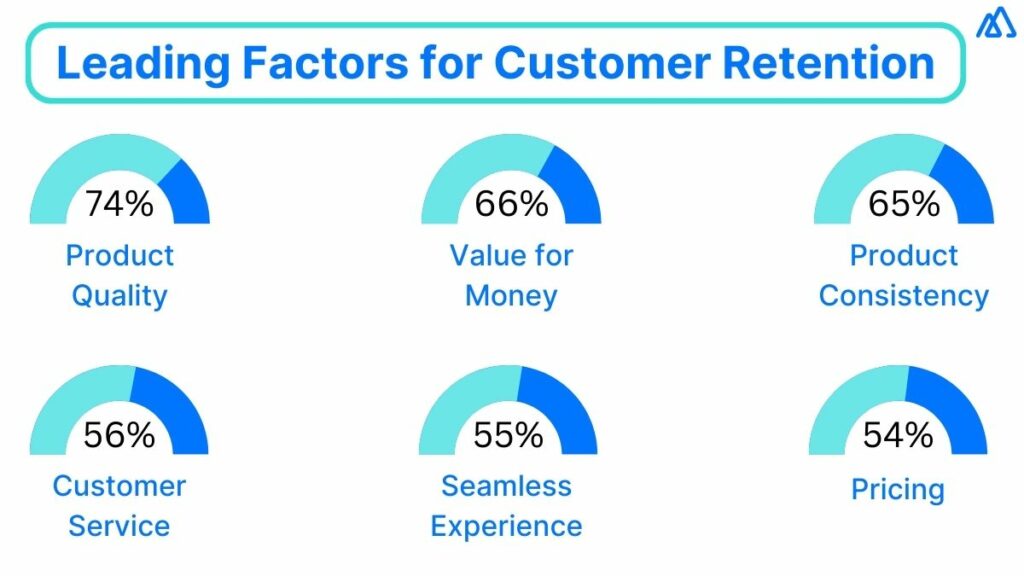 How to Ace Customer Retention in B2B SaaS
The scope of customer retention changes slightly when it comes to B2B SaaS. It is not just limited to clients to bring in repeat sales. It also includes customers who renew and upgrade their software subscription, invest in add-ons, and become fierce brand loyalists. Customer retention is an indicator of the health of a B2B SaaS company, and here are a few ways to level-up your efforts:
Ensure that your product not only meets your customer's expectations but surpasses it. You should add real value to your customers by solving their problems, improving their operations, and delivering services on time. Your product should be regularly updated to keep up with their demands and be sure to inform your customers of every such update.
Listen to your customers. The comments, reviews, and feedback that they leave for you can be your biggest help while trying to retain them. It sheds light on the aspects that you can improve and opens an opportunity for you to create a positive brand impression.
Monitor the activity, or lack thereof, of your customers. If your customers have been inactive on their accounts for long, or not made any upgrades and add-on purchases, it should ring the warning bells for you. You need to then reengage your customers with strategic communications, new feature updates, etc.
Offer valuable and informative resources like blogs, webinars, and interactive sessions. This creates a holistic image of your brand as being more than just a software provider. Your customers will have a lot more to gain from you and will want to keep the association going.
How to Ace Customer Retention in B2C
The B2C market is significantly larger than B2B. That translates to having many more competitors who are waiting to woo your customers and drive them away from you. Additionally, B2C customers have more freedom and flexibility to experiment with brands. Even with these tough situations, there are some things you can do to elevate your retention levels:
B2C loyalty is largely based on emotions. You can leverage this to convert your customers into strong brand loyalists. Build and maintain your image that a brand that represents strong values and incorporates the same in its operations. Your customers will thus feel pride in being a part of your brand.
Create a unique experience for your brand. This will draw your customers again and again towards you, as they seek the familiarity of the experience you offer. In terms of physical stores, this can mean setting up a specific ambience, and attractive displays. For your website, it can mean a clean layout and advanced UI.
Incentivize repeat purchases through loyalty programs. It is only fair that repeat sales should benefit your customers too along with benefiting your brand. You can offer incentives in the form of redeemable points, discounts, or special offers.
---
In A Nutshell
It is the need of the hour for growing businesses to focus on customer retention. Winning over new customers is more difficult than ever now. Hence, the best approach towards growth is making the most of your existing customers and strengthening the association with them.
Start 15-day Free Trial