CRM platforms have become an indispensable asset for businesses today. It stands for Customer Relationship Management and enables businesses to foster stronger relationships with their customers. However, it plays a variety of other roles too. Some CRMs specialize in sales automation and management, while some are more focused on streamlining marketing efforts. Similarly, you can specifically use your CRM to track your teams' work or to manage your data.
For a novice who is considering CRM adoption for the first time, these vast functionalities also bring about a lot of confusion. At present, there are 1787 CRM vendors in the US alone. While having options is a good thing, it can also bring more complications to the decision-making process. Among these thousands of options, each CRM platform has a unique set of capabilities. Thus, how can one make the right choice? And since CRM is a significant financial investment, the decision must be carefully made.
We are here to help you through this dilemma! We've compiled the key capabilities needed in CRM platforms that will maximize your business success. These can serve as a solid blueprint in your search for the right software.
Kylas, an enterprise-grade sales CRM is designed to help growing businesses scale with expertise. It is a reliable, easy-to-use, and cost-effective solution. To know more about how your business can grow with Kylas, get in touch with our experts!
How to Choose the Right CRM Platform Capabilities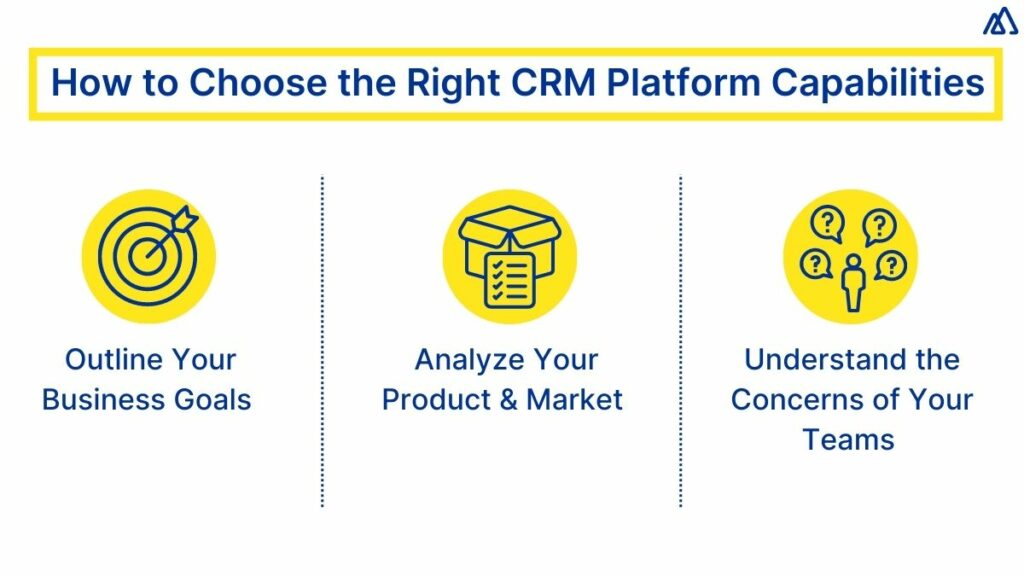 As explained above, the functionality of various software can be the major deciding factor during your hunt for a CRM platform. We have narrowed down the search pool for you by listing down some of the most important capabilities. However, you still have an important choice to make.
There are some questions that you must consider while choosing CRM. This will ensure that your chosen software and its capabilities are well-aligned with your requirements.
Outline Your Business Goals
This is the primary, and most crucial factor to consider. Outlining your business goals will help you form a clear trajectory of how to achieve them. In doing so, you can identify the processes that you need to optimize. Your CRM platform should thus have the capabilities that will help you improve the required processes in your business and achieve your goals.
For example, if enhanced lead management is a goal for you but you choose a software that focuses more on sales automation, it will be a misfit. A lack of proper planning and strategizing before choosing CRM leads to failure in 48% of cases. Hence, you must carefully consider the desired output from the CRM before finalizing one.
Analyze Your Product & Market
A business is shaped by its product and the market it operates in. Let us assume that a business relies heavily on the field work of its teams for sales. The product and market thus dictate that field sales management and remote access must be included in the CRM platform of the business.
Analyzing your product thoroughly will take you a step closer to selling it efficiently. Similarly, the market too can guide your search for CRM. It will help you zero in on the operations that are most important for your business, whether it be lead generation, campaign tracking, or sales management.
Understand the Concerns of Your Teams
The work of your teams directly influences your business's success. Your CRM should be able to make their daily work easier so that they can produce better outputs. It is hence essential for you to understand the concerns their concerns and choose capabilities that can resolve these.
If they are struggling with lead capture, your CRM should automatically capture leads. If data management is a problem area for them, your system should have robust data management capabilities. With this approach, you can target the pain points of your teams and leverage your CRM to increase their efficiency and productivity.
Your choice of a CRM platform should be based on these factors to help you make the most of the system. While looking at the capabilities included in a software, you must consider the output they will generate, aspects that they will target, and whether these match the requirements of your business and teams.
---
Key Capabilities of CRM Platforms
Now that you're aware of the other aspects to consider while choosing the right CRM platform, let us explore the various capabilities it can offer. These have been bifurcated into 3 main categories, depending upon the area of operations that they target and their use case.
1. Sales Capabilities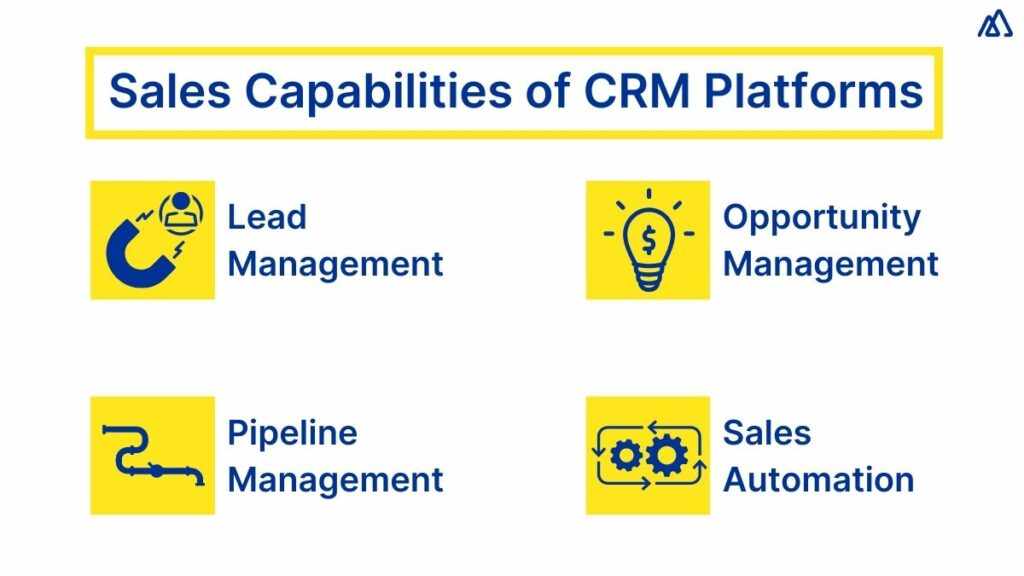 Sales are the lifeblood of all businesses. All business activities are performed with the end goal of sales in mind. Hence, sales-centric CRM platforms like Kylas come with a variety of features and functionalities that can help your sales grow multifold.
1.1 Lead Management
An efficient lead management system can help you convert more prospects into sales. CRM can streamline this process from end-to-end. Firstly, it can automatically capture leads from various sources and bring them to the top of your funnel. This saves the effort of your teams to manually enter each lead and prevents any lead from falling through the cracks. It also enables you to score and segment leads, so that you can focus on those which have a higher chance of converting.
Besides, it enhances your nurturing efforts with timely and contextual interactions with leads through multiple channels. You can also track the progress of leads through the stages of their buyer's journey. These capabilities help you to smartly prioritize leads, monitor interactions, and maintain steady communication, thereby improving your conversion rates.
1.2 Opportunity Management
The secret ingredient of cracking deals is keeping track of your opportunities and engaging regularly with them. Capabilities like opportunity management offer you a 360-view of all your ongoing deals on a unified system and help you stay informed of your business health.
You can monitor the movement of your deals through your sales process and make informed decisions on how you can close deals more efficiently. CRM platforms enable you to set specific reminders or tasks at specific touchpoints. Furthermore, you can also identify bottlenecks in your processes by tracking the complete journey of your deals. Features like segmentation even help you identify those deals which are closer to conversion so that you can adequately allocate your resources.
1.3 Pipeline Management
Imagine this- you have a healthy inflow of leads and a large number of ongoing deals. However, you have no way to track these leads/deals and are unaware of their status at any given time, which is bound to result in chaos. You might end up missing out on important deadlines or reaching out to your prospects in time. Hence, your sales figures will take a hit even with a healthy number of leads/deals.
This is where pipeline management can help. It creates a visual representation of the movement of your prospects so that you remain completely informed of their progress. CRMs enable you to customize the stages of your pipelines to reflect your unique business process. You can also use filtrations and analytics to gain deeper insights like the number of prospects in every stage, the stage from which most deals do not convert, etc. This information can help you improve your processes.
1.4 Sales Automation
Sales automation is a game changer for businesses. It takes over all repetitive and time-consuming tasks. Your teams can hence focus on the thing that matters the most- selling! You can create systematic and automated workflows for every business operation, be it for sending emails or following up with prospects. The most evident advantage here is that it saves your teams' time. However, another advantage is that it eliminates the scope of errors associated with manual work.
CRM systems like Kylas also allow you to set automated actions that are triggered by events or specific timelines. For example, you can automate a workflow to send an email to your prospects 3 days after their initial inquiry. By leveraging this capability, you can streamline all your sales processes and bring consistency in every aspect to drive up your sales.
---
2. Customer-Centric Capabilities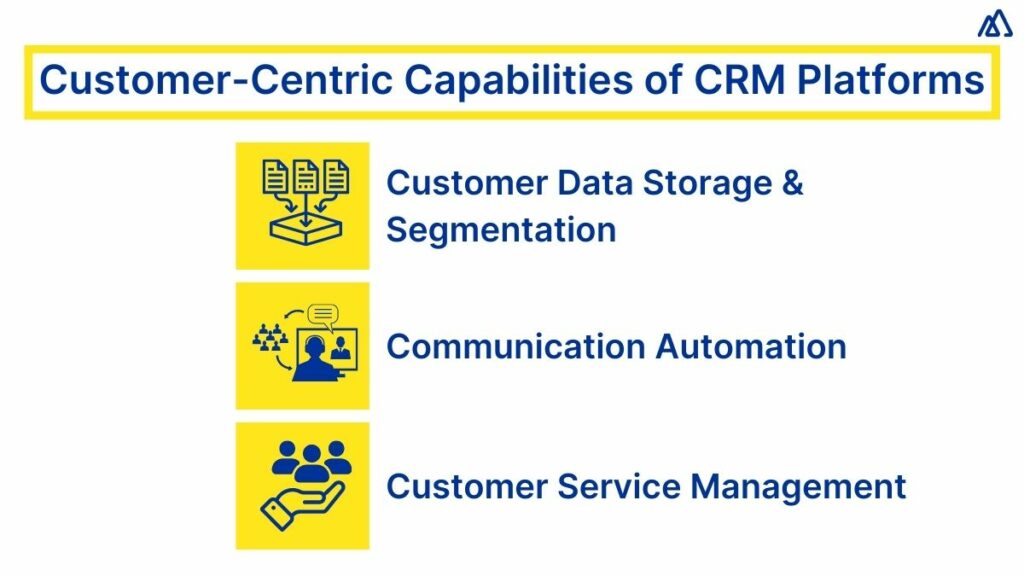 A business is nothing without its customers. The very essence of CRM lies in managing customer relationships. Hence, it has a variety of capabilities that are targeted towards it. This helps businesses provide enhanced services to their customers, nurture lasting relationships, and create a loyal customer base.
2.1 Customer Data Storage & Segmentation
74% of businesses claim that CRM platforms give them better access to customer data. This is no surprise, considering CRM is one of the most efficient ways to store data. It collates every pertinent detail relating to your customers, right from their budget to the details of their past interactions with your brand.
You hence have every data point at your fingertips, and you can leverage the information to serve your customers better. Additionally, you can categorize and segment all your data too. This ensures that you can find the relevant details easily and personalize your approach while interacting with various segments of customers to add more value for them.
2.2 Communication Automation
Timely and contextual communication is vital for building customer relations. CRM enables you to seamlessly engage with customers through multiple channels. All communications via email, messages, and calls can be automated to ensure that you do not miss out on any important timeline for engaging with customers.
You can delegate tasks and set specific reminders against every customer interaction. For instance, you can automate the sending of an email with all relevant details of your product after your initial call with a client. This will create a positive impression in their mind regarding your brand and take you a step closer towards securing a sale. Furthermore, you can leverage data stored within the CRM platform to enrich your communications.
2.3 Customer Service Management
Customers of today settle for nothing but the best. If you want to retain and expand your customer base, it is necessary to provide top-notch customer service. This means paying heed to the requirements of your customers, supporting them every step of the way, and resolving any concerns that they may be facing.
CRM platforms have capabilities to help you manage your customer service better. You can track the end-to-end interactions with customers to identify problem areas. Furthermore, you can also use the software to easily receive and access complaints and support tickets. These can be quickly acted upon by your teams since they can communicate from within the software itself. Speedy and efficient customer management can hence empower you for business success.
---
3. Other Essential Capabilities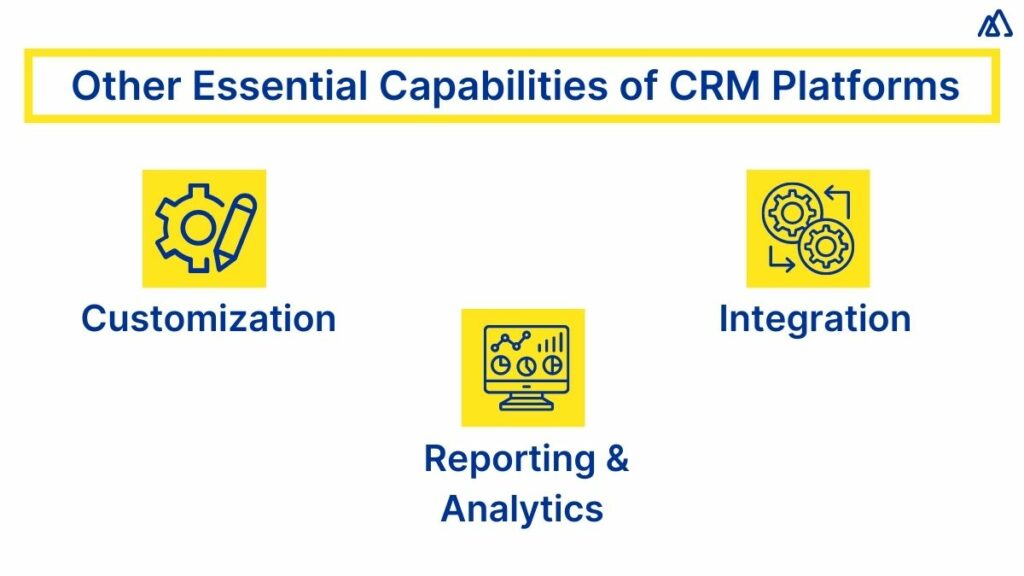 3.1 Reporting & Analytics
We have already established that CRM can double up as a reliable database. Right from personal information of customers to sales figures, everything is collated in the software. However, this data amounts to mere words and numbers if it is not used properly. That is why you need data analytics and CRM reports.
Through these capabilities of CRM platforms, you can use your data for valuable insights. It makes sense of the scores of data and presents it in an understandable way. You can gain complete clarity on every aspect of your business and make informed decisions to optimize the same. If one tried to manually analyze and report on such large amounts of data, it would take up a lot of time and effort and might yield inaccurate results. Instead, with the use of CRM, 30% of businesses have improved their reporting abilities.
3.2 Customizations
Every business is unique. Given this, why should every business use the same type of CRM platform? Customizations will ensure that your CRM is completely aligned with the processes and requirements of your business.
There is no standard benchmark for the customizability of a software. Some might offer baseline customizations, such as changes in the dashboard configuration. Other systems such as Kylas allow you to add custom fields, customize your workflows, and even customize your reports. You should carefully consider the needs of your business before choosing the level of customization that your software should offer.
3.3 Integrations
While CRM is a very powerful platform, it is not the only platform through which business is conducted. Businesses also need other software for processes like lead generation, invoicing and payments, e-commerce, etc.
Thus, integration is a must-have capability. As the name suggests, it enables you to connect the CRM with the rest of your technology stack. You can thus carry out all your operations from a unified platform instead of shuffling between various apps. You can either use the inbuilt integrations of CRMs like Kylas, that offer you a wide selection of leading applications. Alternatively, you can sync your CRM with any application of your choice and make your operations easier.
These are the prominent capabilities that you should look for while choosing a CRM platform. If your software includes all these, almost every vital operation can be streamlined and organized. It will ensure that your CRM works to the best advantage of your business and produces optimum results.
---
Conclusion
CRM is undoubtedly a very beneficial tool. However, your business will not be able to fully gain these benefits if you do not carefully select the capabilities.
These capabilities influence the outcome that the CRM platform can generate and the aspects that it can target. It is hence crucial that your chosen software aligns with the specific needs of your business. Only then can you unlock the full potential of CRM for business growth and enhanced sales.
Kylas's robust feature set has been designed to help growing businesses scale with expertise. It includes all essential capabilities required to resolve the pain points of businesses, help their teams excel, and drive up overall revenue and profitability.
Start 15-day Free Trial