For an average salesperson, today was no different. He sent a few follow-up emails, contacted new leads, chased some on their social media accounts, performed some data entry, and then left for the day. Nearly 71% of sales reps say they spend too much time on data entry and only 33% of a salesperson's time is spent on actual selling.
But if they are not selling for the rest of the day, aren't they wasting a lot of time?
Well, it should not come as a surprise that selling in the modern-day is not an easy job to do. You need to give your sales a whole lot of sales tools that won't just make their job easier but will also help your business grow its revenue.
With some great tools at hand, automating tedious tasks, creating automated pipelines, assigning leads for quick follow-ups, improving prospect and customer relationships, and a lot more can be done in a fraction of a second.
By accelerating sales activities, you can build a team of enthusiastic and proactive salespeople who know how to deal with the prospects coming in.
---
What Are Sales Tools?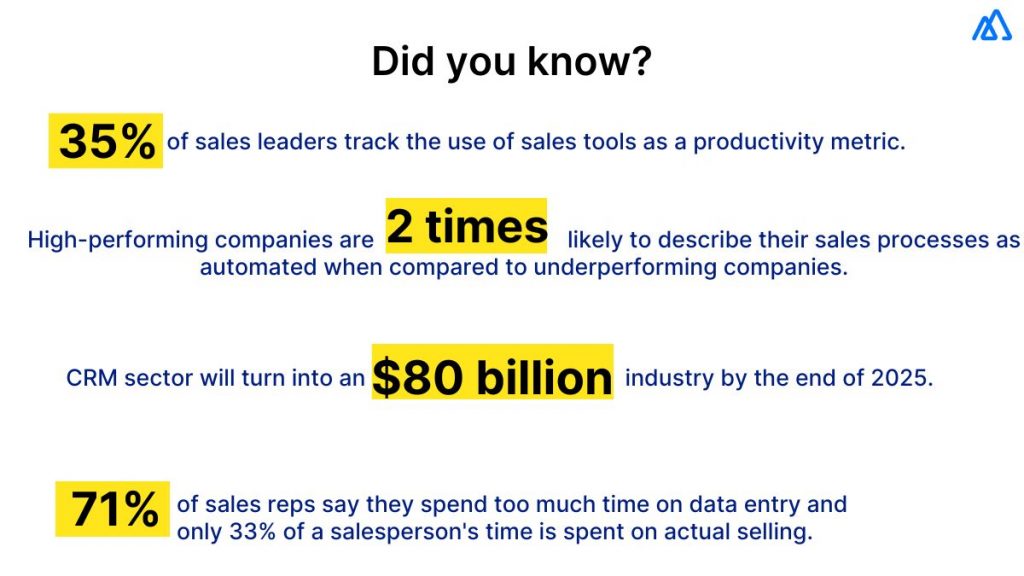 Sales tools are the digital tools that salespeople use to streamline their tasks for easier management and better deliveries. A lot of technologies come under sales tools and hence, become the X factor for closing the right deals.
With the right sales tools, salespeople can determine which prospects are more likely to convert, when they must reach out to them, and what they must discuss with them. 35% of sales leaders track the use of sales tools as a productivity metric.
If your team is armed with the right tools, you can expect them to be ready for any number of challenges at any given time, and of course, close more deals. This also implies that if your team doesn't have the right amount of tools, you will lose several important deals and some good people too.
Providing your sales team with the right tools becomes even more important in the modern world where they function remotely. Other than tools, there is no way of knowing how they are performing and where they need to improve.
Let's determine why sales tools are important and why you should invest in them.
Why are Sales Tools Important?
If you want to grow your business, you cannot depend on age-old tactics to expand. You have to speed up your growth with the help of modern tools.
Who doesn't know that your business will grow only if your customers are happy and satisfied? And the only way to satisfy them is through quick follow-ups. If they take a lot of time to contact leads, they will less likely to become your customer. But if you call them within 5 minutes of them signing up, you have 100 times more chances of converting the lead.
Another thing that keeps your customers happy is how well you understand them and can cater to their needs. You will become successful at selling only when you know which customers would be interested in what you sell. With sales tools, your sales reps can keep track of each customer, prioritize them, and ensure that they are served with the right solutions.
With tools, your sales reps can stay connected with several leads at once. And this will automatically improve the overall sales productivity of your sales team.
---
What Are the Best Sales Tools to Invest in in 2023?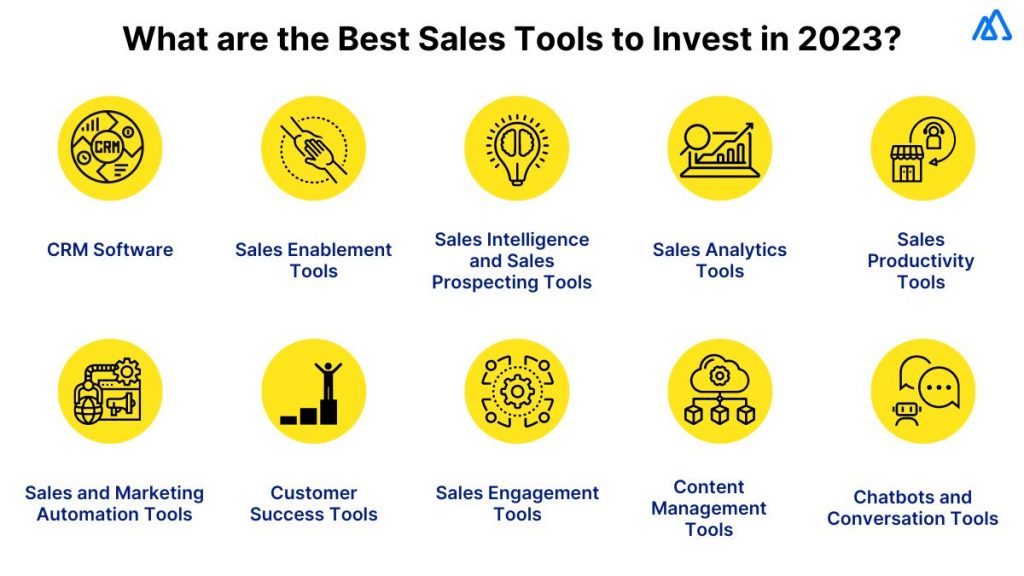 As per the statistics, high-performing companies are 2 times more likely to describe their sales processes as automated when compared to underperforming companies. Let's now take a look at several sales tools that serve different functionalities and can help your sales team ace every challenge.
1. CRM Software
When someone talks about sales tech, customer relationship management (CRM) has to top every list. We won't be exaggerating if we say that a CRM is sufficient for all sales operations and for managing client communications effectively. It's truly called the focal point of all sales processes. It lets you track your existing customers, improve customer relationships, enhance customer retention, get real-time updates, stay on top of your tasks, and automate communication ad repetitive tasks through various media.
A CRM is probably going to be the first investment that any sales team would make in sales technology. It is expected that the CRM sector will turn into an $80 billion industry by the end of 2025. With time, we may see many advancements in CRM technology that will ease and optimize sales processes to a great extent.
Kylas is a great sales CRM that is designed for growing businesses. It can help your team collaborate and identify the right sales opportunities to serve the right customers.
2. Sales Enablement Tools
When most of the sales tasks become automated, sales reps tend to allocate their time to bigger opportunities where training, education, and content play a huge role. As they have to arrange discovery meetings and send personalized proposals, everything needs to be well-timed and in place. From communication platforms to sales asset management tools, there are a lot of tools that come under this category.
Sales enablement tools come in handy when buyers expect salespeople to offer a great amount of personalization and involvement. Highspot is one of the best sales enablement platforms that provide services like content management, seller guidance, onboarding and training, rep coaching, and customer engagement. GetAccept is another sales enablement platform that offers features like e-signature and contract management features.
3. Sales Intelligence and Sales Prospecting Tools
With sales intelligence, reps get to use a wide range of technologies that help them find, track and understand prospects' and existing clients' information. As sales prospecting is the foundation of every sales funnel, it becomes essential for salespeople to gather information and streamline their sales processes accordingly. With the right sales intelligence and prospecting tools, the job can become quicker and easier.
Such tools help your sales team understand whom they should talk to, what they should talk about, and when they should reach out to them. LinkedIn Sales Navigator is LinkedIn's proprietary sales and market intelligence tool that offers advanced search features and personalized lead recommendations. Voila Norbert is an email finder tool that supports several integrations.
4. Sales Analytics Tools
Such tools help businesses understand and analyze data while acquiring insights that drive sales. Though the sales are data-driven, sales metrics can be a little difficult to understand. Sales analytics software helps you keep track of, evaluate, and improve your sales activities on the basis of data analysis. When sales managers have a clear view of their team, solutions, and prospects, they can easily break down pieces to understand where they need to improve.
Nowadays, sales managers don't have to go through a pile of data to manually gather analytics and build plans as per that. Google Sheets are everyone's first choice for sales analytics. They help you store data and seamlessly integrate with other tools. WhatConverts is another sales analytics tool that tracks calls, chats, and forms, and automatically organizes the data it collects from different sources.
5. Sales Productivity Tools
As the name suggests, sales productivity tools are meant to enhance every sales rep's results and help your team improve its productivity. With the help of these tools, sales managers can easily track and compare everything happening in their sales team by automating processes with time-saving tools. By helping sales professionals with their daily activities, these tools enable them to do more sales.
Things like generating more leads, making calls, scheduling meetings, creating pipelines, and automating redundant tasks become easier with these tools. Bit is a popular sales productivity tool that helps your team in collaborating, and create sales proposals and client-facing materials. DocSend is another sales productivity tool that offers content management with tracking and presentation tools.
6. Sales and Marketing Automation Tools
If we talk about internal sales professionals, you will know that they have to perform some data entry tasks based on the data they capture from client communications. By automating these tedious tasks, your sales reps can save a lot of their time. Automation tools sync your emails ad have inbuilt calling features that can enhance your team's overall productivity. When you streamline your workflows and automate marketing tasks with these tools, you will be able to build a rich database without wasting time.
The account-based marketing method helps your team concentrate on high-value customers and build personalized marketing campaigns that drive results. Integrately provides you with a visual interface with the help of which you can integrate two or more tools and get all the functionality you need. Zapier is another integration tool that helps you automate your sales outreach and lead flow.
7. Customer Success Tools
Most businesses use customer success software to make sure that customers achieve the results they wish to achieve with your solutions. Or we can say that these tools help you optimize your relationships with your customers and ensure that they achieve success with your solutions. You need to keep track of customer satisfaction and success to boost customer advocacy and grow in the long run.
With customer success tools, you get a clear picture of customers' past behavior and how satisfied they are with your services. Catalyst is a customer success platform that offers automated workflows for customer retention. Zendesk offers a multi-layered ticketing system to help you enhance your customer support and helps you take care of customer questions and issues.
8. Sales Engagement Tools
Sales engagement tools are meant to help sellers engage effectively with their customers and prospects through various communication channels. They are much more than just automating your repetitive tasks and setting up some pipelines. Or you can simply call sales engagement tools that range of important tools that your team needs to close more deals. For example, you can use these tools to send a message to your leads, then a follow-up email, and then engagement texts.
Mailshake is a popular sales engagement software that is designed for personalized, scalable sales prospecting and lets you send automated follow-ups across multiple channels. Dialpad helps your team improve their sales call efficiency by providing real-time coaching and assistance by employing AI tech.
9. Content Management Tools
For those, who have been related to sales and marketing for some time now, there's no doubt that you know how important content is for your business. In fact, content is king, as they say. We know that you might be a little confused about this because content marketing would have come to your mind immediately after reading this. But in the sales department too, you need to have the right content at the right time to pitch to the right customers.
Vidyard helps your sales reps record memorable and engaging sales messages that they can use and send while communicating with a client. It also tells you which part of the video your prospect has watched. ClearSlide combines content management with real-time analytics to provide your sales team with the best content they need to close more deals.
10. Chatbots and Conversation Tools
You will agree with us if we tell you that these days, a chatbox has become quite common. Whenever you visit a homepage of a website, a chatbot comes up in a few seconds. Sometimes, it may look a little annoying but when you need any help, they come in handy. Having a chatbot on your website will allow you to communicate with your prospects more easily and quickly.
Drift is a great communication tool that offers instant chat functionality for websites. It easily integrates with your other tech tools and provides you with a seamless experience. Crisp Chat is another sales chat software that offers customer support and marketing. It offers a shared inbox to store all your conversations for future reference.
---
Conclusion
There is no denying the fact that with the right set of sales tools, you can empower your team to close more deals and grow business revenue. By adding the above-mentioned tools to your tech stack, you can pave your way toward success.
Undoubtedly, you need a custom toolbox that caters to your unique requirements and helps you provide the best solutions to your customers.
Kylas is one such CRM tool that supports your sales efforts to increase your chances of success. Book your free demo with us and make your decision.
Start 15-day Free Trial