In today's competitive world, every business is seeking trusted new ways to differentiate themselves and sustain success. For every such company, their human capital is the prime differentiator and it makes it relevant to think about what companies do for them.
Sales reps have complex and different levels of motivation which gives direction to how they perform in their roles. Just as important is the high-performing sales team vital for a company's success, rewards and recognition are necessary for keeping the sales team on track with the company goals.
Take it for sure, nothing can match the level of excitement and energy that an incentive can fill your sales team with. 39% of employees feel underappreciated at work, with 77% reporting that they would work harder if they felt better recognized. But you can't just by giving out rewards without considering their performance and how much they have earned for the company.
Continue reading the blog to know everything about incentives that will help build a workable incentive plan.
A CRM like Kylas can help you keep track of what your sales team has been doing to achieve their targets and how much they have achieved so far.
---
What Is a Sales Incentive Program?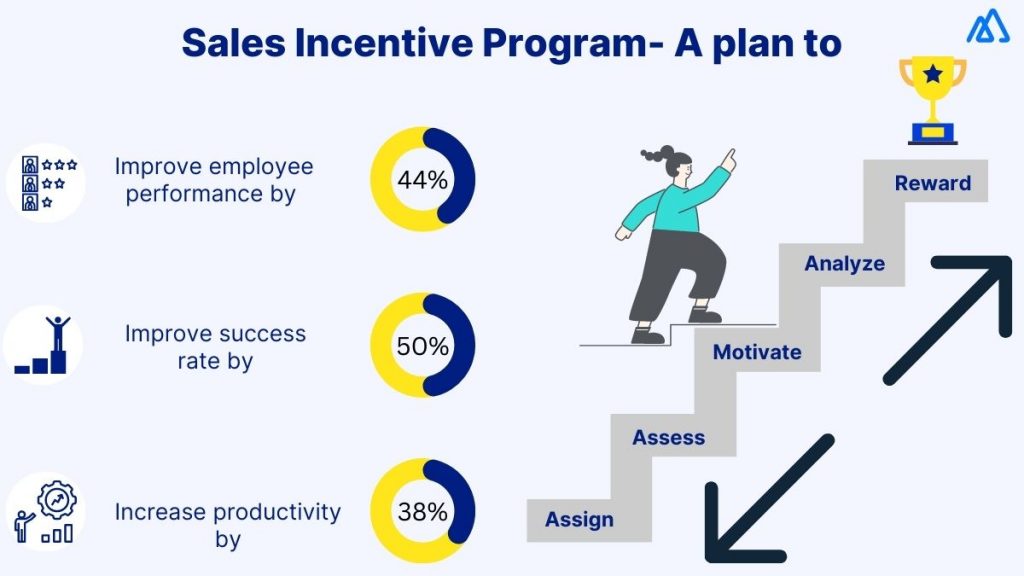 A sales incentive plan is a framework used by businesses to assess, motivate, and reward high-performing salespeople. Such plans have been used for years to promote team collaboration and drive sales results. A sales incentive structure aims at providing the sales reps with visibility about what is expected from them and motivating them to hit those targets. 51% of sales talent and 52% of employees are already participating in some kind of program at work.
Gone are the days when salespeople's expertise was the only thing that influenced a buyer's decision. In modern days, customer behavior has changed and the buying process has become longer and more complex. As per a Gartner study, 77% of B2B buyers noted their latest purchase was difficult.
As customers are capable of garnering a lot of information on their own, sales reps don't own the whole of the selling process. This has made their jobs quite difficult and it's a sales manager's responsibility to keep the team on track with their targets and build a sales incentive plan that lets them stay competitive and find ways to close more deals.
Sales reps need to feel that the incentive program they are offered is realistic, achievable, and can promote success. And that's how you can improve employee performance by 44%.
---
Understand What Motivates Salespeople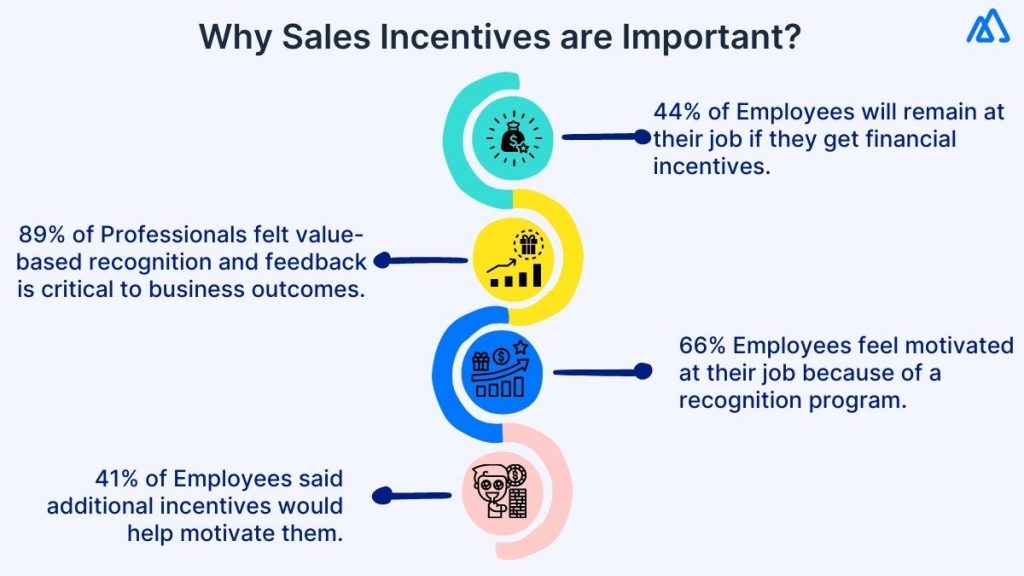 All your sales professionals have only one thing in common and that is they are there to sell. Apart from that, they have nothing in common and you can't group all of them together without accounting for what motivates them at individual levels. As per the Harvard Business Review, companies must build sale incentive programs that cater to each one in their sales team.
Some salespeople have more ability and internal drive than others to achieve their targets. The star performers would be able to knock down every target that stands in their way but when a ceiling is imposed, even they may stop working. On the other hand, laggards would need more of your time and guidance to hit the targets. At the same time, the core performers might be the most overlooked people in your team.
Now that your sales team is comprised of all these people, you have to understand how your sales incentive plan would be able to cater to their needs to bring out the best results for each one of them.
Identify dominant motivations and recognize motivation signals but also remember that you won't be able to motivate everyone at all times. Your objective is to motivate your salespeople to a level that they are able to at least achieve their targets.
Individualize your sales plans in accordance with the salespeople you want to motivate. Make sure that you don't neglect the top performers while taking care of the laggards.
Here's how you can motivate these groups of salespeople to give them enough space to explore the market and deliver results.
Your top-performing salespeople would be happy with traditional sales incentives programs like trips, monetary rewards, and recognition at annual meetings.
To turn your core performers into star performers, you can develop a tiered structure like incentives based on how easily they were achieved in the past, incentives based on

achieving targets salespeople

have not achieved in the past, etc.
For the laggards who either lack motivation or experience, you need a balance of rewards and an improvement plan.
By treating different salespeople differently, you will be able to maximize the overall potential of your sales team.
---
Fundamentals of an Effective Sales Incentive Plan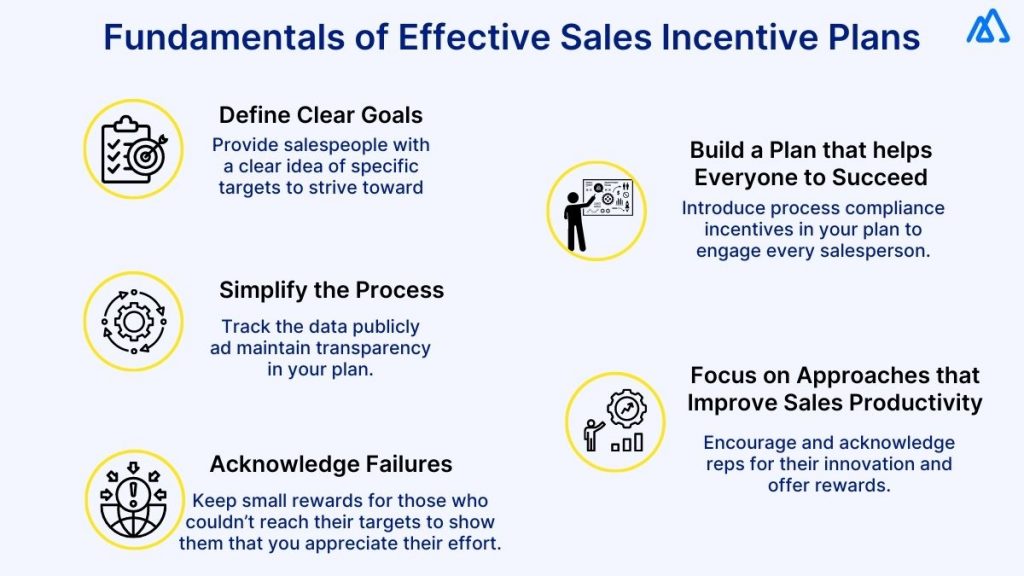 It's not always what your sales incentive plan looks like. It's more about how simple it is and how well your team understands it. The goal of creating such a plan is to foster a friendly atmosphere and healthy competition in your team while promoting team collaboration towards a common goal.
Each one in your sales team must be able to understand his role and responsibilities to promote desired results. Research shows that the presence of a recognition program keeps 66% of employees motivated at their job. It's surely a great way of telling your team that their work is valued and they are an essential part of the company.
So, when you are developing a sale incentive plan, here is what you must take care of.
1. Define Clear Goals
Business goals are the foundation of any successful incentive structure. The structure should provide your salespeople with a clear idea of specific targets to strive toward. Understand the company's overall business and use relevant performance indicators to achieve those goals. Keep the program as simple and easy to understand as you can because if it is complicated, many of your team members won't even bother.
The objective has to be clear, realistic, and achievable for your team to own it and work toward it. Use a precise approach when defining goals because generating revenue doesn't clarify what you want your team to achieve. And that's how they will be able to target the right customer base.
2. Build a Plan that helps Everyone to Succeed
If your plan rewards only those who have been performing the best, other salespeople won't even want to participate in the competition. When you have more than one winner, it will motivate the entire sales team. Dig deep to come up with parameters that will help your entire sales team become more productive. As a sales manager, your aim should be to motivate average and below-average performers to push beyond their comfort zones.
Introduce process compliance incentives in your plan to engage every salesperson. Assign each parameter of the sales process a certain degree of importance and create plans accordingly. When your reps work towards qualifying for the plan, they automatically become better sales reps.
3. Simplify the Process
Your sales plan must be clear to everyone involved in the sales process. The way you plan and carry out a strategy has everything to do with the success of your structure. Even after you have put a plan in place, take a look at it to see if you need to change something and make revisions accordingly. Your sales team must be able to implement the plan without the need for manual involvement.
Track the data publicly ad maintain transparency in your plan. This will help your reps keep an eye on their performance and how far they are from reaching their goals. Automated systems like Kylas sales CRM can help you obtain data and monitor the performance of your Sales Incentive Structure.
4. Acknowledge Failures
We all work for the bottom line regardless of the process we are in. But the path to the bottom line is not as easy as said. It's full of rejections, Nos, and unexpected losses. Now that everyone in your team requires an equal amount of motivation, you can keep small rewards for those who couldn't reach their targets to show them that you appreciate their effort. Also, ensure that these reps get the support they need to close more deals.
You will have to find out if the rejection happened because of the flaw of the sales rep or if it was a case of pure bad luck. If there is something you can help your rep with, do it and help them come into the category of core performers.
5. Focus on Approaches that Improve Sales Productivity
It's good that you have defined ways to achieve certain targets in your sales process. But your sales reps may have found some ways to do them more efficiently over the experience they have gained. It would be great if you can acknowledge their innovation as fast as possible. Offer rewards and recognitions to such reps and encourage them and others further. Such a practice can help increase overall efficiency.
Make sure that all performance levels are motivated and minimize the time between closing and payouts. Try to personalize incentives as much as you can and the results will be in your favor.
---
Activity-Based Incentives Vs Revenue-Based Incentives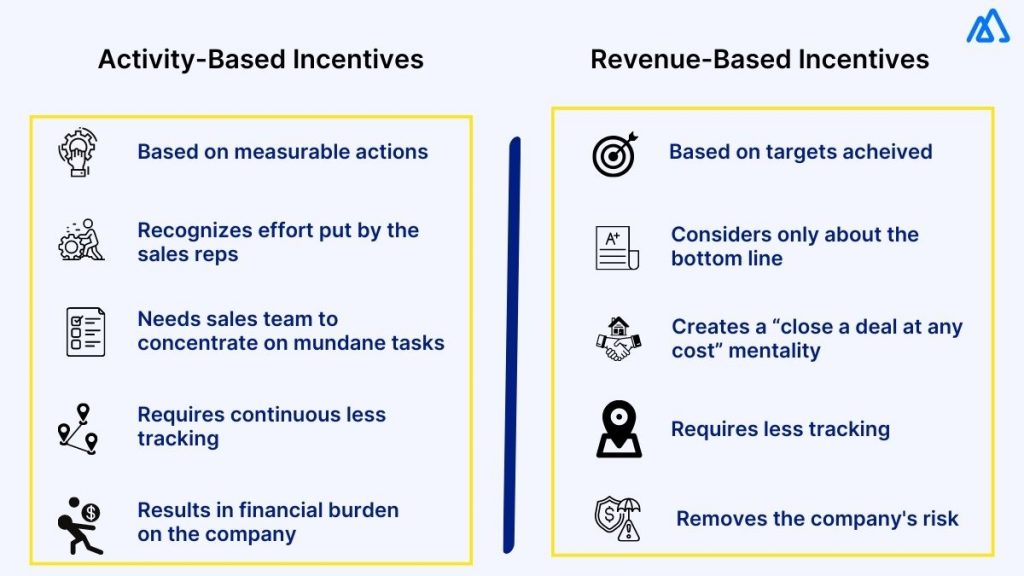 When you write down a certain set of targets for your sales team, you expect them to accomplish them. It requires motivation and skills to do that job efficiently. But motivating your sales team is not that simple for sure. For this, you would definitely think about introducing some kind of incentives that drive your team to reach their targets. And why not? When businesses using a sales incentive plan report a 79% success rate.
The only catch here is that you must design the right incentive plan that motivates each one in your team individually and collaboratively. But it's far from being easy to execute.
To draft the best sales incentive plan for your team, you will have to understand how the buyer's journey has changed over time. You must be able to address these changes in your incentives plan. Out of the different ways of designing your sales incentive plan, the most common ones include- activity-based incentives and revenue-based incentives. Let's dig a little deeper into what they are.
Activity-Based Incentives
As the name suggests, activity-based incentives are given on the basis of the measurable actions that lead to sales like making calls, giving demos, etc. Such an incentive plan is known to boost the productivity of outbound sales teams and hence, results in better sales.
The incentive plan is based on the idea that when you give an incentive to your team members on the basis of the effort they are putting in to achieve their targets, they will work harder to achieve their targets.
For instance, if you give an incentive to the supervisors based on activity, they will be highly motivated to help their salespeople in planning their day-to-day activities. As the supervisors got promoted to the role after being salespeople for years, they know what input is needed for a certain output. So, incentivizing them to plan and monitor their team's activities will motivate them to apply their experience in the best way possible.
Such an incentive plan is known to create a steady flow of revenue and hence, can prove to be a powerful tool in achieving broader business objectives. This type of incentive plan considers the long-term approach to sales while tracking every effort put into achieving the ultimate goal. Businesses that offer activity-based sales incentives boost sales by 6% to 9% over offering only incentives based on sales results.
With a lower-pressure approach to sales, your team members will focus more on building relationships than on closing a deal. As this will automatically foster customer trust and loyalty, they will be able to achieve their targets more easily. The plan allows salespeople to focus more on the process than the competition and hence, build better workplace cohesiveness.
Drawbacks of Activity-Based Incentives
But some people believe that this approach may make the sales team concentrate on mundane tasks and miss the forest for the trees. And if their activities don't result in sales, the company will have to bear the financial burden for no reason.
Revenue-Based Incentives
The revenue-based incentives are self-explanatory. The salespeople get rewarded and recognized for achieving their targets and not just on the basis of the ticked items on their activity checklist. Such an incentive plan doesn't care about the steps but the bottom line.
Salespeople get rewarded and recognized only when a deal is signed, sealed, or delivered. This type of sales incentive plan is based on the idea that when the salespeople know that they get compensated for the results they bring; they will automatically work harder to make sales.
The good part about such a sales incentive plan is that it requires less tracking in comparison to activity-based incentives since the only metric to be considered is the value of the final sale done. This way companies remove their risk and place it completely on the rep's shoulder. It's simple- if the sales rep doesn't bring in the desired sale, he doesn't get the incentive.
Plus, the management is a little more relaxed as the sales rep has to monitor his own progress and account for their sales. The revenue-based outcome encourages competition among sales reps and with healthy competition, businesses expect to boost productivity.
Drawbacks of Revenue-Based Incentives
While this type of incentive plan may work in some business settings, some believe that such a plan creates a "close a deal at any cost" mentality. This result may make reps use some questionable business practices that may harm the overall structure. Such an attitude may close more deals in the short term but when it comes to building long-term relationships with customers, the plan may fail and may even have a negative impact on your brand. This can create a potentially toxic environment in a business.
---
Conclusion
It has to be a company's decision to find the right sales incentive plan as per the structure and targets to be achieved. To avoid the extremes with either of the two, there can be a middle-ground approach. You can adapt components from both plans and strike a balance between them.
A business can decide on activity-based incentives for junior salespeople and revenue-based incentives for seasoned sales reps. But you can do it however, you want as per your requirements. Do consider your company goals and how each one of your sales reps is best motivated.
Use Kylas to obtain data and monitor the performance of your sales incentive structure and make changes wherever required.
Start 15-day Free Trial