Let's be blunt about it: Sales motivation isn't often a part of growing business culture. That's because it's an effort that needs to be driven from the top down. Senior leaders in growing businesses are usually caught up in revenue-generating activities. They are generally stressed out about a million other things! 
But we've said it before and we'll say it again: investing time, effort, and a bit of budget into sales motivation activities is an investment in your sales team, which is an investment in driving revenue.
As a business owner, don't you look forward to coming in to run your business every day? What motivates you – your entrepreneurial spirit, the fulfillment you get, the pride of running a company?
If you're a business leader, you probably come in looking forward to making a difference, building your career, and leaving an impact on the company and in the field.
Sales professionals need some motivation too, especially as their day-to-day work comes at the risk of great pressure and stress.
Your sales team is responsible for putting your business first in their day. So motivating them is really a great way for you to put them first, and ensure that they look forward to bringing their A-game to work every day.
Still not convinced?
Not everyone prioritizes sales motivation initiatives as much as they should – especially in growing business culture – but the idea isn't all hoopla. And to prove that to you, we're compiling social proof from some of the best in the business. 
---
What Industry Leaders Have To Say About Sales Motivation
1. Greer Bellomy, Divisional Vice President – ITA Group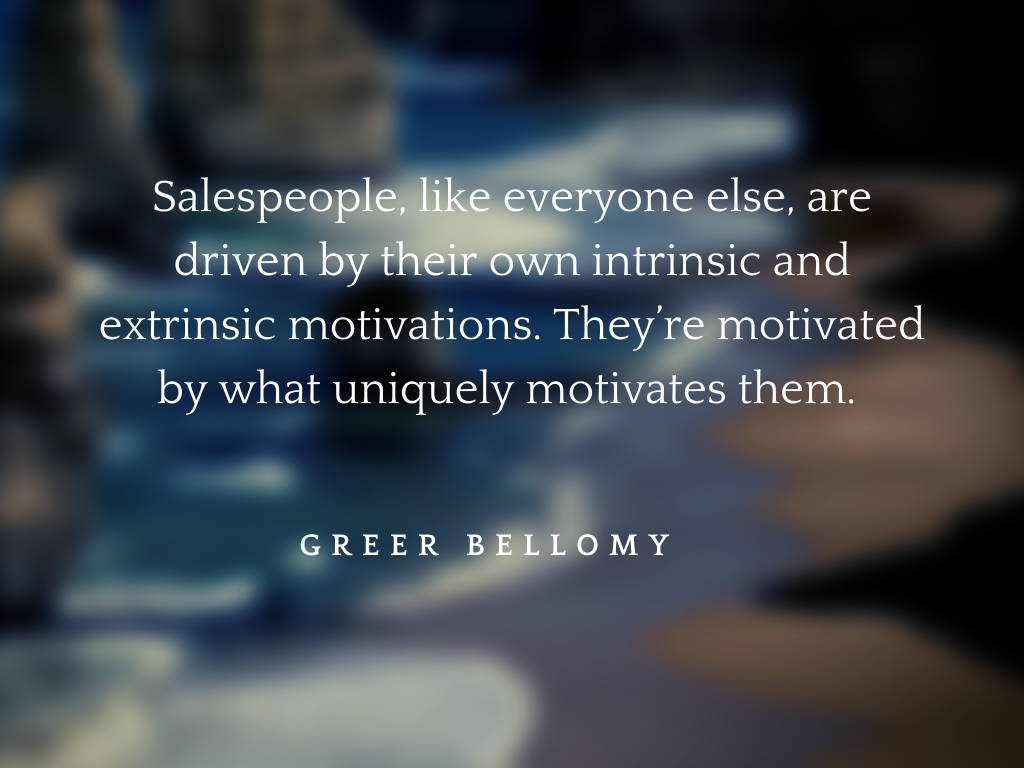 "Salespeople, like everyone else, are driven by their own intrinsic and extrinsic motivations. They're motivated by what uniquely motivates them. If they're on straight commission, they're highly motivated to sell because they have bills to pay, lifestyles to support, and sometimes families that rely on them.
But earning trust with the people on your team is a big factor in motivation, too. The most successful people I've worked with really like their clients and their clients like them, too. That bond of trust is huge.
I think another big motivator for a salesperson is the work-life balance that comes with sales. You're typically not at your desk all day, you're not punching a 9-to-5 clock, and you're self-managed. I'm here to give them the support they need.
I think it's motivating to have a coach that loves brainstorming, being a thought partner, taking a challenging perspective, and offering new ideas and strategies to help them assist their clients in reaching their goals.
Salespeople like to be recognized for their achievements and want to celebrate their success with someone.
Earning a spot on the incentive travel trips that many companies host, like our annual Leaders of Excellence, is like winning the Academy Awards. What an honor! And the best part is you get to share it with a partner that's been putting up with you and supporting you along the way. That acknowledgment makes your effort real."
2. Jenna Donahue, Sales Manager for Emerging Segment – Outreach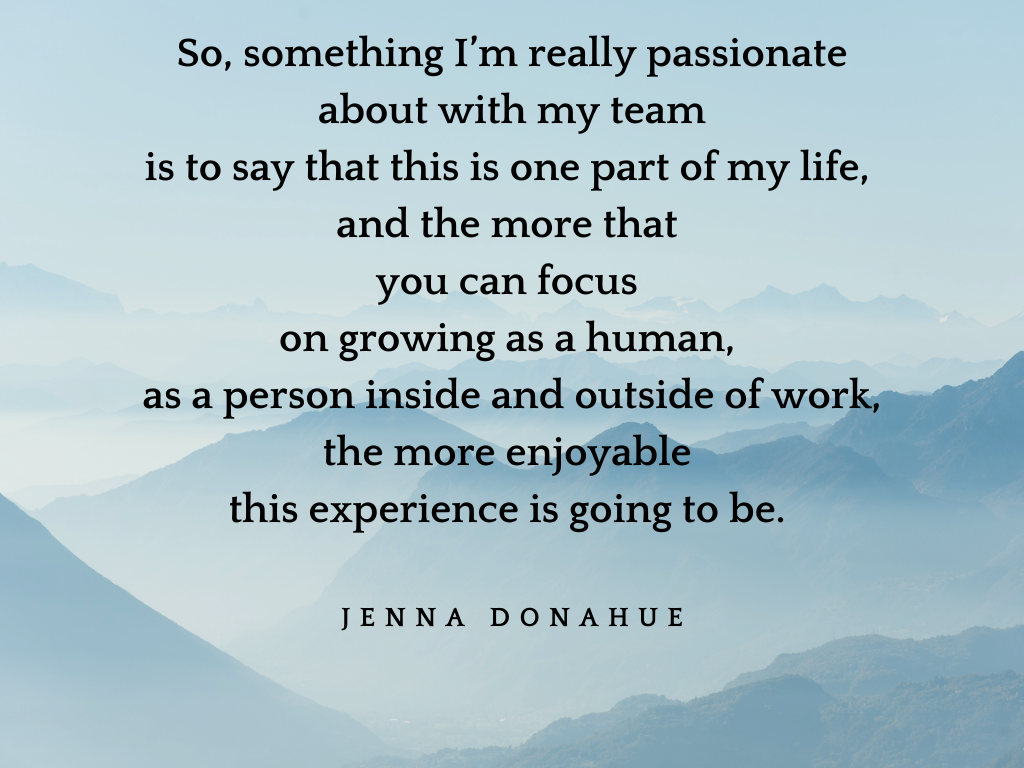 When Jenna joined the Outreach team during the pandemic, she thought, "How can I keep this team motivated? How can I connect with them and help them see the bigger vision at a potential 6-month or 12 months?
I think back to my career when I was selling, and things really clicked for me when I let go of all the how-tos and what you should dos, and I really just showed up as myself.
So, something I'm passionate about with my team is saying that this is one part of my life, and the more you can focus on growing as a human and as a person inside and outside of work, the more enjoyable this experience is to be.
And also, you're going to start crushing it when you can start bringing your personality into selling!"
3. Ashley Kelly Mealy, Senior Director of Sales Development – Brex
"I think a common mistake that leaders make is assuming that reps are motivated the same way that they are. And I think that there are stereotypes of salespeople that were only motivated by money, but understanding your people and understanding what that money represents, what is their 'why', and what gets them to go to work every single day, is much more impactful to motivate people.
I think this generation has pushed us to evolve, and we're starting to see teams and leaders start to evolve in that way."
4. Tom Ziglar, CEO- Ziglar, Inc.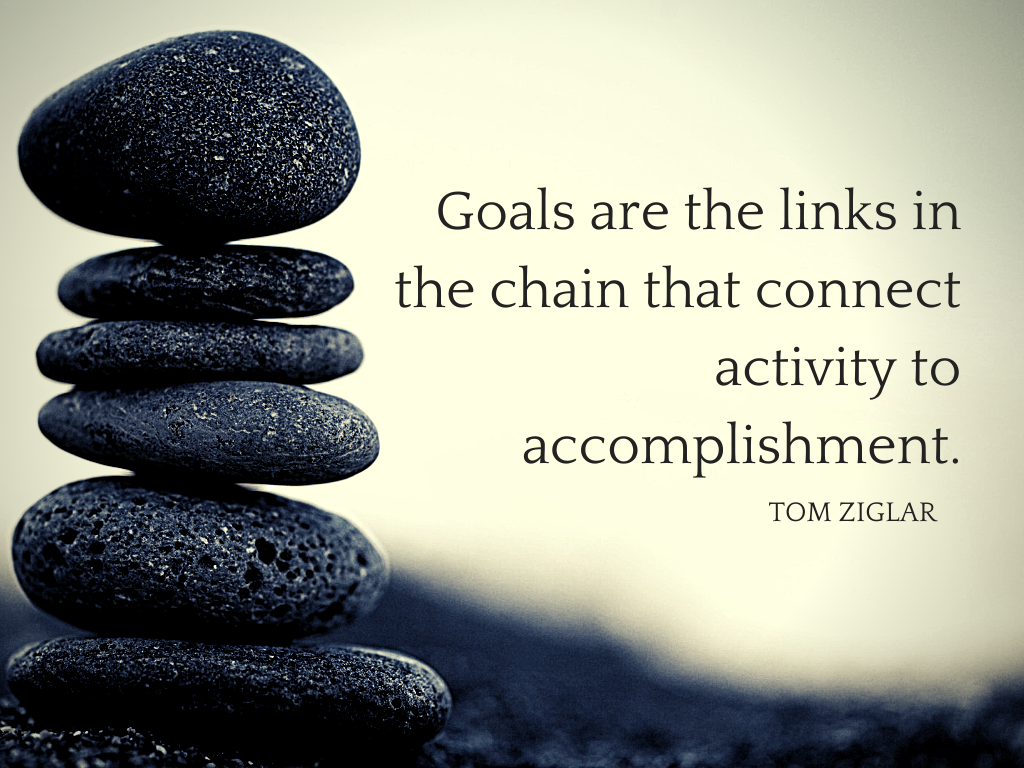 "All too often, what holds salespeople back in terms of reaching their potential is not a missing sales skill or an improperly applied technique. More often than managers like to imagine, the problem is a failure of leadership.
Here's what I mean by "failure of leadership." Most of the sales managers we work with have little or no idea what the personal aspirations of the salespeople who report to them are. They know all about the individual's sales quota for the month, quarter, or year.
But they know hardly anything about what this person hopes to accomplish in life. This is essential information, yet most of the time, management makes no effort to secure it, clarify it, or help set up a plan to turn the dream into reality.
By focusing on a goal that means a lot to the individual salesperson, and by helping to put together a viable plan to achieve that goal, you are supporting the salesperson's ongoing personal and professional development. That's the kind of support that makes good people decide to stick around for a while."
5. Trish Bertuzzi, President – The Bridge Group, Inc.
"Many Executives, and often Reps themselves, will describe salespeople as "coin-operated". That's what the spiff model is all about, right?
Establish a goal
Run a spiff
Comp the winner
Shame the losers (?)
I recently ran into a post by Lilia Shirman over at Revenue Orchard where she asks: Maybe sales reps don't operate by the same rules as all other humans. But I doubt it. Would love to know for sure. Is anyone out there who's tried something other than a spiff to motivate sales?
For some time, I've been thinking about that very question and how Inside Sales groups might integrate team-based and even social/philanthropic giving into motivation programs."
6. Mike Brooks, Founder – Mr. Inside Sales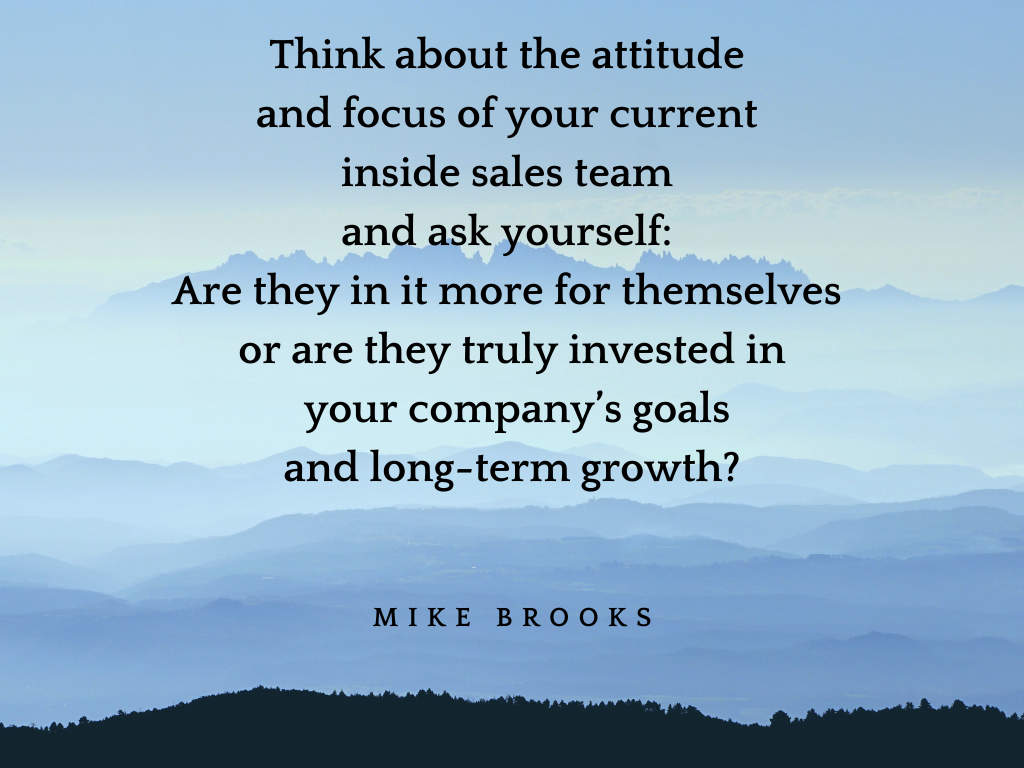 "One of the inherent problems with using spiffs and contests as primary sales motivation is a common perception often held by at least a portion of the sales team that no matter how hard they try, the better reps will still dominate and win the awards.
There is a lot of truth there.
Top reps are often better positioned to win thanks to stronger pipelines, higher quality leads, and better selling and prospecting techniques. Because of this, half the sales team tends to check out and ignore the contests. Worse, they can even become de-motivated by them.
A better model for driving sales motivation and compensating for sales productivity begins by focusing on and rewarding overall production, itself.
Rather than focusing on short-term effort or achieving daily or weekly goals, companies always benefit more by focusing on monthly and quarterly production numbers and getting their sales reps to think more in alignment with the company's goals.
While daily bonuses and spiffs remain important in compensating and driving sales motivation and production for many companies, their lack of long-term effectiveness doesn't always justify their expense or continued use.
Think about the attitude and focus of your current inside sales team. Ask yourself: Are they in it more for themselves, or are they truly invested in your company's goals and long-term growth? However, note that you must download your converted files within one hour. If you wait over one hour to download your files, our server will erase them. If that happens, you must do the conversion(s) again.
7. Colleen Francis, President & Founder – Engage Selling Solutions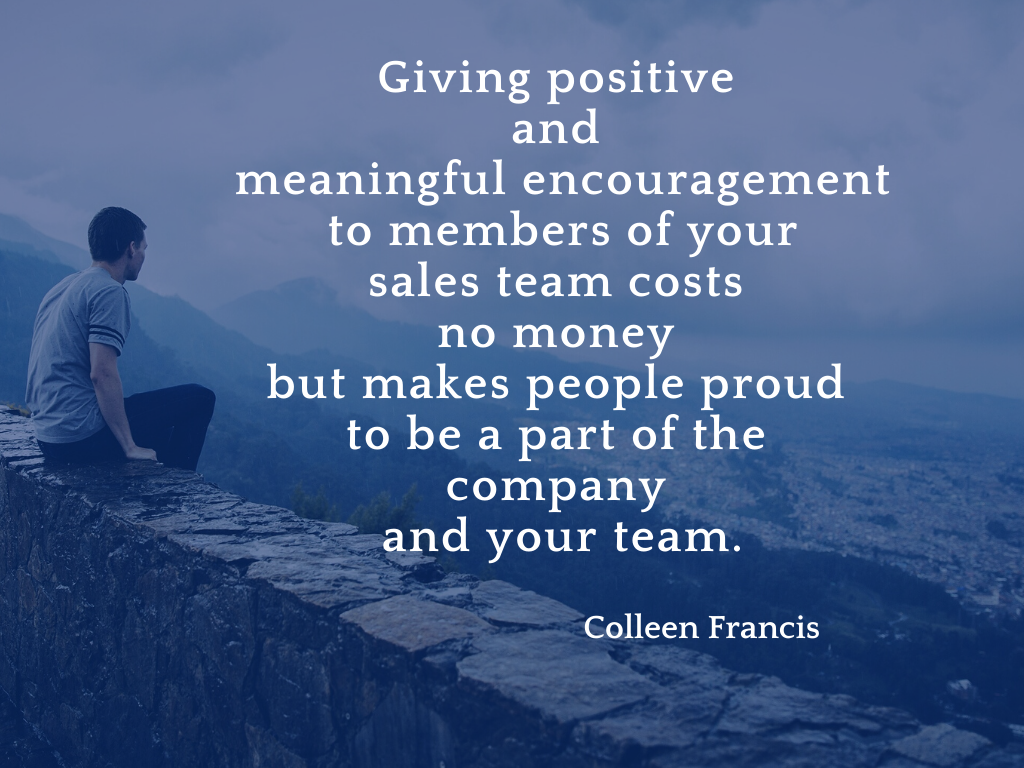 "If you want your team to turn over at a higher rate than average, you must provide recognition and encouragement as well as monetary reward.
Ensure that the recognition you provide is genuine and real. Your team will be able to sense when you are just encouraging them for the sake of hollow motivation. In order to build a top-performing sales team and culture, you need to celebrate your team's successes.
A simple way to do this is to send an e-mail out to the team recognizing an individual or a deal that was recently won. In this e-mail, you can showcase contributions and accomplishments. Also, well as discuss the process behind the win in order to motivate other team members to take similar action.
You can also consider talking about successes at your weekly sales meeting or your monthly, quarterly, or annual company meeting. Giving public recognition to your team members will further encourage them to continue successful practices.
Giving positive and meaningful encouragement to members of your sales team costs no money. But makes people proud to be a part of the company and your team.
The end product of a proud team member is not only a more motivated seller. But it's also an individual who is more willing to assist other team members that may be struggling. And someone who will work harder to service your customers."
The Consensus
Everyone from the most seasoned veteran to the successful entrepreneur and experienced sales manager seems to agree on two things:
Sales motivation may be underappreciated by company leaders but is an intrinsic part of running a successful, high-performing sales team
Ultimately, motivation comes down to much more than money. It's a matter of understanding what motivates each salesperson and helping them achieve that goal/aspiration/fulfillment by means of doing a great job
As leaders of some of the highest-performing sales teams in the world, these experts know what they're talking about. And it's never too late to learn from their experience!
---
Getting Started on Your Sales Motivation Journey
There isn't one formula or step-by-step method for executing a sales motivation initiative. There are plenty of best practices that have developed over the years.
The most important thing to understand is that the sales industry and workforce have gradually evolved. The stereotypical hustlers fighting for the bonus are a thing of the past as work-life balance, mindful living, and burnout become common terms in professionals' minds today.
Today's salesperson is ambitious, is high-achieving. But isn't chasing that bonus – she or he is chasing a lifestyle, personal ambitions, and long-term fulfillment.
So, the basics of sales motivation come down to three golden rules:
1. Know Your Team
Know what drives each one of them, and you'll know how to get them to give their 100% each day
2. Make Time to Put Thought into Action
From one-on-one meetings to reviews and plans, putting those motivational activities into practice does require some dedicated time. As a busy sales leader, this will require some effort.
3. Go Out of Your Way
Because no two persons are motivated similarly, you may need to go out of your way to make things happen for some sales professionals. Someone intrinsically motivated by career growth, for example, could be given tickets to a conference or an exclusive workshop series.
---
Conclusion
In this ultimate guide to sales motivation, we've covered the details of motivation, types of motivators, and how to put them into action. Have a read for some actionable steps on how to move forward!
And if you still find yourself skeptical about making sales motivation part of your business business culture, or if you have any questions in general, feel free to reach out. We'd be happy to answer any questions in the comments section below! 
Start 15-day Free Trial