Ensuring that your Sales Team is performing at its peak and maintaining its motivation levels is a constant challenge for any sales manager or business owner.
Sales Motivation is a fundamental problem for Growing Businesses in a competitive market environment.
Because of the hyper-competitive nature of the global marketplace that we find ourselves in, having an extremely motivated sales team is essential to any Growing Business.
It requires its employees to bring their best to the table every single day.
A motivated workforce helps a business grow faster with-
Increased sales productivity
Improved feelings of accomplishment
Frees sales managers from the additional task of pushing the team
Helps the CEO plan for future growth
And results in increased revenue generation
Despite knowing the importance of motivation and what is required of them, sales managers and business owners still struggle with the question…
"What is the best way to motivate salespeople?"
According to research, these two sales motivation approaches work best for businesses:
Extrinsic Motivation – motivation by external forces
Intrinsic Motivation – motivation by internal forces
Extrinsic Approach to Sales Motivation
The extrinsic approach to motivation is the most frequently used technique in the world of business. The motivation technique comes not from within but from outside, implemented to create a desire in the salesperson to accomplish tasks or activities.
Made famous in the early 1900s by a management consultant by the name of Frederick Winslow Taylor, the approach is based on the belief that people dislike working and external inducements are necessary to improve productivity.
Taylor asserted that employees must be compensated financially to keep their motivation high.
One famous example of extrinsic motivation comes from Ford Motors. The Company increased its daily wage from $2.34 per day to $5 per day and, in effect, managed to sell more than 15 million units of Model T.
However, a potential flaw emerged over time.
The 'carrot' approach is not enough to keep the motivation alive in the long run. In fact, the approach proves counterproductive.
Countless types of research tell us that this approach promotes a culture of greed, induced by the habit of regular financial gain and not loyalty to the employer or satisfaction with the job.
Outcomes of the Carrot Approach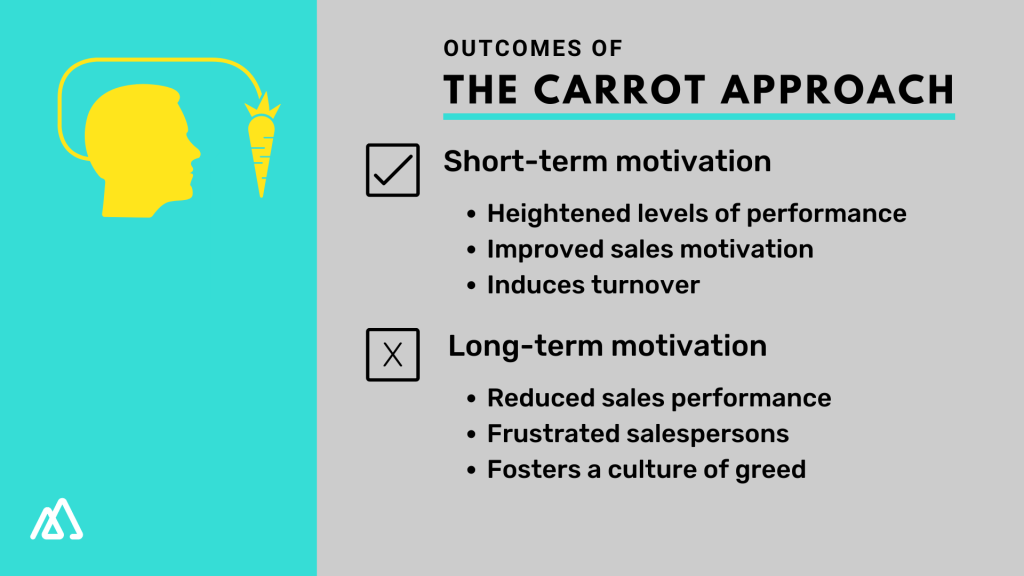 With the impracticality of the approach clearly visible, decision-makers automatically resort to the stick. In fact, the 'stick' is the oldest trick in the book, used and advocated by emperors and military strategists alike for thousands of years.
From Chanakya in Arthashastra to Niccolò Machiavelli in The Prince and Thomas Hobbes in Leviathan, the use of the stick (or 'baton' and 'danda' in Hindi) has been a motivation technique used in the business world as well.
When we apply this technique to Growing Businesses today, we observe business owners and managers using statistical analysis to track sales performance.
All seems well and good. But when a salesperson fails to match expectations, they get the 'stick.'
The stick is a threat designed to scare even the smartest and most hardworking salesperson into submission.
While some do believe that this method works best, it is the most harmful technique used to achieve results as the action resorted to humiliation and even getting fired from the job.
The real-world impact of this motivational approach is it reduces sales performance by producing high-stress levels, eroding the salesperson's mental capability to perform.
Eventually, it can seriously hinder a salesperson's cognitive abilities like creativity and social skills.
As Daniel Goleman puts it, "Stress makes people stupid."
Outcomes of the Stick Approach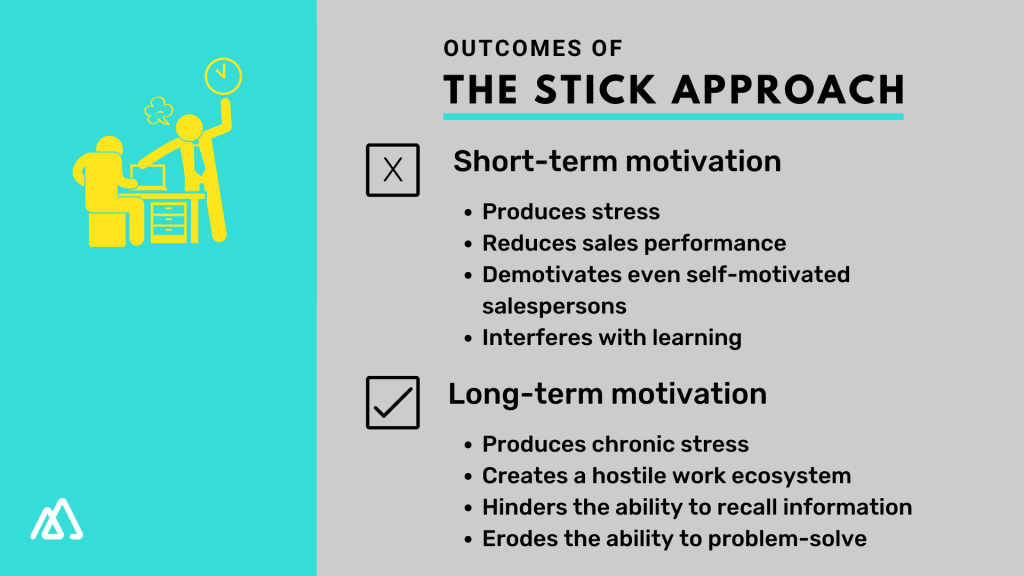 Intrinsic Approach to Sales Motivation
Take both extrinsic approaches, the 'carrot' and the 'stick,' and we can come to a sure-shot conclusion that while the former motivational strategy works in the short term, its long-term outcomes nullify its value for business use.
At this stage, we can add a rider to the original question based on the findings mentioned above.
"What is the best way to motivate salespeople that derive positive results in the short and the long run?"
Science has verified, repeatedly, that the most productive form of motivation is intrinsic in nature. Intrinsic motivation shines a light on the salesperson's perception of him/herself, that is, on their understanding and expectations of themselves.
The difference between the two is stark. While the former focuses on compliance or defiance, the latter focuses on creating a desire to cause positive actions. The goals are similar but the method differs.
With intrinsic motivation, the end doesn't justify the means. This is why knowledgeable decision-makers and sales leaders lean on the intrinsic approach.
Intrinsic motivation focuses on the salesperson to surpass their goals for the sake of achievement.
Hence, we move to an approach that shines a light on the self-awareness of a salesperson to achieve their goals based on where they see themselves in the future rather than where they think they are.
Intrinsic motivation fosters internal commitment by tapping into internal feelings, making work enjoyable. Intrinsic goals drive sustained behavioral change with indicators such as personal challenge, curiosity, and learning.
In short, salespersons are more focused on the job itself rather than on the outcome.
While there are no two articles that can come to a civil conclusion on the best intrinsic method for motivation, salespersons can drive excellence for the sake of excellence as long the method stays true to inner satisfaction.
Outcomes of the Intrinsic Approach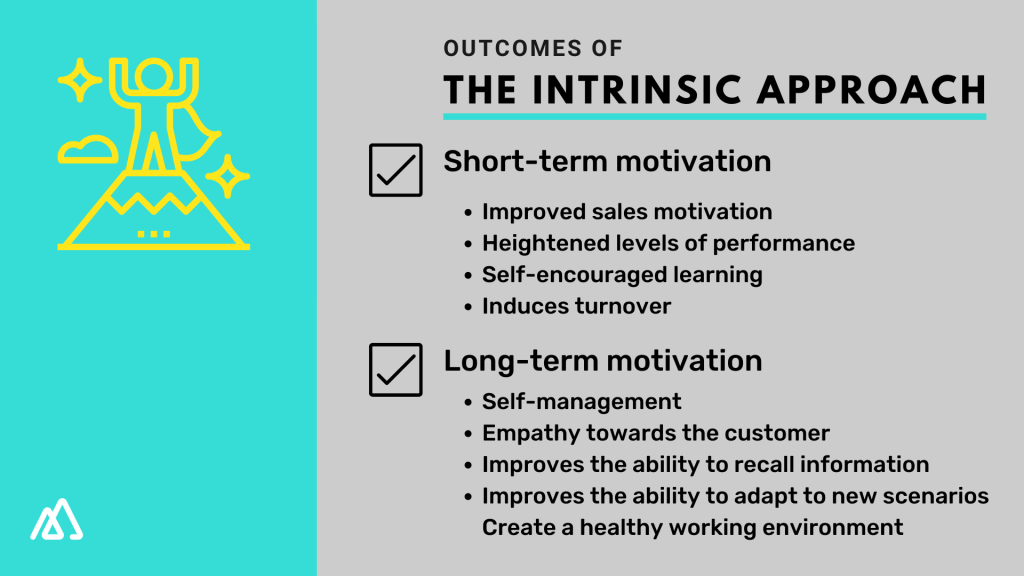 Now, the question becomes, "Do I even need to motivate my sales team?"
The answer is NO.
Salespersons do not need to be motivated by external factors to bring their best to the table every single day.
However, in a hyper-competitive market, sales managers and decision-makers in Growing Businesses are constrained in terms of hiring many resources.
For the better part, their focus is on managing the business rather than providing support for the salesperson to motivate themselves.
In a hyper-competitive market, salespersons need to talk to several contacts to close a single deal. Plus, keeping track of multiple accounts and their place in the sales cycle is a much harder proposition without the use of a comprehensive technology solution.
Channeling oneself effectively in such an ecosystem is easier said than done. They need the right tools to achieve these goals.
The right tools and support allow salespersons to realize their goals, know where they are, and what they need to do to get there.
This takes away the requirements of the sales manager to motivate the sales team by providing them with an ecosystem primed for self-motivation.
To offer such an ecosystem, Growing Businesses can adopt sales CRM solutions like Kylas to provide them with the tools and support they need.
To aid salespersons in achieving their goals, Kylas Growth Engine features in-app sales motivation that encourages the proper usage of the CRM platform.
Along with business expertise for sales planning and strategizing, sales CRM software and in-app sales motivation will empower the salesperson to take a step closer to self-awareness and intrinsic motivation.
How Does In-app Sales Motivation Work?
It helps with various aspects of the daily life of a salesperson-
Prompts salespersons to feed in data at critical stages (if missed)
Help salespeople keep track of goals/objectives
Congratulates them on achieving targets/goals
Shares relevant information with managers/decision-makers
Encourages healthy sales habits formation
Encourages the usage of important CRM features (if necessary)
Notifies them of pending tasks
Notifies them of meetings in advance
The Prognosis
With option one, extrinsic motivation only leads to compliance or defiance from employees. With option two, intrinsic motivation produces high productivity and self-growth.
For a Growing Business, a CRM for sales teams isn't really a choice.
Motivation is a tricky subject where high productivity is an outcome of inner satisfaction. Intrinsic motivation, along with sales CRM technology and business expertise, helps provide clarity to the sales team.
Intrinsic motivation has the power to unleash the salesperson's full potential to help them become self-aware of what really drives their self-perception.
Together with a comprehensive Sales CRM and business expertise, decision-makers provide their salespersons with a healthy environment primed for intrinsic motivation with: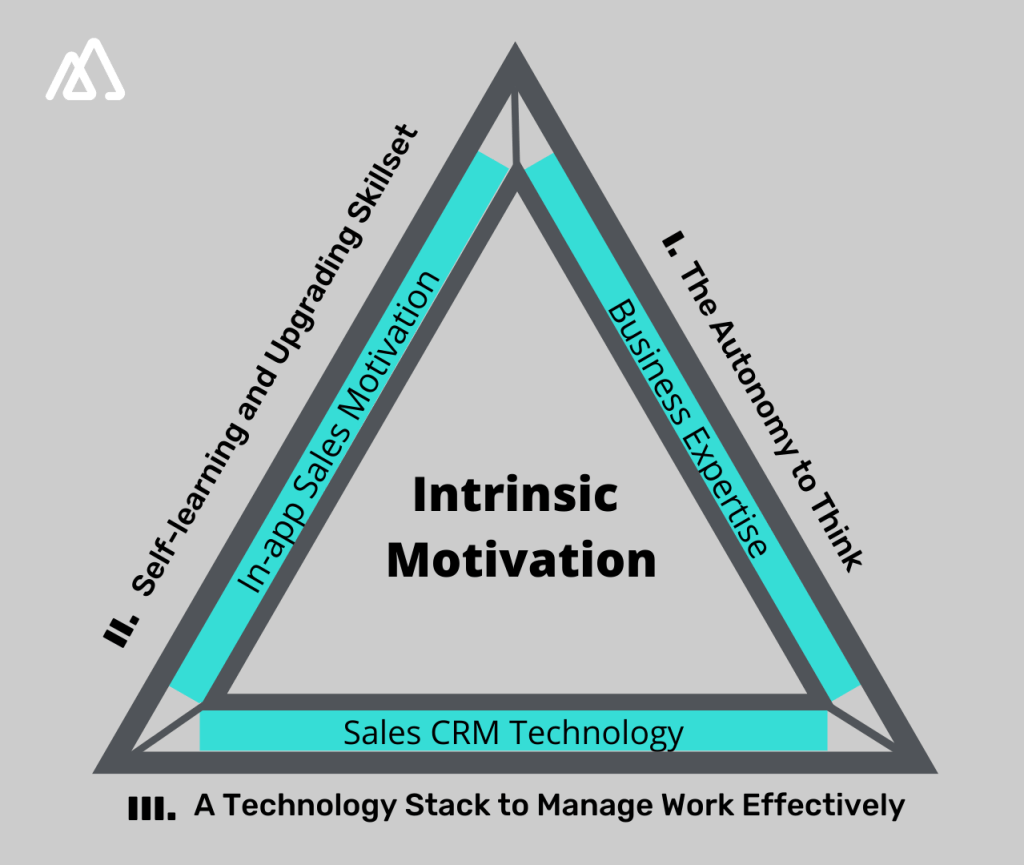 I. The Autonomy to Think
to complete tasks the way they want to
to set goals and track/maintain productivity, make adjustments and more
II. Self-learning and Upgrading Skillset
to contribute to self-improvement and learning to master sales as a skill
to implement and track subtle experiments based on their learnings
III. A Technology Stack to Manage Work Effectively
in-app sales motivation to ensure that sales motivation and product usage stays high even when a distinctive touch from the sales manager is missing
sales CRM training to encourage the use of all sales CRM tools and technology that their company has invested in
Intrinsic motivation can be a transformational component of any Growing Business's ecosystem. Support intrinsic motivation with Kylas Growth Engine to help your sales team and business scale with ease.
Start 15-day Free Trial